Hollywood movie star Ryan Gosling is known for his handsome looks and suave sense of style. Although his look is often sophisticated, it's simple and classic. Gosling's beard style is handsome and can be easily worn by any man.
Evolution of Ryan Gosling's Beard Over The Years
Ryan Gosling starts with a clean-shaven look during his early career in television and film.
Gosling experiments with light stubble, adding a subtle ruggedness to his appearance.
The light stubble evolves into a more noticeable beard as Gosling's career advances.
Ryan begins to sport a full beard, showcasing his versatility in various film roles.
The full beard transforms into a neatly trimmed one, reflecting Gosling's refined style.
Gosling surprises fans by growing out his beard even longer for certain movie roles.
The longer beard goes through a transitional phase, sometimes appearing more unkempt.
Ryan trims his beard back down to a well-groomed look.
The well-groomed beard occasionally transitions into a mustache, showcasing Gosling's playfulness.
Gosling grows his beard out again, this time pairing it with slicked-back hair for a classic appearance.
Experimenting further, Ryan occasionally sports a goatee, adding variety to his facial hair repertoire.
Gosling ultimately settles on a versatile, well-maintained beard that complements his signature style.
Handsome Ryan Gosling-Inspired Beard Styles
Gosling generally wears an easy, effortless beard style that can work for many men. The key is not to look overly groomed but to remain relatively natural.
#1: Boxed Beard
For anyone looking to add a little extra flair to their facial hair, the boxed beard style is the way to go. Ryan entails his hair with natural face curves while the cheeks remain clean. Also, the jawline is connected with the mustache. Anyone can try this style by close cropping the naturally grown facial hair.
#2: Soul Patch with Mustache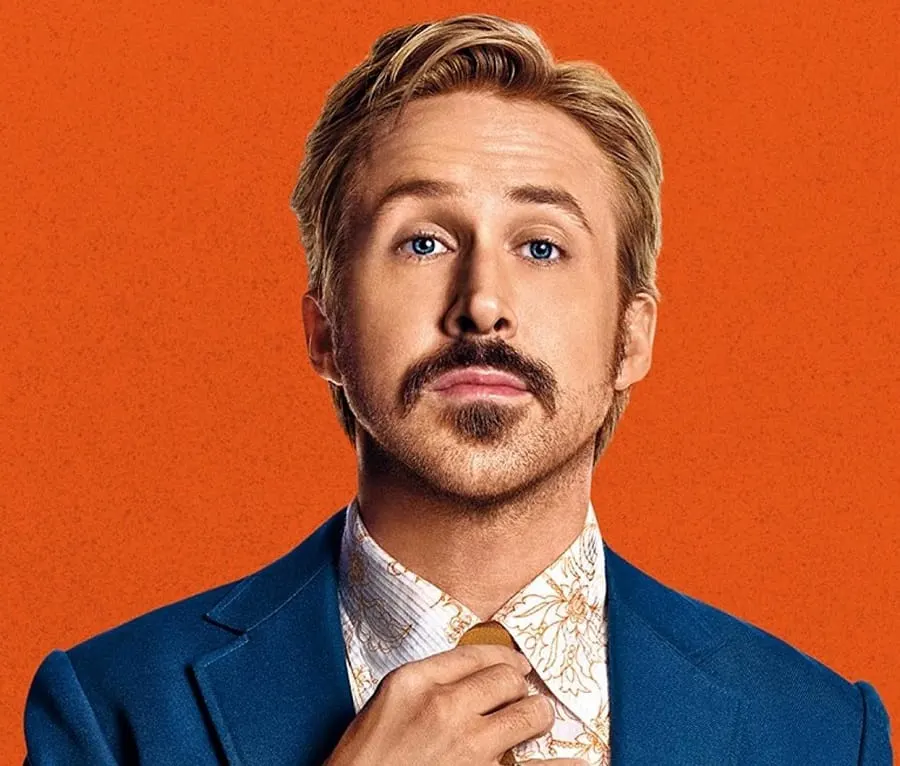 It's a popular style for men with mustaches, as it helps to create a more balanced look. To get this style trim your facial hair and use a razor or trimmer to shape the soul patch area. After that, groom the mustache to complete the look.
#3: Scruffy Beard
It is a cleverly cultivated stubble look that is still stylish and masculine. Start growing your facial hair for two weeks to achieve this look. Then, use a trimmer to define the shape of your beard, making sure to leave a bit of length on the chin.
#4: Medium Full Beard
Ryan's medium-full beard style is perfect for anyone who wants an aged look. One way to style this is to grow your full beard and trim them occasionally to keep it medium.
#5: French Stubble
A neatly trimmed beard is more presentable, and the stubble style with a French beard can do it well for any face shape. To get this look, you will need to trim the facial hair evenly and keep a bit longer hair on the mustache and chin.
#6: Gosling's Red Carpet Glam Beard
Gosling knows how to work the red carpet, and you can easily get his red carpet look. The natural beard has been allowed to grow but is kept trimmed short, barely more than stubble. The neck area is cleanly shaved, starting about two inches below the chin. The creates a clean look that is easy to create and maintain.
Turn Up Your Look with Beckham Beard Style
#7: The Casual Gosling Beard
Even if you are pressed for time or just having a lazy weekend, you can still look just as handsome as this heartthrob. Simply let your short Gosling-inspired beard grow out for a day or two. Don't even bother with cleaning up the neck. This creates a natural, easy beard style that is still ruggedly handsome without being too fussy.
#8: Short and Sleek
Here we see a variation on Gosling's classic red carpet look. His facial hair is intentional, not just stubble, but it's worn very short and neatly trimmed. Leaving some hair on the neck gives a less well-defined look but an easy, everyday beard style.
#9: The Grown Out Gosling
Let's face it: sometimes you don't want to bother with shaving and trimming. This grown-out version of Gosling's look is great for when you are just taking it easy. Just don't bother with your Gosling beard style for a couple of days, and you'll get this masculine but not messy grown-out look.
The hottest actors who sported a beard
#10: The Natural Gosling Beard Style
Here we see that Gosling has allowed his facial hair to grow naturally with little shaping or trimming. Although it's still relatively short, it creates a natural look that complements his reputation as an easy-going guy. This may be the easiest Gosling beard style, as it's natural and requires almost no effort. The occasional gentle trim is needed to maintain this sexy look.
Beard Plus Mustache Combinations
#11: Gosling's Mustache, Plus Stubble
Many men look good in a full mustache, and Ryan Gosling is no exception. To get this look, allow your mustache to grow in as fully as you'd like while keeping the rest of your facial hair at a stubbly, 5-o'clock shadow length. This works well especially for men who may have relatively sparse facial hair on their cheeks.
#12: The Short and Easy Gosling Beard Style
Finally, we see Ryan Gosling in a short, simple beard style that says, "easygoing." Although the uniform trim still creates a clean look, this natural style is easy to get.
Ryan Gosling remains a superstar and heartthrob. But his beard style tends to be handsome but easy. You don't need a celebrity stylist to look like Gosling. Just borrow one of his many sexy looks.