It was not long ago when long beard styles were extremely common and thought of as an essential trait of well-reputed families and classic gentlemen. In the English army, beard and mustaches were a symbol of fighting men.
However, the 18th century mainly belonged to clean shaved men with sensuous cheeks. But now, yet again, the long beard styles have been accepted with open hearts and supple fashion consciousness throughout the world.
It's time to throw away your razors and have a glimpse of some of the finest long beard styles trending all across the globe from Hollywood red carpets to the streets of Europe and New York. A long beard is definitely making a comeback, and it is going to be a memorable one!
Sexy Long Beard Styles for Men
Long beards make a man look more manly, that's a fact. Here are 45 coolest long beard styles that will make your look stylish, dashing and more masculine.
1. Curly Bushy Beard
The default texture of this long beard is very curly but still well-manicured and gives the guys a very handsome and cool look. This type of beard is more suited to men with a round face. Look at this splendid curly bushy long beard style with an attitude.
2. Wavy Long Beard
Though it's not one of the longest beards out there, it's still very long, isn't it? The wavy look is a casual stylish long beard that's trending in America nowadays. The beard is richly conditioned, and a wavy texture is created. This look is accomplished with nourishing and conditioning the beard for years which is usually called 'yeard' as well.
This beard style is dedicated towards a long classic mustache, and the overall look is enhanced with the help of a freely grown long beard. The mustache is allowed to grow longer to the sides leaving the lips quite visible. This is one of the very striking long beard styles hitting the global corners and is very popular among the men.
4. Spruce Beards
This is not a style exclusive to a long facial hair because length variations are common. However, many people like to have it rather lengthy and curled. However, the lower neck is shaved to keep the beard round and follow the curve of the face. Careful trimming can give an absolute hot guy look.
Coolest Short Beard Styles of All Times
5. In line Long Facial Hair
It is one of the most trendy long beard styles followed by millions across the globe. This beard style has a classic touch with clean straight lines going down all along with the beard. Usually, a squaring cut is applied to give the beard a rather forward protruding effect.
6. Fiery Facial Hair
This long beard style has taken beard styling to a whole new level with a tidy trimming and slight shading of the soul patch right below the lips. The dense mustache is the icing on the cake covering lips and brushed sideways like wings of a falcon and giving the gentlemen a manly look.
7. Brushed Out Beard
This is a natural long beard style. Beard is allowed to grow and is brushed downward with long thin mustaches brushed into the beard. Little to no trimming is required. You are free to choose the length of this beard. This is one of the long beard styles that are easy to adopt and carry.
Short Hairstyles With Long Beards
8. Twisty Moustache
It is a dense beard style that covers the lower face. However, its hallmark is the curved heavy mustache that is slightly twisted upward to give a macho look to the face. Beard is trimmed carefully, and the mustaches are heavy but not very long.
9. Tip Tie Long Beard
This is one of the few long beard styles that require a lot of care and patience. In this style, the beard is first grown to attain a specific length with sides carefully trimmed so that the whole beard may be tied in a rubber band to give a cone shape appearance. It requires a lot of patience to get this picture perfect beard cone.
10. Natural form
It is really not easy to have this long, tidy and wonderfully maintained a beard. You've got to be extremely careful about its length and how it looks on your face. This beard needs a natural fluffy look with highly precise trimming giving it a nice denser texture for an elegant look.
Now, who can forget Jason Mamoa as KhalDrogo of Game of Thrones? His pony beard was a superb modification to style his masculine features. This is a long fuller beard covering the full face. The ponytail binds all the beard hair giving it a passionate look to the face.
12. Long And Full
This is another natural and very prevalent long beard style. The beard is allowed to grow freely all over the face. Trim this long beard to give it a shape that still looks very natural. Handlebar mustaches are a classy addition to this classic beard.
A highly maintained long beard style is perfectly showcased In the picture below. The beard is the longest at the chin but nicely trimmed to give the face a perfect oval outline. The mustaches are trimmed nicely to look continuous with the beard. He is indeed looking smart and stylish.
It's a really rocking long beard style. The beard begins from the sideburns. The area above the ears is heavily trimmed, but the sideburns are allowed to grow outward and continue down the chin. The overall texture is rather fluffy and bulky. Mustaches are long and combed into the beard.
15. Bold Shaped Beard
Here comes the most traditional long beard style that is also a leading fashion beard nowadays. Beard is shaped with a square off cut and short mustaches.
16. Straight Refined Beard
This beard adds an elegant masculine feature to the face. It's usually combed straight from the chin downward. Though not very long but gives a very handsome touch to the overall look. In the picture below, this simple straight beard is given a hint of silver adding more decency to it.
17. Red Long Beards
Red beards are always very alluring and striking indeed. The picture below shows long beard continuously lengthening from sideburn down to the chest. Mustaches are brushed neatly to expose the lips. It looks nothing but gorgeous.
18. Flared Moustaches + Full Beard
This beard is another type of full heavy long beard style. The ultimate effect is added by long well-established mustaches given a curve to expose half of the lips.
19. Long Plaited Beard
The most excitingly different long beard style is this long plaited beard. The beard is plaited, and mustaches are neatly trimmed to get this remarkable look with such type of beard. This beard style will be most suitable for men with a full face.
20. Rebel and Wild Long
Less trimming, maximum length and dense hair are the key features of this long beard style. Mustaches are usually trimmed in detail. The beard is also braided at places to enhance the facial details. It looks hot and elegant at the same time.
21. Old Dutch Style
This is one of the oldest but still popular long beard styles. The beard is not given a thin oval shape but is in fact allowed to grow outward with a round rectangle shape to give a unique look to the face.
22. French fork
This is an ancient yet very popular long beard style. It involves splitting the beard into two forks down the chin. Brad Pitt and Captain Jack Sparrow (Johnny Depp) both wore a French fork and wore it gracefully.
This long beard is a mixture of a rebel and gentlemen look. With upper part kept rather short, the lower part can have any length easy to maintain for the wearer. It adds such fine masculine features to an overall personality that it gets really hard to ignore.
24. Extremely Straight Beard
This beard takes the long beard style to a new level. Nothing but long, straight and soft beard all along.
25. Bold Beard
This is another classic long beard style that never stopped fascinating men. This is a full beard starting from sideburns that are just slightly trimmed to give a tidy look with heavy mustaches.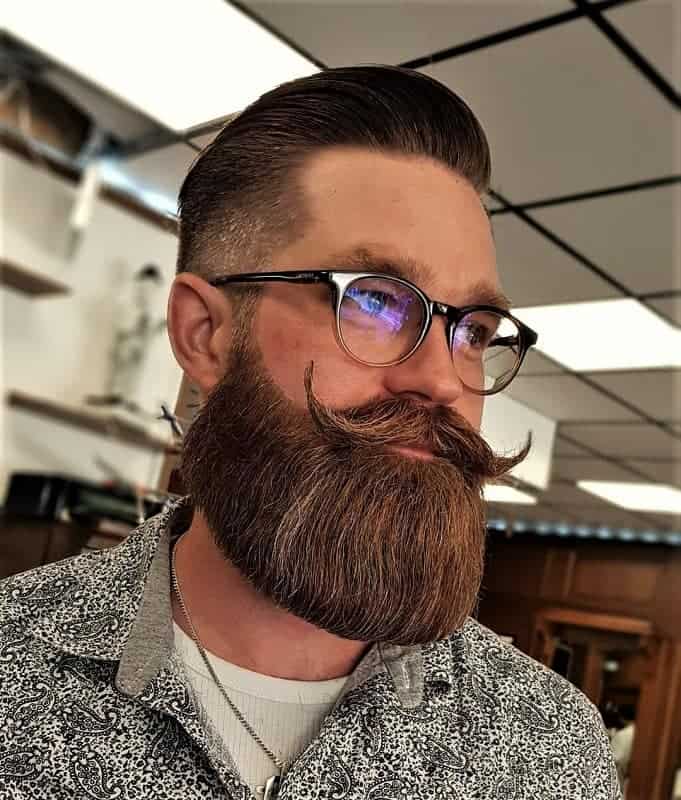 Whatever long beard style you adopt, it will surely enhance your facial features. Long beard styles add elegance and sophistication to your personality. In today's fashion, long beard styles have become super trendy and an uber-stylish way to assert your masculinity.