Short curly hair is often seen as a curse, but the right cut and styling products can help to turn it into a blessing. After all, many people spend a small fortune having their hair permed to recreate the natural curls that you were given for free!
Trendy Short Curly Hairstyle Ideas
The key to making the most of your short curly hair is to get a good cut. Choose your hairdresser carefully, and work with one who has experience cutting into curls, and making the most of them. Trust your gut instinct, and if you don't feel confident in your stylist's abilities then simply don't let them cut your hair!
If your hair is very thick then avoid having too many layers put into your hair, and when choosing products opt for the lightest products possible that won't weigh down your already heavy hair. Once you've got the right cut and the right products, your hair should be easy to manage style and maintain.
Here are 60 cute hairstyles for short curly hair that are sure to suit you, no matter what your age, hair color, or face shape:
1. Short Curly Hair with Bangs
Look how great a bob can make your natural curls look! Just avoid cutting your bangs too short and you'll have a chic new bob that suits every face shape.
2. Very Short Curly Hair
Go super short but allow your natural curls to pop through by cutting your locks to an inch or less. As it grows, you'll see soft swirls that look beautiful in platinum.
3. Short Thick Curly Hair
Thick and curly is not usually a combination that is easy to work with, but majorly teased hair with voluminous locks makes you want to try. Pull back some of the top part so your eyes peek through.
4. Short Curly Hair Updo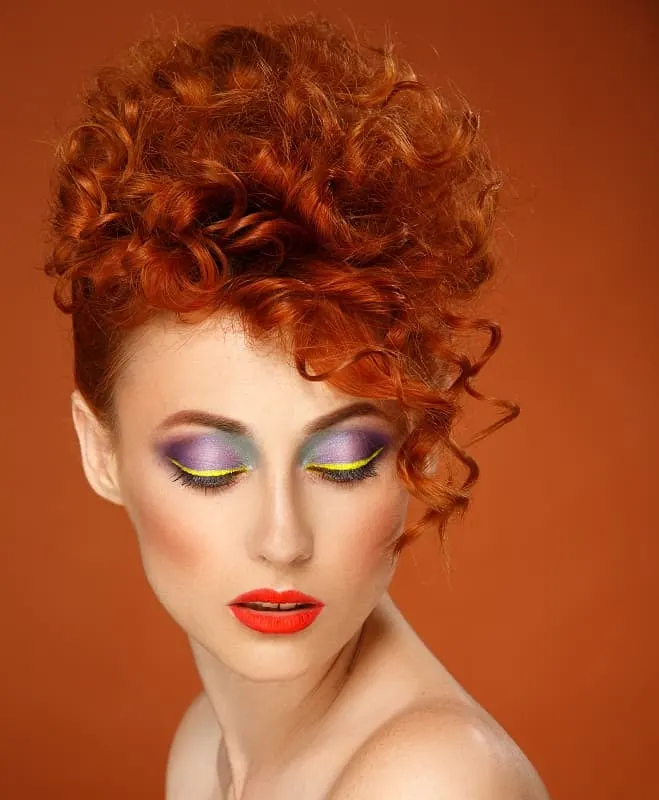 For fancy outings or date nights, gather your short curly hair into a high bun that is loose enough to let your curls hang out. A bold color like red will make them pop.
5. Short Curly Hairstyle for Black Women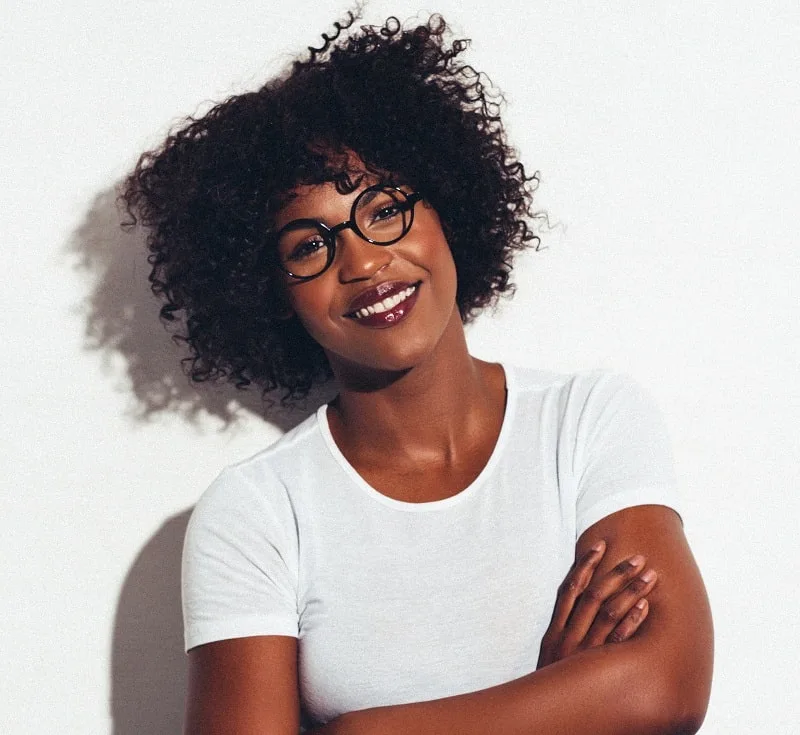 One great way to make your short curly hair manageable is by keeping it short. Chin length is just the right level for healthy curls that frame a face beautifully.
6. Short Curly Hairstyle for Round Faces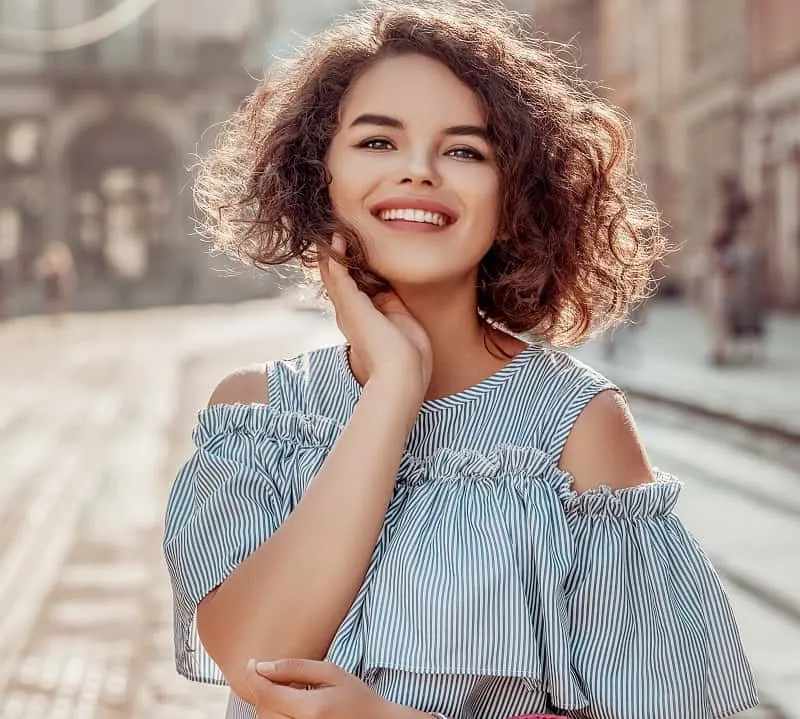 Round faced women will appreciate the way a short curly bob frames their face. To avoid your hair becoming too frizzy, use a bit of product to smooth locks and hold shape.
7. Short Layered Curly Hair
Layering the hair is one of the quickest ways to tame short curly hair. Instead of being a frizzy shapeless blob, your hair will have shape and look healthy.
8. Short Curly Hairstyle for Women Over 50
Are you over 50 and need a low-maintenance overweight curly hairstyle? Go super short, as in pixie length, and use some mousse to shape curls. A side part will help switch up the dimension of your face.
9. Short Thin Curly Hair
Help make your thin curls look more lush and shapely by using hair product to plump them up. A side part will switch up the shape of your face as well as style your overall look.
10. Short Curly Brown Hair
Especially for oval faces, a bob that stops at the jawline and is filled with curls makes chestnut brown hair enviable. Adding layers will cut down bulky hair.
11. Short Curly Blonde Hair
Even Marilyn Monroe would approve of the way this haircut makes curls look so bouncy. They may not be platinum blonde but golden curls look just as stunning.
12. Short Grey Curly Hair for Women
You'll find you won't mind your grey hair so much when you see how great the color looks on thick or thin curly hair. With layers and a heavy part, your new hairstyle is ready for its debut.
13. Thick Short Natural Curls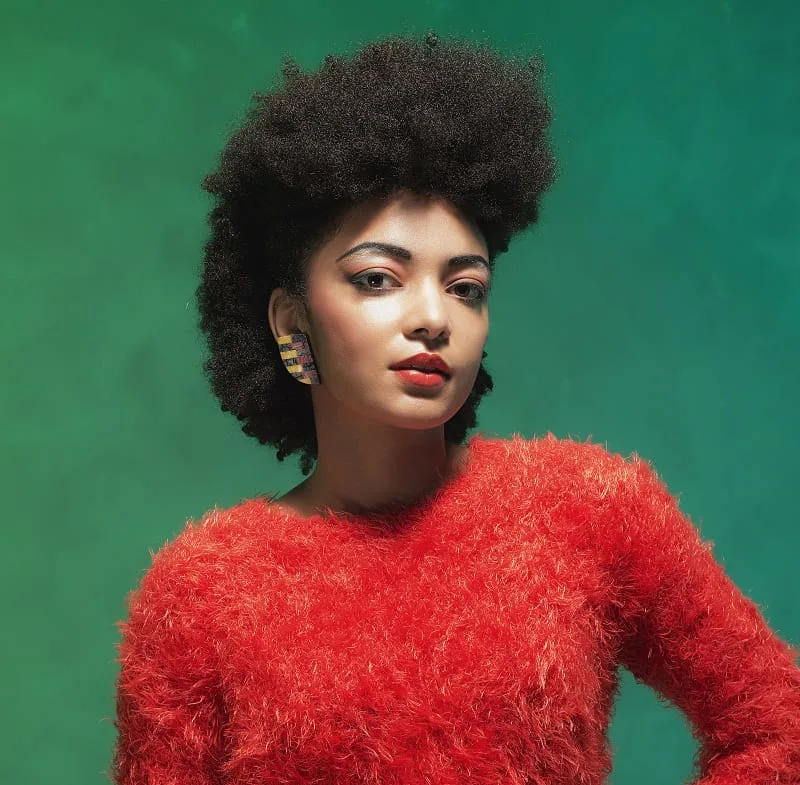 This short hairstyle with thick natural curls is shaped in a style similar to that of a mohawk. This style is wider and more chic, the best choice for a woman looking for an edgy look.
14. Updo for Short Curly Hair
When you just need your short curly hair out of the way, gather it up in a cute high ponytail and secure it with a contrasting ribbon or bandana.
15. Half Shaved Short Curly Hairdo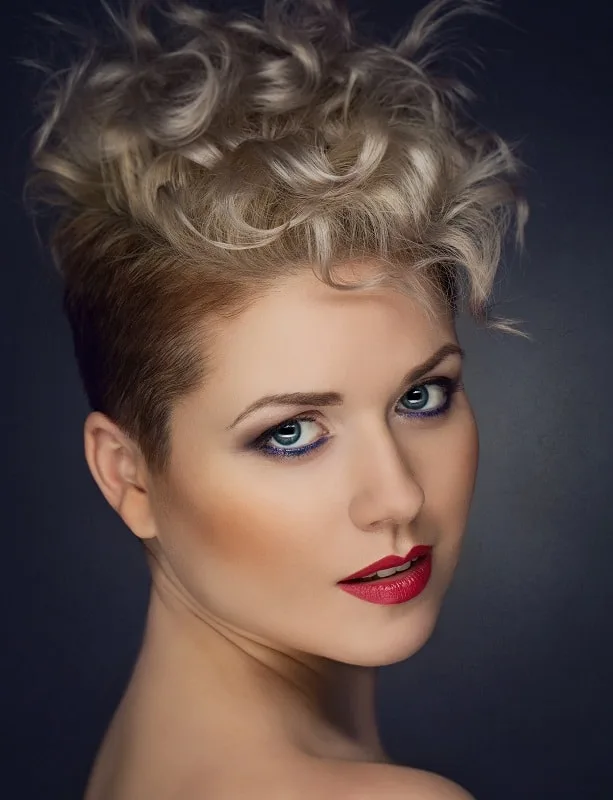 Nothing completes a short curly pixie hairstyle like shaving one side. It will definitely add a different dimension to your face, not to mention an edgy detail.
16. Short Curly Bob with Side Swept Fringe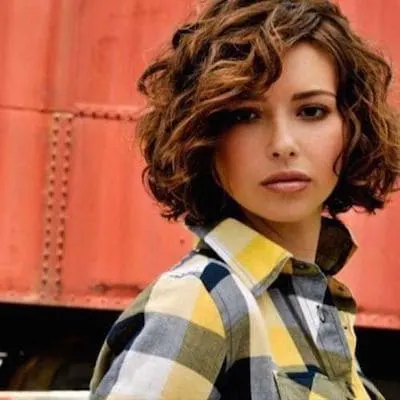 The curly bob is the perfect style to help you to make the most of your curly hair without having to spend hours styling it.
One of the best things about curly hair is that even when you don't style it, or put any product on it, it still looks fantastic provided you have the right cut. To get the best cut to suit your curls, keep the front of your hair slightly longer than the back.
A blunt cut, worn close along the neckline, is a popular choice. This will ensure that your bob looks both modern and stylish, and will also make it easier to maintain.
Boldest Short Curly Hairstyles for Black Women
Once you have achieved the style you want, use a strong hold hairspray to hold your hair in place, and pull your hair into a messy side parting to create a style that is flattering no matter what your age or face shape.
17. Short and tapered curls
For a fashion-forward and no-nonsense take on short curly hair, wear your curls long on top and then have them cut short and tapered into your neck.
This style makes use of the natural volume of your curly hair, using this to create a deep contrast between the fullest and most narrow parts of the style. This is a style that thins out your hair and lets your curls flow free.
Make use of both mousse and hairspray to hold the length of your hair in place, and style your hair with your fingers, rather than comb out your curls with a hairbrush or comb.
18. Short Curly Hair with Blonde Highlights
Let your short curly hair make a statement and stand out for all the right reasons by adding blonde highlights to it, using these to create a frame around your face.
Foil highlights will work best for this kind of style, although balayage color can also be added to curls if you prefer a more subtle and understated blonde injection.
Ask your hairdresser for a half head of highlights and to focus the color on the curls that frame your face. Achieving this look is surprisingly simple.
Apply coconut oil all over your hair before showering and then rub coconut oil through the ends of your hair once it is dry to enhance its shine, and then add a dollop of mousse into the roots of your hair to make it more voluminous and hold your style in place.
Sweep your hair across your face in a deep side parting to create a flattering style that will suit any face shape.
19. Cute Curly Pixie Crop
If you're looking for a cute and girly way to manage your curly hair then why not consider having it cut into a pixie crop? This low maintenance style is the perfect way to tame unruly curls if you're looking for a haircut that won't take hours to style every morning. With the pixie crop, you can wash, style, and go in less than ten minutes!
Getting the right cut is key to making the curly pixie crop a success: Ask your hairdresser to cut into your curls so that they fall into your head rather than away from it, and then run a texturizing putty or salt spray through the ends to hold the style into place. This is a great style if you have a heart-shaped or narrow face, whilst individuals with fuller faces should instead look for a style with a longer length falling around the face.
20. Red Ringlet Curls
Why stick to natural hair colors when you could experiment with something bold and attention-grabbing instead? Curly hair already shows stopping, but adding a bold color to it will ensure that your hairstyle really attracts attention for all the right reason.
Vibrant shades such as this rich plum red are best suited to dark and warm skin tones; be sure to ask your stylist to conduct a color test before you take the plunge, to make sure the shade will suit you!
20 Different Updos for Women With Curly Hair
21. Ideal Curls
Getting your curly hair to reach idealistic twists is practically out of reach. However, just like every other allegedly flawless thing in the world, there's always a loophole. So, all you have to do is:
Wash your hair for fresh and nourished hair strands.
Blow dry your locks using a smooth bristle round hair brush.
Shape the curls with a curling iron.
Quick Tip: Higher temperatures of the curling iron might get your work done faster but expose you to split ends in the near future.
22. Faux Curls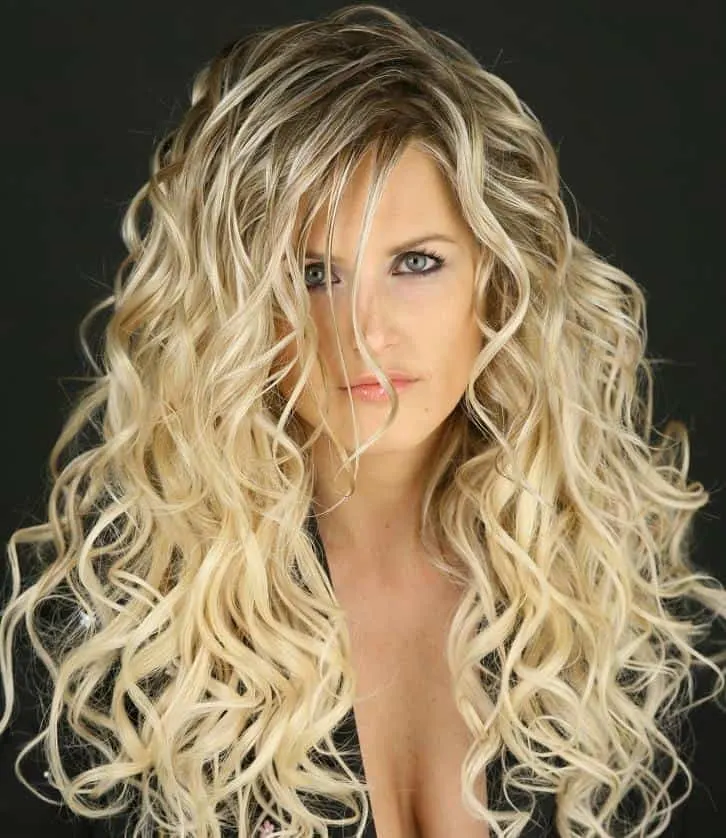 If you're a gal with super straight hair but craving curls and swirls as you're new hair design, you are going to have to use other ways. Especially, if you don't feel like grooming it each and every day for endless hours. So, all you need to do is head out and get yourself some faux curls or hair extensions which you can set aside and groom before hand.
23. Slightly Asymmetrical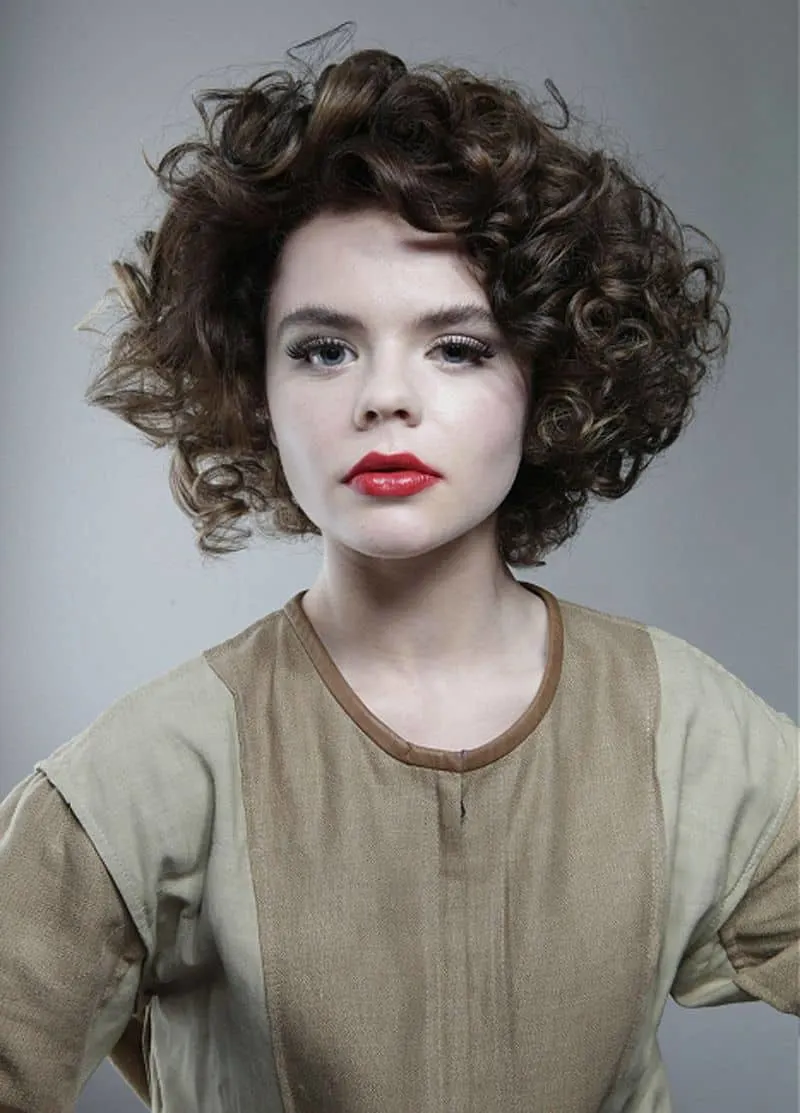 When everybody is going for the short curly bob, you need to think a little bit outside the box. But for newbies who still fear drastic changes in their current style, they can always try this asymmetrical bob out.
So, if they like it they will choose something, even more, during the next time they go to the barbershop. And it goes on and on until u start coming up with your own custom cuts.
24. Adorned Curls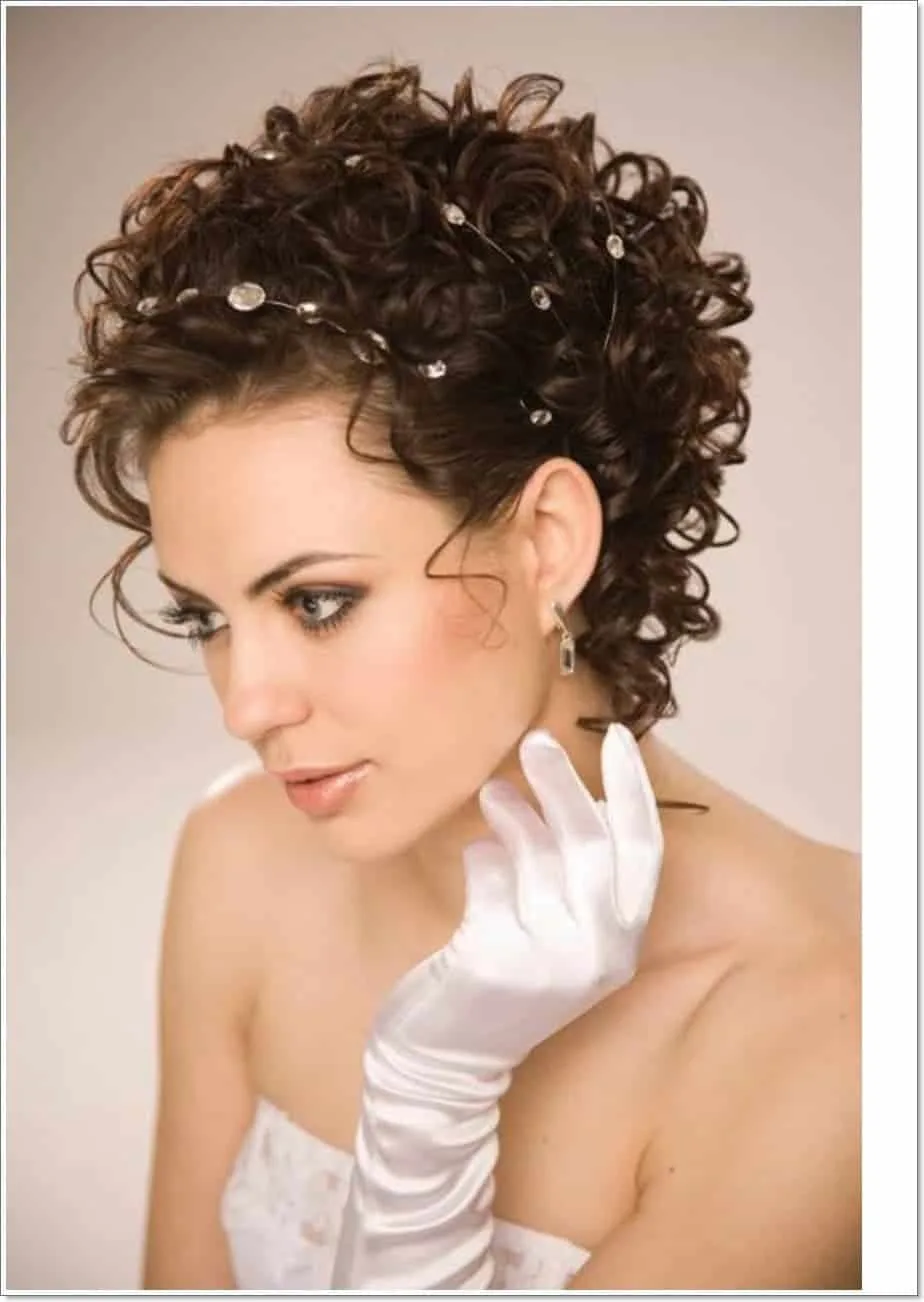 Weddings and other various special events, include a lot of moments that you can never redo or take back. Therefore, it's pretty essential to look your utmost best when the time for this event comes.
And because it's your special day, you need to stand out in the crowd and shine like the star that you're supposed to be. So, one way to do that is to get your cute curls adorned with sparkling accessories that go with your choice of earrings.
25. Slightly Wet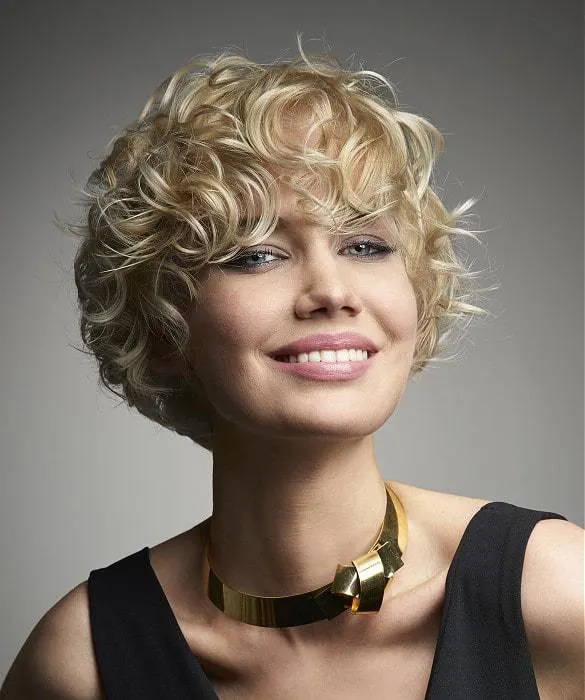 This design works best for girls who hate it when their hair gets dry and just floats all over the place. Meanwhile, moisture is another interesting factor that you can add to your hair design. So, why not give it a try and apply some hair mousse to your hair after washing in order to keep that wet appeal.
26. Side Bangs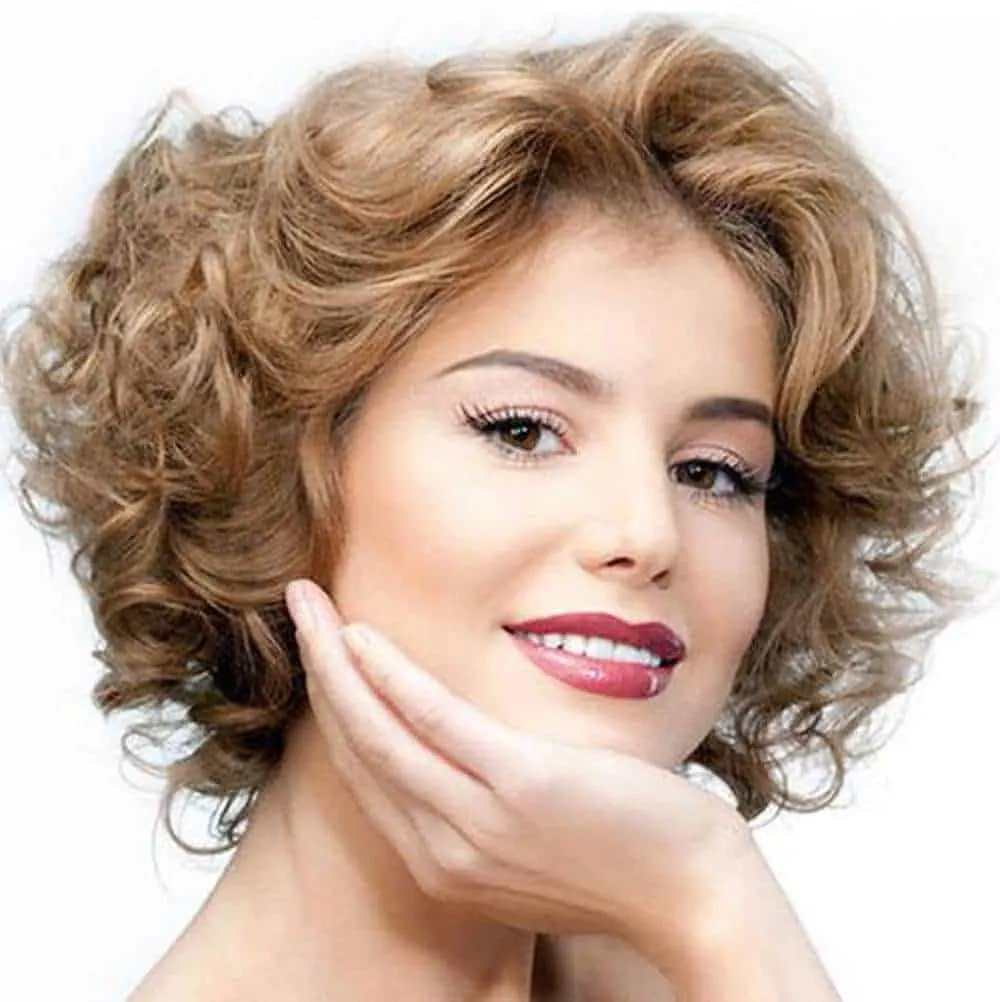 If you're not a fan of side swept undercuts or mohawks, then side bangs might be the right choice for you. Even though they have been a great hit back in the time, that doesn't mean that they can't be as stylish in our modern days.
Tip: The key to perfecting this design is constant brushing.
27. Curly Pixie Cuts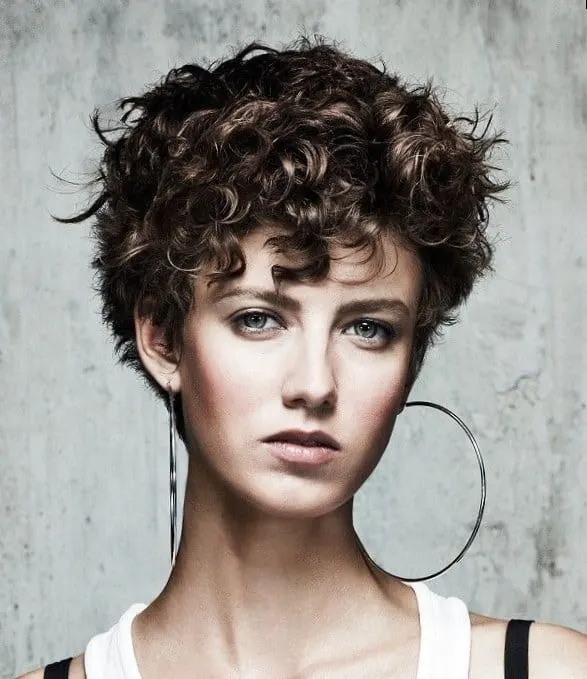 This kind of women short haircuts for curly hair are not for the weak-hearted. Because it is a daring move to go with this kind of drastic change while not knowing how it turns out. However, they are the kind of styles that can take a few years off your age and that's what makes you like them even more.
28. Freestyling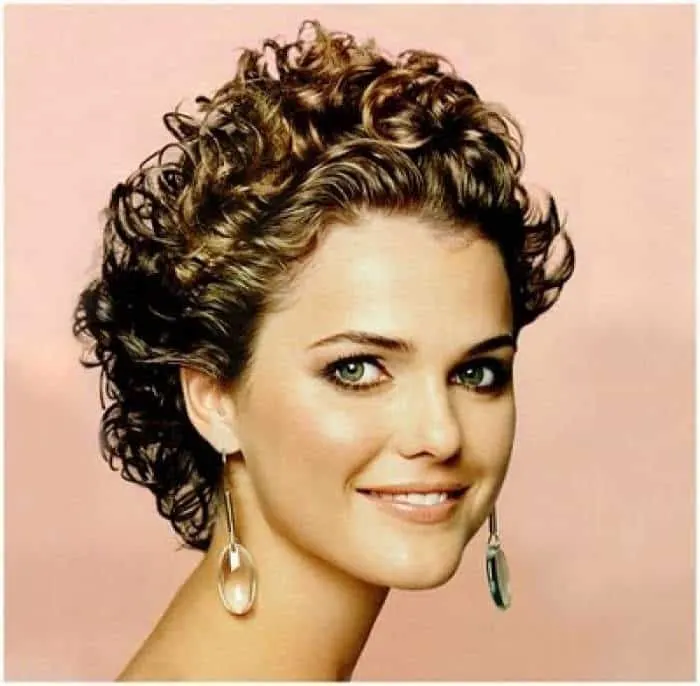 When you're not sure of the hair length you want or the intensity of curls you desire, then just freestyle your way and see how it turns out. So, in the photo above, the cute actress know for "The Waitress" movie uses more than just a dab of hair pomade to make her look to come to life.
29 Neck Length Bob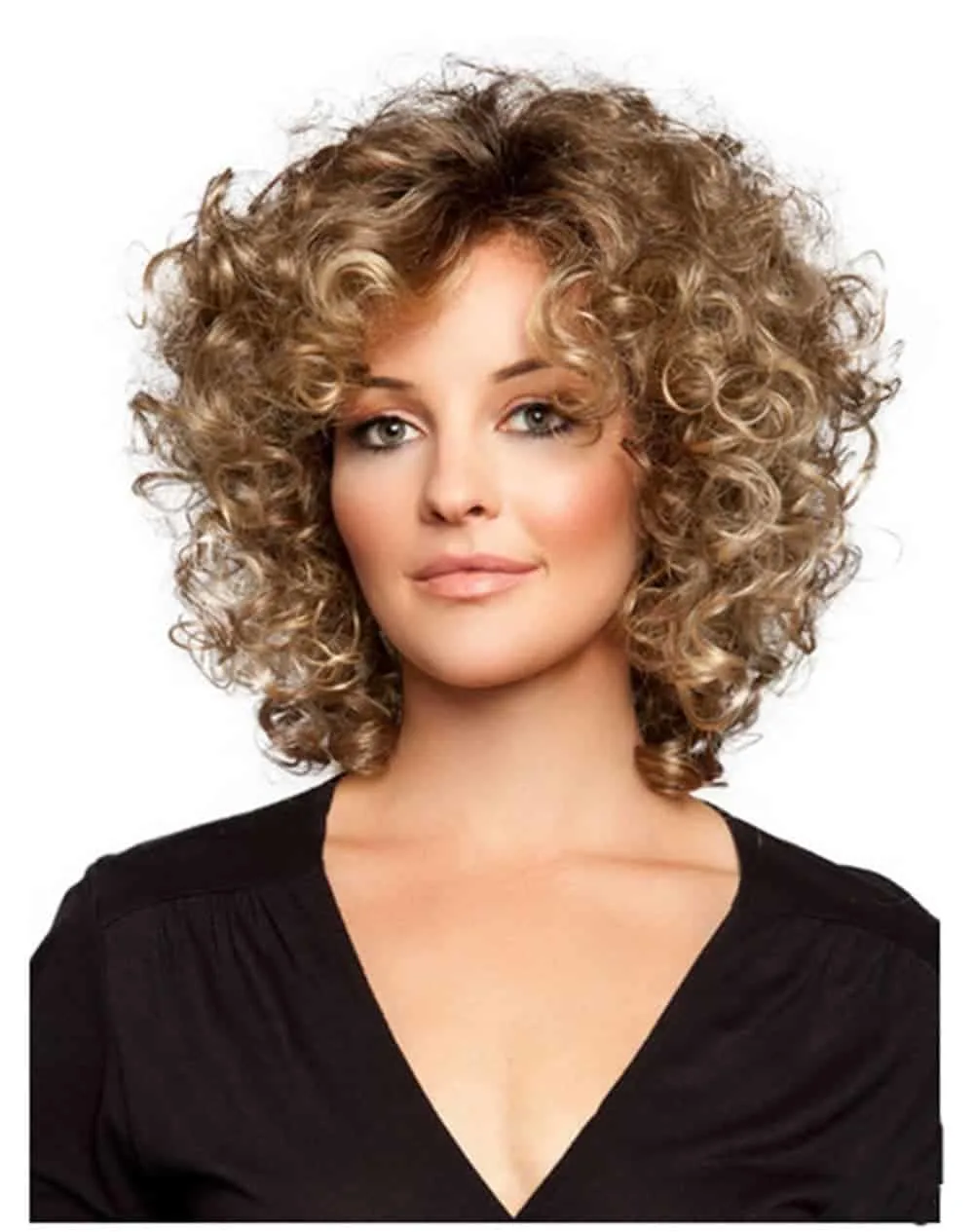 Short hair doesn't necessarily mean ear lengthed cuts or pixies. So, if you don't have the heart to let go of your long hair you can always get a mediocre cut and still save time on styling and maintenance.
30. What's More Important?
Does getting ready for work first thing in the morning always ends up with you rushing out of the door while everything is out of proportion?
Because curly hair has its own seductive texture, you can head out with your " I just rolled out of bed" hair and still looking amazing! Meanwhile, you would be saving up an extra few minutes for adjusting your makeup.
Therefore, you would be avoiding awkward situations like poorly applied mascara or lipstick on your teeth.
31. Up In A Bun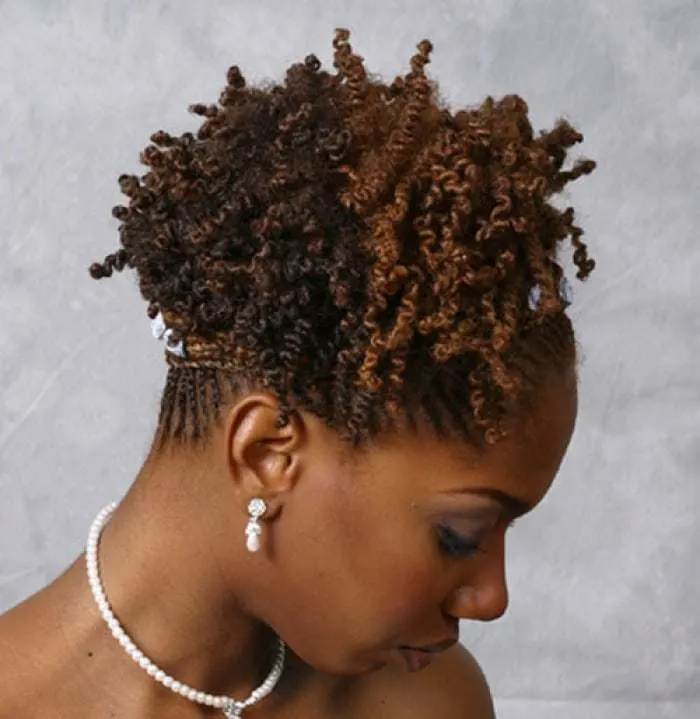 Medium length hair can still be holstered up in a bun for when the weather is hotter than ever. Thus, your curls would still maintain their frizz with your neck being airy and hair free. Moreover, this is a rather formal look. So, you should definitely try it in your next upcoming events.
32. Highlights
Adding a little flare is what makes your women short haircuts for curly hair so exceptional and catchy. So, you can try highlighting a selected portion of your hair and enjoy your time in the spotlight.
33. Cute Chopped Bob for Short Curly Hair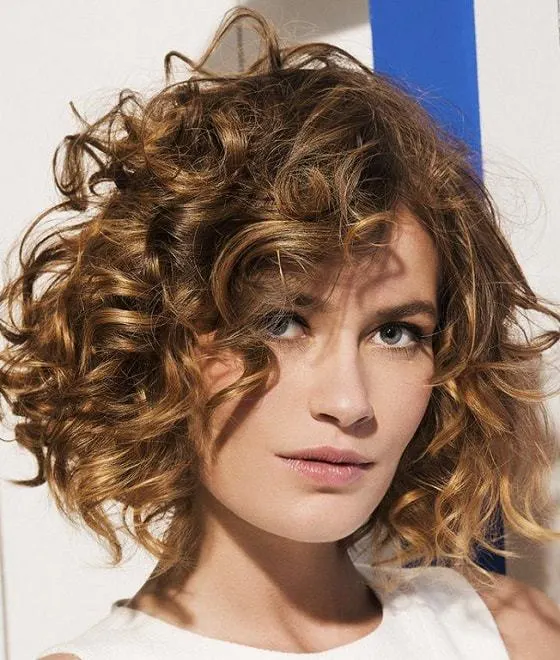 Randomly chopping off your curls will create a unique texture and eye-grabbing appeal. Because when it is random it becomes interesting and different from what everybody else is already doing. And that's what we are opting for.
34. Messy Is The New Dressy
Nowadays, messy haircuts are trendy and in style. Because people are growing to be more and lazier, the more effortless a hairstyle is, the more it goes viral.
35. Don't Forget Hair Products
Curly pixies don't come out as flawless and perfect as easy as it might seem. Because sometimes you have got to meddle and give your hair a little boost with some hair products like energy drinks needed for sleepless nights. And for the example shown above, you'll need hair wax for the sleek back flick.
36. It's All About The Frizz
Some people think that frizzy curls are the only thing that can scream young and beyond gorgeous. So, why not try to take the hint and go with more and more curls. But, how can you do that? While blow-drying your hair after a wash, use the diffuser extension to get more frizz and more volume for your hair.
37. Au Naturel
Sometimes, going out with your natural hair is all that you need. However, this look works best for casual and everyday strolls. So, you might want to choose something else if you are picking women short haircuts for curly hair that suit a formal event.
38. Angled Cut
The key to this haircut is the angle that enables the hair locks to be elongated forward while the face remains centralized. In addition to that, don't fear messy hair. Because nowadays, messy is "in" and no longer considered as a flaw.
39. Afro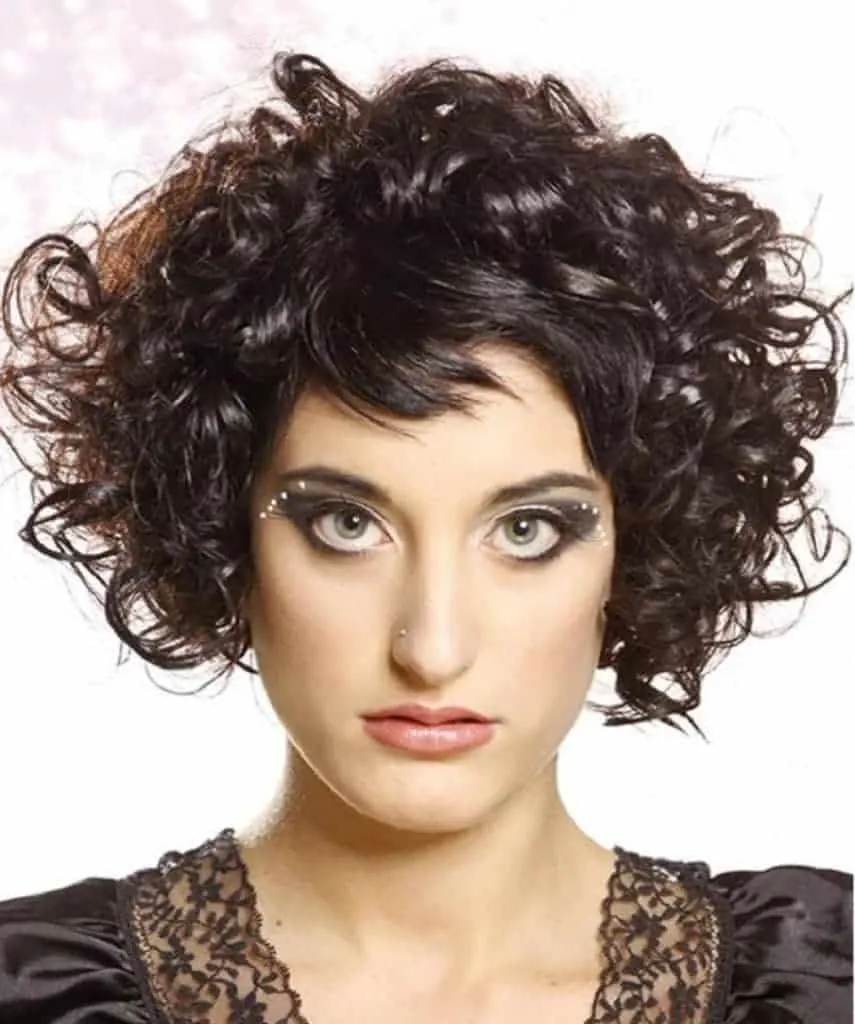 The afro is a refreshing silhouette that not every woman out there dares to try. However, what not everybody knows is that the tighter the texture the better the afro turns out. But why? Because you need the volume to get the full on bobby effect.
Tip: It best goes with round or oval face shapes.
40. Loose Curls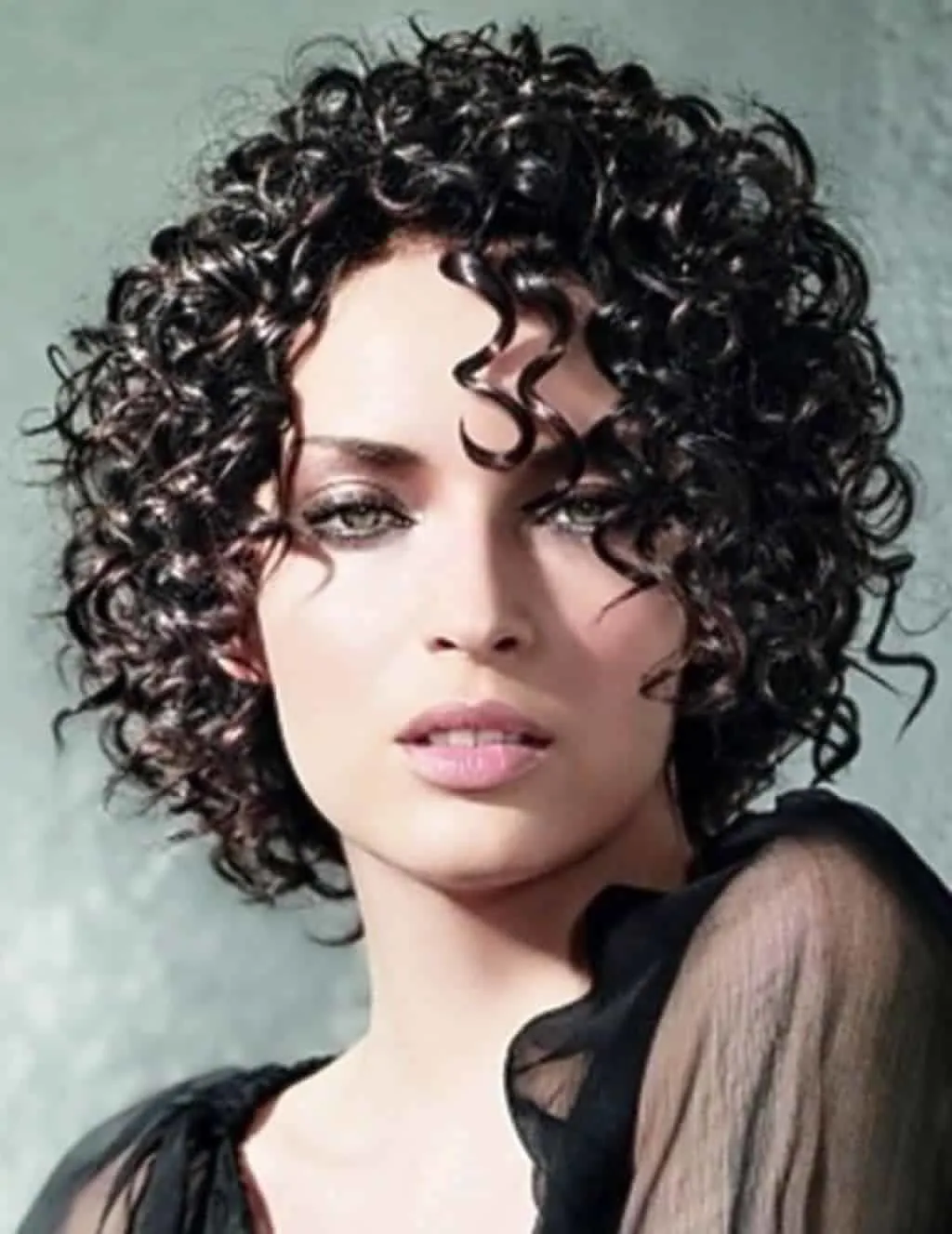 Asking for a long and layered haircut is one step away from hitting stardom in the fashion design world. Especially when you've got loose curls that fit just perfectly in any short curly cut imaginable.
41. Golden Glow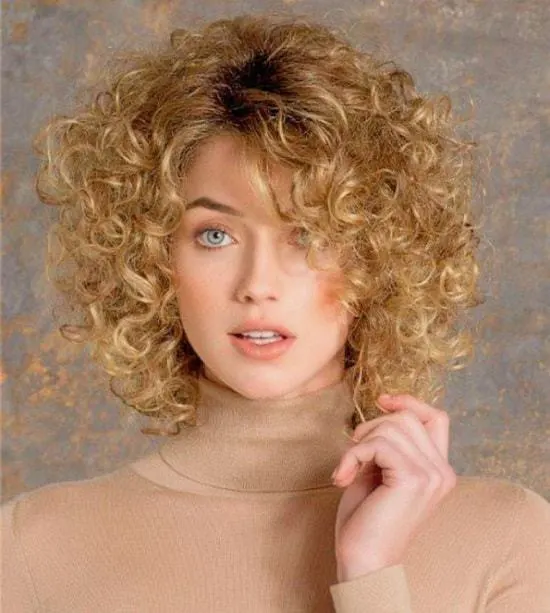 Whoever said that hair color doesn't matter clearly hasn't seen the power of the golden color. Especially when it is paired up with the brighter skin complexions and nude makeup choices. So, try out some women short haircuts for curly hair with a completely new color palette and see successfully it turns out.
42. Light Layering Techniques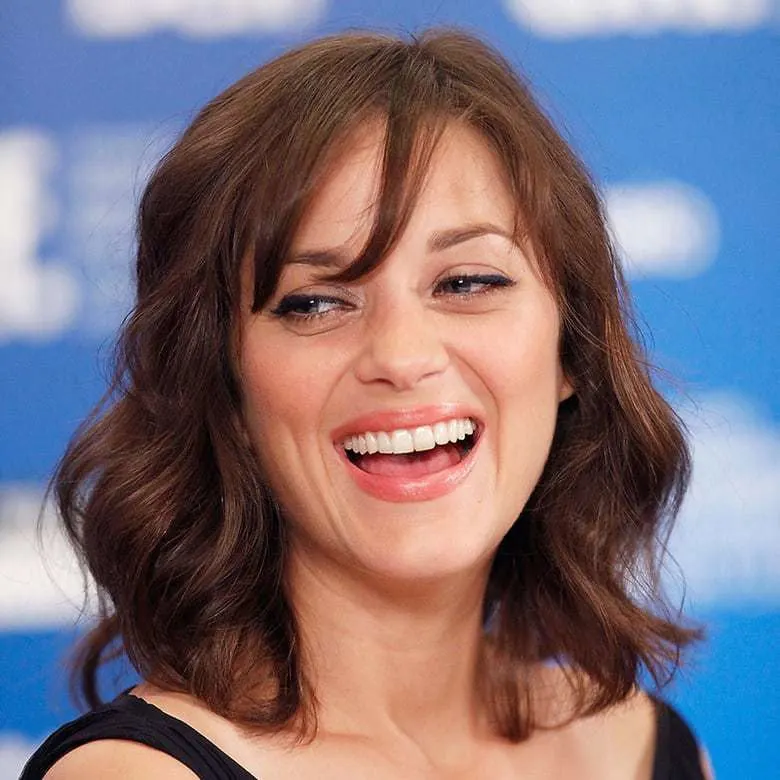 To get this wavy soft look, ask your stylist for light layering at the bottom part of your hairline. Moreover, these bags are suitable for just any face shape because they are medium lengthed rather than being too short.
More Short Haircuts for Curly Hair To Be Obsessed With
Larger curls or looser waves look even more trendy nowadays. Because embracing your natural hair type increases the chances of you looking prettier, here are all the tips and tricks you'll need to know about taming your curls.
However, for girls who have busy schedules and empires of their own worlds to run, we suggest getting a shorter cut for minimal maintenance. Thus, get inspired by the list below to discover all the hacks about saving a few extra minutes while looking as fabulous as ever.
Maintaining disobedient curls can be a tricky task. However, curly hair has always had its own magnetic appeal. Therefore, you can take a shortcut and get yourself one of the cutest women short haircuts for curly hair.
This way, you'll have the best of both worlds! And no matter how much you hear about the strong relationship between long hair and more feminine looks, you need to discard it as a false myth.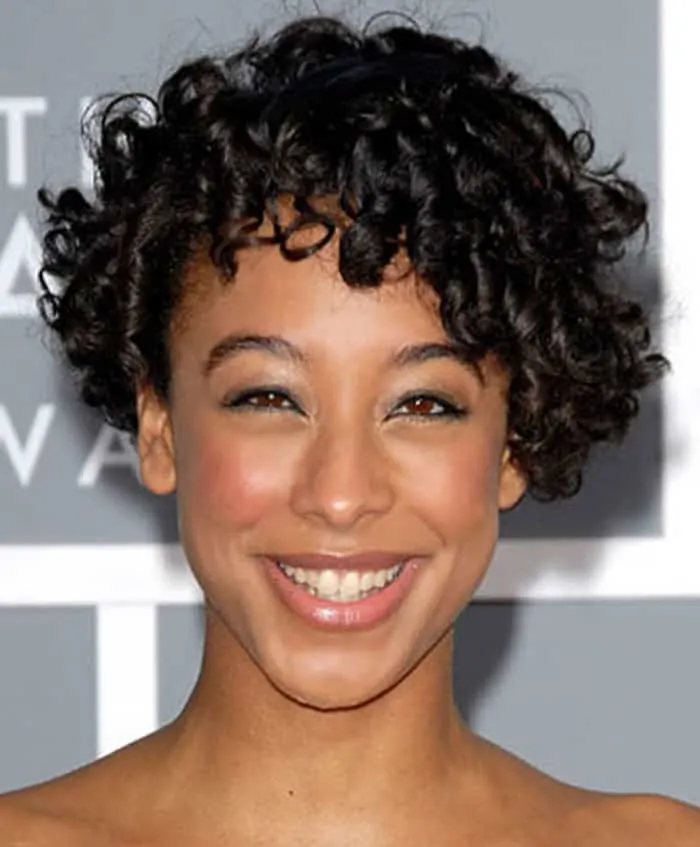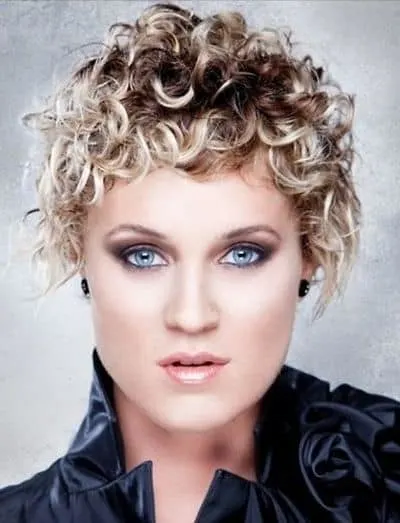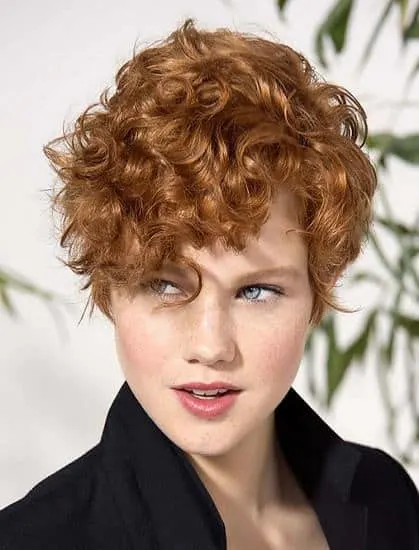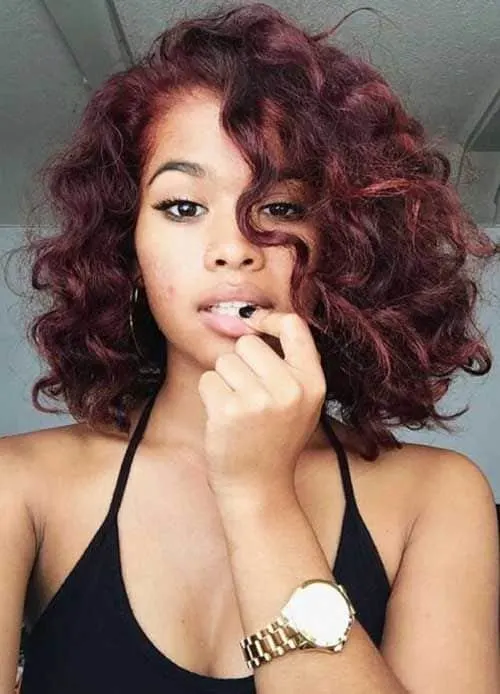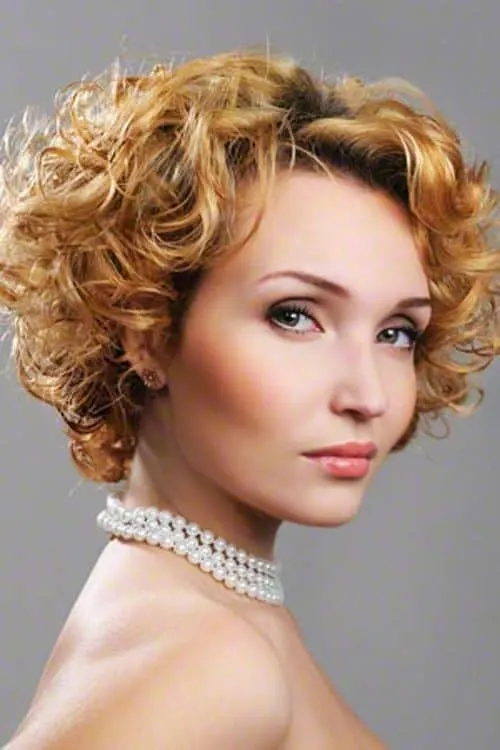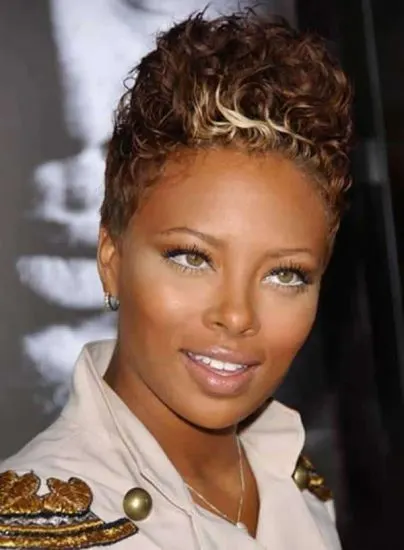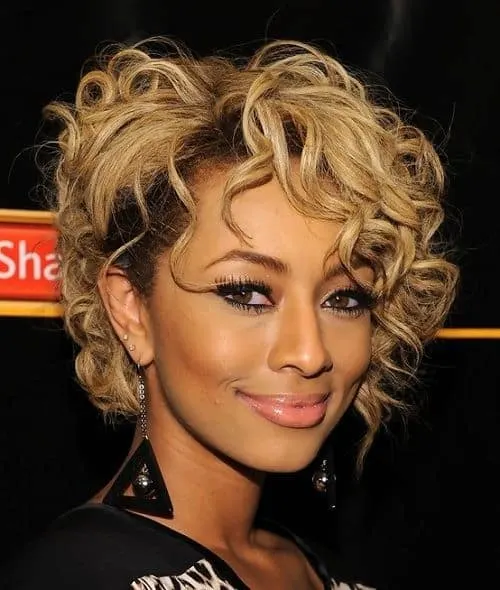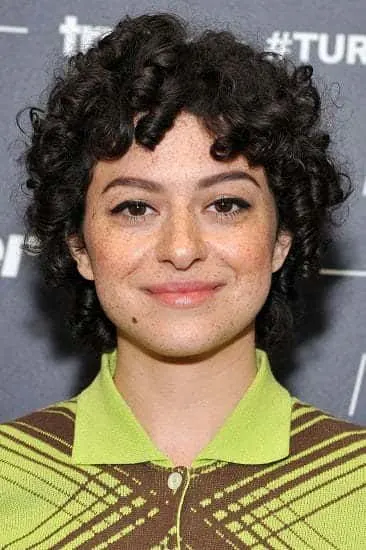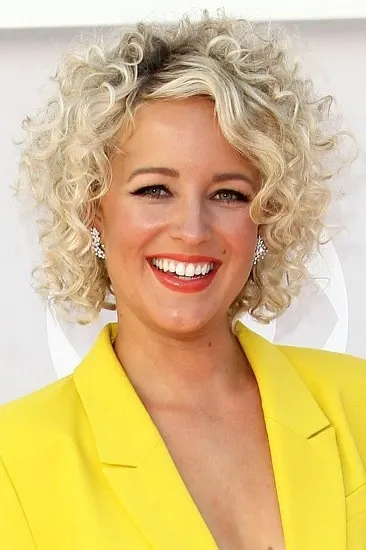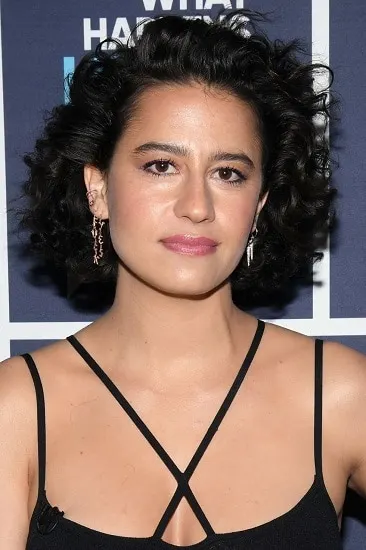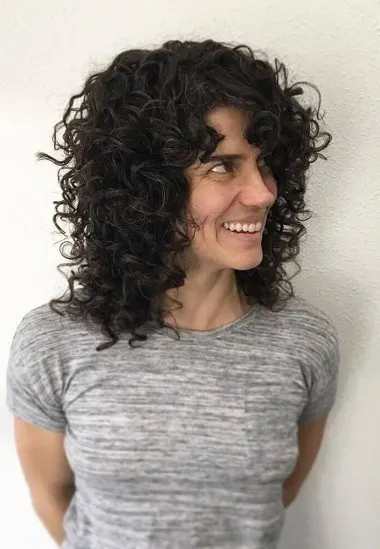 Maintaining these short and cute curly hairstyles is much easier than you might think: Condition your hair regularly and add shine serum to it on a daily basis to ensure that it looks as glossy and healthy as possible. Visit your colorist for regular color top-ups; these should take place every six to eight weeks.
Finally, even if you are trying to grow out your hair make sure you get regular trims; this will keep your hair healthy and help to minimize the risk of getting split ends.
In conclusion, curly hairdos are live proof that youthful haircuts that flatter almost any face shape really do exist. So, don't wait any longer and just copy any of the above women short haircuts for curly hair that suits you best. Finally, Happy Styling!