Short curly hair is often seen as a curse, but the right cut and styling products can help to turn it into a blessing. After all, many people spend a small fortune having their hair permed to recreate the natural curls that you were given for free!
Summer is the perfect time to cut your curly hair short, as it will remove a lot of its weight and make it much easier to have fun in the sun without having to worry about protecting your hair. However many women with curly hair worry about cutting their curls and fear that their shorter hair will be difficult to style.
Trendy Short Curly Hairstyle Ideas for Women
The key to making the most of your short curly hair is to get a good cut. Choose your hairdresser carefully, and work with one who has experience cutting into curls, and making the most of them. Trust your gut instinct, and if you don't feel confident in your stylist's abilities then simply don't let them cut your hair! If your hair is very thick then avoid having too many layers put into your hair, and when choosing products opt for the lightest products possible that won't weigh down your already heavy hair. Once you've got the right cut and the right products, your hair should be easy to manage style and maintain.
Here are thirty beautiful hairstyles for short curly hair that are sure to suit you, no matter what your age, hair color, or face shape:
1. Short Curly Bob with Side Swept Fringe
The curly bob is the perfect style to help you to make the most of your curly hair without having to spend hours styling it.
One of the best things about curly hair is that even when you don't style it, or put any product on it, it still looks fantastic provided you have the right cut. To get the best cut to suit your curls, keep the front of your hair slightly longer than the back. A blunt cut, worn close along the neckline, is a popular choice. This will ensure that your bob looks both modern and stylish, and will also make it easier to maintain.
Boldest Short Curly Hairstyles for Black Women
Once you have achieved the style you want, use a strong hold hairspray to hold your hair in place, and pull your hair into a messy side parting to create a style that is flattering no matter what your age or face shape.
2. Short and tapered curls
For a fashion-forward and no-nonsense take on short curly hair, wear your curls long on top and then have them cut short and tapered into your neck. This style makes use of the natural volume of your curly hair, using this to create a deep contrast between the fullest and most narrow parts of the style. This is a style that thins out your hair and lets your curls flow free.
Make use of both mousse and hair spray to hold the length of your hair in place, and style your hair with your fingers, rather than comb out your curls with a hairbrush or comb.
3. Short Curly Hair with Blonde Highlights
Let your short curly hair make a statement and stand out for all the right reasons by adding blonde highlights to it, using these to create a frame around your face. Foil highlights will work best for this kind of style, although balayage color can also be added to curls if you prefer a more subtle and understated blonde injection. Ask your hairdresser for a half head of highlights and to focus the color on the curls that frame your face.
Achieving this look is surprisingly simple. Apply coconut oil all over your hair before showering and then rub coconut oil through the ends of your hair once it is dry to enhance its shine, and then add a dollop of mousse into the roots of your hair to make it more voluminous and hold your style in place. Sweep your hair across your face in a deep side parting to create a flattering style that will suit any face shape.
4. Cute Curly Pixie Crop
If you're looking for a cute and girly way to manage your curly hair then why not consider having it cut into a pixie crop? This low maintenance style is the perfect way to tame unruly curls if you're looking for a haircut that won't take hours to style every morning. With the pixie crop, you can wash, style, and go in less than ten minutes!
Getting the right cut is key to making the curly pixie crop a success: Ask your hairdresser to cut into your curls so that they fall into your head rather than away from it, and then run a texturizing putty or salt spray through the ends to hold the style into place. This is a great style if you have a heart-shaped or narrow face, whilst individuals with fuller faces should instead look for a style with a longer length falling around the face.
5. Red Ringlet Curls
Why stick to natural hair colors when you could experiment with something bold and attention grabbing instead? Curly hair already shows stopping, but adding a bold color to it will ensure that your hairstyle really attracts attention for all the right reason. Vibrant shades such as this rich plum red are best suited to dark and warm skin tones; be sure to ask your stylist to conduct a color test before you take the plunge, to make sure the shade will suit you!
20 Different Updos for Women With Curly Hair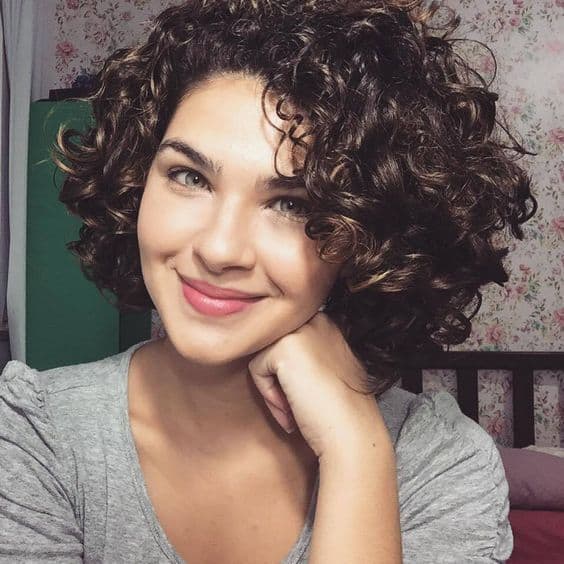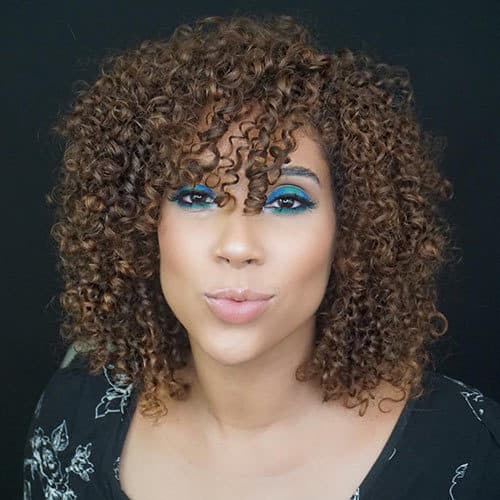 Take a Look at Some More Cute Short Curly Hairstyle
Maintaining this short length curly hairstyle is much easier than you might think: Condition your hair regularly and add shine serum to it on a daily basis to ensure that it looks as glossy and healthy as possible. Visit your colorist for regular color top-ups; these should take place every six to eight weeks. Finally, even if you are trying to grow out your hair make sure you get regular trims; this will keep your hair healthy and help to minimize the risk of getting split ends.