If you have medium-length hair, you must have thought about created medium curly hairstyles. Unless your own locks are naturally curly, there are many ways to achieve these styles. Even if you sport a naturally curly mane, you must have various troubles with keeping it neat.
There are many approaches to creating curls and even more to keep them perfect, but not all of them are suitable for everyday wear. Starting from plenty of hair gel and ending with a perm, you need to choose the right option for you.
Love Bangs? Try Medium Curly Hairstyles with Bangs
When you opt for a medium curly hairstyle, you might wonder what to do with the bangs. There are several options to go for in order to look fashionable. Let's take a look.
Blunt bangs– Straight blunt bangs are a perfect choice for women with medium curly hair. They create a special contrast, which makes the hairstyles look festive and ready for special occasions.
Wispy bangs – If your hair is not thick enough to create stunning blunt bangs, you can go for a wispy option. Just make sure to keep the bangs straight.
No bangs – If you don't feel up to styling your bangs daily, you can go for a no bangs hairstyle. While it's not as impressive as the above two options, it makes your mornings hassle-free.
Elegant Medium Curly Hairstyles for Women
Before starting out on your way to getting a medium curly hairstyle, ask yourself if you are ready to keep it maintained on a daily basis. Girls with straight hair wish for curls, and girls with curls wish for straight hair or at least for neat curls.
Long curly hair is harder to take care of than medium-length hairstyles. We collected 40 various curly hairstyles for medium hair to help you get a good idea of what you should strive for. If you are ready for the touchups, go ahead and give one a try!
1. Ombre Kinky Curls
Medium-length kinky curls can be styled in a chic manner. Create a dark to light ombre effect by merging the dark roots into a vivid blonde hue midway to the ends. Style the hair with a deep side part creating a voluminous top with a floral headband.
2. Messy Pigtails
Pigtails are timeless and they look cute on young ladies with medium hair. Brush the blonde curls with a middle part and secure them into two loose pigtails. Don't tame the flyaways rather leave them free to sway and accentuate this messy look.
3. Carefree Coils
Flaunt your bouncy coils with a carefree hairstyle that is fun to carry. A silk headband is used to push all the medium-length curls away from the face. Top off the look with oversized sunglasses which is easy to maintain all day long.
4. Side Tousled
For the blonde-haired ladies out there, this dreamy look is effortless to achieve. Use a curling iron to get these curly coils if not natural. Simply tousle them on one side and you are ready to rock the world.
5. Side-Swept Curly Fringe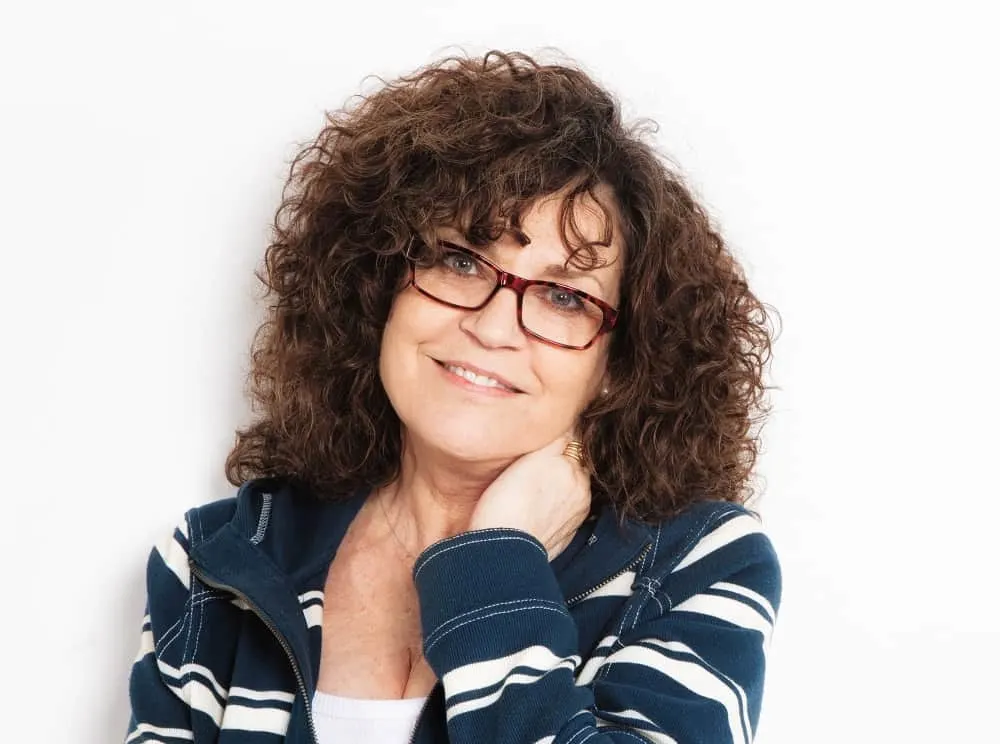 Middle-aged women can flaunt their medium-length natural curls with a side-parted hair look. The strands are layered to frame the face with a curly front fringe falling on the forehead. Just finger comb the hair and the look is ready.
6. Pinned Back
Create this half up half down look by taking half of the hair and securing it at the back with bobby pins while keeping the remaining curls loose. This is an easy hairstyle for busy women to keep the strands away from their faces the entire day.
7. Retro Look
Achieve a retro look with this toned-down version of a pineapple updo. A headband is used to keep the curls away from the face which are styled in a high updo at the back. Pull out a few strands at the front to top off the style.
8. Curly Bangs
This hot medium curly hairstyle is to die for. The strands are chopped to shoulder length with curly eyebrow-grazing bangs at the front. This look is ideal for ladies with naturally ginger hair. Finish it off with a chic hat to keep all the eyes on you.
9. Wet Spirals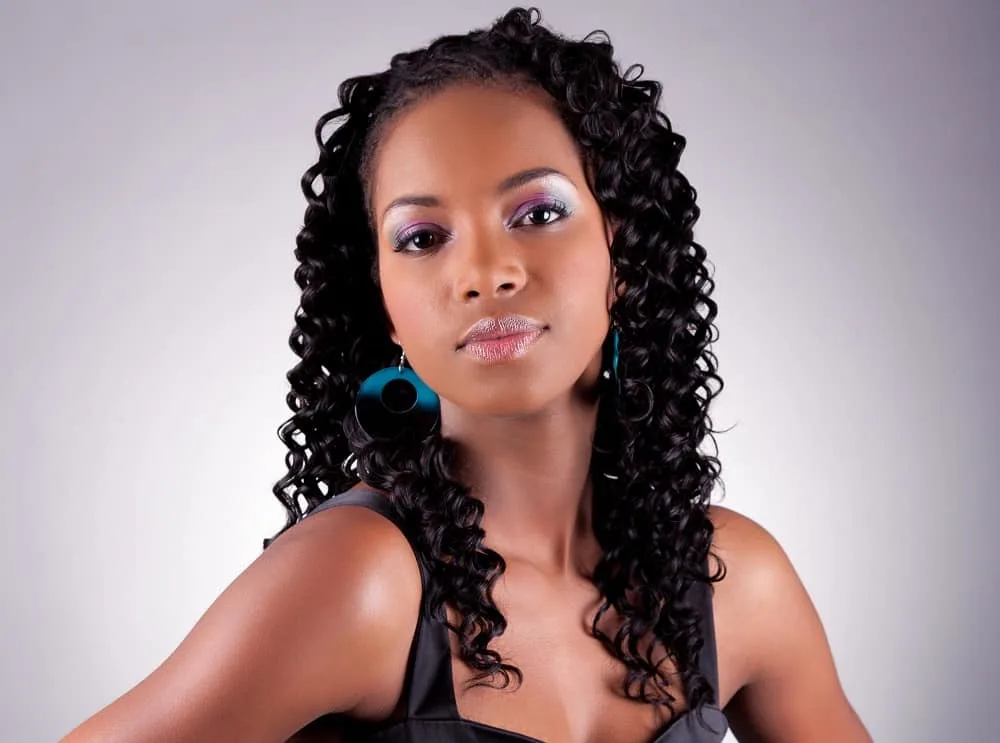 Get rid of the frizzy hair by trying out a wet look. Hairstyling gel is used to define each individual curl. The front is tightly twisted and pinned down to contrast with the remaining loose strands. Dark-skinned women with thick medium-length hair can confidently opt for this look.
10. Lavender Afro Hair
Amp up your afro curls by coloring them in an unusual shade. Copy this style by dying the hair in a cool lavender tint to contrast with the pitch black roots. The middle-parted curly bangs add a funky touch to the look.
11. Reverse Ombre curls
When you are creating a hairstyle for a special occasion, you might want to consider a reversed ombre. Use golden or platinum blonde dye on top and go for a darker shade of blonde on the bottom.
Updos for Women with Medium hair
12. Careless bangs
If you don't want to go through the hassle of styling your bangs, you can go for layers. The shortest layer on top can act as bangs when you need them. You can brush them back when you don't.
13. Low curls
If you have a round face, you might want to consider this amazing medium curly hairstyle. The top of the hair is kept straight while the ends are curled into large spirals. This is a great choice for a special occasion.
Different Updos for Women With Curly Hair
If you want to keep your hair curly without daily maintenance, consider getting a perm. This approach will allow you to find out how it feels to have naturally curly hair. However, it takes a toll on your locks.
15. Slight waves
Slight waves are the most natural choice for women with thin hair. Since the volume is hard to achieve, you can just lift the hair up a little bit by creating soft ways. The overall image is soft and inviting.
16. Voluminous fun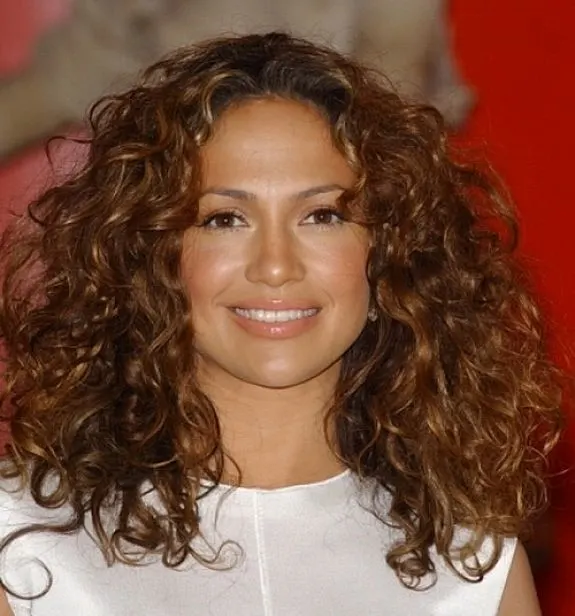 If you have thick straight hair, you can play around with the volume by curling up thin strands and creating a curly extravaganza on your head. This is a good one-time hairstyle, which is hard to maintain every day.
Medium Hairstyles for Women with Round Faces
17. Messy curls
When you are creating medium curly hairstyles, it's often hard to keep the curls neat. They tend to become frizzy and stick up. You can tame them with plenty of hair gel or leave them as they are for a natural look.
18. Bright colors
If you are planning to exchange your straight hair for a curly mane, consider dyeing it as well. Go for soft ash blonde colors to completely change your image. The more natural the color looks, the better the curls will suit you.
Beautiful Bangs to Try With Curly Hair
19. Natural curls
If your hair is just slightly curly, give it just a little help to keep the stunning look. You can tame the curls on the bottom to give them some shape with a curling iron. Go further to straighten out the bangs.
20. Straight top
If you have a round face, you need to be careful with creating medium curly hairstyles since they can add unnecessary volume to your head. If you really want curls, consider keeping the very top part straight.
There is a large pool of medium curly hairstyles for women that you can choose from. Whether you have tight curls or loose ones, there are plenty of options here for you to choose from. Make sure you use styling products designed for curly hair so that you can keep your fabulous look all day long. There are curly styles here that are fast and easy as well as some that take a bit more time. Take your pick based on your schedule and where you are going.
21. Slight spirals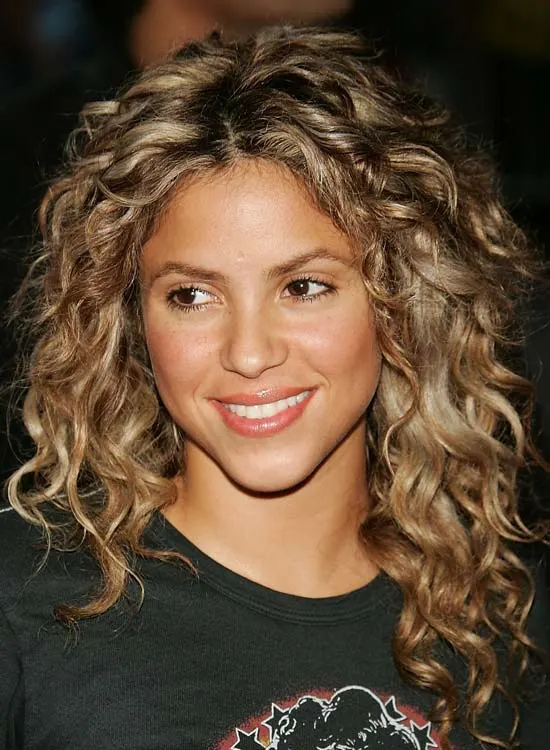 Curls don't necessarily mean very tight coils. You can create slight spirals that are tighter than waves but looser than permed curls. You can enjoy this middle ground for as long as you wish.
22. Wavy bangs
If you are thinking about curling your hair, you have to consider the bangs. While blunt bangs are the perfect choice for your locks, they are hard to keep neat. Consider medium-sized bangs and leave them a slight wave.
23. Eye touching bangs
If your medium curly hair is not tightly coiled, you might want to add your bangs some volume. Create eye-touching bangs with a slight wave to add some romance to your image.
24. Slightly curly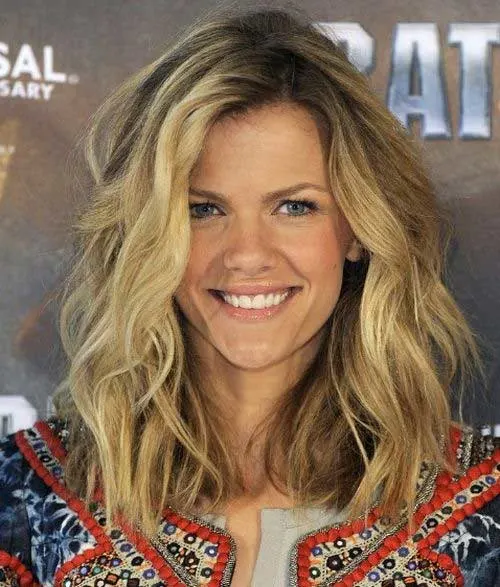 Leave your natural curl intact and give it some boost by cutting the ends in a blunt fashion. No matter what hairstyle you choose afterward, the curls will look neat.
Bangs for Women With Medium Length Hair
25. Professional curl
While most women prefer to curl their locks on their own, a professionally made curl is always better. Allow yourself to enjoy a truly fashionable look by seeking professional assistance.
26. Tousled curls with texture
A head of curls always looks great if they seem to have been done with abandon yet still groomed. Use your fingers to pull curls randomly to create a boho feel.
27. Face framing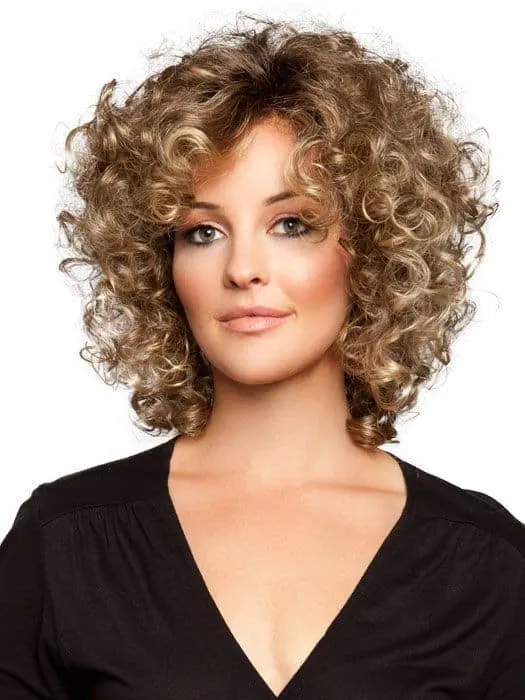 If you're lucky enough to have tighter curls, this one of the best medium curly hairstyles for women. Use your fingers to comb the curls into place so they are symmetrical on both sides.
28. Beachy curls
The great thing about this look is that its kind of effortless. Use a texturizing product to refine your curls, then let them fall where they may. You'll look a little bit carefree but still put together.
29. A little bit edgy
Who says that medium curly hairstyles for women have to be boring? Why not give yours an edgy with a fun new color. Combined with well-defined and face-framing curls, you have a put together look you're going to love.
Love Curly Hair? Try These Short Curly & Wavy Hairstyles
30. Short and sweet
If your curls are better with a shorter style, you'll love this look. Use a curly hair formulated mousse to get your curls to lay right. Then try a center or side part to jazz things up.
31. Shoulder Length Side Part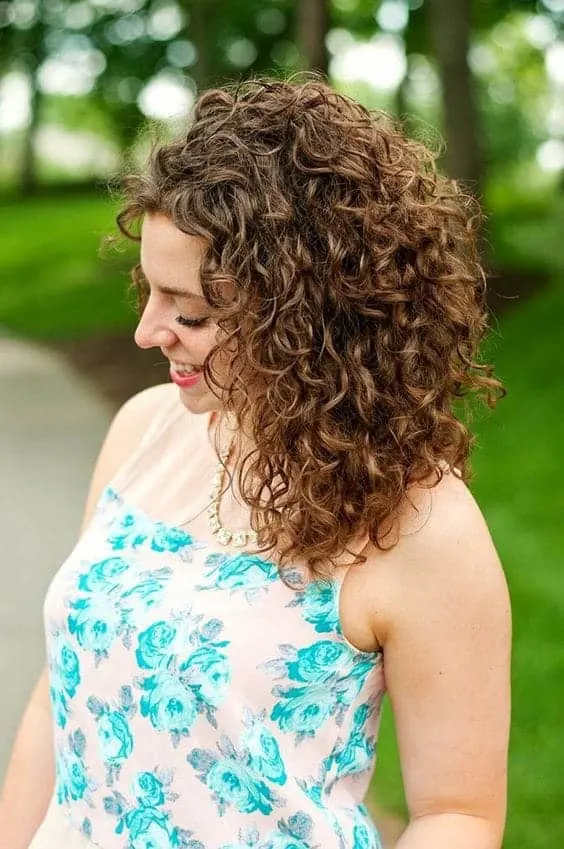 Longer curls can sit right at your shoulders. The side part gives you some volume since longer hair tends to be a bit harder to fluff up. Air drying your curls is a great way to get them to submit to what you want.
32. Longer in front
This is a nice take on an asymmetric style. It's a trendy style that seems to be reaching classic hair status. It's also one of the easiest medium curly hairstyles for women. Have your stylist cut your curls longer in front than in the back and then use a curl product all over to get these fantastic ringlets.
Although these curly hairstyles are for medium length hair, the tightness or looseness of the curls can make your hair appear longer or shorter. Add texture or be casual, be elegant or tousled… there are many possibilities.
Before making a decision about whether or not you need a medium curly hairstyle, take another look at these options and your current image. Not all of these hairstyles are hard to make and maintain. You can start with a simple one and go from there.