If you have curly or wavy hair, you are most likely looking for new ways to deal with it. Updos for curly hair can make your life with unruly locks much easier. Women are always searching for an approach to make their hair look beautiful without too much effort.
Knowing a few easy tricks can make life much easier especially when you are pressed for time. People often associate curly hair with too much hassle. However, there are ways to keep it at bay and out of the way without any struggle.
Your best bet to make your locks manageable is to do a simple updo. Curly hair tends to get frizzy and stick out in different directions unless tamed by hair gel. But daily use of hair products can have an unfortunate effect on your beautiful locks.
Meanwhile, a good updo can do the same job without a drop of hair cosmetics. Learning how to make creative updos won't just keep the hair out of your face, it will make your image truly stunning.
Why Try A Curly Updo?
If you are considering a short haircut just because you are tired of the way your curly locks look, don't make any rushed decisions. Updos for curly hair can solve your problems without going to the barbershop. Knowing how to create a beautiful yet simple updo will make flaunting curly hair fun and easy.
Popular Updos for Curly Hair
Women with curly hair can appreciate a few new and improved ways to deal with it. Curly hair updos are specifically designed to make it appear voluminous yet neat. We came up with 40 ways to make your curly hair look beautiful without too much effort.
Wearing your curly hair down for a special occasion can be a wonderful choice but for everyday activities, a simple updo can save the day.
You'll be surprised how many impressive curly hairdos there are and how fast you can make them on your own. Browse through 40 of the best updo hairstyles for women with curly hair to pick at least a couple for yourself.
The below hairstyles can also be suitable for various occasions, be at a corporate party or a wedding. Knowing how to deal with your curly locks can save you plenty of time and nerves in the future.
1. Messy Curly Hair Updo
To get the messy updo, gather hair using fingers to comb it into a high ponytail. Haphazardly throw it into a bun or pony, leaving loose tresses to pop out.
2. Curly Updo for Black Women
Although hair is gathered into a high bun on this updo, you can still see the curly hair's texture in soft waves and in the loose tendrils hanging against ears.
3. Short Curly Hair Updo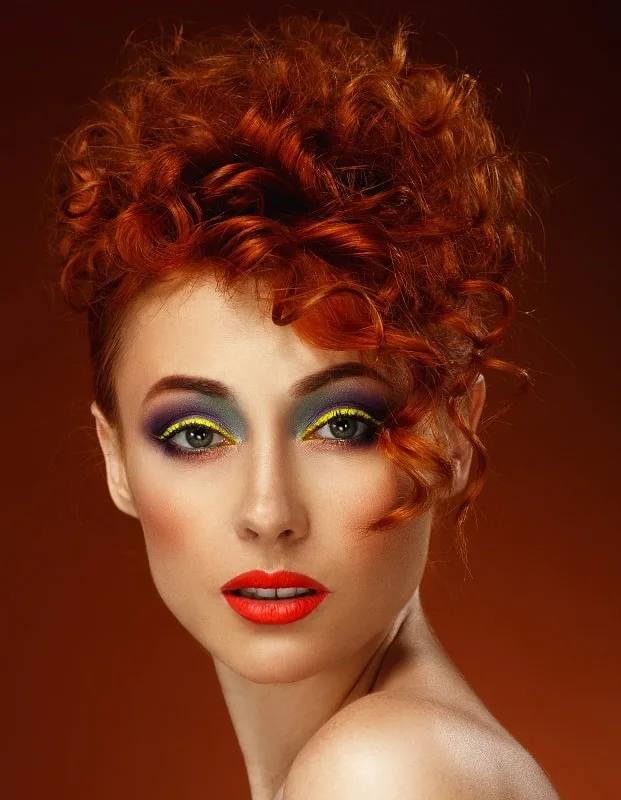 For short curly hair, work on gathering it into a side pony or lopsided bun. You can also push the ponytail forward so that all your springy curls fall forward over the forehead.
4. Curly Updo with Bangs
This curly updo features a high bun at the crown, but a small center part at the front the leaves two sections of hair to fall to either side of the forehead. You can straighten them for wear them curly
5. Long Curly Hair Updo
If you have dark curly hair, consider adding highlights, especially up front where they're noticeable. On this updo for long hair, curls will stand out even more.
6. Curly Updo with Bandana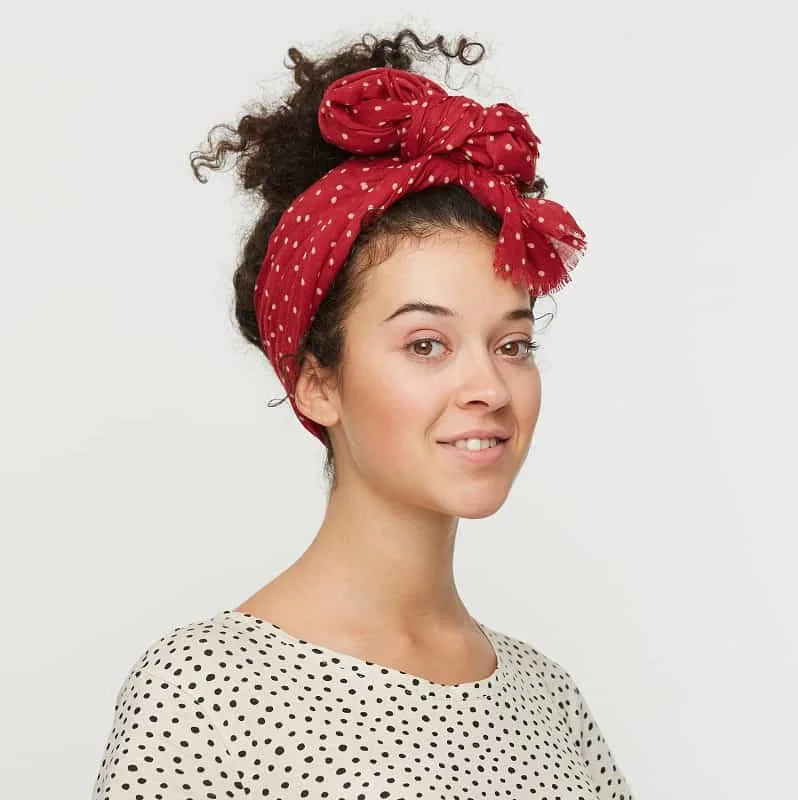 Like the pin-up girl look? A bright red bandana in a solid color or with a print (like polka dots) will accent a high ponytail for curly hair superbly.
7. Curly Updo Hairstyle for Prom
Prom calls for a fancy hairdo for sure. Ask a stylist or your best friend to load up your hair with rich curls. Then strategically pin them in place at the back, leaving a few tendrils loose for face framing.
8. Updo for Medium Curly Hair
Medium hair is the perfect length to throw up into a curly updo. Use a hair clip to keep it in place, letting loose curls to hang across the forehead or on the sides of your face.
9. Curly Half Updo
For curly locks, an updo that's only half up is adorable while taming texture. Simply gather the top half into a bun or pony, letting the rest fall over shoulders.
10. Curly Side Updo
Side updos are adorable spunky and old-fashioned. They also only take two minutes to put together since you just secure the hair off to one side. Use a bandana or ribbon to add some personality.
11. Updo for Loose Curly Hair
Another way to display curly hair? Two space buns a la Disney's Zenon: Girl of the 21st Century. It's a spunky and perky updo great for taming curls.
12. Curly Updo for Office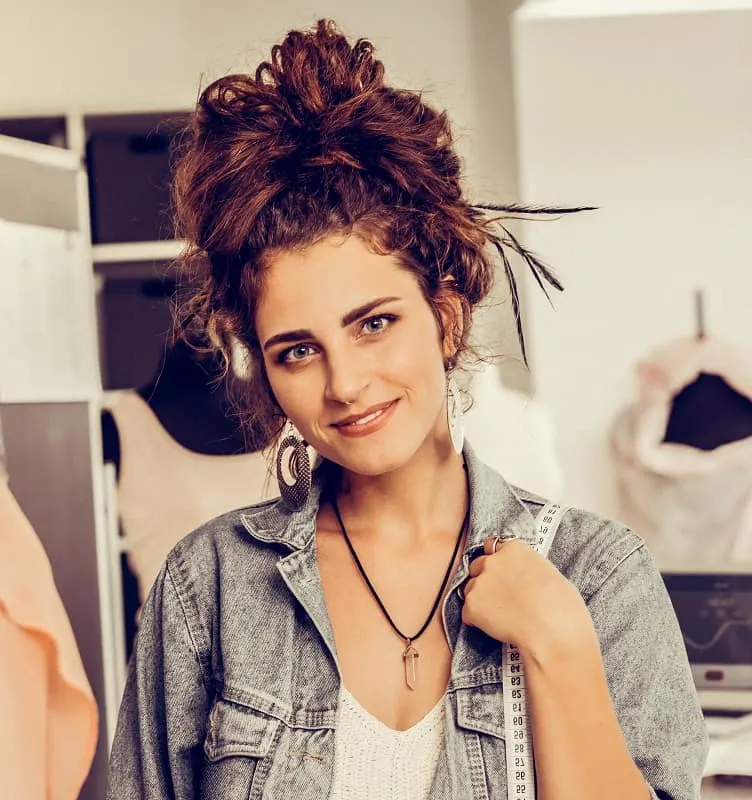 Need an updo you can wear to work comfortably and professionally? Gather those curly locks into a high bun. Pull out sections to loosen it up.
13. Naturally Curly Hair Updo
Is your hair natural and curly? While letting it flow free is pretty, a thick bun secured at the crown is equally gorgeous. A bright-colored bandana will help the style pop.
14. High Hair
This hairstyle might look complicated but it's actually easy to achieve. You need to gather your hair on top and make a loose ponytail. Then use the brush to comb the hair up and create high hair that you outline with a headband and secure with hair gel. The rest of the hair should be shaped by a curling iron.
15. Life-saving braid
The braid on the side can keep the unruly and thick hair out of your face. Start braiding the hair at the very top and go down the side. Then secure the braid with an elastic band, lift it up and pin it to the rest of the hair in the back. You can create a symmetrical band on the other side as well.
A high bun is a simple way to make your curly hair look beautiful. The trick to making this bun appear stunning is to separate the hair on the sides into strands and give them a little twist before allowing them to join the ponytail. This updo for curly hair can be appreciated by women who are in a hurry.
17. Bobby pin twist
This is the way your hairstyle can look if you follow our first updo for a curly hair tutorial. It looks like a short bob from the front and a nice and neat bun from the back.
18. Hair gel fun
This hairstyle can be achieved by taking advantage of the hair gel. You might want to ask a professional hairstylist to show you the way before trying this one yourself. This is a great choice for women with thin and medium-length hair.
19. Naughty knots
These knots can be a time saver for women with curly or straight hair. The locks are divided into several sections and pushed from the sides backward, where they are tied into small ponytails, which are later arranged into coils. The coils are pinned with bobby pins.
20. Brush back
This is a wonderful updo for curly hair that women with short locks can take advantage of in order to pump up the volume while clearing up the face. You brush the hair backward and use bobby pins to make it stay in place.
Many women are looking for the best updos for curly hair that can save them some time. The next time you want to create a special hairstyle without going all out or asking for professional help, you can take advantage of the above options.
21. Low twist for curls
This low twist is a good alternative to a braid for women with short or medium-length curly hair. The key to this beautiful twist is the way you clip it. You will need at least 5 pins to do the job right.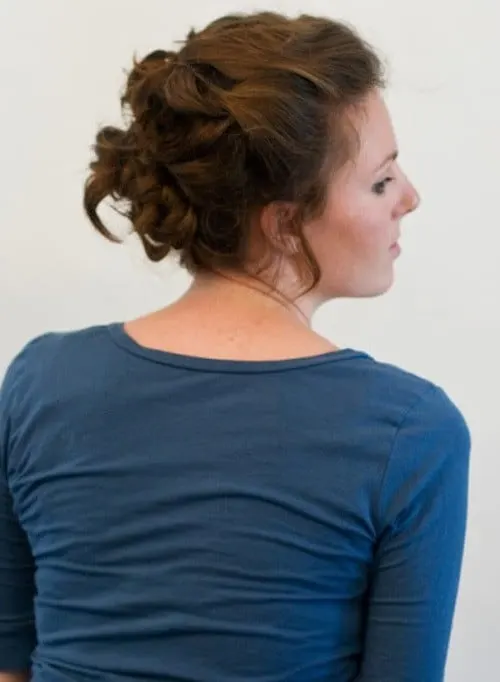 A French braid might lose its charm when created with curly hair since it might not be visible thanks to all the coils. But it can keep your hair neat and take away some unwanted volume.
Most Popular Braided Updos for This Year
23. Runaround braided updos for curly hair
This updo for curly hair is useful for girls who have layered haircuts. If your front strands are not long enough to be tied into a ponytail, you can use them to create beautiful braids and leave a couple hanging down.
Girls with long curly hair will appreciate a high and tight bun. It's a simple way to keep all your hair in one place and neat a whole day long. Use one strand of hair to tie around the elastic band for a natural look.
25. Loose bun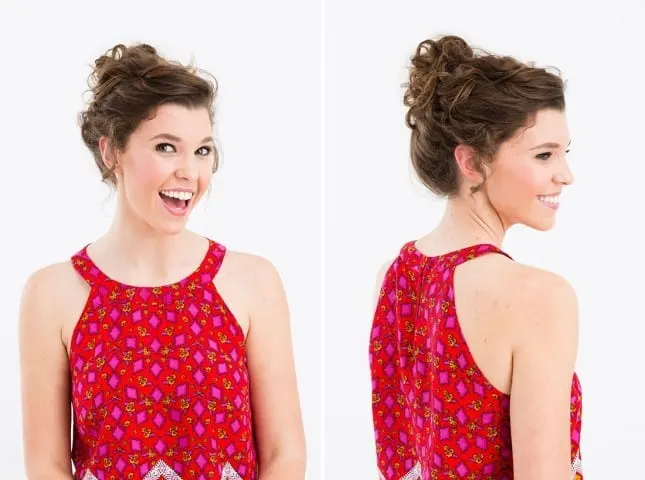 Making a loose bun is a bold move for a girl with curly hair. However, if you take the right clipping approach, you can create a great hairstyle. Loosen up your hair after you tie it into a bun, not before.
26. Stunning twists
Twisting your wild locks is a great way to make them look neat and less voluminous. The approach to this updo for curly hair is similar to braiding. You twist separate strands and bring them into the middle to be arranged with clips.
Nothing looks simpler and more natural than a ponytail. If you have long hair, a low ponytail will look amazing. You need to take care of short strands in front with a curling iron to make them look neat.
Hairdos for Women With Medium Shoulder Length Hair
28. Creative approach
Your curly or wavy hair give you a great chance to use your imagination. Consider creating a high ponytail and playing around with the curly strands that stick out of it. Arrange them with a curling iron and pin to the rest of your mane.
29. Use kerchiefs
A wonderful way to keep your hair neat is to tie it with a kerchief. Create a high bun or a ponytail and tie the kerchief as a headband. It won't let the hair get frizzy and stick out.
30. Small braids
This updo for curly hair is a good choice for girls who are tired of simple ponytails. Take just one strand on the side of your head and make a loose braid. This easy move will make your hairstyle look much more impressive.
31. Braids and twists
Black girls usually have the hardest time dealing with their curly and frizzy hair. They can benefit from this hairstyle that involves twisting and braiding different strands to keep them neat.
32. Clip it up
Large hair clips can be great saviors for curly girls who are always on the run. All you need to do is make a ponytail, twist it and clip it to the rest of your hair with a large hair clip. Leave a couple of strands hanging near you face.
33. A donut
Using a donut hair accessory is an easy way to create a beautiful hairdo for curly hair. It can be a good choice for girls with medium length and long hair. It takes just a few times to learn how to do it.
34. Beauty bow
This amazing and impressive bow is actually very easy to create. All you need to do is create a high ponytail but keep the end of it tucked into the elastic band. Then use your hands to mold a bow and pull out one strand to tie it in the middle.
35. Side swept braid
Create a neat and romantic hairstyle by sweeping your curly hair to one side and braiding it into one loose braid that will be clipped the rest of your locks. The longer your hair is, the lower the hairstyle will be.
36. Cornrows
Cornrows are a great way out for girls with thick and curly hair. They are easy to do and can keep your hair neat and beautiful. You don't need to use all your hair to make them. Just do a few on your head.
37. Accessory support
There are plenty of beautiful accessories to help you create the most amazing updos for curly hair. Clips, bands, and diadems are at your service to keep your locks neat and stunning.
When you are planning a special occasion, curly hair is a wonderful advantage. There are so many ways a stylist can create a true masterpiece out of long curly locks. Don't miss out on the opportunity to shine.
39. Formal hairstyle
This beautiful formal hairstyle can be created professionally. Ask your stylist for this type of haircut when you are planning a special occasion and need your hair to stay neat and out of your face.
40. Clipped strands
This hairdo for curly hair requires some imagination and only a few minutes. You might need some outside help to arrange the strands in a beautiful manner and clip them together.
Updo hairstyles can make your curly hair look stunning. Women with straight hair envy girls with curly locks, while curly girls hope for hair that's easy to take care of, it's the fact. Updos for curly hair can take the hassle out of making your mane look neat and beautiful for the whole day.
When you check out the below hairstyles, not all of them are straightforward. You can take advantage of these step by step tutorials to create stunning updos for curly hair in the comfort of your own home no matter how long your hair is. Let's take a look.
A pinned updo
Here is how to do it:
Before starting to create an updo, make sure to use leave in conditioner to get rid of any tangles and knots. Don't brush your hair or you'll cause it to become frizzy and unravel some of the curls.
Separate your hair into several strands starting from the top of your head.
Take one strand twist it and pin it at the level of your temple with a bobby pin. You can make the twists loose in order to give the hairstyle some volume.
Repeat the same process for the rest of the strands until you have a nicely arranged bun in the back of your head.
Check yourself out in the mirror for any loose strands. Use the bobby pins to hide the strands from sight.
A ponytail extravaganza
Follow step 1 from the first tutorial
Make three ponytails in the back of your head. The first one should be as high as possible at around your temple area. The second one should be right below the first one in the ear area. The third ponytail should be right underneath the 2nd one and should gather up the rest of your hair.
Take each ponytail and flip it up and over itself. If you made tight ponytails, move the hair to create a hole to flip the ponytail through.
When flipping the second ponytail, run the first one through the hole as well. When flipping the third one, run whatever's left from the second one through the flipping hole. Tighten the elastic band after flipping each ponytail.
If your hair is long, you can roll up the lowest ponytail, shape it into a bun and pin it up.
If you have curly hair, you've got an asset other girls will envy. Don't spend your time trying to hide it in a simple ponytail or cutting it short. Try these updos and you'll learn to love and appreciate your locks like never before.