Curly hair is gorgeous no matter how your body shape is. Curly hair magically draws attention, shapes your face, and makes you glow whether you're overweight or not.
However, we all know that certain curly hairstyles are more attractive for certain face shapes and body types. The shape of your hairstyle will draw attention to certain angles of your face, and we all want a hairstyle that looks light and effortless.
Additionally, if you're overweight and chubby, you'll want to pick a curly hairstyle that makes you look slimmer and goes well with your lifestyle and care routine.
Gorgeous Curly Hairstyles for Overweight Women
These curly hairstyles for plus-sized women are sure to be a head-turner. No matter which of these curly hairstyles for overweight women you choose, you're sure to look elegant.
1. High Ponytail with Curls
Whether loose hair isn't your thing or you're looking for an easy look to manage daily, nothing beats a high ponytail.
This gives your hair room to hang free and show off its texture while also staying out of your face. You can play with your baby hair and style some finger waves.
2. Half-Up Braids With Loose Ends
This is one of the best hairstyles for overweight black women with curls. Tie up the braids that normally hang around your face and leave the rest draping over your shoulders.
Undo the ends of your braids, and if your hair tends to frizz up, you can use your favorite styling products to maintain your natural texture.
3. Simple Updo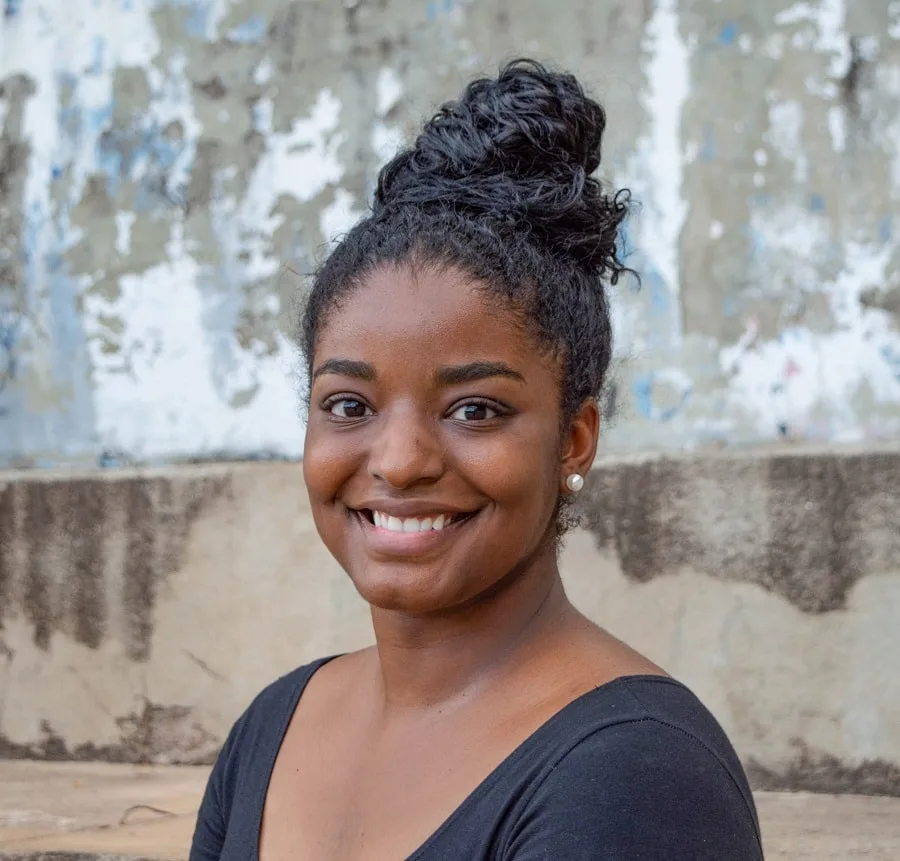 Draw attention to your face by pulling your hair out of the way! Pile it up high for a beehive-like updo, or try a pair of space buns for a fun and youthful look. To make your style look unique, you can style your baby hairs into finger waves.
4. Short Afro for Older Women
An afro looks good on women of any age. Older women typically don't want to deal with high-maintenance hairstyles, so shorter is better! A small afro will do wonders to frame your face and look fantastic.
5. Shoulder Length Curls with Bangs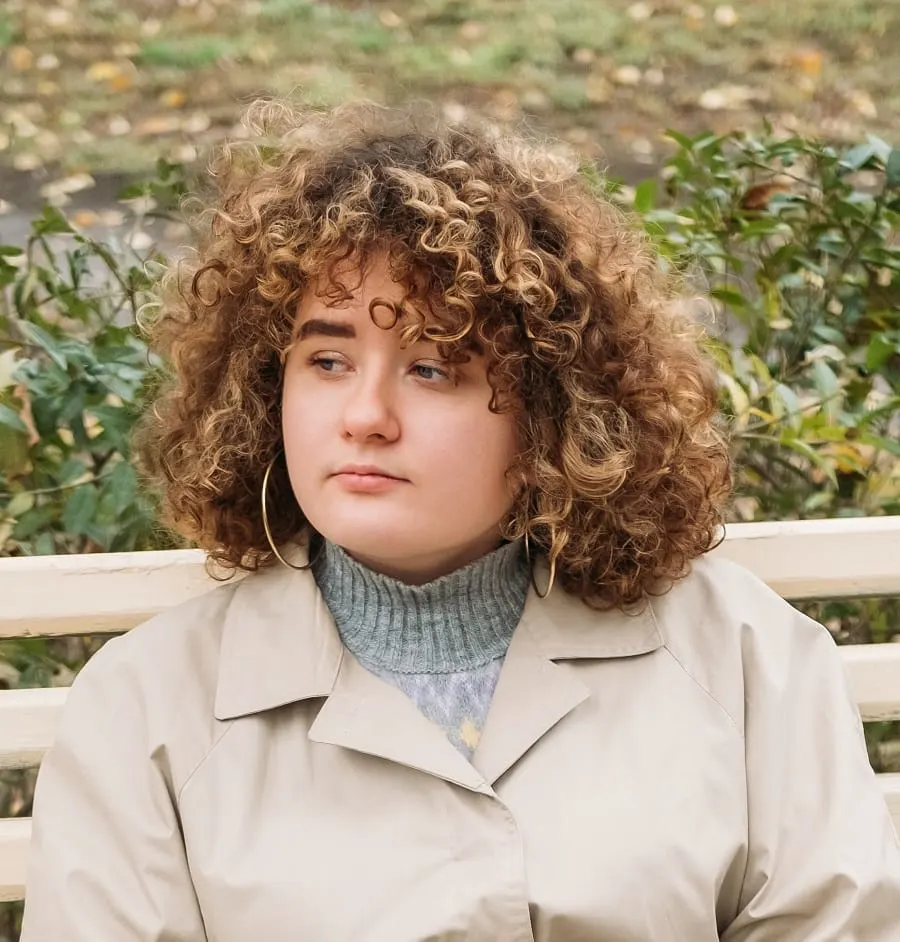 Anyone can rock a bob cut, and plus-sized women are no different. Try this shoulder-length look for fall aesthetics or an indie girl vibe. Add some bangs, and you can look dramatic and beautiful with your new hair while showing off those amazing curls.
6. Big and Loose Afro
Nothing beats a short hairstyle to draw attention to your face. While your hair might be short, it will look big and eye-catching when you let it free to its full volume. Loose kinky curls will look effortless and do wonders to frame your face and sport that natural look.
7. Short Feathered Hair
You can try a short feathered hairstyle if you have more thin or wavy hair. This can accentuate your texture while adding more volume to your hair. Spice things up with some hair dye or a retro-inspired wardrobe, and you'll turn heads wherever you go!
8. Dyed Side Part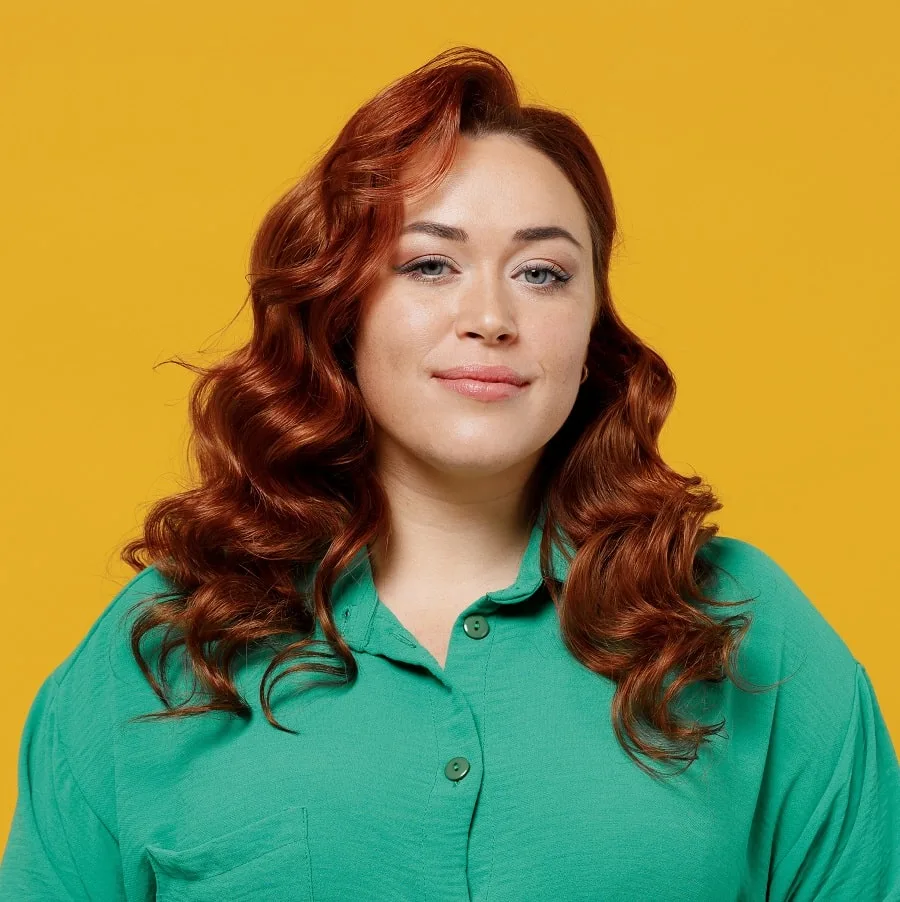 Speaking of making a statement, dying your hair a different color is the perfect way to spice your hairstyle up. Make sure to keep your hair happy and healthy while maintaining the color, and use a side part to add extra height to your locks.
9. Tied Back Coils
In the same vein as ponytails, coily hair also looks good tied back. Whether you let your hair be or style it with twists and braids, once you have it tied up away from your face, you can style the ends.
Accentuate your curls to make the perfect bundle of hair that looks cute and professional at the same time.
10. Half Afro Half Braided
This fun look gives you the best of both worlds if you have kinky hair. You can pull your hair away from your face with twists or braids, then let your coils free in an afro around and on top of the back of your head. The result looks both sophisticated and fun at the same time!
11. Side Part with Windswept Curls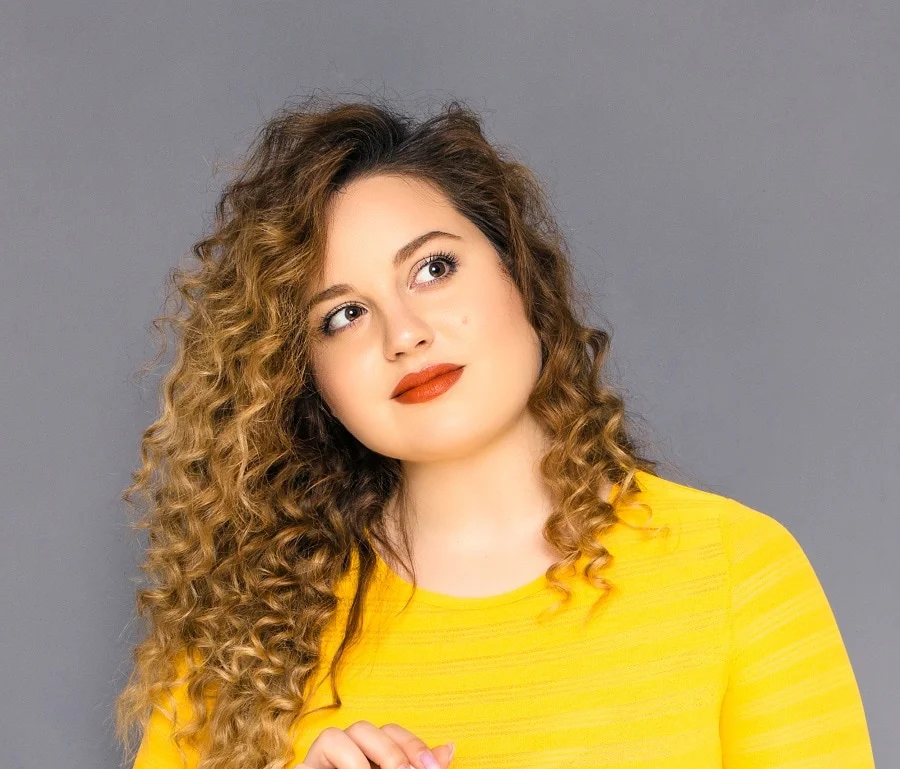 If you haven't noticed, side parts are a great way to add extra volume to your hair and make it look more dramatic. With windswept curls, you can pull off a beach babe or country chic look effortlessly.
12. Big Afro with Headband
We've covered short afros up until now, but big afros are just as within the realm of possibility!
Big is beautiful, of course, and a dramatic afro will not only make a statement when you walk into the room but it will also frame your face nicely. Add a headband or silk scarf to sport a trendy and natural look.
13. Light Curly Locks with Side Part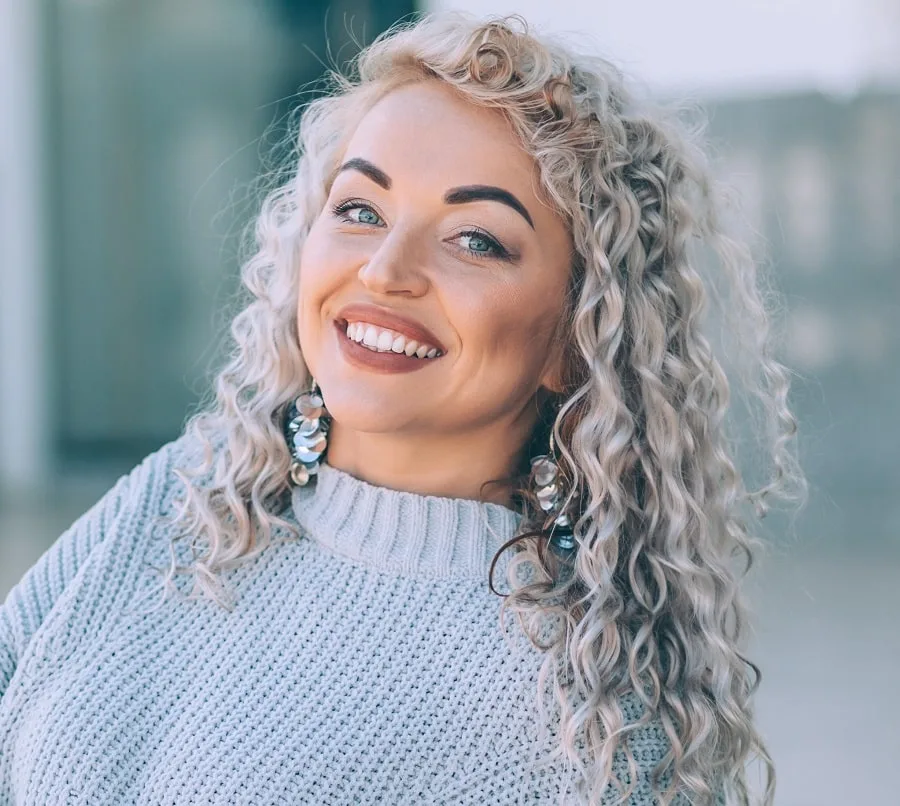 If you want to make a statement, dying your hair white or light blonde is the way to do it. You can also try two-toned hair to make the color accentuate your natural hair color.
Comb your hair into a side part for some extra flair that will make your curls look extra voluminous.
14. Full Volume Beach Waves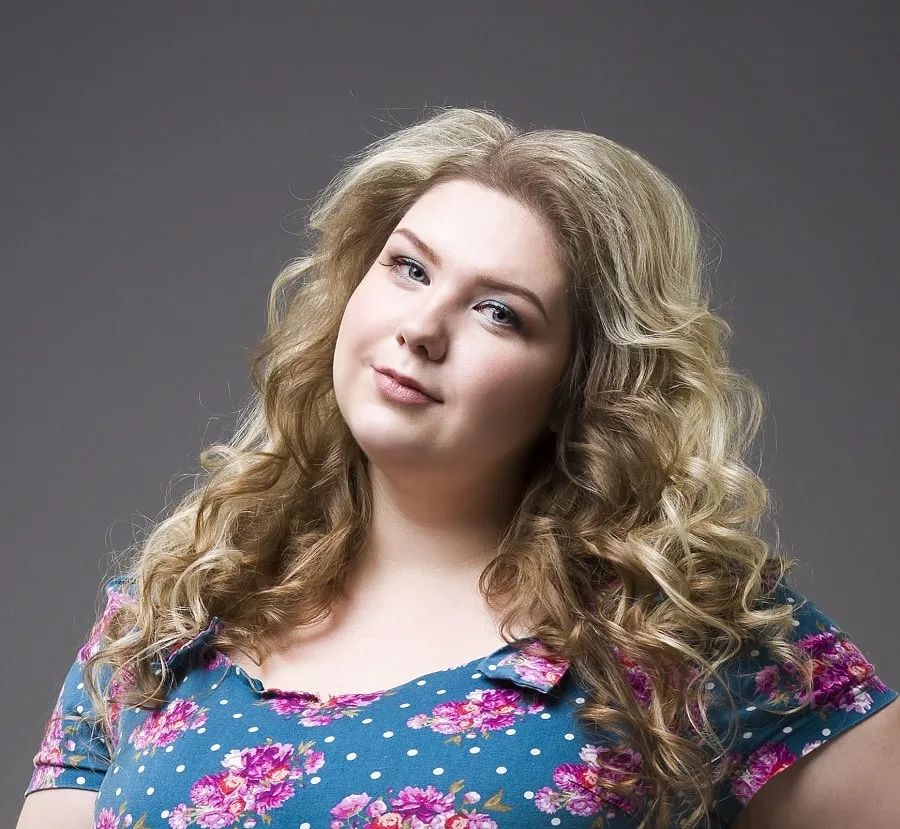 While short hair is a great way to frame your face, it isn't the only way! Long beach waves are an excellent way for overweight women to attract attention. This classic style is sexy and effortless, the perfect combo if you want to embrace your looks.
15. Short Bob with Bangs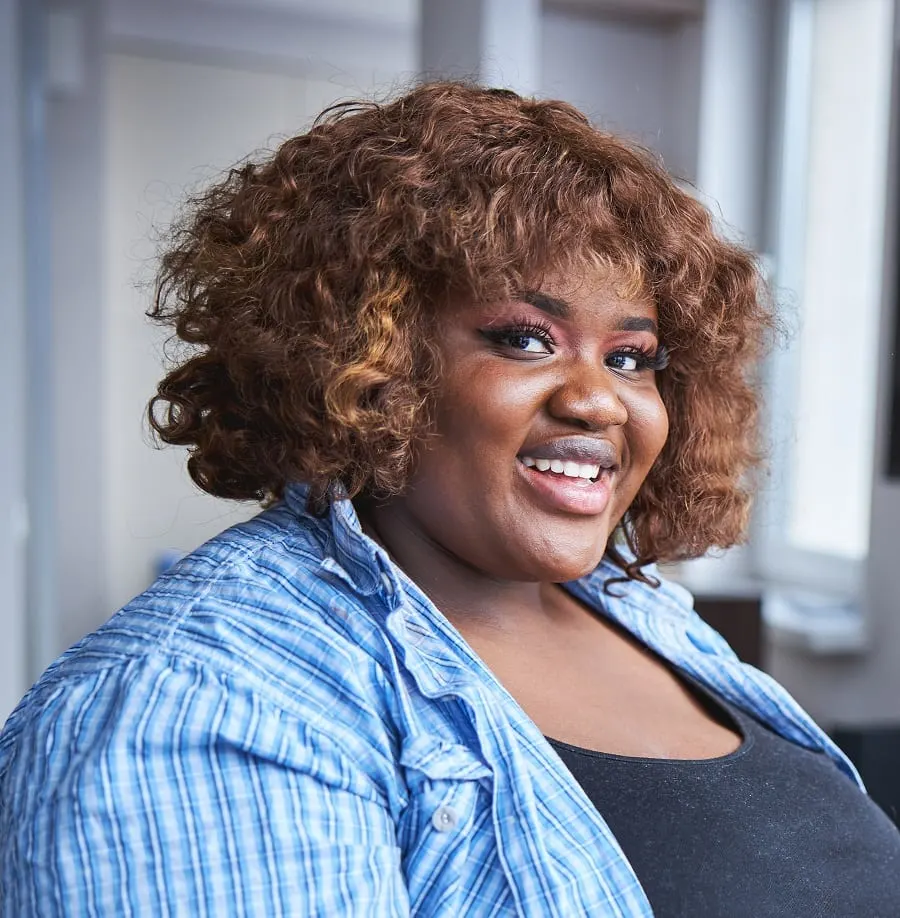 Speaking of drawing attention to your face, what better style to try than a classic bob for your chubby face? Just add bangs to complete your fluffy hairstyle to make a fun twist. Try some hair styling products to keep your bangs frizz-free, but the effort will be worth it.
Curly hair has never been more beautiful than it is right now. Your curly hair can accentuate your curves and make you stand out in a crowd.
If you are a plus-sized woman with curly hair, don't be afraid to embrace your curls to feel beautiful! Make sure to work with your hairstylist to choose one of these curly hairstyles for overweight women. Your stylist can help find the style that works well with your hair texture, thickness, and volume and give you tips on which products will keep your new hairdo fresh and gorgeous.