Side shave designs is a go-to hairstyle for edgy women and girls. A shaved portion of the hair gives your look a whole new dimension, gives you a playful and wild vibe, but it still allows you to style your new cut in more ways than one. To show you how versatile this style is we're going to list seven amazing sides shaved hair designs you can try. Let's start.
Trendy Side Shaved Hairstyles with Designs
The best thing about shaved hair is versatility due to the fact you can adjust it to your own personal style or explore your creativity and do some wild, awesome things. Let these 7 shaved sides with designs ideas serve as a source of inspiration.
Looking for a way to make your long locks edgier? Then side shave designs can help you achieve that easily! In order to introduce a new dimension to your look opt to get a pattern rather than "simple" shave. That way, your hair will have more texture, and it's needless to mention it looks amazing.
Sometimes having designs on shaved sides hair isn't edgy enough for women and girls who love their hairstyles to be on the wild side. Is that the case with you? If so, you'll love this look. The patterned shaved side is combined with vibrant, electric blue. When you combine too edgy looks the result is a truly amazing hairstyle that you can rock and stand out.
Side shave is not reserved for long hair only, and it looks amazing on short hair as well. In fact, one shaven side enhances the volume and playfulness of the unshaved side of your head.
Instead of a classic shave, you may want to opt for a patterned design look on shaved sides hair for an extra edge. Use a curling iron to give the unshaved portion of your hair lovely short locks or use a straightening iron for a sleek look.
4. Checkered Hair
Women with shaved sides hair designs have a lot of hair styling options, even though it may not seem that way at first. For instance, if you want to give your hair some sort of pattern you can opt for a checkered look that will take your hairstyle to a whole new level.
To make this one of the most interesting sides shaved hair designs, you may want to consider coloring hair in this area. Opt for vibrant, unusual colors for an edgy look.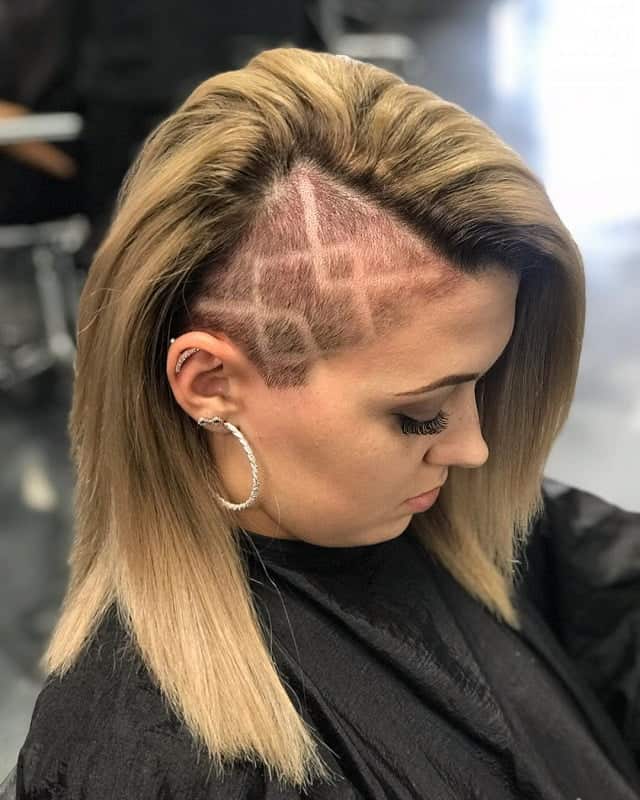 One way to boost volume in your straight hair is to shaved undercut one side of the head. Patterned design on side shaven hair makes the remainder of your hair appear visually bigger. Bear in mind the shave doesn't have to be patterned every time, you can opt for simple shaved sides as well.
Are you a fan of colorful dreadlock hairstyles with shaved sides hair designs that perfectly depict your creativity and passion? If so, this is the right look for you. Colorful hair is combined with an interesting and vividly decorated pattern on a shaved side. Isn't it fantastic?
Instead of a patterned shave, you may go for a simple side shave designs, but with a surprising twist in the form of a heart. The effect is even better when the heart is colored the same way as the remainder of your hair, especially when it's some vivid color.
As seen throughout this post-shaved sides can fit into any style you like or prefer. This hairstyle gives a lot of space to explore, experiment with making sure you're unique. There's no need to fit in some boundaries when you can look fabulous rocking your own vibe. Try these side shaved hair designs, and you'll feel empowered.