Copying celebrity hairstyles are considered very trendy. Lucy Hale haircuts and hairstyles are not an exception. This famous singer plus actress is conquering the world with her professional achievements.
Meanwhile, her fans want to get a small piece of her glory by imitating her style. Lucy Hale is not a high-maintenance gal and her hairstyles are easy to copy. She has nice thick and slightly wavy hair and she never goes too hard on it. Simple waves, curls, and ponytails – this is what Lucy Hale is all about.
So even if you are not a big fan of this actress, you might pick up some interesting ideas when looking at what her hairstylists came up with.
Cute and Fresh Lucy Hale Hairstyles
Lucy Hale hairstyles are fun and exciting. Girls of all ages can take advantage of what this celebrity likes to do with her hair. She experiments with hair length and hair color. So whether you have similar tresses or are just looking for a change, she can give you some inspiration.
We collected 5 different hairstyles by Lucy Hale for you to check out and enjoy.
1. Partial Highlights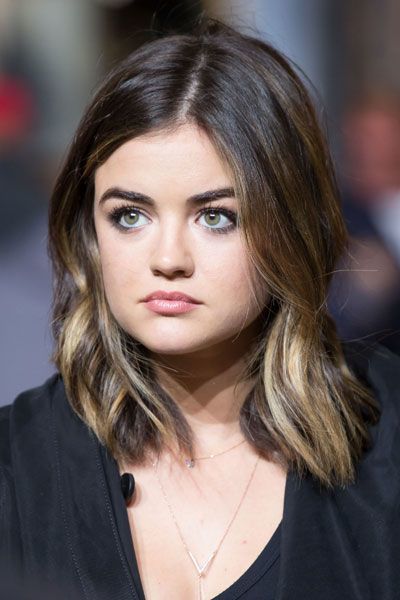 If you have dark brown hair just like Lucy Hale does, you'll appreciate the way partial highlights brighten up your face. Consider using a mix of light brown, caramel and blonde highlights.
2. Soft waves
All girls with straight hair and those with tight and unruly curls dream of beautiful soft waves. This Lucy Hale haircut is easy to make. All you need to do is make use of a simple curling iron or braid your hair and leave it overnight.
3. Asymmetrical bob by Lucy Hale
Asymmetrical bobs are ruling the hair styling industry. They combine everything you ever wanted in a haircut: complicated style and low-maintenance approach. Even wavy hair looks great arranged into such a bob.
4. A simple approach
This natural yet very appealing Lucy Hale haircut will look good on women of all ages. A simple bob that's made voluminous by subtle bottom waves looks amazing with a side part. Give it a try!
5. Long and beautiful hairstyle of Lucy Hale
If you have long tresses, consider wearing them down just like Lucy does. You can flaunt the length while keeping your locks neat by creating soft waves on the bottom. If your hair is short, consider getting hair extensions.
We hope you enjoyed taking a quick look at these simple Lucy Hale hairstyles and maybe chose something for yourself. Copying celebrities is always a great idea since they choose only the best out of what's offered by the famous hairstylists.