There is no hairstyle women love more than a low ponytail. If you have at least shoulder-length hair, then you know what we are talking about.
The time saver style is an excellent look for work, school, or any other events you do on a regular basis. With a simple pony, you can cover unwashed hair and still manage to look good. The ponytail keeps hair tidy and away from the face.
It is a must look in the gyms or for any other physical exercise and only takes 5 seconds. The low ponytail has never been out of style. There are many different versions of the ponytail depending on the hair type and the length, but all come down to a beautiful look.
How to Do A Low Ponytail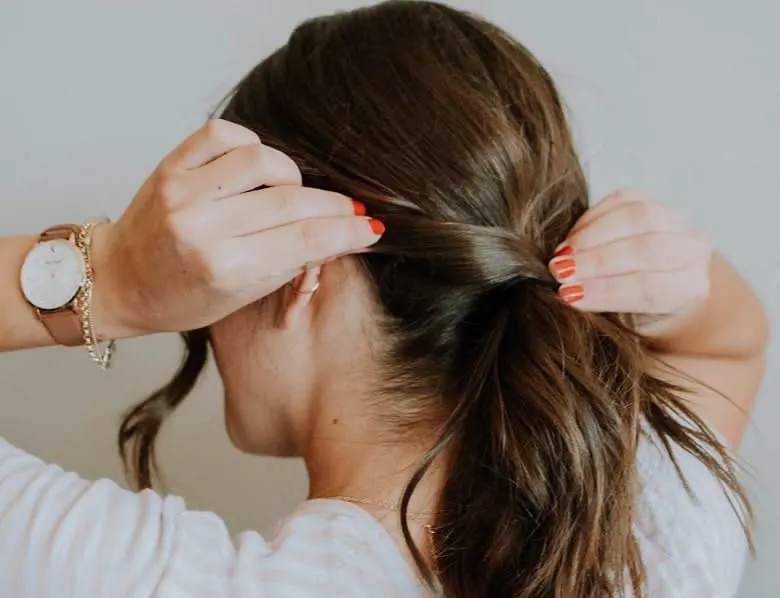 Making a low ponytail is quite easy. However, it all comes down to the type of hair you have. The low ponytail often asks for sleek shiny hair, so it is important your hair is straight or mostly straight. The low ponytail can come with a middle or side part, with or without bangs.
To achieve the perfect look with a low ponytail, the hair must be prepped. This means washing it, applying a conditioner, blowdrying it and strengthening it. as soon as it is super straight you can choose the look you want, with part, bangs or accessories.
If you are choosing the middle part hairstyle, try to make a straight line, as in the middle as possible. the side parts vary according to your own likings, so choose whichever suits you best. With a fine comb pull the hair back and tie it in a low pony somewhere around the center of your neck.
Use a hairspray od cream to fixate any hair that might seem out of place. Use some stylish band, or just a regular one, and then hide it under a small part from your hair. This is the most basic low ponytail look, and from here, there are many different variations that you can try to upgrade your ponytail.
Watch The Following Video to Learn How to Do a Messy Low Ponytail
Elegant Low Ponytail Hairstyles
However, you can always play with the various choices and styles and look different each day. One particular hairstyle option that involves the famous ponytail is low one. On a first look, you can instantly see the difference in the look of those wearing a low and high ponytail hairdo.
The high pony is a strict, sharp, attractive and dominant hairstyle, while the low one is soft, unique, romantic and very elegant. So now have a look at our amazing collection of ponytail hairstyles.
1. Low Ponytail for Prom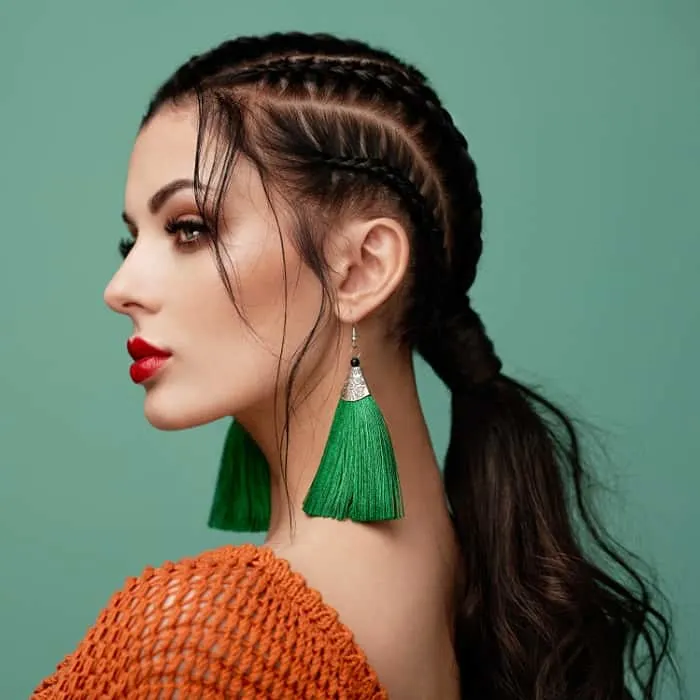 A few medium-sized braids start from the hairline on this look and follow through just to the neckline, leaving the rest of the hair loose to gather into a soft low ponytail.
2. Low Short Ponytail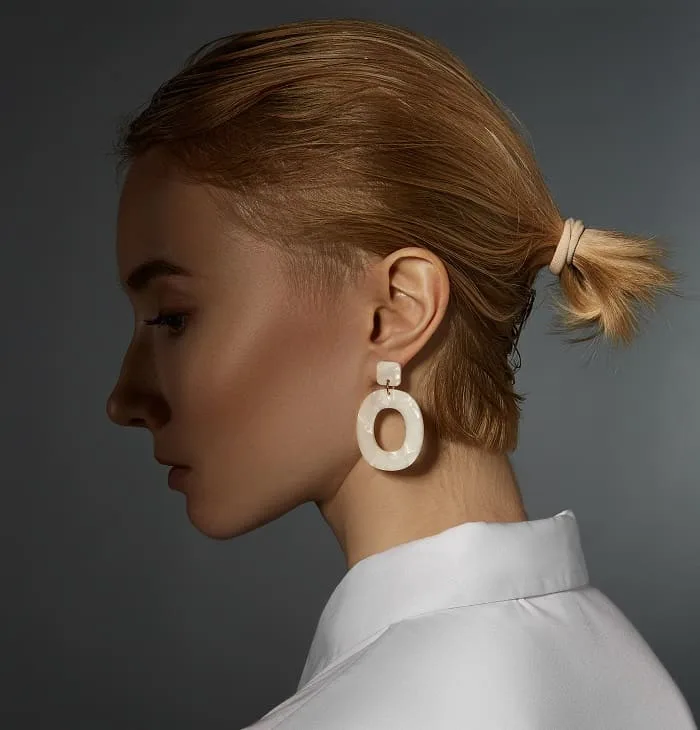 Women with short hair can still rock a cute ponytail. For example, this short blonde pony is chic with a white outfit.
3. Long and Wavy
For a softer look, add large waves to your long hair before securing it in a low side ponytail, letting hair cover the ears. You can also consider tucking in a flowered or jeweled clip for accent.
4. Casual and Combed Back
If your day doesn't call for a smooth, sleek look, use your fingers to brush it back into a casual low pony. This style is ideal for women with curly hair since it doesn't require any product.
5. Teased Low Ponytail
For drama and glam, a ponytail with teased height and volume is a must. Use a comb and hairspray to tease the crown. Be sure to straighten the front two pieces near the face for framing.
6. Low Ponytail with Bangs
Whether you have thick or thin bangs, you can beautifully rock a low ponytail. This one has been finger combed and has a bit of messy texture to it. You can also loosely braid it for a little more detail.
7. Straight and Short
If you're a woman whose hair is only neck-length, straighten it to get a little more length. Then you can part it in the middle and make this simple, classy pony.
8. Sophisticated and Loose
When your day calls for a sophisticated hairstyle, add waves to the bottom half of your hair before making a loose ponytail secured right at the neck. Be sure it's loose enough to fully cover your ears.
9. Messy Long Ponytail
For summer style that will keep you gorgeous at the beach, use a printed bandana to secure your messy pony. This spotted one is the perfect color for brunette hair.
10. Side Parted Pony
Middle parts in hair can be very predictable and boring. Switch up your face dimension with a soft or heavy side part to separate side bangs from a low side ponytail.
11. Side Braid Low Pony
If you have a little more time to spare for styling, braid the hair at the sides of your face before securing all your hair together right at the neckline. Choose to make the 'knot' seen here or simply secure with a hair tie and go.
12. Thick Ponytail with Curtain Bangs
A curly pony is ideal for special occasions like holidays. We love the way curtain bangs soften a round face. Keep them short so everyone can see your beautiful eyes.
13. Low Jumbo Ponytail
Are you rocking dreadlocks these days? They'll look amazing in a jumbo ponytail with colorful and textured beads to decorate strands.
14. Two Low Ponytails
For short or medium length hair, two low ponytails are a unique look to try out. Secure them at the sides so they'll drape over shoulders.
15. Low Ponytail with Middle Part
A perfectly even center part separates two long ponytails on this hairstyle. Color in a light pink to set off the style.
The invisible ponytail bob is an interesting look that is quite an upgrade from the regular ponytail. In order to do this successfully, it is important to leave a piece of hair from both sides.
Tie up a low ponytail, and then, take each side of the remaining hair, cross it over the band onto the next side, finishing just under the pony. Fasten it with pins.
If you are thinking of a combination between the braid and a ponytail, this is what your final result should be. Start with making a wide French braid, from all the hair, but finish with tying it up in a ponytail.
This ponytail hairstyle is one of the most popular looks currently. If you have wavy hair this will be very easy to do. Tie the hair in a low pony, making a voluminous updo at the back of the hair. Make it as messy as possible.
There is a difference between low and an extra low ponytail. The extra low one is tied up somewhere where the back starts, making all of the hair just casually falling down the shoulders.
Another version that involves braids and a ponytail is this one. Comb the hair all the way back. Start the braid around the back center of the heads, and finish it at the point when you should tie the ponytail low.
A tiered ponytail is an excellent option for those with long, wild hair. Tie the first part of the hair in a low pony, and then repeat the same at the lower part of your head.
22. Low Ponytail for Black Woman
While a tiny braid decorates the scalp line on this look, a jumbo ponytail is filled with the rest of the thick locks and sectioned off with hair ties.
23. Low Curly Ponytail
Searching for a romantic updo for a wedding? Try a long ponytail with rich, soft waves filling the body. Braid the top half for maximum volume.
24. Sock Bun Ponytail
For the ultimate sleek hairstyle, straighten the hair first before forming a long ponytail with a sock bun accessory to secure it at the neck.
25. Low Cornrow Ponytail
For a Black woman whose hair is long cornrow braids, secure it back in a low side ponytail for a dressier style you can wear for date night.
26. Low Ponytail with Weave
As if a weave was the only thing you add to make your color "golden," just try out this fishtail braided low ponytail that ends with super straight strands.
The sleek low ponytail is one great and very popular version of pony, appropriate for almost every occasion. It is easy, elegant and does not require any effort or time.
If you are willing to experiment a bit, try this look. Do not straighten your hair, just brush it make a deep side part and tie a low ponytail on side. Let the rest of the hair fall naturally.
29. Voluminous Low Ponytail
A bit more voluminous version of the sleek low ponytail with weave is the addition of the updo. It gives a bigger and fuller look to your ponytail.
The low twisted ponytail style is an elegant and interesting look but requires long hair. Do the twist as you like, there is no strict pattern. As for the hair, it is brushed back.
For this hairstyle, you will need an extra set of hands. The twist starts up from the top of the head, and then heads across the other side, finishing in a sleek low side ponytail style.
The braids from this look are tick and big. Separate the hair in the middle, do the braids on both sides and finish with both of them intersecting in a low tied ponytail.
This extra cool low pony with waves look is voluminous one, with a headband, are fastened ponytail. The side parts are tucked behind the ears, over the pony.
34. Knotted Ponytail
Another pretty simple yet effective look is the knotted pony tied low. Try to do it your own way, but remember to fix the knot with pins.
35. Ponytail with Loose Waves
The ponytail can be done in many different ways, and according to that, the waves can be loose or thick. If you are doing long beach waves in your pony, make the waves wide and looser so you can get a nice flow.
FAQs on Low Ponytail Hairstyles
Low or high ponytail – which one is better?
Whether a low or high ponytail is better is a matter of opinion. Just like with any style choice, it depends on the wearer. However, professional stylists will tell you the quality of a low or high ponytail depends on things like face shape and hair texture.

While a low ponytail is healthier for hair because it doesn't pull as hard as a high ponytail, both offer varying degrees of styling. If you're looking for which one will best suit your face shape, research which height celebrities or actresses with a similar shape are rocking for their pony.
Are low ponytails bad for your hair?
As we previously mentioned, a low ponytail is healthier for hair since it doesn't pull on strands. Instead, it gathers hair right at its natural level.

With a high ponytail, your hair must be combed upward and in the opposite direction it grows, which can put stress on your strands and cause them to break.
Can I wear a low pony in office?
Absolutely, the low ponytail is a very work-appropriate hairstyle and it represents a fashionable & professional taste.
Are slicked back and sleek ponytail the same?
They are not the same. The slicked-back style pony looks like all of your hair is perfectly combed back and tied in a low ponytail. The sleek ponytail can be done with a side or middle part, and the accent is on the sleek shiny texture.
Trendy Slick Back Hairstyles for Women
Wearing a low ponytail is easy, stylish and fun. With so many options, you will save a lot of time and show up every day with a new look.