Low bun hairstyles might look intricate, but that doesn't mean you can't easily style them by yourself. With a little bit of practice, you don't need to go to a hair salon to achieve a gorgeous hairdo. Before starting, make sure you have all the tools you need.
Below you will find amazing tutorials to style low bun hairstyles. Follow the steps, and you will gain a splendid hairdo for any occasion.
Step by Step Tutorials for Low Buns
Sponge Donut Bun
Step 1: Comb your hair and create a low ponytail, sparing two sections from the laterals. You'll be needing those later.
Step 2: Buy yourself a sponge donut and pass your pony through that hole.
Step 3: Roll your ponytail on the donut, ensuring there are no untucked strands.
Step 4: Use as many bobby pins as you need to secure the hair.
Step 5: Remember those front strands? Braid and secure them with thin hair elastics. Pull off the edges to make them look chunky.
Step 6: Bring both braids in the back and tuck them under the bun. Use bobby pins to secure them.
Braided Space Buns
Step 1: Create a middle part from the forehead to the nape, and style two ponytails.
Step 2: Braid each pony and secure them with hair elastics.
Step 3: Roll each braid at the base, pinning down the hairstyle with bobby pins. Add as many as you need if you want the hairstyle to hold.
Cinnamon Bun
Step 1: Do a middle part, take each section and create a hair knot.
Step 2: You will now style the bun around the knot created by the bump. Use one of the sections and roll it around the knot.
Step 3: Secure this half bun with bobby pins.
Step 4: Take the remaining section and repeat the rolling procedure. Secure it again with bobby pins.
Mixed Braids
Step 1: Use the sections from the laterals and roll them. Secure.
Step 2: Split all the remaining hair and style two braids. Pull off the edges.
Step 3: Roll the braids into a low bun and secure them with bobby pins.
Three Buns
Step 1: Part the hair into three low sections and secure each.
Step 2: Roll the hair around the base to create the buns.
Step 3: Repeat the procedure and secure each bun with bobby pins.
Cute Low Bun Hairstyle Ideas
Here are the 30 best ways to wear a low bun.
1. Low Chignon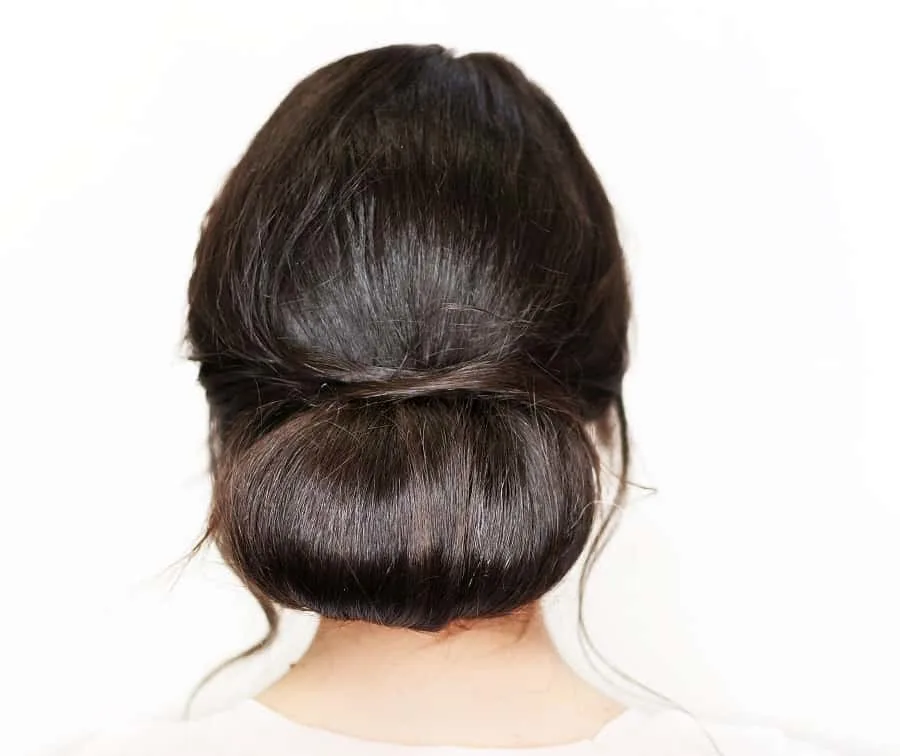 Chignon buns are ideal for a woman who loves that glamorous and elegant vibe. To obtain that volume, you don't need long thick hair. You can find several types of bun sponges on the market to construct these hairstyles. Use the proper size and cover the sponge with your hair.
2. Messy Rolled Bun
If you love girly and romantic looks, this careless low bun with a floral headband will make you look astonishing. Use light pink makeup and spare a few thin strands that will fall on your cheeks, contouring your face. As for the bun, style a pony, secure and roll it.
3. Braids and Twists
Whenever you want more volume, here's a trick that might come in handy. Before creating your braids for your buns, use a small crimping iron and brush your hair. Both will have more texture and will create the illusion of thicker hair.
4. Twisted Green
If you have an electric hair color, a twisted low bun is a great way to highlight this brilliant nuance. First of all, you will need to straighten your hair and do a side comb. Gather all the tresses in the back, and twist and secure the bun.
5. Curls and Pearls
Even if it might look incredibly intricate, this particular hairstyle is in fact very easy to create. Firstly, use a curler for the top section. Select thin strands and once you are done, pin them to build that volume. Use the remaining nape hair and flawlessly straight in it. Place a rounded sponge and cover it with these lower tresses.
6. Small Bun for Short Hair
This small bun works best for thin or short hair. Whether you're working out or just hanging out at the house, it's a quick look pulled together in minutes.
7. Twisted Bun with Bangs
Try giving your bun a special design like a rose shape for an update on the classic do. Long straight bangs help to frame the hairstyle.
8. Low Ponytail Bun
Having trouble controlling your thick hair? A low bun using the sock bun method will beautifully style up your locks in less than five minutes.
9. Easy Low Bun
The quickest method of creating a low bun is by forming a low ponytail and wrapping the hair around it. Pull out a few tendrils around the face and wear a sparkly necklace.
10. Ballerina Bun
Instead of a high ballerina bun, go low and secure it right above the nape of the neck. Fancy it up by pulling out curly tendrils around the bun to maintain softness. Secure with a classy hairpin.
For quick chic style, you can pull together in the morning before work, form a messy bun and decorate with your favorite jewelry.
12. Low Bun Updo
This low bun updo is very thick and rounded. Hair is twisted from temples and over the ears with loose pieces of hair all around the head.
A low bun smoothed down and free of bumps is a popular look on runways and the red carpet. Secure this one centered between the ears, pairing with a sparkly dangly earring.
14. Braided Low Bun
Form a deep side part and twist a section of hair across the hairline, securing it into a braid. Wind the braid up into a low bun to make a style your girls will be jealous of.
15. Low Wedding Bun
For your special day, a low bun will have your back. Create a messy bun or a ponytail first and wind it around loosely. Top it all off with loose curled tendrils.
Before making this low bun, comb your hair so it's free of knots and tangles. Grab all of your hair and twist it before securing it in a bun. Worn alone or with a cute hat, the style is timeless.
17. Low Space Buns
Two high space buns are adorable in themselves, but wearing them low is even cuter. Thick them up with curls first and pull out a section of hair to cover the temples for softness.
You'll get this low bun style when you have thin or short hair. Its smallness is super cute, especially when you wear a fun hair clip above it.
19. Loose Bun
Make a low loose bun by avoiding making it too tight at the neckline. The looser it is, the more hair will fall away freely for flirty, casual vibes.
If your hair texture is curly, you're in luck! It easily thickens up a low bun hairstyle to look full and healthy. The loose hair around the ears makes them look even more pretty.
21. Low Middle Parted Bun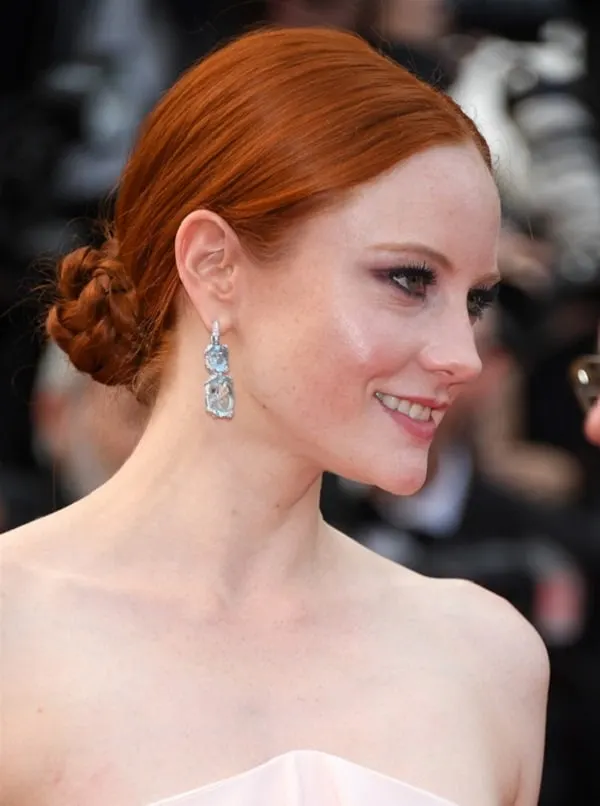 For sleek style, form a center part and brush away bumps before making a low braid and winding it up in a bun. This is a more formal style that looks great with a pretty dress.
22. Low Bun for Prom
Another beautiful formal hairstyle is this low bun with a smooth side bang. To get sleekness, straighten the hair first to banish frizz. Slide in a pretty hair clip near the ear or leave as is.
23. Bun with Side Part
A deep side part will give a low bun even more dimension. Twist it loosely at the nape of the neck to show off your face's angles.
24. Low Bun for Black Hair
Black hair that is thick is the perfect texture for a large low bun. A center part is all you need to worry about to get an effortless, quick style that will last all day.
The chignon means 'nape of the neck,' which is exactly where this low bun is secured. To dress it up, make a French braid first, then loosen up hair around the face.
26. Low Cornrow Bun
Have your hairstylist form about eight thin or thick (depending on your hair texture) cornrows around the head. You can wear them loose or wind them up in a low bun.
27. Low Bun with Bangs
In need of a beautiful look for a dance or interview? A French braid secured into a low bun and paired with straight blunt-cut bangs that graze the eyebrows is super chic.
28. Low Dreadlock Bun
If your style has morphed into dreadlocks, a jumbo low bun is very boho when the top half of the hair is covered in a colorful headband. Wrap the dreadlocks in a beaded hair tie for flower-child vibes.
29. Low Bun for Thin Hair
While wearing your thin hair loose or decorated with waves is pretty on its own, a low bun gives a classic style you can take anywhere. Keep the front half loose to avoid harsh vibes.
30. Multiple Buns
Why only try one low bun when you can have four? Section off four areas of the hair first, then secure in four twisty buns.
FAQs
Here are some frequently asked questions about low bun hairstyles.
What is the difference between a low bun and a chignon?
A low bun and a chignon are similar. The main difference lies in how you maneuver the hair. Low buns wrap around a base, like a ponytail or a bun tool. Chignons are tucked and styled with and without the help of hair tools and accessories.

Another important note is that all chignons are buns, but not all buns are chignons. A bun is placed in many places on the head. They can be on top, in the middle, or at the base of the neck. A chignon is exclusively styled at the base of the head.
Are low buns bad for my hair?
Low buns are not inherently bad for your hair. The issue comes from wearing it in the same slicked-back style every day.

Wearing your hair in a tight low bun or any other snug hairstyle can be damaging over time. These tightly-pulled styles mainly affect the hairline. They can also cause breakage if you use harsh hair ties to hold them back.
Low bun vs high bun: which one should you choose?
Over time, the high bun has been more effective at showing youthfulness and fun. The low bun is considered more modest, less showy, and more matronly. However, times are changing!

The slicked-back low bun with a middle part has become a fashion staple symbolizing sophistication in the fashion world and everyday life. Another pro to the low bun is that it doesn't damage your roots as much if you loosely style it versus the high bun.

The low bun and the high bun are perfect for many hair textures, colors, and lengths. What you decide to wear is up to you!
No matter which low bun hairstyle you end up with, all of them are classy and respectable. Be prepared to be giving hair advice to all your friends!