Do you love the look of Senegalese twists and passion twists but need a hairstyle that is easier to achieve and maintain? If the answer to that question is yes, then spring twists could be an excellent fit for you.
This lightweight hairstyle uses extensions to achieve a stylish and natural look. It also protects your natural hair and doesn't require much maintenance, making it even more desirable.
What Are Spring Twists?
Spring twists are a type of synthetic hair extension that typically mimics the look and feel of type 4a or 4c hair. These extensions create plenty of bounce thanks to their curly and coily texture.
The extensions or twist braids use a special pre-treatment to maintain their coil and bounce. Synthetic hair feels lightweight and can relieve pressure on your scalp and natural hair.
It's a highly versatile style. You can cut the extension to customize the length and style them in a bun, an updo, or wear them down.
Depending on the synthetic extensions you use, you could use a fabric dye to introduce some colors!
Things To Consider Before Getting Spring Twists (Do's and Don'ts)
Spring twists require little maintenance, but this hairstyle is still a commitment. Here are a few do's and don'ts to keep in mind:
Do's
Get the correct type of hair extensions. Look for 4a or 4c texture with tight coils to get the bouncy effect that makes spring twist such a gorgeous hairstyle.
Keep in mind that the installation process takes time. You should be ready to sit for a few hours.
Get help from a professional. You can install spring twists yourself if you have some experience, but it's best to let a pro do it if it's your first time.
Condition your hair. It will make the installation process easier and maintenance easier.
Experiment with different installation methods. You might find that one method works better than another for your specific hair type or length.
Don'ts
Don't skimp on quality when purchasing synthetic hair extensions. It's worth it to spend more to get a product that is durable and looks natural.
Don't get spring twists or another tight hairstyle if you suffer from traction alopecia or don't have healthy hair for another reason.
How To Install Spring Twists
There are different ways of installing spring twists. Some methods involve braiding, crocheting, or a mix of the two.
Preparing Your Hair
This protective hairstyle can prevent damage to your natural hair, but you need to get rid of any dryness or buildup before you install the extensions. Here are some tips to remove the buildup:
Get started the day before the installation by washing your hair with a clarifying shampoo to eliminate any oil or product buildup. Rinse thoroughly.
Deep conditioning of your hair is crucial for hydration. It will also prevent frizz. Apply a conditioner to your hair but stay away from the scalp to prevent product buildup.
Take the time to brush and detangle to facilitate the installation process.
If you have sensitive skin, it's best to wash your hair extensions before installing them. Washing your extensions can help remove any chemical residues that can cause itchiness or unpleasant smells:
Fill your sink with some lukewarm water and add a cup of apple cider vinegar. Let the extensions soak for 10 to 15 minutes.
Fill your sink again with some lukewarm water and a few drops of conditioner. Soak the extensions for 10 minutes.
Rinse the extensions with some cool water and let them dry.
Installation Method #1: Braiding the Extensions In
This method consists of attaching the spring twist extensions by braiding them in with your natural hair. It can be time-consuming, but it's incredibly durable:
Start by parting your hair into two or three large sections. Use alligator hair clips to keep the hair in place.
Take a small section out and apply shea butter, cocoa butter, or another moisturizing product. Each section should match the thickness of an extension strand.
Brush the product through the small section and detangle it with a fine-toothed comb.
Part the small hair section in two and add the extremity of a hair extension to create a simple three-strand braid.
Repeat for each extension.
Installation Method #2: Double Braids
This installation method is similar to the one described above, but it will create more volume:
Part your hair in large sections. Take out a small section and condition it with some shea butter.
Find the middle of a hair extension strand and place it over your small hair section.
Create a three-strand braid with two sections of the folded extension and the natural hair strand.
Installation Method #3: Crocheting and Scalp Braids
This installation method involves crocheting extensions into scalp braids. It might take more time than other methods, but it's the best way to use spring twists to protect your natural hair:
Start by braiding your hair in cornrows. Forming straight lines from the front to the back of your head is the easiest way to do it, but you can use any method that feels comfortable.
If you have any excess hair in the back, braid it and use a crochet to loop into the braids at the base of your scalp.
Next, use a crochet to insert the extremity of a hair extension into the base of a braid. Pull the extension all the way through and form a loop to secure it.
Repeat this process every 1/3″ or so.
Installation Method #4: Crocheting and Rubber Bands
This installation method isn't as durable as the other techniques mentioned above, but it's an excellent way to give your scalp a break from tight braids:
Comb and section your hair. Take a small section and secure it with a small rubber band.
Use a crochet to pull the extremity of an extension through the base of this hair strand secured by the rubber band. Form a loop to attach the extension.
You'll have a long natural hair strand sticking out. Pull it back and secure it to the next hair strand with another rubber band. Insert another extension into the base of this second ponytail.
Repeat this process until you reach the back of your scalp.
If you have natural hair strands sticking out, braid them into the extensions you attach to the base of your scalp.
Trendy Spring Twists Hairstyle Ideas
Now it's time to get some ideas for styling your hair with some gorgeous spring twist hairstyles. Check out the photos of the best spring twist looks below.
1. Short Spring Twists
A bob with layers beautifully displays short spring twists. The layers give your hair shape to flatter the angles of your face, while a bit of caramel or blonde highlighting complements a dark skin tone.
2. Twists Ponytail
How cute is this peppy ponytail for twists? Keep the hairstyle soft by leaving a few short pieces of hair loose around your face.
Then gather the hair up with your fingers and secure it with a neutral hair tie or one more colorful one.
3. Half Up Ponytail
A half-up hairdo is always in style, suiting practically every hair length. It's also very low maintenance, which makes it ideal when you're running out the door in the morning.
4. Twisted Side Braid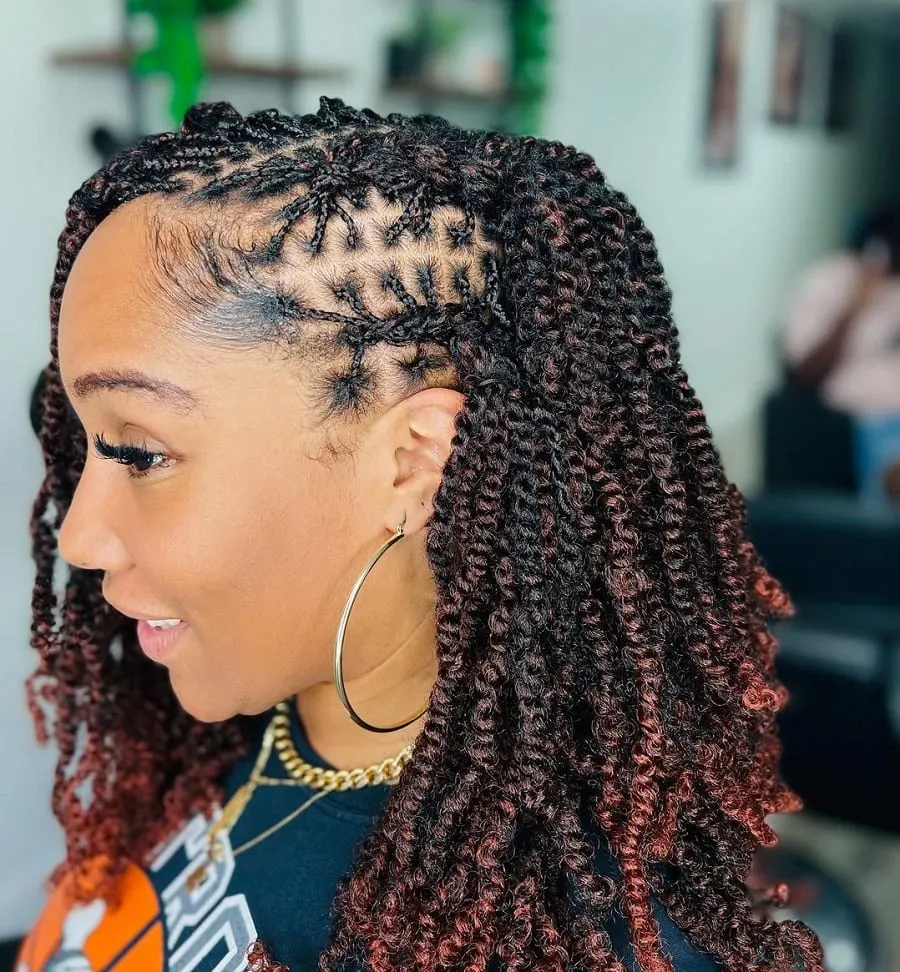 When you don't want to hide your beautiful spring twists, leave your hair down and loose, but add a beautiful side braid for subtle detail. You can make two small ones next to each other or one large one.
5. Crochet Twists
Crochet twists are perfect when you desire a longer hairstyle. These are loose at the ends, which makes it more natural looking and gives it a soft bohemian vibe. Simply part your hair in the middle and you're ready to go.
6. Long Twists with Side Part
Women with an oval shape face and long hair benefit greatly from a heavy side part because of the voluminous lift. Wear your hair down and loose or style it in a side ponytail to get it off the shoulders.
7. Updo for Spring Twists
A thick, slightly messy bun updo makes for a beautiful soft hairstyle. Gather your twists up with your fingers and secure them with a soft scrunchie.
You can even add caramel highlights and some gold hair cuffs for color and accent.
8. Ombre Bob
When you add long layers and a light brown or burgundy coloring on the ends of your spring twists, you get this chic Lob.
Part your hair off-center or add a side bang to switch up your face dimension. Dress it up with a jeweled hair clip on one side.
9. Gray Twists
Just because you're an older woman with gray hair, that doesn't mean you can't rock a twists hairstyle.
This one is a bit thicker, which means they'll also easily make a statement look when worn up in a jumbo bun.
10. Criss-cross Braids with Twists
To put a different spin on long spring twists, give detail to your hairline with criss-cross braids. You can make them twisted or straight and use a little hair gel to set them.
How To Maintain Spring Twists
You can get your spring twists to last up to six weeks if you maintain the extensions carefully. If you invest in quality extensions, you'll be able to remove them and install them again in the future. Synthetic extensions can last years if you store them properly.
On a daily basis, you should part your spring twists and apply a few drops of argan oil to hydrate your scalp.
Massage the oil into your scalp and use a small quantity to avoid buildup. Wrap your spring twists in a protective silk scarf for sleeping.
Wash your spring twists once every two weeks or sooner if you notice buildup on your scalp.
Even though it's safe to get your extensions wet, using dry shampoo can be a simpler alternative to get rid of product buildups in between washes.
When washing your spring twists, use lukewarm water. Massage a clarifying shampoo of your choice into your scalp and use a few drops to wash your extensions if needed. You can condition your hair with a hydrating product, but make sure to rinse it thoroughly.
How to Keep Spring Twists From Frizzing?
Since synthetic extensions have a special coating that prevents frizzing, any frizzing will likely come from your natural hair.
When attaching the extensions, you can prevent frizzing by applying shea butter or another moisturizing product.
Keep your hair hydrated by massaging a small quantity of shea butter or using a deep conditioner once every two weeks.
Spring Twists Vs. Kinky Twists – What's the Difference?
Spring twists and kinky twists may look alike, but they differ in the type of hair used.
Kinky twist braids tend to have a denser texture that increases the weight of the extensions. This hairstyle can last for weeks and require little maintenance, but it can create tension on your scalp due to the weight of the extension.
Spring twists have a similar curl pattern, but the extensions are lighter and bounce more than kinky twists. It results in a neater, manicured style while kinky twists appear more natural and voluminous.
The installation process is similar, but spring twists require hair that's pre-stretched for defined coils. Kinky twists work on natural hair without straightening. Both styles offer a low-maintenance protective look that lasts 6-8 weeks.
FAQs
Read on to learn more about spring twists.
How much are spring twists?
Prices vary from $10 to $30 for a pack of extensions, depending on the quality and length.
How many packs of hair are needed for spring twists?
It depends on how closely you want to install the spring twists. You should be able to cover your entire scalp with a pack and a half of extensions, but it's best to buy an additional pack in case you run out.
What hair is used for spring twists?
Synthetic hair extensions with a tight coil pattern are used for spring twists. Extensions come in many different lengths and colors. You're free to create spring twists with any length or color that appeals to you.
Can spring twists be reused?
Yes, as long as you purchase quality extensions. Make sure to wash the extensions and store them properly if you plan on reusing them.
Can spring twists hair be used for butterfly locs?
Yes, you can use spring twist extensions for butterfly locs, but this hairstyle typically uses hair extensions with a looser curl pattern.
Can I wet spring twists?
Yes. Wetting your spring twists is safe, but you shouldn't towel dry your hair. Instead, let it air dry or use your blow dryer on the cold setting.
Trending Topic