Chic and modern looks can be easily achieved with kinky twist braids. With the gorgeous hair designs, this style is fit for special occasions along with everyday events. And not only does it apt for all ages but for all hair lengths as well.
Kinky twist hairstyles are for those who dare to break the norms. Besides being a race marker, kinky hairstyles are one of the trendiest and provocative hairstyles of all times. The edgy transformations such as kinky twist braids and updos also protect your curly and coarse hair. Here is a list of the cool and quirkiest kinky hairstyles.
Stunning Kinky Twist Hairstyles for Women
Kinky twist braids are elegant and versatile hairstyles that can effortlessly make you look contemporary. This hairstyle will make you look fabulous instantly, with all the variety of styles you can choose from and easily achieve.
If you're looking for a way to impress, not only others but yourself as well, here are 35 beautiful kinky twist hairstyle ideas with minimum effort and a prominent outcome.
#1: Long Rope Twists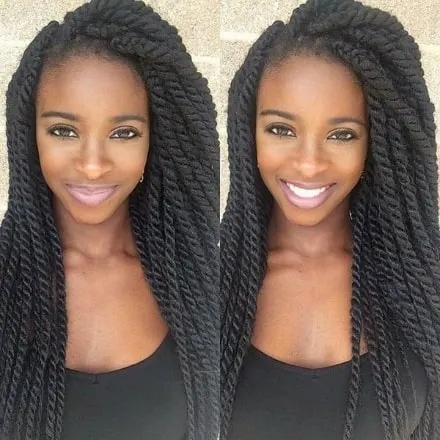 Long rope twists hairstyle is an easily achievable fabulous look. They are suitable for your every day events and can be styled differently depending on the occasion and the thickness of the ropes.
Top Braided Hairstyles for Black Women
#2: Magenta Ropes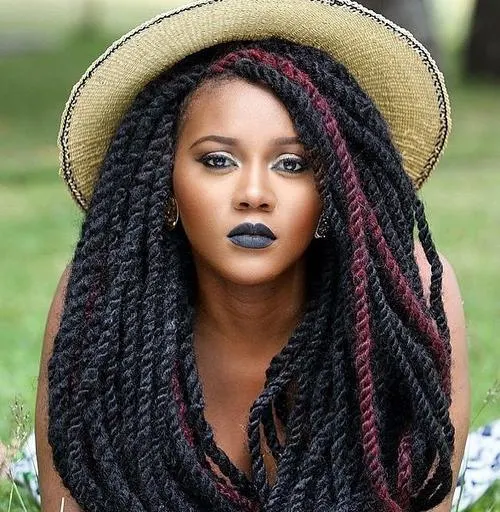 To add some variety to your rope twists, consider adding a few strands of different colors. And to make your style more adorable, top your look off with the hat or accessory that suits your taste perfectly.
#3: Gray Ombre Kinky Twist Braids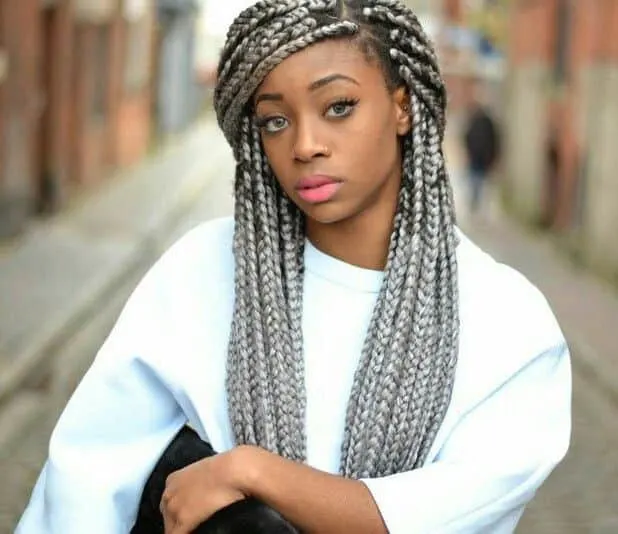 Adding color to your hair will give people different impressions about you in accordance to the color. Adding gray ombre kinky braids will create a beautiful contrast of colors with your skin complexion.
Long and Beautiful Kinky Twists to Give a Try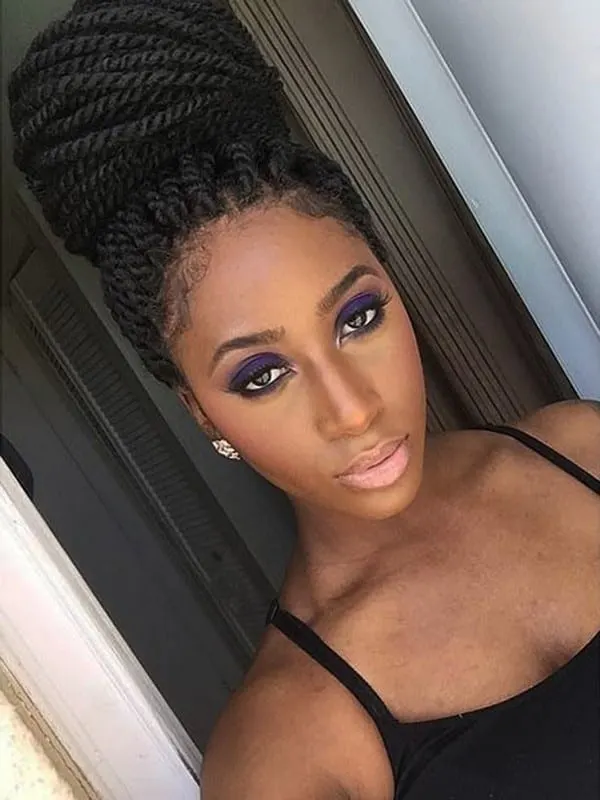 If you have a special occasion and want to make something out of your rope twists, consider wearing it into a top knot. Top knots are an easy way to tidy up your hair and create a beautifully twisted twist. You can also check the Nubian twists.
#5: Build It Sky High
If you're tired of wearing your hair down, consider wearing it into a ponytail on top of your head. It is such a splendid style for kinky twists!
#6: Twisted Updo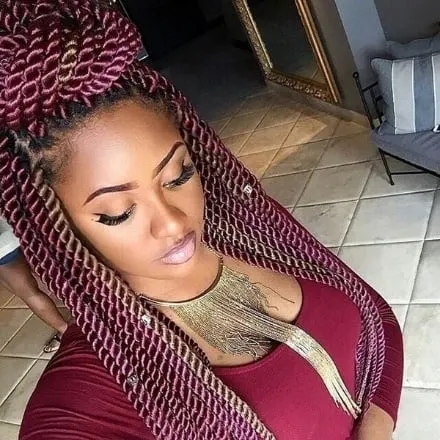 Using only your top hair, create a top knot with your kinky twists and leave the rest of your hair flowing down. A pleasant way of playing with proportions and making your style look brighter.
#7: Side Twist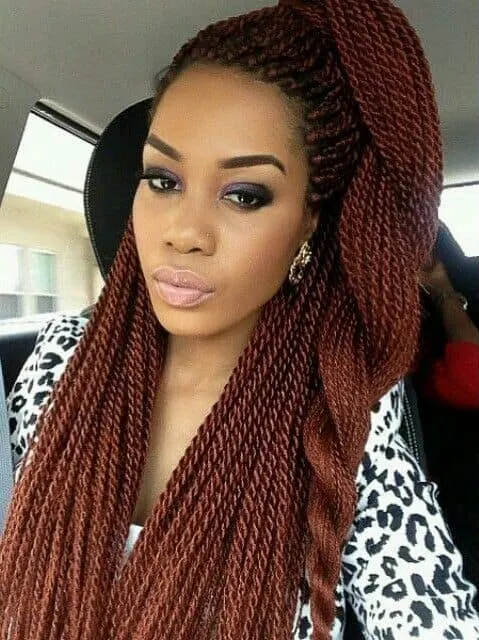 With the pencil sized kinky twists, you can create a glamorous look by creating one huge twist on the side, via taking your top hair and leaving the rest to fall on your shoulders. It's not that easy to make but definitely worth the try.
#8: Rope Twist Updo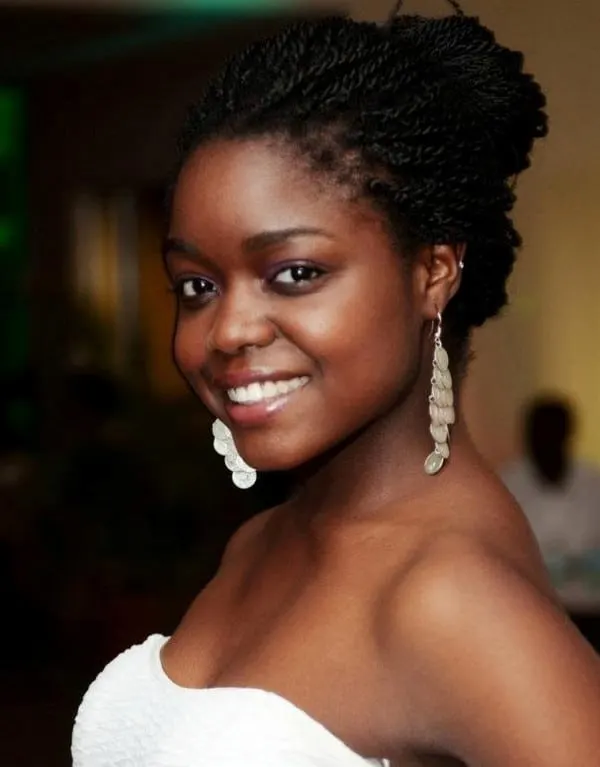 Updos are great for special occasions. But with kinky twists, they will look even better with the details in every twist.
#9: Platinum Hair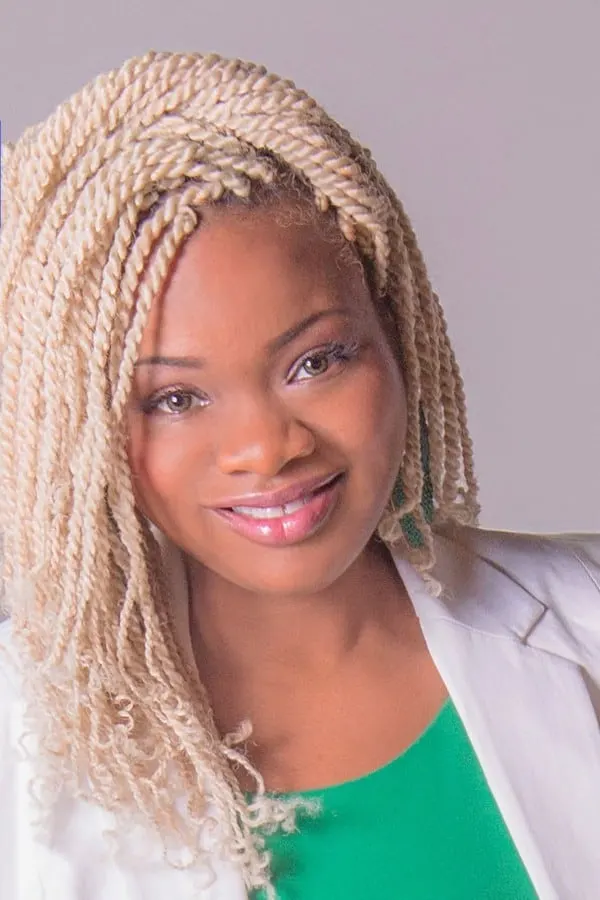 Try out colors, not which will balance and blend with your skin complexion, but ones which will create a contrasting effect and catch attention. This choice of hair color tends to make you outstand any other.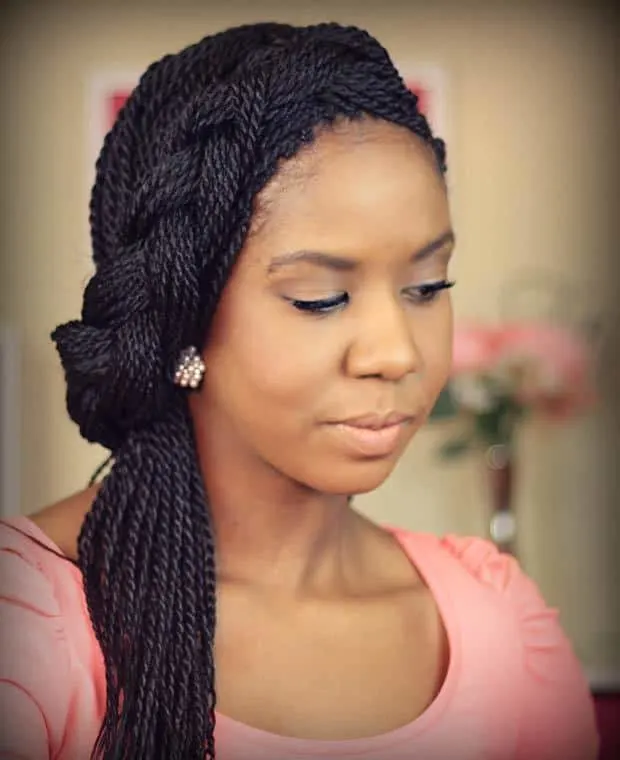 With your thin rope twists create a half-crown braid. This is a beautiful hairstyle for black brides and will make you look even more contemporary.
#11: Afro Kinky Twists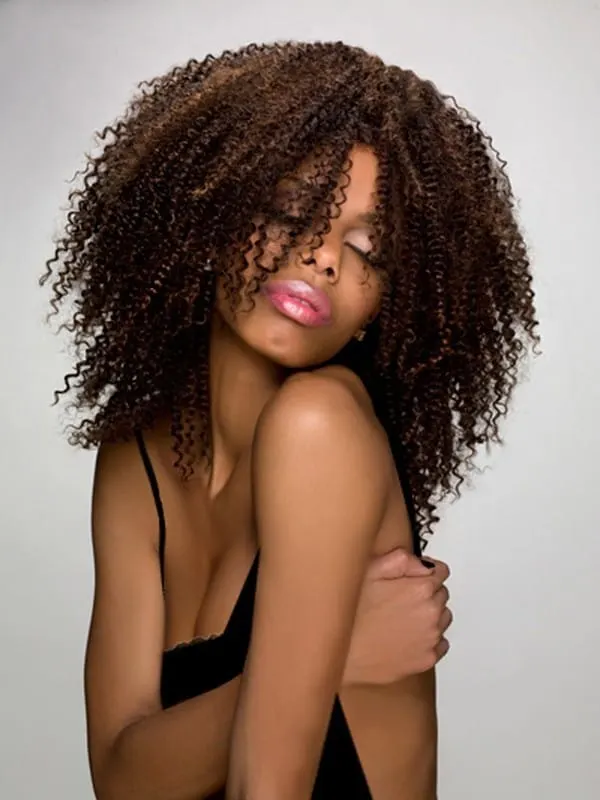 Let your curls loose and free of any ties to show off an impressive afro. Afros will give off a natural feel of your hair and doesn't require much styling!
#12: Rope Twists Mohawk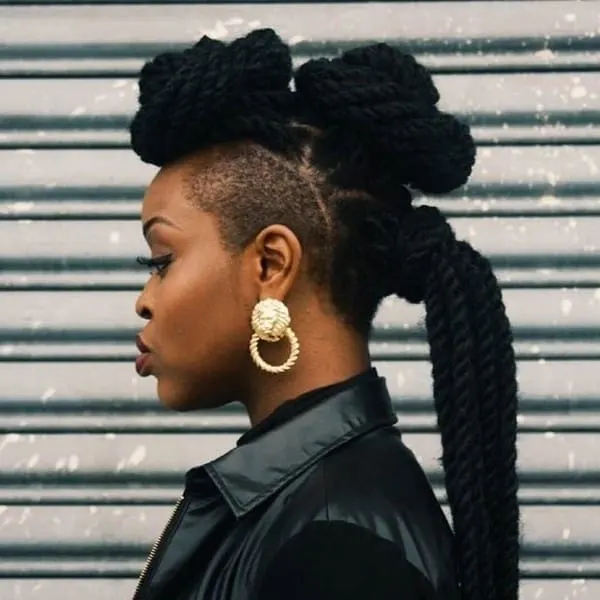 Even Mohawks are an option when it comes to rope twists. With the sides of your head shaved, you can go for several styles with the rest of your long twists. As shown in this image, the two top knots and the ponytail on the back will give off a daring vibe for your daring soul.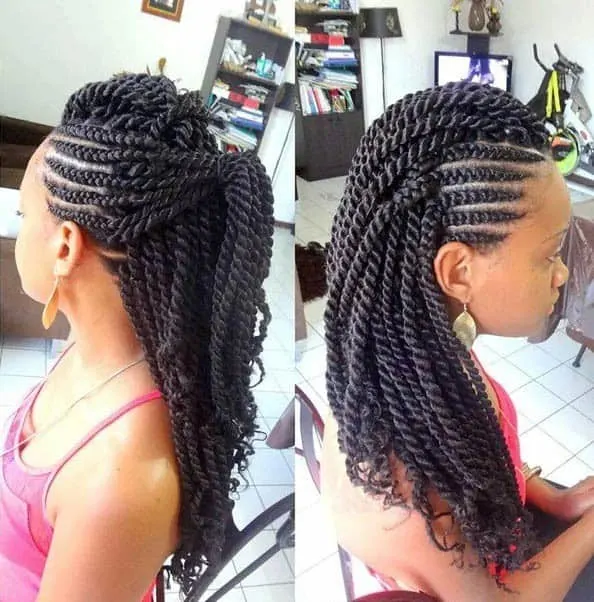 If you don't want to shave off the sides of your head to create a Mohawk, you can simply create cornrows on the sides of your head. To make it more fashionable, you can tie the free ends of the cornrows into a ponytail.
#14: Curled Twists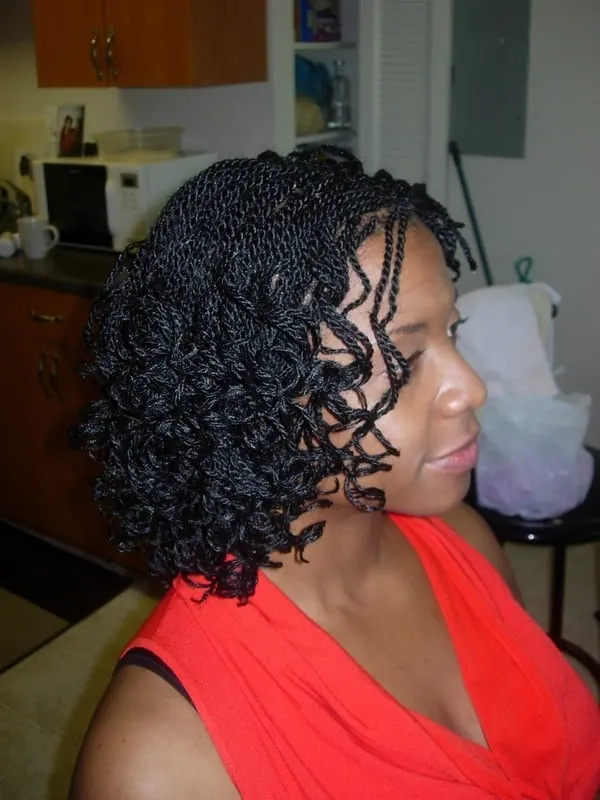 There's nothing you'll lose by being creative with your kinky twists and trying different styles. Curling the ends of your twists, for example, will give your hair a glamourous voluminous look.
#15: Shaved Sides
Give the sides of your head a low fade and leave your long kinky twists to fall freely. That's a quite unique hairstyle that can give people an impression of you having an edgy and a daring personality.
#16: Scarf +Kinky Top Knot + Purple Ombre = WOW!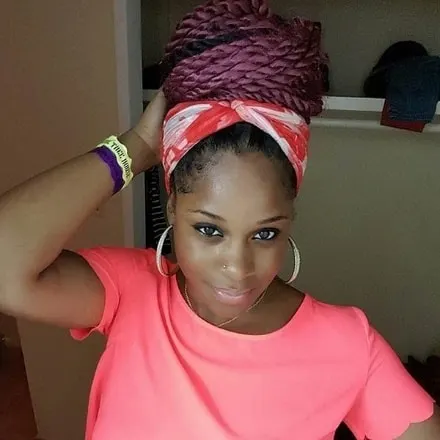 This style stands out in many ways. It has the look, the accessories, and the color all fitting in the right way to outstand any other. With purple ombre kinky twists, create a top knot and top the look off with a matching scarf color and voilà! Gorgeous!
#17: Caramel Twists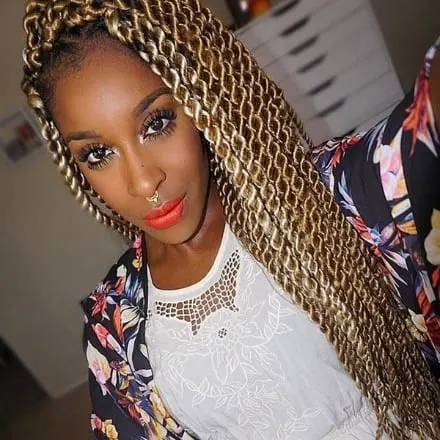 If you're bored of wearing your hair in the same old subtle dark colors, try out different shades and ombres like caramel ombre. It's not a flashy color but still chic and warm.
#18: Sided Braid
Use your long kinky twists to create an "easier said than done" look that is quite… easy! All you need to do is create a sided braid with your kinky twists that will look so complicated with all the action going on when all it is but a simple braid.
Difference between Senegalese Twists and Box Braids
#19: Purple and Blue Ropes
If you're aiming to stand out and get all the attention, play a little bit with the color of your hair. Instead of subtle and normal colors, go for something audacious like deep purples and blues.
#20: Bob Kinky Twists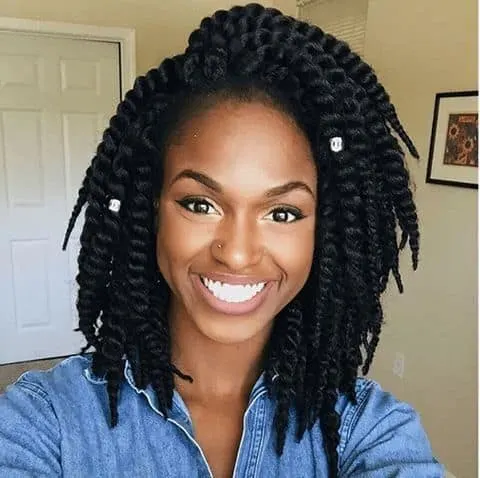 Short bob kinky twists are gorgeous and will give you an adorable and a feminine look. Not to mention, they go with all face shapes.
#21: Kinky Twists Updo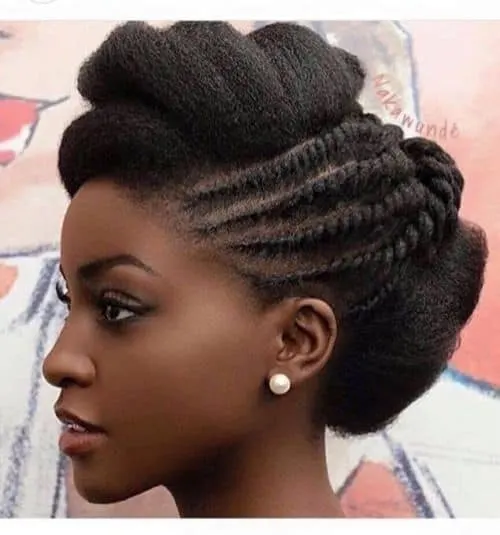 Not an easy do it yourself style, but still worth giving it a try if you have a special occasion. This updo separated in the middle with a few kinky twists creating an alternating style.
Sometimes Mohawks are irresistible, they just tempt you to try them. With shaved sides and your top kinky twists tied into a ponytail, you can easily achieve a fabulous Mohawk.
#23: Short Kinky Twists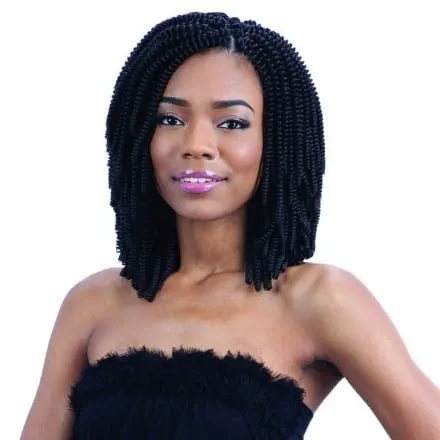 If you're tired of long hair, try short kinky twists. Letting them down without styling them, will give your hair a break.
#24: Red Haired Kinky Twists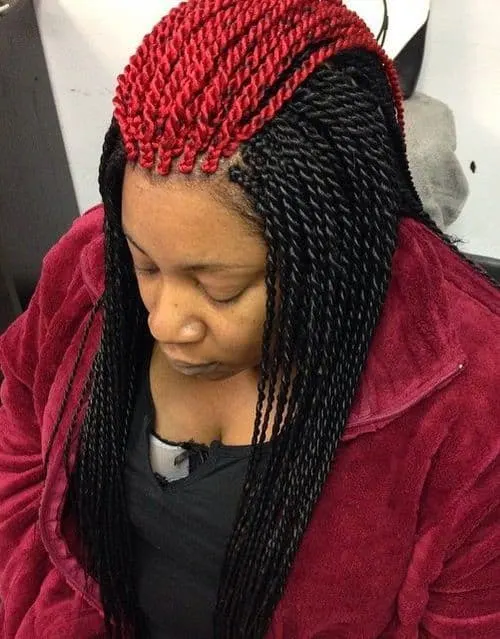 Here's a way to show your wild side. With your kinky twists let loose, you can still stand out by using red kinky twists for only your top hair.
#25: Side Fringe
Add chicness to your look with side fringes. Take your hair to one side of your head and create a huge hair twist with your small twists.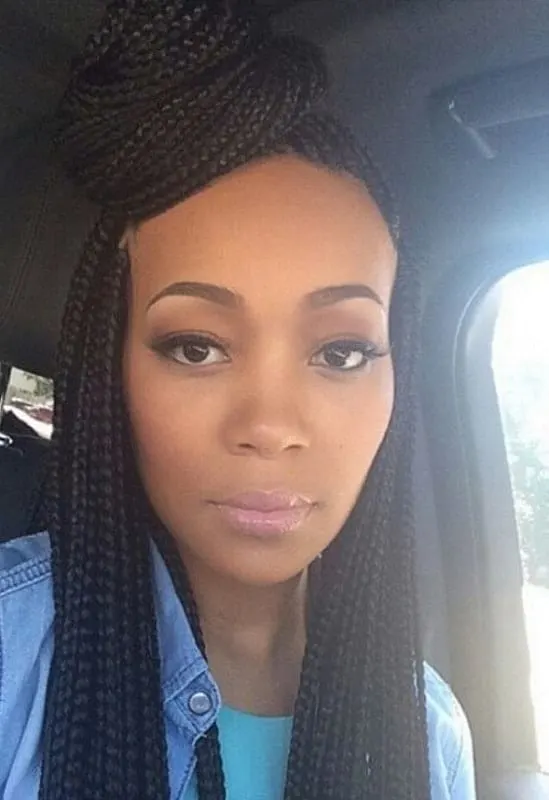 The twisted rope Senegalese version of kinky twist hairstyle looks best when knotted in half up-do. The half knot adds height and gives a bold look, whereas the left out lengths look glamorous. This type of hairstyle is suitable for young girls.
#27: Diagonal Cornrows with Beaded Kinky Twist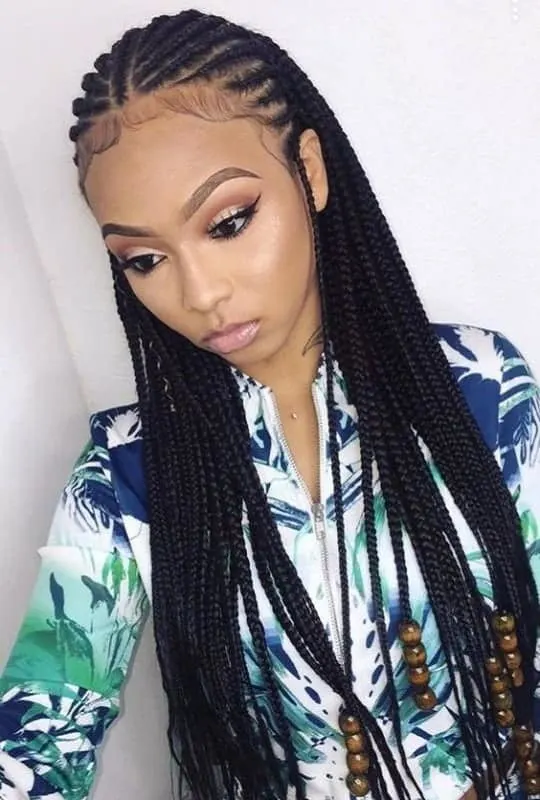 Diagonal corn rows combined with kinky twisted braids gives a sculpted dimensional look. The extension of cornrows towards the center of the head makes the kinky twist hairstyle more manageable.
#28: Bicolor Blended Long Kinky Twist Braid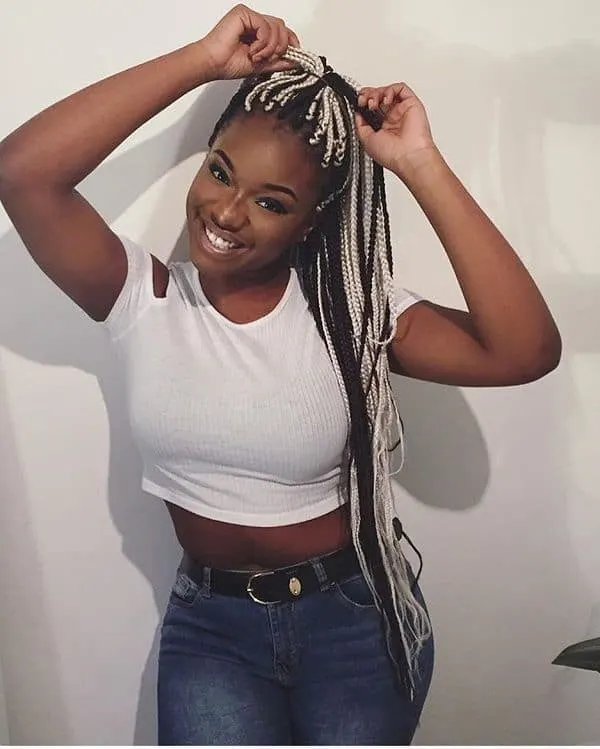 Mixing two or more colors makes kinky twist braid look funkier, especially when done with contrasting colors. The long black and white kinky braids blend well with sporty and fierce looks.
#29: Kinky Twist with Space Buns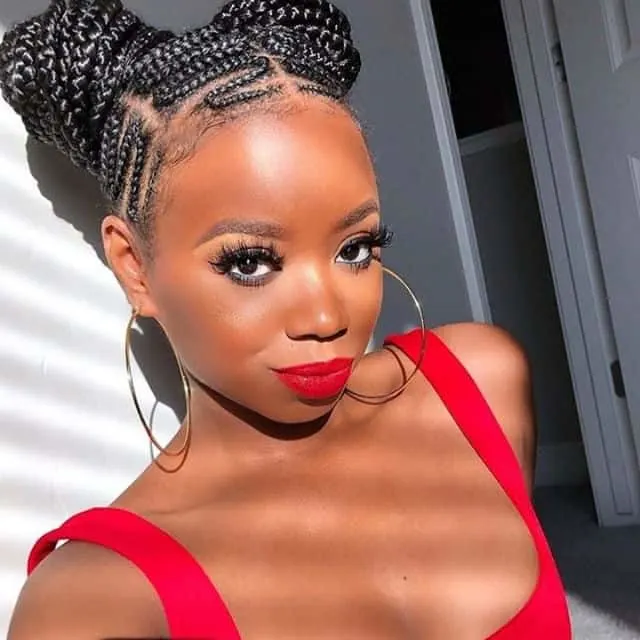 The curled corn rows blend out beautifully, in kinky twist braid and the double-sided bun holds your hair up and high. This hairstyle looks best with halter neck and off-shoulder blouses.
#30: Dyed Twist Braids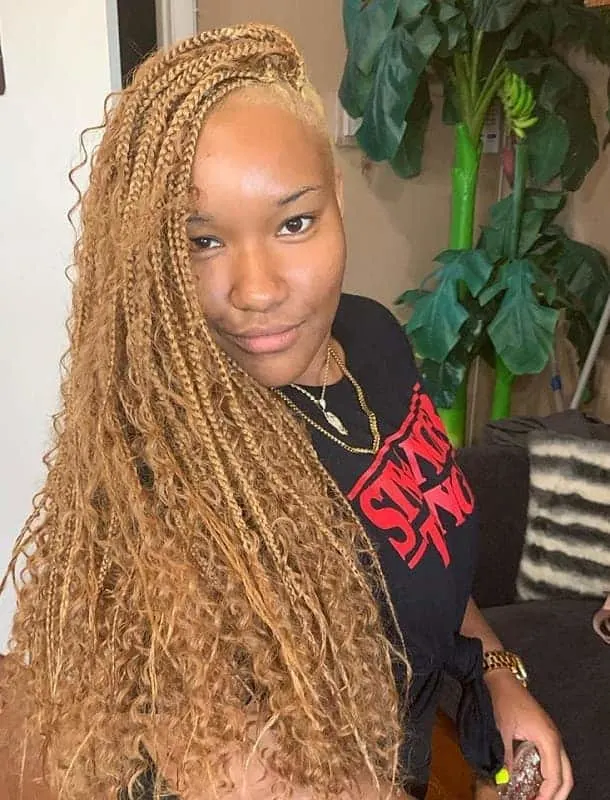 Dyed hair always makes a bold statement. It gets even more audacious when combined with kinky twist hairstyle. It is a fun and bold hairstyle for the daring ones.
#31: Casual Kinky Twist Half Bun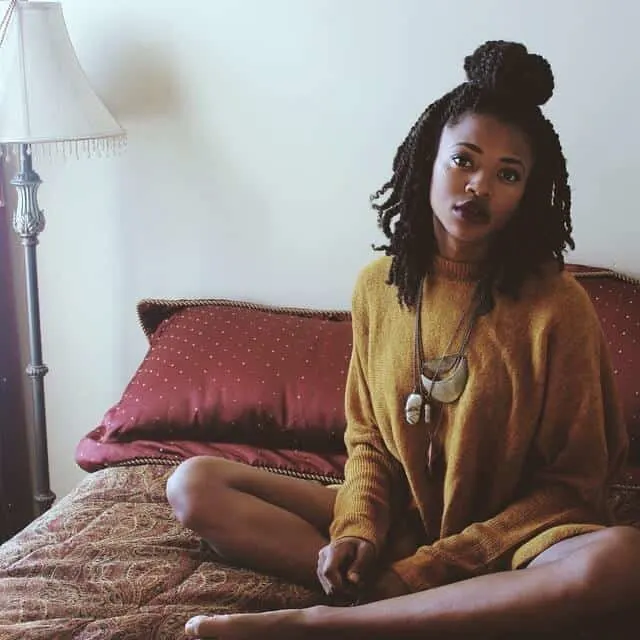 Kinky hairstyles can easily be carried casually either tied or loose. The half bun is easy to make and, you can carry it with multiple casual clothing.
#32: Low Bun Formal Kinky Twist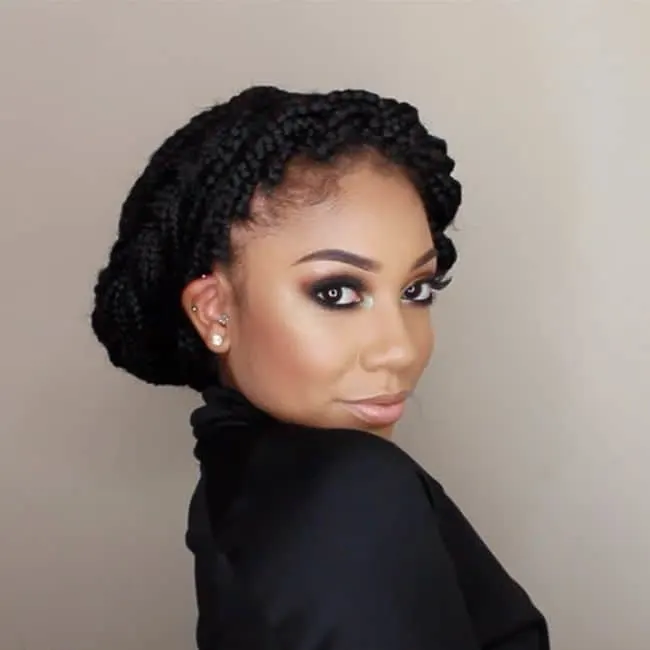 Kinky twist braided hairstyles look very stunning when done formally. A low bun blended with kinky braids is surely a show stopper. It can be accessorized to enhance the beauty of this unique hairstyle.
#33: Half Tied Kinky Twist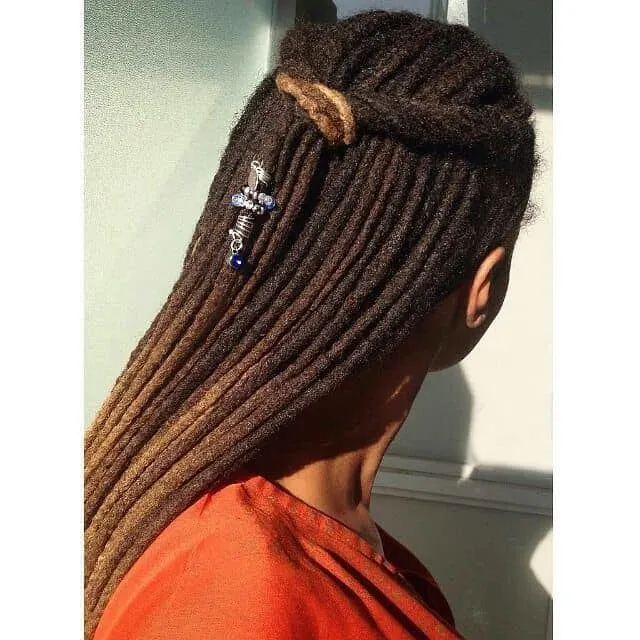 Half tied hair is the most casually carried hair. But thanks to kinky twist hair, even the most casual hairstyle looks unique and trendy. Twist braids are even more striking when done with dip-dyed hair. Half tied hair brings out the blended colors beautifully.
#34: Freestyle Kinky Twist Hairstyle
Afro coiffure looks best in their random natural state. The freestyle kinky twist style is the most enjoyable form of kinky hair. Bouncy and vibrant hair enhances the vigor in your personality.
#35: Side Braid
A simple yet elegant hairstyle. The side kinky twist braid is best for sunny days. You can rock a beach party with this amazing hairstyle, or you can try it with a loose summer dress on a dinner date. On any occasion, it will look equally stylish and beautiful.
Those 35 kinky twist hairstyles don't even come close to the number of variations this look can be styled in. Kinky twists are now a symbol of contemporary hairstyles, so if you've never tried them before, make sure to do so.
Whatever type of personality you have, you'll find a style that fits it right and gives people an impression of your persona. Or you can be more daring and fool everyone with a style that expresses nothing of what you really are. Simply make them think of you what you want them to and shoot ahead with your life.