One of the hit hairstyles among men and boys are the surfer hairstyle. It is one of the oldest hairstyles that became a rage in the 50s. The surfer haircuts are ideally suitable to flaunt on a beach in the summer, however, they have been flaunted by many popular music personalities, including Owen Wilson and Led Zeppelin to name a few. The surfer boy hairstyle channelized their inner hippie to the world.
How to Get Surfer Hair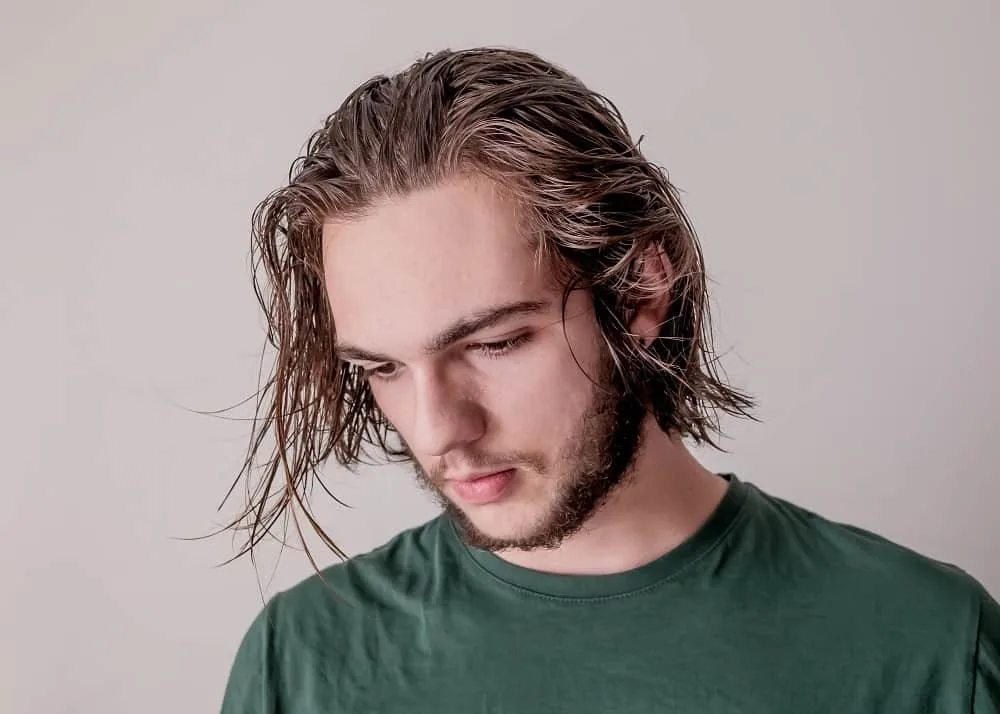 Surfer hair comes naturally if you spend a lot of time in the ocean, casually drying your hair with a towel, or letting the sun work for you. However, if you want to get it at home, you'll need to put in a bit of effort.
Surfer's hair works best on longer hair with a bit of texture. If you don't have the right cut, you'll need to let it grow to about chin-length or slightly longer. Once your hair is the correct length, you'll need to style it.
To style your hair like a surfer, follow these steps:
Wash or dampen your hair.

When hair is slightly wet but not soaked, run a product (preferably a pomade) into your hair.

Make sure to distribute the product evenly.

Scrunch hair in an upward motion with a towel.

Afterward, add a texturizing spray and scrunch again.
Watch The Following Video to Learn How to Get Surfer Haircut
Best Surfer Hairstyles for Boys
We have collected 27 amazing surfer boy haircuts for an adventurous look for the surf lovers out in the world.
1. Sexy Shag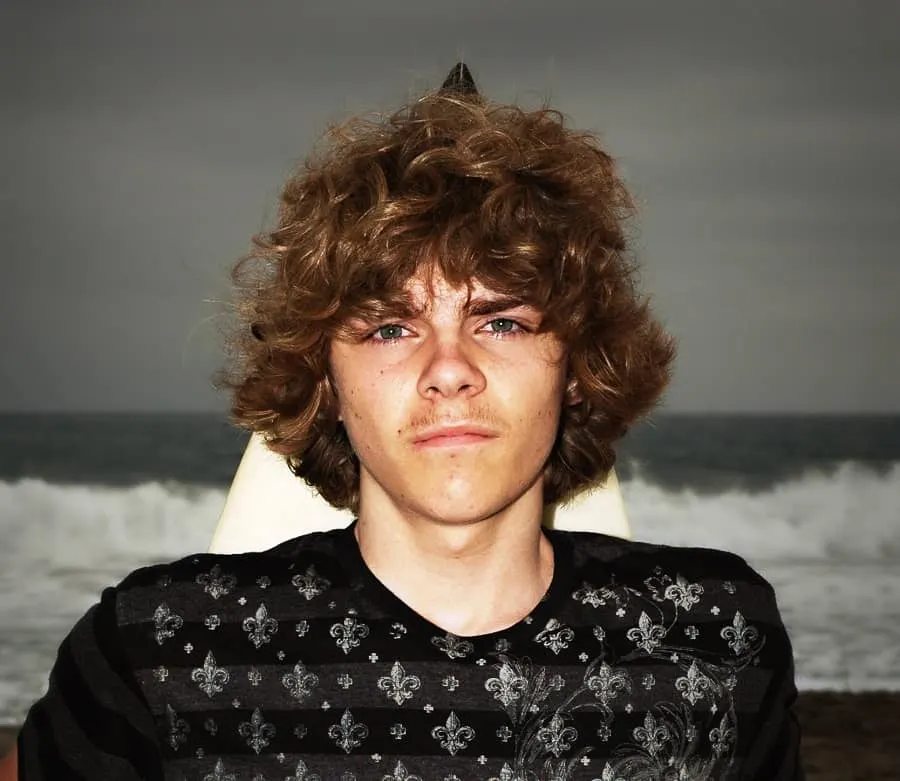 Keep all the eyes on you while walking on the beach with this hairstyle ideal for surfer boys with thick curly locks. The hair is grown out only to be trimmed in layers accentuating the face with the front strands falling over the head for an un-ignorable sexy appeal.
2. Long Top + Buzzed Sides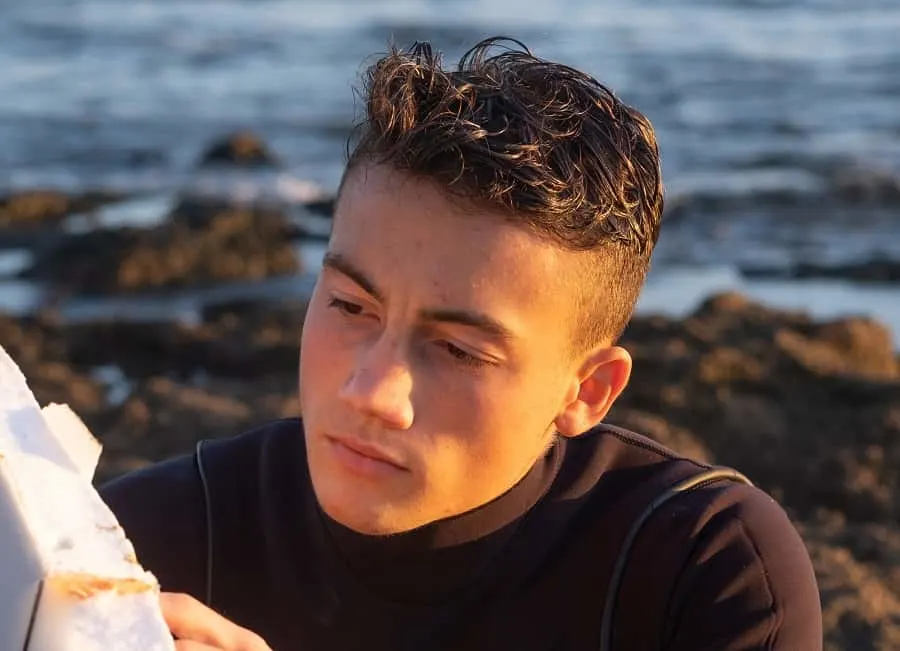 Guys who like to keep it neat can buzz their sides to retain all the attention on the top. The strands at the top are long and wavy and can be styled with pomade for a wet look. This style works well with all face shapes and hair textures.
3. Blonde Highlights
Surfer haircuts are all about tousled and messy hairstyles. Try out a detailed look by trimming short the sides with a significantly longer top standing out with the blonde highlights peeking through the darker hair. Hand-tousle the top and you are ready to rock.
4. Kinky Coils
Referring to the black boys, get ready to flaunt your curly coils this summer by asking the hairstylist for a deva haircut that styles each coil individually to frame the face. This fun look is suitable both for young boys and grown-up men.
5. Curtain Haircut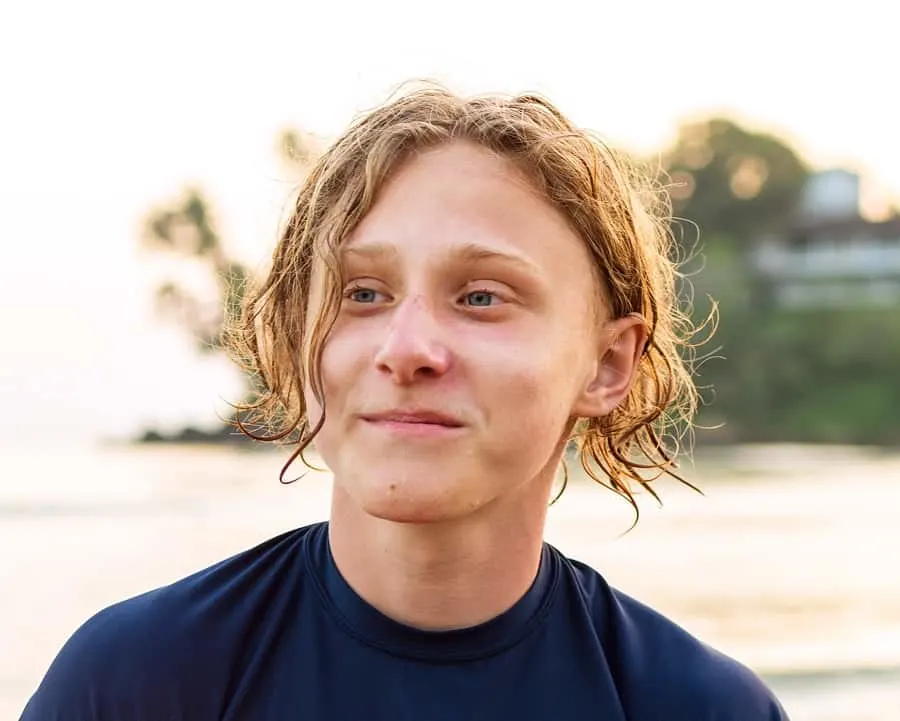 This hairstyle reminds of the 90's hair fashion. It is defined by a long middle-parted fringe falling on both sides of the face like curtains. The curly wet blonde locks dangling above the shoulders are a perfect fit for a surfer ambiance.
6. Layered Curls
Here is one of the best awe-inspiring surfer inspired haircuts to rock on the upcoming beach days. This hairstyle is ideal for dudes with naturally curly locks that are cut at different lengths resulting in gorgeous layers. A dip into the water will recreate this romantic look exactly.
7. Platinum Blonde Hair
Look cool in your surfer boy attire by dying the hair in a shiny platinum blonde hue. Pair this shade with a short textured haircut that is tousled on one side for an undone appeal. This look demands some maintenance requiring a root touch-up every few weeks.
8. Modern French Crop
Wear a classic French crop with a modern twist to it. Instead of buzzing the sides keep them long and add textured layers all over the head to create a carefree hair look. All the strands are disheveled except for the blunt cut fringe lying flawlessly on the forehead.
9. Curly Blonde Locks
Pull off a surfer hairstyle by growing the blonde curls to fall on the shoulders. Leave them free to sway with the wind with a side parting for a merman appeal. This dapper look can be achieved with a curling iron too for those who have straight tresses.
10. Messy Appeal
Have a glance at this hairstyle which features an undone hair look achieved by disheveling the blonde strands here and there without much effort. Keep in mind that the textured layers on these medium-length strands play a key role in achieving this messy appeal.
11. Classic and Simple
Although surfer boy haircuts are all about untidy hairstyles, this simple haircut beats them all. The sides are trimmed with a slightly longer top that is combed over with a side parting for a classic look that will make anyone look like a gentleman even on the beach.
12. Side Swept Bangs
This adorable look can be considered the best surfer hairstyle for young lads with sleek straight hair. The blonde front strands are clipped into bangs skimming the eyebrows while the side locks cover the ears. The remaining hair has subtle layers creating an overall handsome appeal.
Unlike the long surfer boy haircuts, this one is different. To do this hairstyle, the hair needs to be cut down short with a wavy haircut around the head to give it a messy and shaggy appearance to look more convenient as a surfer hairstyle.
14. Simple and Cool Surfer Hairstyle
The hair length is kept medium in this haircut and simply combed and swept forwards. The natural curls and layers add to the look and make it more convincing and cool when it is not combed proper and left simple.
Side Swept Undercut Hairstyles for Men
15. Side Swept Surfer Hairstyle
With a long length of hair, you can do any hairstyle. One such hairstyle is side swept surfer haircut. The hair is combed one side and left hanging there and demonstrates the perfect surfer hairstyle. This look definitely gives the vibe of being one of the best surfer haircuts for boys.
16. The Tousled Look
Like the messy surfer boy hairstyle, the tousled look is also one of the oldest and is donned now with a modern touch to it. Here, the hair is also grown out long, the trick is the middle portion of the hair that covers the forehead should be combed and kept back while the remaining hair should fall on both the sides.
17. Messy Surfer Hairstyle
This is one of the best surfer boy haircuts that was donned on a large number by the surfers and immediately became a hit. To get a messy surfer hairstyle look, you need to grow out your hair unevenly. The uneven length of the hair and a messy style with the help of fingers complete the look. The uneven length and messiness give it a casual and appealing look.
18. The Curlier and Longer Surfer Haircut
The long and curly surfer hairstyle translates very well one's inner surfer style as it appears careless and not groomed which is the core essence of a surfer style. For this hairstyle, the hair should be grown long.
If you have natural curls then you don't have to curl it but in case you don't have curly hairs, you can get this look with the help of curlers.
19. Extra-long Surfer Hairstyle
The extra-long surfer boy haircut requires a lot of patience to hold onto it. Usually, the hair takes a long time to grow depending on the speed of the growth. The speed of hair growth depends from men to men. The hairstyle is kept simple to give it a natural and convenient look.
20. Super Curly Hair
If you are blessed with curly hair, a medium surfer haircut would keep your ringlets well defined and bouncy. Layer your hair, go for a short beard, and get some bangs that will spread on the forehead.
21. One-Sided Medium Hair
All men love these surfer boy haircuts, and we have to say they look marvelous on straight hair. Keep your hair longer in front and gradually shorten it to the sides. Wear that long fringe on one side.
22. Quiff with Undercut
Quiffs need styling if you want them to look perfect. This surfer hairstyle for boys looks complete with an undercut and is a perfect hairdo for all occasions, including parties, school, and even the office.
23. Long Blonde Hair
This surfer boy with blonde hair will break any girl's heart, and if you want to recreate this look, you need to have a lot of patience and wait until your hair grows this much. If your hair doesn't have this color, you can go for an ombre or enlighten the tips.
24. Layered Medium Hairstyle
When you want a genuine surfer boy look, this choppy haircut will come to the rescue. You need to have at least medium hair, and with a tousle and some styling clay or wax, you can get this messy look.
25. Messy Hairstyle with Undercut
Keep your top long and opt for an undercut if you want a surfer boy haircut that can be styled to look messy and sexy. If you have slightly wavy hair, even better, this hairdo will pitch-perfectly suit you.
26. Surfer Buzz Cut
Not all surfer men wear their hair long, some preferring terse haircuts. A buzz cut is ideal for all sorts of occasions, especially holidays spent on a beach with your family. It will be so much easier to get off the sand from your hair.
27. Messy One-Sided Hairstyle
Opt for a short haircut with a long top that can be arranged on one side. Use special products with salted water if you want to obtain that messy effect and blonde sun-kissed glow.
Hair Maintenance Tips for Surfers
Whether you surf once each week or every day, it is vital to maintain your hair to keep it looking healthy and undamaged. Some valuable tips to keep your hair looking the way you want it to include:
Trim your hair every eight to twelve weeks to maintain healthy hair.

When pulling your hair back, use ties with less elastic (they will damage your hair less).

Always use conditioner after shampooing your hair.

Deep condition your hair weekly or monthly, depending on the dryness of your hair.

Avoid extra time in the sun when not at the beach.
FAQs
What is a surfer's hairstyle called?
Most people call a surfer's hairstyle "tousled," "surfer hair," or "beach hair."
Can surfer guys have short hair?
Yes. While the stereotypical surfer guy has long, sun-bleached hair, there is nothing that prevents a surfer from having any haircut. However, there is a reason that most surfer guys have longer hair. The style helps protect the scalp and back of the neck from getting too much sun.

If you have short hair and surf frequently, remember to reapply sunblock to your ears and the back of your neck as often as you reapply it to the rest of your body.
What causes surfers' hair to turn blonde?
Sunshine can bleach hair. Surfers tend to spend a ton of time out in the sun, and the ocean reflects the sun's rays, making it twice as intense.

While some hair types are less likely to turn blonde in the sun than others, a surfer's lifestyle dramatically increases the odds.
How should I wear my hair while surfing?
If your hair is long enough to protect your ears and the back of your neck without getting in your eyes, there is no problem with wearing your hair down. However, if your hair is longer, that might not be possible.

You can pull your hair back into a ponytail or a bun while surfing to make sure that it stays out of your face.
Will surfing damage hair?
Yes. If you surf occasionally, this damage won't be noticeable. If you surf frequently, several things will damage your hair. Frequent exposure to the sun will cause mild damage to your hair. The outside layer of the hair shaft breaks down with too much exposure to UV rays.

Surfing can only happen in the ocean, and salt is bad for your hair. Salt dries out your hair and your scalp, which can cause dandruff and for your hair to become brittle and break easily.

To lessen the hair damage from surfing, always condition your hair after shampooing it. Additionally, consider weekly or monthly deep conditioning treatments on your hair.
So, if you are looking for a different and amazing hairstyle, then get yourself a surfer boy haircut now!