Men wavy hairstyles can be adapted to any outfit, event, or time of day. In the morning, you can get a messy wavy look while for the office, you can develop a hairstyle that will make you look like a fine gentleman. A little bit of wax, foam, or hairspray can help you achieve the proper look for any occasion.
Wavy Hairstyles for Men
Men wavy hairstyles require your attention and crave more time spent in the bathroom, but when you get out that door, you'll know that it worthed the struggle.
1. Medium Wavy Hair
Waves can be easily styled with styling foam or hairspray. This way, your hair will look just the way you wanted, and your coils will keep their shape the whole day. Not to mention that the look you will get will be very modern and chic.
2. Short Wavy Hair for Man
Style low fade for sides and back hair and create waves for the crown hair. Arrange and fix them with styling products to look flawless, textured, and shiny.
3. Thin Wavy Hairstyle
If you want a casual look that is perfect for the weekend or any chill day, keep your top hair long and create a part on one side. Flip your bangs and tousle your hair to create a messy look.
4. Wavy Hair Perm
Perms are not only an option for women but also for men. Give length to your bangs and use hair foam to create those stunning wet curls. If you want a sexy appearance, look no further, this wavy hairstyle for men is the ideal choice for you.
5. Men with Frizzy Wavy Hair
If you happen to have frizzy wavy hair, take advantage of this aspect and style a wavy hairstyle for men. Create a bald fade trim on sides and make a razored curved line design. Style your crown hair into a mohawk.
6. Messy Wavy Hair
Choose a medium-low cut for the sides and your crown hair long and wavy. You'll get a relaxed look that is ideal for men that wear glasses. Keep your beard very short for an outstanding clean look.
7. Layered Wavy Hair
Transform your curly strands into a statement with a layered haircut for men. Style some short bangs that only cover half of your forehead and tousle your hair. You'll get a lot of volume, and your coils will be textured and will have movement.
8. Wavy Hairstyle for Round Face
Let your tight bouncy ringlets cover your forehead, and for the sides, choose a low cut. This is a pretty low maintenance hairstyle for men that will save you a lot of time in the morning.
9. Brown Wavy Hair
Messy looks are among the most low maintenance hairstyles for men, and one of their most significant advantages is that they look so fresh and chic. Tousle your crown hair and fix it with hairspray to recreate this hairstyle.
10. Coarse Wavy Hair
Coarse hair looks ravishing if it has curls or waves. One of its significant advantages is that it has texture and that it stands just the way you put it.
This simple crew cut style becomes overly stylish when the top is curly. You need to shape the top part of the hair with gel in order to give it a square or a round form. You can improve the way the waves appear with a flat iron.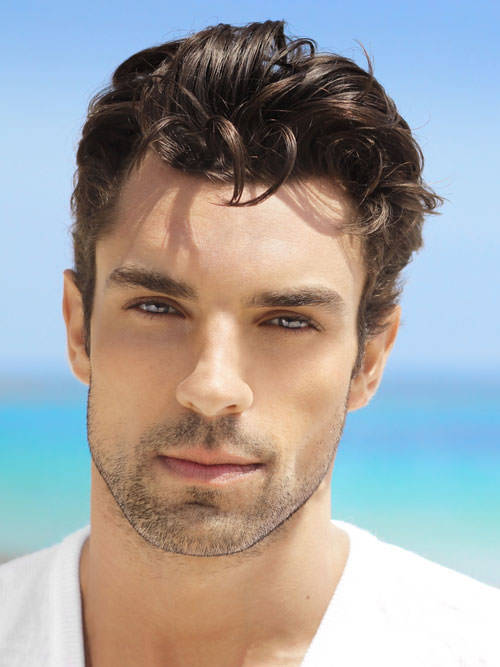 If you have wavy hair, you can enjoy a slightly wild yet sexy comb over. Brush the top of your hair backward and secure with hair gel. Allow a few strands to fall down on your forehead for a subtly romantic look.
13. Touseled Shag
Well-styled shags are great wavy hairstyles for men who want to flaunt their thick locks. If you cut the hair to make layers, this hairstyle won't require too much maintenance other than careful brushing.
14. Let It Grow
While this haircut for wavy hair men seems slightly messy, it's not too easy to achieve. You need to keep the hair almost the same length on top and the sides. Make sure to use frizz removing cosmetics to make the waves appear soft.
15. Simple Curls
If you have wavy hair, you can enjoy this simple hairstyle. All the hair is cut to be about the same length. All you need to do is use hair gel to make the waves look neat and avoid the frizzy appearance.
16. High Bangs
If you have wavy hair, neat bangs are hard to achieve. What you can do is brush them upward to create an appearance of a high comb over. This wavy hairstyle for men is suitable for many occasions.
Use your wavy mane to outline the top part of the fohawk. Keep the hair on the sides short enough to avoid the coils. The top part can be as long as you dare to make it. Use a flat iron to shape the waves.
18. Wavy Bob
A wavy bob is exactly what you need if you are trying to achieve a special artist-like appearance. The best part about this hairstyle for men with wavy hair is that it doesn't require too much daily maintenance besides brushing.
19. Wavy Bangs
This wavy hairstyle appeals to men who want to cover the high forehead. Wavy bangs are hard to keep neat. However, if you cut the rest of your hair short so it stays neat no matter what you do, you can allow the bangs to be slightly messy.
20. Blonde Shag
A wavy blonde shag is the simplest way to go from an average guy to a romantic macho figure. Even if you have to dye your locks a lighter color and apply gel every morning, the results are truly worth it
21. Fake It
If you want to diversify your hairstyle, consider making a few waves on top. You don't have to have curly or wavy hair to achieve this look. All you need to do is spend a couple of minutes wielding the curling iron.
22. Hobbit Waves
A shaggy bob with messy waves is an easy approach to a wavy hairstyle for men who don't want to bear the hassle. You need to keep the sides just slightly shorter while the top can be messy and boisterous.
Long Top and Side Short Hairstyles
23. Blonde Wavy Hair
Most of the strong yet romantic guys in the movies, starting with Thor and ending with Edward, the vampire, have blonde and windblown waves. These hairstyles need some care but they look fantastic even when messy. Just make sure to avoid the frizz.
Come up with an impressive fohawk hairstyle by keeping the sides very short and the top as long as you wish. Use a flatiron to direct the top part of your hair forward and the hairspray to keep it in place.
While wavy shags might appear too wild for office workers, it's easy to style them to look neat and appropriate. Comb over the top hair to the back and use hair gel to carefully style each wave.
Trending: 1950s Hairstyle Ideas for Men
Indeed it is a Fab wavy hairstyle for men that is screaming out serious hairstylist's skills! You can achieve this look on medium length hair flawlessly. This feather-like wavy structure will make it harder for people to take away their eyes from you.
27. Pushed Back Wavy Hair
Want to keep it short and classy? This wavy hair look will surely meet your requirement. Push back hairstyle will give the wavy hair texture a very delightful look that you can wear for any event.
Messy hairstyle for men with long wavy hair and the golden balayage flowing through tousled waves give men uber-stylish and charming hunk vibes. Stubble adds more impact to men's whole attire.
Add some sparkles to this bedhead look by applying good quality pomade as it will give refined look to each wavy hair strand.
This Fohawk has its own unique characters and looks ultra-distinctive from other edgiest Fauxhawk as it does not involve any type of fade, low, taper or high fade. Style your hair with a small amount of hair product through finger combing. Its beauty lies in its messy structure.
Want to accentuate the top wavy bangs? Then, accompany the haircut with taper fade sides and back. Further, titivate the hairstyle with blue hue highlights to mishmash a chic element with your bad boy attire. Keep the top a bit messy for the casual and groovier finish.
31. Clean Side Sweep Wavy Hairstyle
You can achieve this haircut for wavy hair men on short as well as long hair. In both cases, the hair is turned into loosely comb-over hairstyle with hard part, after applying hair clay for a glossy finish. If you are attempting the clean sweep hairstyle on short hair then, accompany it high fade for a trendy look.
32. Ginger Top with Undercut
This bold wavy haircut for men is ideal for thick and textured hair. The hair is kept longer on the top while the sides and back of the head look taper fade. Turn the top into a ginger color for cool, vibrant aesthetics. Apply a matter hair product to give a top, jagged appearance.
Korean men usually have straight and fine hair, but it does not mean they cannot get modish men's wavy hairstyles! To get this particular look, grow your hair long enough that can be cut into a choppy top effortlessly.
Zero fades the sides and low fades the back of the head. Tousle the top hair after applying pomade, to get this crazy wavy texture.
34. Classic and Elegant
This short wavy slick back hairstyle looks exceptional on men with fine or thick hair texture. There is no need to taper the sides and back, as you can get a discreet look by styling the hair professionally.
Apply a small amount of pomade and brush back the hair to get the desired look. Stubble makes an alluring combo with this classic hairstyle.
Men with thick wavy hair can opt for this look to achieve a sophisticated wavy texture that will grab everyone's attention around them. Razor cut the hair and style the wavy texture by twisting the locs with a flat iron curler.
36. Blue Enchantment Look
To achieve this look, cut your wavy long hair into a layered haircut for a feathery appearance. Blue allover highlights with black undertone make the whole haircut even more captivating. Style the hair into sweep back hairstyle to give the feathery appearance more definition.
37. Long Wavy Side Fringe
Fringe is considered as one of the most fashionable wavy hairstyles for men. It is ideal for medium length hair. You can achieve this look by pairing the long side fringe with low taper fade.
Grow a rugged long beard for debonair outlook. You can tie your top hair into a topknot as well for a classy appearance.
When it comes to wavy haircuts for black men, who can forget the uber-cool 360 waves hairstyle, especially amongst the Afro community! It is super easy to maintain and can last for months. This look is achieved after getting a cropped haircut.
If you are a big fan of Ryan Reynolds, you will surely love this wavy hair look of him! It is best for those guys who have short hair length. The sides and back look tapered down gradually and the top looks styled into a short Fohawk like structure.
When we hear about a modern haircut, an undercut hairstyle strikes our memory immediately! The above look features medium length wavy top while medium fade sides and back gives resemblance like a skin fade undercut.
Chop the top hair and push forward the choppy waves in front to achieve the front bangs outlook.
Do not want to grow a beard? No problem! Grow your hair long if you have naturally wavy hair texture. Do not limit your tresses; let the wavy hair flow freely giving you unruly vibes.
The incorporation of golden balayage will add life to your long hair and ultimately in your looks.
You can describe this haircut for wavy hair men as messy, edgy, rugged and eccentric! If you are looking for a distinctive look with the long wavy hair, give this look a chance. You can choose any hair length if it seems too unkempt to you, you can go with a short wavy top as well.
43. High Fade and Textured Wavy Top
There is probably no best way to give your short wavy hair extra-preeminence than pairing it up with high fade side and back. This textured wavy top and skin fade combo requires very low maintenance and it is easier to style as well.
It is one of the most graceful wavy hairstyles that men can wear for an interview to get a gentlemen attire. If your hair has flat or dull texture, a perm will help you to get rid of this problem.
All you have to do to achieve this look is; to blow dry the hair after every wash to get a voluminous texture.
45. Textured Wavy Quiff
Pair up Quiff, side parting and back sweep textured hair to get this entrancing hairstyle for men with wavy hair. Hair spray or salt spray will help you to fix this magnificent hair structure.
Wavy hairstyles for men go from wild to neat and perfect. Each one of them has its own attraction power and comes with a certain amount of maintenance. Choose the best one for yourself today!