When you think of wavy hairstyles for men, you might imagine long and romantic locks that are hard to take care of. In reality, wavy hairstyles for guys vary greatly. All depends on how wavy your hair really is. If you have straight locks and want waves, you can create a masterpiece with just a few strokes of a curling iron. However, if your mane is naturally wavy, it can take some time to make neat. Unless you are a fan of lengthy morning hair care, which most of the guys aren't, you can appreciate the unique approach to the wavy styles.
How To Care for Men's Wavy Hair
If you are a lucky owner of a wavy mane, you need to know how to keep it more or less tidy. While the wavy hairstyles for men that we are offering below are created to show your waves in the best light, all you work will be in vain, unless you take good care of your hair. Below are a few tips for men's curly and wavy hair care.
1. Use hair gel
If you have wavy hair, you need to make friends with hair gel. Otherwise, you'll be stuck with wild and frizzy strands. No matter how hard you combat the frizz with other hair cosmetics, a dash of gel in the morning is a must.
2. Moisturizing and natural shampoos
Wavy hair looks beautiful when there is not extra residue. So make sure to use moisturizing shampoos that have as many natural ingredients as possible. Lightweight shampoos are compulsory for proper wavy hair care.
3. Conditioner Mix
When you wash your hair, use a lightweight conditioner that you wash off after using. Once your hair is clean, apply a leave-in conditioner and brush your hair. It will keep it smooth and tangle-free.
4. Avoid the Heat
The more heat you apply to your hair, the more frizzy and dry it will appear. Try to plan washing your hair so you can allow it to dry naturally. If you are planning to use a flat iron, make sure to get special hair cosmetics to reduce the damage.
5. Don't Towel Dry
Towel drying the hair can damage it and increase the frizz intensity. Wrap a towel or better a T-shirt around your hair and let the water soak in.
Trendy Wavy Hairstyles for Men
Looking for new ways to conquer your waves? Don't hope for the quick fix solution. Waves look strikingly fantastic only because they require some hard work. Natural waves are well and good but most of the time they are frizzy, messy, and hard to control. We came up with 15 wavy hairstyles for men that are more or less easy to make. Meanwhile, they look magnificent and make you feel as if all the work was worth it. Even if you are not ready for a few minutes in front of the mirror, check out these men's wavy hairstyles so you can take advantage of them on a special occasion.
This simple crew cut style becomes overly stylish when the top is curly. You need to shape the top part of the hair with gel in order to give it a square or a round form. You can improve the way the waves appear with a flat iron.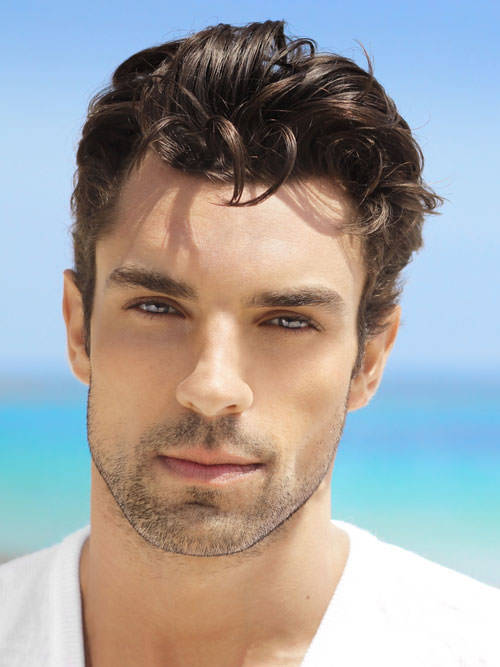 If you have wavy hair, you can enjoy a slightly wild yet sexy comb over. Brush the top of your hair backward and secure with hair gel. Allow a few strands to fall down on your forehead for a subtly romantic look.
3. Touseled shag
Well-styled shags are great wavy hairstyles for men who want to flaunt their thick locks. If you cut the hair to make layers, this hairstyle won't require too much maintenance other than careful brushing.
4. Let it grow
While this hairstyle seems slightly messy, it's not too easy to achieve. You need to keep the hair almost the same length on top and the sides. Make sure to use frizz removing cosmetics to make the waves appear soft.
5. Short curls
If you have wavy hair, you can enjoy this simple hairstyle. All the hair is cut to be about the same length. All you need to do is use hair gel to make the waves look neat and avoid the frizzy appearance.