When you think about the physical characteristics that make a woman's face attractive, the hairline isn't usually the first one that comes to mind. Still, certain types of hairlines are more desirable and flattering than others, so never underestimate them as being less important than the nose, eyes, lips, or chin.
The hairline helps create a part of the face's silhouette, but it doesn't define the entire facial shape. Instead, it acts as a frame that creates a balance between the upper (eyebrows, eyes, forehead) and the lower (jawline, lips, chin) sections of the face.
Factors That Influence Hairline Type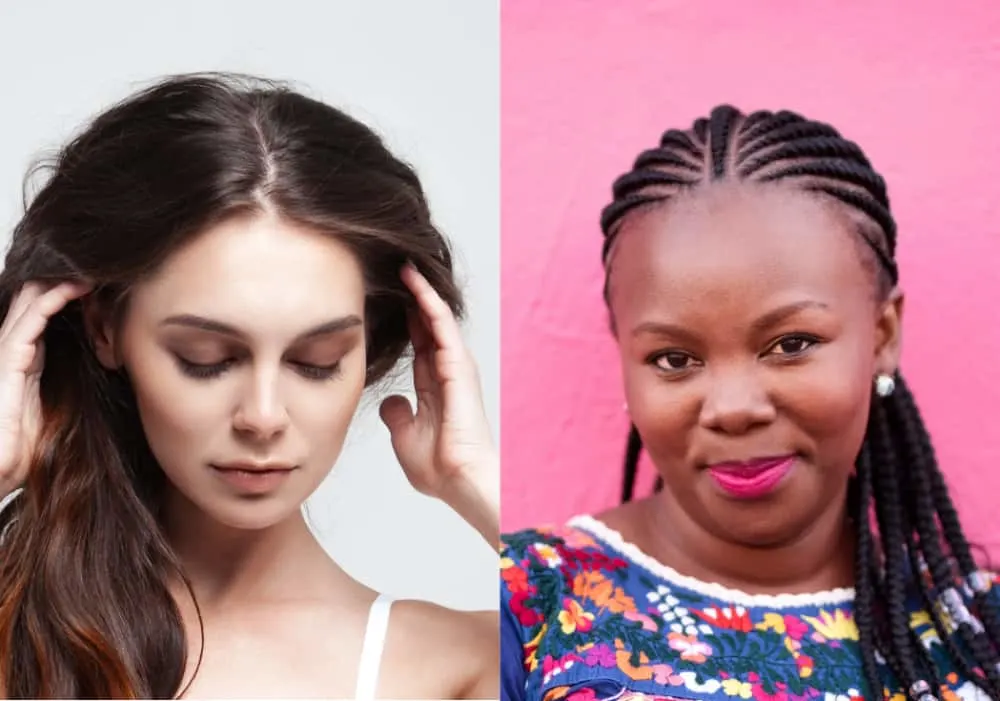 Several factors influence your hairline type in many different ways. In the end, you may understand what is happening with your hairline by viewing these common patterns and information about hairlines.
Age
While we are in the womb, our hairlines start to develop, and there isn't a lot of distinction between hairlines until the child is around five years old.
As you age, your hairline can naturally recede. Things like stress, genetics, and hormones further influence a receding hairline.
Race
Studies point to race playing a part in hairline development. White people, as their hairlines recede, often get a v-shaped hairline. This pattern is a lot less regularly seen among Black and Asians.
Lifestyle
Even things as simple as pulling your hair back can result in a receding hairline. If you often pull your hair back tightly, this can pull at your hairline, causing it to recede in response to the stress on the hair.
This type of hair loss is known as traction alopecia. Another cause is tight braids at the hairline. Traction alopecia is a common cause of this issue amongst Black people.
Different Types of Hairlines
Each person's hairline is as unique as their fingerprints, but in groupings, hairline types are usually divided into four broad categories: high hairline, normal hairline, low hairline, and receding hairline.
Included within these categories are specific types of hairlines whose characteristics are defined by the place on the forehead where the hairline starts.
Specific Categories of Hairlines for Women
High Hairline
When a woman is young, having a high hairline isn't usually a worrisome issue. As she ages, however, a high hairline can be perceived as hair loss or a receding hairline.
That's why, if you were born with a round or bell-shaped hairline, you should avoid wearing your hair in tight, combed back styles. (This doesn't mean that you can never wear a ponytail or a bun, just don't do it all the time.) The constant pulling and tugging at your hairline area adds undue stress to the hair follicles and could eventually cause hair loss.
Low Hairline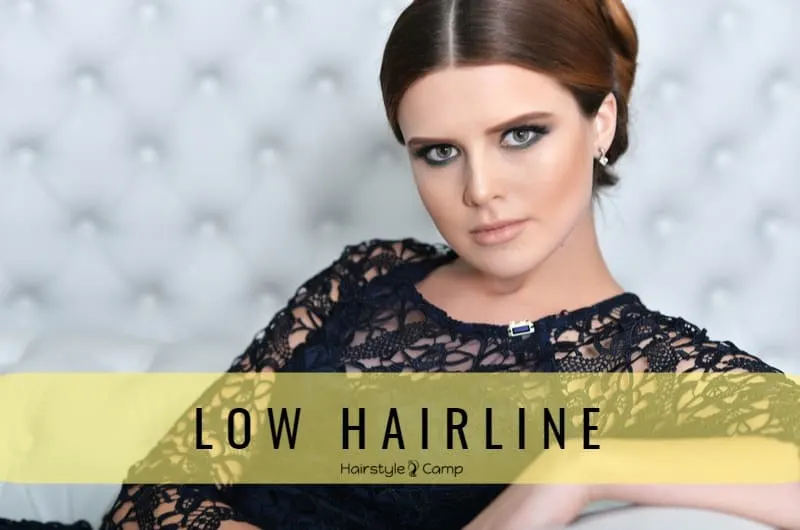 If your forehead area appears smaller and shorter than most, you likely have a low hairline.
Since it's natural for the hairline to shift slightly upwards as you get older, starting out in life with a lower hairline can be an advantage. If you have a low hairline, you're in great company; many beautiful and famous women have them — (think Fergie, Sandra Bullock, Mayim Bialik, and ALL five of Kris Jenner's daughters).
Normal Hairline
A normal hairline offers the best of both worlds, and it's also the most common hairline type for women.
If you have a normal hairline, your forehead won't look too small or too broad, and you shouldn't notice any serious issues with hair loss as you get older. Even though you can feel confident wearing lots of updos and ponytails, stay aware that you could create a receding hairline over time if you continuously pull them too tight.
Receding Hairline
A receding hairline in the "frontotemporal corners" can affect any woman as she ages, especially those who have a family history of hair loss. While you won't usually lose all the hair in those areas, it can thin significantly, leaving you with fine, wispy "baby" hair in those sections.
Certain medical conditions can also play a role, such as anemia, vitamin or protein deficiencies, and thyroid disease. As mentioned earlier, repeatedly wearing your hair in a too-tight ponytail or bun could cause the hairline to recede over time.
Typical Female Hairline Patterns
Regardless of whether you have a normal, high, low, or receding hairline, the actual shape usually falls into one of the following categories:
Widow's Peak
This hairline pattern can best be described as a 'V' or an M-shaped point at the center of the forehead. Unless it has an unnaturally prominent point, most women enjoy having a slight widow's peak, but if you notice hair loss on either side, your hairline may be receding.
You can camouflage a too-deep widow's peak with side-swept or spiky bangs, or lightly pluck the area to reduce an overly pointy tip (but don't shave it!).
An inverted widow's peak is shaped like a W. Also known as a triangular hairline; it's less common than a widow's peak but no less attractive.
Straight (Rectangular)
Women's hairlines rarely fall perfectly straight across the forehead, but they may come across as so, depending on the hairstyle.
If you prefer a more feminine appearance, then avoid haircuts and combing techniques that emphasize a precisely rectangular hairline, as they tend to create a more masculine feel.
Swoopy or side-swept bangs can also make a rectangular hairline come across as more soft and gentle.
Rounded or Bell-Shaped
Some women have a bell-shaped hairline that can make the forehead appear longer than it actually is.
Depending on whether your hairline is high, low, or center, the round curvature of a bell-shaped hairline can be deep enough to be a type of receding hairline.
To distract from the appearance of having a receding hairline, don't part your hair in the center or wear tight ponytails, buns, or other backswept hairstyles. These will all draw unwanted attention to a hairline that's already too high on the forehead.
Maintenance Tips to Protect Hairline
To avoid damage to your hairline and to keep your hair strengthened overall, there are measures you can take to protect your hairline.
Manage a Receding Hairline
A receding hairline can cause a lot of panicking initially, but there are steps you can take to manage it.
Diet
A diet high in antioxidants may help your hair improve. Make sure you get enough Vitamin A and Vitamin B12. Eating fruits, vegetables, and leafy greens is a great way to incorporate these changes.
Medication
Just like how you can medicate male pattern baldness, you can treat a receding hairline, too. Minoxidil treated high blood pressure, but scientists discovered that one of its side effects was hair growth. You can use minoxidil to help promote hair growth where your hairline recedes.
How To Maintain Your Hairline
The following factors will affect how you maintain your hairline over time.
Diet
Like with a receding hairline, diet is vital to maintain your hair's health. Like above, eat a healthy diet of fruits, vegetables, and leafy greens.
Avoid Tight Hairstyles
As mentioned above, your lifestyle can impact your hairline. Braiding too tight or wearing your hair up too tight can damage your hairline. Doing this pulls out weak hairs and results in hairline recession.
Switch up your hairstyle often to give a break to specific stress points that come from tight styles. Heavy protective styles on Black hair can cause stress if you struggle with hair loss due to traction alopecia.
Use Hair Masks
There are great hair masks to promote good hair health. Keratin masks introduce more keratin into your hair, which makes it healthier.
Use Hair Oils
Using oils like Vitamin E or Jojoba oil will help you keep your hair healthy. Massaging these into your scalp and hairline promotes good hair health and strength.
Condition It
Using conditioner when you shampoo is vital to keeping your hair soft and hydrated. Dehydrated hair is unhealthy hair and can lead to further hairline issues.
Can You Change Your Hairline Type?
The forehead is bordered at the top by the hairline and the bottom by the eyebrows. The amount of space between these two points determines whether your overall hairline position is high, normal, low, or receding.
Unless you've had an accident, surgery, or worn your hair for many years in a style that's permanently changed the appearance of your hairline, your hair follicle pattern is genetically determined.

Ethnicity also sometimes plays a role in your hairline type, so to a certain extent, there's not much you can do to change it, short of undergoing plastic surgery.
How To Change Your Hairline
There are a few ways you can try to change the shape, regardless of the type of hairline you have. Some are temporary or superficial changes, but others remain more permanent.
Hair Styling
There are ways to style your hair that will obscure your hairline. Similar to using a comb-over to hide balding, bangs can influence how your hairline looks because they often cover the area.
Hair Removal
You can also remove the hair on your hairline if too much in a particular place is an issue for you. For example, if you have a widow's peak that you dislike, you can flatten it out.
Shaving
Shaving can reduce a widow's peak and help balance a hairline if you square out rounded corners.
Tweezing
Tweezing is better for small changes due to its painful nature, but it can work just as well on your hairline as on your brows.
Laser Therapy
Laser hair removal is typically permanent, but if you are truly unhappy with the shape of your hairline, it can allow you to reshape it.
On the opposite side, laser treatments to promote hair growth exist. These treatments can let you add to a hairline, as opposed to the other methods that remove from your hairline.
Good Hairline vs. Bad Hairline
While there is no definitive answer as to what a good or bad hairline is, there are types of hairlines that are typically more or less attractive. There is not such a thing as a good or a bad hairline.
We often view a fuller hairline as better. The most average hairline is the middle hairline, which is not too high, nor too low, allowing it to look better than a too-high or too-low hairline. We view Low hairlines positively, too, as they do not make your hairline look too high.
Straight and bell-shaped hairlines also allow for better-looking forehead size and handle hairstyling well.
It's always best when you're content with the physical features Mother Nature gave you, and that goes for your hairline's shape and position too. Regardless of which type of hairline you have, you can rest assured knowing there are plenty of haircuts and styles that will help you blend it in to achieve an attractive look that fits your face correctly.