Want to pull off a quick and creative hairstyle in minutes? Claw clips are your best friends! They're super simple to use and great for pulling off cute hairdos quickly.
Hairstyles with claw clips gained a lot of popularity in the '90s and '2000s. The trend is back as nowadays fashion includes numerous hair accessories from those decades. Supermodels like Kendall Jenner and Gigi Hadid were often spotted with simple hair twists secured with claw clips.
Some of you might remember Rachel Green's iconic hairstyle with claw clip in the Friends series, Gwyneth Paltrow in Great Expectations, or Julia Roberts in Erin Brockovich. They all transformed a dull claw clip into a must-have accessory that skyrocketed the trends.
Cute Claw Clip Hairstyles
Claw clips come in different sizes and colors; pick one that suits your style. Women love them because they can quickly throw their hair up and make them look organized as well as comfortable without needing professional hair styling skills.
Whether you have long or short hair, straight or curly, claw clips are great for a quick, easy, and stylish look! Check out the below hairstyles done with claw clips.
1. French Braid With Bun
This simple claw clip hairstyle requires medium or long hair that you will French braid on one side. Twist the remaining hair from the nape area and loosely secure it with a hair claw.
2. Twisted Hair with Claw Clip
If you want a quick and cool way to style your hair, a clip claw is an accessory you should carry with you in your bag anytime and anywhere.
Keep your curtain bangs free. Then with your hands twist your mane and secure it with the clip claw. The ends will stick out; that's the beauty of the hairstyle!
3. Floral Claw Clip With Back Bun
Half-up half-down hairstyles are cute, romantic and so easy to do. If you have long or medium hair, select your crown hair and create a twisted roll.
Secure it with a mauve floral claw clip. Pull off two small strands from your bangs and let them casually fall.
4. Half Up Half Down Curly Hairstyle
To keep your tight curls away from your face, you can go with a simple hairstyle with a claw clip. All you have to do is prep your hair by adding a curling foam that enhances the texture.
Use your crown hair, pull it in the back, and secure it with a colored clip.
5. Pearled Claw Clip Hairstyle with Twisted Strands
A simple hair accessory can beautifully decorate your hair. If you have a platinum blonde hair color, a claw clip decorated with pearls is the right match.
Select two strands from each side, from the temple area and twist them. Use the clip to pin them down.
6. Bun with Two Claw Clips
Pull all your hair up, and twist it in a bun. The ends should be rolled around the base of the bun and the entire hairstyle can be secured with two small hair clips. Place them under the bun, keeping the nape area loose.
7. Braided Space Buns
Braided hair can be your canvas for almost any hairdo you have in mind. So that makes no exception for space buns.
Part the crown braids and divide the section in two. Roll each side to create space buns that you will secure with claw clips.
8. Braided Bun Around Claw Clip
This is a coquette, romantic hairstyle that is perfect for all sorts of events. Moreover, it is easy to pull off and works with outstanding outfits.
Create a nape braid, pin your claw clip, and roll the braid around it.
9. Dutch Braids with Waves
Waves and braids are always a great match, no matter the length of your hair. Get a blunt bob haircut, then part off a section from the crown that you will later use to create loose full braids secured with a clip.
As for the rest of the hair, wave it with an iron and add some hair spray to make the hairstyle last.
10. 3C Curly Palm
For a good-looking palm hairstyle, you should first use a curling mousse, making sure each of your ringlets is well-defined.
Then make a top ponytail and add a claw clip in the nape area to make sure the hairstyle has enough support.
11. Back Bun with Blonde Highlights
This 90s floral claw clip hairstyle look is still popular among Hollywood stars. If you love such a casual look, then you don't need much.
Do a couple of highlights that will look stunning on the sides when you comb your hair to the back. Twist your hair in an '8' shape and add the flower accessory.
12. Loose Front Braid
We love this beautiful braided updo look. First, create warm blonde highlights and style loose waves. Section the crown hair and swipe it to the side.
Create a loose braid, then pull off the edges to give it more volume. In the back, twist the hair up, use the hair claw, and let the remaining strand fall on the back.
13. Dreads Secured with Fluffy Claw Clip
If you love dreadlocks but don't want the whole package that comes with great commitment, you can add pre-dreaded hair extensions. This way you can take them off whenever you like.
To recreate this afro hairstyle with a cute claw clip, select the pieces from the back and secure them with a hair elastic. Lift the ends and add a fluffy claw clip with decorations to maintain that orientation.
14. Twisted Pony and Rabbit Clip
Little girls will adore a hairstyle with cute hair clips. If your daughter has long hair, do a middle part and comb the hair to the back.
Then twist it and direct the roll to the top where you will secure it with a lovely pink rabbit accessory.
15. French Twist Updo
French twist updos look so elegant and intricate but are, in fact, so easy to recreate. They work best on long hair because the loop is larger and more voluminous.
Get all the hair in the nape area, then roll it to the top, close to the scalp. Secure the updo with a large clip.
16. Half Up Half Down with Peek-a-boo Pink
When you have black hair, it will be an awesome idea to create contrast. Therefore, peek-a-boo nape hair is a great idea to try.
Choose a translucent hair claw that you will use to unveil the colored nape area.
17. Two Low Twisted Buns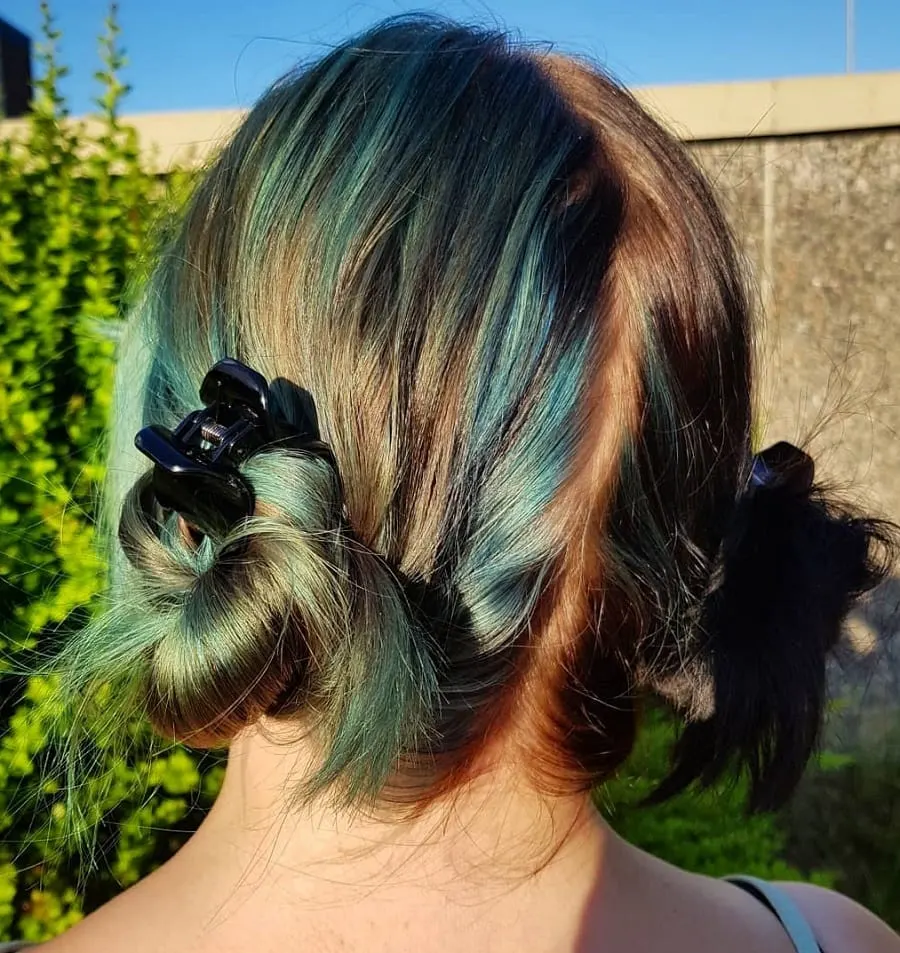 Are you looking for a claw clip hairstyle that'll grab attention instantly? Try this unique green bun hairstyle with a claw clip!
Green hair has its way of remaining in your hair even after you've washed your tresses several times.
However, that's not always a bad thing because the nuances give your low space buns a unique shade. Roll the hair and secure it with black hair claws.
18. Back Style
If your hair is rich, long, and textured, then you will need a large hair claw that can contain all your hair. Moreover, when you already have pink highlights, your ponytail will gain a punch of color.
19. Butterfly Braided Pony
For this claw clip hairstyle, you'll need a couple of butterfly clips. Then make a middle part and comb your mane to one side. Braid your ponytail loosely and add the hair clips; you're done!
20. Side Wave
Side curls are elegant and can complete any outfit. Pull your hair to the side and with a rotative brush, create a wide, voluminous roll. Attach your clip at the base of the ponytail.
21. French Braids with Back Bun
Hair claws are used to create easygoing hairstyles and intricate looks like the one above.
For the center, do a well-defined French braid. Apply hair gel on the sides so the hair looks sleek. Select your strands, twist them, and secure them with a claw clip.
Cute hairstyles using claw clips are back in 2023 and almost as popular as they were in the 90s. Such hairstyles are a quick hairdo option if you're in a hurry, want to look trendy, or are about to go to a party or even a fancy event.
Trending Topic