The great debate of protective hairstyles: do they shield our tresses or just make us look fab? Hair gurus are divided. Some swear by braids, claiming they're the knights in shining armor against split ends and breakage.
Others, well, they see them as mere eye candy. If you've ever dabbled in the realm of protective hairstyles, we'd love to hear your take on this hair-raising conundrum.
Things to Consider when Picking a Protective Hairstyle
Assess your hair type: Consider your curl pattern, hair thickness, and hair porosity when choosing a protective style. Pick one that suits your unique hair type.
Examine your lifestyle: Think about your daily routine, job, and hobbies. Pick a style that's easy to maintain and matches your lifestyle.
Consider hair length: Factor in your hair length when choosing a style. Short, medium, and long hair have different protective style options.
Reflect on your skill level: Choose a style you're comfortable creating and maintaining. Avoid overly complicated styles if you're a beginner.
Plan for maintenance: Pick a protective style that you can easily maintain. Regular upkeep is crucial to keep your hair healthy and protected.
Weigh in hair growth goals: Choose a style that promotes hair growth and reduces manipulation if you're aiming to grow your hair longer.
Prioritize comfort: Ensure the style you pick is comfortable to wear. Avoid styles that are too tight or cause tension on your scalp.
Keep versatility in mind: Opt for a protective style that allows you to switch up your look or accessorize for various occasions.
Factor in climate: Think about the weather in your area. Choose a style that can withstand humidity, rain, or other climate factors.
Evaluate the time commitment: Consider the time it takes to install and maintain the style. Make sure it fits your schedule and lifestyle.
Embrace your personal style: Pick a protective style that reflects your personality and sense of fashion. Feel confident and fabulous in your chosen style.
Protective Hairstyle Ideas
Protective hairstyles are an excellent base for hair extensions because you can easily use them to sew in the hair bundles. This way, you can transform your hair from straight to curly or from short to a long stunning mane.
Here are some trendy protective hairstyles for women to try in 2023.
1. The Braided Ponytail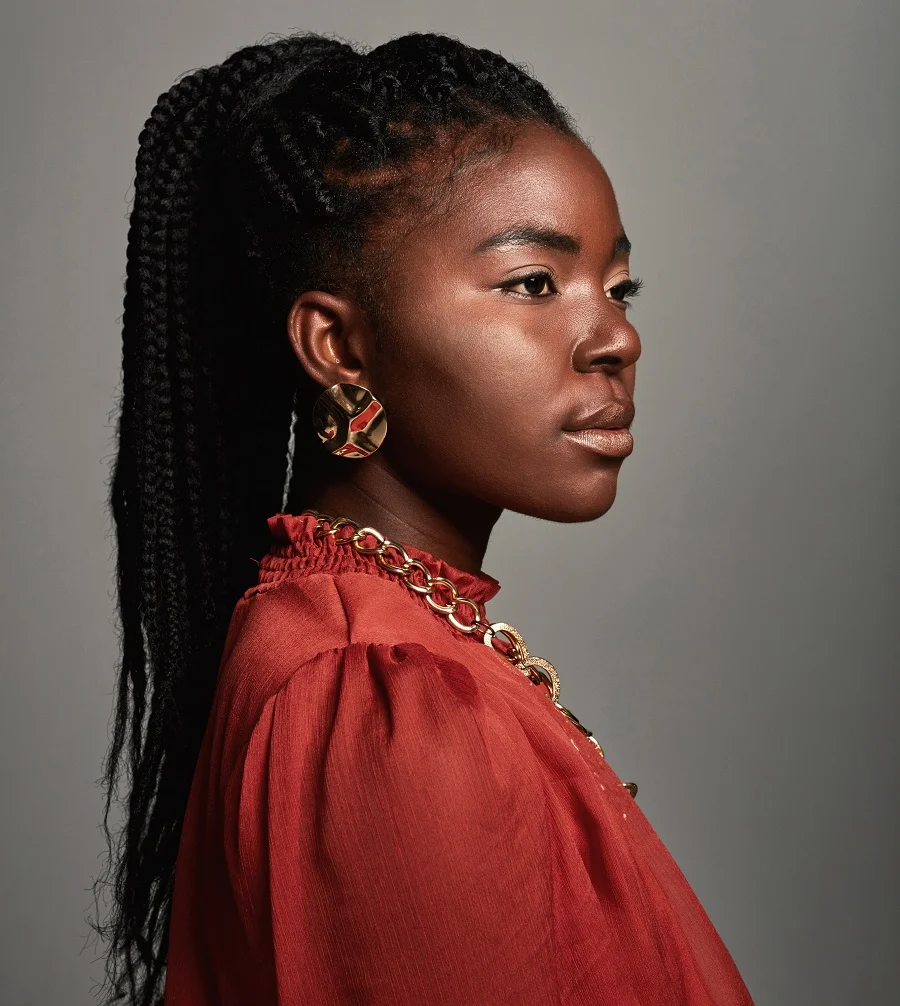 Event on the horizon? Style commitment-phobe? Try a braided ponytail! It's the perfect "I didn't try too hard" look that lasts for days. High or low, with a dash of color or a sassy part, this style's your BFF from red carpets to casual dinners. Bonus: morph it into a bun or a wavy pony for extra longevity.
2. Bohemian Box Braids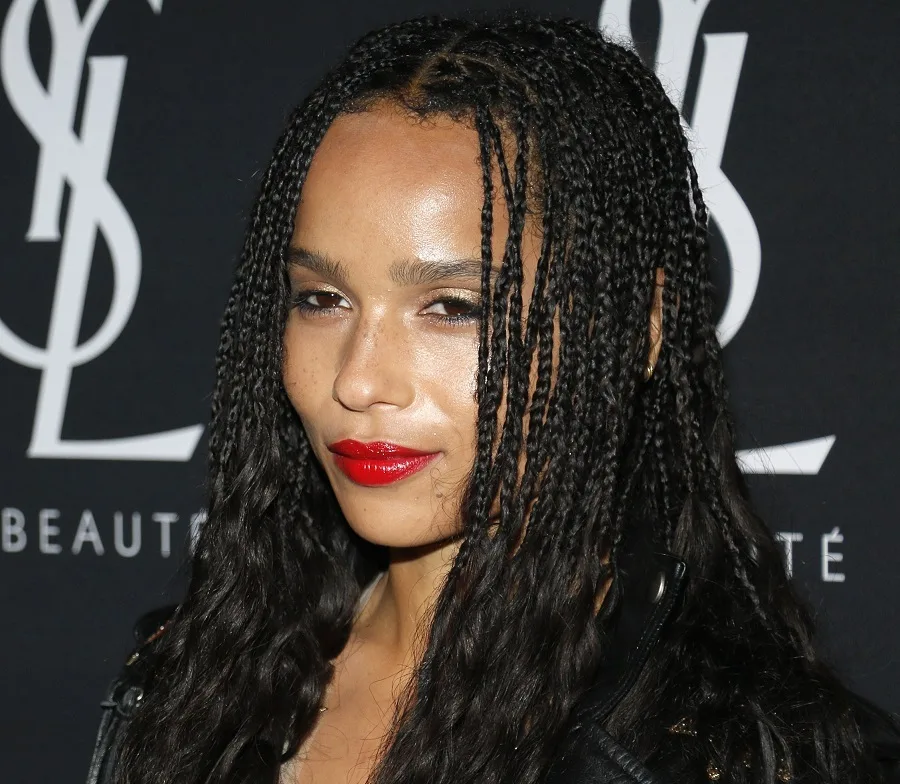 Enter the world of Zoë Kravitz-approved bohemian (micro) box braids! With the first 6-8 inches braided and the ends wavy and wild, you'll nail that effortlessly cool vibe.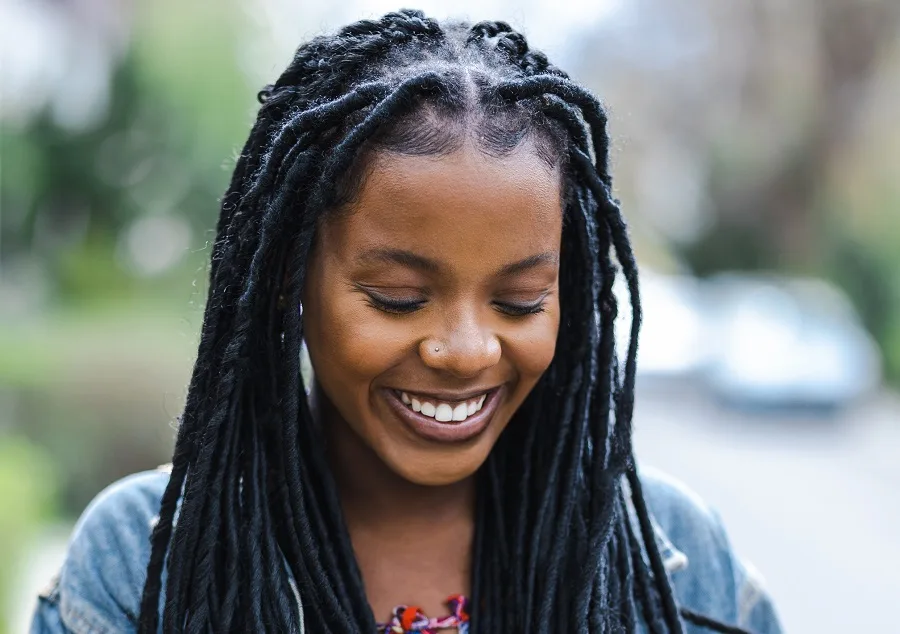 Faux locs, anyone? Choose your own adventure with traditional, butterfly, or distressed styles. Go for a collarbone-length version for that low-maintenance, high-impact look.
4. Small Box Braids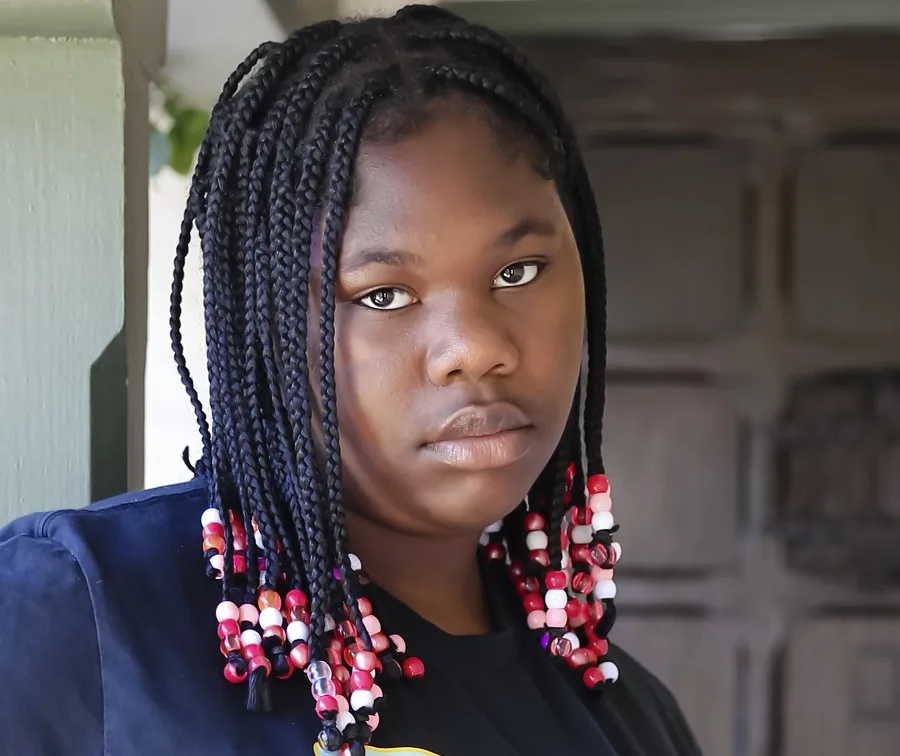 Small box braids: the holy grail of long-lasting, versatile hairstyles. As seen on Tessa Thompson, these beauties demand time but pay off in spades. Just remember: a little scalp TLC and mousse go a long way.
5. Medium Box Braids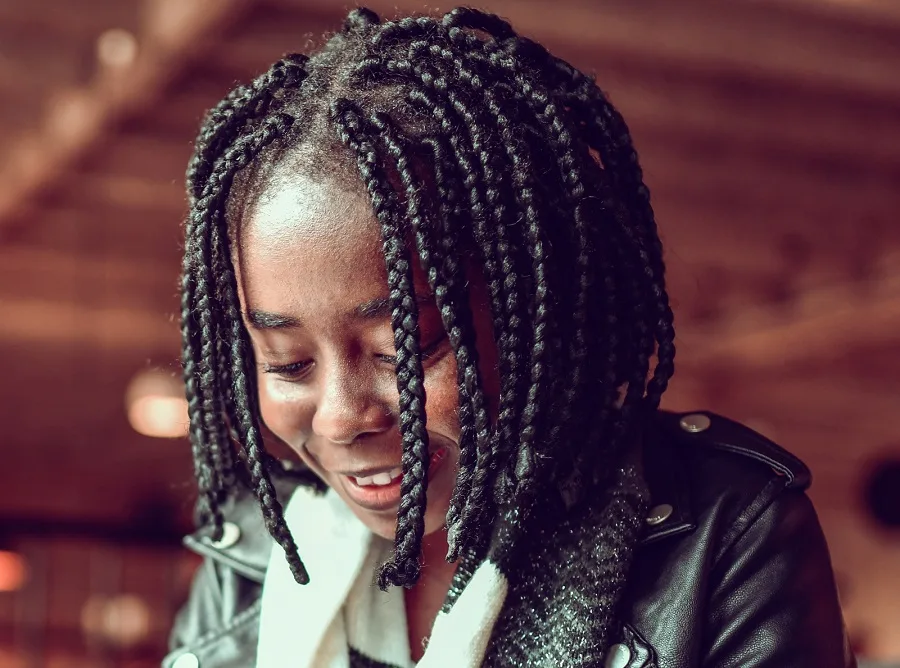 Less time, same braided goodness. Medium box braids are the answer for the impatient naturalista. Channel your inner Tessa Thompson and throw in some curls or cornrows for added flair.
6. Two Tone Cornrows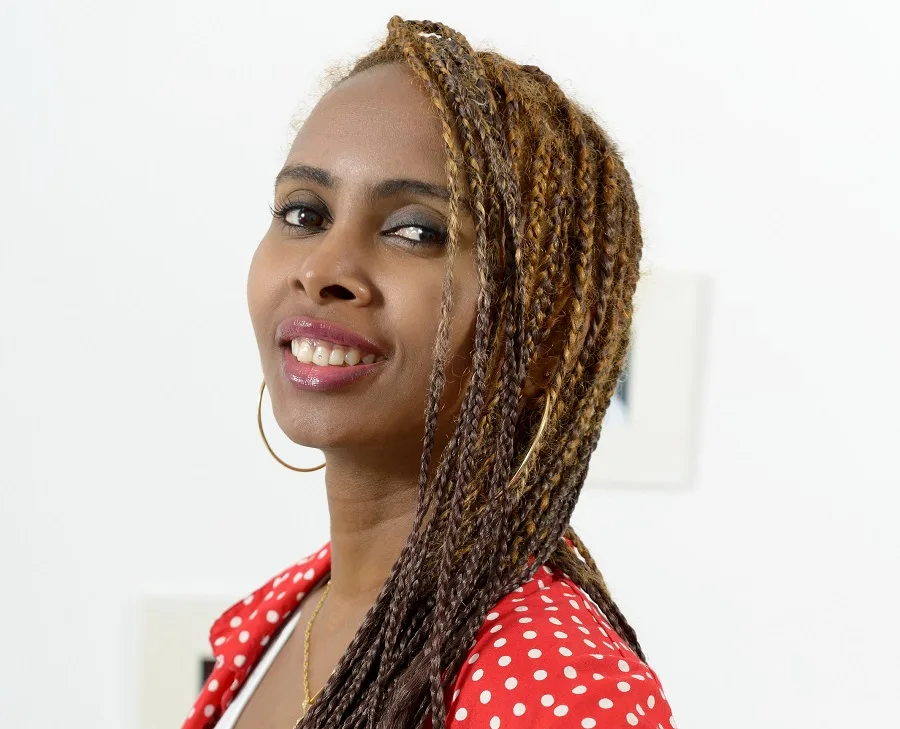 Cornrows, the classic that keeps on giving. Go au naturel or amp it up with extensions. Straight back or angled, you'll be turning heads all week long.
7. Tribal Braids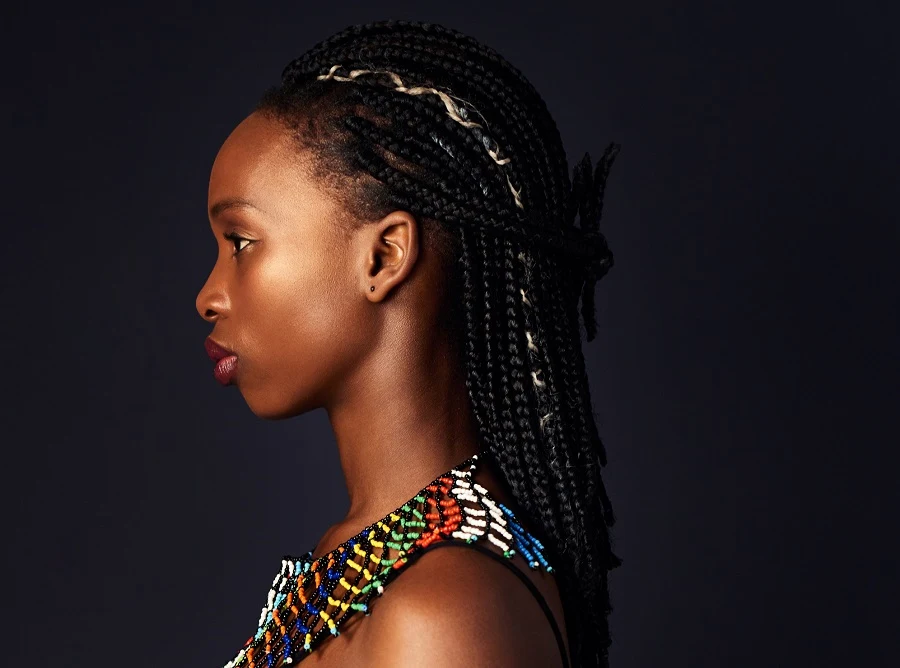 Tribal braids, the summer anthem for your hair. With a mix of cornrows and box braids, you'll be the life of the party. Just ask Serayah Ranee McNeill. Add a pop of color or side designs to crank up the heat.
8. Feed-in Braids with Curly Hair
Feed-in braids with curly hair: business in the front, party in the back. A 2-4 week hairstyle that's equal parts sass and class.
9. Tight Braids
Tight braids, where ethereal meets chic. Ariel Thompson shows us how it's done. Add a touch of loose curly hair for a softer, more enchanting take on box braids or twists.
10. Senegalese Twists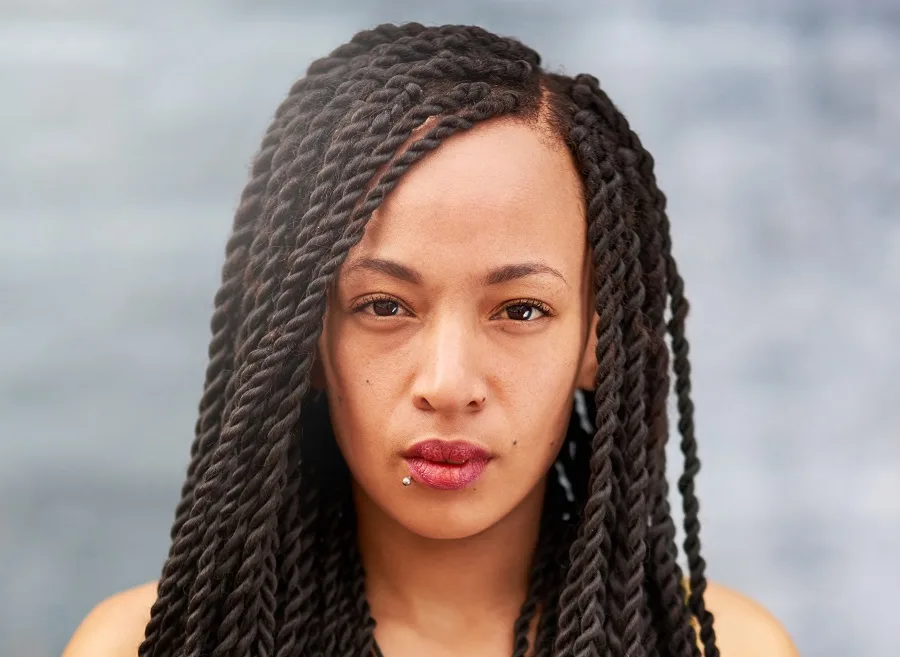 Storm Reid's Senegalese twists are a vacation in a hairstyle. Small, medium, or large twists? You choose! Perfect from boardroom to beachside, these twists last four to eight weeks.
11. Jumbo Twists
Jumbo twists, Alicia Aylies' effortlessly glam go-to. With larger parts or loose tendrils, take a four to six-week vacation from hair styling decisions.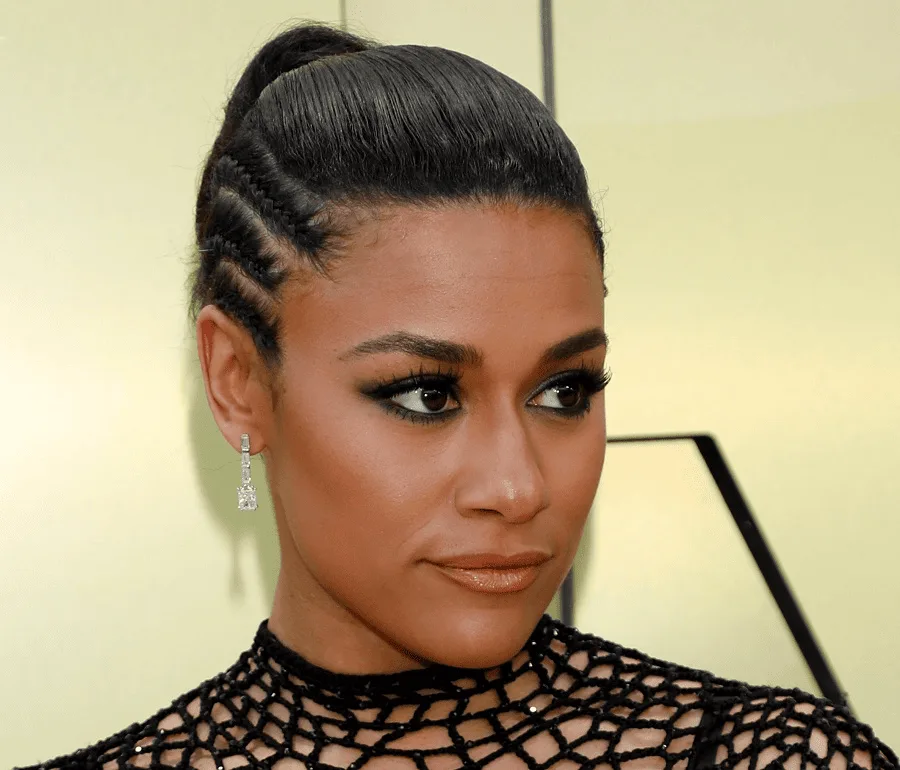 Ariana DeBose's cornrows into a curly ponytail: the ultimate showstopper. Two hours or less, and you've got a chic ponytail that lasts up to two weeks. Feeling fancy? Turn it into a bun for a more demure vibe. Trust us, this braided ponytail is a must-try.
13. Short Braids with Beads
A cute lob styled from long thin braids is the cute, protective hairstyle you've been searching for. Stack two or three clear beads on the ends for extra character that is easily changeable.
14. Half Up Protective Twists
Is your hair long and thick? Show off those beautiful locs in a half-up hairstyle. This one features a chunky bun that allows a large section of your long twisted locks to flow loose. Brush baby hairs smoothly with a little gel along your hairline.
15. Afro Puffs
If you're a black woman with hair that is more afro-textured, try this fun protective hairstyle! Make three ponytails – one low, one mid-height, and one up top. Super easy to do yet super chic!
16. Colorful Braided Ponytail
Do you like rocking fun hair colors? You'll love how much versatility braids offer then. We love this combination of light and dark blues, gathered together in a high ponytail with box braids.
17. Jumbo Protective Bun
A bun is a hairstyle that will never lose its classiness. It's also a great look for black women with a lot of long thin or chunky braids. Gather them up in a perfectly rounded bun to exude confidence and elegance.
18. Pineapple Hairstyle
The pineapple method is when you gather your hair into a ponytail and loosely slide on a scrunchie. It leaves a good chunk of hair loose up front, like this one did to create thin spiral fringe.
19. Cornrows with Dreadlocks
Locs make a great protective hairstyle and give your break from all the styling you normally do. We recommend making cornrow braids that then lead to long dreadlocks. You can leave the hair down and natural or tie it up with a cute bandana.
20. Curly Twists
For a beautiful short hairstyle, opt for ultra thin twists or locs with a bit of curl to give them shape. To style, all you have to do is sweep your hair back with a bit of product for sleekness.
21. Black and Blonde Braids
Add streaks of caramel or blonde to your black braids to bring warmth to your face and easy detail to your hairstyle. These chunky braids are low maintenance and suit any face shape.
22. Purple Faux Locs
Let funky hair colors flatter your dark skin tone and express your playful personality. Here we see light and dark purple on long undone/braids out Locs, which are also perfectly spiral-shaped.
23. Braided Pigtails
You may be a young woman, but you don't need to give up your pigtails! Make the adult version by making thin braids up near the hairline, and teasing the rest of your mane for volume before loosely braiding it into two pigtails.
24. Protective Updo
Another gorgeous look for long black hair includes this unique spiral bun updo. Simply comb in a leave-in conditioner before making a high ponytail. Then shape it into a swirl at your hairline.
Braid your natural hair and use it to sew in some short curly hair extensions. You can even use a colored scarf to wrap it around your head for a more retro appearance. This way, your natural hair won't get damaged, and you'll have a mesmerizing hairdo.
26. Box Braids
There are so many ways to make your box braids look stunning. Braid your weave with your natural hair, and you'll obtain this famous stunning hairstyle. Use cuffed beads for the ends or wrap some white threads to some of your knits.
27. Twist Hairstyle
You can also create stunning ombres when you braid your protective hairstyles. Choose already dyed hair extensions and blend them with your natural hair. These twists preserve your locks, and, at the same time, you get to have a spectacular hairdo.
28. Crochet
To obtain this voluminous look, you need to get a few curly bundles and braid your natural hair. Crochet the hair extensions on these knits and create a gorgeous bun on top of your head. Because they are quite short, your curls will be pretty bouncy, just the way you want them.
29. Cornrows
When it comes to cornrow hairstyles, you can create so many designs; it's up to you to choose it. Gradually braid our hair extensions with your natural hair, and for the ends, use some cuffed beans to secure the braids.
30. Protective Style with Locs
For this hairstyle, you need to braid your hair and add the locs as close as you can get to your scalp. Bound the two pieces of hair together, and you'll get some outstanding long locks that you can pin into a voluminous bun on top of your head.
31. Long Protective Hairstyle
Whether you choose to braid or twirl your hair, these protective hairstyles with a side part look phenomenal. Decorate them with some threads wrapped around your braids.
32. Medium Length Protective Hairstyle
Braid your whole hair into protective braids and choose the best Afro hair extensions to sew in on your knits. By adding them, you will get as much volume as you want, and you can even try new hair color.
33. Flat Twist
Use your natural hair to create flat twists and gradually blend your hair extensions into your hairstyle. You can create the whole hair into a look-alike mohawk or develop a crown of hair. Use gorgeously decorated bobby pins to make your hairstyle look fabulous.
34. Ponytail
Ponytails can totally change the way you look. You can pin your whole head up in a tight bun and add long curled hair extensions to create a rich ponytail. Also, you can adopt a more childish look and part your hair in two, and style two ponytails on to of your head, using the same technique.
35. Curly Protective Hairstyle
If you like short curly hair, choose some impressive Afro-American hair locks that you can attach to your protective braids. You can choose hair extensions that have a dark color and only the tips of the strands dyed in a blonde color for an elegant stunning look.
36. Straight Protective Hairstyle
Choose the color and length for your extensions and braid your natural hair. Use a net to cover the knits and place your straight hair extensions.
37. Protective Wavy Hairstyle
If you don't want to curl your hair every day, choose hair extensions that already have waves. Braid your hair and place it under the net.
38. Protective Style for Fine Hair
Choose some weaves with bouncy well-defined curls and add them to your protective hairstyles. Your new locks will have a lot of movement and will look fantastic. If you want your hair to reach your shoulders, you better get a layered hairstyle.
39. Protective Hairstyle for Kids
Black kids love protective hairstyles because they can recreate any look they want. Braid their hair and secure each braid with colored cuffed beads. This way you won't spend hours getting them ready for school in the morning.
40. Bob
Braid your gorgeous hair into protective hairstyles and choose hair extensions that have very tight ringlets. You can opt for any color you want or even some fantastic ombres or highlights. Whatever the choice, you'll look brilliant.
41. Bun
Use loads of moisturizers for your hair to glue it on your scalp and pin your hair in a braid. To make your bun have more dimension, use bulk hair, and make it look incredible with some hair decorations.
42. Protective Dreadlocks
You can easily buy dreadlocks online; they are just like hair extensions. Braid your hair and attach them on each knit. The more braids you have, the more protective dreadlocks you need. You can also decorate the dreads with hair jewelry.
Style all of your hair into a mohawk made by buns. You can use hair extensions to give more volume to each bun and develop a rich middle mohawk. Wear this hairstyle with long rounded earrings.
44. Bantu Knots
Braid all your hair and make some Bantu knots. The protective braids will prevent your hair from damaging, and if you make the knots tight, you won't need to remake them often.
Using Hair Sponge to Get Sponge Curls
45. Halo Braid
Halo braids make any woman look fabulous, and if you don't have enough hair to make one, we have the solution for you. Braid all your hair and get luxurious hair extensions, which will be attached to your protective hairstyles.
Create a crown of hair around your head, and you will get a classy, elegant protective hairstyle for black women.
46. Protective Mohawk
These mohawks look stunning, and so will you after you finish creating this protective mohawk hairstyle. Braid your side hair and gradually add the extensions to build the mohawk. You can create a knit from your braids or leave the hair that forms the mohawk unknotted.
Protective hairstyles may be the answer if you are searching for a hairdo that prevents your hair from damaging. However, protective hairstyles can be an excellent base for your hair extensions and can help you change your hair color or to get rich voluminous hair.