So, you are a woman with receding hairline and looking for hairstyles that'll look good with the receding hairline. As hair is an essential part of every woman and man, it's no wonder why people freak out when they see their hair loss and their receding hairline. Women's receding hairline hairstyles are tricky and you need to consult with a professional hairstylist before choosing one.
Receding Hairline Hairstyles for Women
We know it can be very frustrating to come up with ideas on how to fix your receding hair, especially when nothing seems to work. Hair loss can have a major impact on personality and self-confidence. Many women dive into the depths of misery and depression at the sight of their hair loss and we can't blame them, a bad hairline and thinning hair can send anyone running for the hills.
Some women try and conceal their hair loss with extensions. Little do they realize that these extensions can accentuate and fasten the hair loss so their hairline could recede even faster. There are other, better ways to counteract this problem. Here we present 35 hairstyles that can work flawlessly to cover the receding hairline for women.
1. Short layered bob haircut
Add texture and color to your hair. This will shift the focus from your thin strands and receding hairline to more promising features. Go for darker roots and lighter hairs with a bob cut that has chopped layers to create volume. This will give off a thick hair effect and will help conceal that bad hairline in a jiffy.
2. Choppy ends of medium length
This receding hairline hairstyle for women needs you to shorten the hair. This medium length uneven chop creates an illusion of more hair. You need to be careful with the layers, though. More layers at the end will create wispy ends that will do nothing to hide your hairline. Fewer layers and short length to decrease the weight and are perfect to pull over in front of your forehead for the perfect haircut.
3. The 90s, Bob
If you are inspired by the vintage look, this is the perfect haircut for you. It will help cover your receding hairline and give your style a fabulous makeover at the same time. The retro bob cut gives you abundant volume all over the crown area and is perfect for thinning hair. Many notable names in the fashion world carry this look and why wouldn't they, it gives off an iconic vibe that is all too good to miss.
4. The wavy Shoulder skimming bob
Scared to cut your hair too short? Well, this women's receding hairline haircut that barely touches the shoulders may be the best solution for you. The loose waves falling across your face will cover the receding hairline without any effort and will give you the sweet, carefree look that you can wear on a number of occasions. This haircut can be one of the easiest ones to style for women, which is another advantage.
5. The messy bob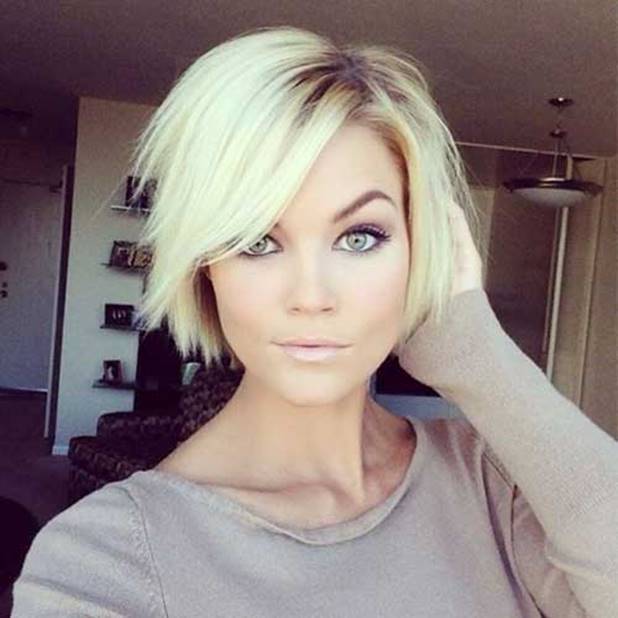 Although this style won't suit everyone, it's still great for those looking for a cool hairstyle for their hairline. Receding hairline for women is very easy to cover up, thanks to the long hair and the abundance of it that many women have. The chopped look in this haircut provides buoyancy to your hair and the side part works wonderfully to create a new style that makes your hairline nonexistent. Simply mess it up a bit or use some hairspray to settle it and you are good to go.