It's doubtful there exists a woman who doesn't look fantastic in some form of hat. To make sure you're not the first one, it's up to you to figure out which types of women's hat styles look best for your head shape, face shape, and yes, even your body shape.
With so many types of hats on the market, there's no shortage of colors and styles to choose from. If you think hats are only for keeping your head warm in winter or the sun out of your eyes in summer, you're wrong!
Hat Styles for Women
Hat connoisseurs purchase their hats in a millinery because there are not only tons of choices, but there are also hat specialists that teach you which hat styles for women will suit you perfectly. If you don't have a hatter in your area, don't fret; you're about to learn all about types of hats for women that are popular today. So, hold on to your stylish hats, and let's get started!
1. Sun Hat
When you're trying to keep your hair, face, and neck protected from the sun, you'll want to be sure to select a big sunhat with a wide brim around the circumference, which will keep you in the shade and away from harmful UV rays while you're enjoying outdoor activities.
Gardening, sightseeing in sunny climates, hiking, or visiting the beach or a lake all require the use of a protective sunhat, aka, "field hat" or "floppy hat." Select a hat with a light color, such as white, beige, tan, or any pastel tone; these colors reflect the sun's rays and will keep you cooler than dark-colored hats.
2. Fedora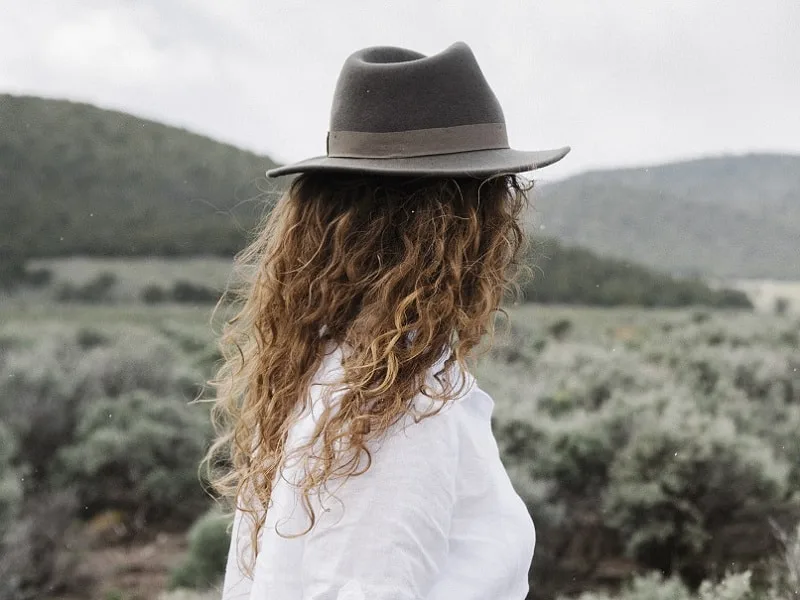 If you're thinking of using a hat to hide a bad hair day, then a Fedora hat for women is NOT the best choice. These curved brimmed hats with indented crowns are designed to draw attention to your hairstyle, not to detract from it.
When you want to focus all eyes on your beautiful locks but still provide some stylistic head coverage with a hint of masculinity, then a Fedora could work. Choose one with a pinched crease in either a diamond or teardrop shape and leave your long hair loose to add some feminine balance.
3. Beret Cap
Berets have a distinctive round shape with a flat crown and are often made from woven materials such as wool, felt, crocheted cotton, or synthetic fibers. Both men and women wear berets, and since the 19th century, they have been associated with French and Spanish culture. Berets are also an integral part of many military uniforms worldwide and have become well known for being used by iconic personalities such as Che Guevara, the Argentine revolutionary.
The great thing about beret hat styles for women is that you can choose from various colors and materials. Position the beret on your head however you want, but it's usually worn with a tilt to the side. Depending on the depth of the dome area, you might be able to tuck your hair underneath, a handy option if you're feeling too lazy to style your locks.
4. Cowboy Hat
While it's true that high-crowned, wide-brimmed cowboy hats are more prevalent in the Americas, you don't have to be a wrangler to enjoy wearing one. Nevertheless, women with hat confidence will not hesitate to wear cowboy hats to show off their appreciation for the wild west!
Cowboy hats come in a variety of materials, but the most traditional styles are often made with fur-based felt. If you like the look but don't want the weighty feel of a full cowboy hat, you'll easily find straw-based or acrylic-based versions that will feel lighter on your head. The advantage of choosing synthetic or natural materials is that you'll have a lot more color options.
5. Panama Hat
The hat that most people call a Panama Hat is not actually from Panama; it originated in Ecuador. Yep, that light-colored, tropical hat with a tapered brim is traditionally woven with leaves of the toquilla or jipijapa plant, both indigenous to Ecuador.
The tighter the weave and the more intricate the artisanry, the more authentic (and expensive!) the hats are. But, because they're so lightweight and breathable, they are extremely popular in hot places like Panama, thus, the name.
Many "Panama-style" hats have been commercialized and mass-produced, so they're made with synthetic fibers, which opens up color and style options.
If you're looking for classic and traditional women's hat, you'll have no problem finding a Panama hat that frames your face and matches perfectly with your favorite vacation outfit.
6. Beanie Cap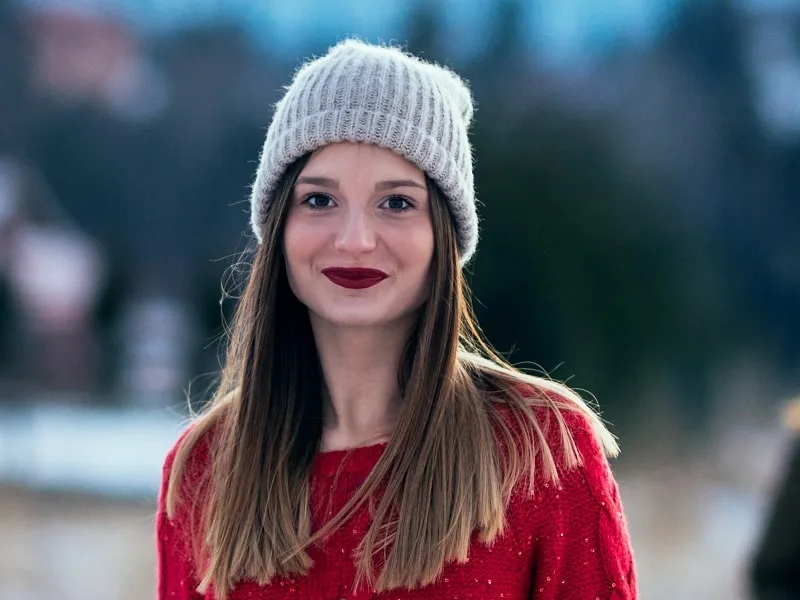 Beanies are the types of hats you'll want to use if you're trying to stay warm on a cold day. Since they're usually made of wool or other synthetic materials, you'll find them in an array of colors.
You can wear a beanie with any outfit (that's part of their appeal), but they look better with casual clothes or a pair of jeans. Fishers, workers, and hunters often wear beanies, so if you're a woman who doesn't mind looking a bit like a tomboy, you'll love these caps!
7. Baseball Cap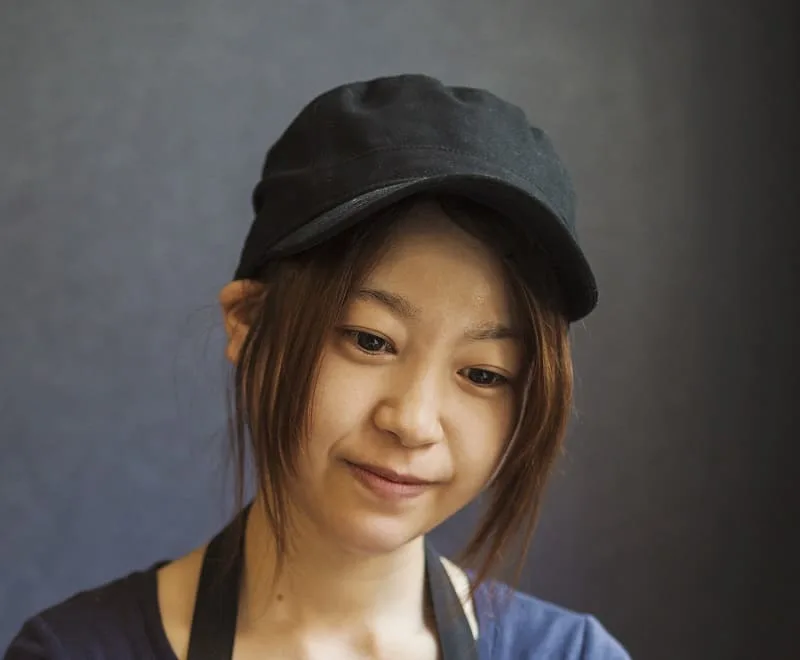 If you're looking for a hat style that'll provide a quick and casual way to cover up your hair or keep it off your face and neck during athletic endeavors, a baseball cap is your best bet.
This soft cap has a rounded crown section and a long bill in front to keep the sun out of your eyes. There are often small holes lined with metal grommets that provide extra ventilation to the top of the head, so they're cooler than other types of hats for women.
Baseball caps fit all sizes, usually with a Velcro, snap, or sliding closure. Women who like wearing their hair in ponytails or braids will appreciate the little hole in the back, created by the closure, where a ponytail can easily slip through and hang comfortably.
8. Boater Hat
Boater hats came to popularity in the late 19th century and have been going strong ever since. They are semi-formal, primarily made with stiff straw, and have a straight brim and a flattened crown. Boater hats are often associated with boating or sailing events; in fact, the design derives from the hats worn by the famous gondoliers of Venice.
While boater hats were originally designed for men, they often have a thick solid or striped ribbon around the circumference of the crown section. That may be why these hat types eventually became popular with women, who often wore them with hatpins to keep them from blowing off their heads.
French fashion designer and businesswoman Coco Chanel popularized the sporty, chic hat among the wealthy metropolitan class, and it remains a favorite even to this day.
9. Bucket Hat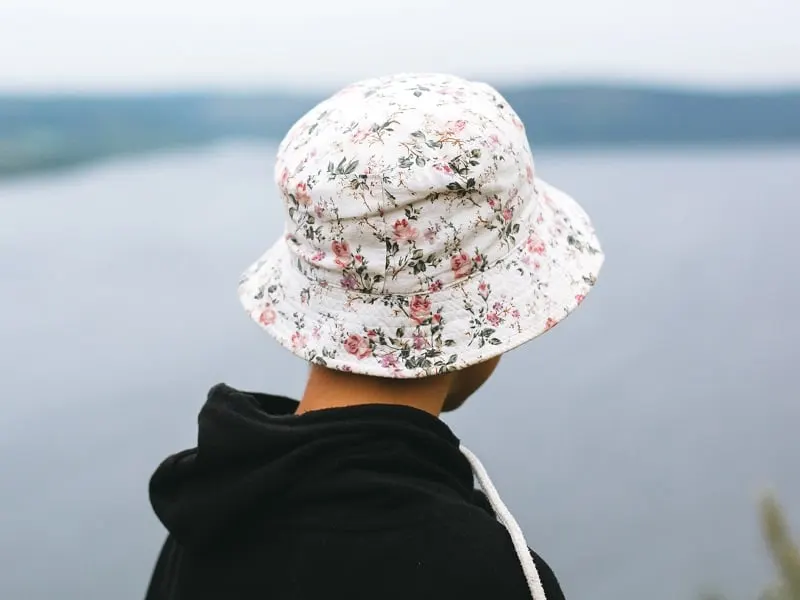 One of the best things about a bucket hat is that it's squashable, making it the perfect practical hat to travel with or keep in your purse. Bucket hats are usually made of heavy-duty cotton fabric (sometimes with eyelets sewn in for extra ventilation) and come in every color and pattern in the rainbow.
Bucket-type hats can have narrow brims or wide, floppy brims, and depending on the depth of the bucket/crown section, you can fit your hair underneath as if it were a hat "updo."
10. Boonie Hat
Boonie hats are casual, squishable hats that are a bit larger than bucket hats but with a broader brim. They also usually have a string tie that adjusts at the chin, used to keep the hat secured on the head or around the neck.
Boonie hats often have air ventilation holes and can sometimes even have some breathable mesh in the crown section, making them ideal for outdoor adventures and military maneuvers in hot climates.
Boonie hats are usually made of rugged and durable materials that are easy to wash and fast to dry. The most traditional Boonie hats are made with camouflaged colored material and have a ribbon of fabric with loops around the crown area.
Women who like these types of hats can find more neutral color options, usually in tan, beige, army green, and off-white tones.
11. Newsboy Cap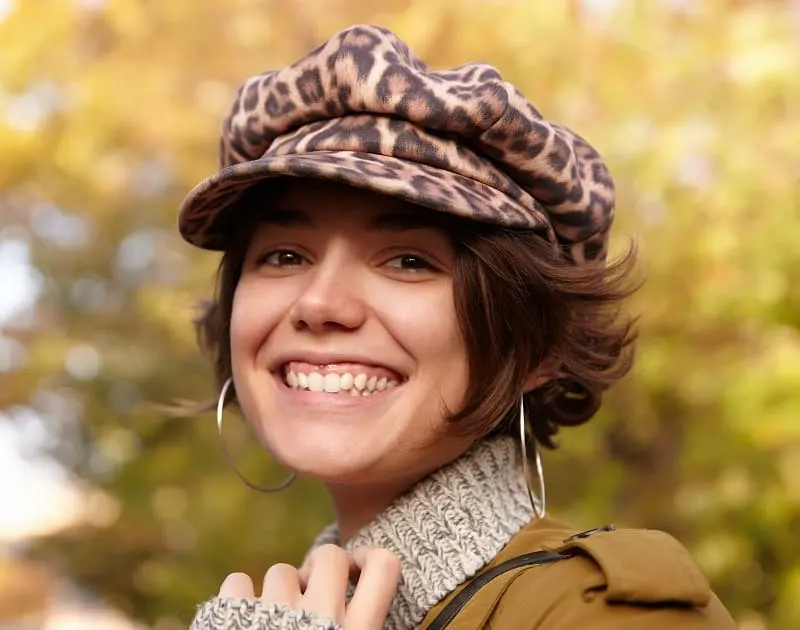 Newsboy caps are fun and youthful, a twist between a classic beret and a baseball cap. If you have long hair, the poofy crown section is perfect for fitting it underneath, and the long brim in front adds style and sass.
You can find newsboy caps in various colors, patterns, and textures; they're the perfect all-weather hat because they maintain warmth in the winter and help shade your eyes from the sun in the summer. Most traditional newsboy caps often have a small snap or button that attaches the brim to the body in front.
12. Visor Hat
Visors are a great choice of hat styles for women looking for eye and face protection from the sun. The long front brim and completely open crown area (think open-top baseball cap) give this type of hat a distinctive athletic and sporty feel, and it's perfect for wearing with updos, ponytails, top knots, and other poofy hairstyles where you don't want to squash your hair.
Visor hats are usually made with lightweight and breathable materials and often have a strip of material under the brim to absorb perspiration.
13. Bowler Hat
Also known as "derbies," bowler hats are made of stiff felt shaped into a rounded crown, and there is a short brim around the entire circumference. Made famous by comedians such as Charlie Chaplin and Stan Laurel as well as politician Winston Churchill and entertainer Boy George, these hats are not typically worn by women (although they have been part of womenswear in certain parts of Bolivia since the 1920s.)
Bowler/Derby hats emote a decidedly retro vibe, which appeals to fashion-forward women who are willing to step out of the box and take chances.
14. Straw Hat
Straw hat styles come in all shapes, sizes, and colors; the only limit is the imagination (and the budget!). The reason straw hats are so popular with women is because of their versatility and the fact that they're lightweight and easy to pair with different types of outfits and ensembles.
Straw hats are also fantastic to wear in hot climates because they are made of breathable fibers that provide a lot of natural ventilation. Fedoras, Panama hats, trilby hats, cowboy hats, and others can all be stylized with straw into a high-caliber and attractive fashion accessory.
15. Trilby Hat
Who doesn't love a Trilby hat these days? Trilby hats have crossed over from a typical menswear style and are now also popular with women with "hat confidence." Trilby hats have short, angled brims in the front that tilt slightly upwards in the back, giving them a fun and casual appearance that looks great with a pair of jeans.
Since these hats are quite fitted and not too tall in the crown section, they aren't the best choice to wear for women who want to tuck long hair under their hats. On the other hand, they look fabulous on women with short hair or who want to leave their long hair loose and free.
16. Turban Hat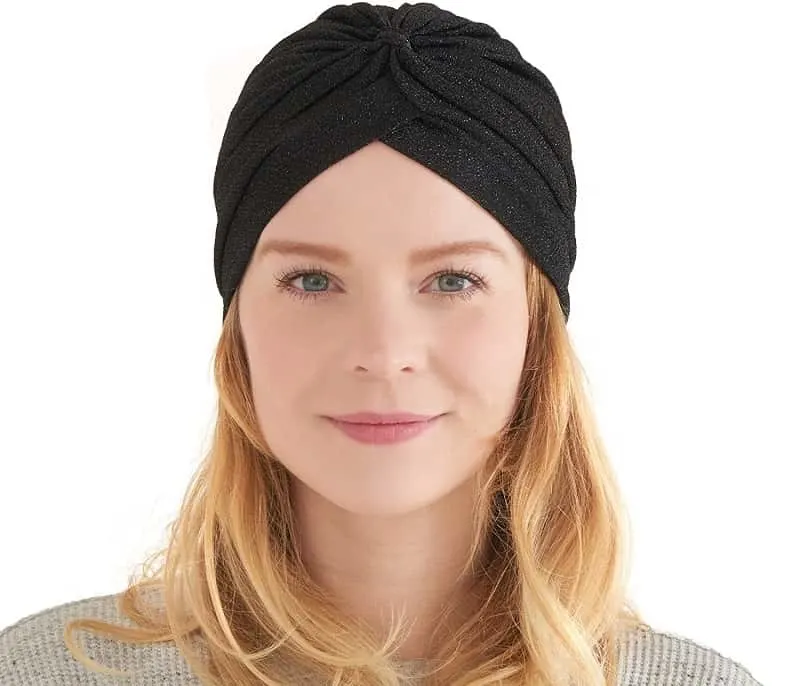 The wonderful thing about turban hats is that you can purchase them already made or you can make one on the fly for yourself with your favorite oblong scarf or square kerchief.
While turbans are usually associated with women who want to cover their hair for religious reasons, they are becoming increasingly popular as a form of personal hygiene in cultures that believe harmful germs and bacteria can be transported in the hair.
Turbans come in an array of colors and fabrics and range from simple and inexpensive to elegant and elaborate designs.
17. Witch Hat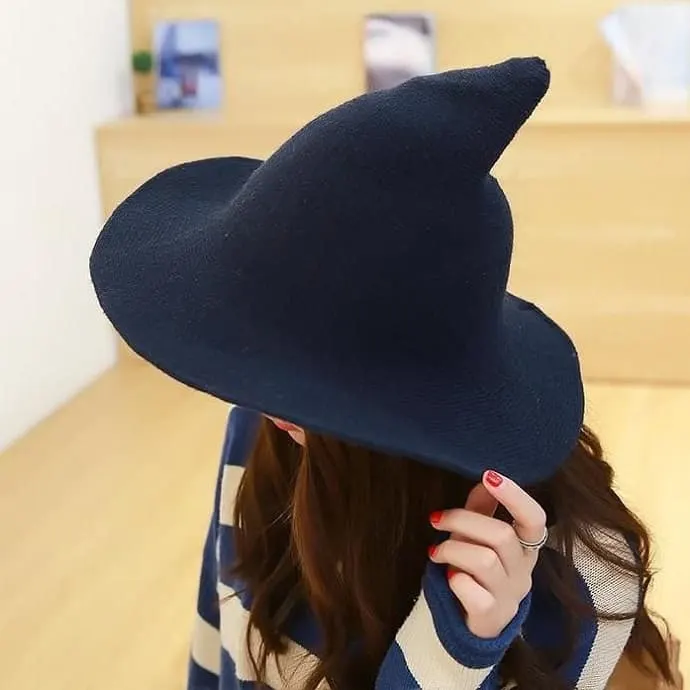 Nope, "witch" hats are not just for Halloween anymore. These distinctive hats have an extra tall, cone-shaped crown section and a wide brim. If you wear a black one, you're sure to look like someone out of the Wizard of Oz, but if you choose another color selection, you can make a bold fashion statement. To take the edge off the "witchypoo" style, some of these hats have the pointy top section folded over, which makes the hat appear more elegant and refined.
18. Cocktail Hat
Cocktail hats are too small and dainty to act as functional winter hats, and since they're usually brimless, they don't do anything to protect your face or eyes from the summer sun. On the other hand, cocktail hats often have feathers, beads, and sparkling faux jewels, so they do a great job adorning your head and hair the way a fancy headband or barrette does.
Because they're so elegant and sophisticated, cocktail hats are typically worn with dressy evening outfits, weddings, and other special occasions.
19. Deerstalker Hat
You might not be familiar with the term "deerstalker hat," but you'll surely recognize the person who made them famous: Sherlock Holmes. A deerstalker hat is usually made of woolen tweed and has a brim both in the front and back, as well as earflaps tied at the top (until the wearer lets them down).
Deerstalker hats aren't typically the first hat a woman will choose to wear, but if nothing else, they come in handy for stalking deer or going to Sherlock Holmes cosplay parties!
20. Breton Hat
Breton hats typically have small front visor-style brims, flat, structured crowns, and sometimes a decorative ribbon or braid around the front circumference. Occasionally there are also decorative metal buttons or snaps on the sides. Also known as "mariner's caps," they're frequently associated with seafaring or maritime environments.
21. Pillbox Hat
Nothing says "classic vintage style" better than a pillbox hat for women. The neat and trim hat is usually made of felt and has a circular shape with a flat top. Pillbox hats get their names from old-style pill cases used at the turn of the century. Jackie Kennedy was frequently photographed wearing pillbox hats, which helped their rise to popularity in the 1960s.
Pillbox hats usually come decorated with a mini-veil and feathers, ribbons, or brooches. They're worn on top of the head, often tilted to one side.
22. Bonnet Hat
Traditional bonnets aren't used in mainstream fashion these days, although you're sure to find them in specific ultra-orthodox religious communities around the world. There are bonnet hat styles for women that have adapted the traditional bonnet shape but are not associated with religious modesty.
Bonnet style hats have extremely long brims that jut out frontwards and side sections that extend down, covering the ears. Since the crown section is not deep, women with long hair will have to leave it loose, usually in a braid or loose ponytail.
23. Cartwheel Hat
Women with daring fashion sense will feel completely at ease wearing a feminine cartwheel hat. Cartwheel hats have a very wide brim, a low crown, and a large circumference shaped like a huge saucer, plate, or more accurately, a "cartwheel." These stylish hats sit at the top of the head and look fantastic when slightly angled to one side. They are usually made of straw or felt.
24. Cloche Hat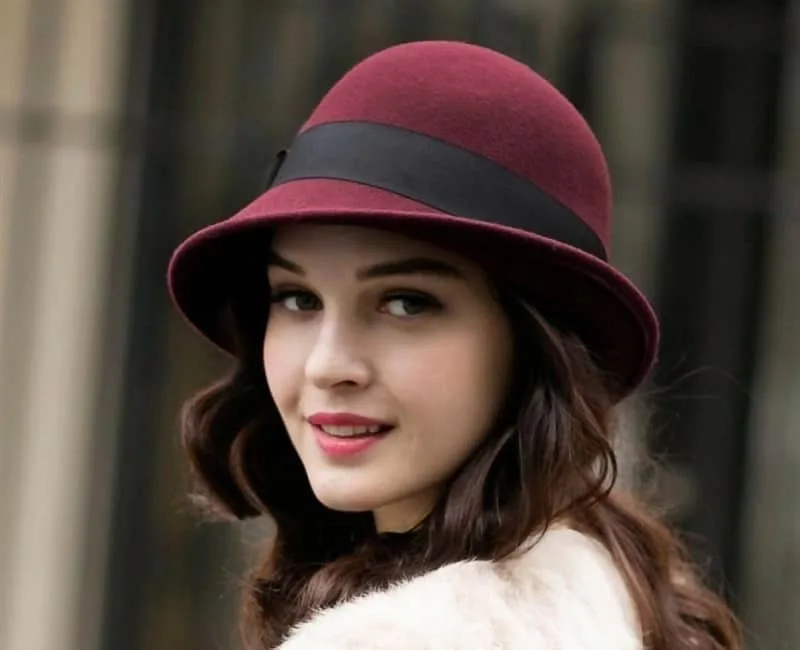 Cloche hats are the quintessential hat styles who want to wear "girlie-girl" head coverings. The soft, bell-shaped curve of the crown area (the French word for "bell" is "cloche") and the short brim are flattering looks for most women, regardless of hair length.
Cloche hats often have thick ribbons or other subtle accessories that adorn the crown's circumference, adding even more femininity to the overall silhouette.
25. Kettle Brim Hat
Women seeking casual hats to wear for a day outdoors or while gardening need look no further than a kettle brim hat. The wide brim keeps out the sun, and because these types of hats are usually made from straw, they are also lightweight and comfortable.
Kettle hats are versatile and come in many different styles, designs, and colors, but what they all have in common is a classic appearance matched with practical functionality.
FAQs
What does a hat symbolize for women?
Different styles of hats are often associated with gender, social status, and age. Throughout history, hats have been used to enhance the appearance of clothing.

Sigmund Freud, a famous neurologist, and the father of psychoanalysis labeled hats as an extension of the head. Freud believed that hats signified an effort to stand tall amidst the mass.
Are women's hats smaller than men's hats?
Yes, women's hats have a standard size and are smaller than men's hats. The circumference of hats designed for women is 20-23 inches, and hats for men range from 22-23.5 inches.
What are short top hats called?
The bolero and gaucho sombrero are the two hats with short crowns. Varying in color and having a flat, wide brim, gaucho sombreros and bolero hats are similar. Gaucho sombreros come with a chin cord which differentiates them from bolero hats.
Should I wash hats?
Washing hats in a washer is frequent practice; however, it is better to hand-wash your hat. Washing by hand helps preserve the shape of your hat. Make it your goal to wash two or three times every season.
Why did women stop wearing hats?
Aside from being a classic accessory, hats had the function of protecting the skin and eyes from the sun. With the advent of sunglasses, most women replaced their hats with sunglasses.
What will happen if I wear a hat every day?
How you wear your hat determines the effect. Wearing the hat tight will cause blood to the scalp to be obstructed. Reduction of the hair growth pattern could occur.
Will wearing a hat stop hair growth?
No! The common belief that hats cause alopecia, the gradual loss of hair, is untrue. In fact, wearing hats is more beneficial by accessorizing and protecting from harmful UV rays.
How can I find my hat size?
Place the tape measure one and a half-inch above your eyebrows and take the circumference of your head. It is worth noting that some hat circumferences are adjustable.
Is a beanie a hat?
Yes, beanie is a hat that grew in popularity in the 20th century. The beanie hat was worn by young men and working adults in the 19th century. Later it was morphed into the modern baseball cap. It can be worn at the gym, for morning runs, hiking, or hanging out. It is a versatile accessory.
What hat looks good on women with round faces?
The best way to determine the right hat for a round face is to go for hats with contradictory features. Rather than going for hats with rounded crowns, try fitting on angular hats such as the newsboy cap, bucket hat, and beret. Experiment with hats with symmetrical brims such as boaters, visors, or baseball caps.
Conclusion
If you're the kind of woman who feels underdressed without something on her head, then you'll surely find some hat types from this list that will suit your tastes and go great with your personal style. Please don't limit yourself to the colors and designs we've shown you in these pictures; there's a world of options available in all budget ranges.
If you're particularly interested in hard-to-find vintage hat styles for women, try shopping for them in local flea markets, thrift shops, or consignment stores.