Has your last trip to the salon not gone according to plan? No need to panic. You can easily hide your bad haircut and salvage your style with a few savvy styling tips.
Here are some tips from experts in the industry on how to hide a bad haircut and keep your mane looking fab.
What Is Considered a Bad Haircut?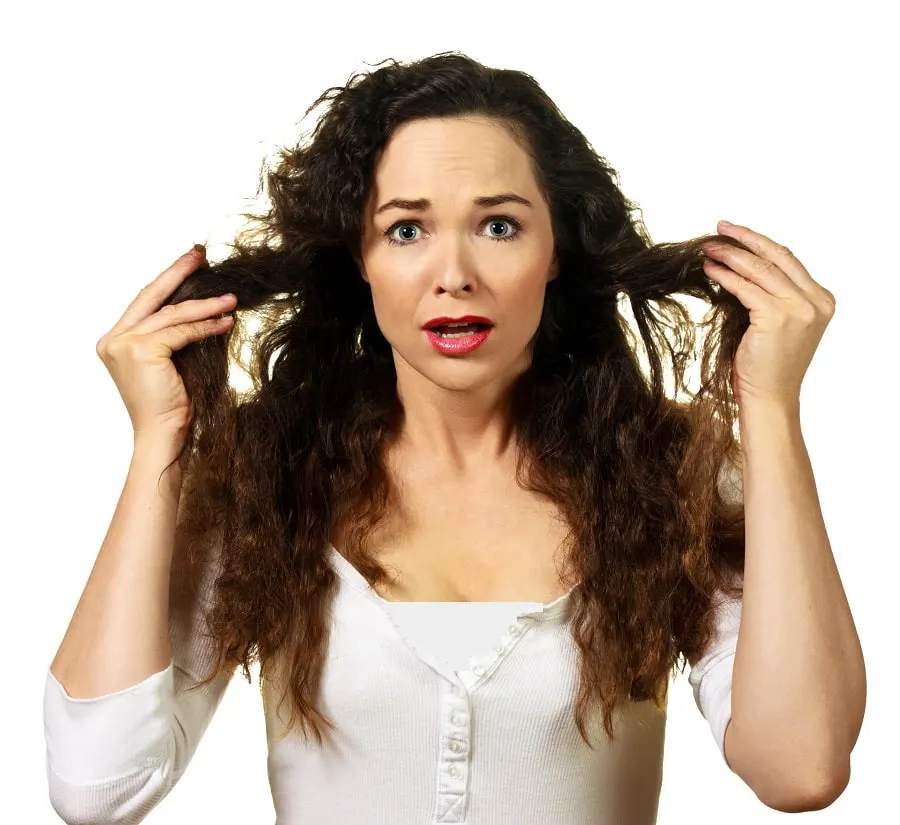 Before diving into how to hide bad haircuts, let's clarify what is considered bad. A bad haircut can refer to a few different issues.
It could be that the layers weren't blended properly, resulting in an uneven look. It could be one that does not compliment your facial features as you thought it would. There may be an uneven weight distribution that causes one side to look lankier than the other.
Or it could simply boil down to preference, the length isn't exactly how you wanted it, or perhaps the cut is just a bit off from what you asked for.
No matter the reason for your bad haircut, it's not fun feeling insecure about something that's so very visible.
Reason Why You Get a Bad Haircut
There are many reasons why you may have received a bad haircut from your stylist or ended up not liking the haircut you got even though your stylist executed it correctly. A few of those reasons might be:
You went to a bad salon or an inexperienced bad hairstylist
Bad communication between you and the stylist
Your stylist rushed through the cut, resulting in uneven lines and an overall lousy finish
Poor knowledge of how to execute a specific cut or lack of experience
The stylist does not know how to work with the texture of your hair (i.e., naturally curly hair)
You or your hair stylist misjudged a cut you assumed would look good on you
Your hairstylist was having an off day and made a mistake
You can't style your hair the same way as the person in that cute Pinterest photo can
Regardless of the reasoning behind your bad haircut, it's time to look forward and focus on how you can make the best of the situation.
How to Hide a Bad Haircut
Men and women who experience a bad haircut can feel a bit defeated. However, it's important to remember that there are many methods to hide a bad haircut. Let's look at how your styling skills can disguise any mishaps.
Go Back to the Salon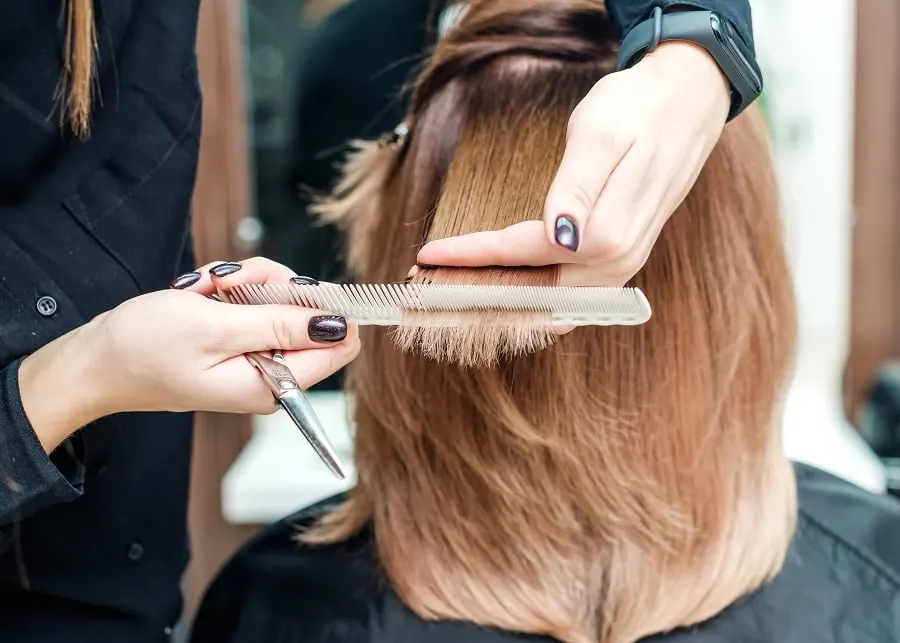 Maybe you realized you did not like your cut while you were still at the salon and were too shy to say anything. Or perhaps you did not see any issues until you woke up the following day and tried to style your hair.
In either case, it is never too late to go back and get the cut redone. A professional hairstylist (the same one or someone different, depending on the reason for the poor cut) may be able to correct the damage done or suggest a new cut you will like more until you can grow your hair back out and give it another go.
Wear It Up
Sometimes the best way to hide a bad haircut is just to get it off your face. Tying your hair up in a half-up, ponytail, bun, or braid is an easy way to disguise how your locks are cut. This can help hide uneven layers or an unbalanced shape.
Utilize Hats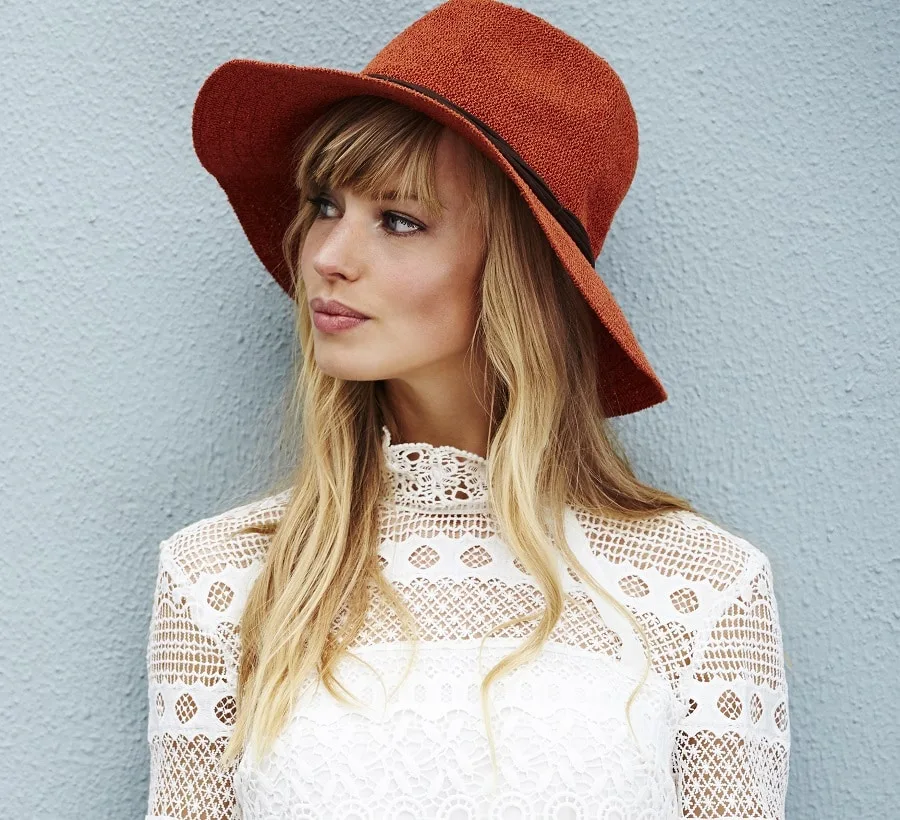 Hats are an effortless and foolproof way to disguise a bad haircut. Not only will they help you feel more confident after a less-than-perfect cut, but they also serve as a great addition to fashion styles and allow you to play around with unique and fun looks.
Whether rocking a beanie, fedora, baseball cap, or Panama hat, you'll be able to conceal your lousy haircut and still look fabulous.
Try Accessories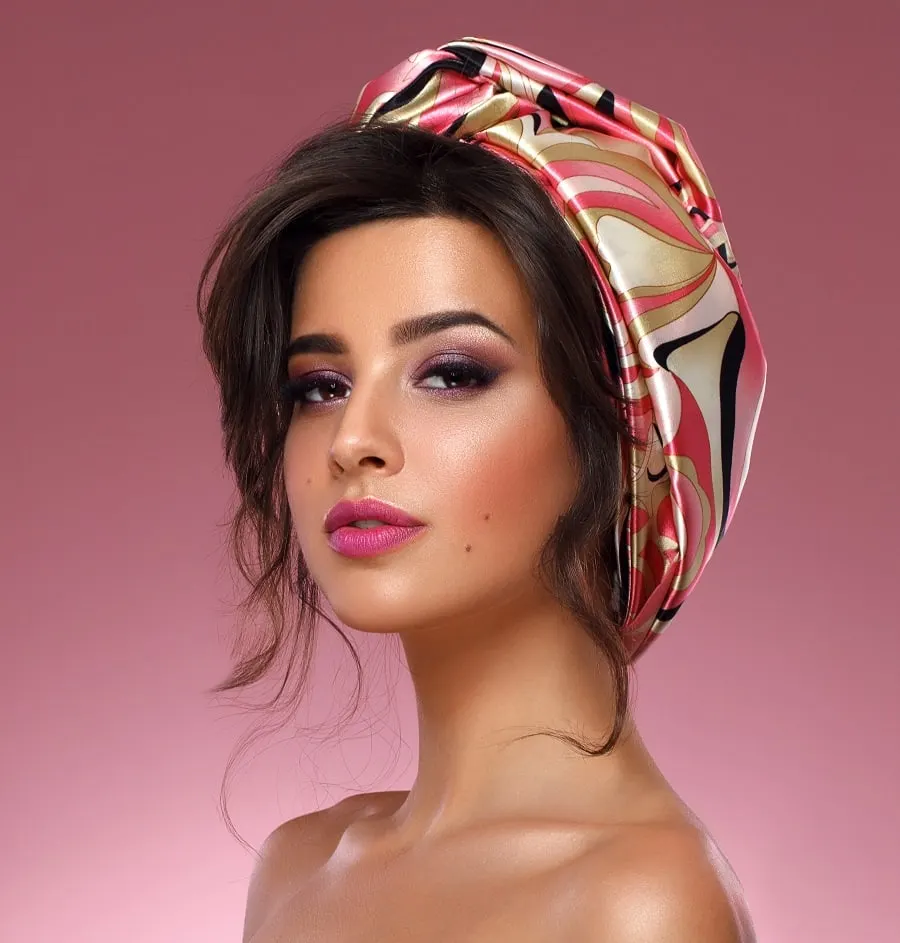 Accessories, similar to hats, are a fun and easy way to help you feel more comfortable with your cut. Try experimenting with headbands, barrettes, clips, colorful scarves, and pins to help you cover how your hair is cut.
Style It Differently
Play around with how you style your hair and see if there is a way to make it look good while you wait for it to grow back out. Suppose you're not satisfied with how your hair looks when straight; try curling or waving it instead.
You can also try changing your part to see if that helps. If your hair is layered, try playing around with how you layer the sections of your hair to create more of a voluminous look.
Play Around with a Design
If you have a shaved or buzzed area, a fun and creative way to make it look intentional is by adding a design. This gives you a chance to turn that bad haircut into a stylish one, and who knows, you may even start a new trend.
Use Texturizing Products
Texturizing products like sea salt sprays, pomades, and mousses are great ways to hide a bad haircut. You can use them to add volume and texture to your hair, making it easier to style how you want or how your hairstyle originally should've looked.
Try Hair Color
Adding a pop of color to your hairstyle is an easy way to distract from a bad haircut. Whether you go bold with fun hues like pink, blue and purple or keep it low-key with subtle highlights, this is an easy way to help you feel more confident about how your hair looks.
Be careful not to damage your hair further by over-processing it. Consult with a professional before making any decisions.
Wear Hair Extensions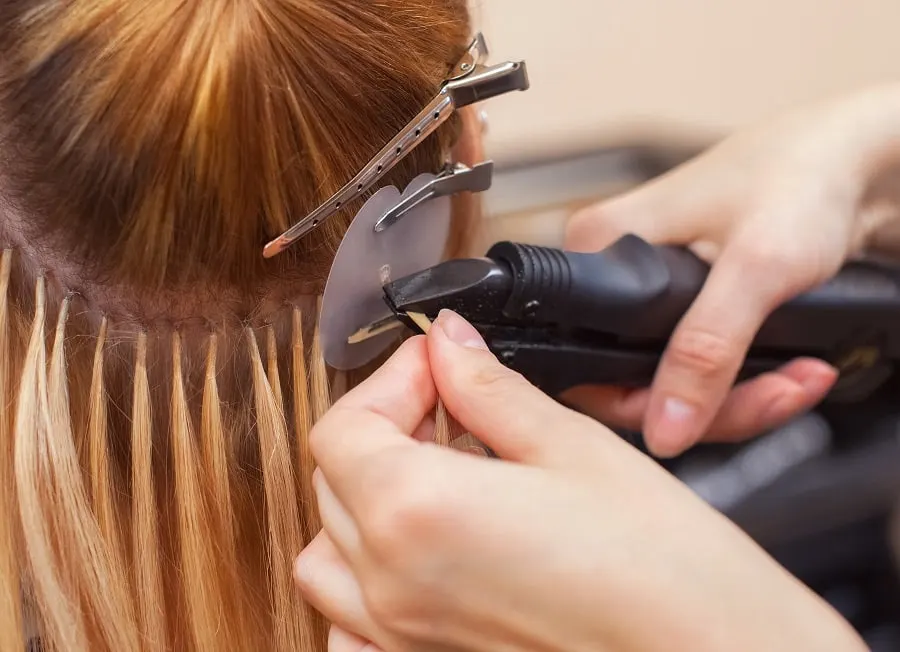 Extensions are an excellent temporary solution depending on what the issue is. This is a great option if you have uneven layers or have eliminated too much length that you can't necessarily recreate with a new style.
These extensions will help you recreate how your hair looked before the cut and will last until your hair grows out. Make sure to choose ones that match your hair color and texture, so they look natural and blend in easily.
Shave It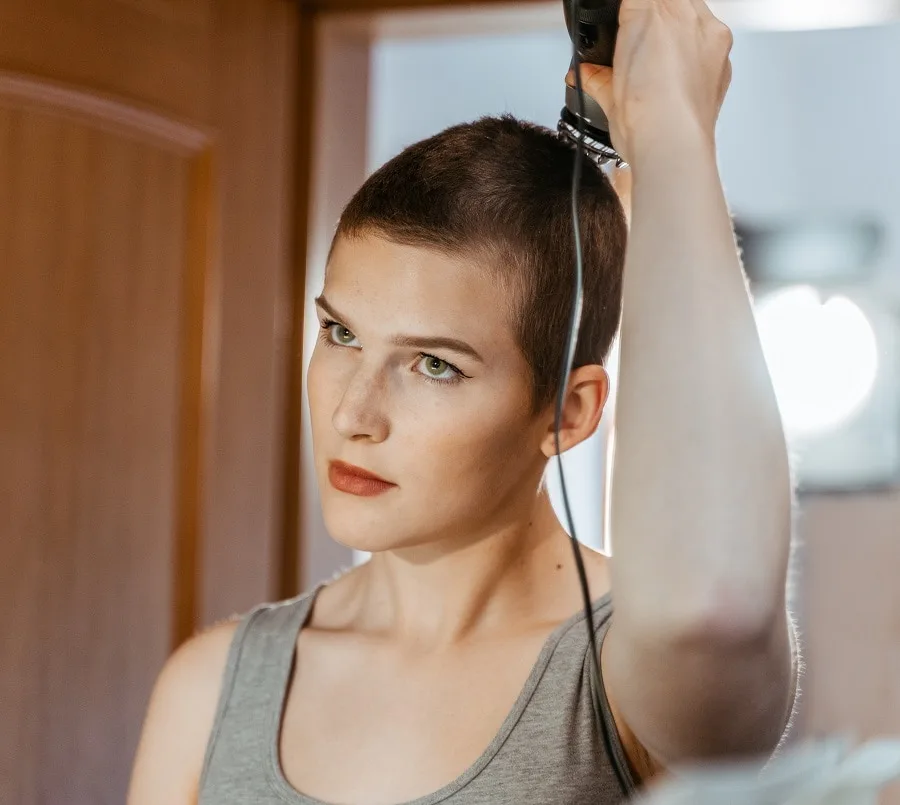 Shave it off if you feel bold, or do not mind a buzzed or shaved cut. Depending on how much hair you have to work with, this is probably the quickest way to hide a bad haircut and turn it into a stylish look.
This way, your hair will grow back even and healthy, and you can start fresh and new.
What to Do with a Bad Haircut That's too Short?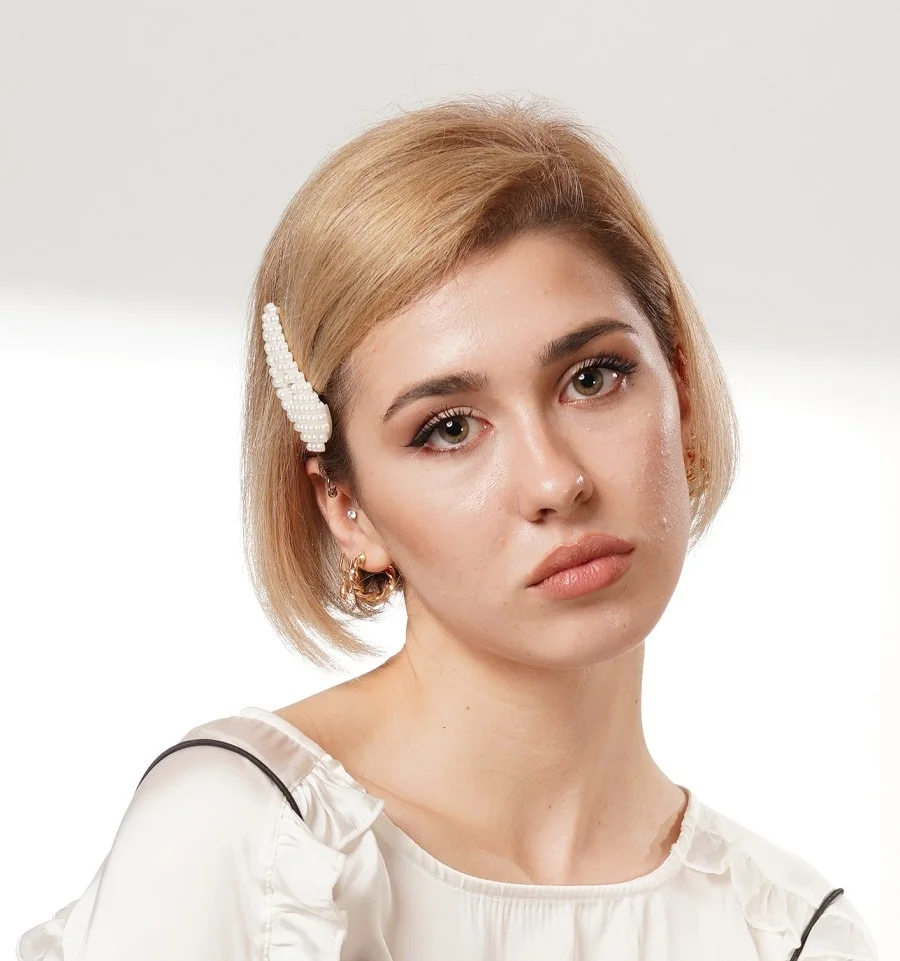 Many would agree that hiding a bad haircut with long hair is easier. If your haircut is too short for your liking, here's what you can do:
Wear a hat
Accessorize with clips and other hair accessories
Use more bobby pins to keep a style in place
Use temporary hair dye to touch up short patches of hair
Dye your hair a different color to take the focus away from the cut
Style it differently
Cut it shorter, but focus on precision
Wait 3-4 weeks for it to grow out
As you can see, there are various ways you can play around with if you are wondering how to hide a bad haircut. Try a few of these methods and see which works best for you while you wait for it to grow.
Be careful not to do any further damage while trying to correct any mistakes, and pair these quick fixes with other methods that will keep your hair healthy and help it grow back faster.
Frequently Asked Questions
Here we'll answer some of the most commonly asked questions regarding bad haircuts.
Can a bad haircut damage your hair?
The good news is a bad haircut will not damage your hair in the long run. In fact, getting a trim is essential for maintaining healthy hair and helps to reduce split ends, so it's important not to be too discouraged if you don't always end up with the exact haircut you had in mind.

Although a lousy haircut will not damage your hair, you must be careful when using color or other styling products. Make sure you are using high-quality products, and always ask a professional you trust for advice on how to keep your hair healthy.
How long can it take to grow out a bad haircut?
The amount of time it takes for a bad haircut to grow out can vary from weeks to months. Bad men's haircuts usually grow out in 4 weeks, whereas women's cuts may take 2-3 months for new growth to cover the mistakes.

You can always talk to a professional about products, vitamins, and haircare routines that will help your hair grow faster and healthier.