As we age, our hair starts to turn gray. This natural transition can feel frustrating for those not ready for the silver strands.
Though gray hair is often associated with getting older, with the right styling and care it can be fashioned to look utterly vibrant.
We are not talking about coloring your gray to hide it; it's about rocking your gray locks proudly without looking old.
We'll cover simple tricks for keeping the silver strands healthy and methods to style gray hair in ways that will not make you look old.
Does Gray Hair Make You Look Older?
Yes, gray hair can make you look older as it is commonly associated with aging. However, it can be significantly influenced by style, grooming, and overall presentation.
While it's true that hair turns gray with age, the average age for women to get gray hair is in their 30s. And you may look a lot older with gray hair than your real age if you do not take any actions.
The right approach can make you look younger even with gray hair. Believe it or not many women dye their hair with gray hair color for styling.
For instance, the actress Andie MacDowell has become well-known for her iconic gray curls. Other famous women, such as Whoopi Goldberg and Meryl Streep, regularly incorporate their gray roots into their hairstyles.
How To Wear Gray Hair Without Looking Old
If you are tired of dyeing your gray hair different colors again and again as it fades too quickly and decided not to dye it anymore, here are some tips for you to avoid looking old with gray hair:
1. Keep Your Hair Healthy
Dull and frizzy hair makes you look older. So keep your hair healthy by following a proper hair care routine.
It's essential to use hair care products specifically designed for gray hair, which help maintain hydration and minimize damage.
Limit washing your hair to prevent stripping natural oils and consider using a deep conditioner once a week. This routine will help keep your gray hair moisturized, soft, and more resilient.
2. Consider Haircut and Face Shape
Choose a haircut according to your face shape. Whether it's a sleek bob, a playful pixie cut, or long flowing locks, the right style can make you look younger.
Different face shape has different requirements. So you need to determine your face shape first then select an ideal haircut. You can also check these gray hairstyles for oval face shapes and round face shapes for better understanding.
3. Wear Bold Makeup
Bold makeup can be a fantastic complement to gray hair. It can accentuate your features and bring a vibrant contrast to the silver tones.
Experiment with bright lipsticks, eye-catching eyeshadows, or a smoky eye to make your features pop. This approach can add a youthful and energetic feel to your overall look.
4. Accessorize Your Hair
Accessories can add a unique flair to your gray hair. Statement necklaces, earrings, or scarves can introduce color, texture, and personality to your style.
These additions can bring an extra layer of sophistication and charm to your gray hair.
5. Be Confident
The most important aspect of rocking gray hair is confidence. When you feel good about yourself, it shows.
Wearing your gray hair with pride and self-assurance can transform the way others perceive it, turning it into a symbol of elegance and self-confidence.
6. Consider Adding Highlights
Introducing a few highlights into your gray hair can create depth and make it look more lively and youthful.
Adding some highlights or lowlights to your gray hair can break up the monotony of gray hair, adding visual interest and a contemporary feel.
7. Wear Compatible Clothes
Aside from adjusting your hair care routine, the best way to wear gray hair without looking old is to have a good sense of style. Wear clothing that flatters your natural features and choose attractive hairstyles that bring life to your hair (more on that below).
Ultimately, if you confidently and gracefully incorporate your gray hair into your signature style, you will always have a youthful and fashionable appearance.
8. Get a Younger Looking Hairstyle
Your haircut can make all the difference when it comes to looking younger with gray hair. As long as you stick to a few simple principles, you should be able to find a haircut and style that suits your taste and maintains youthful energy.
The classic mistake that older women make is getting a severe haircut. When you age, you lose facial fat, making your cheekbones more prominent and your face more angular. If you want to look younger, you need to get a haircut that softens your facial features.
Hairstyles That Will Make You Look Younger with Gray Hair
Flat, straight hair looks lifeless and can draw attention to the dullness of gray hair—texture and layers add flow and curves to your profile.
Here are some gray hairstyles that will make you look younger :
Long Wavy Layers
Long, wavy layers are a bold hairstyle option for gray hair. Many women with gray hair are hesitant to wear their hair long, but long gray hair can look quite attractive.
If you want to try long hair, be sure to get plenty of layers to encourage movement and volume. You should also invest in hair masks, purple shampoo, and hair oils to add shine and moisture to your long gray waves.
Long Bob
Long bobs, or lobs, are a good alternative to long hair. A long bob is less severe than a short, blunt bob and leaves plenty of space for layers and texture. Long bobs often have a hip, casual energy that contributes to an overall youthful vibe.
You can easily style a long bob by scrunching in a light cream or using a texturizing spray to bring out some natural waves and curls.
Rounded Shag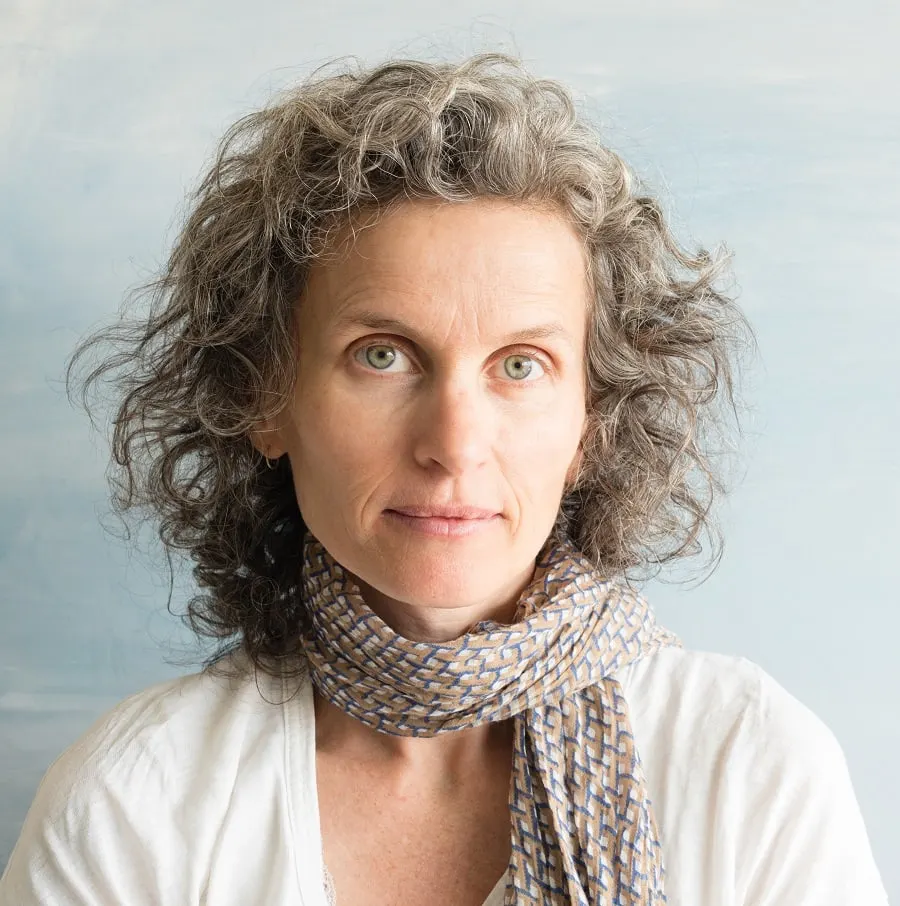 Women who want to keep up with hair trends should consider a variation of the shag haircut. Versions of the shag haircut have become quite popular among young women in recent years. A soft, rounded shag is perfect for adding more dimensionality to your gray hair.
Since shags have gone in and out of style throughout the decades, they have a somewhat timeless feel, meaning that a woman of any age can look youthful wearing a shag haircut without looking like they are copying a young person's trend.
Pixie Cut
If you have short hair, you should consider having a pixie cut that's slightly on the longer side.
You can look youthful with short gray hair, but you'll want your haircut to be distinguishable from a stereotypical grandma haircut.
To do so, keep enough length on your hair to have tousled, loose waves. You want to create enough curves and textures to draw attention away from your sharper features.
Wispy Bangs
Regardless of the length of your hair, you should always incorporate layers. Without layers, your gray hair is more likely to look thin and flat.
It's also a good idea to get wispy bangs or face-framing pieces with your haircut. Shorter pieces in the front will both soften your face and conceal any thinning sections on your hairline.
Side Part
In terms of your daily styling routine, aim for gentle volumizing techniques. Experiment with side parts and, if needed, minimal teasing. Try using styling products that bring out your natural hair texture.
If your hair is naturally straight, consider using heatless curling techniques to add more body to your hair.
Updo
You can also mix things up with fun updos. People with gray hair can still play around with new braids, ponytails, and buns.
Wearing new styles helps to refresh your look and separates you from older women who wear their hair the same way every day.
Styles That Will Make You Look Older with Gray Hair
If you want to wear your gray hair without looking older, stay away from hairstyles commonly associated with older women.
When women get older, society often discourages them from being expressive or flamboyant, resulting in pressure to get plain, lifeless haircuts.
No Layers
The truth is, no hairstyle will hide the fact that you have gray hair. There is no reason to diminish your natural good looks with an unflattering haircut that ages you.
For instance, don't get a severe, angular bob with no layers. Unless you have a professional stylist to style the haircut every day, you'll end up with dry, flat hair that emphasizes your aging facial features.
The same goes for long hair without layers. Without layers or texture, long gray hair looks limp and frizzy, evoking unfair images of an old, haggard woman. No matter your age, you can have healthy, hydrated layers that enliven your appearance.
Blunt Bangs
Although face-framing pieces or curtain bangs look lovely with gray hair, try to stay away from thick, blunt bangs that go straight across your forehead.
One perk of getting older is gaining gorgeous prominent cheekbones—there's no reason to pull attention away from them with chunky bangs.
Instead, stick to longer bangs that draw more attention to your cheekbones and soften the rest of your face.
You can wear your gray hair in a short style, just don't leave it textureless. Extremely short, straight hair can make your face appear too severe, prematurely aging you. Instead, you want enough length to create at least a hint of waves or curls.
On the topic of texture, try to keep it natural rather than artificial. You don't need to tease your hair into a different altitude or stiffen it with hairspray. While the Golden Girls are excellent role models in many ways, their hairstyles are best kept in the 90s.
A-line Bob
Finally, there's one haircut that, regardless of how much texture you give it, it's still not a good choice if you want to remain youthful: the A-line bob. The A-line bob is a short haircut that's longer in the front and shorter in the back.
In years past, this was a perfectly fine haircut to have with gray hair. However, in recent years it has become increasingly associated with older women, so it might be a better idea to keep your bob a little longer.
Generally, you can look youthful with gray hair as long as you avoid hairstyles that are outdated or unflattering to older facial features.
If you have an attachment to a haircut that has become outdated, consult your hairstylist to come up with a fresh, youthful spin on your signature look.
As you can see, you have many styling options when it comes to wearing your gray hair without looking old.
Tips for Maintaining Youthful Gray Hair
Having a good hair care routine is the key to wearing gray hair without looking old. Keeping your scalp healthy and your hair moisturized will result in shiny, dimensional gray locks.
Without quality hair care, gray hair can end up dry and brittle with a sickly yellow tone.
Moisturize
Maintaining gray hair is all about moisturizing. As we age, our bodies produce less oil from our skin, including on our scalps. With less natural oil secreting from your scalp, you will need to focus more energy on preventing your hair from drying out.
Use a Toner
Toning is a key step in maintaining the vibrancy of gray hair. A good quality toner can help remove yellow or brassy tones, making your gray hair look brighter and more refined.
You can apply a toner at home or visit a professional salon for a more precise application. This process not only improves the color of your gray hair but also adds a sleek, polished look.
Use Purple Shampoo
Purple shampoo is an excellent product for neutralizing yellow and brassy tones in gray hair.
According to color theory, purple neutralizes yellow. Thus, the purple shampoo will eliminate yellow or brassy tones and give your hair a silvery, platinum effect.
Avoid shampoos with sulfates, which will often remove far too much oil from your hair. Look for sulfate-free cleansing shampoos with hydrating ingredients instead.
If you aren't sure of which shampoo to get, consider trying shampoos designed for wavy or curly hair, as these styles of shampoo tend to be less drying.
Condition Hair
Always follow your shampoo with a hair conditioner. You may find that your gray hair dries out quickly and needs a greater amount of hair conditioner to stay hydrated.
Ideally, you should use a silicone-free hair conditioner—silicones form a barrier on the surface of your hair and can make it more difficult for your hair to get hydrated.
Try to incorporate weekly hair masks and deep conditioning treatments into your routine. Hair masks are typically thicker than regular conditioners and will provide your hair with essential nutrients.
Depending on how dry your gray hair is, you can also get good results from applying a leave-in conditioner to your wet hair before adding other styling products.
Take Care of Scalp
In addition to keeping your gray hair hydrated, you'll also want to take good care of your scalp. Hair growth and strength are related to the health of the hair follicles on your scalp.
If you're worried about hair loss or hair breakage, or if you just want your gray hair to be a little healthier, massage a pre-wash oil into your scalp a few minutes before showering.
Scalp oils provide your hair follicles with extra nutrients, and the massaging motion will promote blood flow, which can help with hair growth.
Avoid Heat Styling
You can also adjust your styling routine to keep your hair youthful and vibrant. The main rule for styling older hair is to put down the heat stylers.
Heat damage will only speed up your hair's aging process. When you do use a heat styling tool, be sure to first apply a heat protectant to your hair to minimize the damage.
Use Lightweight Products
When it comes to styling products, stick to lightweight, moisturizing textures. If you load your gray hair up with hair sprays and gels, your hair will end up stiff and brittle.
Hair has a far more youthful appearance when it has plenty of shine and movement, which you can get from a light hair cream or leave-in conditioner.
If you finish styling your gray hair and still worry that it has a dry look to it, you can add extra shine with hair oil.
So, with proper hair care and thoughtful choices, any woman can gracefully incorporate gray hair into their appearance.
Remember to keep your hair hydrated and your scalp healthy. For hairstyles, don't shy away from expressive texture and fresh looks. After all, no matter your age, everyone has the right to show off their natural beauty.