Women's finger wave hairstyles were traditionally worn in short hair, but soft finger waves look incredible worn in luscious long hair too. This is a look that oozes glamor, class, and style. Finger waves are a classic hairstyle that first appeared in the 1920s and having a huge revival right now, particularly on the red carpet.
Finger waves are unique because they have a defined ridge, and are much flatter and wider than traditional curls. Anyone can wear their hair in finger waves: this is a hairstyle that looks great on hair of any length, color, and texture.
Beautiful Long Finger Wave Hairstyles for Women
Because creating finger wave hairstyles are a time-consuming process, many fans of the look choose to visit their hair stylist to have finger waves added to their long hair. If you want to try creating finger waves at home then you will need a fine-tooth comb, at least a dozen duckbill hair clamps, hair gel, and plenty of patience!
Looking for some inspiration? Here are 27 of the best finger wave hairstyles for long hair, perfect for any occasion:
1. The Modern Finger Wave for Long Hair
If you have long hair and want to add finger waves to it without spending hours styling your hair then the best thing to do is curl the length of your hair first! Sweep your hair across your face into an exaggerated side parting, hold this parting in place by adding hairspray to the roots and length of your hair and then begin curling with either curling irons or hair straighteners.
Short Curly Hairstyles for African American Women
Once your hair is curled you can add finger wave inspired waves to the front of your hair by using your fingers and a comb and applying heat to each curl until you have the shape you want: this will create the finger wave effect in your hair without having to spend hours styling it. This is a look that oozes red carpet glamour and is sure to attract attention.
2. Traditional Vintage Finger Waves
Although traditionally worn in short hairstyles, traditional vintage finger waves look fantastic when worn with long hair. This is a style that is easy to achieve and is gentle on your hair as it doesn't require any heat styling. However, it will take a little time and patience.
To create your finger waves, start with damp toweled hair and then liberally add hair gel to ensure the style will hold. Once your hair is prepared, clamp your hair where you would like your first curl to begin, then push your hair up to this clamp using a comb to create a wave.
Once the wave is positioned correctly, hold it in place with another clamp and repeat the process until you have a head full of hair clamps: each one will represent a curl. Wait until your hair is completely dry (this could take several hours) then remove the clamps, very gently comb out the waves if needed, and then your style is complete. If you have short hair, try these styles.
3. Chic Chignon with Finger Wave Detailing
If you want to capture the traditional short finger wave look but have long hair, then why not consider combining finger wave elements with a chic updo? Section off the front third of your hair, and leave this section to one side.
With the remaining hair, backcomb the roots and then spray with hairspray to add volume before pulling back the length and clipping it under itself with bobby pins to create a chic updo.
Once the pinned-up element of your style has been achieved and the length removed, simply add exaggerated finger waves to the front of your hair, being sure to work the waves back away from your face until they can ultimately be incorporated into the end of your updo and secured using hidden pins.
Best Updos for Women With Curly Hair
This is a hairstyle that would look great for formal occasions, such as weddings, proms or formal parties. Be sure to work with hair that is dry, and add both texturizer spray and hair spray to the full length of your hair before you start styling it to make it easier to work with.
4.
5.
6.
7.
8.
9.
10. The Finger Wave French Plait
For a softer updo perfectly suited to long hair and incorporating finger waves into the style, why not try the finger wave French plait?
This is a style that combines both finger waves and pin curls to create a long vintage style that resembles a classic plait. Because so much of the detail of this look is worn at the back of your head, it is a style that is difficult to achieve at home alone: you will either need the help of a patient friend, or a visit to your hair stylist.
If you do choose to visit your hair stylist for a long finger wave updo, such as this one, then remember not to wash your hair on the morning of your appointment: hair that hasn't been washed for a day or two has much more texture in it, and will, therefore, be much easier for your stylist to work with.
11. 1940s Finger Ways for Long Hair
For a truly vintage-inspired hairstyle, combine classic finger waves throughout the length of your hair with a miniature victory roll to the front of your hair. Whilst traditional finger rolls originated from the 1920s, this softer and longer look is inspired by the 1940s where the waves were softer and balanced by curls worn around the front of the face, to create height and add flattering texture to the style.
Originally these curls were created with rollers, but nowadays it's much easier to create them using a curling iron. Backcomb the roots of your hair before you begin adding your finger rolls through its length, and then take your curling iron to add a large demi-curl to the front of your style, where you would traditionally wear a fringe.
Curly Weave Hairstyles to Look Beautiful
12.
13.
14.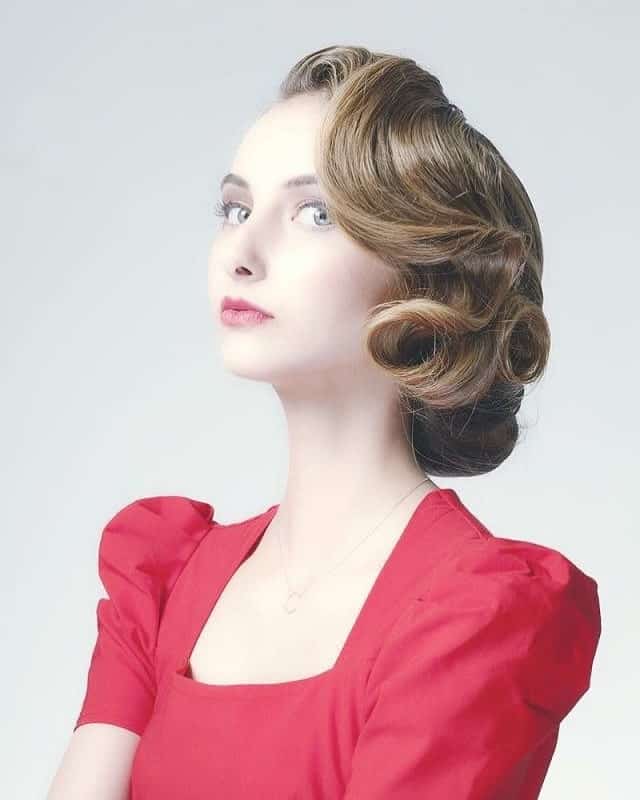 15.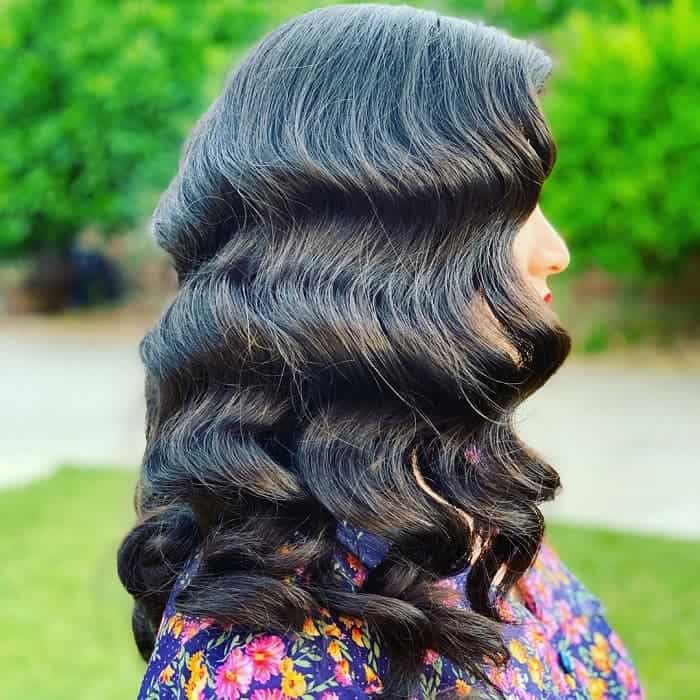 To get the concept of how to do finger wave hairstyles, we recommend the following tutorial:
Finger wave hairstyles look great on hair of all colors and textures: it has been worn on the red carpet by both blonde bombshell Scarlett Johansson and sultry brunette Megan Fox! Try out the next time and let us know how you look.