The curly weave hairstyle is perfect for those girls who never had their own beautiful curls but always dreamt of a classy curly haircut. The same goes for women with natural curls that are very hard to manage.
In fact, most curly manes are pretty troublesome. They are prone to clots, need a lot of hair products to stay neat and cause their owners a lot of hassle. Making curly hair look tidy and stylish takes a lot of effort, but not when it is a weave.
Hair extensions are usually much less problematic than natural hair. At the same time, growing long and voluminous curly manes is usually not an option for most women. That's why weave becomes a great way out. Some women don't like to sport curly hair on a regular basis but would like to wear it on special occasions. Others turn to curly weave hairstyles to make a long-lasting impression on a date.
No matter what is the reason to get curly hair extensions, there are many interesting ways to do it. Just simple long locks are far from being the most popular option. Many more are waiting out there for your use.
Types of Curly Weave Hair
Curly Weave Styles for All Hair Types
No matter what your natural hair type and color is, a curly weave will make you look fantastic. However, choosing the right hair extension is a job all on its own. That's why we have prepared a list of different ways to use curly weave hairstyles. Women all over the world dream of neat manes that will look incredible on any occasion. The easiest way to achieve this goal is to get the right hair extensions.
The curly weave is very popular since it will make any girl look like a princess. All you have to do is browse the available options and make your choice. Remember, the curly weave doesn't have to be long. Short hair extensions look great too and cause much less hassle.
1. Long and tight curls
This is one of the most popular ways to get a curly weave hairstyle. The hair extensions are attached at the very top of your head over your own locks. This allows to make them any size and color you wish. The longer the weave is, the better it looks.
Short Curly Bob Styles for 2020
2. Wire bob
If your own hair is not thick and long enough to make such amazing tight and wired strands, a weave will save your day. Such weave is attached on top of your natural hair to make your hairstyle voluminous and catchy. This weave will require some special care to stay neat.
3. Thick and curly weave
Thick and curly hair is a dream of many women. Weave makes this dream come true rather easily. The hair is side parted and curled and the weave is attached on top to create a thick and curly impression. This hairstyle can both be long and short.
4. Soft waves
Women with unruly curly hair will often appreciate soft and neat waves instead. This image is easily achieved by straightening the hair out on top and attaching hair extension to make any length you wish. Remember to keep the weave brushed.
5. Messy curls
Girls with straight and fine hair dream about voluminous and messy curls. When a perm can't do the job, hair extensions take charge. You can add as much hair as you wish to make a voluminous and curly bob. Make it messy to keep the look wild and more romantic.
6. Add more volume
If you are tired of simple bobs and pixies and want to get something different, add more volume with hair extensions. You can make your new curly hairstyle as voluminous as you wish by adding a curly weave of any length.
7. Wet curls
This amazing wet and curly look can be achieved by a minimum amount of effort. The curly weave hairstyle will look perfect if your own natural hair is the same color and curled the same way. The hair extensions are attached on top.
Looking for a simple way to achieve an amazing ombre? Get hair extensions. Leave your own color natural and attached a lighter colored weave. No need to torture your hair with dyes! The weave will do a much better job creating the perfect ombre.
9. The longer, the better
Like your curly hair but it is just not long enough to satisfy you? A curly weave will help you get the perfect length you've always dreamed about. At the same time, you can experiment with lighter or darker colors.
10. Waves and curls
If you can't choose between waves and curls, get both. Hair extension will help you combine yoru favorite hairstyles in one. You can make curls on one side and waves of another. This creative hairstyle will surely turn some heads your way.
11. Curl extravaganza
If you want large and impressive loops, you either need to spend hours with a flat iron or get a weave. The second option is much easier and will last significantly longer. In fact, you can sport an amazing hairstyle for as long as 4 -6 weeks.
12. Perfectly shaped bob
How do you get a perfectly shaped bob? With a weave, of course! Hair extensions are attached on both sides and the back of your simple bob and your natural hair can stay a little wavy. If your hairstylist knows their job well, the result will be truly fabulous.
Short Curly Hairstyles for Black Women
13. Long and incredible
Long hair always looks very impressive. That's why curly weave hairstyle is absolutely perfect for a special occasion. Even if your natural hair is wavy, the longer you make it, the more interesting it will look. Give it a try!
14. Teased waves
If you are opting for a more natural look, get a teased weave. It will look great together with your own teased hair. You can make it any length you want and experiment with hair color. Try on some lighter shades to diversify your look.
15. Go wild
There is nothing wilder than a well thought out hairstyle. A curly weave doesn't just help you increase the length or volume of your hair, it can also give it some special shape. Don't be afraid to let your idea become real. The more unique your hairstyle is, the better the statement you'll make.
Always wanted a voluminous and curly bob, but all you've got is a fine haired pixie? No problem! This curly weave hairstyle is easily achieved by adding some hair extensions. All you'll have to do is curl your bangs and you are done!
17. Red and fabulous
Trying a new hair color is always easy with a weave. Try choosing the shade to suit the weave and not the other way around. This way you can try to on many different colors and styles simultaneously. Become a redhead and you'll surely make an impression!
18. Long waves
Curls might become pretty tiresome, even when they are part of the weave. So, try getting some long and wavy hair extensions. Waves look much neater than curls but might require more haircare. Remember, change is always welcome, regardless of the occasion.
19. Become Goldilocks
Becoming a girl from a fairy tale is every woman's dream. Curly hair extensions will make any princess you wish out of you. Long golden curly mane will make you look absolutely incredible. You can be sure it will turn many heads your way.
20. Raven black
Raven black hair always look impressive. If you add some curly volume to it, you will get a truly amazing hairstyle. This type of weave will need some serious hair care. So, the best idea would be to use it for special occasions only, instead of everyday wear.
Simple But Elegant Layered Curly Hair Ideas
21.
22.
23.
24.
25.
26.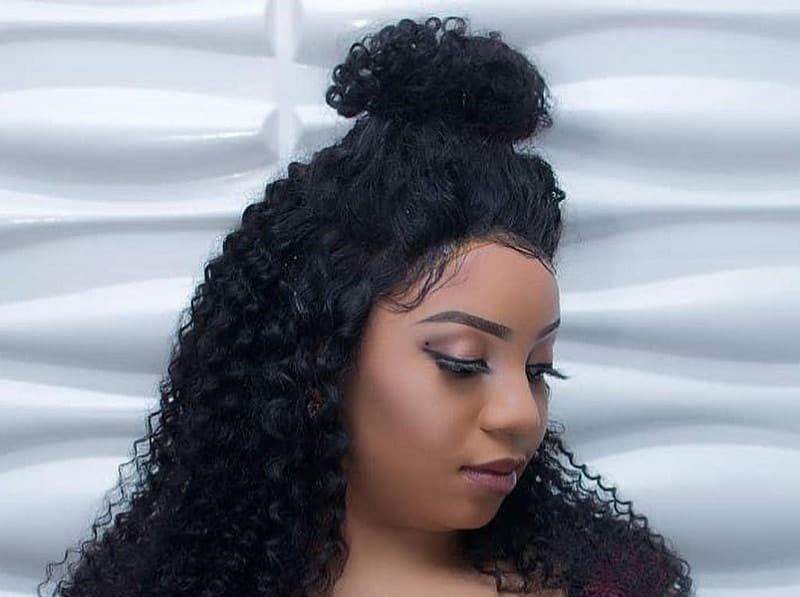 27.
28.
29.
30.
31.
Ready to get that perfect curly weave hairstyle? Go for it! These options will help you make the best choice or come up with something absolutely unique and special. Take some time to go over the details and get on your way to become the most beautiful woman out there!
You may also like these: