Wedding is the most important occasion in every woman's life. For most girls it is a day which they will remember for a very long time. Ever since the wedding tradition first appeared, brides have been trying their best to look as beautiful as they possibly could. One of the main ingredients of the beauty mix is the hairstyle. The longer a bride's hair is, the more ways there are to arrange it. There are so many wedding styles out there, that a girl can easily get lost. We tried to narrow them down by choosing the best wedding hairstyles for long hair out there.
Stunning Wedding Hairstyles For Girls With Long Hair
Long hair is hard to take care of, but it becomes an integral part of the most effective hairstyles. This is especially true when it comes to weddings. A wedding hairstyle is bound to look great on long hair. There are so many ways to make it appear fantastic. Wedding accessories will help you create a hairstyle, which will amaze all your guests. When you are choosing a style for yourself, make sure to really like it, since you will be remembering this day for the rest of your life. We have prepared a list of the most amazing long bride hairstyles for you to browse. Don't be afraid of taking your time. This will be one of the most important choices during your wedding preparation.
1. Loose braid
If your hair is not thick enough to make a beautiful braid, we are offering you a hairstyle that will imitate it. It is easily created by a decorative wire which gets weaved into your hair and holds it together to create an impression of a loose braid.
2. Soft waves
If you are going for a natural look, soft waves are a must have wedding hairstyle. Start curling your hair near the temples and go all the way down. A tiara or some other accessory will give you a soft look, while keeping the top part of the hairstyle intact.
3. Low waves and accessories
Natural looks are quite popular nowadays. So, a natural wave will look amazing on your long hair. Curl just the lower part, starting from your shoulders. Well-chosen accessories will make your hair look really regal.
4. Weave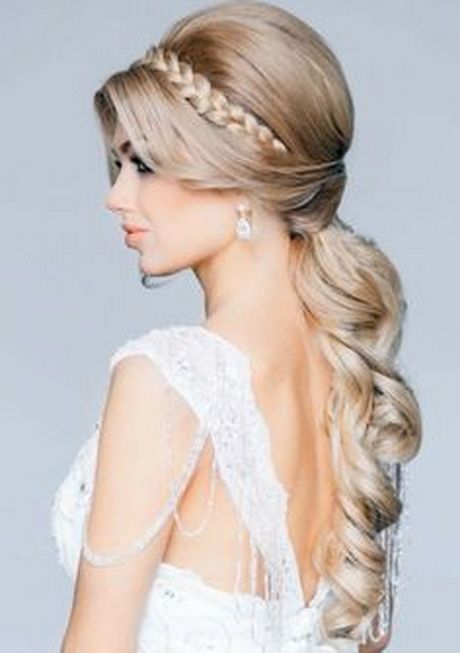 If your hair is not too long, but you still want a very long wedding hairstyle, get hair extensions. With their help you can do amazing things. For example, you can run a braid around your head and make a wavy and voluminous ponytail below.
5. Volume is the word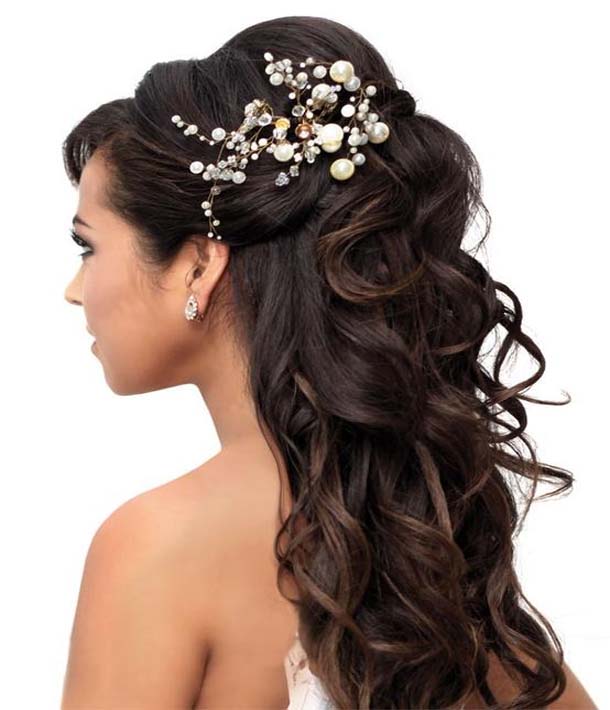 If you think that voluminous hairstyles are a thing of the past, you are very wrong. The more volume, the better! You can make a lot of it on top, by brushing the side strands to the back, spraying them with a lot of hair spray and clipping together with a special decorative brush.
6. Braided bun
This simple, yet beautiful hairstyle is perfect for active brides. If you are planning to do a lot of dancing, you will need to get the hair out of your way. You can also save some money on a hairstylist and make a braided bun on your own.
7. Flowers
Flowers are an integral part of any wedding, so why not add them to your hairstyle? Clip some pins with artificial flowers inside large curls. Don't go for natural flowers. They might wither before the day is over.
8. Curls on one side
Leaving all your hair in the back is good for the bride, but will not make your photographer happy. And since photos will remind you of this day for the rest of your life, try to make your hairstyle visible in front. Brush your hair to one side and make soft waves. Keep it intact with pins and hair spray.
9. Big hair
Some might consider this hairstyle outdated, but it still hasn't lost its charm. It looks especially well on long and straight hair and is achieved by combing the locks over while spraying it with hair spray. Another way to do it is to brush the hair back over a high headband.
10. Twisted bangs for wedding
A great way to keep your hair out of your face when dancing will be twisted bangs. This hairstyle is very easy to make on your own. All you have to do is twist the frontal strands and tie them in a small ponytail in the back. The rest of the hair can be curly or wavy.
11. Decorated ponytail
This amazing ponytail is a popular wedding hairstyle. The wire, which is weaved into the ponytail, will allow you to keep the style intact throughout the day. Curls are a compulsory part of a special image, so the more – the merrier!
12. Loose side bun wedding hairstyle
This hairstyle is perfect for girls with short hair. First the hair is curled to make nice and smooth waves and then a loose bun is created on one side. You can pull some strands out to create a wild look, if you wish.
13. Add a weave
If your hair is short and you want to look like queen, add a weave. Collect your hair into a ponytail and attach a long wavy weave to it. The result will be amazing. Just a simple curly ponytail will make an amazing impression due to its length and volume.
14. Long curls
Wedding hairstyles for long hair differ greatly. But classics never go out of style. Long and voluminous curls will make any girl look absolutely fantastic. Make them fall graciously down your shoulders and you will look truly amazing.
15. Large bun
Girls, who don't want to spend too much time touching up their hairstyles during the wedding ceremony, can opt for a wonderful sizable bun. It is easily created by curling the hair and then arranging it into a bun. Some strands should be pulled out for volume.
16. Braided ponytail
Ponytails are easy and there is nothing special about them, right? Wrong! There are so many ways to make them look fantastic. One of them is weaving the curly strands together to create an appearance of a braid. Such ponytail looks amazing but is quite hard to keep intact. Ask your stylist for advice!
17. Go back in time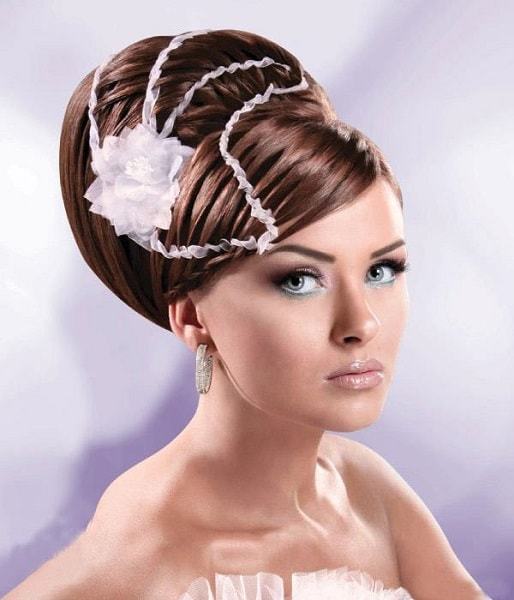 Huge voluminous buns are a thing of the past. However, they look so amazing, there is no reason to completely forget about them. This hairstyle is achieved by using special accessories which will be a base for a large bun.
18. Make a crown
You are about to look like a queen, so you will definitely need a crown. This hairstyle is created by making two ponytails. One is raised up high and the curls fall down the nape. The other one is low and is also curled. Special flower band is tied around to create an impression of a crown.
19. Be simple
If you want to go for simple, yet classical curls, but are afraid of long hair getting in your way, you can go for this easy hairstyle. Two side strands are tried together in the back to create a small ponytail. This neat and simple hairstyle will make you look incredibly soft.
20. Get a tiara
A tiara is a great way to collect your hair and keep it from getting into your face. Tie two side strands in the back, to help keep them out of your face and pull the top hair back with a brush type tiara. You will look truly stunning.
21. Make it short
Long hair is not always something you want to flaunt. Sometimes girls opt for hiding the length in order to forget about it at least for a day. Such hairstyle is created by making a high ponytail and pinning it to the rest of your hair, in order to keep it not lower than your shoulders. Leave two side strands hanging loose and curl them.
22. Braids
If you don't want to make curls, but still wish to stand out of the crowd, try the braids. You can braid to side strands and tie them into a ponytail in the back. This will create an appearance of a very neat hairstyle. You can easily make it on your own.
23. No hassle
If you don't want to go through too much hassle, this wedding hairstyle is for you. All you will need to do is make soft waves. Brush the side strands to the back and make a ponytail. Cover the ponytail with a veil and you are done!
24. Be original
There are always girls, who don't want to hear about the classics. If you trust your hairstylist, then you can make really original hairstyles. Just be careful not to overdo it, because memories of this day will stay with you for the rest of your life.
25. Headbands
Headband is an accessory, which will make even the simplest hairstyle look terrific. Spend some time looking at different kinds of bridal headbands and you will surely choose the one you like.
We hope you had a fun time browsing through these hairstyles and have chosen something suitable for yourself. Remember, the most important day in your life is coming up and you should put in some preparation time. The better your hair will look, the more sure of yourself you will feel.