Getting a shape up haircut is a great idea for guys with short hair. Let's face it, our hairline is usually far from being neat and even farther from looking perfect. A shape up can fix this problem in a matter of minutes. Ask your stylist for this haircut next time you go to a barbershop.
Make sure he or she understands what kind of lines you need. If you are not sure what type of shape up will look best with your hairline, take a look at some options we have chosen for you. Choose the style which appeals to you and go for it!
What is a Shape Up Haircut
The shape up hairstyle, also sometimes called a "line-up" or an "edge-up" is a way to shape the haircut. This shaping involves straightening of the hairline. In fact, there is no actual cutting. The barber will use outliners (Clippers) or a razor to make neat lines around the client's haircut.
Usually, the haircut will be outlined around the head, including the area behind the areas, the lower part of the head and the sideburns. If there is any stray hair beyond the shaped-up hairline, the barber will shave it off.
How to Do Shape Up Haircuts
If you would like to make a shape up haircut on your own, you'll need T-shaped clippers, razor, and mirrors. The most important tool will be a mirror, which will help you do the shaving/clipping on the back of your head. In order to get a good idea about how the shape up or line up is created, we recommend getting it done professionally at least a couple of times.
Once you are sure you can do it on your own, you are ready to start. Set up the edge of the clippers at the start of your front hairline. Slowly pass the Clippers (or razor) to establish a straight line. The same process should be followed by the area around the ears and the back hairline. Hold the mirror, so you can clearly see the area you are working with. Shave off any stray hair, which sticks out around the shape up lines, and you are done.
Trendy Shape Up Hairstyles for Bold Look
If you are ready for a shape up haircut, you need some examples to get an idea of what you really want. We are listing 75 different shape ups for you to check out and make your choice easier. If you are getting a shape up for the first time, make sure you carefully explain your request to the stylist. Shape-ups or line ups have been around for almost 30 years now and still haven't lost their popularity, so give one a try!
1. Shape up with sideburns
This is a more complicated shape up haircut since it involves a smooth transition from the hairstyle to the sideburns. The upper hairline is shaved to make a rectangular, while the sideburns are creatively rounded.
Faux Hawk Fade Styles for Cool Guys
2. Simple Shape up haircut
This is the simplest shape up haircut, which involves straightening of the hairline by a sharp razor blade. The hair is cut pretty short, which makes the shaping quite easy. The hairline is carefully outlined to make natural-looking angles.
3. Partial shape up
This partial shape up is usually used for people with widow's peak since their hairline is hard to straighten. Only the lower part of the hairline is outlined. There is a smooth transition to the sideburns and the beard.
4. Classical shape up haircut
This is what the classical shape up haircut looks like. When it just appeared in 1990's, it was mostly favored by African American men, since their hair looks especially well with a shape up. Give this one a try!
5. Voluminous Hair with Shaved Short Back and Sides
To give the spikes on the top of your head the appearance of more volume, you should keep the rest of your hair much shorter. Use a beard trimmer to cut the back and sides of your hair to a short length without completely shaving the whole thing off.
6. Creative shape up haircut
There is a lot of room for imagination when it comes to clippers and razors. And shape up haircut is not an exception. You can go from straight to angular shapes as well as nice rounded form. Ask your stylist to get creative!
7. The shorter, the merrier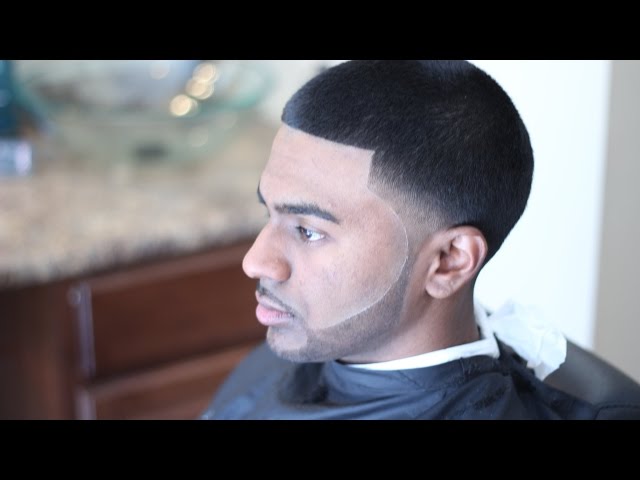 Shape up haircuts look especially well on very short hair. The shorter the hair, the more obvious the shape up. So, if you are ready for great designs, cut your hair very short, or even shave most of it off. You can get an amazingly unusual look.
8. Highlighted shape up
The shape up hairstyles are great when there is an obvious contrast between skin and hair color. So, if your skin is light, you can go for making the hair a shade darker. The look will be completed with a nice and creative shape up.
9. Slight line up haircut
If you are getting a shape up or line up haircut, it doesn't mean that the lines have to be sharp. You can go for a lighter version. In fact, this style can easily be achieved at home. Follow the hairline with the razor to create an outline and you are done. No need to go overboard with lines.
10. Shape up hairstyle for long hair
If your hair is long there is no reason to forget about shape ups. If you have a lot of stray hair, shape up is a complete must. The long sideburns can also be carefully outlined by the Clippers to create a surprisingly neat look.
11. Shape up with an undercut
Undercut hairstyles look great with shape ups. In fact, if you are getting an undercut, make sure to ask your stylist for at least a slight one. The shaved sides and line ups go very well together. You can even overlook the sideburns.
12. Thin sideburns
If your hair doesn't really need a shape up, your sideburns always do (if you wear them, of course). Give thin shaped up sideburns a try regardless your haircut. They look very fashionable and add you style.
13. Shape up hair with designs
No matter how simple and strict the haircut is, someone will always find a place for creativity. So, why don't you give it a try? Any place you are about to shave can be used for making great designs. Choose the one you like and go for it!
14. Careful shape up
If your hair and beard are quite long and you are out for a messy style, there is still room for a shape up. Curly hair is usually famous for being stray. So, no matter how disheveled you want to look, a careful shape up is in order to add a drop of style.
15. Shape up for facial hair
Facial hair often requires trimming in order to look neat. Shape ups for sideburns are a must for anyone who sports them. Ask your barber to go through some experiments, so you will get an idea of what can be done about your sideburns.
16: New Lines
The lines that you use in your style do not always have to be at the edge of your cut. Use a carefully controlled razor or trimmer to cut a very neat line into your hairstyle. Cut the line as long or as short as you like, according to your preference.
17: Angular Lines with Combed Grooves
To rock this style you will need to start by applying a lot of hair gel to your hair. Once it is stiff with gel, use a comb to carve grooves into your hair. All that you will need to do is insert the comb and pull upwards. A grooved style like this looks great with an angular line up.
#18: Boyish Curls with a Boxy Forehead
Soft curls can sometimes give men a very youthful appearance. If you want to make yourself look older without having to get rid of your curls, then you can give your style a manly boxy shape. A little light stubble will also help prevent you from looking too youthful.
#19: Fluffy Spikes with Boxy Shape Up
Fluffy hair is kept soft by regular washing and brushing. Use a minimal amount of hair gel when you are styling it so that it doesn't become stiff. Trim your hairline into a Boxy shape to help to open up your face and give yourself a more masculine look.
#20: Mad Spikes
If you have a spiked up style, you do not need to ensure that there is any regularity to your look. Keep your spikes a little bit crazy to show off a little bit of your personality. Trim your facial hair so that it is a little bit wild too.
#21: Two Halves
This style plays on the ideas of black and white, or yin and yang. Your head hair should be an intense block of color, whereas your beard hair should be thinner and more patchy. The contrast between the two areas looks cool.
#22: Thinner Hair
A shape up style can actually be used to make naturally thinner hair look much thicker. Shaping the hairline and adding lots of lines and angles are both brilliant ways to make your natural style look thicker. Ask your barber for advice if you are unsure.
23. High shape up
While shape ups are usually created on short hair, there is no reason to avoid them with a longer one. If the hairline is smoothly outlined, then the long hair will look amazing as well. This hairstyle is not very obvious but still looks great.
#24: Colored tips
If you have lots of spikes in your hair, put a few colored tips in your hair to help to give the style a little bit more texture. This can also help it to look a little bit softer.
#25: M style with minimum facial hair
An M style is a hairline which is very natural for some people but can be shaped in for others. The look can help to minimize a high forehead. Tease your hair forward into an M shape if this is not your natural hairline.
More Shape Up Haircuts
If you want to keep your shape up hairstyle looking sharp, you must maintain it regularly. Even a few stray hairs can blur the sharp lines of your style. There are plenty of tools available to help you to keep your lines straight if you do not have a steady hand, but you can just keep it easy by using a straight edged piece of plastic or card.
Simply hold the tool in place and then draw your razor up to it. This will shave any stray hairs but will prevent you from cutting into your style.
#26: The Ivy League Shape Up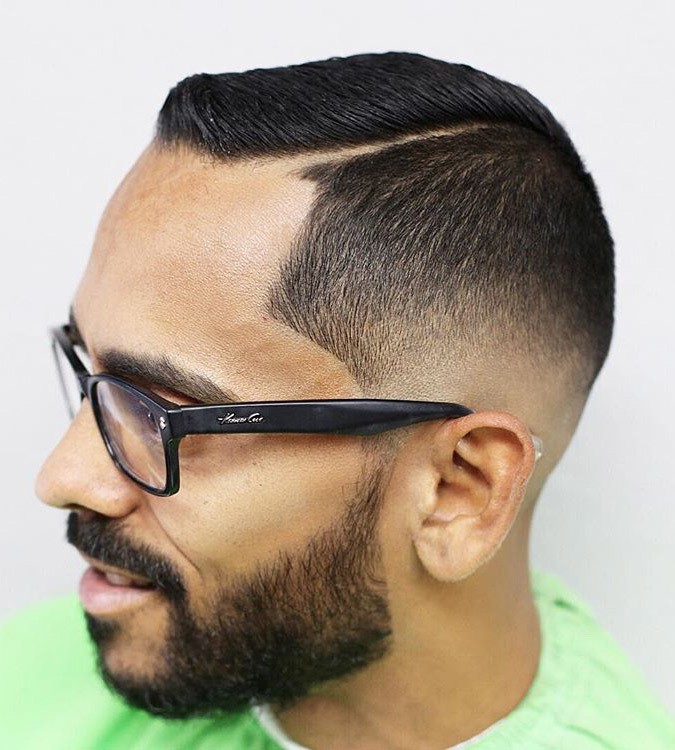 A shape up haircut can be really smart and educated. This cut is reminiscent of a lot of the Ivy League haircuts which were popular in previous decades. Keep your sides short and grow the middle section of your hair just a little longer. Thick tramlines will enhance your look.
#27: Lines and Curves
Geometric patterns and strong lines/curves are really in point for a shape up hairstyle. Use a razor to cut these shapes into your hair, keeping all of the lines sharp. You will have to maintain the style regularly to prevent hair regrowth from blurring your edges.
#28: Shape Up Fades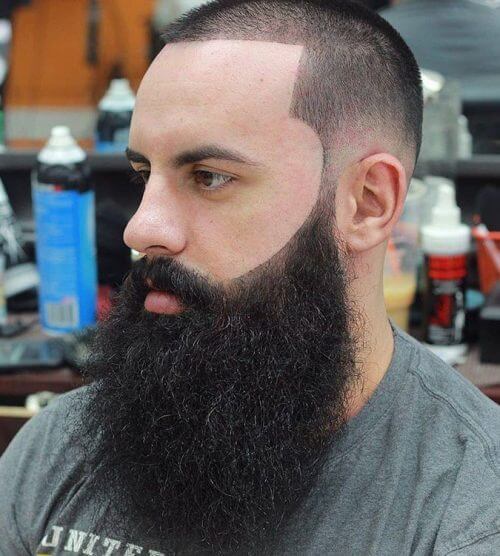 A thick beard will help to create a rugged manly look. Although your beard itself may look wild and unkempt, you should keep your lines looking sharp by trimming the hair at the edge of your beard. Give the top of your hair a number 1 cut to keep it short.
#29: Fading Shape Up
A fade style is a great look for guys who want something that is both sharp and subtle. As your hair goes further down the back of your head, your hair should get shorter or "fade out". You will have to work hard to maintain an even fade.
#30: Greaser Style
This shape up cut takes inspiration from the greaser style. Apply plenty of hair styling gel to your hair and then style it with a comb. The gel will allow you to cut strong lines into the hair itself using a fine tooth comb.
#31: Rollover
Use a comb to draw a strong side parting into your hair. From this parting, use your comb to roll your hair over from the roots. A little bit of styling gel will help to keep your hair in place.
#32: Diverging Lines
Instead of just cutting one tram line into your hair, cut two in instead. Rather than running parallel to each other, these lines can separate. One can follow your parting line whilst the other one can peel off downwards in an arch.
#33: Hair Art
If your stylist is good with a razor, then they will be able to put whatever art you want your hair. Try to come up with a design which expresses a little bit about your personality.
#34: Tousled Curls
Although a lineup style is often a well groomed and manicured look, you can mix things up a bit by teaming your lines with an amazing tousled style. Just run your fingers through your curls to create a disheveled look at the top of your head.
#35: Greaser Wedge
This greaser wedge will require you to use a lot of styling gel to mold your hair into the position that you want. Once your hair is formed into a wedge, use a comb to "cut" fine stylized lines into your 'do. This creates an amazing polished look.
#36: Slick Back
For a smooth and stylish look, slick back your hair so that you never have a hair out of place. Apply generous amounts of styling gel to your hair and then pull it back using a fine tooth comb. Only move your comb in one direction to make sure that you keep your lines in place.
#37: Side-Swept Spikes
This style looks instantly touchable. Get soft spikes by pulling your hair straight upwards from the roots. Give your style a little bit of direction by using your hand to gently sweep your hair over to one side.
#38: Classic Line Up with Stubble Facial Hair
If you're not into the idea of having a full, thick beard, but you still want a sharp line up cut with facial hair, you can blend thick head hair with light stubble. You will need to use a beard trimmer on its top setting every few days to keep your stubble in check.
#39: Boxy Cut
This Boxy Afro style is a great choice for the man about town. Keep the sides of your hair cut short whilst growing the hair on the top of your head. Do not allow your Afro to grow any width or it will ruin the boxy style.
#40: Side Slicked Hair
Instead of slicking your hair from front to back, slick it from one side to the other. Although you will need to keep the hair on the top of your head really long, you should cut the back and the sides so that they are really short. This sharp style will make people swoon.
#41: Spiked Pompadour with Tramlines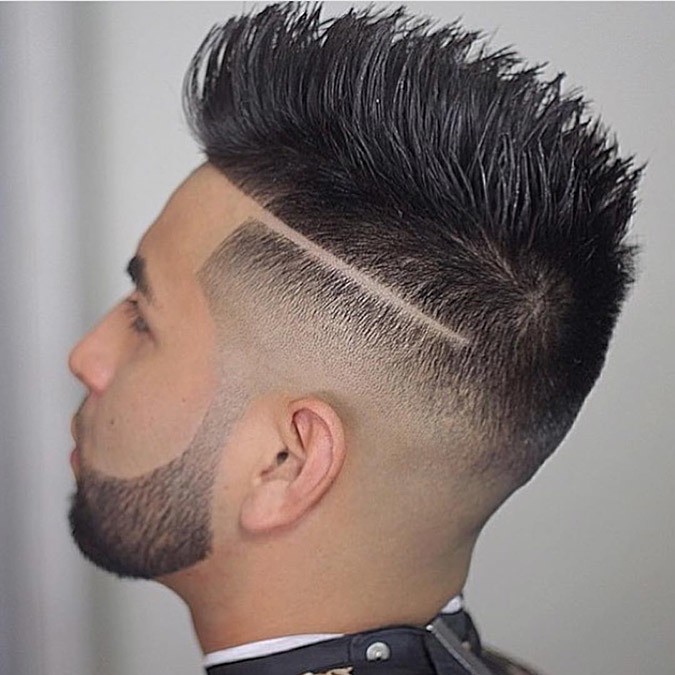 Spiked styles have been a popular look for guys for decades, but it is always possible to reinvent the look for today. Cut sharp thick lines are either side of your head to enhance your pompadour.
#42: Slicked Back and Wavy
The Slicked Back and Wavy style is a slightly softer take on the standard slicked-back style. Use a little bit less hair gel to prevent the gel from suppressing your waves. Grow a thick and full beard to assert your masculinity.
#43: Salt and Pepper
A little bit of silver can add a gorgeous salt and pepper color to your hair. Ask your stylist to add a touch of color to your tips. A few subtle touches will prevent it from looking as though your hair is graying.
#44: Training Curls
If you have much shorter hair, your curls will not be able to develop fully. Naturally, curly hair will take on a gorgeously touchable texture when it is cut short. This masculine look will keep your hair looking thick and tough.
#45: Double Line Up
Take the lineup style to the extreme by choosing this double line up style. Cut some sharp lines into your hair using a standard razor, and then use a special razor to mimic the style just behind the first frontier. This look will keep turning heads wherever you go.
We hope you have found what you've been looking for and are ready for experimenting. We recommend you start with the classical shape up haircut and then go on to more complicated versions. However, if you are up for some serious changes, you can go for outrageous designs right away. Good luck!