While there are endless possibilities for men's haircuts, a fluffy style gives a more natural look. It is versatile and can be worn in many different ways.
Whether you want to wear your hair down or up, the fluffy hair can be adjusted to fit your needs. Additionally, a fluffy hairstyle is easy to maintain and does not require much time or effort to keep it looking its best.
How to Get Fluffy Hair for Guys
There are a few things you can do to get fluffy hair for men.
First, you'll want to shampoo and condition your hair regularly. This will help to keep your hair healthy and hydrated, which is essential for achieving a fluffy look.
Secondly, you'll need to use a volumizing shampoo and conditioner to help give your hair some extra body and fullness.
Thirdly, you can use a wide-tooth comb to gently detangle your hair while it's wet. This will help prevent breakage and keep your hair looking fluffy and full.
Finally, you can use a blow dryer to help give your hair even more volume. Simply point the blow dryer upwards and use a diffuser attachment to dry your hair. This will help to create a voluminous look that is sure to turn heads.
In addition, you can use light-holding products such as get or hair cream to keep your style in place. With just a few minutes of effort, you'll have beautiful, manly fluffy hair that looks great all day long.
Effortless Fluffy Hairstyles For Guys
There are various ways to style your hair to create a fluffy manly look, and you can use different products to achieve the desired effect. So, experiment and find what works best for you.
1. Brush Up
This men's hairstyle is achieved by brushing your hair up and away from your face and then using a blow dryer to give it a nice, voluminous look.
This style is perfect for those who want to add a little bit of additional volume and texture to their hair.
2.

Layered Fluff
This is a perfect look for those guys who want a little bit of messy sweep with a fluffy hairstyle. It's got the layered look, but with a messier sweep over it gives a more relaxed feel.
Just add some hair gel and put your hair up while sweeping in a different direction.
3.

Fluffy Curls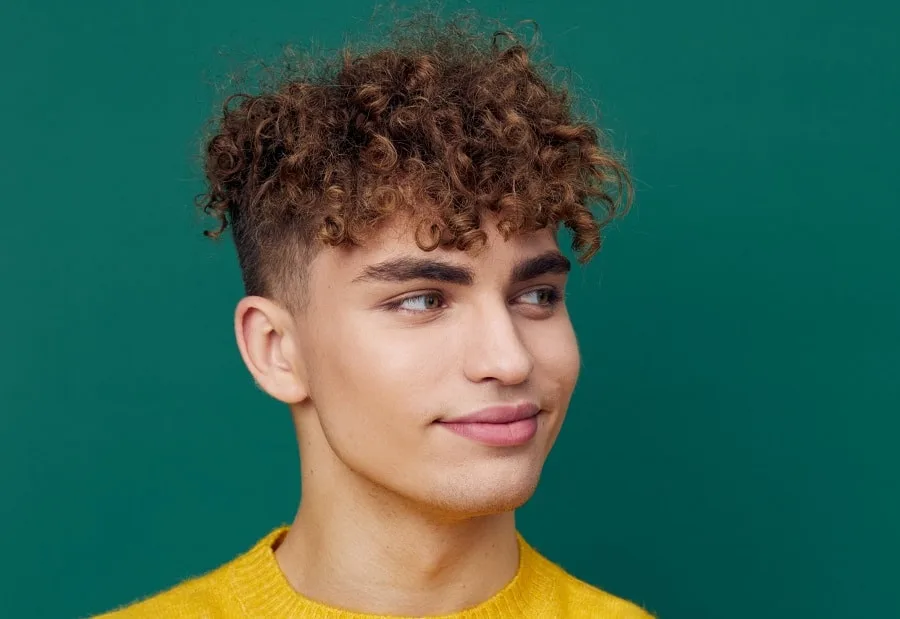 It can be a great choice for men who want to look stylish and handsome with their thick, curly hair. To achieve this style, keep your hair longer on top while the sides are short.
Add some curl-defining cream on the top to create definition and separation in your curls. Leave the curl messy to wear, both formal and casual.
4.

Side Part + Messy Sweep
This messy side-parted hairstyle is excellent for men with medium to long hair and who wants a look that is easy to style and maintain.
Start with dry hair and sweep over your hair with your fingers. It looks good on long-faced guys.
5.

Brush Up Long Bob
To get this look, brush the hair up and away from the face, and then secure it with a bob. The result is a fluffy, voluminous look.
This style would be best suited for guys who prefer a somewhat polished look without looking too messy or unkempt.
6.

Brush Forward
This fluffy hairstyle for men is the perfect way to style their hair in a matter of minutes. To get this look, start with air-dried hair and use bristles brush to comb your hair forward. The result is voluminous, thick hair.
7.

Voluminous Side Part
This puffed-up hairstyle is achieved by adding some hair cream to the hair and then combing your hair to the side, blow drying it.
Cut the sides short. The result is a voluminous, textured look that is perfect for any man.
8.

Airy Curls
The long wavy side part will add interest and dimension to your look, and the fuzzy texture will keep you looking polished while showing off the masculine side.
Just side part your long hair using your hand, and you are good to go.
9.

Modern Quiff
The fluffy quiff is achieved by backcombing or teasing the hair in the front of the head and then combing it over to the side while the sides are kept short.
The undercut on the side is achieved by trimming the sides and back of the head down to the skin or close to the skin
10. Curly Flyaways
It is a great way to get the cool, edgy look of curls with the carefree attitude of flyaways. Wash your hair with a volumizing shampoo, and then towel dry the hair. After that, tousle your hair with your finger.
11.
Retro Afro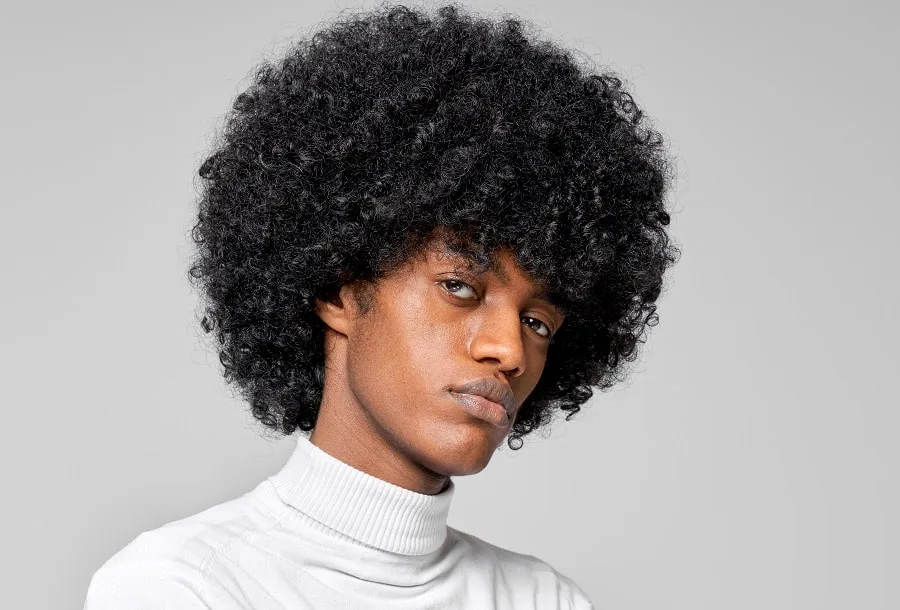 This throwback style is perfect for black guys who want to portray 90's style. It is achieved by allowing your hair to grow out and become very full.
Use a wide-toothed comb to detangle your hair and make it fluffy. Finally, use a strong hold hairspray to keep your afro in place.
12. Afro Flat Top
To style this look, start by fading the sides of your hair down to a very short length. Then, use a wide tooth comb to brush up and flatten the top of your hair.
You can use hairspray to help keep your hair in place. This look is perfect for those with naturally curly or Afro-textured hair.
13.

Blow Out
Start by using a volumizing shampoo and conditioner to add body and texture to your hair. Then, use a heat protectant spray before blow drying your hair with a paddle brush.
Start at the roots and work your way down, making sure to point the dryer downwards to avoid frizz. Finish by using a medium-hold hairspray to keep your blowout looking sharp all day long.
14.

Blonde Hang Down
This fluffy hairstyle is perfect for guys who want a stylish yet low-maintenance look. To style, simply blow dry the hair with a side part. Then, just leave the hair as it is to hang down from the top.
15.

Side Sweep + Brush Back
It can be worn with a variety of looks, from casual to formal. To achieve this hairstyle, simply brush your hair back from the forehead, sweeping it over to the side. Use a small amount of hair spray to hold the style in place.
16.

Fluffy Afro
For best results, start with clean, damp hair and use a volumizing mousse to add lift at the roots. Then, use a large round brush to blow-dry your hair in sections, working from the roots to the tips.
Once your hair is completely dry, apply a small amount of pomade to your fingers and lightly run them through your hair to help tame any frizz.
17.

Two Block
This hairstyle involves slightly shortening the hair on the side of the head while keeping the top and front long.
The hair is then styled into two distinct blocks, which can be parted in the middle or swept to the side. Two block hairstyle is a reflection of Korean men's sophisticated style.
18.

Fluffy Frizz
This look is achieved by using a curling iron to create loose, messy curls and then using a hair cream to add volume. Finish it up using some hair spray to hold the curls in place.
19.

Long Swept Back
You can achieve the fluffed look by combing the hair back and away from the face and then using a hairdryer to give it a sleek and polished finish.
Once you have the desired amount of volume, use some light-hold hair spray.
20.

Short Fluffy Undercut
It's a stylish yet easy-to-maintain hairstyle that looks great on guys of all ages. To get the look, simply have your barber or stylist create a short undercut on the sides and back of your head.
Then, use a brush or your fingers to sweep your hair back. For a more textured look, add a small amount of hair cream to your hair.
21.

Undercut with Messy Spike
This hairstyle is achieved by tapering the sides and back of the head short while leaving the top longer. The top is then styled into angled spikes.
It's a low-maintenance style that can be dressed up or down, and it looks good on anyone.
22.

Wavy Top
For men who are looking for a modern fluffy hairstyle, a wavy brushback is a great option. This hairstyle is achieved by using a thermal brush to backcomb the hair.
The result is a textured and wavy look that is perfect for any occasion.
23.

Fluffy Hair for Old Man
There's nothing more attractive than an old man with a head of messy fluffy hair. It is an effortless style, and you just need to run your finger through your head to sweep the hair. Eventually, it gives a rugged and refined look.
The most important thing to remember when trying to achieve the perfect fluffy hairstyle is to work with what you've got. With a little time, effort, and experimentation, you'll be well on your way to achieving the perfect fluffy hairstyle for you.