Men who have a widow's peak usually have different sentiments about it. Widow's peak hairstyles can help you whether you want to flaunt or to hide it. If you believe that a widow's peak doesn't look good, you can find several hairstyles to make it appear as subtle as possible.
If you are proud of this feature and want to flaunt it, there are plenty of options to help you do it and enjoy the result. There are many men who have a widow's peak and most of them would like to do something about it. Are you one of them? If yes, which group do you belong to?
What Is a Widow's Peak?
A widow's peak is a v-shape in the hairline at the center of the forehead. The bottom of the "v" points toward the nose. A widow's peak can be subtle or very noticeable. Some people's widow's peaks are only visible when they pull their hair back from their forehead. Both men and women can have them.
Popular Widow's Peak Hairstyle Ideas
Many men and women in the world are not satisfied with the way they look. Many men believe that the widow's peak is not something they should be proud of. However, with the right approach, you can make this peak more attractive than any other feature. These widow's peak hairstyles will make you review your approach to this matter.
All you have to do is take a look at how other men decided to arrange their hair. You might decide that the widow's peak is worth flaunting and outlining. Below are some of the best widow's peak hairstyles for your consideration.
1. Tousled Top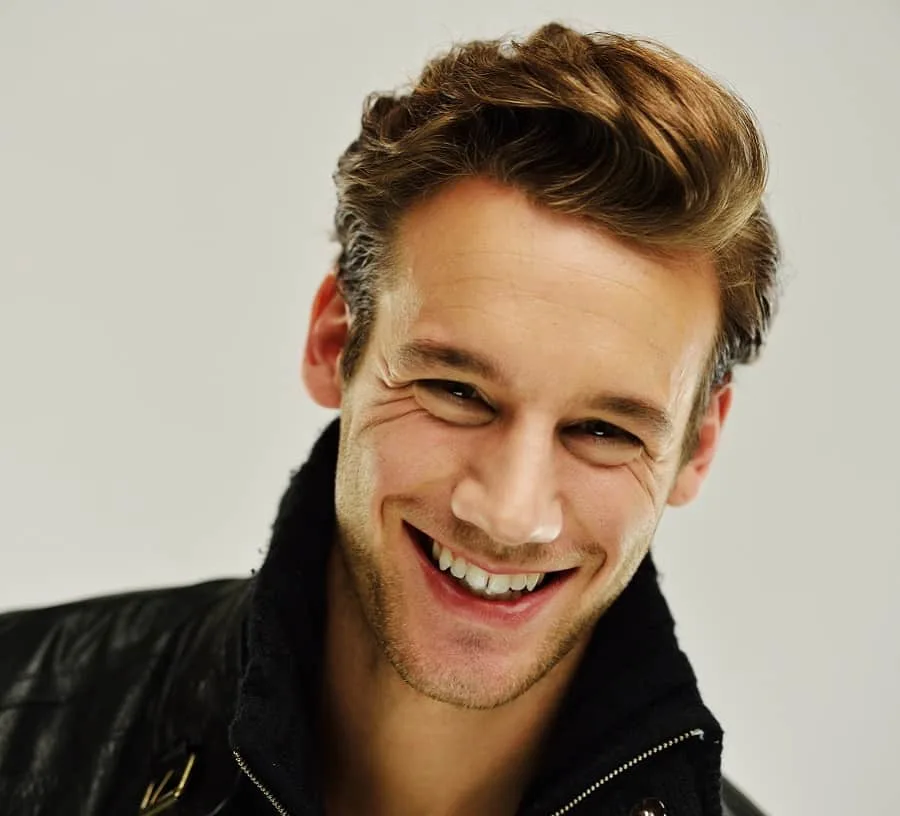 To start with, tousled waves keep the focus away from a widow's peak for those who are reluctant to hide it. Go for a layered long top that shortens towards the sides and back. The waves are swooped on one side with a short facial stubble completing the debonair style.
2. Slicked Back Ponytail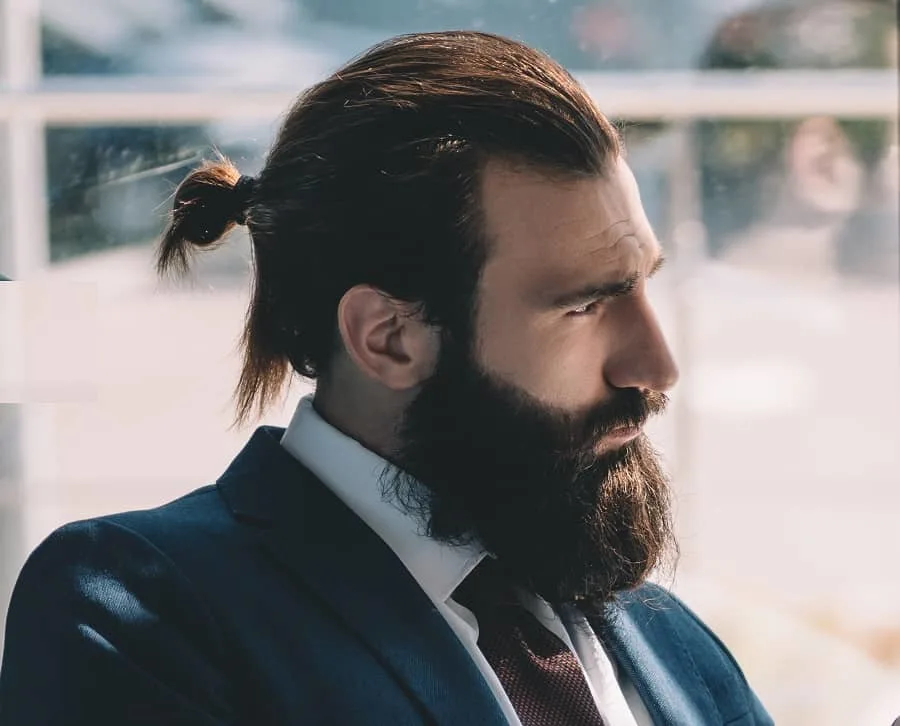 On the counterpart, this sophisticated widow's peak hairstyle allows you to flaunt that prominent imperfection with utmost confidence. Grow the mane to shoulder length and slick it back in a chic loop ponytail. Finish off with a full beard and mustaches for a rugged appeal.
3. Silver Fox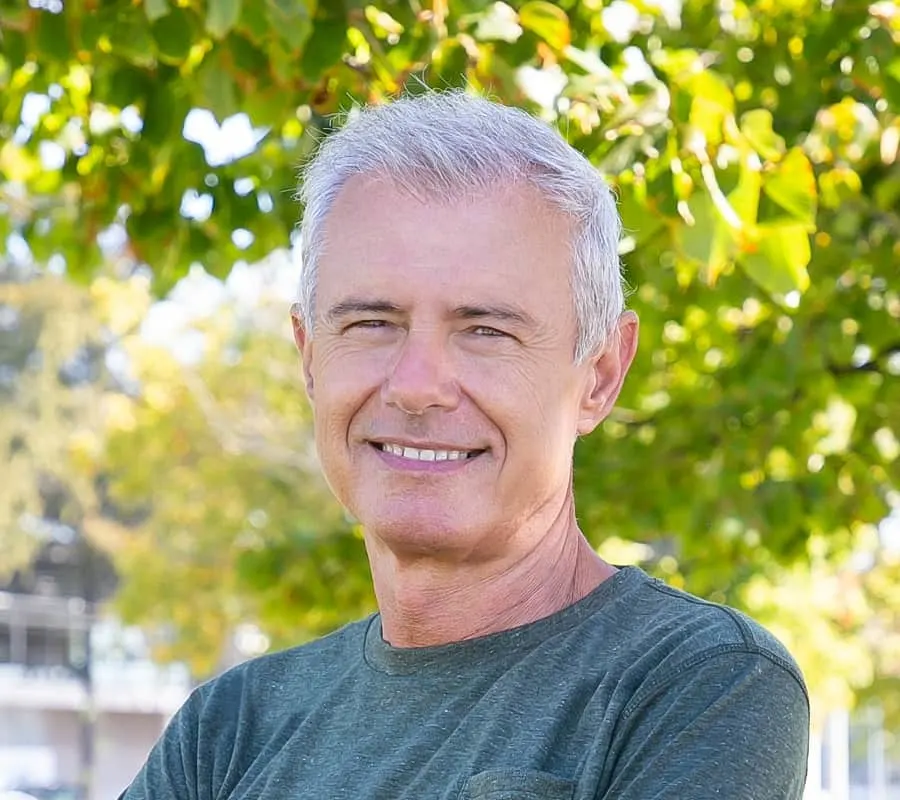 Losing hair is a part of the aging process and a receding hairline often leaves a V-shaped patch at the center of the forehead. Elderly men can sport a silver fox look by clipping the hair short along the sides with a slightly longer top that is combed side-wise. Simply graceful!
4. Platinum Quiff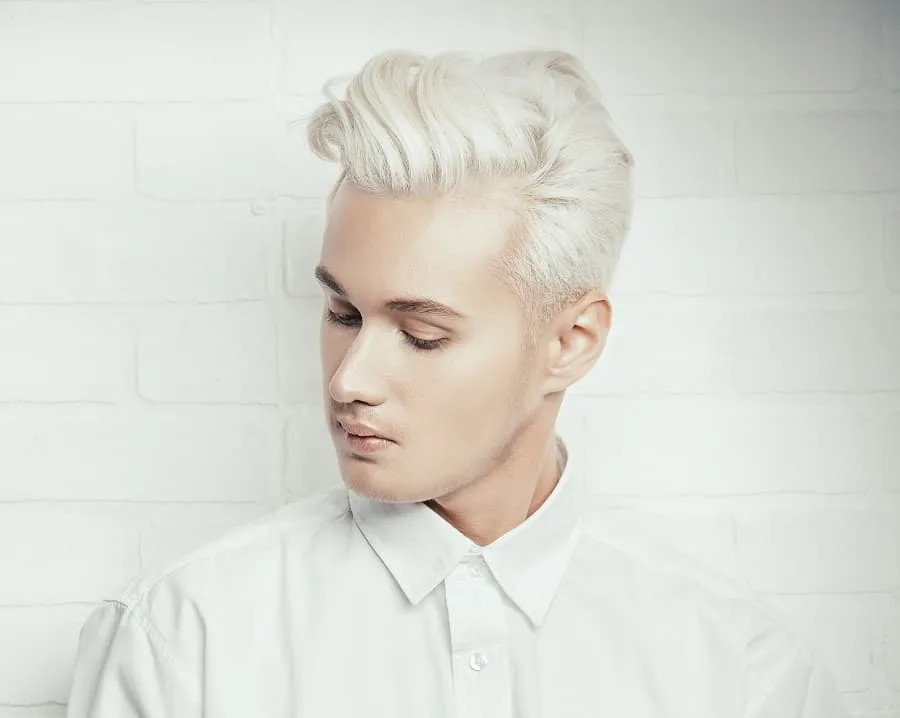 Keep your hair game strong by dying the mane in an icy platinum blonde hue. The long top with tapered sides is swept rather roughly to one side. Natural waves add some more bend and body to the hairstyle while accentuating a heart-shaped face.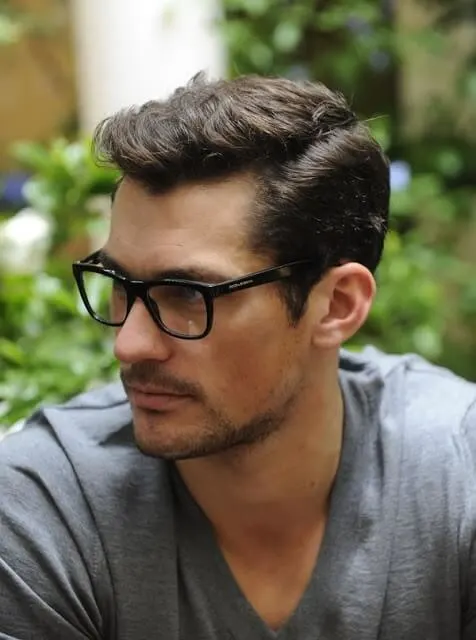 If you have wavy hair, you can use the widow's peak as a great starting point for a wavy pompadour. Men with widow's peaks can flaunt the best possible pompadours since they can give them prominence.
6. Elvis do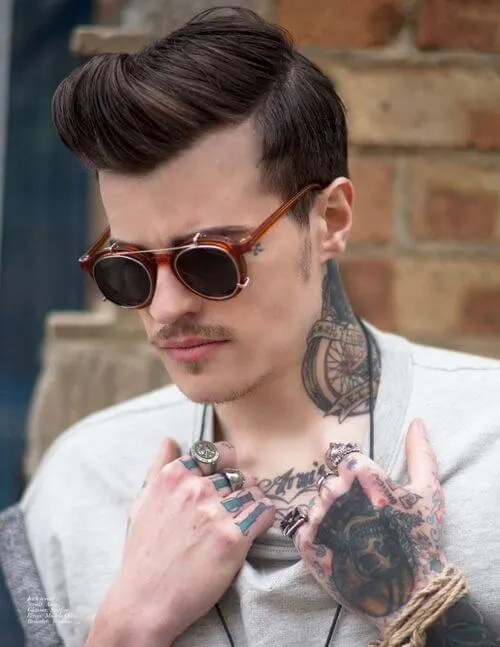 Elvis Presley had a widow's peak and found many different ways to style his hair. You can give a small modern touch to his creations and come up with a unique and stylish way to flaunt your hair.
Haircuts and Hairstyles for Men With Receding Hairline
7. Men's Bangs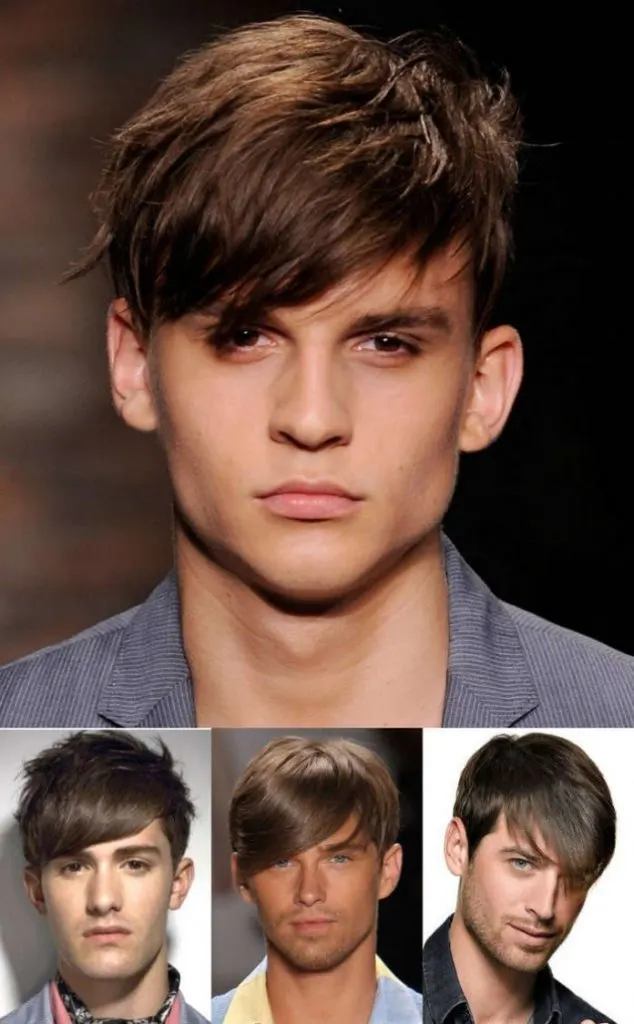 The simplest way to hide your peak is to grow bangs. This widow peak hairstyle doesn't just allow you to cover up your forehead, it gives you a romantic and unusual look. But remember, bangs need care.
Know The Difference Between Widows Peak and Receding Hairline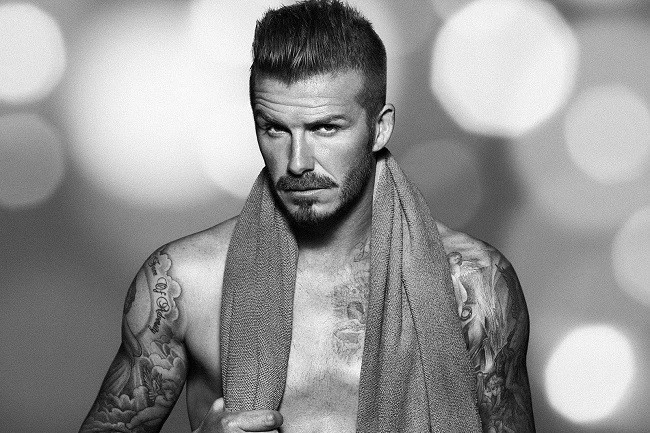 If your peak is not too prominent and you are not afraid to let it show, you can use the most stylish approach of the 21st century and create spikes. All it takes is some hair gel and a few upward strokes.
9. Eye-covering bangs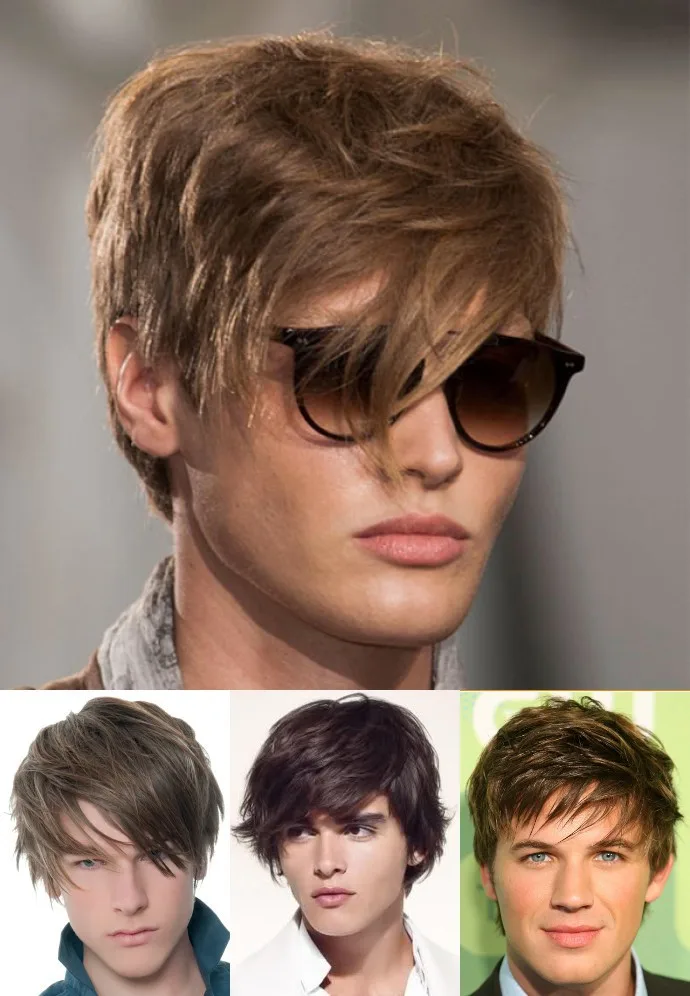 Eye-covering bangs is another great way to hide the peak. Besides being a good way to keep the widow's peak out of sight, it's a great approach to a stylish modern hairstyle. This is close to the boy band fashion.
10. Short and simple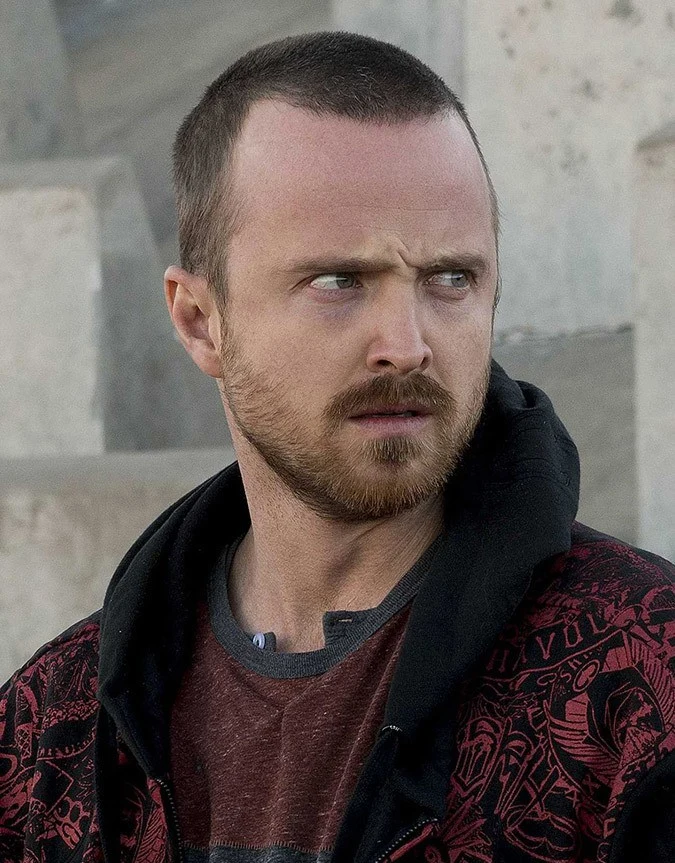 There is nothing more manly than this short and simple widow's peak hairstyle. The hair is cut all the same length to reveal a prominent forehead. If you add a beard to this hairstyle, you'll look even more fantastic.
11. Comb over
A taper fade with a comb over is one of the most popular hairstyles right now. If you have a widow's peak, there is no need to avoid it. Try styling your hair this way, you just might like it.
12. Side part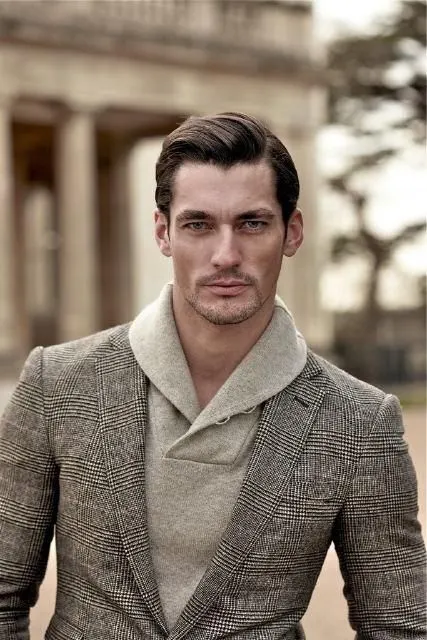 A good way to soften the appearance of you widow's peak is to create a side part. The hair is brushed to one side of the part and makes the peak appear smaller. The overall look is respectable and appealing.
13. Cowlick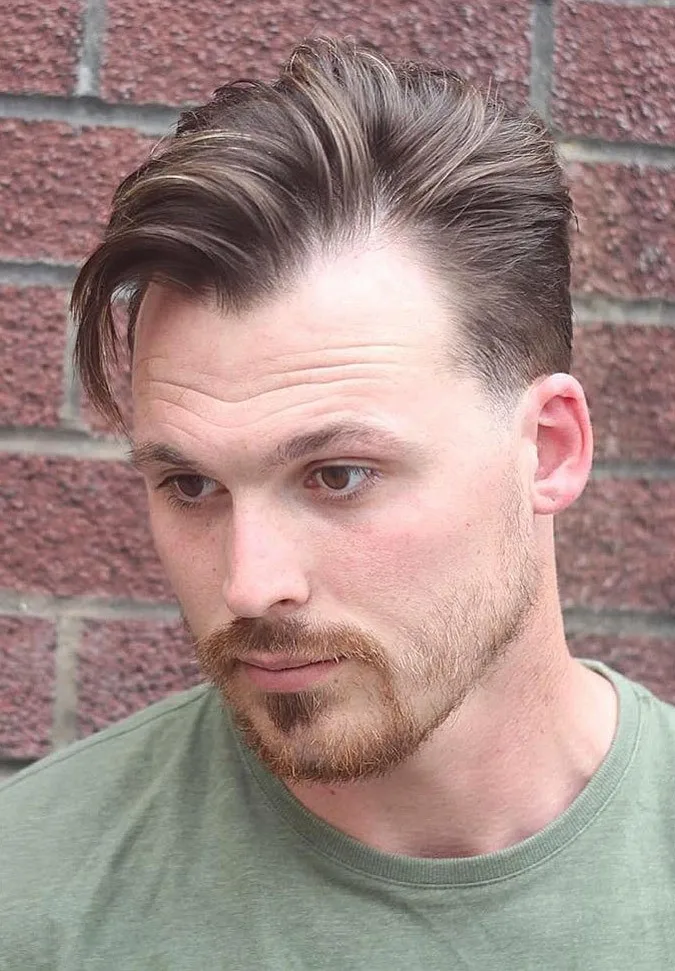 Big cowlick hairstyles are a thing of the past, but there is also a modern approach. Leaving a few strands hanging down your forehead is a simple way to outline your wonderful widow's peak and make you look stylish.
14. Spiky bangs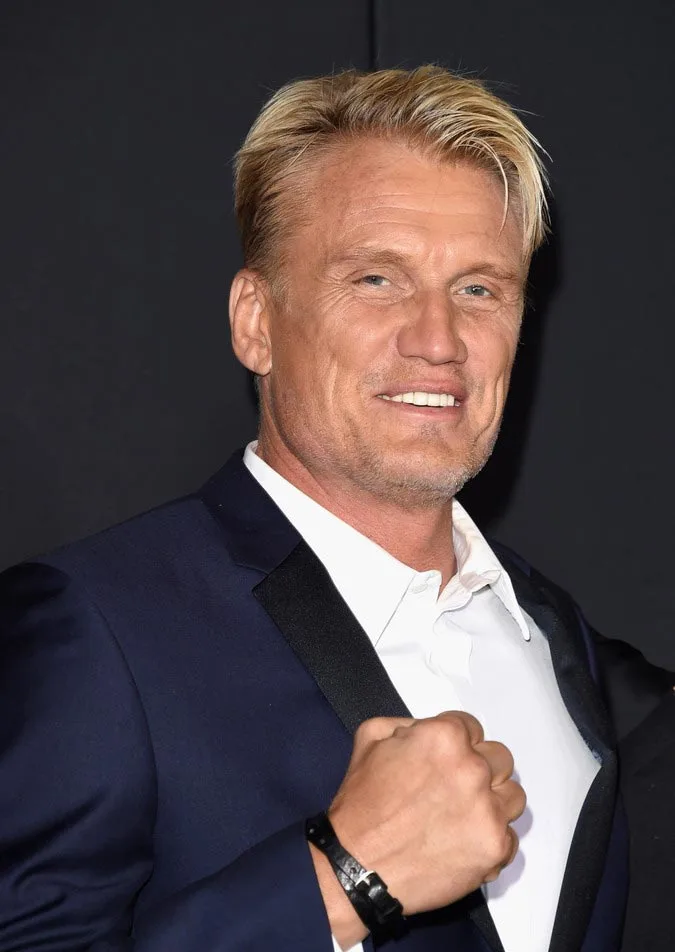 This widow's peak hairstyle involves creating spiky bangs. It's an easy task if you make a side part and use some hair gel to spike up your hair just a little. Brush the bangs to one side and voila!
15. Smooth spikes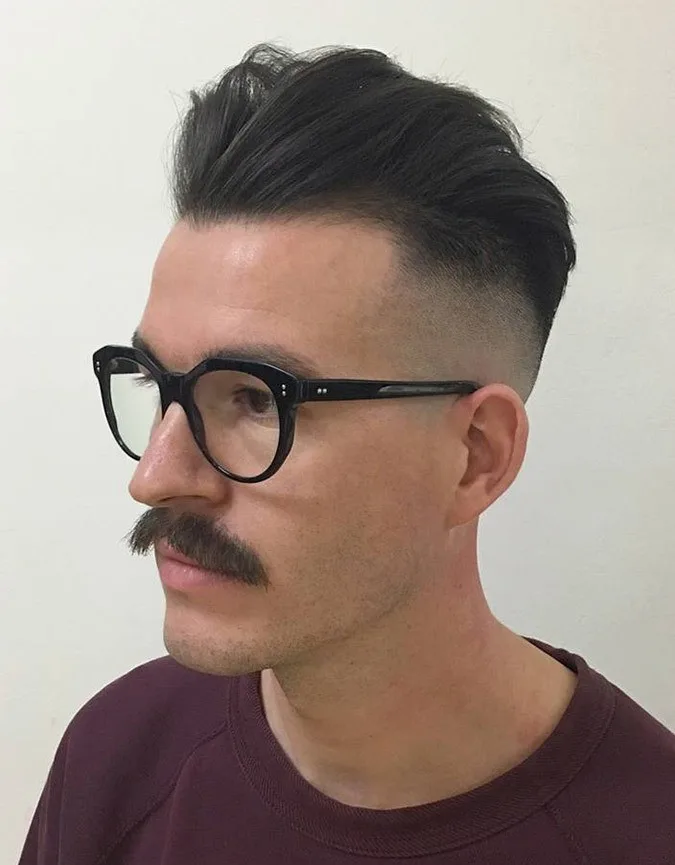 If you have straight hair, you can enjoy this simple spike comb over. You have to get ready to use some hair gel or hairspray to keep the hairstyle impact. The sides can be tapered or you can create an undercut.
Popular Short Beard Styles for Men
16. High and natural
If you have thick and wavy hair, you can create a natural spike by cutting the hair about 1 – 2 inches long. The thickness of the hair will allow you to flaunt your widow's peak while sporting stylish spikes.
17. Medium-length
Keep the hair all the same length but long enough to have it go down your neck. You can also leave it to be about 2 inches long on top in order to create comb-overs with some volume.
18. Stylish and elegant
This high taper fade can make any men look extremely fashionable. The hair on to is left long to create a voluminous combed over pompadour. This widow's peak hairstyle allows you to flaunt your features.
19. Slightly spiked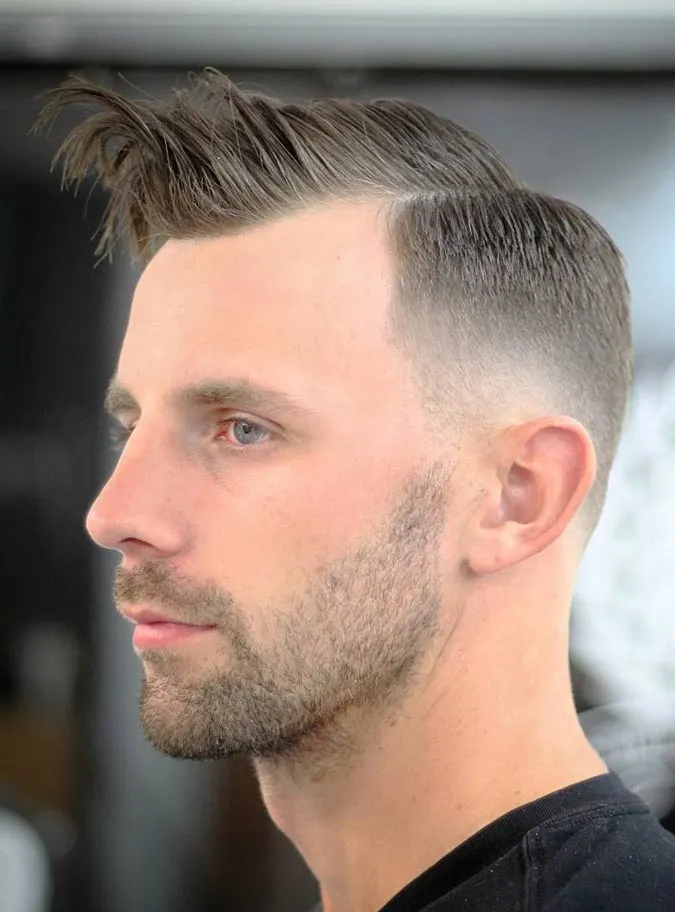 You can go for various unique hairstyling methods that involve spikes. You can hardly go round. Take a look at what's in the picture. It's a smart way to outline the widow's peak and sport some spikes.
20. 20th-century style
Long hair on top and the sides allows you to create this respectable hairstyle of the 20th century. The widow's peak makes the pompadour more prominent and helps you make the image even more attractive.
21. The wave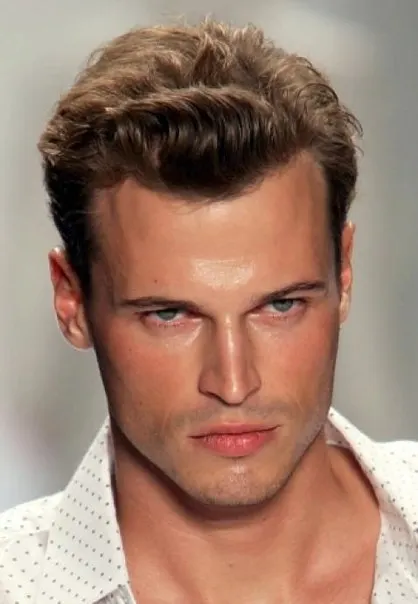 If you are a man with curly or wavy hair, you can enjoy this fashionable widow's peak hairstyle. You'll need a curling iron to straighten out your hair and curl it upwards. What a great way to show off your widow's peak!
22. Side swept comb-over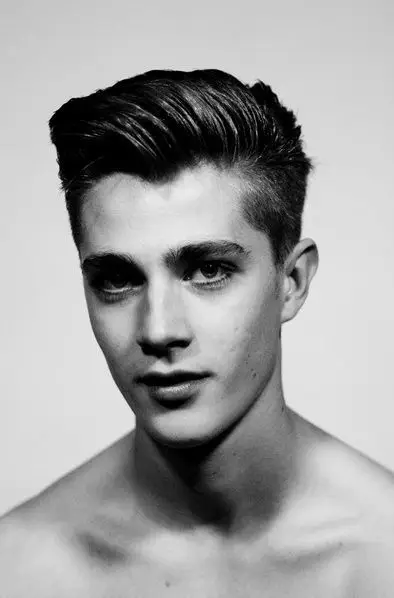 If you have long hair on top, you can create this side swept comb over that diverts the attention from your widow's peak. You'll need a lot of hair gel and a few seconds in front of the mirror.
23. Men's Layers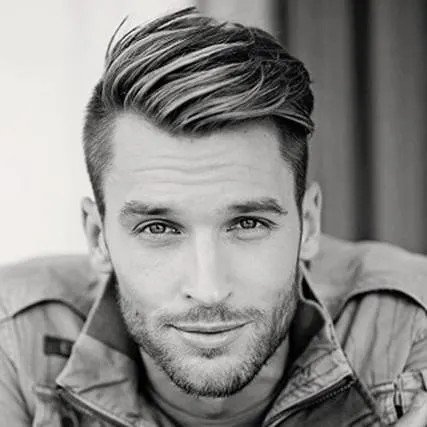 This widow's peak hairstyle hides the peak by swiping the top hair to one side. The longer your hair is, the easier it will be to hide the peak.
Popular Quiff Hairstyles for Men
24. Long bangs
This is another approach to long bangs that can help you make the widow's peak look smaller. Such long and wavy bangs are a great way to take the attention away from your forehead.
25. Low pompadour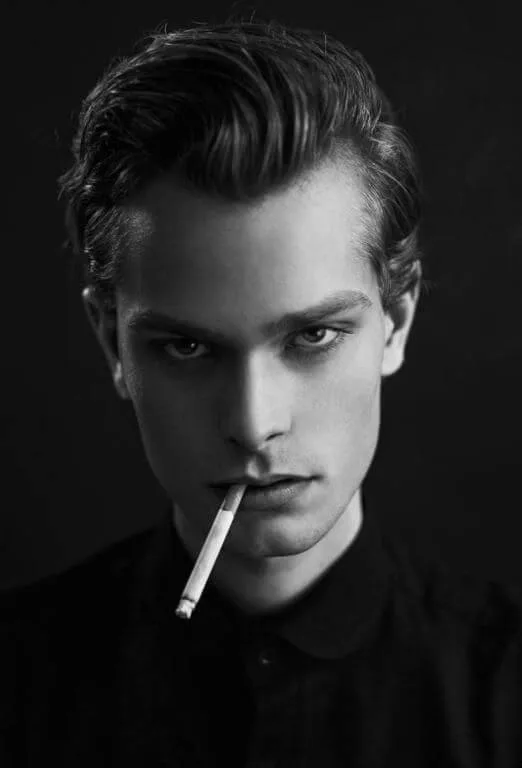 A low pompadour can be considered the classics for men with widow's peak. It's a prominent style that helps you flaunt the feature while giving it some softness.
26. Asymmetrical spikes
Asymmetrical hairstyles are popular nowadays. You can use the asymmetry to visually change the appearance of your hairline. This way the widow's peak will look even more attractive yet subtle.
27. Short and spiky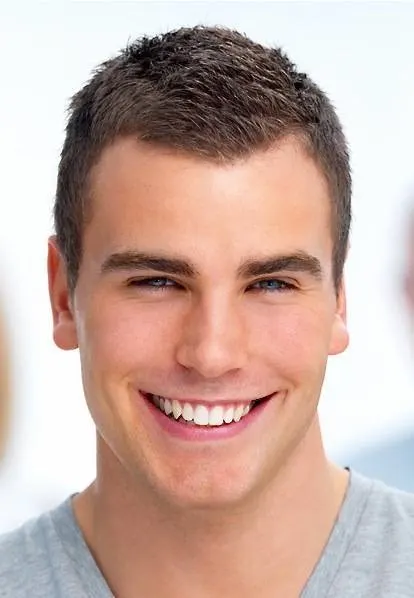 This stylish men's undercut is the best you can do if you have a widow's peak but not a receding hairline. This hairstyle is easy to maintain and it opens up your face to make you look attractive and easy-going.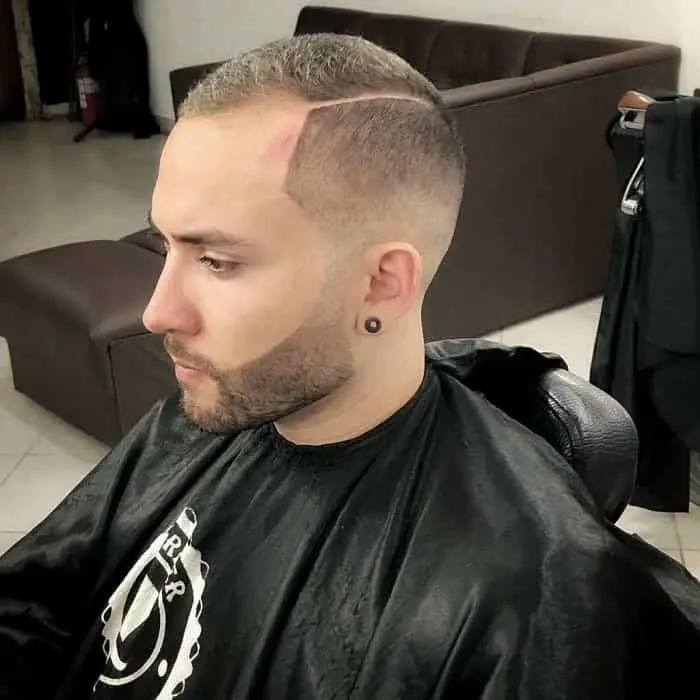 Ways To Get Rid of a Widow's Peak
Not everyone loves the look of a widow's peak. If you have one, and it isn't the style you want to sport, there are options to remove it.
These professionals will be able to help you find the solution that is best for getting rid of it and your style.
Some options to remove a widow's peak include using the methods discussed below.
Depilatories
Depilatories are creams that will remove hair. You want one made especially for the face. They are easy to apply and last longer than taking a razor to the unwanted hair. It's essential to follow the directions precisely. People have horror stories of leaving a depilatory on for too long.
Electrolysis
An electrologist performs this procedure by inserting a wire into the hair follicle just below the skin. The wire carries an electric current to the follicle's root, which permanently destroys the root. It may take several appointments for treatment to be successful.
Laser Hair Removal
With this method, a laser sends out a light that goes into the hair's pigment. This light transforms into heat, and the heat damages the hair follicles. The hair follicles are where new hair growth begins. So laser hair removal stops hair from growing before it can start.
Tweezing
Tweezing may be the first resort born out of frustration if you want to transform your widow's peak. But, it is simple to do and free. The hair will grow back, so it is a safe way to see exactly how much you want to take away.
Be sure to get a high-quality and precise tweezer. A good tweezer will make it easier to pluck the hair rather than break it. Then, once you have found the hairline you want, you can tweeze new growth as needed to maintain it.
Waxing
Waxing is a very effective hair removal option. The downside is that waxing can be painful on a sensitive area close to the bone, like the forehead.
There are many at-home kits available in drugstores. Most do not require heating the wax. Instead, you just rub a waxed strip between your hands to warm it before applying it to the hair. It is best to try a small area first if you do it at home. Then you pull the strip and the hair with it. The kits usually come with oil to take away excess wax.
If you want to have the widow's peak waxed in a salon, it could be a good idea to consult with an aesthetician to see if they have done this before and what kind of wax they use.
The skin can become a little red after you pull the wax away, so it is best to wax with enough time for the redness to calm down, say before you go to sleep.
Widow's Peak vs. Receding Hairline
A widow's peak can sometimes indicate a receding hairline. If someone has suddenly developed a widow's peak, it is a good indication that something has changed. It's a good idea to check with your doctor.
A receding hairline can sometimes take the shape of a widow's peak as hair is lost because hair grows thinner and breaks more easily as we age. The change can take place slowly, making it hard to discern.
It's often helpful to ask a partner or friend who sees you frequently if they notice any changes in the hairline. They can sometimes spot differences, like either a new widow's peak or a receding hairline, more easily. Looking at older pictures of yourself is also a great way to see what hairline changes may have occurred.
FAQs
Here are some answers to frequently asked questions about widow's peaks.
Is a gene for a widow's peak dominant or recessive gene?
A gene causing a widow's peak is dominant.
What's the difference between a widow's peak and cowlicks?
A cowlick is a section of hair that grows in a direction different from the rest of your hair. It usually creates a wave or a bump. Some cowlicks are highly noticeable. Others are hard to discern.

A widow's peak is hair that grows a v-shape at the hairline. A widow's peak can also have a cowlick.
How can I fix a widow's peak?
There are many ways to change or hide a widow's peak. Some possibilities include wearing bangs and hair removal. Talking to your hairdresser, an aesthetician, or a doctor will give you a great idea of the options.

For women who wonder how to style it, consider side-swept bangs or long layers that hit around ear level. In addition, women will want to avoid center parts and tight ponytails. A comb-over can work well for men, as will a pompadour style.
Can I get rid of a widow's peak permanently?
Yes. Electrolysis will permanently stop hair from growing into a widow's peak. An electrologist inserts a wire into the hair follicle just below the skin. The electric current destroys the hair follicle root permanently. The procedure can take several appointments.
How common is a widow's peak?
It's fairly common. Celebrities like Kerry Washington, Nicole Kidman, and Keanu Reeves are just a few well-known people who rock widow's peaks.
Does a widow's peak indicate balding?
Yes and no. A widow's peak can indicate balding as the hair thins into the v-shape. But it's not a given that it means balding if you see one. The peak could also be a feature from birth.
Whether you are looking for widow's peak hairstyles to flaunt or hide your widow's peak, you can always find a few suitable options. Take another look at our list and take your pick.