Men who have a widow's peak usually have different sentiments about it. Widow's peak hairstyles can help you whether you want to flaunt or to hide it. If you believe that a widow's peak doesn't look good, you can find several hairstyles to make it appear as subtle as possible.
If you are proud of this feature and want to flaunt it, there are plenty of options to help you do it and enjoy the result. There are many men who have a widow's peak and most of them would like to do something about it. Are you one of them? If yes, which group do you belong to?
Popular Widow's Peak Hairstyle Ideas
Many men and women in the world are not satisfied with the way they look. Many men believe that the widow's peak is not something they should be proud of. However, with the right approach, you can make this peak more attractive than any other feature. These widow's peak hairstyles will make you review your approach to this matter.
All you have to do is take a look at how other men decided to arrange their hair. You might decide that the widow's peak is worth flaunting and outlining. Below are some of the best widow's peak hairstyles for your consideration.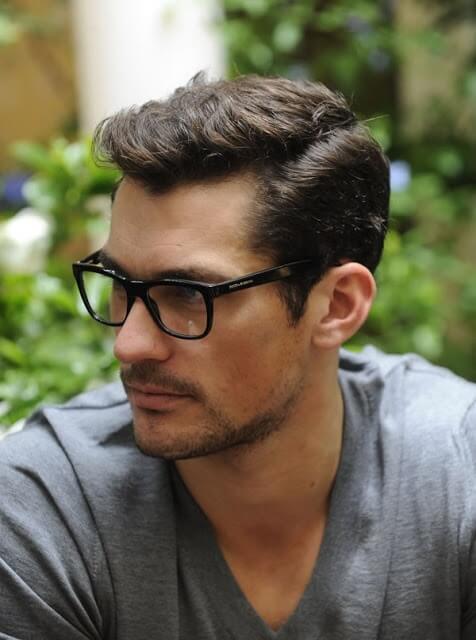 If you have wavy hair, you can use the widow's peak as a great starting point for a wavy pompadour. Men with widow's peaks can flaunt the best possible pompadours since they can give them prominence.
2. Elvis do
Elvis Presley had a widow's peak and found many different ways to style his hair. You can give a small modern touch to his creations and come up with a unique and stylish way to flaunt your hair.
Haircuts and Hairstyles for Men With Receding Hairline
3. Men's Bangs
The simplest way to hide your peak is to grow bangs. This widow peak hairstyle doesn't just allow you to cover up your forehead, it gives you a romantic and unusual look. But remember, bangs need care.
Know The Difference Between Widows Peak and Receding Hairline
If your peak is not too prominent and you are not afraid to let it show, you can use the most stylish approach of the 21st century and create spikes. All it takes is some hair gel and a few upward strokes.
5. Eye-covering bangs
Eye-covering bangs is another great way to hide the peak. Besides being a good way to keep the widow's peak out of sight, it's a great approach to a stylish modern hairstyle. This is close to the boy band fashion.
6. Short and simple
There is nothing more manly than this short and simple widow's peak hairstyle. The hair is cut all the same length to reveal a prominent forehead. If you add a beard to this hairstyle, you'll look even more fantastic.
7. Comb over
A taper fade with a comb over is one of the most popular hairstyles right now. If you have a widow's peak, there is no need to avoid it. Try styling your hair this way, you just might like it.
8. Side part
A good way to soften the appearance of you widow's peak is to create a side part. The hair is brushed to one side of the part and makes the peak appear smaller. The overall look is respectable and appealing.
9. Cowlick
Big cowlick hairstyles are a thing of the past, but there is also a modern approach. Leaving a few strands hanging down your forehead is a simple way to outline your wonderful widow's peak and make you look stylish.
10. Spiky bangs
This widow's peak hairstyle involves creating spiky bangs. It's an easy task if you make a side part and use some hair gel to spike up your hair just a little. Brush the bangs to one side and voila!
11. Smooth spikes
If you have straight hair, you can enjoy this simple spike comb over. You have to get ready to use some hair gel or hairspray to keep the hairstyle impact. The sides can be tapered or you can create an undercut.
Popular Short Beard Styles for Men
12. High and natural
If you have thick and wavy hair, you can create a natural spike by cutting the hair about 1 – 2 inches long. The thickness of the hair will allow you to flaunt your widow's peak while sporting stylish spikes.
13. Medium-length
Keep the hair all the same length but long enough to have it go down your neck. You can also leave it to be about 2 inches long on top in order to create comb-overs with some volume.
14. Stylish and elegant
This high taper fade can make any men look extremely fashionable. The hair on to is left long to create a voluminous combed over pompadour. This widow's peak hairstyle allows you to flaunt your features.
15. Slightly spiked
You can go for various unique hairstyling methods that involve spikes. You can hardly go round. Take a look at what's in the picture. It's a smart way to outline the widow's peak and sport some spikes.
16. 20th-century style
Long hair on top and the sides allows you to create this respectable hairstyle of the 20th century. The widow's peak makes the pompadour more prominent and helps you make the image even more attractive.
17. The wave
If you are a man with curly or wavy hair, you can enjoy this fashionable widow's peak hairstyle. You'll need a curling iron to straighten out your hair and curl it upwards. What a great way to show off your widow's peak!
18. Side swept comb-over
If you have long hair on top, you can create this side swept comb over that diverts the attention from your widow's peak. You'll need a lot of hair gel and a few seconds in front of the mirror.
19. Men's Layers
This widow's peak hairstyle hides the peak by swiping the top hair to one side. The longer your hair is, the easier it will be to hide the peak.
Popular Quiff Hairstyles for Men
20. Long bangs
This is another approach to long bangs that can help you make the widow's peak look smaller. Such long and wavy bangs are a great way to take the attention away from your forehead.
21. Low pompadour
A low pompadour can be considered the classics for men with widow's peak. It's a prominent style that helps you flaunt the feature while giving it some softness.
22. Asymmetrical spikes
Asymmetrical hairstyles are popular nowadays. You can use the asymmetry to visually change the appearance of your hairline. This way the widow's peak will look even more attractive yet subtle.
23. Short and spiky
This stylish men's undercut is the best you can do if you have a widow's peak but not a receding hairline. This hairstyle is easy to maintain and it opens up your face to make you look attractive and easy-going.
Whether you are looking for widow's peak hairstyles to flaunt or hide your widow's peak, you can always find a few suitable options. Take another look at our list and take your pick.