Actors love to experiment with their hair and medium hairstyles are seen commonly among famous celeb male actors. They may not receive as much criticism as their female counterparts, but they still set the style bar in many ways.
When you want to make the most of your hair, look to the popular male actors with medium hair for guidance as to what's hot. Though it often seems like men all wear the same styles, not everyone can embrace every trend.
This list of actors with medium hair highlights a range of textures and colors, so there's something for everyone.
Renowned Actors With Medium Hair
Who said guys can't have unique hairstyles? There's no longer a one-size-fits-all for medium-length hair, and these actors prove it better than the average joe. Here are our favorite medium hairstyles donned by famous actors.
1. Brad Pitt – Side Parted Waves
This Hollywood icon has done a bit of everything with his hair, but Pitt always seems to return to a mid-length style that shows off his signature good looks.
Though the sides and back have a little length, it's all neatly smoothed around the ear and layered. The top flows a little longer with some layers to add volume, and the blonde highlights add depth.
2. Ross Lynch – Bleach Blonde
One of the coolest blonde actors out there. Lynch must think that blondes have more fun because he fully embraces the platinum tresses.
The layers might be tough to spot, but they are there, tucked away within the unique arrangement that disguises any concept of a part.
Some added length at the back gives Lynch a boyish appearance and completes the fun look.
3. Robert Sheehan – Messy Curls
He might play a long-haired celebrity actor and superhero on television, but this young actor rocks his medium curls in real life.
Instead of taming the messy locks, Sheehan lets them fall where they may, thanks to a shaped-up cut that frames his face.
4. Andrew Garfield – Quaff + Trimmed Waves
Whether he's swinging from spiderwebs, composing a masterpiece, or saving fellow soldiers, Andrew Garfield knows how to manage his mane.
The thick waves might prove problematic if not neatly trimmed on the sides and back. Keeping the top slightly longer and with some added height sets off his natural waves with a quaff.
5. Christian Bale – The Shag
It's impossible to list actors with medium hairstyles and not mention Christian Bale, who seemingly does it all.
Though he's rocked some close crops over the years, Bale typically lets his brown locks do their thing.
Here he wears it slightly longer at the back and over the ears but keeps it closer to the scalp on top. Bale leaves a little over the forehead to soften the look.
6. James Franco – Wavy Comb Over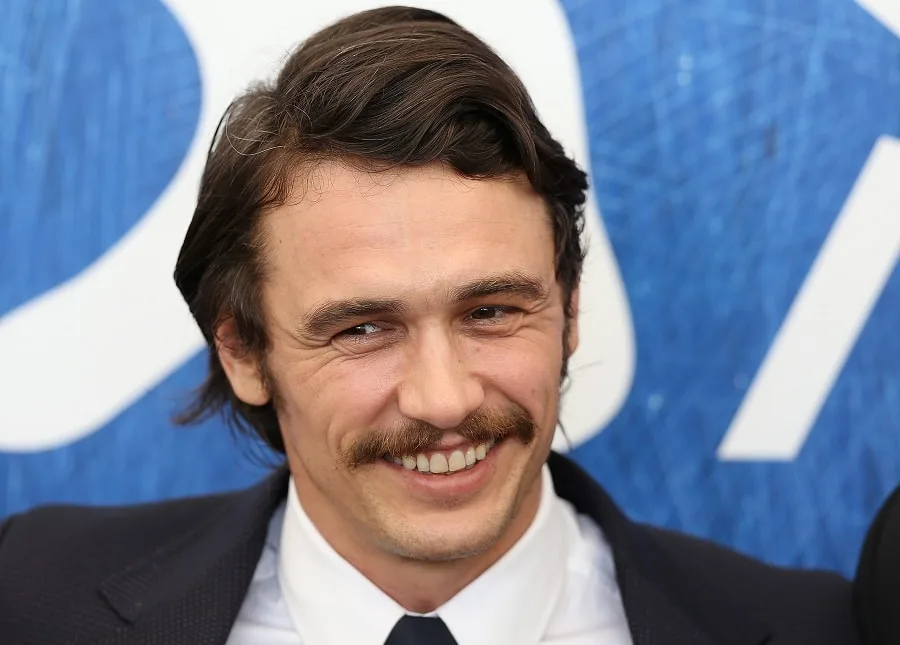 Channeling his inner 1970s weatherman, Franco practices a younger man's take on the combover with a strong side part.
Swooping the longer hair into a uniform wave, the actor completes the throwback look with a mustache.
7. Kit Harington – Curly Layers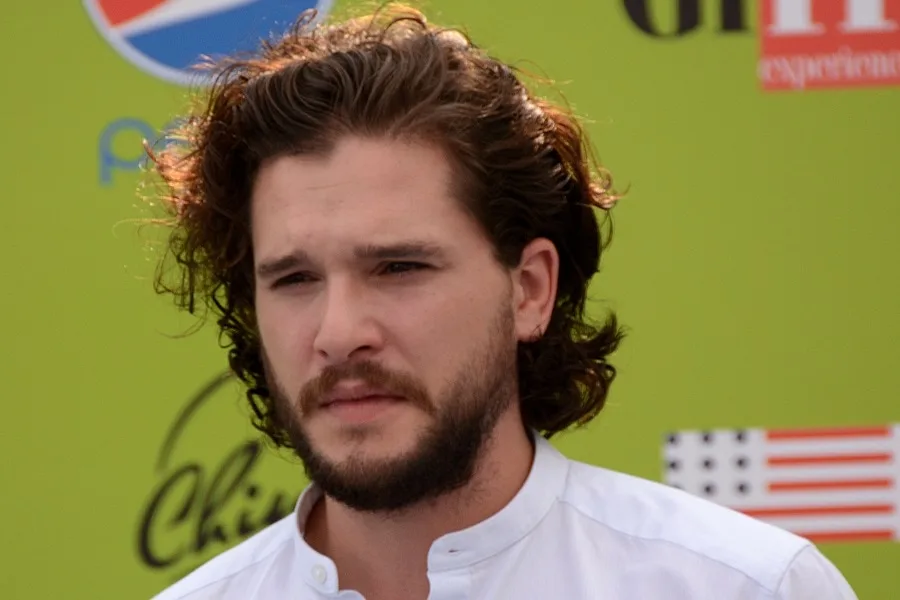 One of the most popular curly-haired actors trending in 2023. It's never easy to manage curls, but the Game of Thrones actor seems to keep them under control with a lot of layers. Sweeping the upper layers back adds volume and makes the look more cohesive.
The well-kempt beard is just a bonus feature for this medium-curly hairdo and a reminder that he will always be Jon Snow.
8. Rupert Grint – Ginger Layers
Ron grew up but held onto his signature ginger tresses. Grint keeps it medium and business-like in the back with a longer top, dangerously close to covering his eyes.
The layers add a little height and play on the ginger's gorgeous natural highlights.
9. Eric Christian Olsen – Messy Layered Shag
Olsen often embraces the surfer guy look with messy beach waves cut in layers. Medium hairs curl around his neckline and add depth to the face-framing waves.
The top remains long but stops short of covering his eyes, meaning this mess was intentional.
10. Charlie Hunnam – Slicked Back Locks
Looking like this actor with medium hair is ready to reclaim his role as Jax Teller, Charlie Hunnam rocks the slicked-back look.
The dirty blonde locks flow back and stay put, the sides casually tucked behind Hunnam's ears. Top off the look with a little facial hair, and he's red-carpet-ready.
11. Owen Wilson – Uneven Layers
Keeping it casual is part of Owen Wilson's brand, and that translates to his hair. It's long in some places and slightly shorter in others to make his medium hair look like Wilson just rolled out of bed.
Don't let it fool you, those finely planned layers add volume, depth, and texture in all the right places.
12. Lucas Till – Boy Band Sweep
Cut it short in the back and on the sides but leave it long on top to complete this popular look.
The slight layers give Till's straight hair the appearance of subtle waves in front, and brushing the shorter sides forward adds texture.
13. Ian Somerhalder – Straight Layers
The Vampire Diaries actor with medium-length hair knows how to showcase his blue eyes. Somerhalder hasn't changed his hair much over the years, with a layered look setting off his straight, dark brown hair.
The subtle layers cover the tops of Somerhalder's ears and brush casually across his forehead without shadowing those gorgeous eyes.
14. Zac Efron – Layered Highlights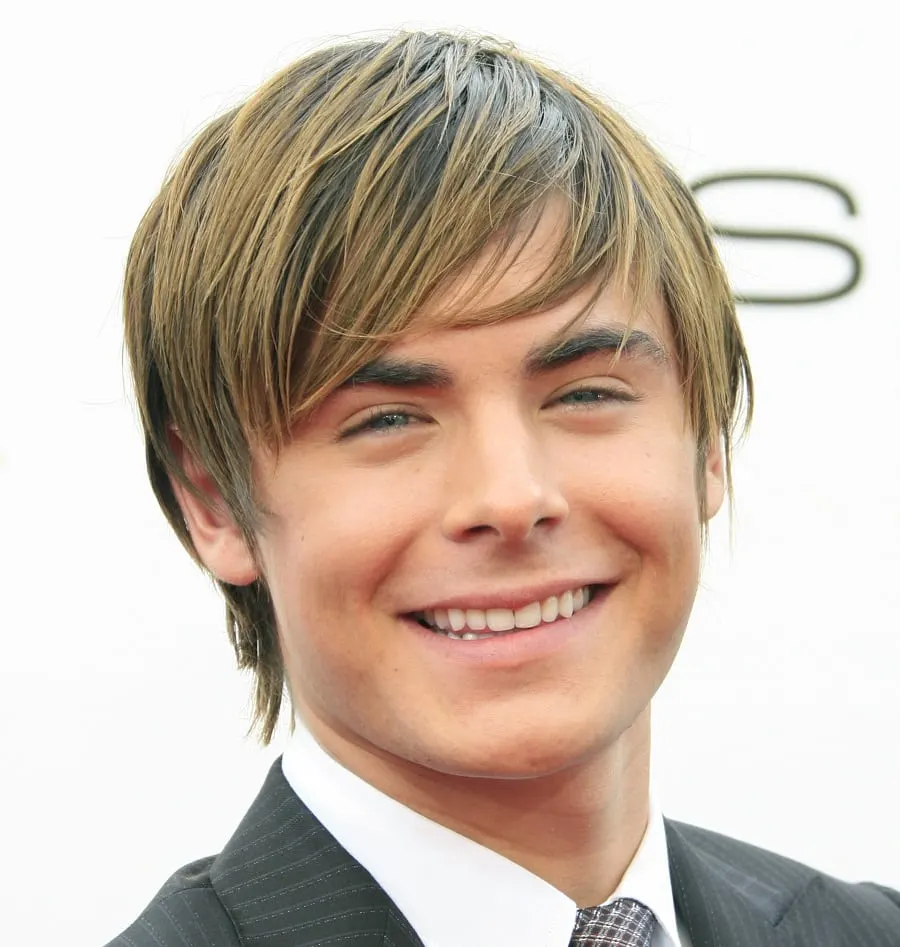 Efron takes straight layers to a new level with highlights that add depth to his bone-straight hair.
While it's slightly long and shag at the sides and back, the top sets off the look with longer, sweeping layers framing his face in dark brown and blonde hues.
15. Bradley Cooper – Side Comb Over
Rocking a slight curl through the back, Cooper's brunette comb-over looks effortless. The slightly off-center part adds depth to a short cascade while keeping everything out of his face.
Set off the casual look with a little scruff and clean-cut sideburns.
That wraps up our list of actors with medium hairstyles. From thick, coarse, and curly to straight and fine, these fellows prove that there's plenty of variety and room to experiment with medium-length hair.
Did you find the inspiration you need to get a makeover?