The famous American actress Anne Hathaway is considered the beauty queen in Hollywood. She has sported many iconic hairstyles over the years. From her long, Rapunzel-like hair in 'The Princess Diaries' (2001) to her pixie cut in the drama 'Les Misérables' (2012), she's always been a trendsetter. She has worked in various movies and TV shows and is known for her stunning looks and charming smile.
Anne Hathaway has won many awards, including an Academy Award, a British Academy Film Award, and a Golden Globe Award. She has always been in the fashion spotlight since her debut in the drama 'Get Real,' and her minimalistic hairstyles reflect her elegant fashion taste.
Her fans have seen her in various hairstyles with different hair lengths. Are you a fan of Anne Hathaway's hairstyles? We're too! Let's get inspired by her best hairstyles!
Anne Hathaway's Latest Hairstyle in 2023: Bangs With Side Part
Recently, Anne Hathaway was seen in bangs with side part on a red carpet. As always, she looks stunning in her brunette hair. Her hair was mostly parted to one side, giving her a laid-back and exquisite look.
Below are the best of Anne Hathaway's hairstyles that she has donned over the years in her acting career.
1. Curtain Bangs with Backcombing
There is no cuter hairstyle than curtain bangs and we can say that Anne Hathaway knows how much they suit her face shape. To add a little fun to her bangs, she has backcombed them and then pinned them to one place with her hair down.
2. Puffed-up Hair with Loose Layers
If your front layered hair is growing out, part them from the middle and create Anne Hathaway's puffed-up hairstyle. It requires a little backcombing which gives it a puffed-up look. Use hairspray to keep it in place.
3. Casual Middle Part with Hair Down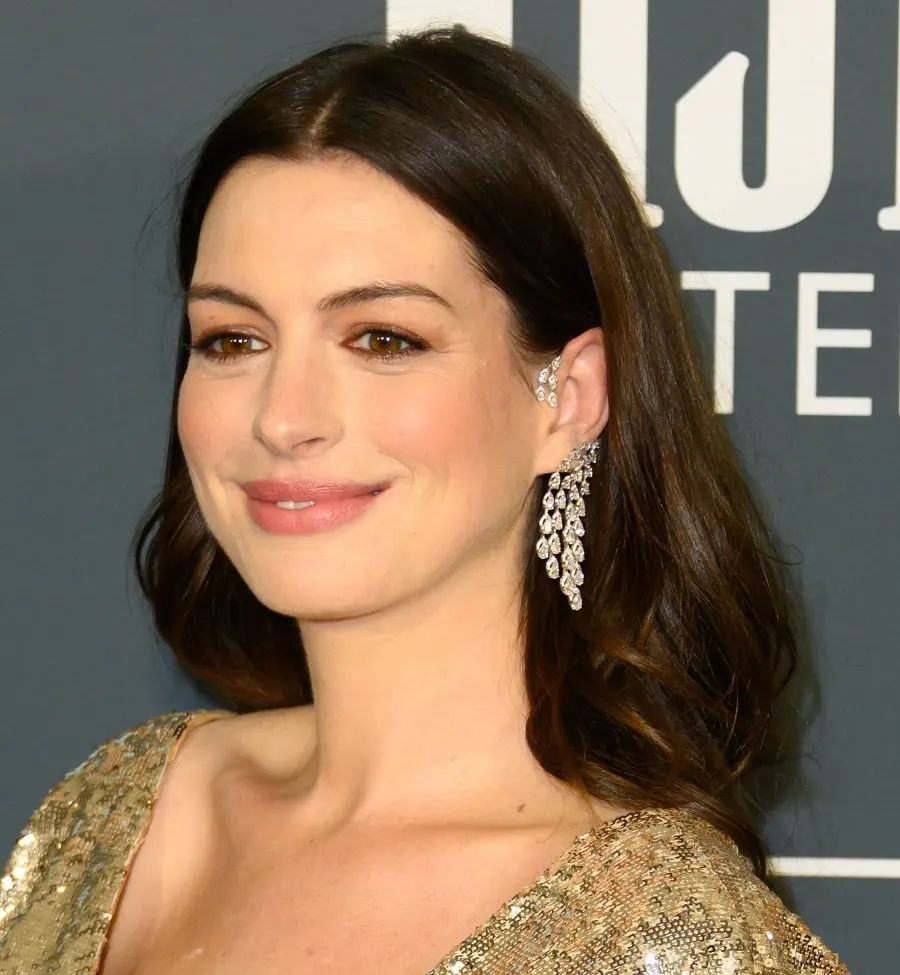 This Anne Hathaway hairstyle is for when you are late somewhere but need your hair to look perfect. All you need is to blow dry your hair. Part your hair in the middle and tuck it behind your ears. Here you go, serving the best casual hairstyle.
4. Sleek Middle Part with Hair Down
Anne Hathaway's sleek middle part hairstyle is suitable for formal events. The middle part instantly adds sharpness to your features, and when put down with straight freefall hair, it is a hairstyle to die for.
All you need is some hairspray and gel to give a perfect, sleek look to your middle part.
5. Side Part with Hair Down
Anne Hathaway dyed her hair ginger which made her look more stunning than she is. If you need an open hairstyle, try this side part wavy hairstyle of Anne Hathaway's. Use a curling rod to add some curls to your hair.
6. Shoulder Cut Beach Waves
Beach waves give a soft look to a hairstyle. Anne Hathaway's shoulder-length hair with beach waves is worth seeing. Her hair's highlights also give a nice touch to wavy hair, making it appear glamorous and pretty.
7. Side Bun with Front Twist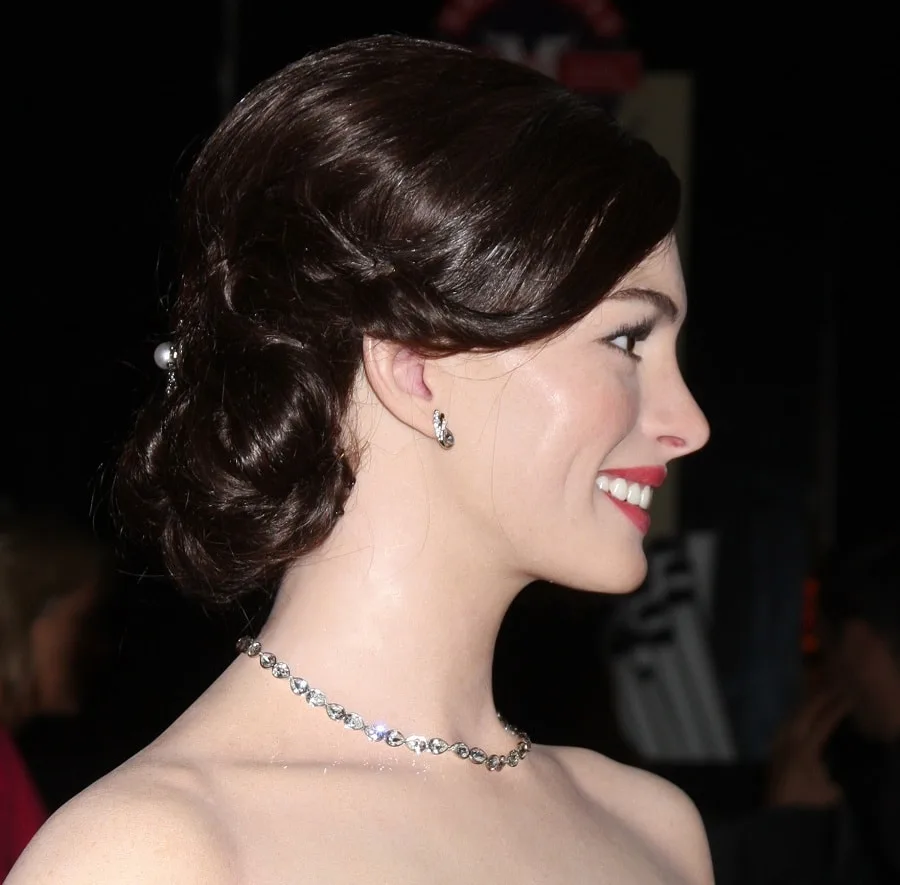 Going out to a formal event but don't know how to style your hair? Try this Anne Hathaway side bun that is elegant and easy to make. Part your hair from one side and twist a little bit of it. Now, gather your hair in one place to make the bun.
8. Bob Cut
Anne Hathaway is one of the few people who can get a bob cut and still look like royalty. Throw in some nice curls with a curling rod, and the hairstyle will look much better.
9. Slicked Back Pixie
When discussing Anne Hathaway's hairstyles, it is a must to mention her iconic pixie hairstyles. Just look at this slicked-back pixie cut that is voluminous and still gives a chic look.
10. Short Hair with Side Swept Bangs
If you have silky hair that needs an urgent cuts, how about getting a pixie cut with side-swept bangs? It is a simple hairstyle suitable for people who love bangs but want to keep their hair short.
For some women, these side swept bangs may look like a nuisance, but not for Anne, who looks as ethereal as ever in this pixie hairstyle.
11. Pixie Cut with Short Front Hair
Anne Hathaway's face shape is best for getting a pixie cut, even with short front hair. If you are looking for a short haircut with little to no care, this pixie cut may be your cup of tea.
12. Messy Ponytail
Anne Hathaway always looks amazing, even in a messy ponytail. This hairdo looks like a ponytail you make in a hurry, but it needs quite some backcombing if you want it to look like you see in this photo.
Use your fingers to pull your hair upward to add volume. Don't forget to let loose two strands of hair from the front.
13. Wavy Side Part
If your hair is thin, you can gather them all on one shoulder like Anne Hathaway has done in the picture above. Part your hair from one side and gather your hair on the shoulder opposite to the part. Use a big roller to achieve the same level of waves as Anne's.
14. French Twist Bun
Anne Hathaway's French twist bun is suitable for people with long and short hair. French twist isn't very hard to style, but you need a lot of hair spraying and rolling to make it not appear messy.
15. High Ponytail with Hairband
What is more perfect than a high ponytail in this weather? Anne Hathaway also styled her hair with a late 90s and early 2000s high sleek ponytail.
To make her look complete, she used a headband around the ponytail. Doesn't she look straight from a 90s movie?
16. Bun with Side Part
Wanna try an easy Anne Hathaway hairstyle? Try this side part updo that is perfect if you have a few hairstyling options. Keep your hair a bit loose on one side to get the exact hairstyle shown in the picture.
17. Straight Hair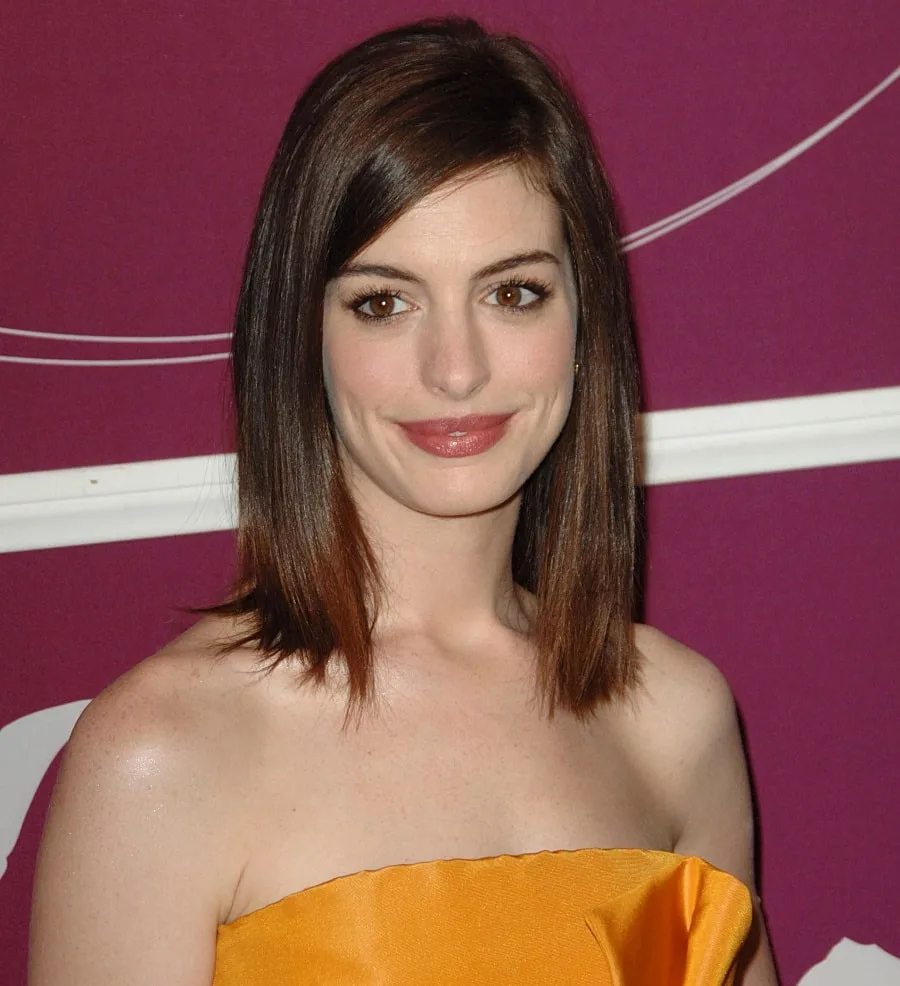 Want an evergreen Anne Hathaway hairstyle that looks perfect on almost every face shape? Try this straight shoulder-length hairstyle with side part.
If you have curly hair, this hairstyle may cause you many problems as you will always have to straighten the hair. But if you are one of the straight hair girlies, this is your sign to get a shoulder-length haircut.
18. Side Pinned Hair
Nothing is more aesthetically pleasing than Anne Hathaway's one-sided pinned hair. Anne Hathaway's side part medium length hair frames her face from one side while the other side is pinned behind her hair.
19. Grecian Inspired Waves
Anne Hathaway stunned in this hairstyle on a red carpet in 2008. Her messy waves were Grecian-inspired while her hair was pulled into a messy updo.
20. Side Braid with Bun
You can add some braids to your bun hairstyle in a way that Anne Hathaway has done in the photo above. Braids always add beauty to any hairstyle and its combo with bun looks so decent and best for all types of events.
21. Low Ponytail with Backcombing
If you have no better hairstyle in your mind, just put your hair in a low ponytail after backcombing them from the front. The rule to have this exact look is by not making your hair too sleek. Keep the ponytail loose.
22. Casual French Roll Updo
Loosely gather your hair and make a French roll updo like Anne Hathaway. You will need some backcombing too that will make the hairstyle look elegant.
23. Golden Brown Hair
Although we haven't seen much of Anne Hathaway's dyed hair, her golden brown hair is worth mentioning. The brown in her hair perfectly complements her hazel eyes. The light-hued curls in her hair are enough to mesmerize anyone.