When it comes to hairstyles, there's often no better place to look for inspiration than our favorite red-carpet stars. If you're looking for a sexy new pixie cut, check out some of the hottest celebrities for style ideas! You'll see everything from blonde highlights, edgy fades and blunt cuts, and lots of texture in a celebrity pixie cut.
Whether you're working with thick curly hair, straight, thin locks, or something in between, there's a pixie to make you look and feel gorgeous.
Popular Celebrity Pixie Haircuts
Here is a quick look at some of the most popular celebrities with pixie cut.
Actresses with Pixie Haircuts
1. Kristen Wiig – Pixie Bob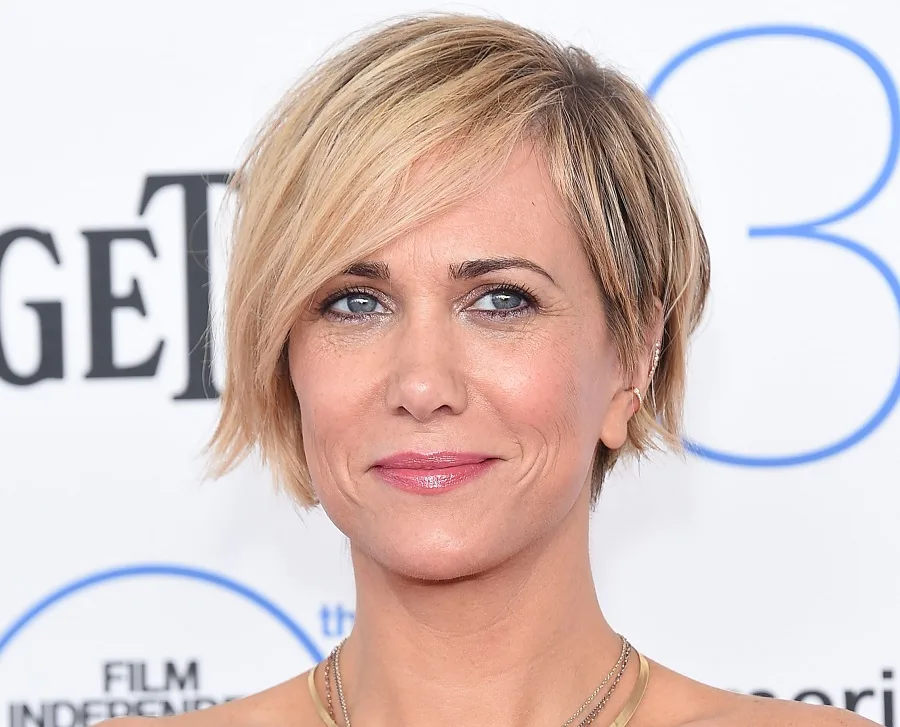 Kristen Wiig demonstrates how gorgeous a pixie bob is for women with an oval face shape. Her mostly straight hair is the ideal texture for short layers and the perfect long side swept bang.
2. Kelly Osbourne – Pompadour Pixie
Singer Kelly Osbourne is known for rocking eye-catching colors in her hair, like this beautiful shade of purple on a voluminous pixie. You can get the same shape easily with a bit of teasing at the roots, sealing with hairspray.
3. Halle Berry – Spiky Pixie
You know, Halle Berry's one of those celebrities with pixie cuts that just look amazing on her. She rocked a short, spiky style that was effortlessly cool and edgy. The textured finish made it super modern and perfect for showing off her stunning features.
4. Emma Watson – Classic Pixie
Emma Watson sported a sweet and elegant classic pixie cut, which really suited her delicate features. The short, neatly trimmed hair framed her face perfectly and proved that celebrities with pixie cuts can look both chic and sophisticated.
5. Carey Mulligan – Soft Pixie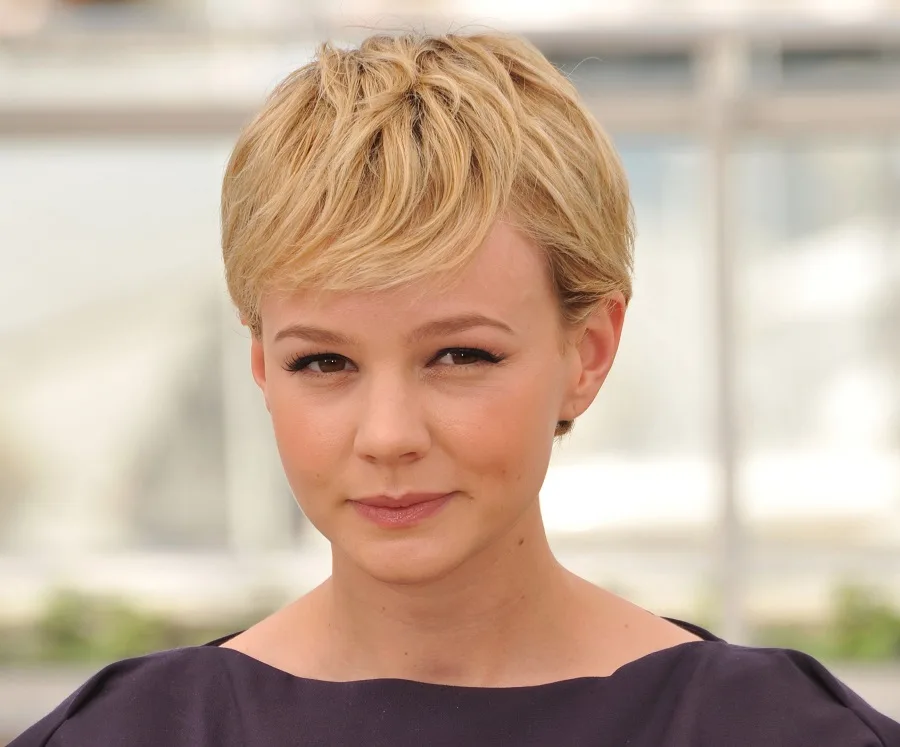 Carey Mulligan's pixie cut was like a breath of fresh air – soft, feminine, and just adorable. The longer layers on top and slightly tousled finish made this celebrity pixie cut stand out from the rest.
6. Natalie Portman – Short Pixie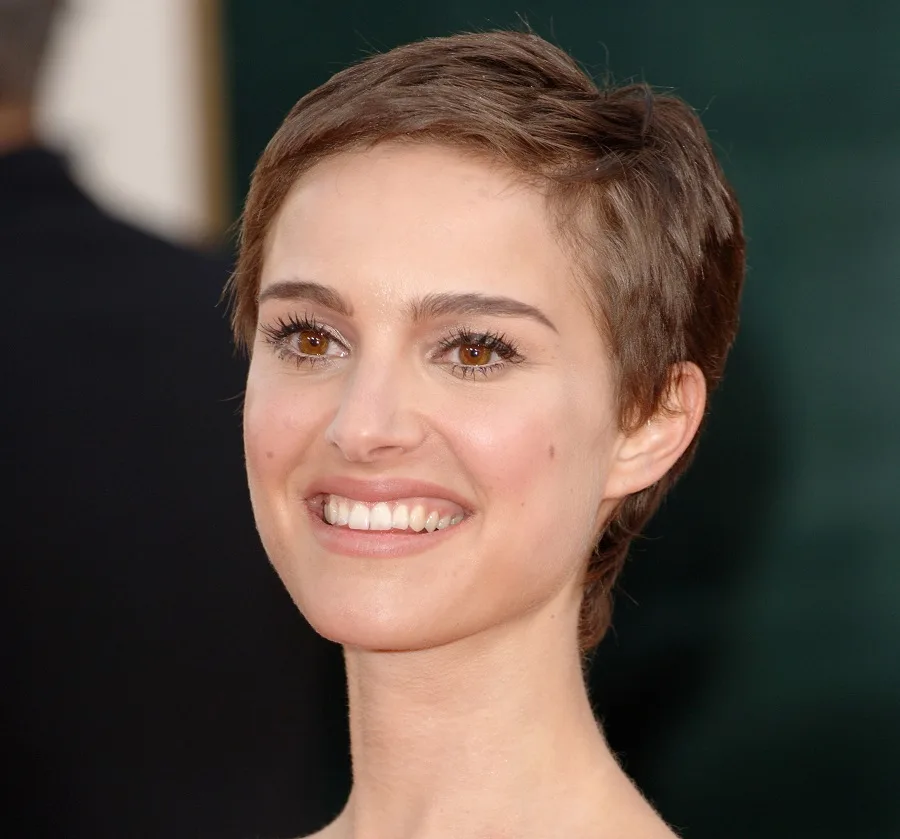 Natalie Portman went bold with a short pixie cut, chopping her hair super short for a striking and powerful look. It just goes to show how versatile pixies can be, even when they're super short like this one.
7. Kate Hudson – Slicked-Back Pixie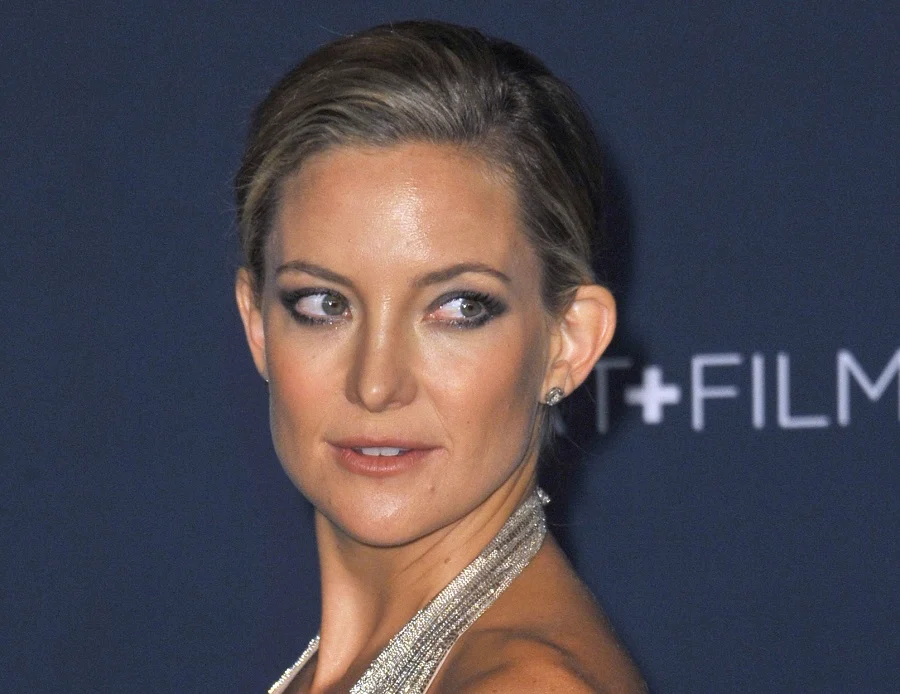 Kate Hudson's pixie cut was all about that sophisticated, modern vibe. Her slicked-back style looked polished and chic, perfect for red-carpet events or just a night out on the town.
8. Zoë Kravitz – Platinum Blonde Pixie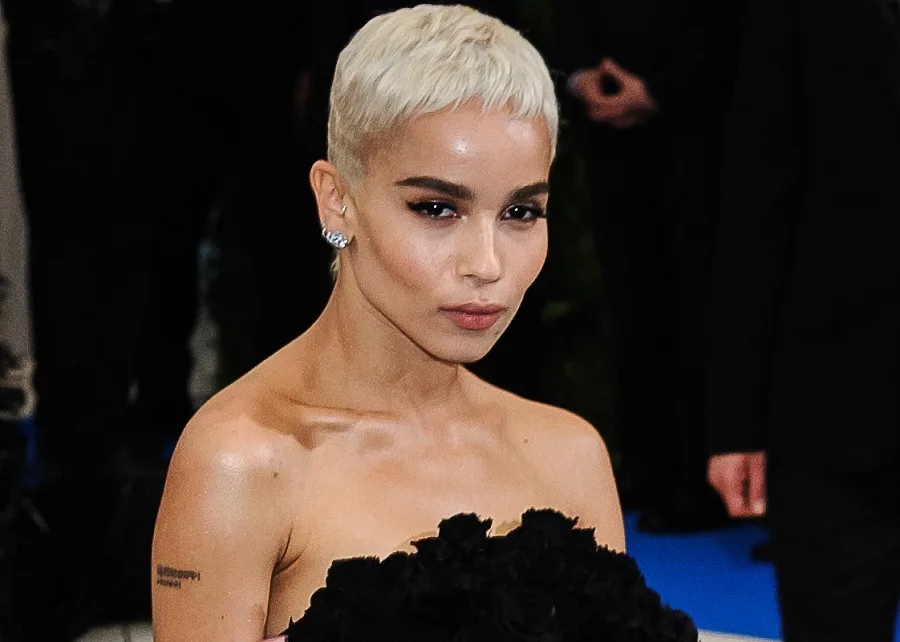 Talk about a statement! Zoë Kravitz turned heads with her platinum blonde pixie cut, which added a trendy and chic touch to her already stylish look. This celebrity pixie cut was definitely a game-changer for her.
9. Keira Knightley – Shaggy Pixie
Keira Knightley's shaggy pixie was playful and effortlessly cool. The choppy layers gave her hair tons of movement and made it the perfect low-maintenance style for her busy life.
10. Ruth Negga – Curly Pixie
Ruth Negga's curly pixie cut offers a unique twist on the classic style. Incorporate tight curls into your hair for added texture and volume, resulting in a sophisticated and fun appearance.
11. Cynthia Nixon – Minimalist Pixie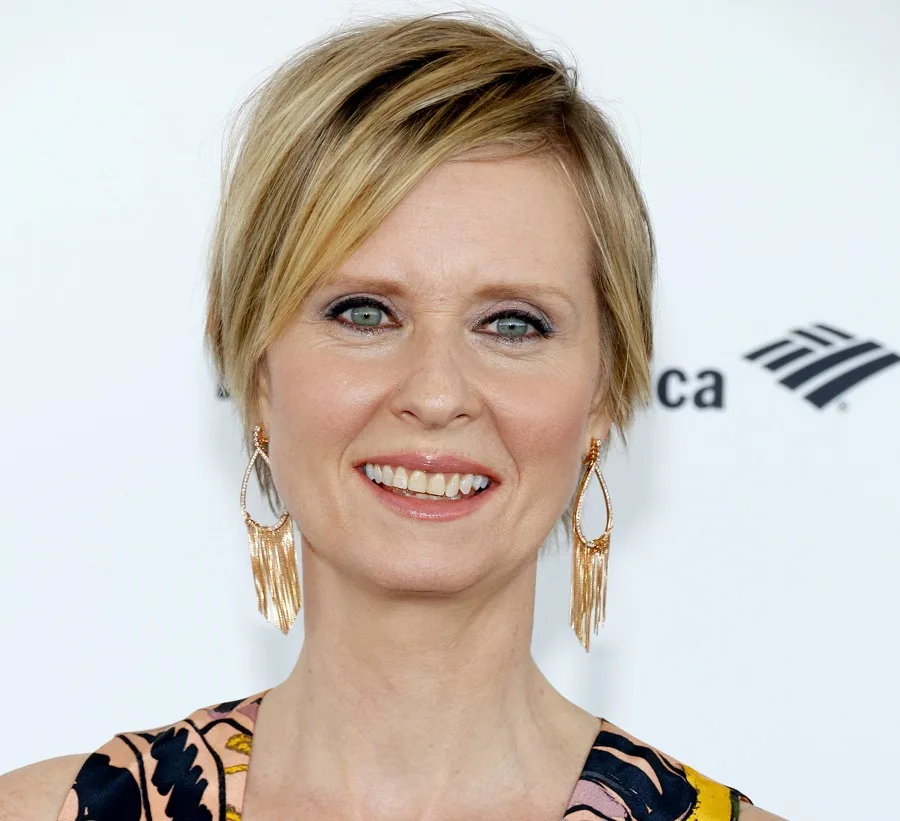 Cynthia Nixon chose a minimalist pixie cut that emphasizes simplicity and elegance. Maintain clean, short lines to frame the face perfectly, demonstrating that less can be more when it comes to pixie cuts.
12. Kaley Cuoco – Layered Pixie
Kaley Cuoco's layered pixie cut bursts with movement and personality. Add choppy layers for increased volume and texture, creating a lively, carefree look that suits an energetic personality.
13. Winona Ryder – 90s Pixie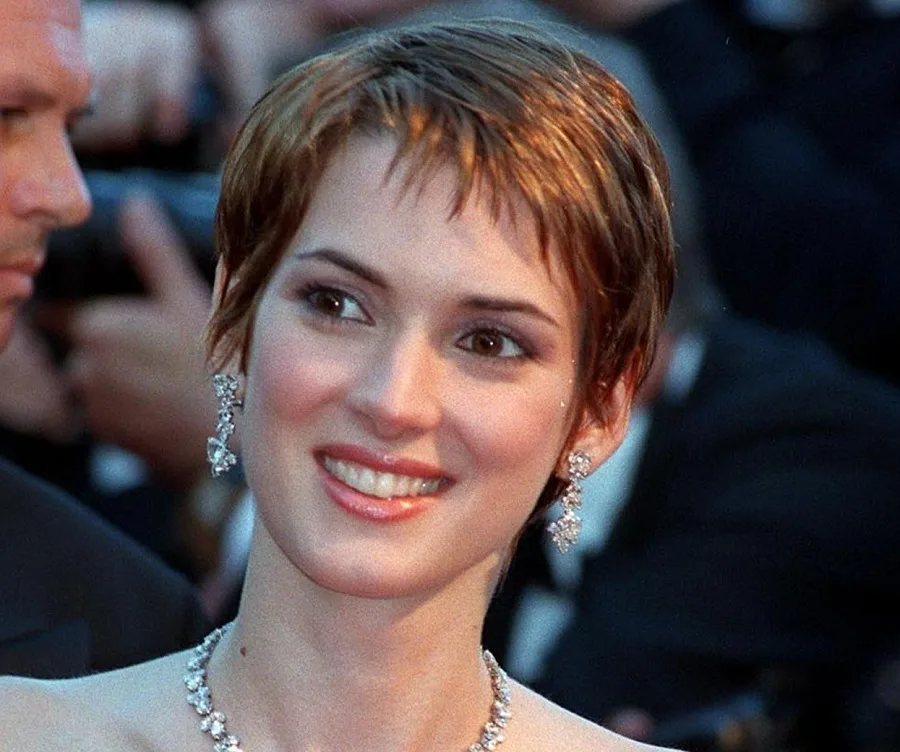 Winona Ryder's 90s pixie cut was a throwback to the decade we all love. The short, choppy layers framed her face in a flattering way, making her look both edgy and timeless.
14. Robin Wright – Balayage Pixie
Robin Wright's balayage pixie cut was sleek, polished, and just plain gorgeous. This clean and elegant finish made this celebrity pixie cut a true classic that never goes out of style.
15. Lily Collins – Side-Swept Pixie
Lily Collins wore a romantic, side-swept pixie cut that really suited her delicate features. The longer layers in the front added a soft touch to her look, proving that pixie cuts can be both feminine and versatile.
16. Tilda Swinton – Androgynous Pixie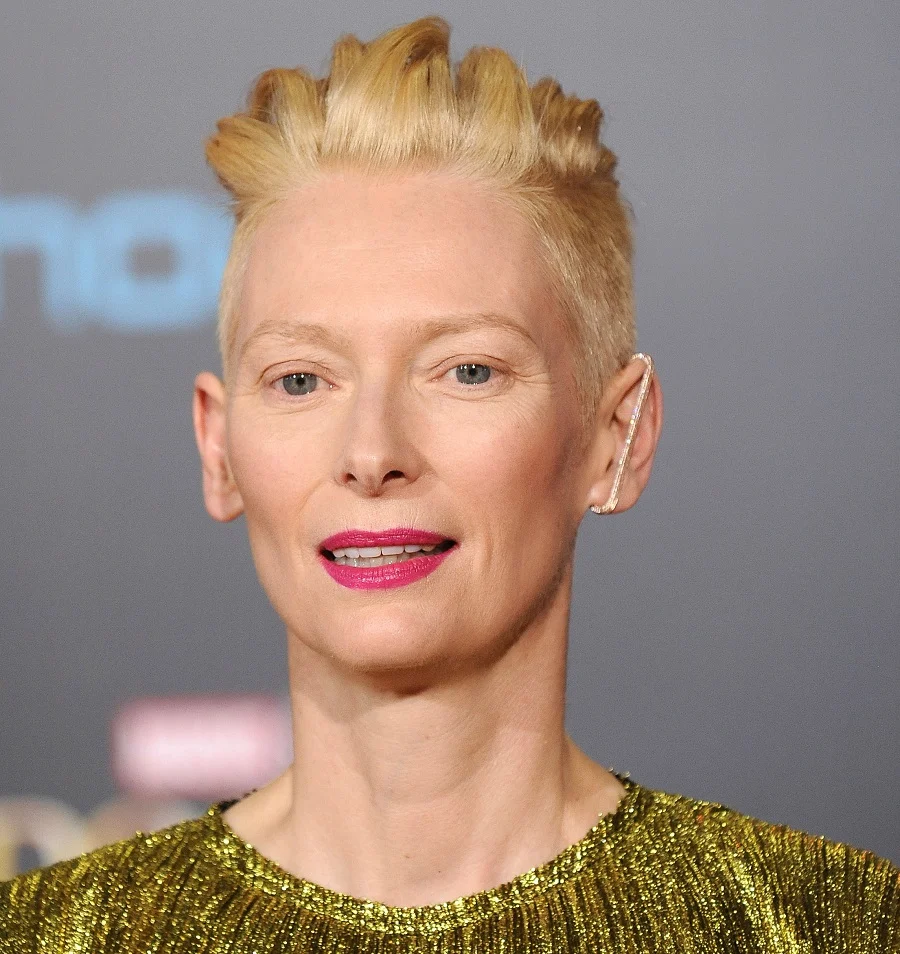 Tilda Swinton's pixie was bold and unique, just like her. The slightly longer top allowed her to play around with different looks, making this celebrity pixie cut a true standout.
17. Mia Wasikowska – Bowl Pixie
Mia Wasikowska opted for a modern and unique bowl pixie cut, with a straight fringe and rounded shape that framed her face in a super cool way. This daring cut set her apart from other celebrities with pixie cuts.
18. Evan Rachel Wood – Quiff Pixie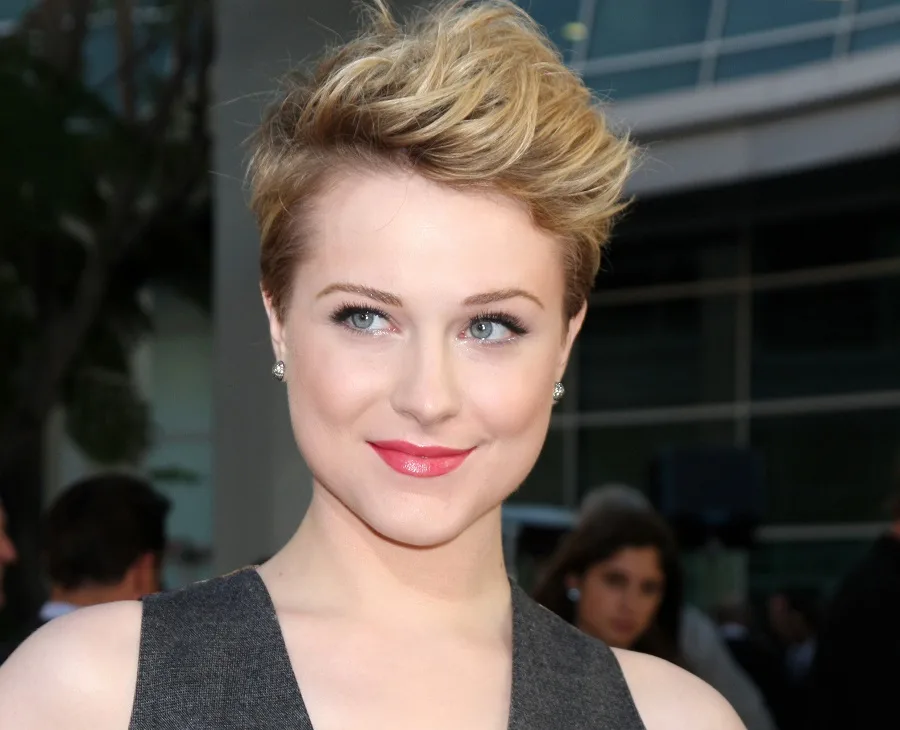 Evan Rachel Wood styled her pixie cut with a quiff, giving her a cool and edgy look that made a real statement. This fun style showed off her personality and set her apart from the crowd.
19. Anne Hathaway
When Anne Hathaway debuted her brunette pixie haircut, it was a shock to many of us, but we quickly realized she could effortlessly pull it off. She wore her chic pixie straightened with a minimal side part to create a soft side bang. If you're a fan of Anne Hathaway's short hair, try this one.
20. Audrey Tautou
If you have curly hair, you may want to copy actress Audrey Tautou's pixie. It's ideal for women with thin to medium-thick hair, since you'll only have to scrunch in a little curl cream or mousse to enhance that natural texture for a beautiful look.
21. Charlize Theron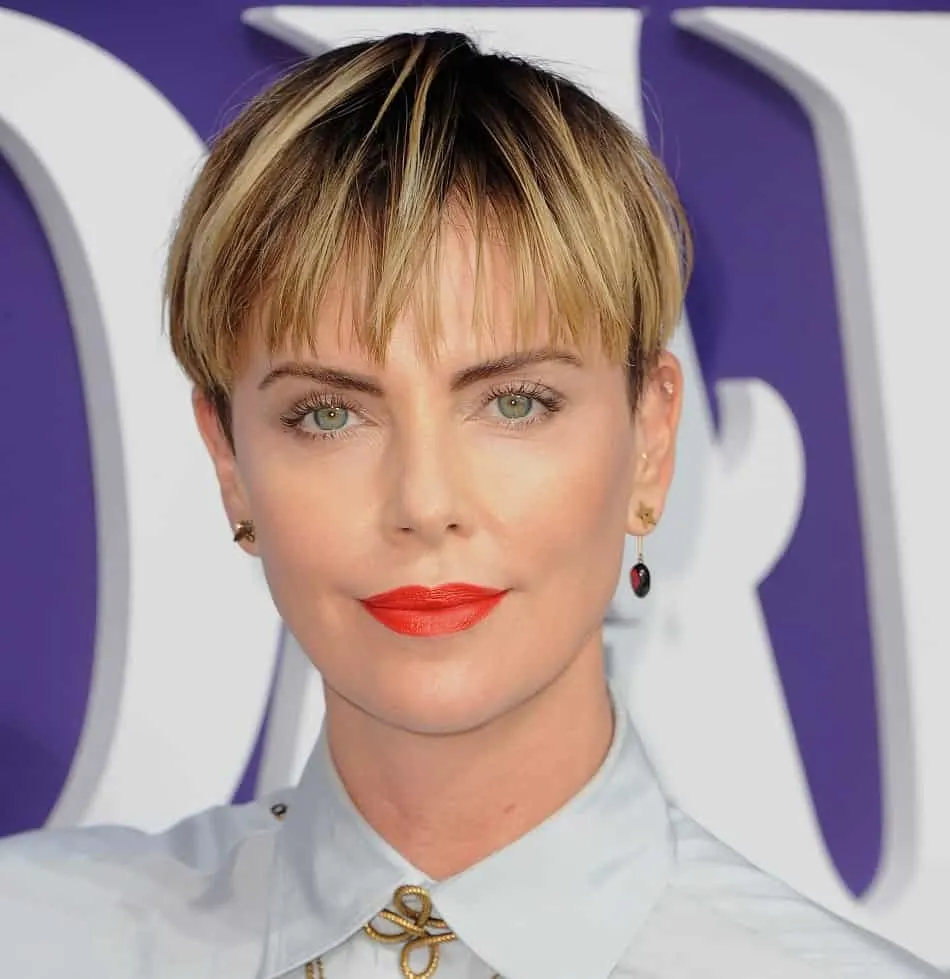 Charlize Theron is the epitome of class. This actress with blonde hair can rock any hairstyle, including a bluntly-cut pixie. If you want to give your haircut a little edge, have your hairstylist cut it straight across at the front and then add a fade to the back. A few blonde highlights on dark hair will also brighten up your face.
22. Ginnifer Goodwin
Ginnifer Goodwin is another actress who went from long locks to short in a flash. The mix of short spikes and straightened side-combed bangs make her dark-colored pixie with textures a beautiful blend of feminine edge. It may take a bit of time to straighten your own, but the result will be worth it!
23. Jennifer Lawrence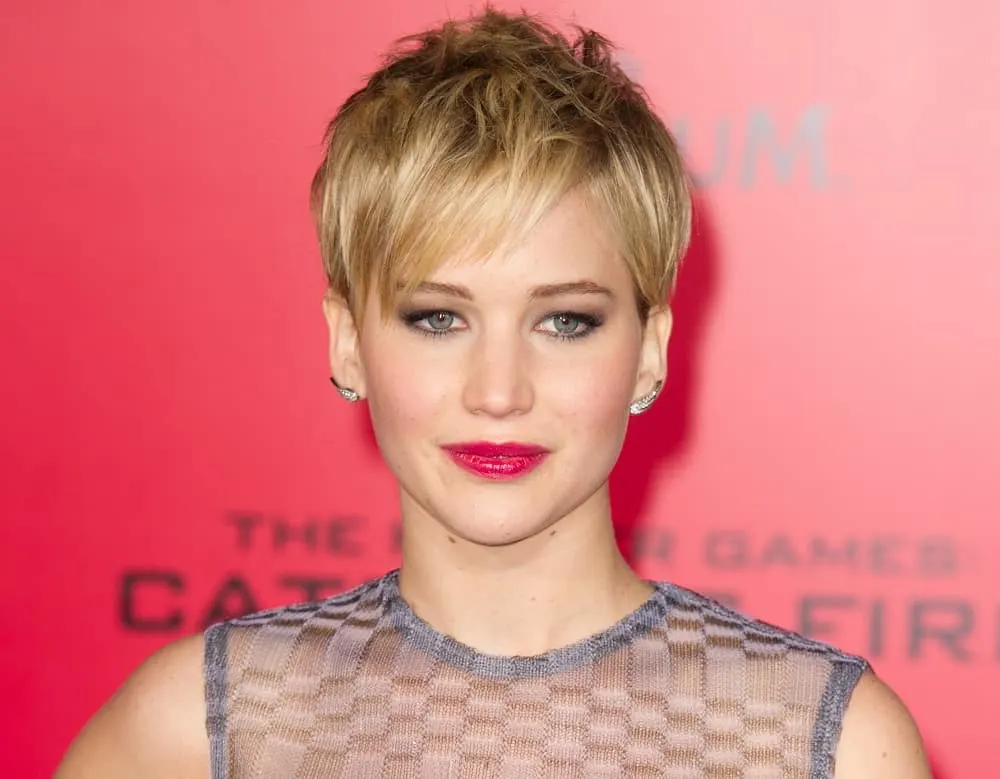 Actress Jennifer Lawrence made sure no one would see her as Katniss Everdeen again once she chopped off her long locks and went to a long pixie. The top features short layers that add beautiful texture and the warm shade of blonde is perfect for light skin tones.
24. Joey King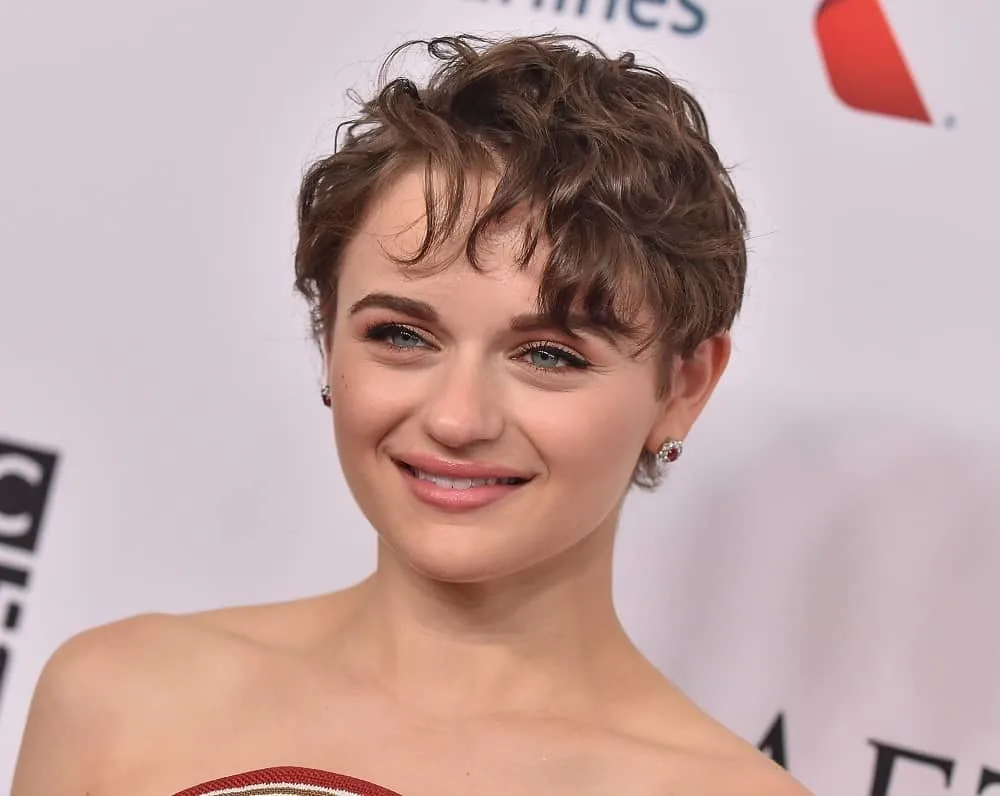 If you have a small round face and relatively thin hair, copy Joey King's pixie cut. An off-center part gives the illusion of fuller hair, especially when you enhance your natural texture with a little product.
25. Judi Dench
If you're an older woman with short hair, you don't need to stick with plain short hairstyles. Judi Dench's classy but choppy pixie is a youthful blonde and can be styled both softly – brushed neatly to one side – or with an edge – by spiking hair slightly with your fingers.
26. Kristen Stewart
Everyone loves Hollywood's bad girl, actress Kristen Stewart. She serves up moody hairstyles all the time, including her fierce long pixie with blonde highlights. While sometimes she wears it messily styled, the look above is finger-combed back away from the face.
27. Michelle Williams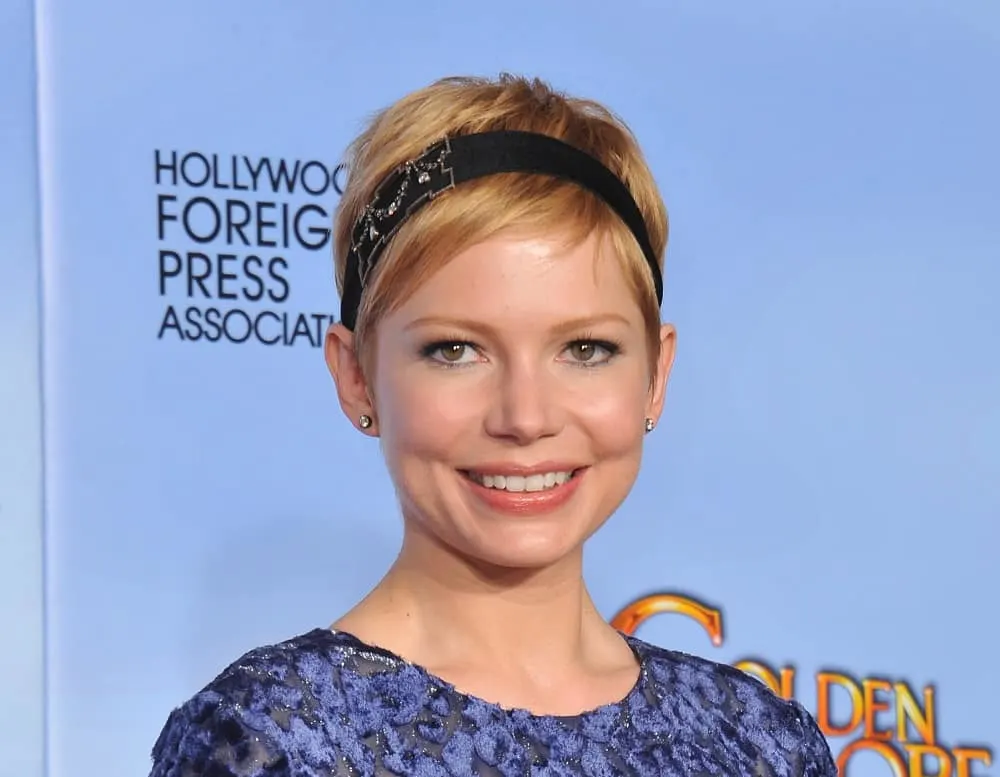 Looking for a soft long pixie cut to suit your face? Look to Michelle Williams for style inspiration. Her blonde locks are combed smoothly, mostly to one side and she pairs a cute bandana with it for color contrast.
28. Scarlett Johansson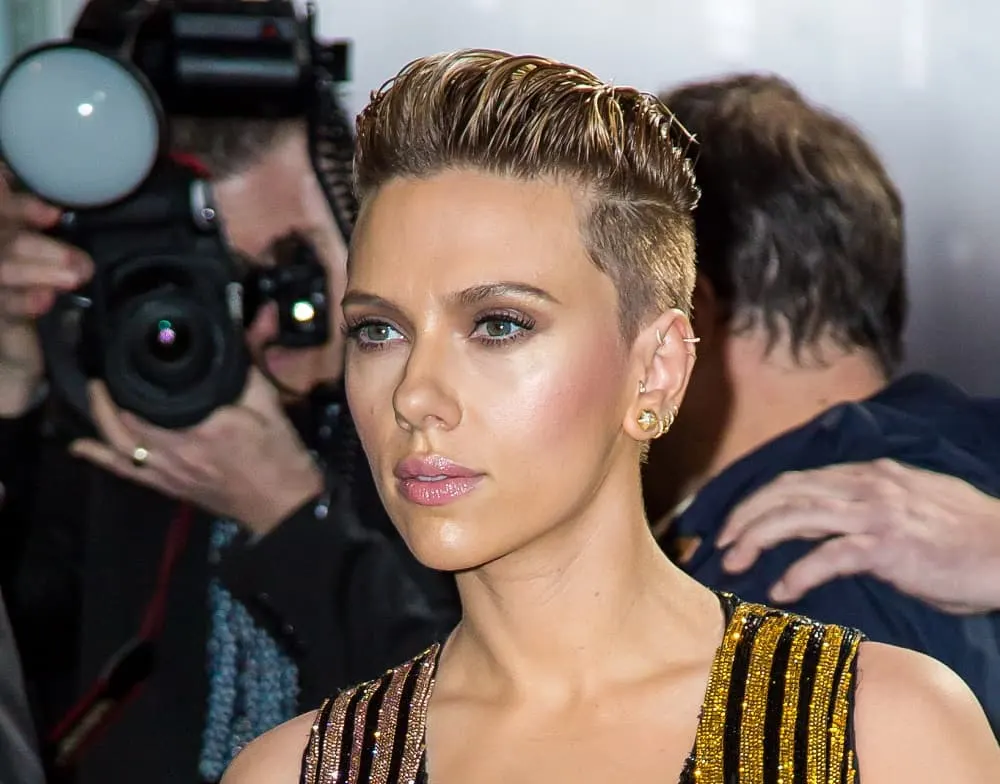 Actress Scarlet Johansson is one lady who could never look bad no matter how short her hair is. She rocks a mid fade with slicked-back locks. If you have a heart/oval-shaped face, you'll pull off this pixie style perfectly.
Celebrity Singer's Pixie Haircuts
With a beautiful voice comes a beautiful hairstyle. These celebrity singers are also ones to note for gorgeous pixie cuts.
29. Jessie J – Edgy Pixie
Jessie J's bold pixie cut is both edgy and striking. Opt for a super short length with choppy layers for a powerful statement, showcasing that pixie cuts can be both daring and fashionable.
30. Annie Lennox
Older ladies, don't brush off singer Annie Lennox and her super short pixie! Women with oval-shaped faces will look gorgeous, rocking a fiery red pixie. If a bright shade isn't your style, something darker will also flatter light skin tones.
31. Demi Lovato
Round-faced women, you can relax knowing the beautiful Demi Lovato has successfully flaunted a pixie cut. Wear yours straight, with a little product scrunched in, or pinned in sleek, smooth waves like seen above.
32. Halsey
It seems there's nothing singer Halsey can't take on, including bold hairstyles. She is well known for her creative looks, like the pixie, which she styled here with pink ombre hair color. To get a fuller look on thin hair pixie, go with layers and brush them out.
33. Janelle Monae
A voice as smooth as Janelle Monae's would of course belong to a woman rocking a hairstyle just as sleek! Her black hair is parted slightly off-center and smoothed neatly down, with one single lock of hair coiling over the forehead.
34. Katy Perry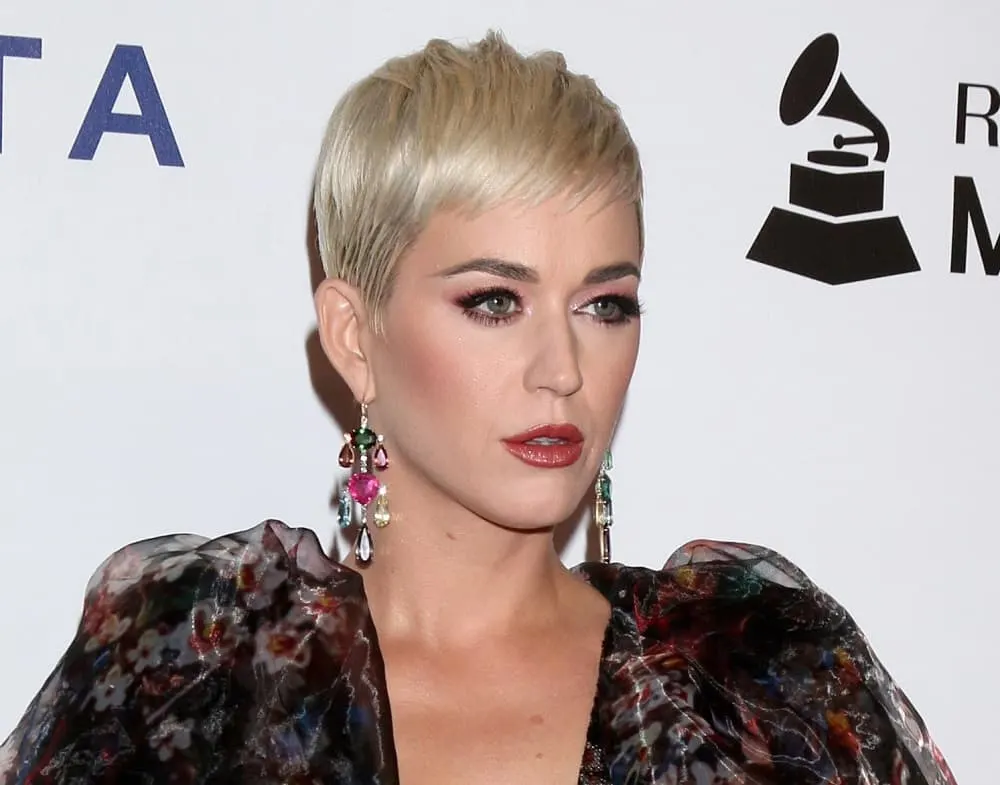 Katy Perry has flaunted many hairstyles over her singing career. A straight pixie with different layers is very flattering to her face shape, and the platinum color really suits her light skin tone.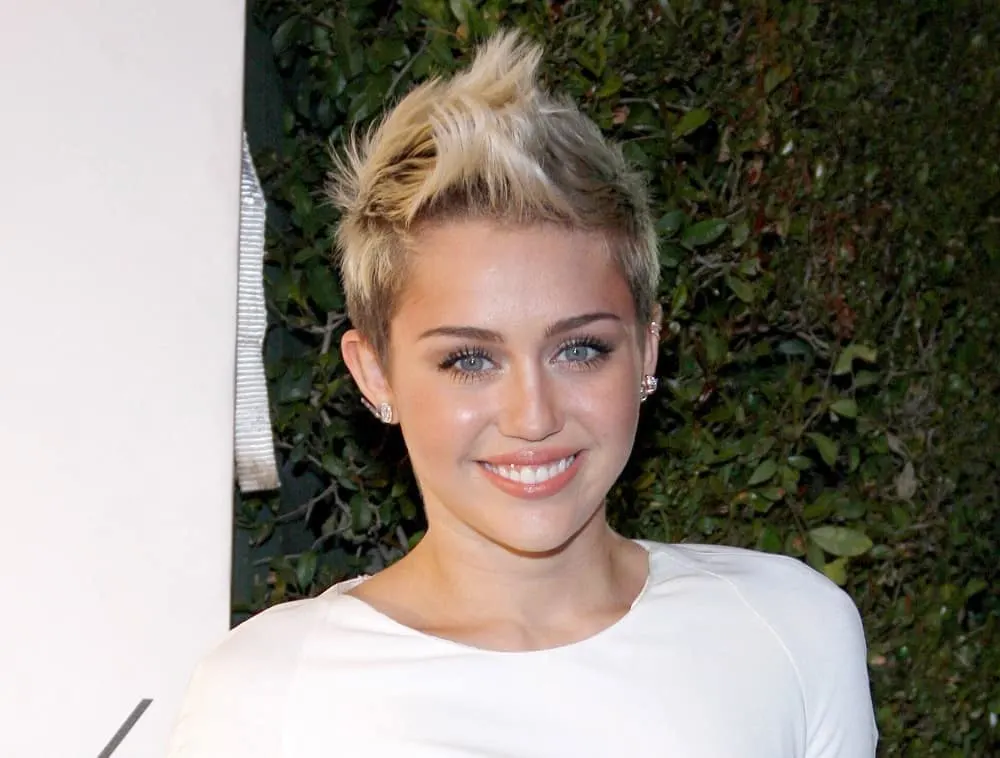 To put a boyish twist on your pixie cut, we like Miley Cyrus' way of styling. She pushes up the front to give it a little flip, but shapes the rest into a messy faux hawk. You'll need several inches of hair for this spiky pixie style, and definitely be willing to try light hair colors.
36. Pink
Looking for a celebrity who rocks short hair and is well known for her boldness? Pink makes no apologies and her purple pixie cut clearly communicates that. Blow yours out into an off-center part for a neat look, or work in product for texture. Don't forget the bold statement color.
37. Pixie Geldof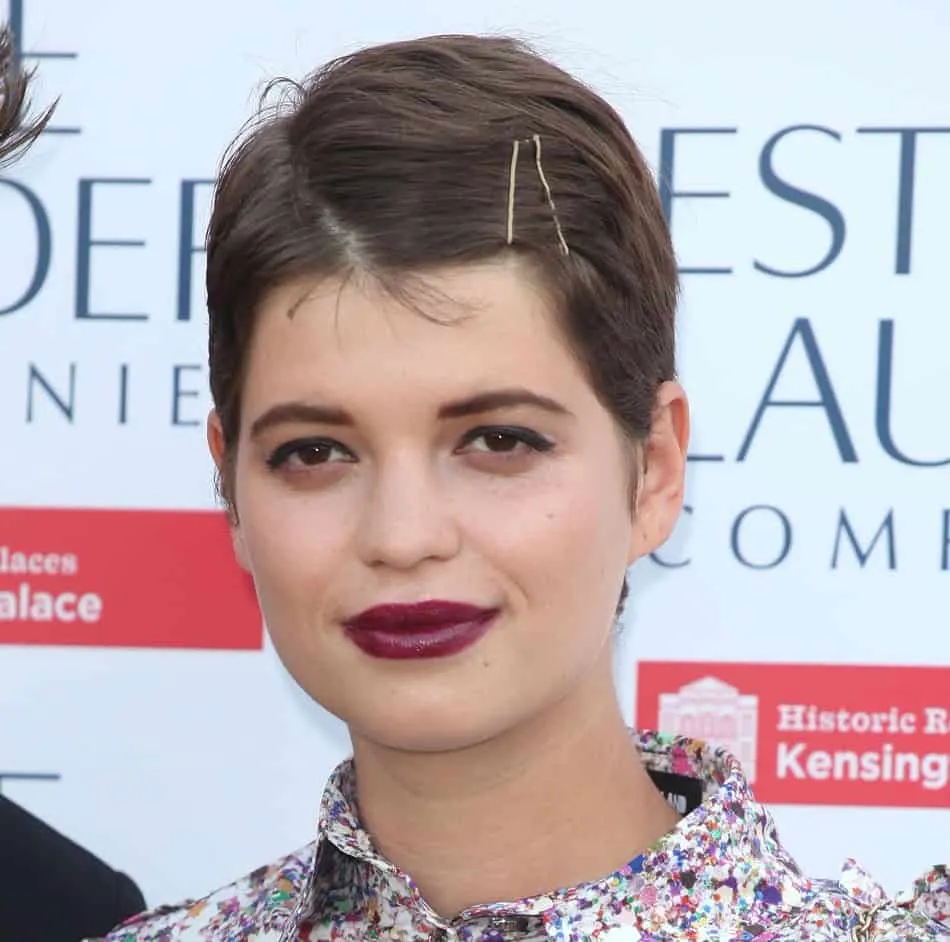 Make your pixie cut simple but sweet by copying celebrity singer Pixie Geldof. The back is where the longest hair length is, while the front is kept short. When you want it out of your face, just clip it back with some cute barrettes!
Extra-long bangs are great for women with long faces or large foreheads. Rihanna styles her layered pixie haircut by straightening the hair and combing the angled bangs to one side for softness. They conveniently also cover most of her forehead.
39. Teyana Taylor
Do you prefer a really short hairstyle? Singer Teyana Taylor is very edgy in her low-maintenance cropped pixie cut. To get the look, ask your stylist to trim your hair, so you only have about an inch of hair all around. Run a comb through, and you're done!
Renowned Celebrity Models with Pixie Cut
If you can't take a style hint from a model, who can you take it from? These gorgeous models show us how a pixie cut should be styled.
40. Edie Campbell – Mullet Pixie
Edie Campbell's mullet pixie cut was daring and playful, with short layers on top and longer lengths at the back. This unconventional style demonstrated her fearless approach to fashion and made her stand out among celebrities with pixie cuts.
41. Agyness Deyn
If you're looking for an androgynous style of messy pixie, look no further than model Agyness Deyn. It's great for those who prefer a longer pixie. Wear it straight and combed out in different directions, topping it off with a fashionable hat.
42. Bella Hadid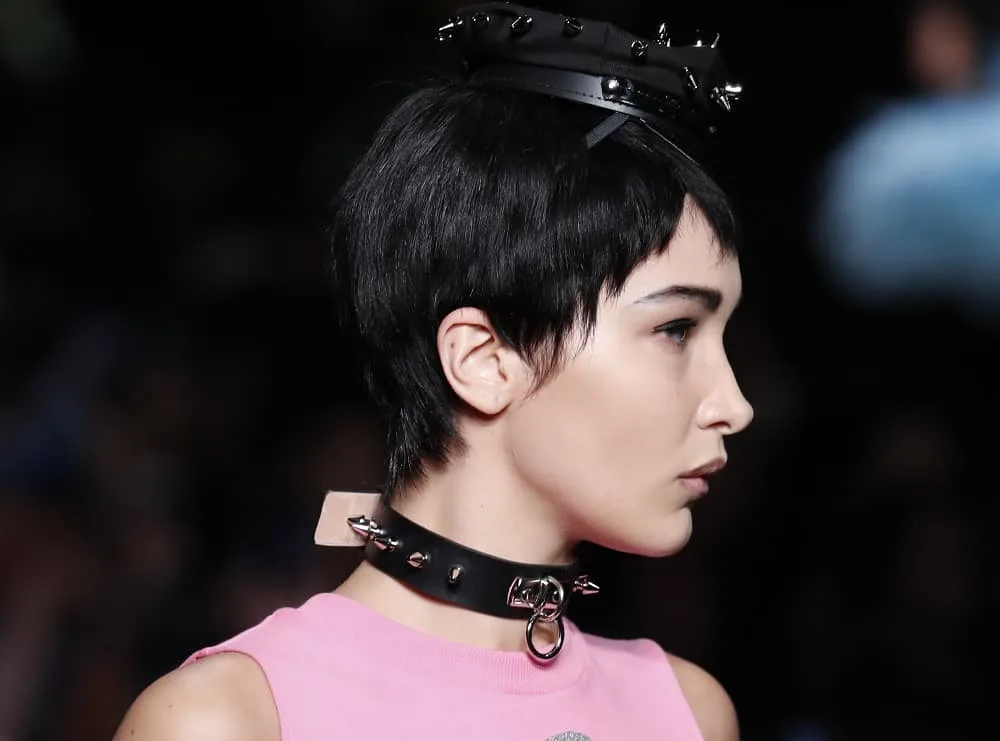 If moody and mysterious are in your hair goals, you'll love Bella Hadid's black edgy pixie cut. It's mostly one length all over, but the ends are unevenly cut, giving the style a punk personality.
43. Maria Borges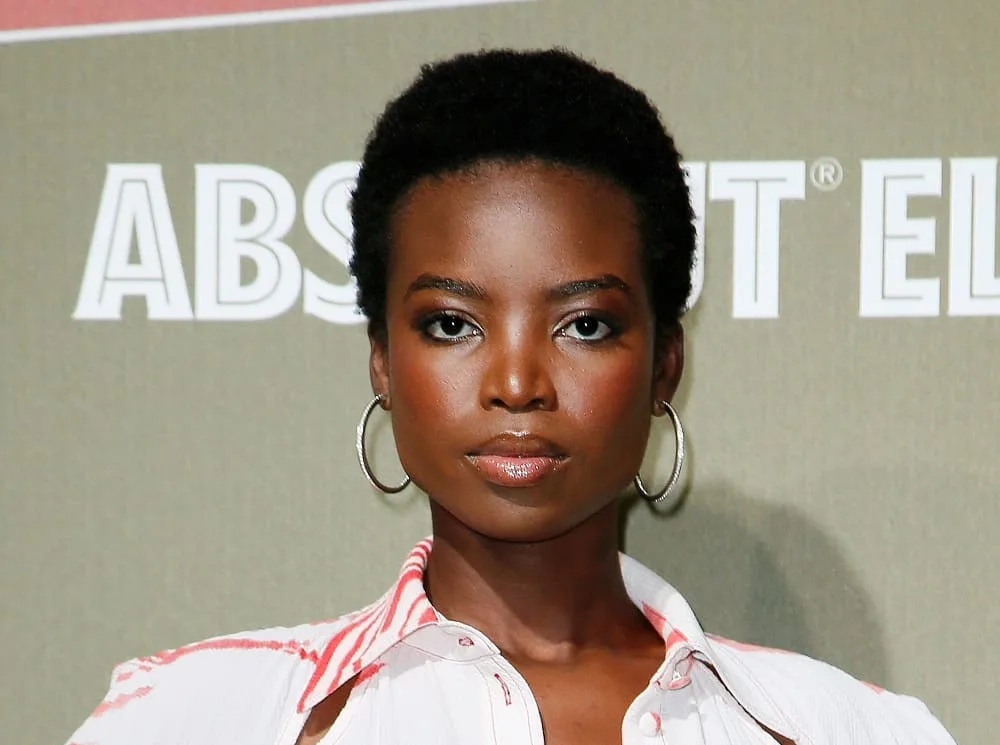 We love a woman of color who isn't afraid to embrace her natural hair. Model Maria Borges bares it all in a super short natural afro pixie cut that suits her round face. Go with bold makeup to accentuate your eyes.
44. Ruby Rose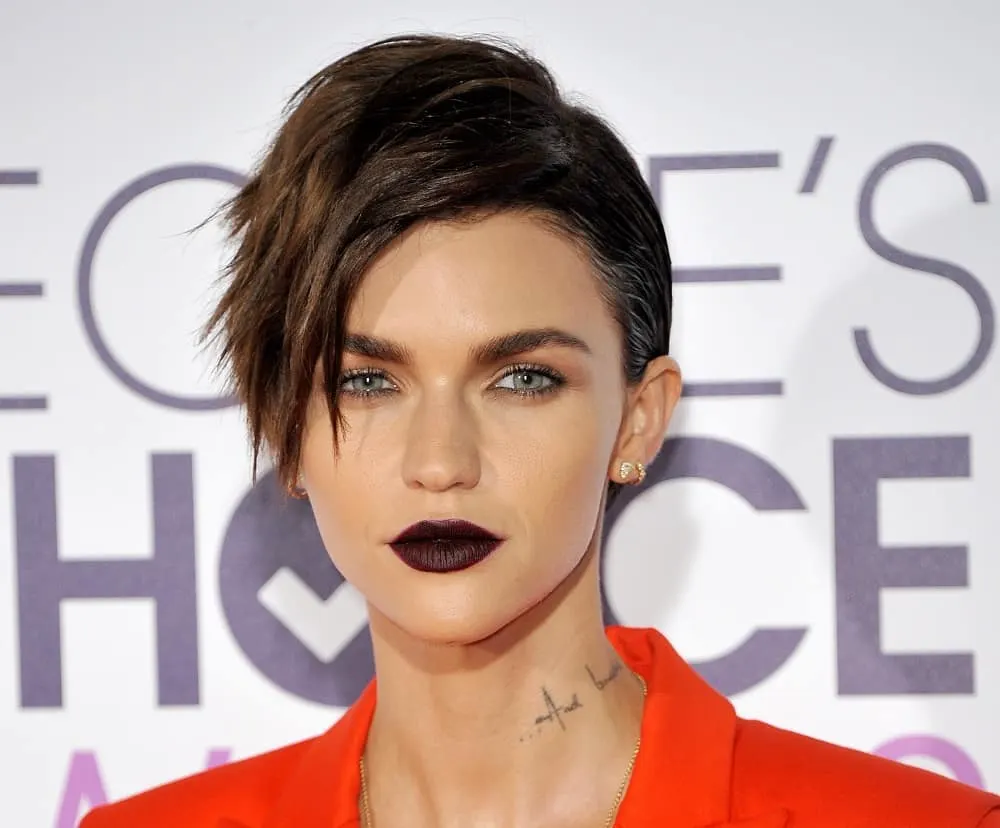 Ruby Rose is no doubt the girl crush of many women, and it's easy to see why! Her asymmetrical pixie is always styled differently, but the one above features a heavy part for volume and soft waves that contrast with the one slicked backside.
45. Tyra Banks
Even model Tyra Banks rocked a pixie cut with bangs at one point. She has a long face, which looks best with a pixie that has a long front. We recommend going short in the back, and keeping the front half long enough to cover your forehead, whether it's straight or wavy.
Famous Celebrities with Pixie Cut on Instagram
If you didn't post it to Instagram, did it really happen? These celebrities shared their stylish pixie cuts with the world on their IGs.
46. Maricar Reyes-Poon
A soft pastel color like a light pink with blonde is a favorite of ours when it comes to hair colors. Maricar Reyes-Poon wore her thick pixie combed back with piecey texture, and teased for both volume and shape.
47. Micah Gianneli
Here's a female celebrity whose blonde pixie cut screamed sex appeal. The combination of her wavy golden blonde locks against her light skin tone was stunning. The key is combing out curls for the beachy waves, then brushing it all forward.
48. Sarah B.
When you're heading out on a date or to another fancy occasion, style up your pixie cut like celebrity Sarah B. A jeweled headband is just the right amount of bling for a short pixie.
49. Stella Cini
Glamorous is the only word that comes to mind when you see Stella Cini's perfectly styled wavy pixie. Use bobby pins and lots of hairsprays to secure your style. You can even line the shape with a few face gems for sparkle.
50. Vicky Logan
Last on our list of celebrity pixie cuts is Vicky Logan. This natural-haired beauty styled her short haircut by scrunching in curl cream to enhance the natural texture. Sides are slightly shorter, nicely emphasizing her face shape.
If you were ever doubtful about being able to pull off celebrity pixie cuts, we hope the above styles have proven you wrong! There's no wrong way to style this popular haircut, from short and curly pixie cuts for natural hair types to long and straight pixies. The key is putting your own style touch on it, like hair color!
Which celebrity pixie cut will you be rocking?