Did you know that more people in the world suffer from thin hair problems than from unruly thick locks? That's why bangs styles for thin hair are especially demanded.
If you have thin locks, creating bangs is a great way to add your hairstyle some volume. With the right maintenance, you can keep a great look.
While you might not always be able to achieve blunt bangs, the wispy asymmetrical fringe will give you some extra style. All the girls, who have ever tried bangs, reported that their thin hair began looking much better. They never went back to living without bangs again.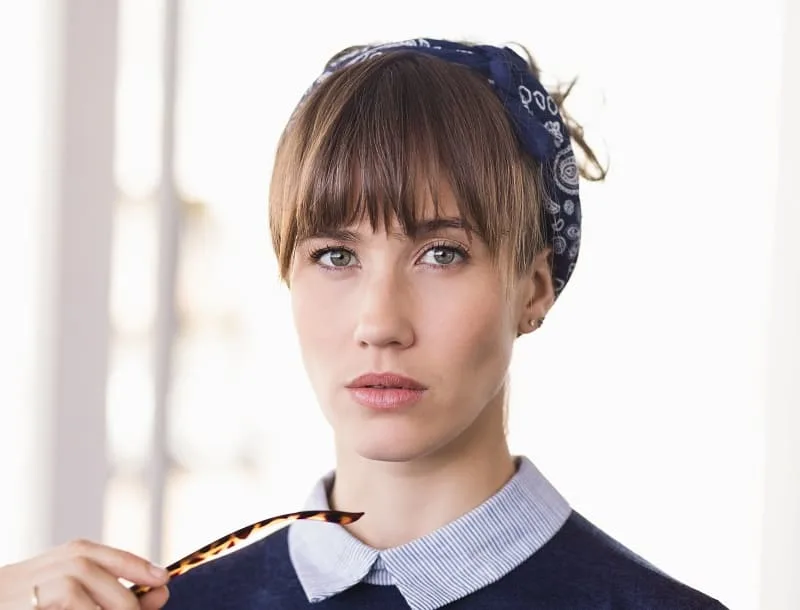 How to Take Care of Your Thin Bangs Hair?
If you plan to get bangs on your thin locks, you can take advantage of some maintenance advice. Bangs usually require more care than the rest of the hair. It's up to you to make them look fresh, shiny, and even voluminous.
1. Don't Overdo The Hair Gel
Thin bangs should look great on their own. Any hair gel will ruin the picture. Thin hair usually doesn't respond too well to heavy hair care products. The maximum you can use is some light hair mousse before blow drying.
2. Lift Them At the Roots
Giving your bangs some volume is as easy as pie. You don't even have to wash your hair beforehand. Run wet fingers through your bangs to make them slightly damp. Apply some mousse and start drying on a low setting. Direct your blow-dryer upward so the hair is lifted slightly at the roots.
3. Keep The Bangs Clean
Bangs have a way of getting dirty before the rest of your hair does. Consider washing the bangs more often than your other locks. Washing the bangs separately allows you to do better styling while removing the buildup. This is especially useful for people who love using styling mousse.
Be careful with overusing the shampoo. When you are cleaning the bangs on a daily basis, consider using shampoo only every other day. The rest of the time, use the conditioner.
4. Use Rollers
If you want to add your fine bangs some volume. You can lift it up with rollers. Velcro rollers are a good choice for overnight use. The only downside is that you can't sleep on your stomach. You can also reach the same effect by applying the rollers and then blow-drying the bangs at a low setting.
5. Pump up Your Facial Care Routine
Bangs often get dirty because you don't follow the right hair care routine. The greasy forehead leads to dirty hair. Make it your goal to set up the right facial skincare routine. Apply the cleanser twice a day. Make sure to use only the products that suit your skin type.
Popular Bangs Styles for Thin Hair
Whether you already have bangs or just planning to create some, these bangs for thin hair are here to give you some inspiration. We came up with 30 most versatile options to help you understand what type of fringe you really need.
When you know as much as possible about bangs hairstyle and hair care, you can make the best out of your locks. Besides adding your thin hairstyle an extra oomph, bangs have a way of making you look younger while covering up the forehead wrinkles. Give one of these bangs a chance.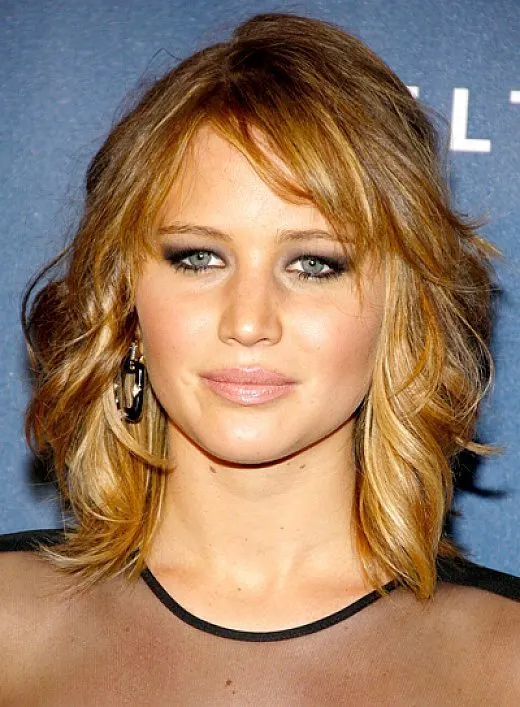 If you want to add your bangs some volume, you can take the flat iron approach. Wispy bangs look great when you curl them and sweep to the side, otherwise they can look too sparse on the forehead.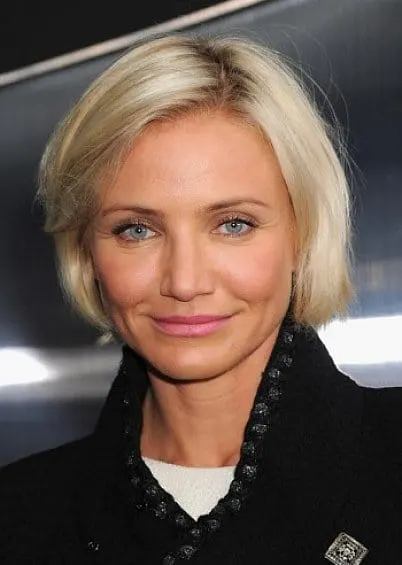 If you want to use the rejuvenating properties of the bangs, consider doing the side sweeping trick. Just don't move them completely out of the way. All the bangs to cover at least one-fourth of your forehead for the best effect
3. Short and chic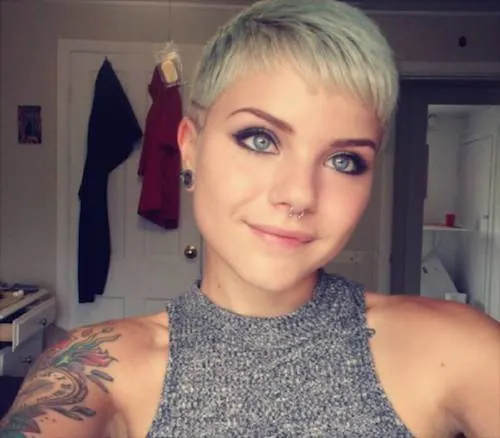 Many girls with thin hair opt for really short haircuts. A very short pixie is a wonderful choice but you can make it even better by adding some short bangs. Cut the bangs to be about one inch long. You'll look fantastic!
4. Asymmetrical shine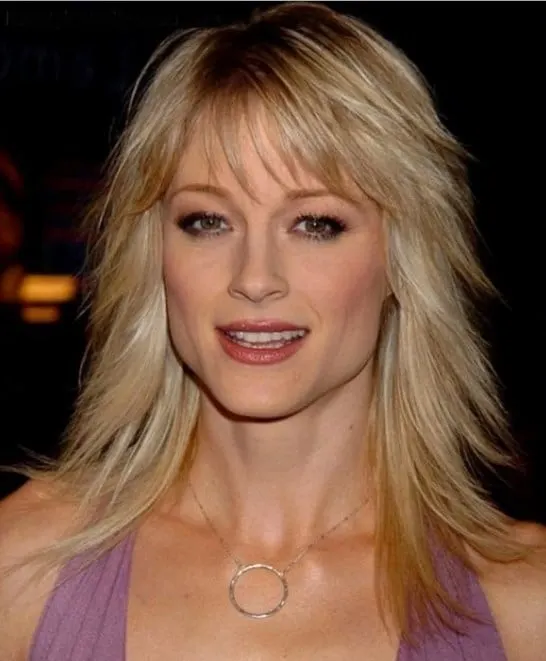 Asymmetrical wispy bangs for thin hair is one of the best options you can come up with. Consider making them shorter in the middle and longer on the sides. Don't hesitate to experiment with the length.
5. Long bangs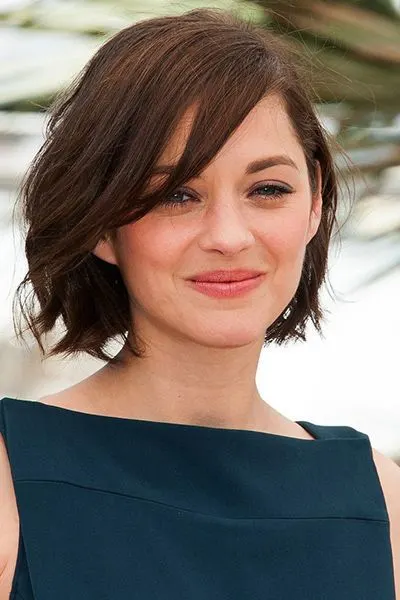 Long bangs for thin hair don't always look appropriate, but if you have a short bob dark locks, they can look fantastic. Make sure you side sweep the bangs to keep them out of your face. The closer the strands are together, the more volume they create.
6. Change the color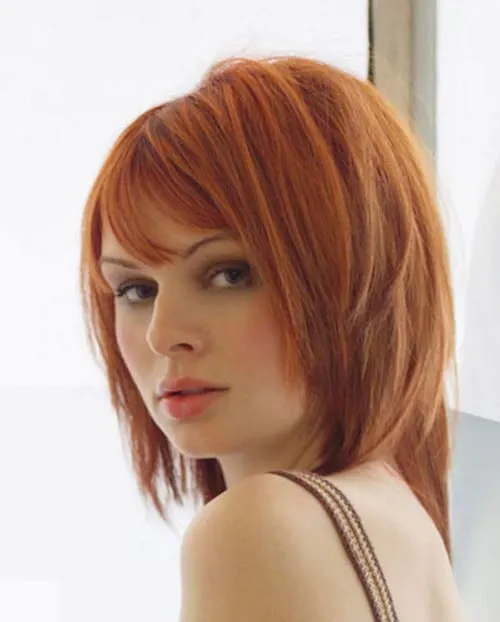 If you have thin hair, consider changing the color a couple of shades lighter. Lighter hair automatically creates more volume. You don't have to go completely blonde, but you can opt for something like light red or auburn.
7. Wavy fun
If your hair is fine and wavy then these bangs will look fantastic. You don't need to do anything besides applying some mousse to keep it from going all over the place. A messy hairstyle is great for such fine wavy locks.
8. Neat and sweet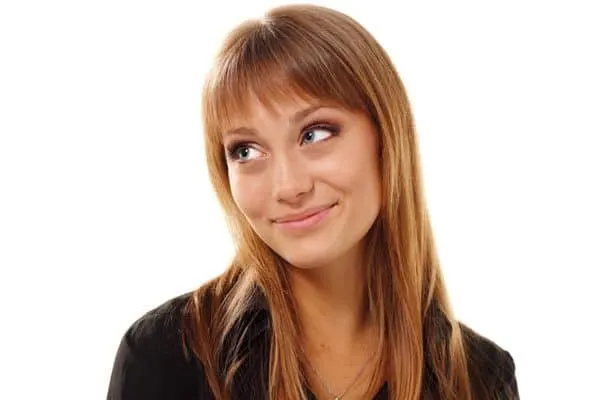 If you have fine straight locks, you should consider keeping the bangs as neat as possible. Choose the length to be just above the eyebrows. This way you can simplify the styling process. Brush them often to keep them tidy.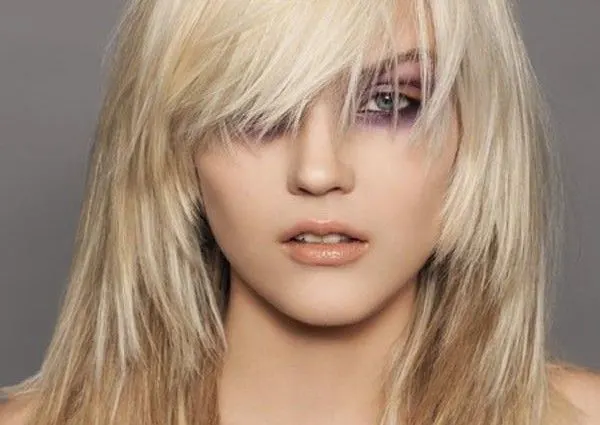 Choppy and messy hairstyle warrant eye covering bags for thin hair. You have to play around with the length here because fine locks often don't create nice long bangs. You'd need to keep the messiness intact or side sweep them.
10. Side part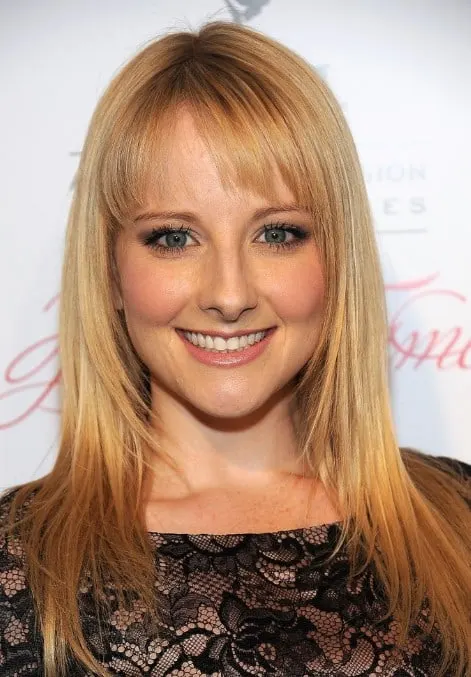 If your fine locks don't allow you to have nice blunt bangs, you can try a little cheat. Create blunt bangs and separate them by a side part. This way each of the sides will have sufficient volume for a great hairstyle.
11. Long Straight Bangs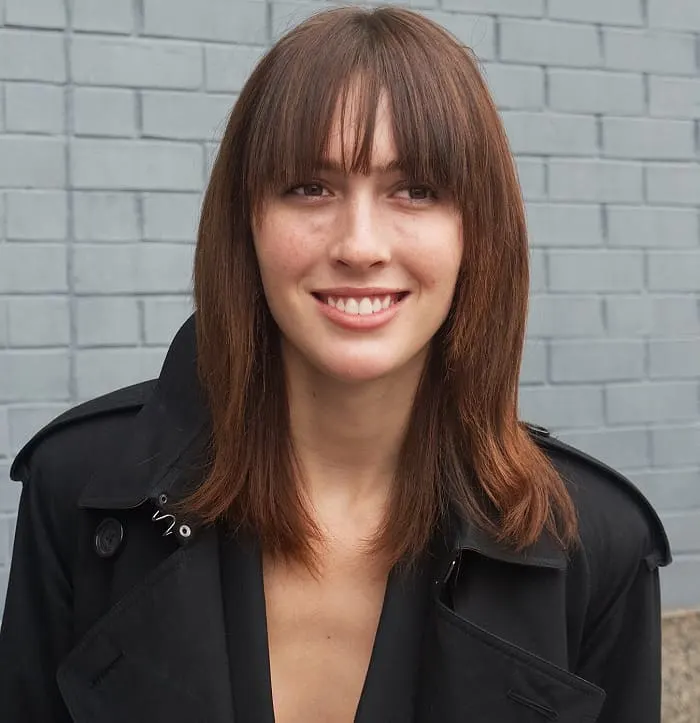 These long straight bangs are perfectly suited for women with a wide forehead. They just graze the eyebrows, but are layered at the sides for subtle face-framing.
12. Straight and Wispy
Another great option for women with a wide forehead are these long straight bangs that are wispy enough to see some of the forehead behind. Wear them like this on a high ballerina bun for a chic style.
13. Extra Long Bangs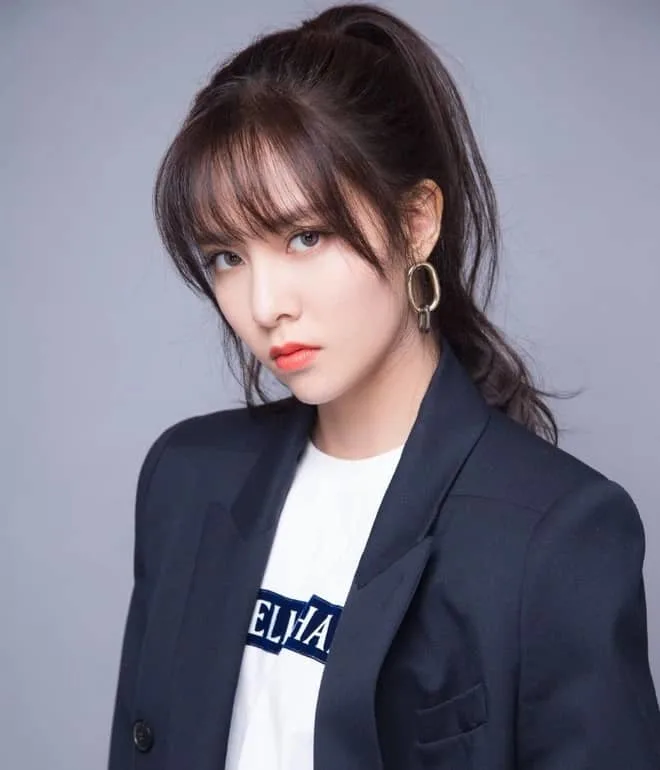 Bangs that come past the eyebrows usually make for a dramatic look, but if you have thin hair, it's a soft touch to any hairstyle. When worn in a long ponytail, leave the sides loose to frame the face.
14. Straight Bangs with Wavy Hair
For the woman whose hair is medium length and naturally wavy or worn in curls each day, straight bangs are the best complement. They help show off thin hair and complement virtually any face.
15. Curly Bangs for Updo
Try space buns as a perky fun style for bob-length thin hair. Instead of slicking the hair back, leave it slightly messy and pair with curly bangs.
16. Shaggy Curtain Bangs
A wavy layered haircut is a rocker-chic style for thin hair and when paired with curtain bangs, retains some femininity. Get the shaggy look with plenty of layers.
17. Thin Bangs for Oval Faces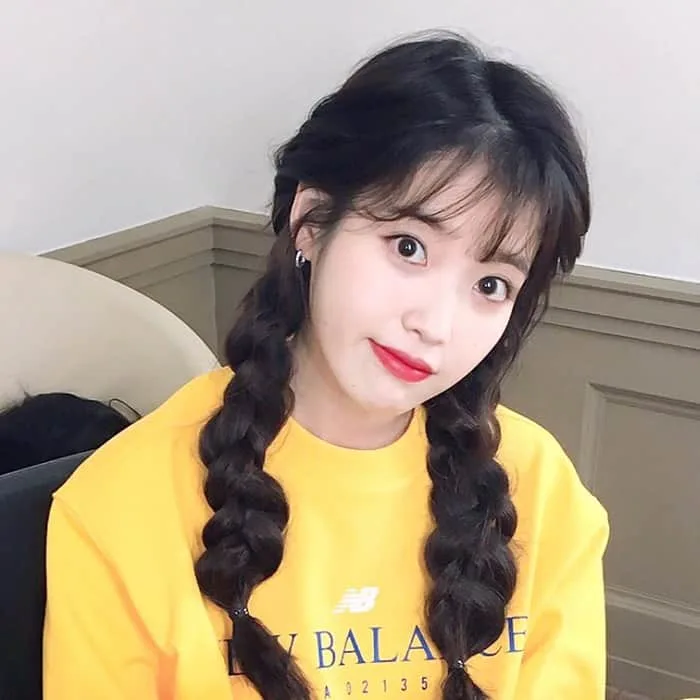 If you have an oval shaped face and thin hair, you're in luck. Adding bangs that reach the eyebrows will help you achieve a sophisticated touch to any style. Avoid going too short unless you want to look like a little kid!
18. Braided Updo with Bangs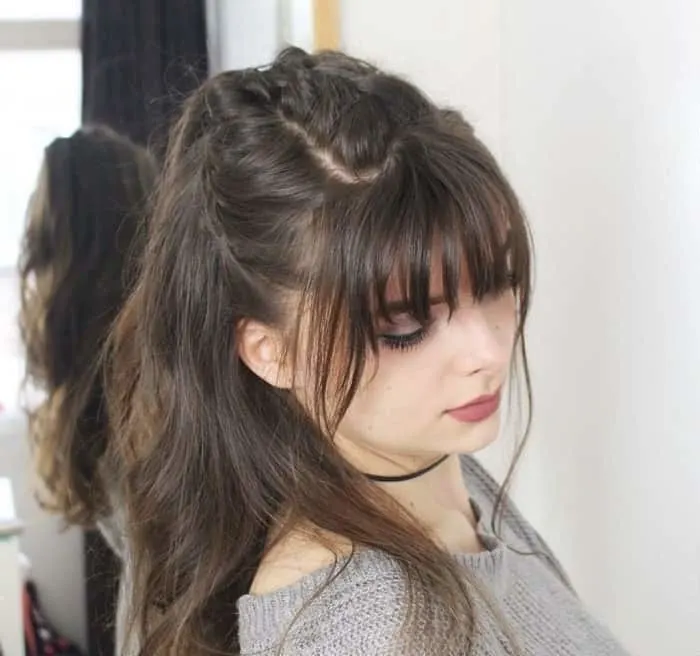 The top half of this long hairstyle features a complex braid. The overall look is soft because of the thin bangs that are slightly wispy. Use fingers to arrange them across the forehead.
19. Blunt Rainbow Bangs
Aside from shaggy hairstyles, adding rainbow hair color and cutting bangs bluntly is a great option to get that rocker style. An off center part and lots of teasing for waves enhances the effect.
20. Short Thin Bangs with Wave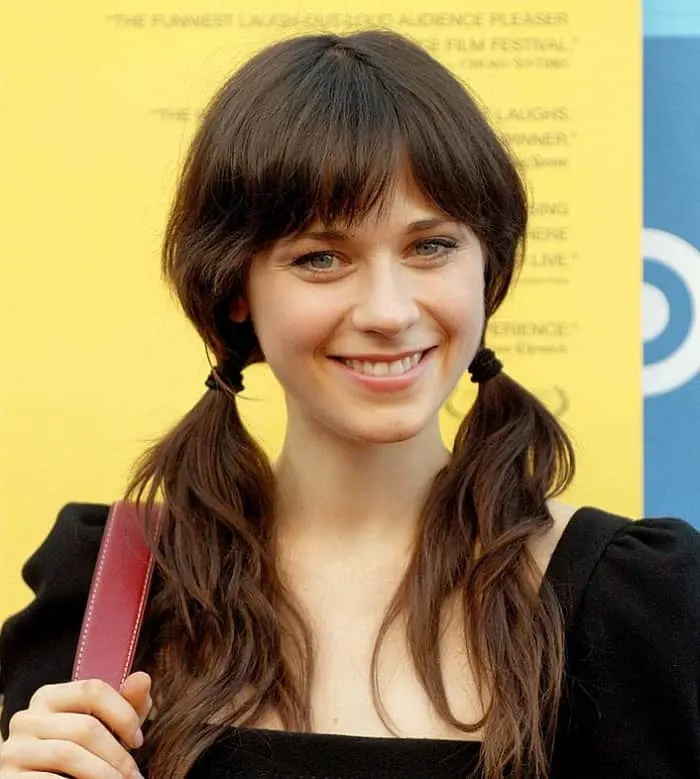 A slight wave to short thin bangs gives them a little shape. Zooey Deschanel shows how cute two low ponytails can be with this cute fringe.
21. Extra Long Bangs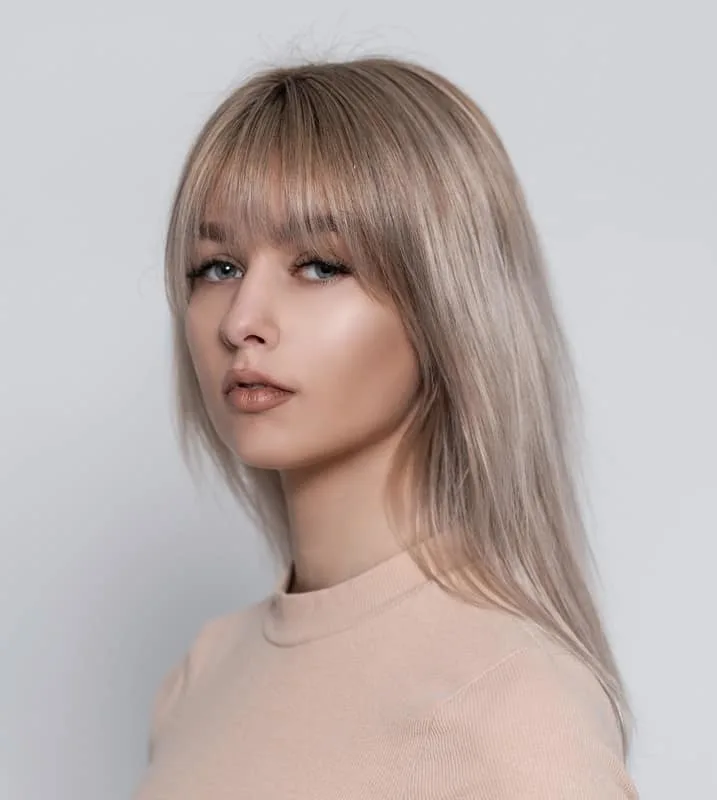 Extra long, soft bangs are a chic option for women with equally long yet thin hair. Their thinness makes them less harsh, so your eyes can play peekaboo.
22. Baby Bangs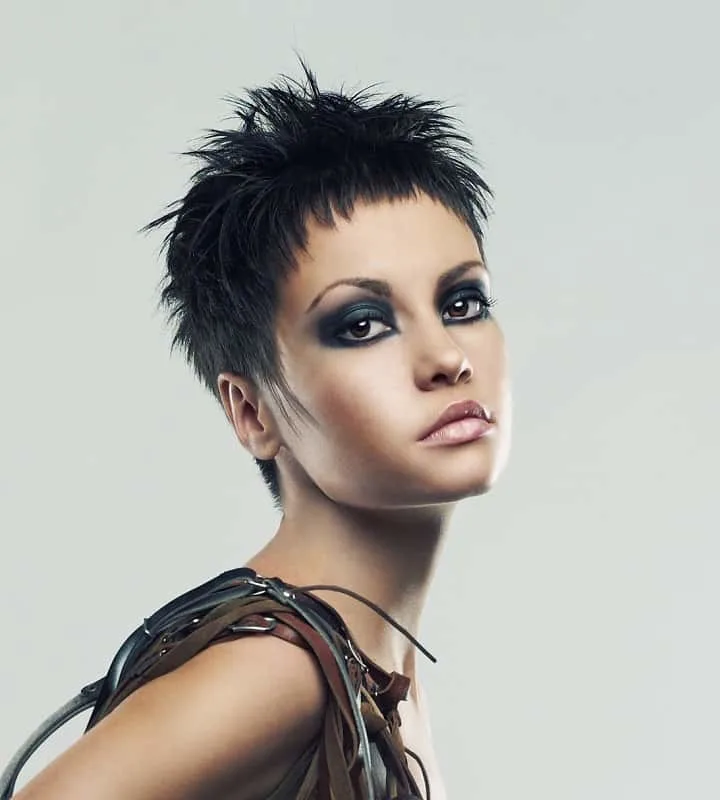 Baby bangs are super short, barely coming to the middle of the forehead. For a short thin pixie, baby bangs can add a cool edge, especially if your all over color is dark, like black.
23. Long and Straight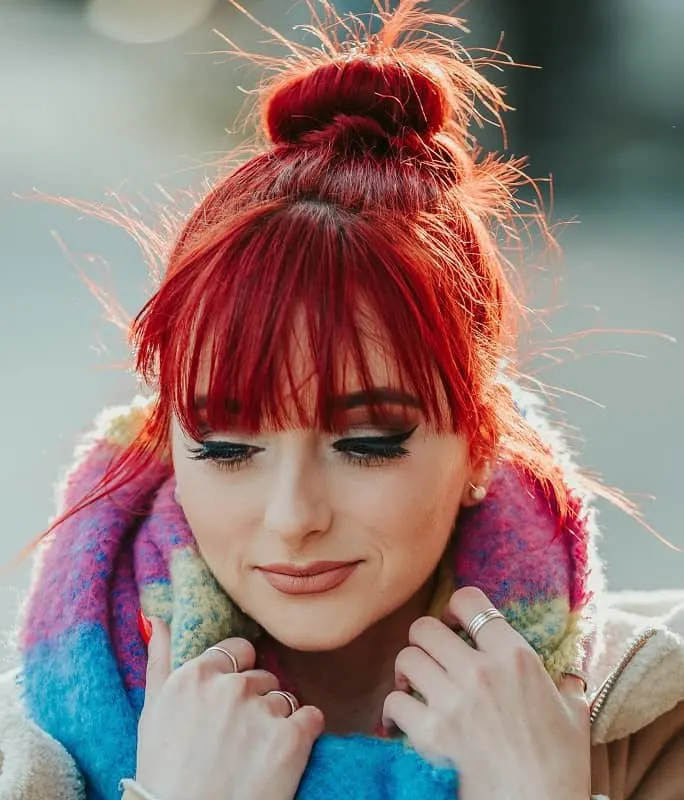 Coming just above the eyes on this updo bun for thin hair are these long bluntly cut bangs. A bold all over red is a dramatic look when worn with a black cat eye.
24. Piecey Bangs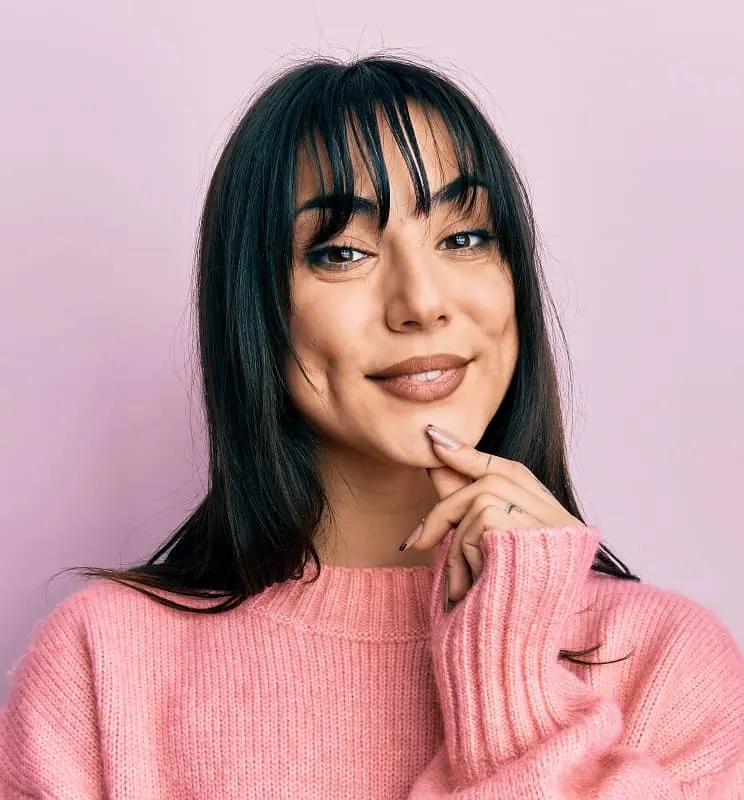 Another way to wear extra long bangs on your thin hair is by making them piecey, meaning they aren't thick or blunt. These ones ensure you can see the forehead behind and aren't "in your face."
25. Thin Curtain Bangs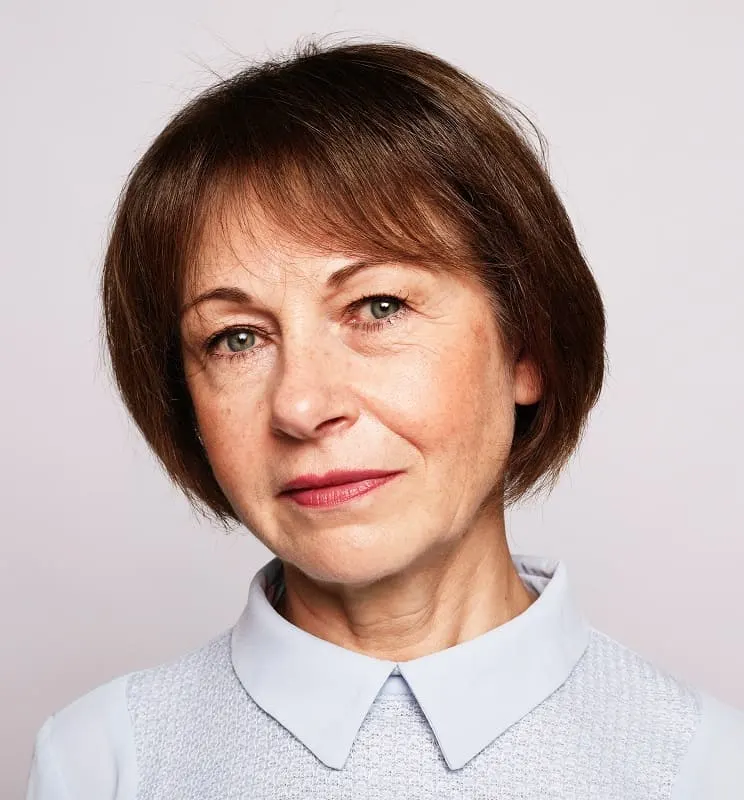 For a short bob or pixie, try some thin curtain bangs. They're another soft option for your fringe and won't get annoyingly in your face.
26. Straight Sectioned Bangs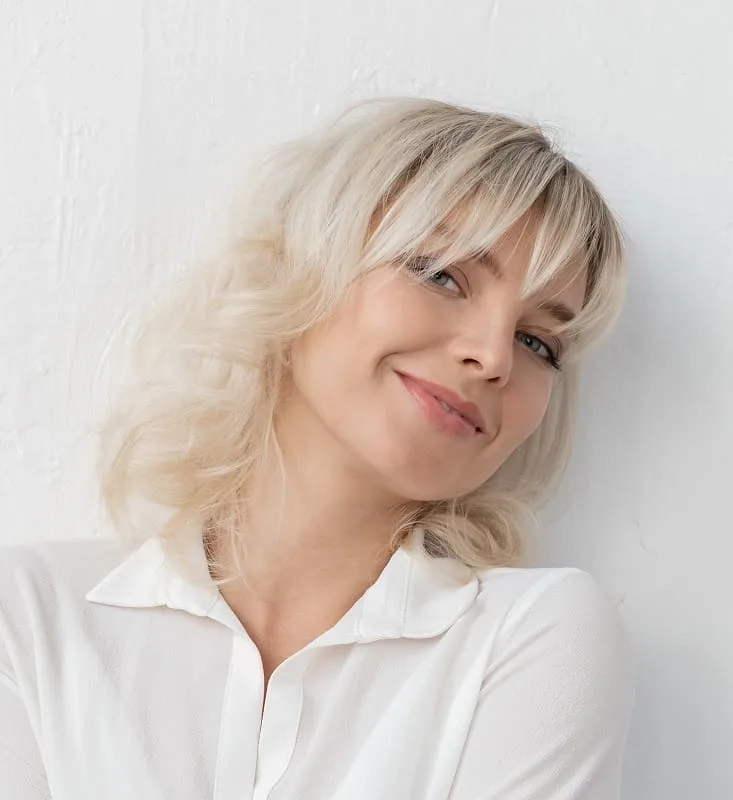 We love how the bangs of the above medium length, curly hairstyle are separated into natural sections. You can get this look by using a bit of hair spray on fingers to shape the pieces.
27. Layered Curtain Bangs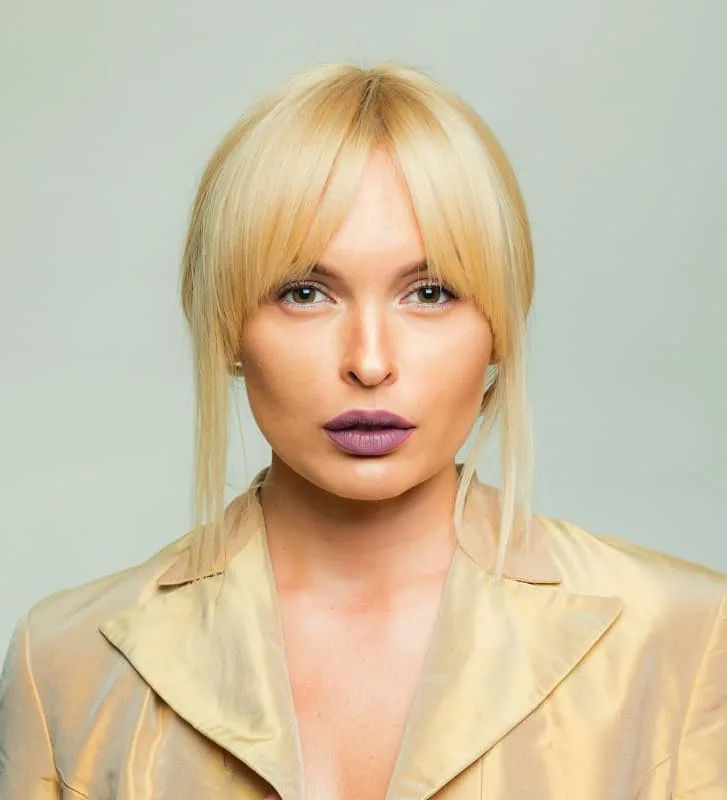 Long thin hair is secured in a chic low ponytail on this women's hairstyle. The curtain bangs are layered as well, creating a beautiful fanning out along the forehead. Make sure hair is mostly straight to get this style.
28. Uneven and Wavy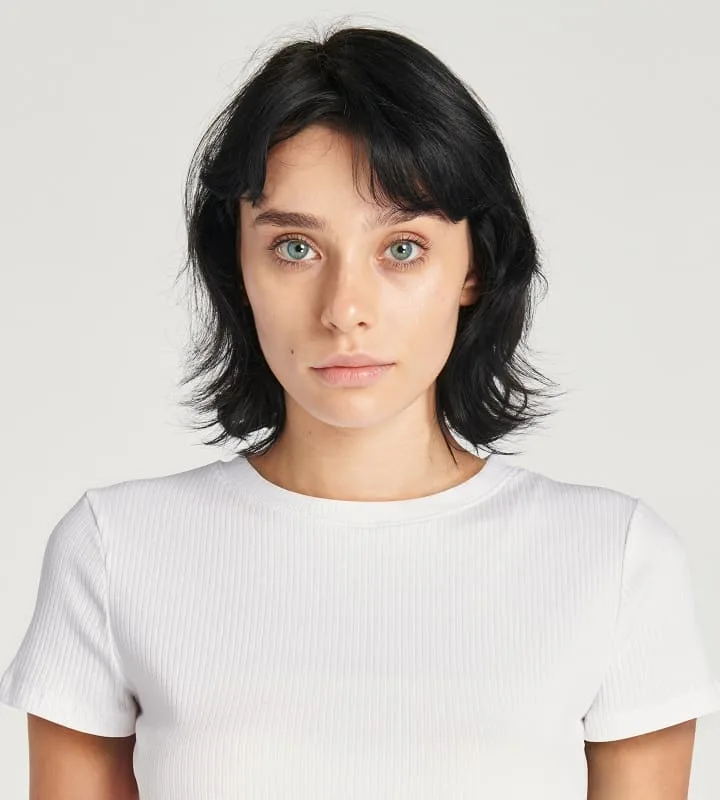 An oval or narrow face shape can look more round with a short thin hairstyle and slightly messy, wavy bangs. They don't need to be brushed down or perfectly even – the slightly messy style works well here.
29. Pin Straight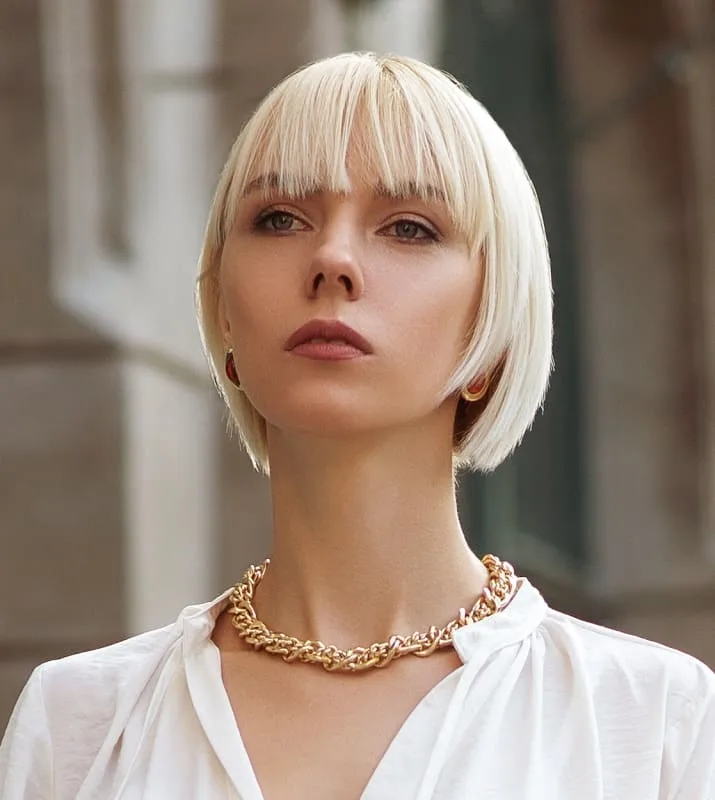 Using a straightener will get you the pin straight bangs seen here on a short thin haircut. Keep fringe one length until it reaches outer eyes, then begin going longer to work in face-framing.
30. Windblown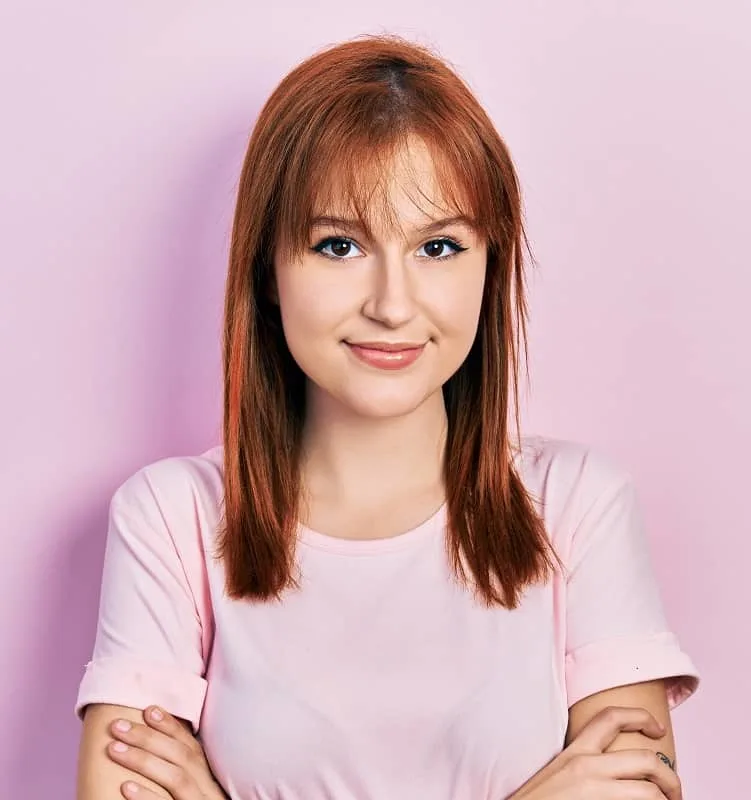 Look like you just walked in from a relaxing breezy day outside with windblown bangs for thin hair. Style as usual but don't do it too perfectly.
Conclusion
We are delighted to present you with these wonderful bangs hairstyle options for women with thin hair. They are definitely a great pick for any girls. If your locks are thin, the time has come to make some bangs changes. Go for it!
FAQs
Now we'll look at some questions you may have when considering bangs for thin hair.
What's the difference between thin bangs and thick bangs?
Thin bangs are often styled to create a wispy effect around the face. People with thin hair often opt for bangs with varying lengths to create dimension. Thin bangs also have areas of separation.

Thick bangs usually have hair of consistent length, do not have this framing effect, and tend to be more blunt or choppy.
Are bangs a good choice for thin hair?
Yes, bangs can be great for thin hair! Be sure to go with a wispier style of bangs to create an illusion of thicker hair. Choosing thicker bangs can make your hair seem thin.
Do curtain bangs look good on thin hair?
Yes, curtain bangs can look great on thin hair as they can create the illusion of more volume. Having a style of bang that frames your face makes your hair seem thicker than it is. The wispy style of curtain bangs adds volume and dimension to your hair.
How can I make thin bangs look thicker?
Using hairspray or dry shampoo can make your bangs appear thicker. Additionally, applying heat with tools like a blow dryer or curling iron can add volume to your hair and bangs and make your look seem fuller.
Is wispy bangs and thin bangs the same thing?
No, wispy bangs and thin bangs are similar but are not the same. Wispy bangs are thinly styled bangs. Thin bangs are bangs with a lack of hair volume and thickness. Even so, thin bangs can be styled in many ways.