Long curly hair with bangs is somewhat controversial. On one hand, you have beautiful curly locks, on the other unruly tresses as bangs. Most of the time women with curly locks try to avoid making bangs since it's too much hassle. However, the hairstyles that involve curly locks and bangs look truly fabulous.
The bangs often become an integral part of a hairstyle that women really love. Girls with long hair are often afraid of making bangs since growing them back out takes plenty of time. If you are contemplating bangs for any reason, you can check out how beautiful such hairstyles look.
How To Straighten Bangs
Straightening your bangs is much easier than dealing with the whole mane. It will take you only a few minutes to create a stunning straight fringe. Once you get the hang of it, you won't even notice how fast you can get the straightening done on a daily basis. All you have to do is practice.
1. Wash the bangs
Always start with clean bangs. You don't have to wash the rest of the hair but the bangs should be clean. Daily shampooing may not be good for your locks so use the shampoo every other day. Meanwhile, use the conditioner for daily cleaning.
2. Use some mousse
Invest in a light styling mousse that will help you form your bangs. Work the mousse carefully through your hair using your fingers. Try not to apply the hair cosmetics close to the scalp. This will make the hair look dirty faster.
Use a large round brush to wrap your bangs around and start blow drying. Curl the locks slightly toward your forehead. If you have long bangs, push the brush outward while drying. If your fringe is short you can keep it in one place.
If your hair is still too curly, you can use a flat iron just as you used the round brush to straighten the locks. Slightly curl the ends toward your forehead for a more natural appearance. Before using a curling iron, spray some thermal protection on your bangs in order to keep hair damage to a minimum.
5. Straightening Spray
Apply the straightening spray and carefully brush your new and improved bangs. Good luck!
Stunning Medium Layered Hairstyle Ideas
Here is a tutorial that'll explain it simply:
Gorgeous Long Curly Hair with Bangs for Women
Long curly hair with bangs can be styled in many different ways. You can either settle for curly bangs and deal with their wilderness or straighten out your locks to create the contrast. The first option is not likely to appeal to businesswomen who wear formal attire.
Meanwhile, other girls can take advantage of it fully. Curly locks with blunt or wispy straight bangs look truly amazing. However, they require daily maintenance on your part. You can wear the curly-straight combination for a special occasion and use curly-curly option for everyday activities.
If you want neat bangs without them appearing too blunt, you can straighten them and slightly curl on the bottom. Side sweeping such bangs is a good idea since they tend to get a little messy by the end of the day.
2. Eye-touching coils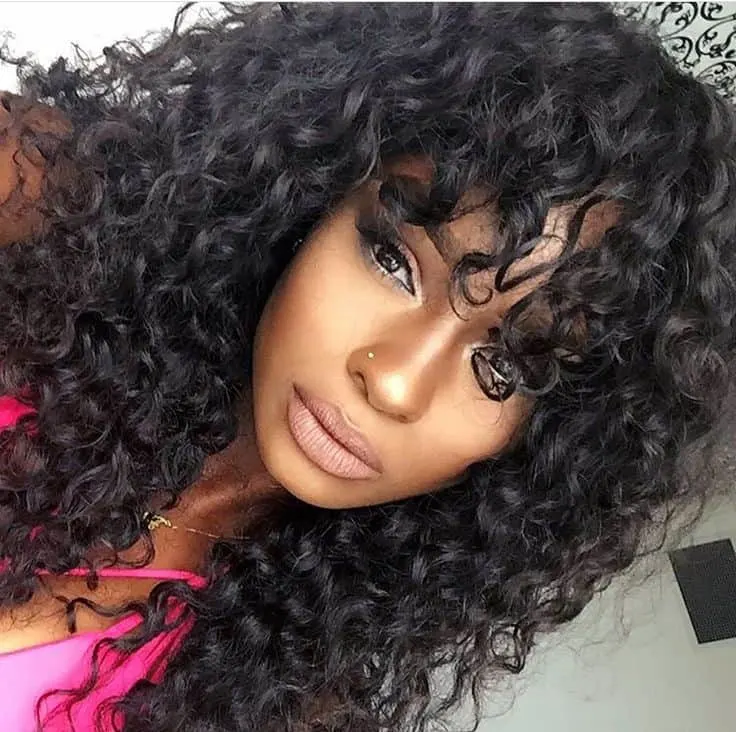 If you have tightly coiled long curly hair with bangs, you may want to consider arranging the top part to suit the rest of the hair. The longer you make your curly bangs the more romantic and dreamy your appearance will become.
3. Fashionable asymmetry
Asymmetrical bangs are very stylish and they look especially wonderful with curly and wavy hair. Short bangs with a slight asymmetry require you to do a straightening job on a regular basis in order for the asymmetrical part to be visible.
4. Ombre style
If you use an ombre hair coloring technique, why not use the same approach for the styling? Keep the top part of your hair straight, including the bangs. Keep the low part wavy or curled. The result is priceless.
5. Natural curl
Long curly hairstyles with bangs often look fabulous when you leave it to curl up naturally. Unfortunately, the natural approach is not always the neatest. So get ready to use hair gel to make the hair smoother.
6. Long curly wave hairstyle with bangs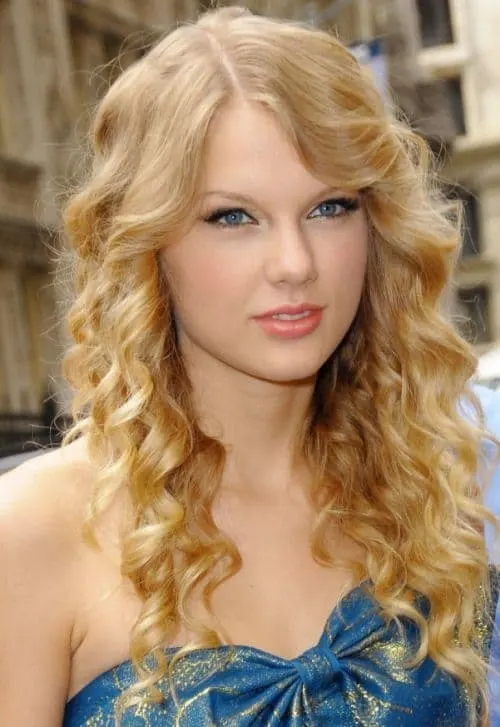 Another way to style your bangs on long curly hair is to give them a romantic wave. You'd need to straighten the bangs and use a flat iron to make them wavy. Such hairstyle requires a lot of fixating. See Taylor Swift's popular hairstyles.
7. The morning do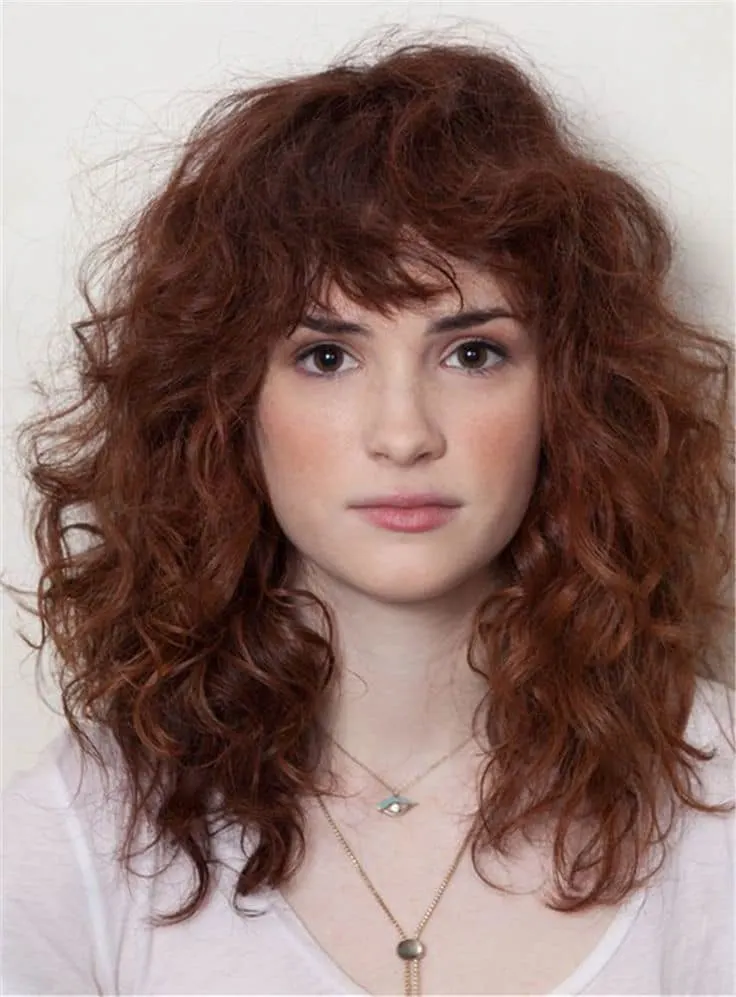 This messy "morning do" is becoming more and more popular among busy women. All you have to do is keep your hair clean. No extra styling required except for brushing. Perhaps this is what can suit you best.
Best Wedge Hairstyles for 2023
8. Voluminous wave
If your long curly hair with bangs is thick, you can take advantage of this simple hairstyle. Use hair gel to give the bangs a little direction so they don't stick out in different places. Leave the rest of the locks natural.
9. Striking glamour
If your hair is naturally straight, but you want curly locks, consider starting the curling process at the ear level. This way you can get a strikingly glamorous hairdo without too much effort. Meanwhile, straight bangs with long curly hair look fabulous!
10. Romantic curls
If you always wanted romantic curls but all you've got is tightly coiled locks, you can achieve the desired hairstyle by carefully coiling the strands to look neat on your forehead. You'll need some hair gel and a little patience.
Ultimate Side Bangs on Long Hair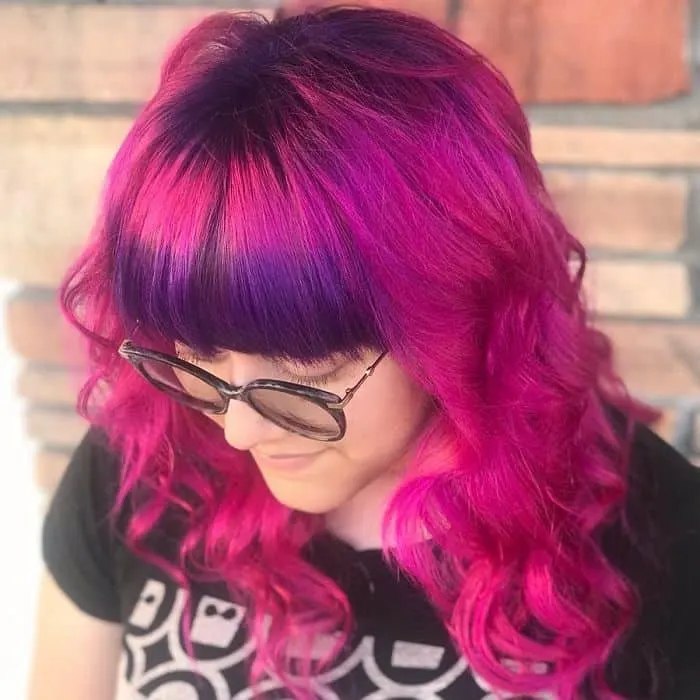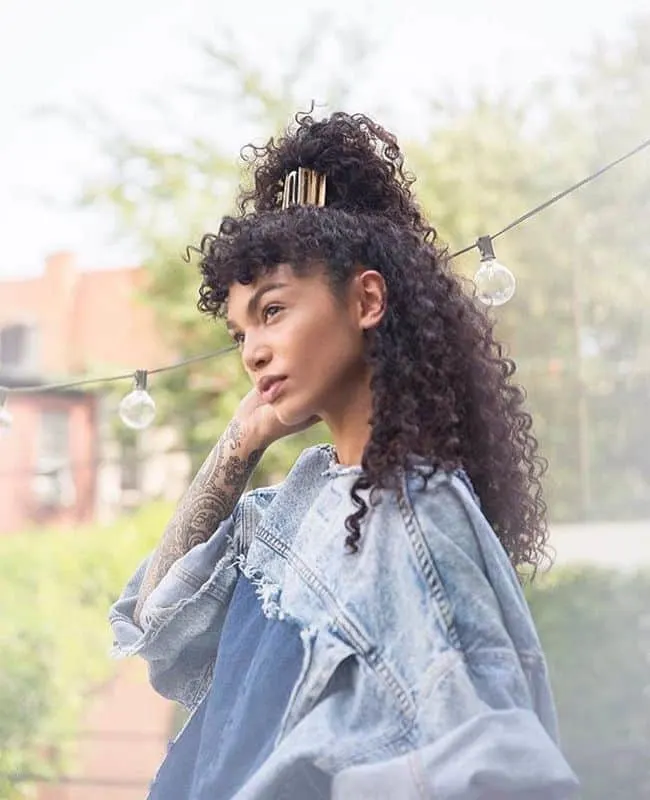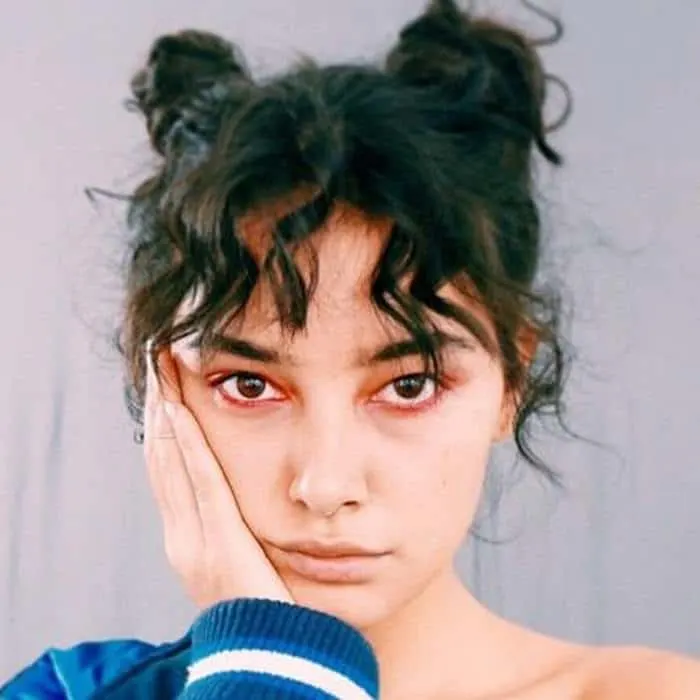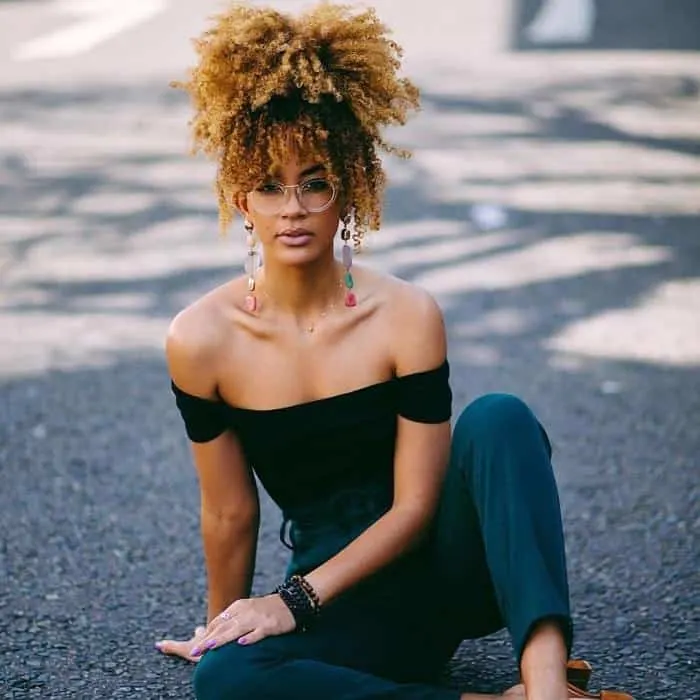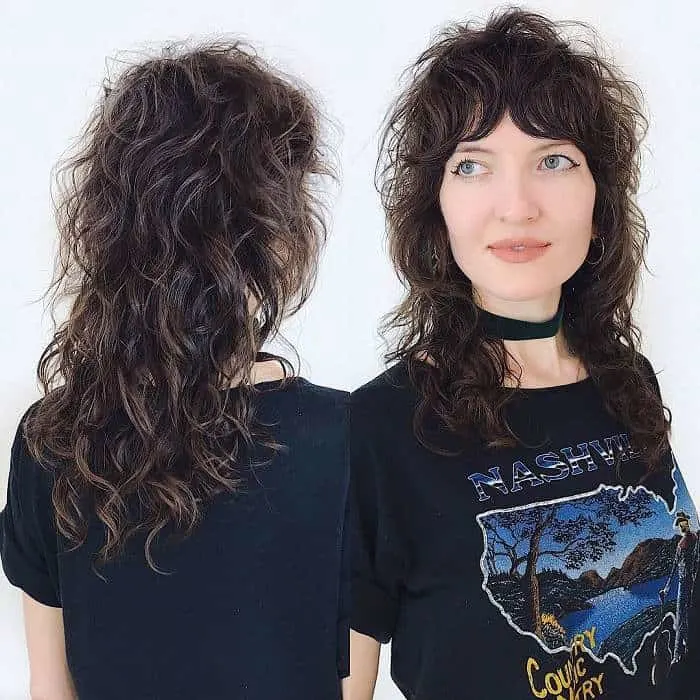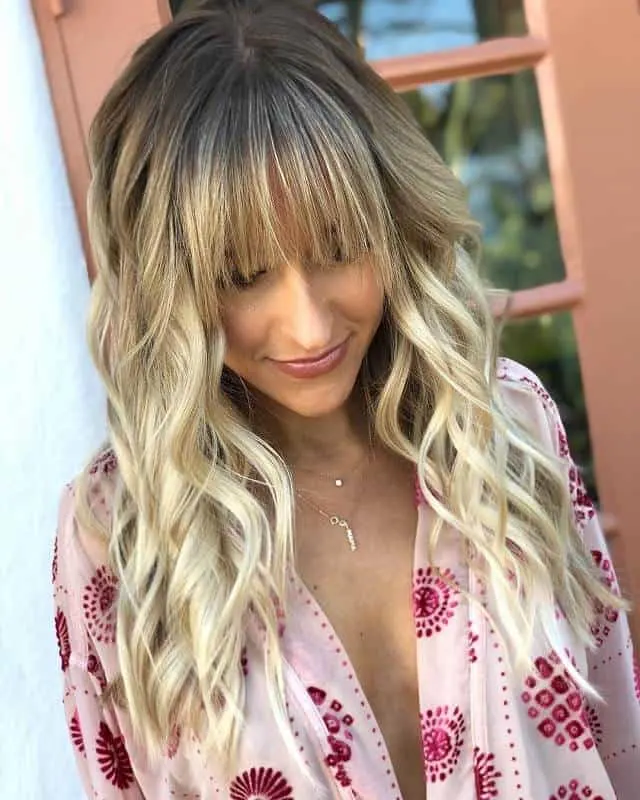 These long curly hairstyles with bangs are so stunning you must have chosen at least a couple for yourself. Don't be afraid to cut your hair to create bangs. After all, if you don't try them, you'll never learn how fabulous such hairstyles can look.