Black and purple hair can create a gorgeously dark and brooding look. Women who want a dark hairstyle with an air of mystery should consider dyeing their hair with one of these interesting color schemes. You can express your individual style with the amazing color scheme and the haircut that you choose.
How to Style Combining Black and Purple Hair Color
Always use a good quality hair dye to dye your hair in black and purple color. Using cheap hair dye will mean your hair color lacks vibrancy.
You may need to bleach the parts you want to dye purple to help to give the color some extra intensity. Using special color care shampoo and conditioner when you wash your hair will help to keep it looking at its best.
1. Black Hair with Purple Highlights
Purple color on black hair is a gorgeous yet subtle addition of color, perfect for when you want to sport a new color but need to be professional at work.
2. Short Black and Purple Hair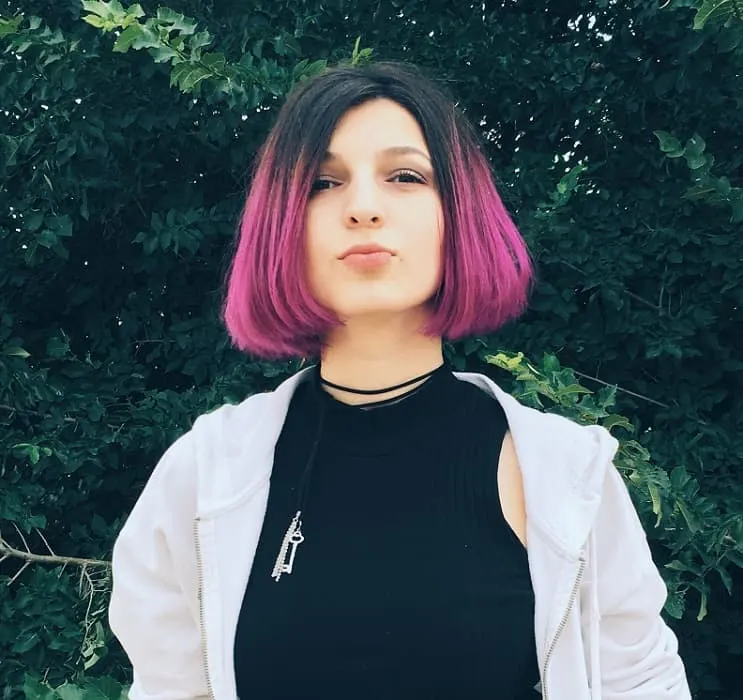 This particular style of black and purple hair has a tinge of pink to it. It makes a center-parted short bob pop and will surely add some pep to your step!
3. Black and Purple Crochet Hair
Throughout this long crochet black and purple hairdo there are a couple of dark purple highlights. Wear your hair down for it to be most noticeable but rest assured an updo will be cute as heck too!
4. Black and Purple Scene Hair
Scene hair consists of straight flat hair, long or short, usually with a bold addition of color. This style only features it on half the hair. It's an unusual yet pretty way to display your purple!
5. Black and Purple Balayage Hair
Balayage is probably the most popular way to add color to a women's hairstyle. This look shows how great both a medium and light shade of purple looks on brown hair, especially when ends are tinged with a bit of white.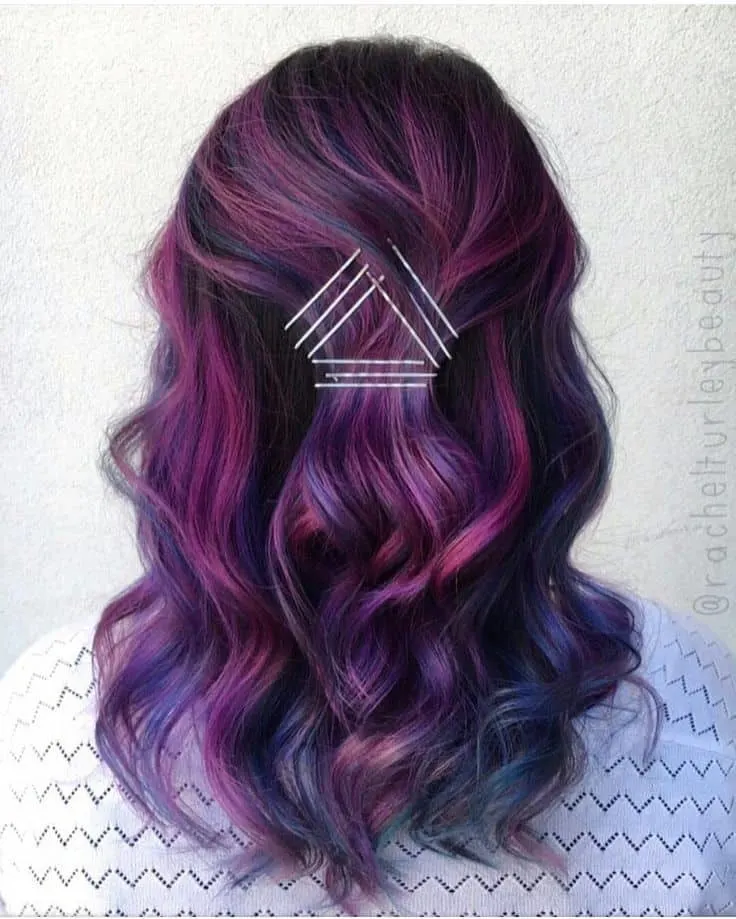 Both pink, blue, and purple decorate this wavy medium-length hairstyle. For both a daytime and nighttime look, gather the top half of the hair into a pony and secure it with a special hair clip or several bobby pins.
Breathtaking Purple Balayage Hairstyle
7. Black and Purple Ombre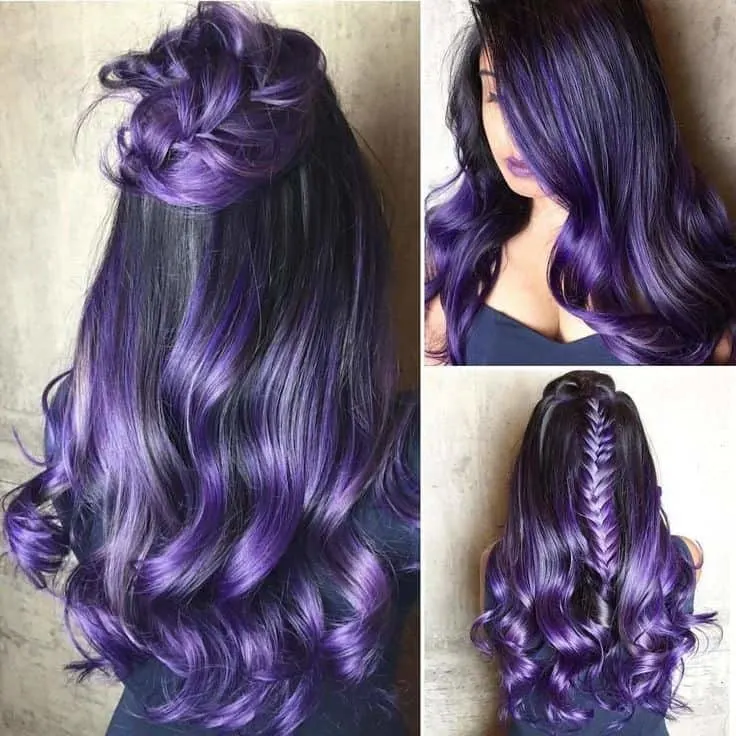 On long black and purple hair with waves, the purple is dark and mysterious. On black hair, it's the color to go for to spice up your traditional do; it also looks amazing when in a fishtail braided half updo or messy bun.
8. Cropped Tousled Style in Black and Purple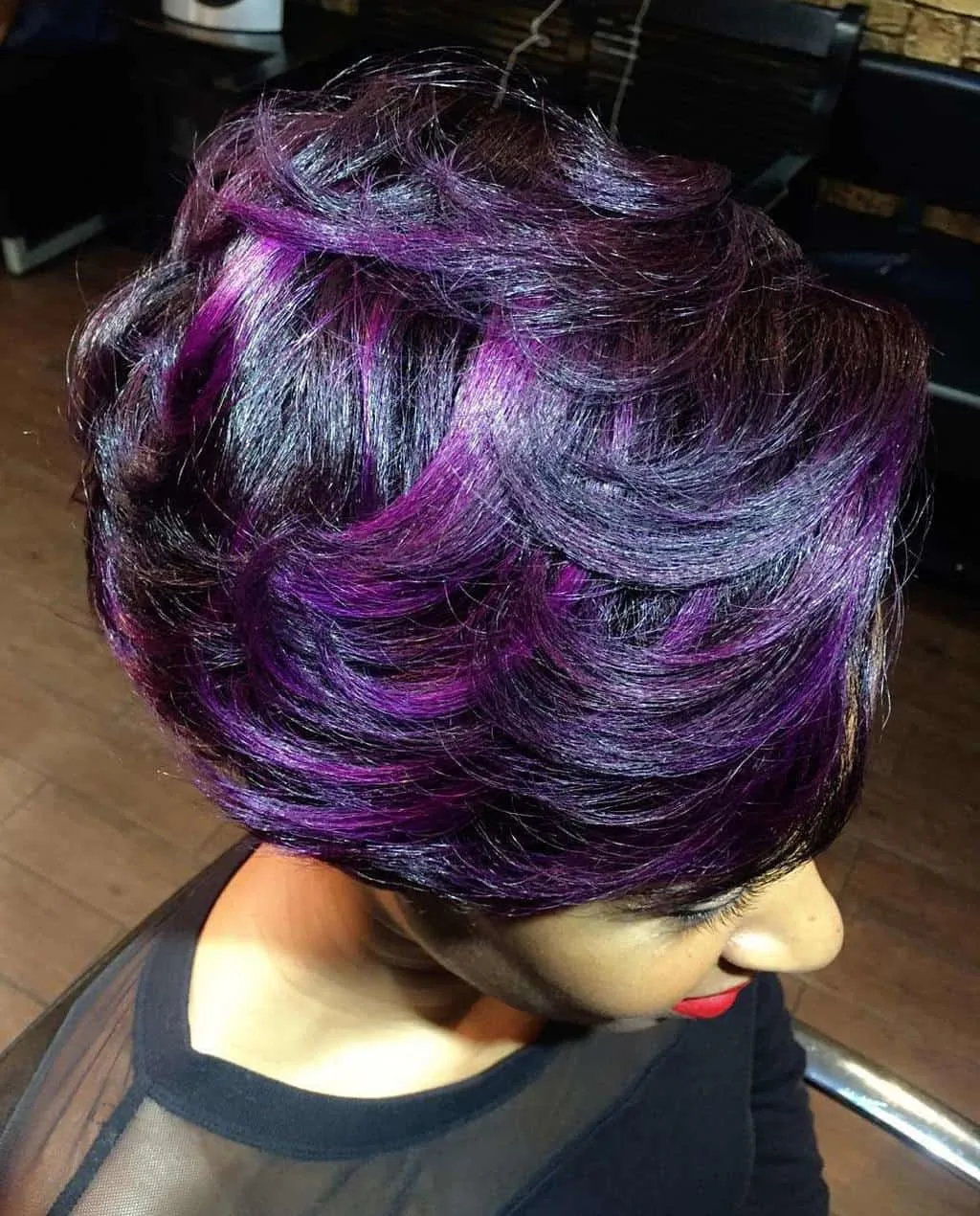 The secret to a statement pixie? Purple and black! Add it to your tousled short haircut with soft waves for head-turning results.
9. Gorgeous Long Plait in Dark Colors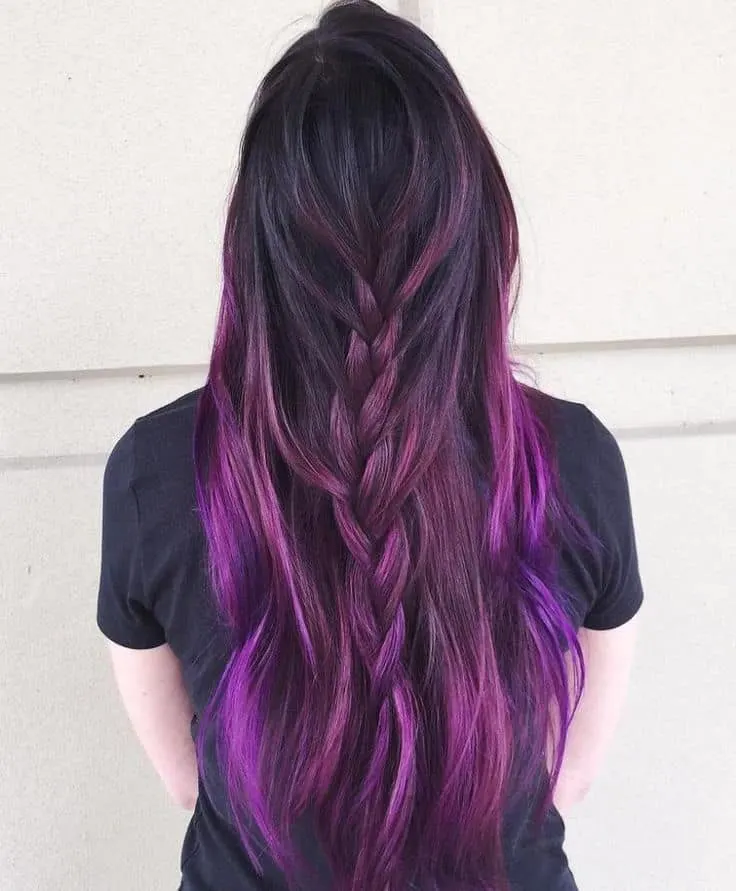 Make long purple and black hair your favorite look to flaunt by giving it a special plaited updo. Add soft waves for a result that is feminine and soft.
10. Black and Purple with Green and Blue
If purple and black hair isn't enough color addition for you, mix in a bit of green and blue. This layered medium-length hairstyle wears all four colors exceptionally well!
Black Hairstyles for Blue-Eyed Women
11. Split Purple and Black
Want to do something really edgy and cool with your hair? Color half light purple and half pure black. Fill your hair with a mix of straight pieces and waves and you've got a killer look!
12. Purple Braid Extensions
We think your current braided hairstyle needs an update! Weave in some purple braid extensions and wind up the braids into a large bun right at the crown of your head to get your new favorite statement style.
13. Sparse Purple Highlights
If your hair is naturally black, all you need to do for an easy update to curly tresses is have your stylist highlight three small sections of hair close to the bottom. Those peeks of purple will look ravishing.
14. Purple and Black Bob
To get your short black bob to look this light and airy, start with feathered layers. Then go for a bit of light purple coloring. Avoid chunky highlights to get this chic style.
15. Black and Purple Updo
Any special occasion where you need a fabulous hairdo will look even better with black and purple coloring! We love this loose, twisty half pinned look featuring dark purple streaks.
16. Half and Half
Another hairstyle that boats the half and half look is this lusciously long loose braid. The purple is woven in naturally so it isn't a stark evenness of color and is more flattering.
17. Balayage Long Pixie
With a black base of hair color, a dark purple balayage makes the waves on this long pixie stand out perfectly. To give some edge to your look, add an undercut or a fade.
18. Peekaboo Purple and Black
Instead of doing the traditional highlights all over your black hair, ask your stylist to focus those pops of purple close to the face. Just like on this long hairstyle, the purple will draw attention to your gorgeous eyes.
19. Black and Purple Straight Bob
Not only do the smooth, blunt lines of this short straight bob and cropped bangs flatter many face shapes, the black and purple coloring looks just beautiful on a medium skin tone and dark eyes.
20. Black and Purple Topdeck
How gorgeous is this sweet violet purple on the bottom quarter of a medium-length wavy black hairstyle? This is a great option for women who don't want to commit to all over color.
21. Amethyst and Black Hair
A light amethyst is just the soft but moody shade of purple to complement your black hair. To get this sleek look, straighten hair and mist with a leave-in conditioner for shine.
22. Glazed Dark Purple on Black
When hair is given a special treatment of color, the results are a "glazed" appearance. The color melt is totally gorgeous with dark purple color over wavy black hair.
23. Grape Purple Ombre
The smokey appearance of grape purple ombre on black hair is just stunning. You can keep it strictly purple or blend in a little magenta for even more flattering color on long straight hair.
24. Babylights and Balayage
Have you fallen in love with both balayage and babylights? Add them both on your long wavy black hair by mixing light and dark purple!
25. Black and Purple with Pull Through Braids
Are you bored with your black hair? A medium shade of purple highlights will liven it up! And instead of wearing your mane simply straight, try some pretty pull-through braids.
Adding soft waves to long hair is the easiest way to make your style feel more feminine. Black and purple ombre will only add to its gorgeousness.
27. Thick and Glamorous Ombre Look
Need to look drop-dead gorgeous for a special outing? First, add black and purple ombre that features a pale purple at tips, then load up your thick hair with waves for the ultimate glam look.
28. Layered Look with Waves
Why have mermaid hair with traditional blue and teal when you can switch it up with black and purple hair? This layered hairstyle also features a hot pink and magenta that your girlfriends will be super envious of.
29. Blue and Purple Hair with Soft Curls and Braids
A beaded hair accessory is the icing on your black and purple hair half updo. Try mixing in a bit of dark blue as well for a look you'll be super confident in wearing.
30. Face Framing Layers
Hair that is all one length tends to drag the face down. Ask your stylist for face-framing layers and black and purple colors to turn the overall look into one model-worthy style.
Black Hair with Blonde and Caramel Highlights
Black and purple hair is really eye-catching. Women who want to make a big impression should think about coloring their hair in this interesting style.
Tips
Washing your hair with cold water will ensure that your color doesn't wash out so fast.
Touching up your purple will also ensure that the color stays vibrant for much longer.
Make sure to use a treatment to add the necessary nutrients to your hair.
The healthier your hair the longer your color will last.