Feathered bangs are similar to curtain bangs but can be parted in any way to frame the face. When you combine it with bob, you get a unique look that will set you apart.
Feathered bangs feature hair that looks thick at the base and thins down towards the ends where all the texture is focused.
Bobs with feathered bangs can seal the deal for those who are thinking of upgrading their short haircuts. Just keep in mind that regular trimming and appropriate styling are essential to bring out the true beauty of a feathered hairstyle.
There are so many types of feathered bangs as well as bobs that you can choose from. Have a quick look at the following ideas.
Bob with Feathered Bangs
Transform your look with any of the following classy bob haircuts with feathered bangs and you won't regret it.
1. Feathered Shag
Turn a classic bob into a low-maintenance shag with choppy layers and a feathered texture at the front. Try a platinum blonde hair color and let the roots grow to add up to a carefree appeal. A little natural-looking mess is the ultimate objective.
2. Inverted Bob + Arched Fringe
An arched fringe is ideal to frame the face focusing all the attention on those gorgeous eyes. Couple it with an inverted bob featuring stacked layers at the back that elongate towards the front. Bouncy loose curls create further movement in the hair. Throw in some highlights too.
3. Frizzy Fluff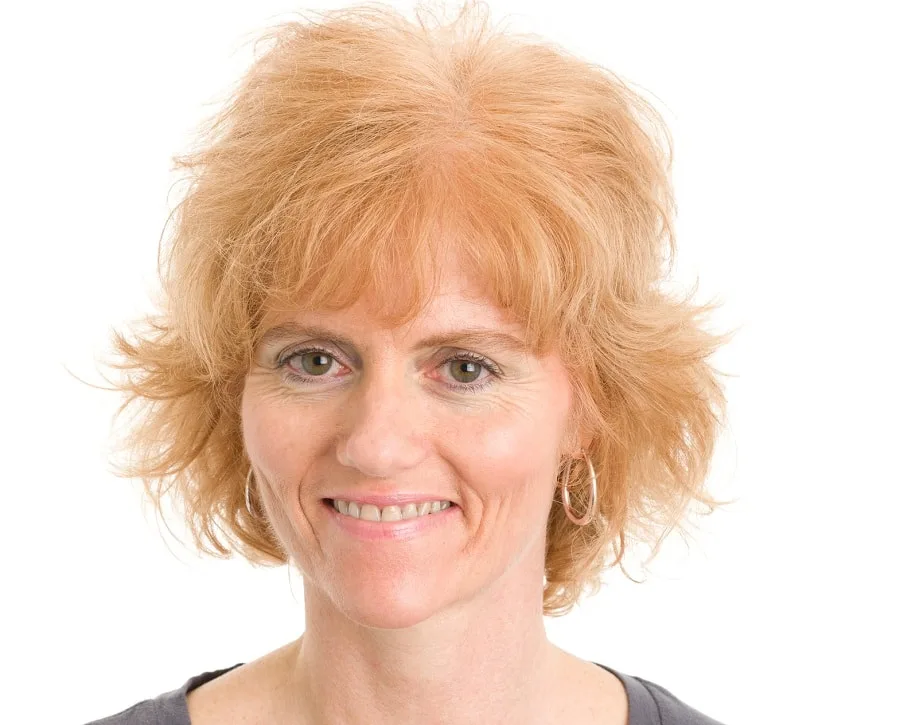 A short round bob with feathered bangs comes in handy for ladies who want to start fresh with their frizzy tresses while giving them the care they need. The bangs fall just above the brows with short layers creating some height on top while the sides elongate towards the back.
4. Middle-Parted Curtains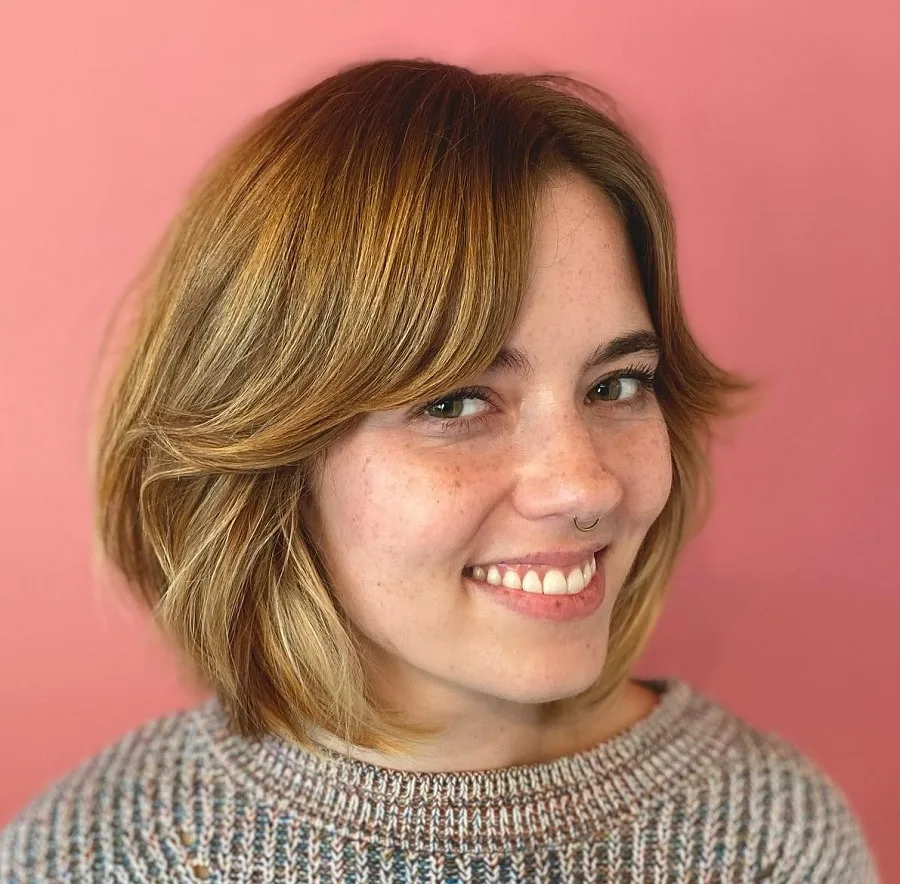 As mentioned before, bangs with feathered layers when parted in the middle result in the most gorgeous curtain bangs falling on both sides of the face. Flick out the tips to contrast against a subtly flipped-in bob. The caramel roots lightening towards the ends are yet another story!
5. Flipped Bob with Bangs
A flipped bob has remained iconic over the years and is ideal for ladies who want to add a soft vintage touch to their look. Opt for feathered curtain bangs with a long bob, more commonly called a lob, and flip the tips inward or outward depending on your choice.
6. Perfectly Layered Swoop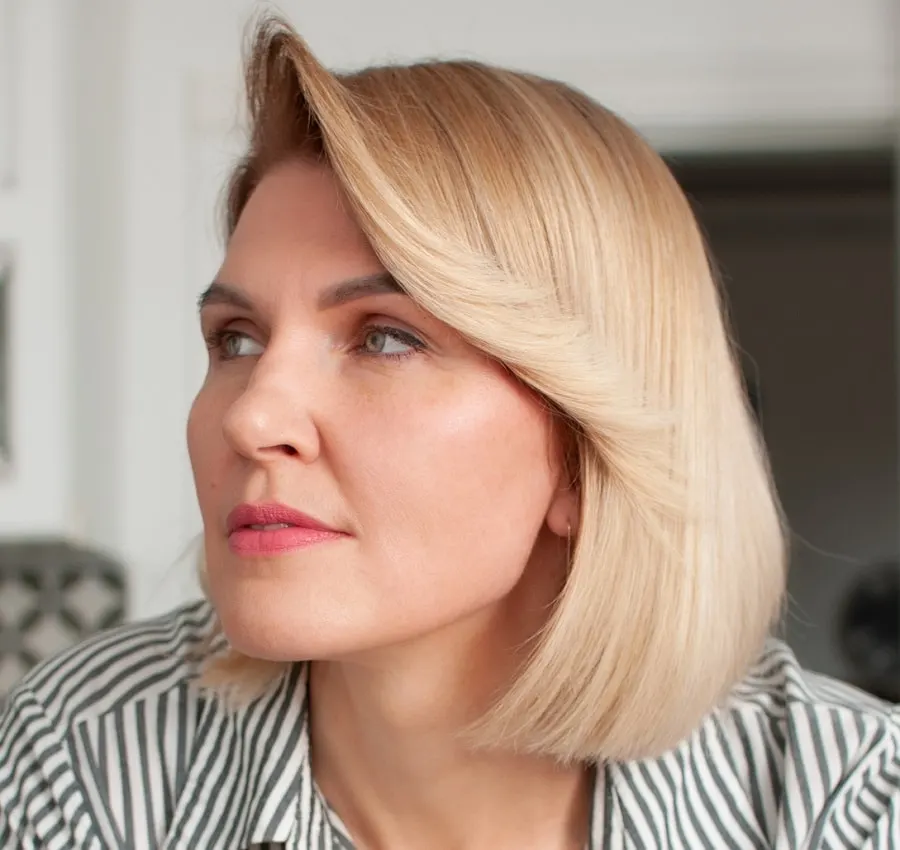 Bring that feathered fringe under the spotlight with a simple blunt bob falling at neck length. The strands are cut at an angle resulting in layers that perfectly fall on top of each other when blow-dried with a barrel brush. Create some height at the front while producing the swoop of your dreams!
7. Long Bangs with Beach Waves
Asian ladies can conceal their wide foreheads or make their oblong faces appear less obvious by opting for long wispy bangs falling over the eyes. Freshen up a choppy bob with some caramel babylights and finish off with loose beach waves. Zero regrets involved!
8. Mullet Style
This bob looks more like a modern mullet with soft features. The majority of the hair is cut into feathered bangs that are rounded with the longest strands falling at ear length. The remaining locks are cut slightly longer and flipped out for a sassy look. Don't skip the dramatic eyeliner!
9. Side-Swept
A feathered bob with feathered bangs, nothing can go wrong with that! The eye-grazing layers at the front are swept on one side to meet the remaining ones seamlessly. Use a straightener to flip out the ends making the feathered texture more obvious. The toffee blonde base with some highlights? Yes, please!
10. Weave Bob + Chunky Highlights
Black beauties can turn to a weave to try out various haircuts and styles while protecting their natural tresses. The side-parted fringe is flicked back and is slightly shorter than the bob. Spice up the look with chunky streaks of blonde on a dark base for some cool 90's vibes.
11. Choppy Fringe
Those with a thinning mane can make it appear much fuller with a straight jaw-length bob and unevenly cropped bangs at the front featuring individual chunks of hair falling across the forehead. Make that front chop even more apparent by dipping the ends in some blonde and platinum hues for a multi-tonal finish.
12. Modern French Bob
Make a style statement by accentuating a classic French bob with feathered bangs. The strands at the front are cut at a soft angle and parted in the middle to pop against the remaining ones falling uniformly at chin length. Avoid overshadowing your fresh haircut by getting a monochromatic chestnut hair color.
13. Fully Feathered
Ask the hairstylist to incorporate as many layers as possible at the front and sides and flip out the tips by using a round brush away from the face. You will end up with a fully feathered mane featuring some hyper-realistic ocean waves on the head. The green hair color is a must-try too.
14. Piece-y Chunks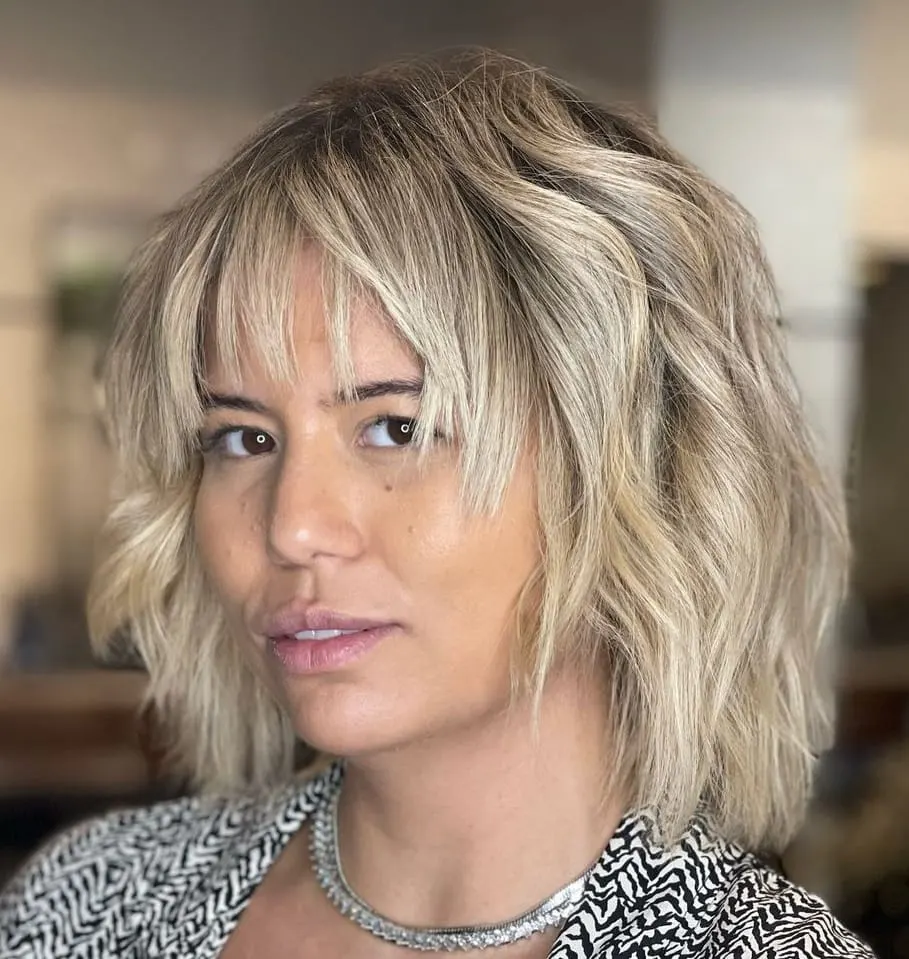 Those who don't to cover their entire foreheads can opt for softly-feathered piece-y bangs with well-defined separate strands falling at the front. Pinch the ends using some pomade on the fingers and accent them with a long ash blonde bob and loose curls.
15. Light and Wispy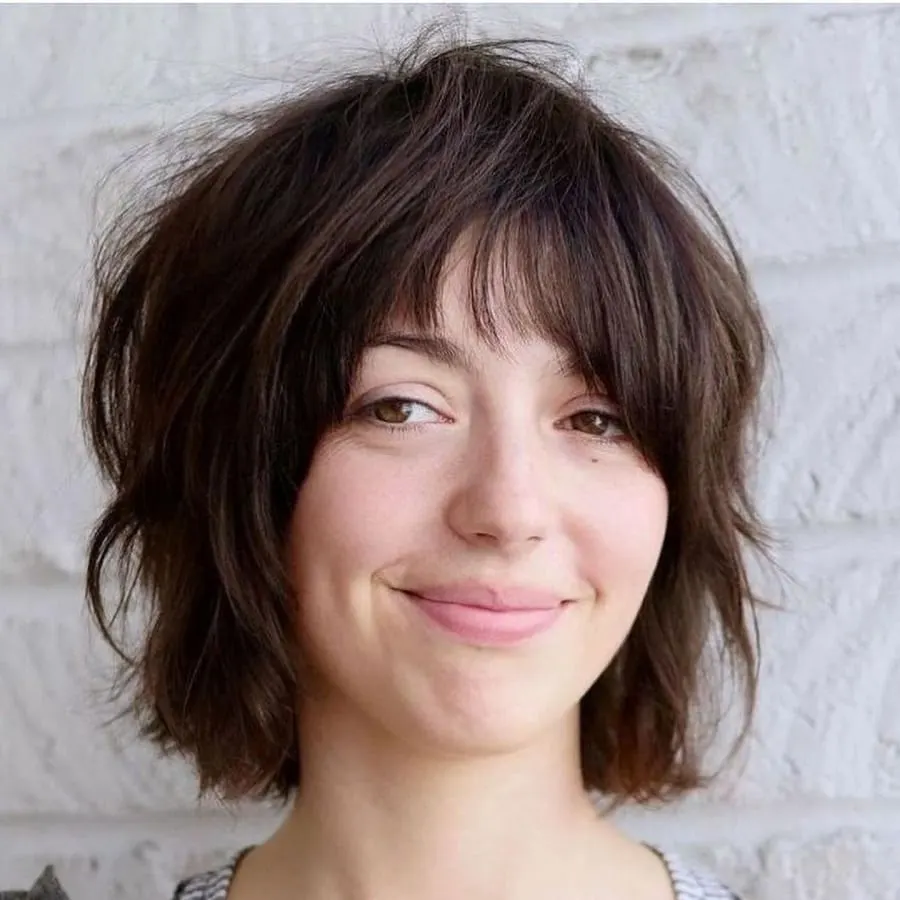 Feathered layers create flawless wispy ends that look sexy even when messy making them the go-to hairstyle for the lazy bones out there. Use some texturizing hairspray and scrunch the mane creating volume on top. Opt for light airy bangs to avoid a suffocated look.
16. Shadow Roots
Shadow roots are a useful trend where dark roots are blended with the remaining out-grown hair color. It is an easy way for those who want to go back to their original hair shade naturally.
So if you got a fresh hair color with your bob and feathered bangs, this idea will be a life-saver after some time.
17. Baby Bangs
When it comes to bangs, there is no restriction on the length but a feathery cropped fringe like this is sure to make you stand out. Elderly ladies can shed off a few years by cutting their strands anywhere in the middle of their forehead with some feathering along the sides.
18. Soft Graduation
Combine the key characteristics of feathered bangs and curtain bangs to end up with the most beautiful fringe ever. The center-parted strands elongate outward with feathered ends accompanied by a heavily layered bob. Set the look on fire with a rich red hair color.
Bobs with feathered bangs work with almost all face shapes and hair textures. Although a blowout is an ideal way to style them, there are numerous other ways to rock your new haircut along with some vibrant hair shades mentioned above. Time for a 360-degree hair transformation!