Lobs or long bobs with bangs are already iconic, and any woman out there craves for one! They can be feminine, rebellious, electric, or natural. There's practically nothing a long bob with bangs can't do!
If layered, it provides volume and when you choose waves, it builds a pretty awesome modern look that will draw all the attention. Any way you put it, it's already obvious that it does an excellent job at framing and texturing. You can't miss this one out!
Fun Ways to Style Long Bob With Bangs
Because we want you to discover all the perks of lob hairstyles with bangs, we present you with trendy lob with bangs hairstyles that you can pull off just by cutting the hair in that medium-long length.
Blonde Lob with Wispy Bangs
A long blonde bob with wispy bangs is a timeless look that will never go out of style. Whether you're going for a sleek and sophisticated look or something more playful and carefree, this style is sure to turn heads. Plus, it's perfect for any occasion – from a formal event to a day out with friends.
Chic Asian Long Bob

Looking for a trendy and chic look on your Asian face? Go for blunt bangs styled with shoulder-length hair. This style with black hair is perfect for anyone who wants to show off their features and personality. Also, the bangs are a great way to frame your face and add some interest to the overall look.
Straight Dark Brown Hair

This haircut is perfect for women who have long, dark brown with a mix of caramel hair. The lob is cut straight across the bottom, with side-swept bangs that can be styled in a variety of ways. This haircut is versatile and easy to style, and it can be worn on both formal and casual occasions.
Brown Wavy Bob with Side Bangs

The long wavy lob cut with side bangs is a versatile style that can be worn by women of all ages. The style is flattering for women with round or oval-shaped faces and can be worn on any hair color. The wavy cut is trendy and stylish, and the side bangs add a touch of glamour.
Stright Brunette Bob

This haircut is perfect for anyone with an oval or heart-shaped face. The choppy bangs will frame your face, and the long length will elongate your neck. It comes in handy for someone who wants a low-maintenance style that still looks stylish.
1. Lob with Bangs for Round Face
Anytime you want to make your face look less round, a dark-colored lob haircut will mesmerizingly frame it. To make it look royal and elegant, opt for a burgundy ombre and you'll get a stunning long bob with bangs that you can beautifully wave!
2. Long Black Bob with Bangs
This thick lob haircut is so satisfying to watch thanks to those gorgeous brown highlights that make the hair look brilliant! Also, the rounded bangs beautifully complete the hairstyle!
3. Thin Lob with Bangs
Don't be afraid to take your hairstyle to the next level! Opt for a long bob with bangs that you can style and dye however you please. Create waves, use rainbow colors, even make purple dreadlocks, you have so many options!
4. Long Layered Bob with Bangs
If you want a messy look that has volume, you need to build choppy layers for your long bob with bangs. Keep the hair in a natural dark color to achieve better framing!
5. Angled Long Bob with Bangs
Angled long bobs look their best when dyed in a delicious caramel shade that makes each strand shine in the light. To give each lock personality, create loose curls and your hair will get a lot of bounce.
6. Inverted Lob with Bangs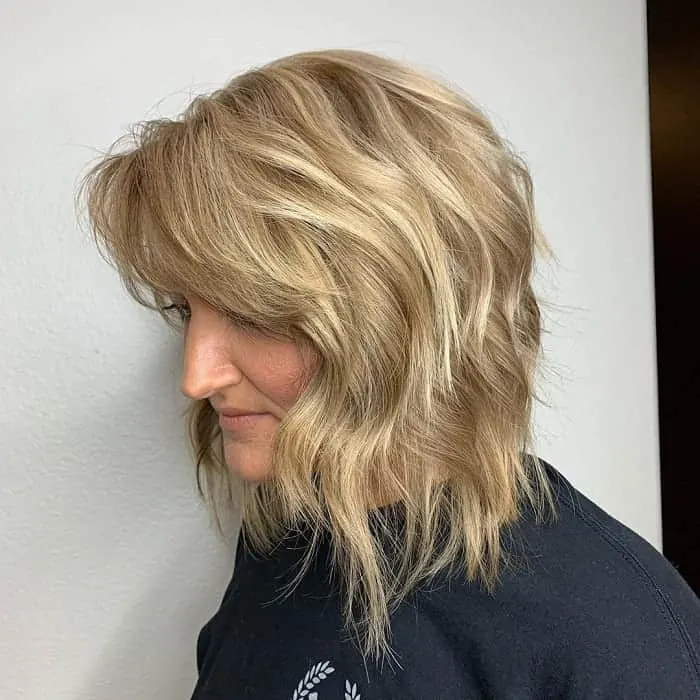 For this inverted bob, you need to style layers and opt for a grain blonde hair color. Brighter highlights dyed in a platinum blonde color will look fabulous and complete the whole image. Create a fringe that covers the eyebrows and flip it on one side.
7. Long A-Line Bob with Bangs
Long A-line bobs look stunning with bangs that straightly fall just above the eyes. Dye the hair in brown color and opt for thin caramel highlights to get that fabulous texture.
8. Stacked Lob with Bangs
Stacked lobs provide a great dimension for the nape and back hair because layers gorgeously fall one over each other. Also, a sombre will make the longer tips stand out and the bangs will frame your face.
9. Long Bob with Long Bangs
A long bob hairstyle makes a great team with curtain bangs that reach your cheekbones. You will get a natural flawless look that is both elegant and modern.
10. Curly Lob with Bangs
When you want the curls to stick out more than they already do, some highlights are just the right choice. Pick a bright brown color to define the tips and tousle the hair to create a messy look.
11. Sew in Lob with Bangs
When you have African American hair, you can get flawless hair only by straightening it all the time. If you don't want to do that, a weave that looks perfect is the right answer in getting a long bob with bangs.
12. Long Choppy Bob with Bangs
Choppy ends provide texture to your strands and if teamed with waves, your hair will look like never before! A blonde shade is ideal if you crave for a smooth angelic look. Curtain choppy bangs are also a good option to complete the look.
13. Lob with Chinese Bangs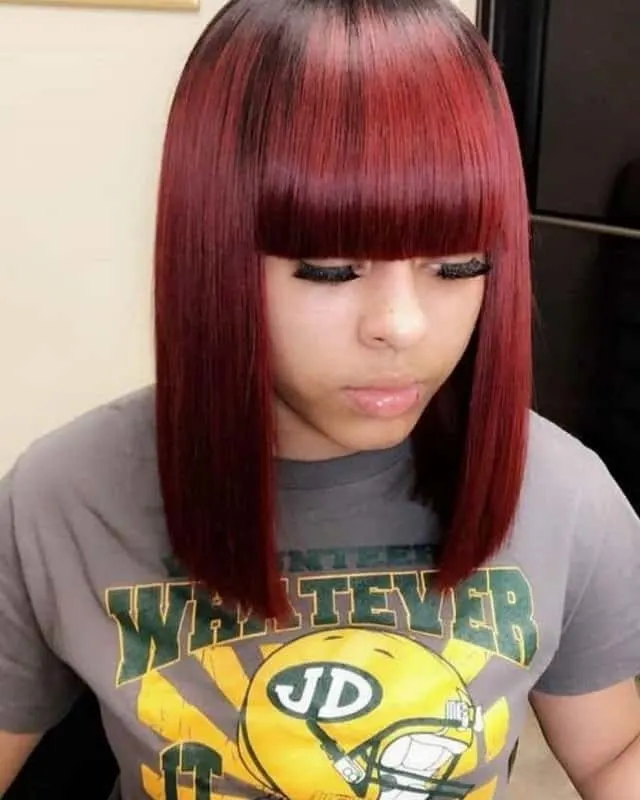 Chinese bangs are straight, flawless and start from the top of your head. To recreate this look, you need to style a dark red ombre and get a long blunt bob. Use a straightening iron or a heated brush to make each strand look perfect.
14. Long Messy Bob with Bangs
Any hairstyle needs a twist and you can get yours with a single blonde highlighted strand placed on one side of your bangs. The rest of the hair should be choppy, messy and highly tousled to obtain the look presented above.
15. Lob with Bangs and Glasses
If you want a look that perfectly pairs with glasses, keep your roots in their natural color and dye the rest of the hair in a blue shade. Take the top strands and flip them over the ears and cut the bags uneven, asymmetrical.
16. Blunt Long Bob with Bangs
Straight, they all have to be perfectly straight to recreate this look! Choose a ginger blonde hair color and create a blunt bob with bangs above the eyebrows.
Get the iconic next-door girl vibe with this long bob with bangs look. The super cute style combines cute over-the-eyes bangs with beachy waves that look perfect.
Ideal for: The versatile hairstyle suits almost every woman. It is a cheerful look that you can wear to both formal and informal occasions and still look at the star of the event.
How to style: Blow drying your bangs is important to add volume to them. Use a curling iron to add sophisticated beach wave perms to your hair for a great look.
We adore the mid-way style which is low enough to add that cute element but stops halfway through the forehead to showcase the eyes too!
Ideal for: The style goes well with a woman looking to step out of their comfort zone. The bouncy waves instantly revamp your look to give you a youthful finish.
How to style: The bangs are cut across the forehead instead of just above the eyes. It's best if you have thick hair so as to give you a thick long bob and dashing bangs.
Take your long bob haircuts with bangs to the next level with this sophisticated style. The look is easy to achieve and gives you the no-drama look.
Ideal for: Women looking to stand out in the crowd can try their hand at the look. The platinum takes some effort but the look is worth all the time.
How to style: These bangs on lob make use of the wispy hair. The subtle hair falling all over the face marks sophistication.
Going back to the classics, this long bob has bangs that fall over the eyes. The look gives an instant dreamy appearance, perfect for any season.
Ideal for: We think young girls would love to try these long bob hairstyles with bangs. The cute bangs with wavy hair really bring out an approachable personality and compliments you as a whole.
How to style: For this look, you need to cut your bangs really low. Use hair spray to sweep your hair across the eyes such that they turn sideways.
Play it safe with this iconic cut. The soft layers at the back and light bang upfront really help you ease into a new style.
Ideal for: Women afraid of making drastic changes to their look can opt for this style. It is a great transition style, easing you into a new look.
How to style: The feathered cut at the back is evident and adds grace to your hair. The bangs up front are cut lightweight and soft to complete the long bob with bangs look.
Everyone loves a chic girly style every once in a while. These long bob haircuts with layered bangs really draw attention to your features while channeling your feminine side.
Ideal for: The style looks mesmerizing with college teens. Working ladies can also have a go at it to instantly rewind their age.
How to style: The cut works with a side part. Use a blow-dry and curling brush to add volume and turn your hair ends into soft curls.
Looking for an iconic look? We have you covered with this unique blonde look that is a keeper for sure!
Ideal for: The style is easy to manage and helps you make a point. We recommend the bangs style on long bobs for bold ladies and women looking to change their looks.
How to style: Delve in a little bleach without worrying about damaging your hair. The top part looks amazing in contrast with the black background and scores points for you instantly!
Trying out a new style can be a trying experience. However, once you explore the possibilities you are sure to come across a style that capture your imagination. Have a look at the styles above to find the iconic long bob with bangs hairstyles that suits you!