Green hair gains more popularity day after day and you can't wonder why when celebrities and influencers all over the world showed off wearing such a bold color.
You have probably already noticed that Insta is full of pics with green hairstyles, one looking more breathtaking than the other. It is all because this earthy shade is warm and so eye-pleasant, and it will be such a shame not to try it!
Creative Green Hair Color Ideas
Green hair can have various nuances and tones, and you just have to find the one that suits you best. Check the examples below and get ready to look eye-popping!
1. Eye-Catching Ombre
Go green with an ombre trying out different shades at once. Opt for a dark top that lightens seamlessly reaching the ends or combine jade green with neon green and yellow shades for a more eye-catching appeal. Finish off with waves.
2. Highlights
Those who are reluctant to commit to this mystic color can try highlights first. Add vivid streaks of green all over a short layered pixie. Long-haired ladies can do the same choosing a tone that suits their base shade the best.
3. Olive Green Balayage
An olive green hue is sure to attract some attention. Ask the hairstylist for a balayage with the dark top transitioning into the dull green tinge midway to the tips. Try face-framing micro bangs for an emo girl-inspired look.
4. Emerald Beauty
Shine bright like an emerald by dying the mane in a deep emerald green hue. Don't worry about the dark roots as they add up to the look. Keep the mane simple straight or add bouncy curls. This style is both bold and sophisticated.
5. Gray to Green Gradient
Though high maintenance, try out this green hair color idea to steal the show wherever you go. The silver grey top transitions into a green tinge seamlessly. Choose a dark emerald green color or go for an electric green tinge depending on your mood.
6. Funky Weave
African-American ladies can rock an eye-popping hair color without even adding a drop of dye to their natural mane. The reason is sew-in weaves that are available in all possible shades of green. Swoop down the baby hairs while trying out a short bob and wow!
7. Keep It Dark
Stay on the darker side by opting for a midnight blue top changing into a forest green hue creating a barely-there gradient on the hair. Those who want something easier can add a hint of green to their black mane spicing it up a bit.
8. Light and Bright
Not fond of dark hair? Shine bright with lighter shades of green. Blonde ladies can liven up their boring tresses with an apple green tinge. Coloring short hair in contrasting tones of green for a dichromatic look is also not a bad idea either.
9. Black Magic
Black and green create the best hair color combination. Add streaks of dark green or make those locks more noticeable with a light parrot green ombre keeping the color fresh with regular touch-ups. Sexy indeed!
10. Blue Roots
Turn around some heads by going for aqua blue roots that switch to a green shade seamlessly. Add further detail with a hint of pastel blue and light green contrasting against the vibrant hues. Top off with loose waves.
11. Lime Green Tinge
Get noticed from a distance by trying out a bright lime green hair shade. Chop the hair into a straight-cut bob or try something funkier like a heavily layered mullet on wavy hair. Remember to take care of the hair afterward to keep it healthy-looking.
12. Cool Mint
Look like an ice queen with this hairstyle. Although a mint green hue looks flawless with ashy grey roots it can be tried out on dark roots too. Whether flaunted with loose waves or styled in a chic ponytail this look won't go unnoticed.
13. Touch of Purple
Combine purple with green to create a two-toned appeal. The vibrant ultraviolet top has stripes of green emerging midway and concentrating on the ends. Those who love purple a bit more can limit the green to the front only.
14. Toxic Forest Mane
Keep it simple yet stylish by painting the hair in a deep forest green hue from the roots to the tips. Create some dimension by adding babylights or leave it untouched. Dye the eyebrows to enjoy a monochromatic moment.
15. Short and Sassy
Women can express their wild side by going for a choppy pixie with a long side-swept fringe or micro bangs covering the forehead. Dye the strands in any shade of green and get ready to drop some jaws.
16. Neon Hair
This green hair color look is certainly not for the weak-hearted. Try a blunt-cut bob and combine it with an undercut and short fringe if you want to before adding a neon green hue all over the head.
17. Play with Pink
Adding some pink to green hair won't hurt anyone. Stay on the darker side with emerald green and raspberry pink tones or go for vibrant colors with a bubblegum pink top, light green ends, and a hint of yellow in between.
18. Yellow Goodness
Try something daring by combining a vivid green shade with vibrant yellow tones. Opt for the split dye technique or add a yellow balayage on a green base. In either case, this hairstyle will make anyone stand out from the crowd.
19. Hipster Curls
Ladies with natural curls can try out a green hair color too. Dye the coils in a minty green or dark green shade and add subtle highlights to take the look up a notch. Finish off with curly bangs for a carefree appeal.
20. Fade Out
Thinking about how a green color fades out? Well, here it is. It turns into an ashy minty shade that looks gorgeous too. Those who prefer pastel hues can wear it as such while others can spice up the fade out with aqua blue roots. Easy-breezy!
Pastel mint green hair works so well with fair skin and blue or green eyes. If you're in this category, don't think twice and ask your colorist to make it. It will suit you like a glove.
22. Straight Green Ombre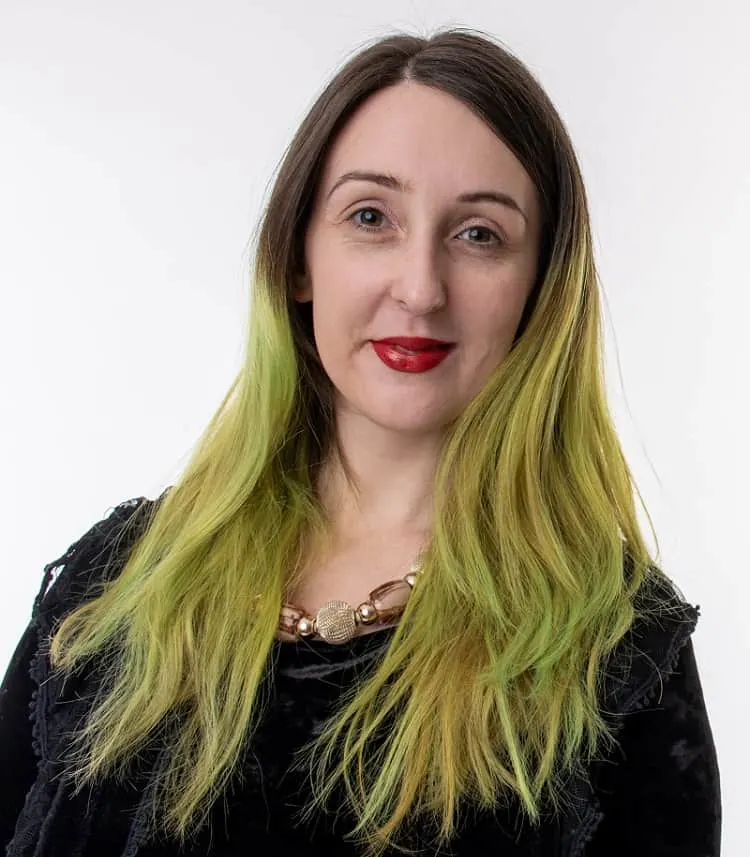 Green ombre hair makes any woman look fierce and ravishing. Maintain the roots in their natural color and gradually switch to this breathtaking hue.
23. Green Teal Curls
If you want green curly hair, the first step is to bleach your tresses. Combine teal and green hues and make them beautifully blend. Using a wand, create loose curls that will add volume and will highlight your tones.
24. Green Hair Dye + Pixie
When you are a rebellious girl, short green hair is the right approach for you. Make sure you use special shampoo for dyed hair to maintain that shade vivid and glowing as much as possible.
25. Pink and Green Hair
When you want an eccentric look, pink and green hair will totally do the trick. It marvelously suits white skin, so place a pink color on the top and dye the ends in an earthy green hue.
26. Lime Green Braid
Lime green hair is such a daring, trendy color that we advise you to get in a hair salon. It requires bleaching and you don't want to end up like one of those fail hairstyle videos on Youtube. It might be easy to obtain but the procedure is complicated and you might irreversibly damage your tresses.
27. Half Green Half Black Hair
Black and green hairstyles are certainly for women who are up for some fun. However, this color is a commitment because the minty hair will fade faster than the black dyed section. So, prepare yourself for reviving your hue often if you want a mindblowing look.
Blue and green hair is such a striking blend that will get you all the attention you deserve. To recreate this amazing hairstyle, you need to style blue lines on that electric mint green base color.
29. Rainbow Hair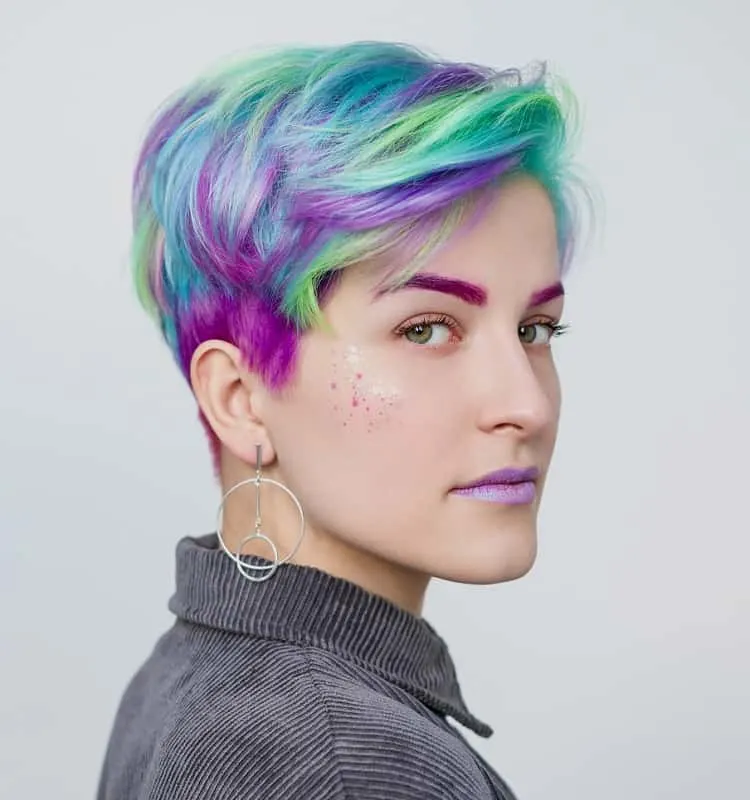 Mix blue, purple and green hair colors for your pixie cut and you'll obtain a vivid rainbow hair. To make your whole appearance even more outstanding, dye your eyebrows in a dark purple shade and perfectly build their shape.
30. Dark Green and Red Hair
Nobody says that you have to stick to one hair color, so if you love goth looks, red and dark green hair is something you didn't know you need in your life. Maintain dark roots and create a middle part. You will obtain two sections and will bleach them in those two shades.
31. Brown Green Ombre Hair
If you don't want to get an electric look and just need to add a touch of color, opt for a brown and green ombre hair. Braid your locks overnight to obtain natural waves.
32. Dark Green Bob
If you want something more subtle, splurge your locks with a dark green bob hairstyle. Black hues reflect light so your waves will gorgeously shine.
33. Dark Green Ombre
A dark forest green hair for the roots that can gradually transit to a stunning earthy shade will give your hair loads of dimension. Wave the tresses with a straightening iron or with a wand.
34. Gray Blonde Hair with Green Tips and Highlights
If you want a mesmerizing hairdo that will turn heads wherever you go, opt for green and blonde hair and a V shape for the mane. Dye only the roots and the bangs in a dark sea green hue.
35. Green and Yellow Ombre Hair
Embark on a new adventure by pulling off a green and yellow hair that will give your hair vibrancy and more color. Remember that your treated strands will need a lot of care because the hues will easily fade.
36. Olive Green Dreadlocks
Make a switch not only in the color department but also when it comes to length! Olive green dreadlocks will extend your hair as much as you like and look so cool on black skin.
37. Orange and Green Wavy Hairstyle
Are you out of ideas when it comes to a mane makeover? Worry not because this orange and green hair will fast become your best hairstyle ever! The two colors will beautifully blend and you'll have a lot of dimension especially if you build waves.
38. Green Blunt Bob Hairstyle
To obtain this impressive hairstyle, first, you need to cut the hair in a blunt bob haircut. Get a dark emerald green hair that is full of complexion and looks simply breathtaking.
39. Electric Yellow Green Braids
Electric green braids can be suitable for all sorts of hairstyles. Wear them free, on your shoulders and back, in a big bun or tie them in a ponytail, either way, you will get all the attention you crave for.
40. Light Green Bangs
Maintain your roots in a dark color and pull off a light green hair. This drastic change will capture your heart, and you won't trade it for any other hairdo.
41. Pastel Green Hair with Waves
Pastel green hair is something we can't get tired of and all for the right reasons. It looks so warm and fresh and is ideal for both long and short hair. Create wide loose curls if you want more volume and dimnsion.
42. Electric Green Dreadlocks
Bright green hair dreadlocks will provide color and you won't have to worry about styling your tresses in the morning. To give them an even more mesmerizing appearance, layer them, and create a middle part for better face-framing.
43. Pastel Ash Green Hair
If you only crave for a pinch of color and maybe more dimension, an ash green hair can totally transform a dull haircut. Apply the color only on top of the head and make it fade on its way to the tips.
Green hair is fresh and can be pulled off on any haircut. It suits girls with strong personalities who are not afraid of being in the spotlight all the time. Pick your favorite shade and get a mindblowing makeover.