French bob with bangs look magical and has been turning heads for decades. The french bob came into existence in the early 1900s when a rebellious actress Polaire rocked it and was even criticized as short haircuts were not considered feminine back then. But trends changed, making such cropped bobs one of the chicest hairdos of all time. Add bangs to make your french bobs look more glamorous.
The most important feature of making these bobs 'French' is the length. The hair is kept at chin level to hug the cheekbones along with bangs grazing the brow line.
Have a look at the following modern french bobs with bangs all of which are low-maintenance, go with every hair texture, and frame the face in the most flattering ways.
Who Should Try A French Bob With Bangs?
If you have an oval, heart, or square face shape, french bob with bangs should look great on you.
If you have curly hair, you can still rock a french bob with bangs. You may need extra effort in styling and consider getting a specialized haircut that suits your curls.
Rocking this haircut will give you confidence, and the best part is that it's low-maintenance and versatile enough for any occasion, be it casual or formal.
Just remember that with a short haircut like a French bob, you'll need to get trims more often to keep it looking sharp.
Lovely French Bob with Bangs
Start fresh with a short crop and some cute bangs to get a retro-chic Parisian appeal. Let's explore some amazing french bob styles with bangs and give you how to achieve that coveted Parisian flair.
1. Micro Bob with Baby Bangs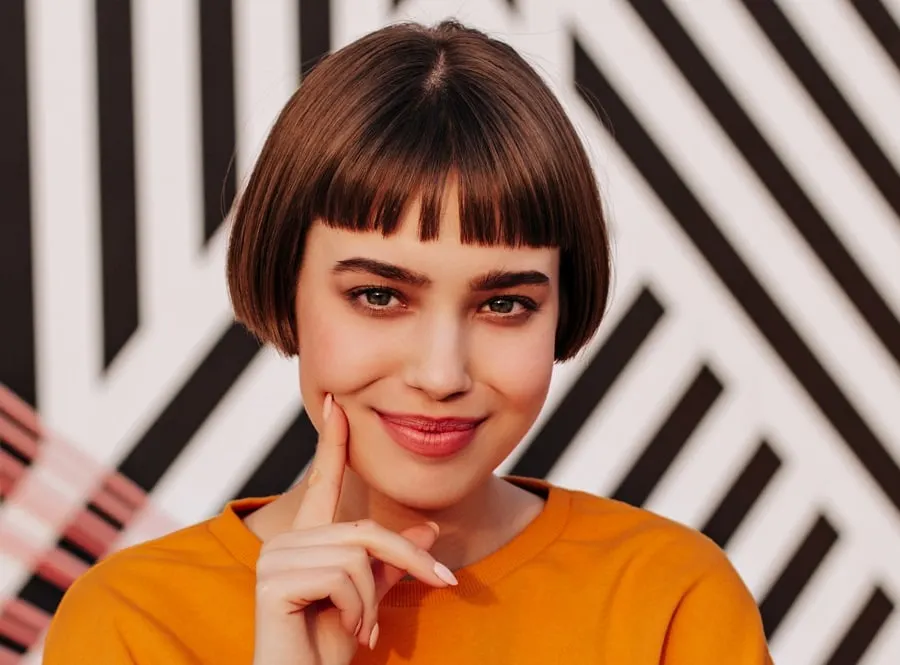 The earliest versions of French bobs feature a blunt cut as depicted here. The straight micro bangs direct focus on the eyes and brows while the remaining hair falling just below the ears set that petite jawline and gorgeous neck on full display. This look is worth a shot for straight-haired ladies.
2. Blunt Bangs + Beach Waves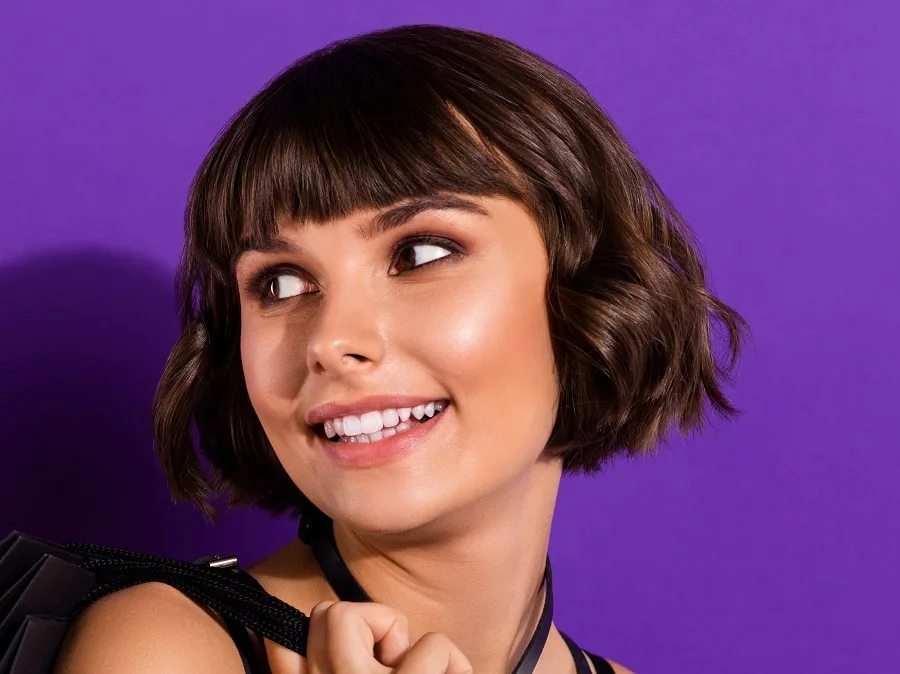 Look like a French Madame by opting for blunt bangs cut straight across the forehead. Couple them with choppy layers falling at jaw length. Get an instant summery look by adding beach waves to the hair and finish off with a spritz of hairspray.
3. Flipped-In Bouncy Bob
An ideal example of a soft round French bob with bangs. Women getting on in years can get a youthful appeal by chopping their tresses anywhere between the chin and jawline with slightly textured ends. Use a straightener to curl the tips inward for a fuller look. Simply wow!
4. Asymmetrical Bob and Bangs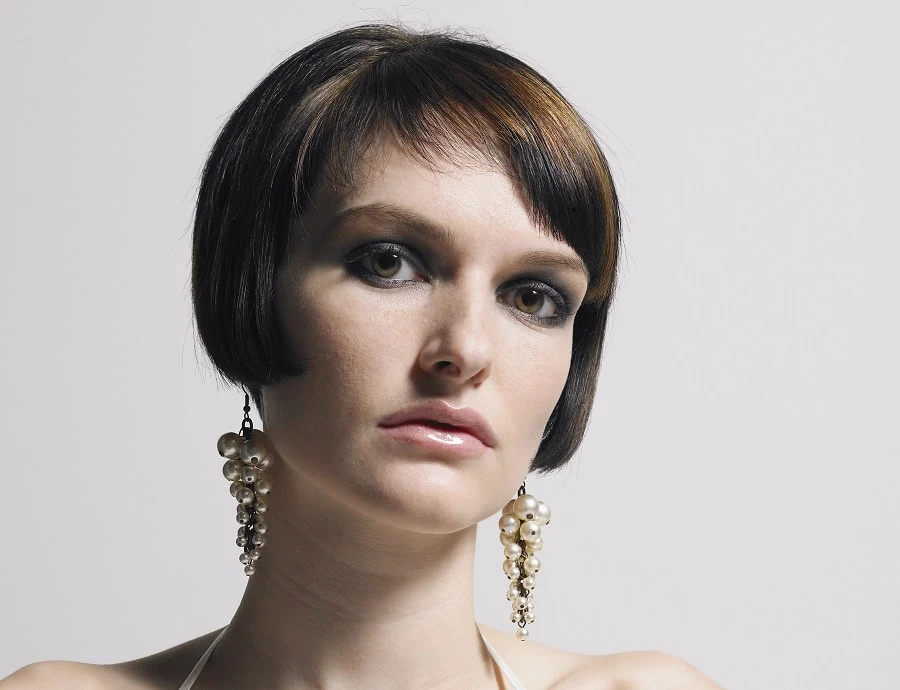 How about adding a funky twist to an otherwise sophisticated French bob? Keep one side prominently longer than the other with asymmetrical bangs elongating across the forehead. Spice up the look further with an undercut at the back and some highlights. Regular touch-ups are a must though.
5. Curly Crop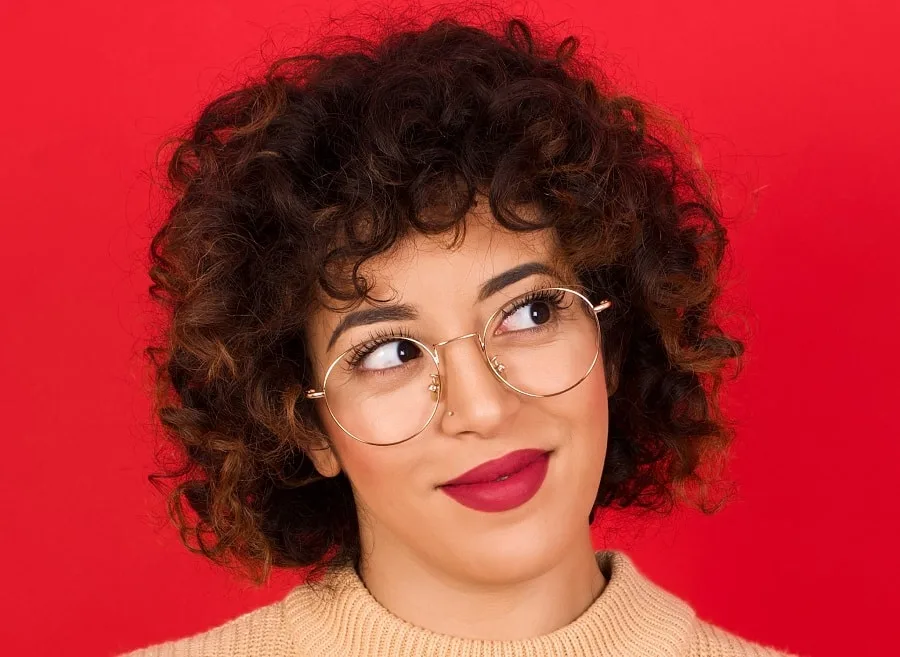 Bob with bangs looks great if you wear glasses. A Parisian women's cut works best with textured tresses. Get a carefree appeal while showing off your naturally curly mane with a crop at chin length and tousled bangs. Ask the hairstylist for full layers to avoid a boring look and lighten the tips for a refreshing finish. Check out these curly bobs with bangs.
6. Face-Framing Layers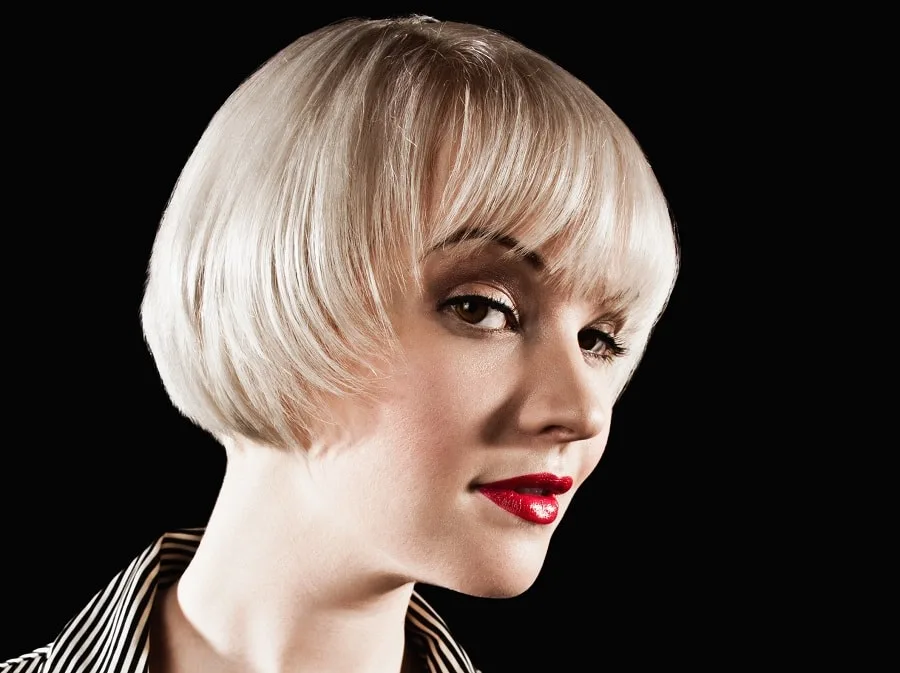 Turn around some heads by getting a new hair color along with a fresh haircut. Opt for a wispy fringe to avoid a suffocated look and create a soft graduation along the sides only with feathered layers. Complete the look with a platinum blonde shade and bold red lips.
7. Choppy Ginger Bob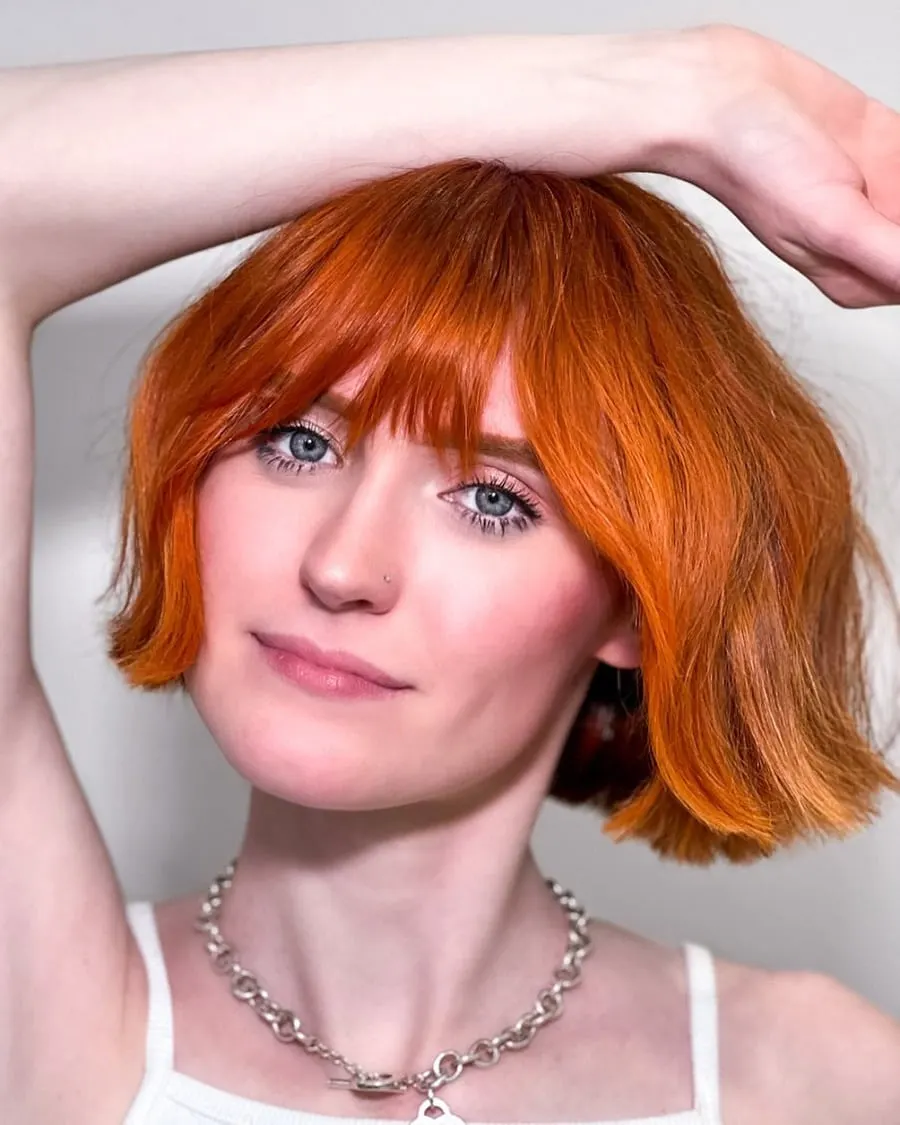 Add some movement and texture to the hair by getting choppy layers and uneven bangs. Coming towards the hair color, enjoy being a redhead by getting coppery orange roots that lighten to a golden tinge reaching the ends. Boost the volume further with some chic loose waves and voila!
8. Arched Bangs, Chin-Length Chop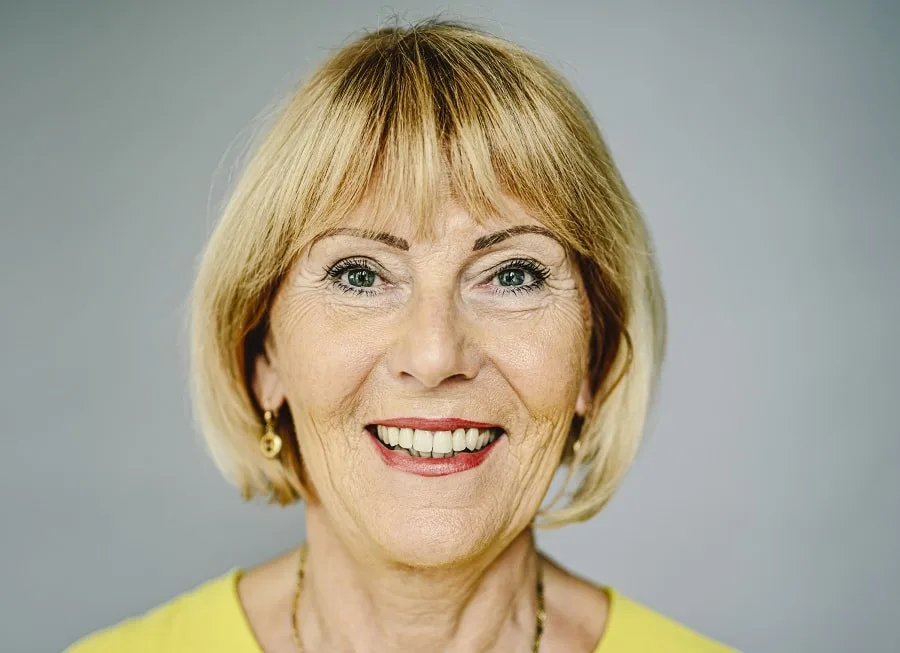 Here is a French bob with bangs perfect for elderly ladies with oblong faces looking to shed off a few years. Frame the face with an arched fringe elongating softly towards the sides creating a dome shape while keeping the remaining tresses at chin level. Finish off with a light blonde hair shade.
9. Ultra-Thick Fringe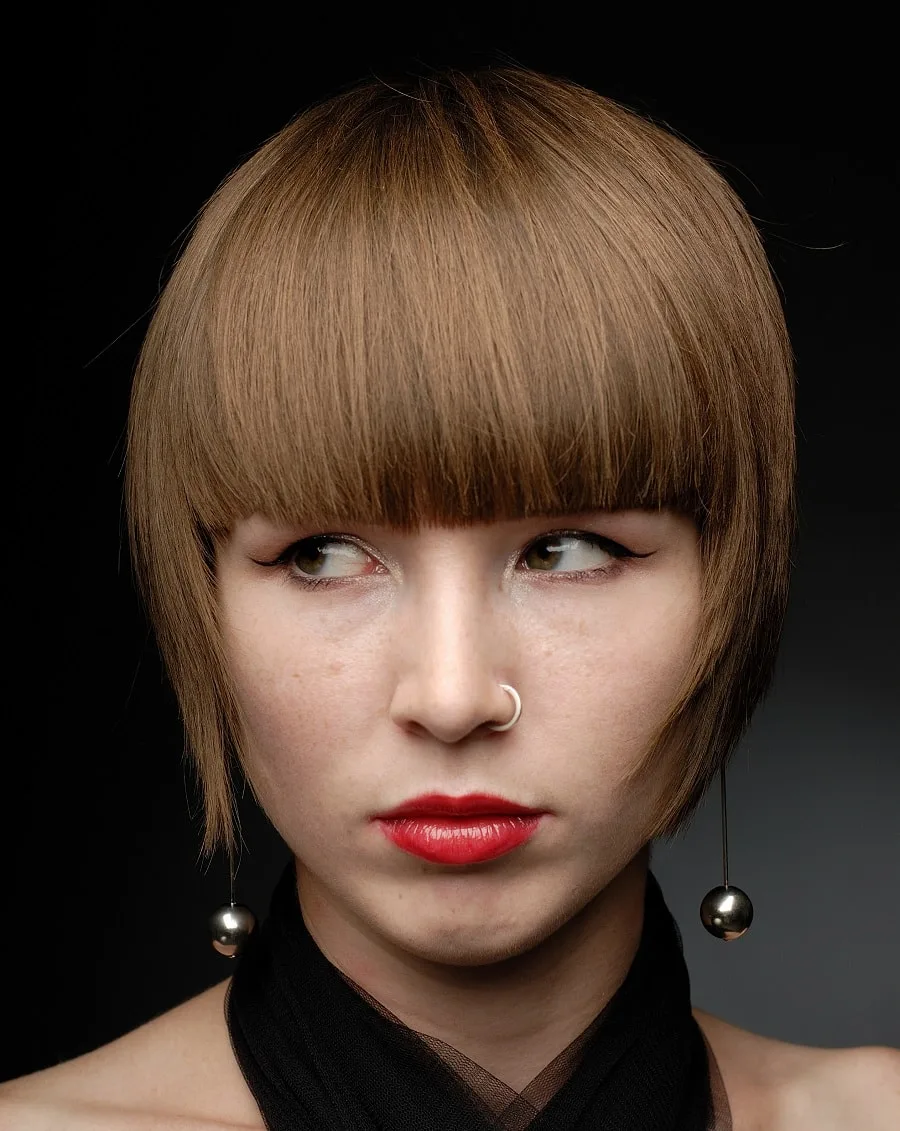 Achieve a dramatic look by brushing all the hair from the middle of the head forward and snipping it just above the eyes to get an ultra-thick fringe that is sure to drop some jaws. Opt for an angular cut along the sides with the longest strands reaching just above the chin at the front.
10. Curtain Bangs + Ombre Bob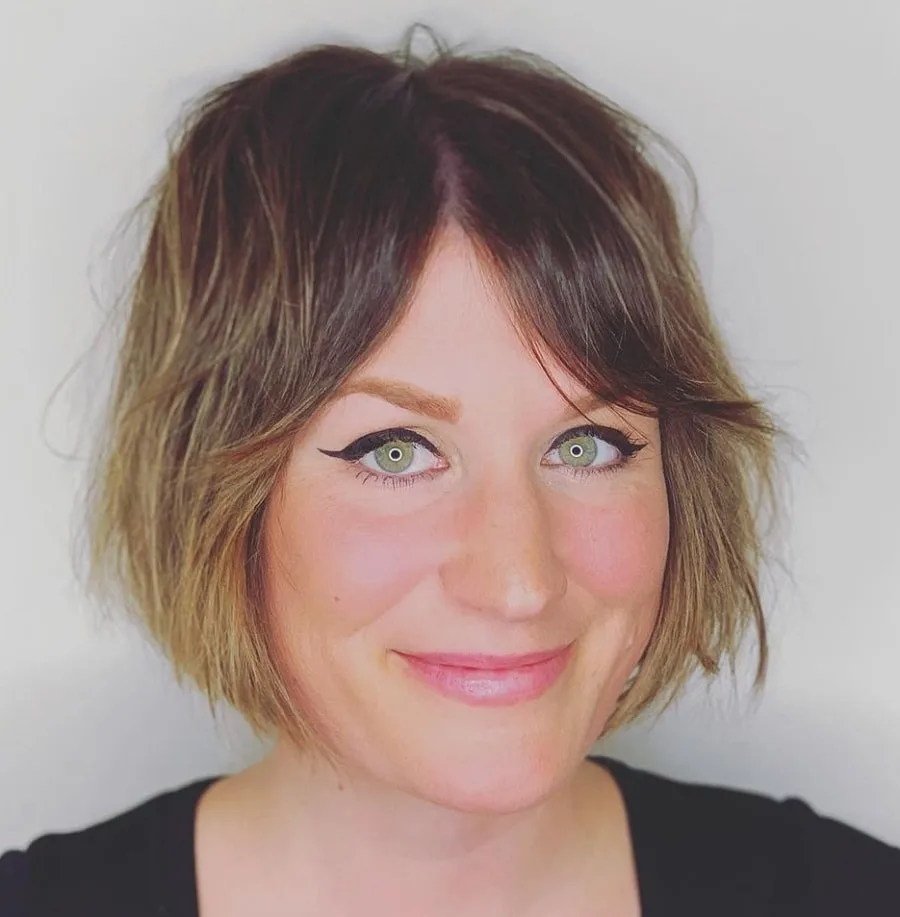 Curtain bangs are the chicest of all and look fabulous with short haircuts. Create some texture with soft layers and use a barrel brush and a hairdryer to flip the ends outward at the front and inward along the sides. A natural-looking dark to light ombre is worth a shot too!
11. Classic French Bob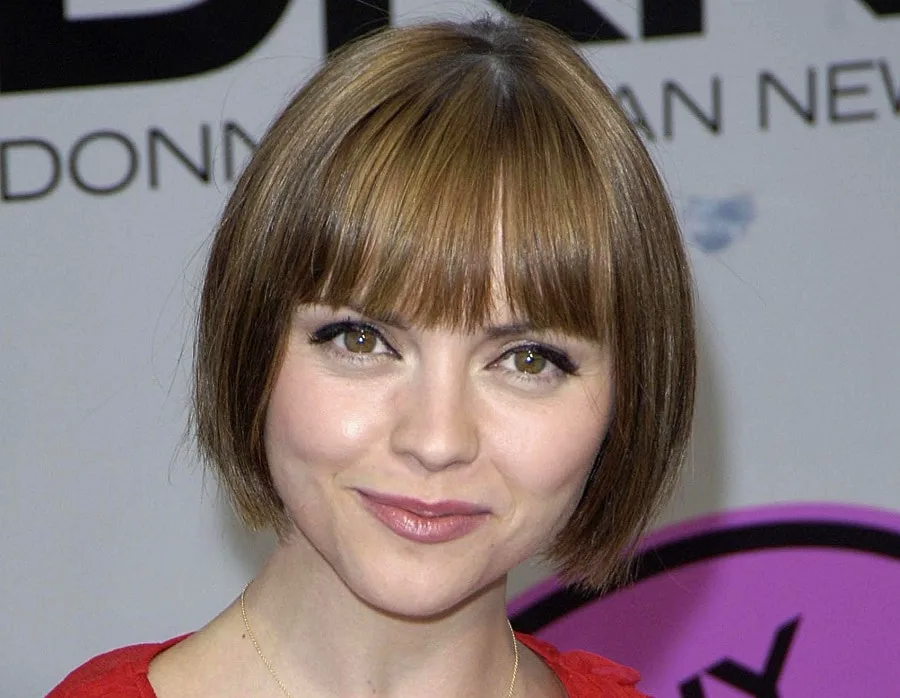 Short bobs are always a trend and french bobs are ideal to frame the face without much effort. The strands are cut short to bend around the cheeks by themselves with thick straight bangs making those gorgeous eyes the center of attention. Keep the layering minimal for a sleek finish.
12. Asian Mini Bob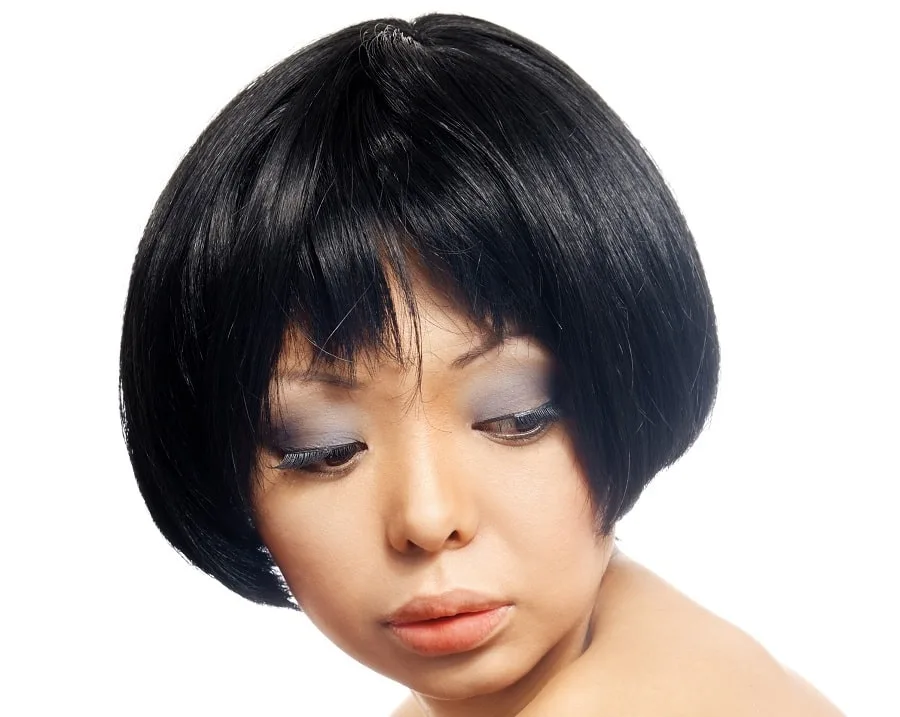 Asian women can take a break from their long thick tresses by rocking a French-style bob for a change. Make the chin appear longer in the case of a chubby round face by keeping the hair at jaw length. Tousle the bangs to stand against the remaining sleek mane.
13. Razored Bob with Bangs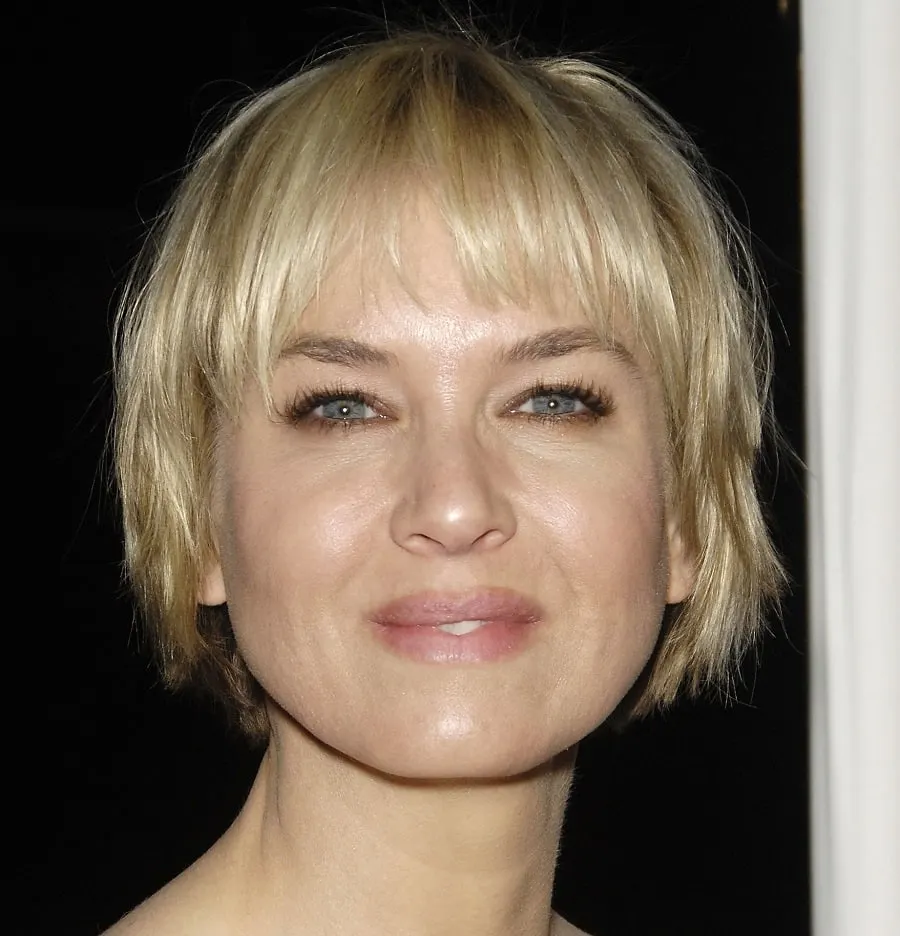 Razor cuts result in jagged ends and choppy layers that are ideal to achieve a lived-in look while making the hair appear fuller. Balance out the look with cute see-through fringes and hand-tousle your mane to achieve a full-on rock and roll appeal. The messier the hair, the better it'll look.
14. Baby Blue Bob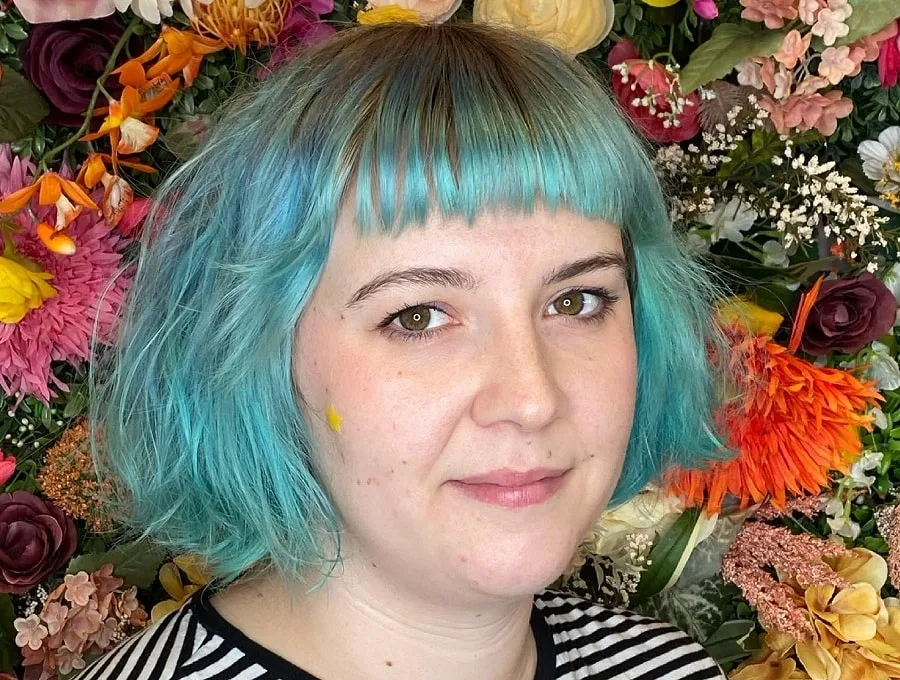 French bobs can be a bit quirky and still look amazing without a doubt. Color the hair in a pretty baby blue tinge with uneven baby bangs at the front. Tousle the remaining layers with your finger to end up with a multi-textured mane.
15. Deconstructed Frizzy Bob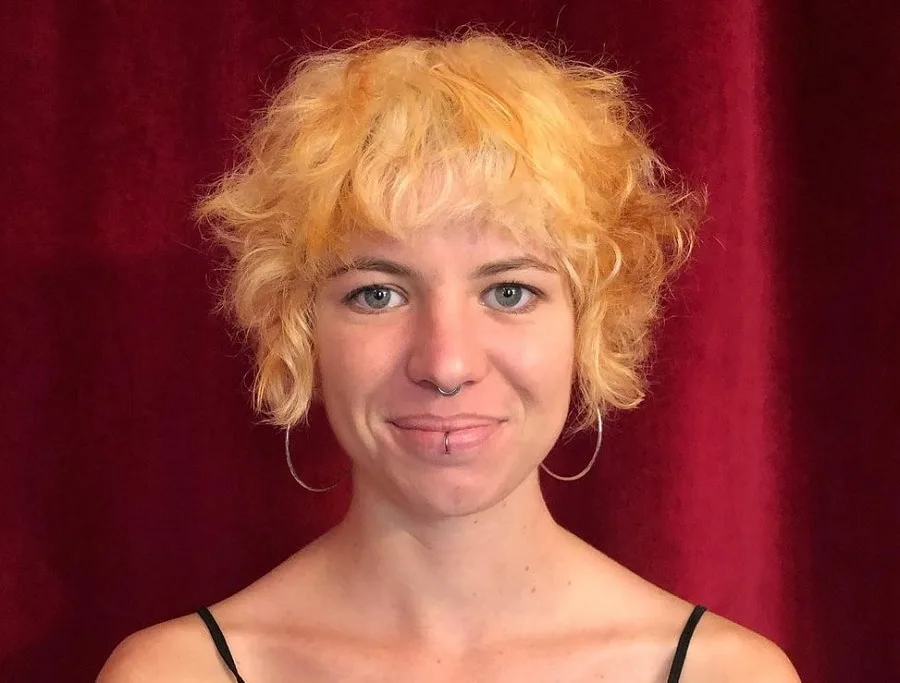 French bobs with bangs are ideal to start fresh in the case of damaged hair. Make use of your frizzy tresses by asking for short deconstructed layers with long sideburns. Keep the bangs a little short and fluff up the mane by scrunching it with an appropriate styling product. Messy and sexy!
16. Short Shag with Color-Blocked Bangs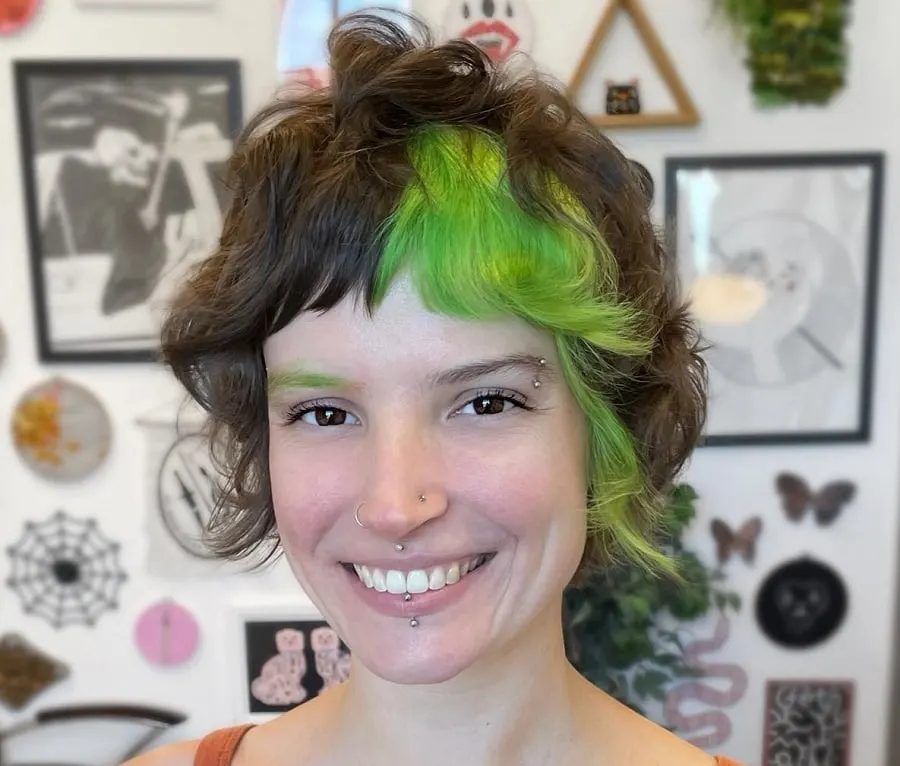 This Parisian bob looks more like a short shag featuring a voluminous top, short sides, and cropped curtain bangs. Create an eye-catching color contrast by painting the front half and the opposite brow in any funky color you like including this neon green one.
To wrap it up, French bobs with bangs are a cropped yet more sophisticated version of classic bobs. They are relaxed haircuts going perfectly well with all face shapes making them a safe choice for ladies who want to chop off their tresses this year. So, what's the waiting for?