There's still plenty of time for a new haircut if you're seeking a new style for this year! An often overlooked hairstyle is the short bob with bangs.
Many women think there is only one way to wear a bob with bangs, but as you'll see from the styles below, there are more than enough looks. Cropped blunt-cut bangs will give you an edge and piecey waves are soft and more feminine.
Many short bobs with bangs are also low maintenance so you'll spend a lot less time styling them than you would a long hairstyle.
Short Bob Haircuts to Try with Bangs
Wonder how to rock bob with bangs for short hair? We have 50 ideas of short bobs with bangs to try in 2023.
1. Short Rounded Curls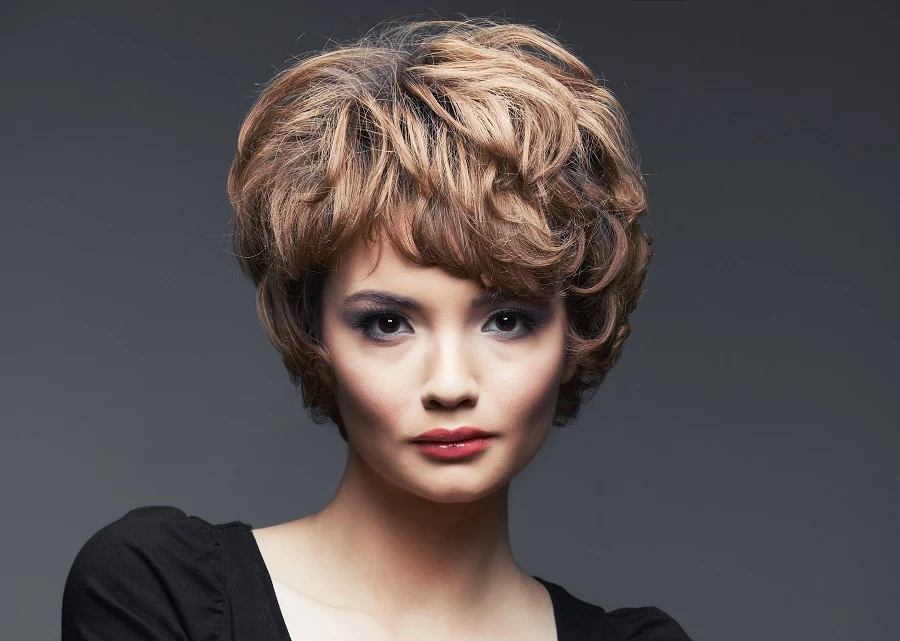 Typically for the mature woman, this style helps manage lots of thick curls. Bangs should be cut on an angle to slim the appearance of the face as well as the hair.
2. Ultra Thick Bangs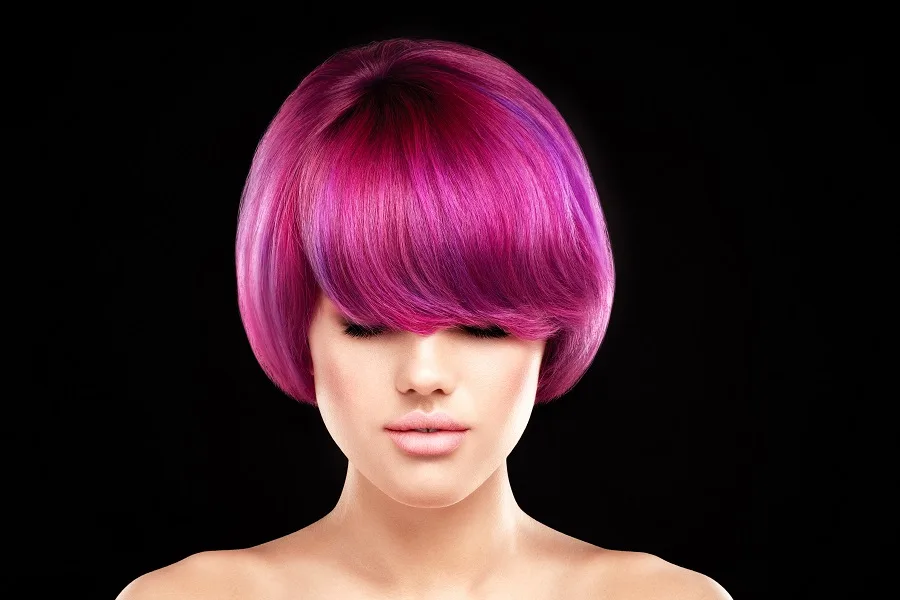 This look is all about those bangs! Starting at a center point on top of the head, these thick bangs are great for shortening a longer face shape. Sweep them to the side to mirror the roundness of the rest of this cut.
3. Edgy and Choppy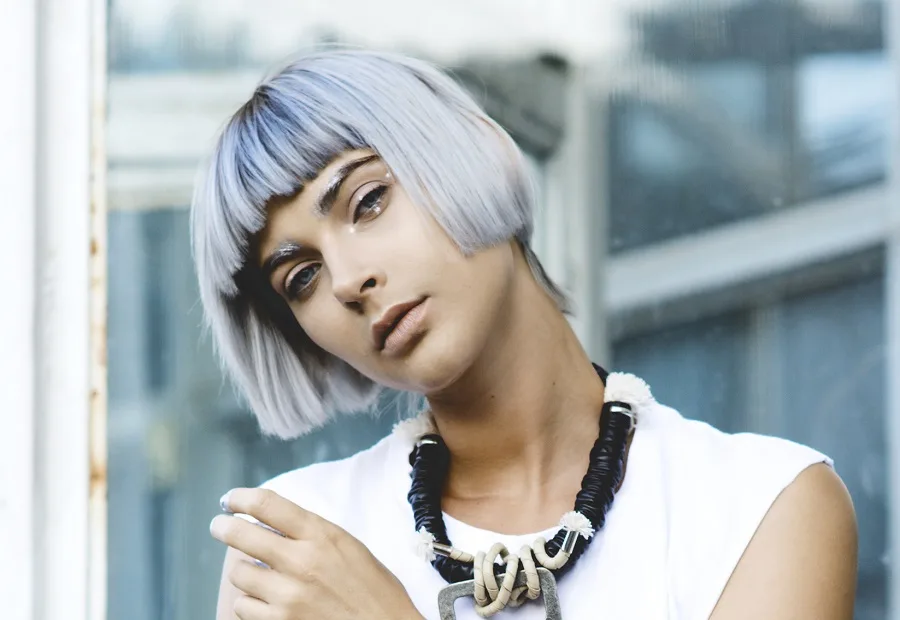 If you're looking to stand out from the crowd, then this bob is for you. These sleek yet slightly choppy bangs are super unique. This cut is ideal for thin face shapes.
4. Wraparound Undercut
Can't decide between a buzz cut and a bob? This undercut style is the perfect compromise. To make the look feel more natural, leave longer layers down around the ears to feed into straight across bangs.
5. Inverted Bob with Layers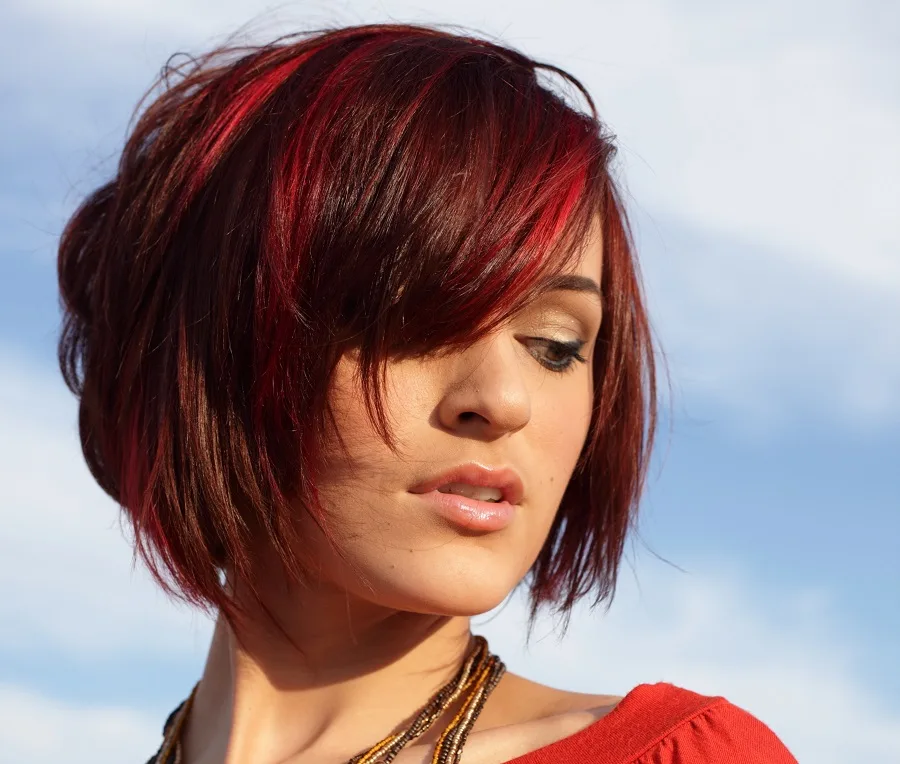 Giving fine hair style is easy with an inverted bob haircut. To really bump up the volume, ask your stylist to cut short layers throughout the hair for loads of movement. Long side bangs flow into this cut seamlessly.
6. Sleek Round Bob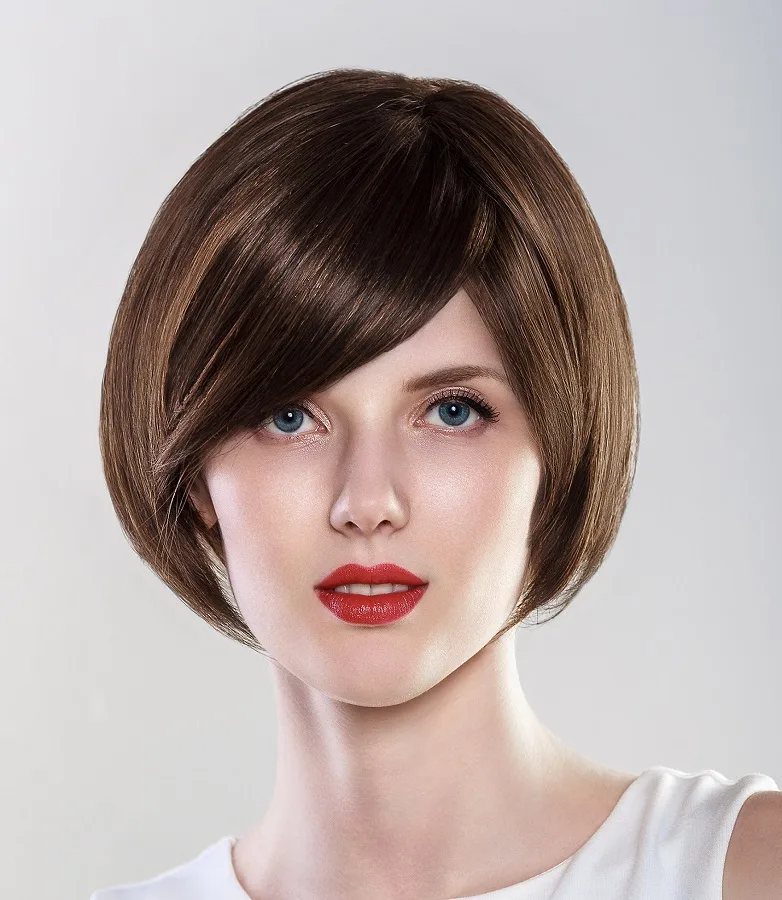 Ideal for a thin, oval face shape, this round bob with long, rounded bangs is perfect for softening up harsh features. The side bangs should hit just above the cheekbone for softening definition.
7. Short Spiky Layers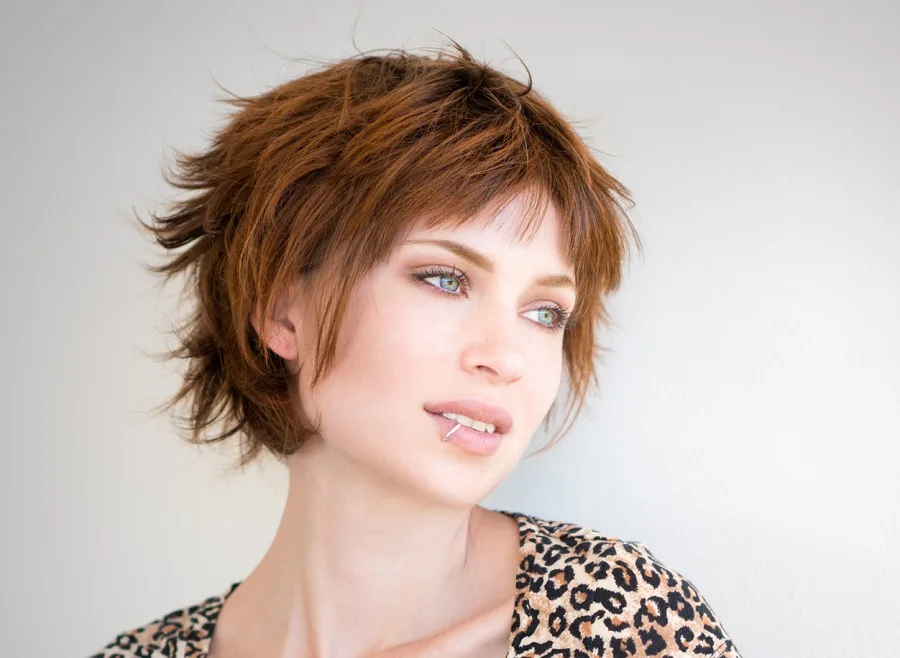 This look is great for thin and fine hair. Short, choppy layers cut throughout the hair add so much energy and volume. Bangs should be short and piecey and parted loosely down the middle to open up the face.
8. Piecey and Rounded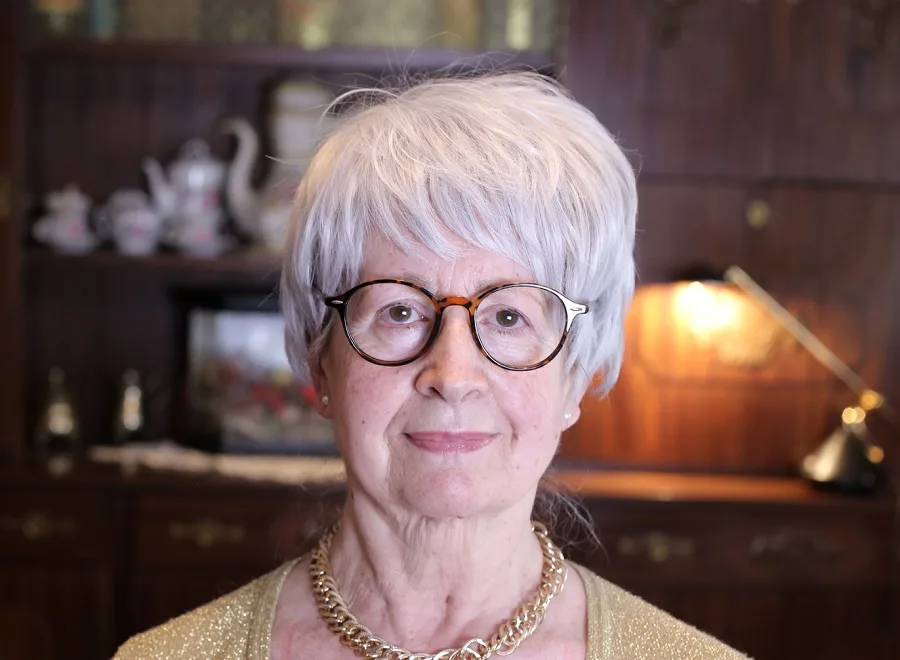 This bob falls somewhere between a pixie and a bob. These short cuts are great for older women to conceal aging, brittle hair. These side bangs not only feel fresh but they work with the choppy layers of this cut.
9. Short Straight Bangs with Shaved Temples
This cut is absolutely for the cool girl. Blunt bangs mirror the blunt ends of this bob, while a chic shaved temple portion feels undoubtedly edgy and fresh.
10. Cool Girl Chop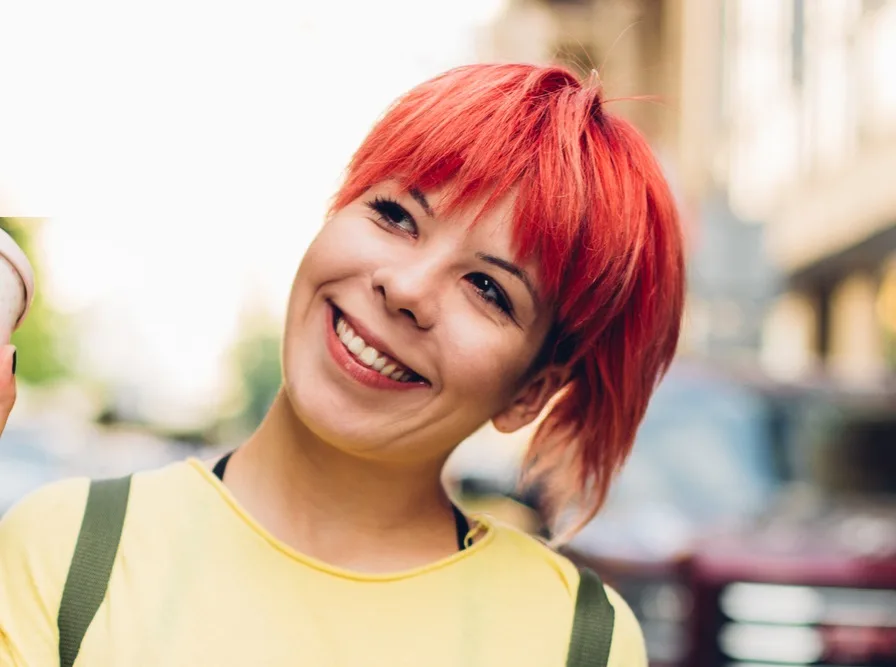 This haircut is all about feeling and personality, nothing precise. Ideal for thick hair, these long, choppy layers and bangs break up bulk while revealing your individual style.
11. Short Layered Bob with Bangs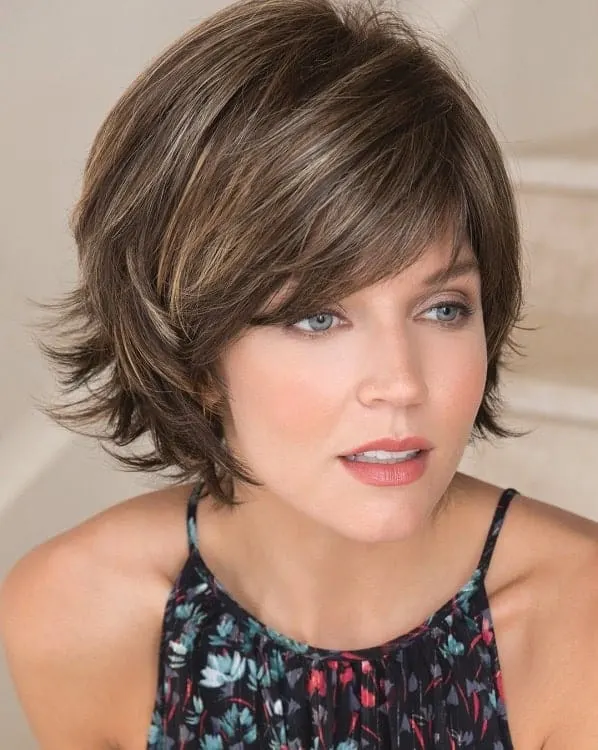 Is your face oval-shaped? To disguise it and draw more attention to your gorgeous eyes, try a layered short bob. Long layers will look great when straightened and you can brush highlighted bangs across your forehead.
12. Short Inverted Bob with Bangs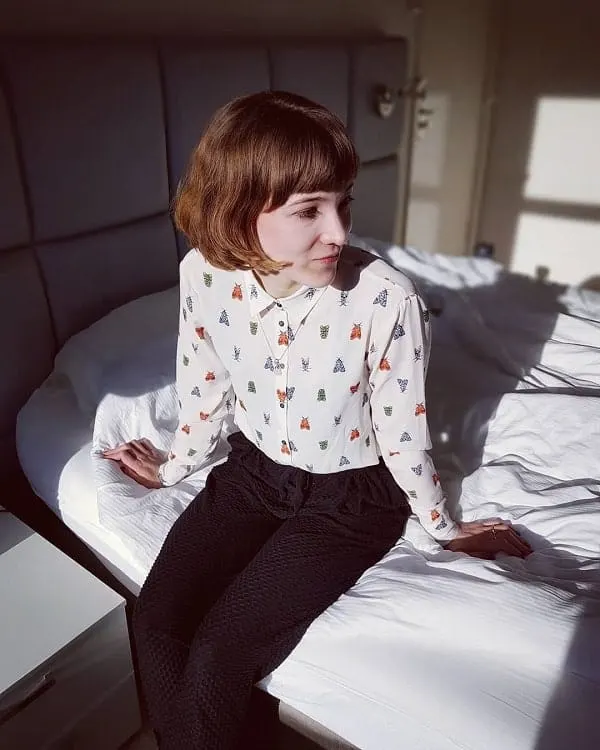 An inverted bob will frame your face beautifully with its long hair close to the face and short hair in the back. Straight bangs make this a chic look you can wear to the office or out on the town!
13. Short Stacked Bob Cut with Bangs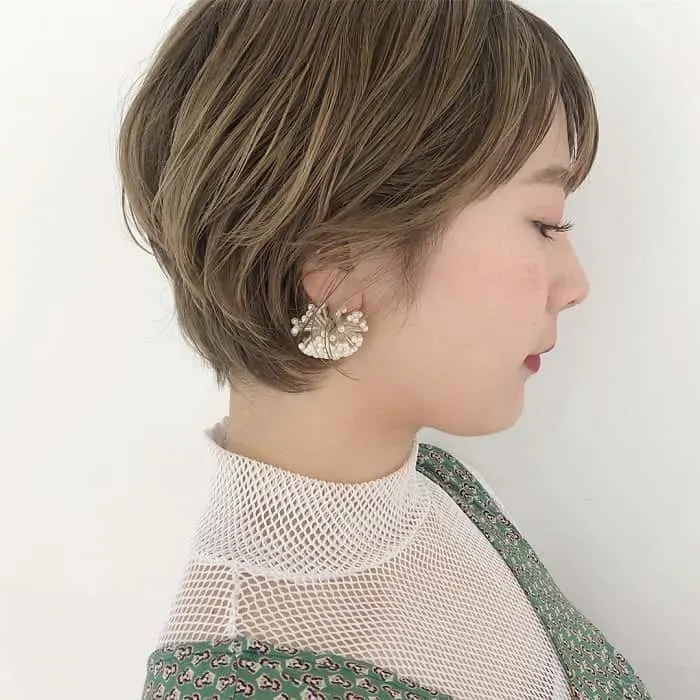 This stacked bob shows off mostly straight hair with a bit of wave to it. It's long enough that you can tuck hair behind the ears and the bangs are a soft detail to help shape the face.
14. Short Black Bob + Bangs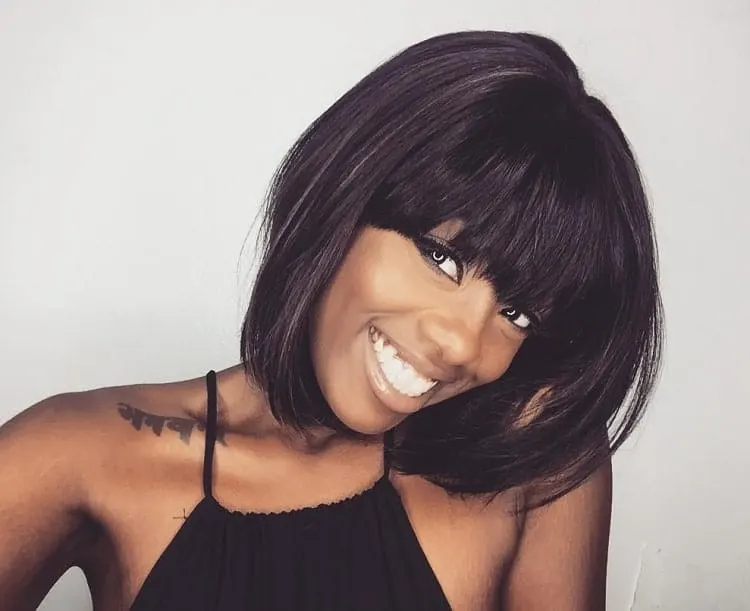 To cover up a large forehead, choose a short bob with long bangs. This black bob has very subtle blonde highlights and a lot of volume at the crown.
15. Short A-Line Bob with Bangs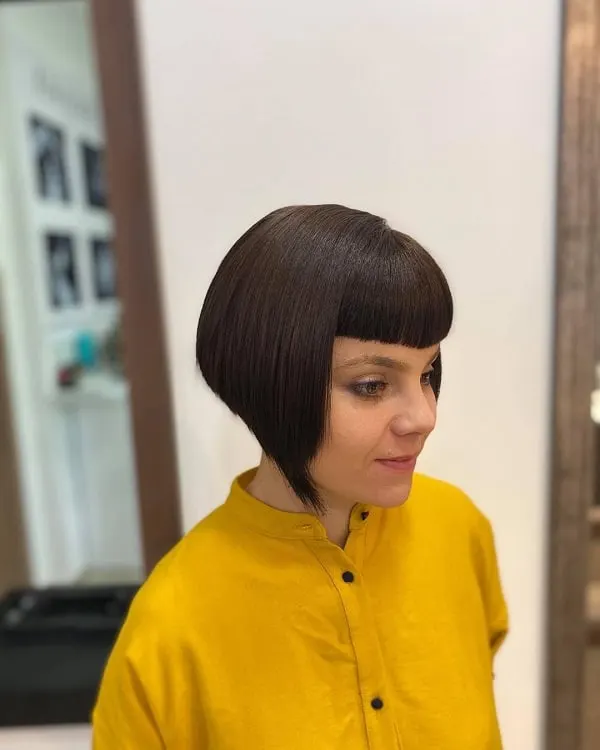 A-line bobs suit women with oval faces. The long hair up front levels perfectly with how long the face is. To maintain an edge to this look, keep the hair pin-straight.
16. Short Textured Bob with Bangs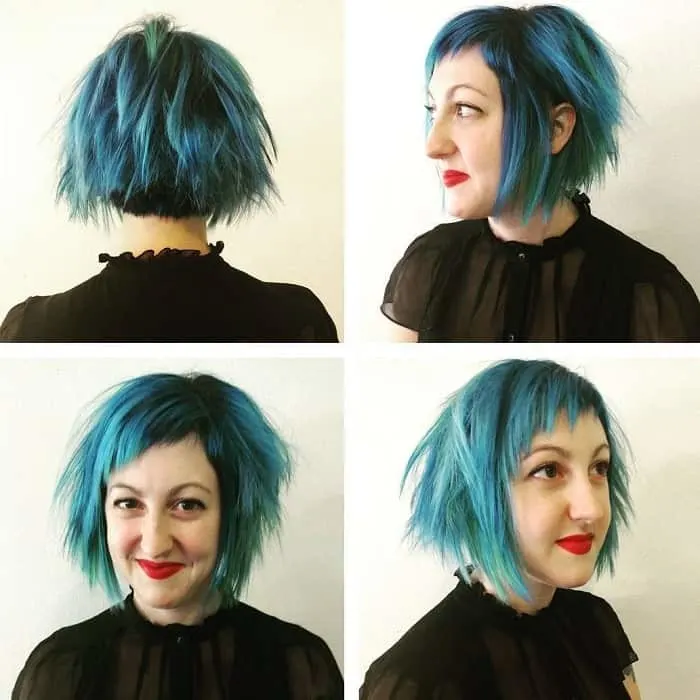 Needing some color in your life? This bold blue with subtle light green highlights packs a major punch in a short textured bob. Cut bangs at a choppy angle to switch up the style and use product to get the texture.
17. Short Bob with Bangs for Round Face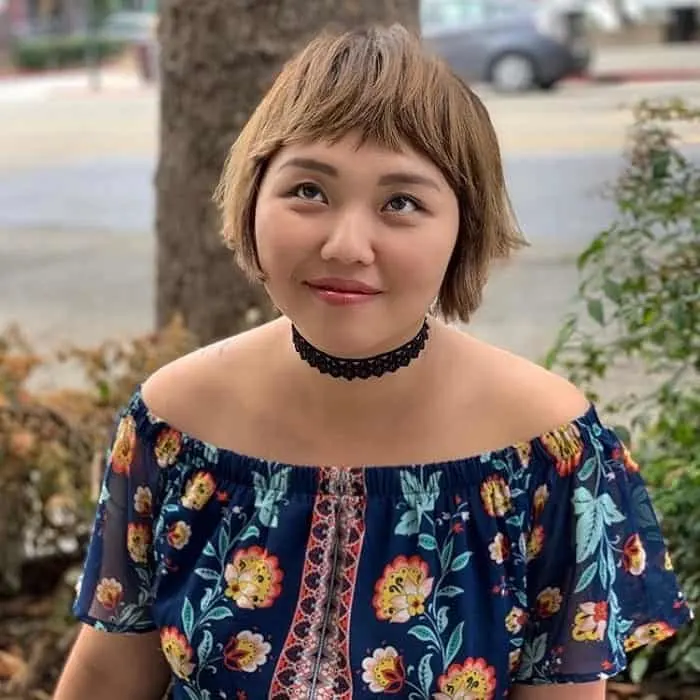 For women with round faces, short bob is best. Keep the length to ear level and wear it straight to avoid puffiness, which will make your face seem rounder.
18. Bangs on Short Ombre Bob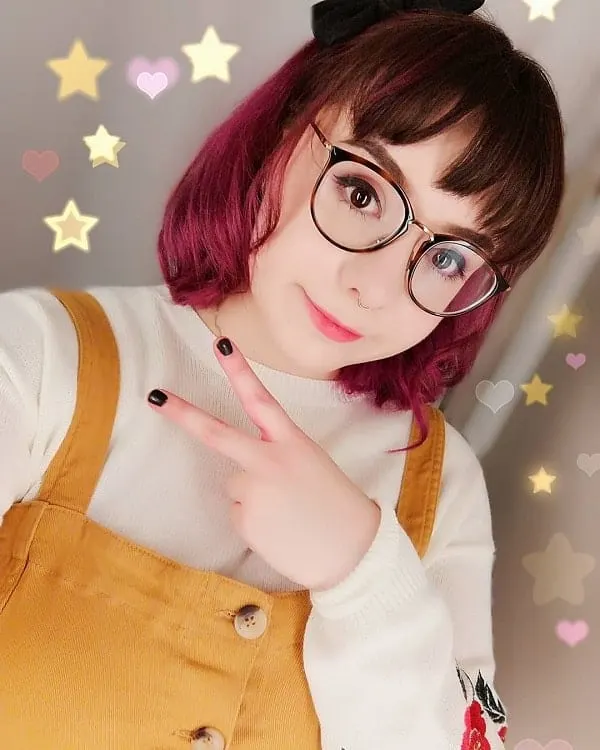 Piecey bangs match a straight short bob in such a cute way. Have fun with color by asking for a medium purple ombre. It's less dramatic than all-over color but still noticeable.
19. Short Shaggy Bob And Bangs
Shaggy bobs are the best option for women with thin hair. The short bangs combine with layers and hair products to help thicken locks up, giving it this gorgeous curly texture.
20. Short Sew In Bob with Bangs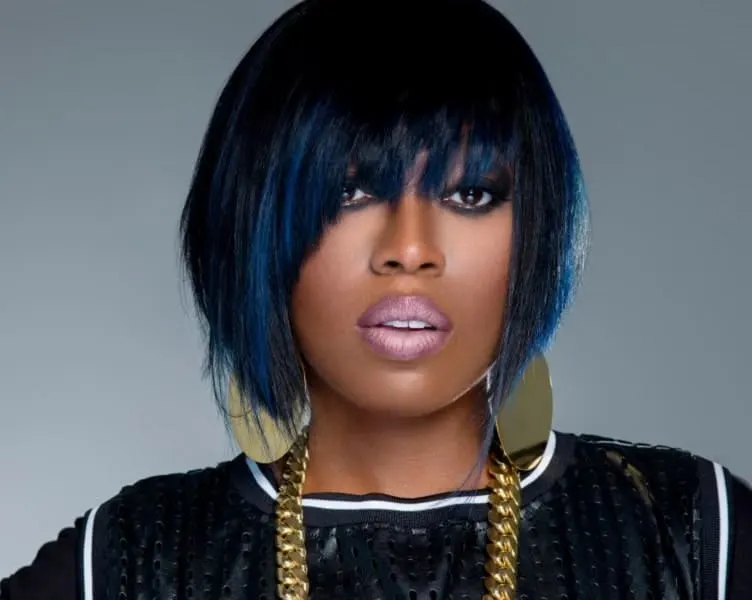 You'll go from drab to fab if you're a black woman and you try out this stunning straight sew-in bob. An uneven cut bang and short layers say nothing but chic. Dark blue is a nice color complement to dark hair as well.
21. Short Thin Bob with Bangs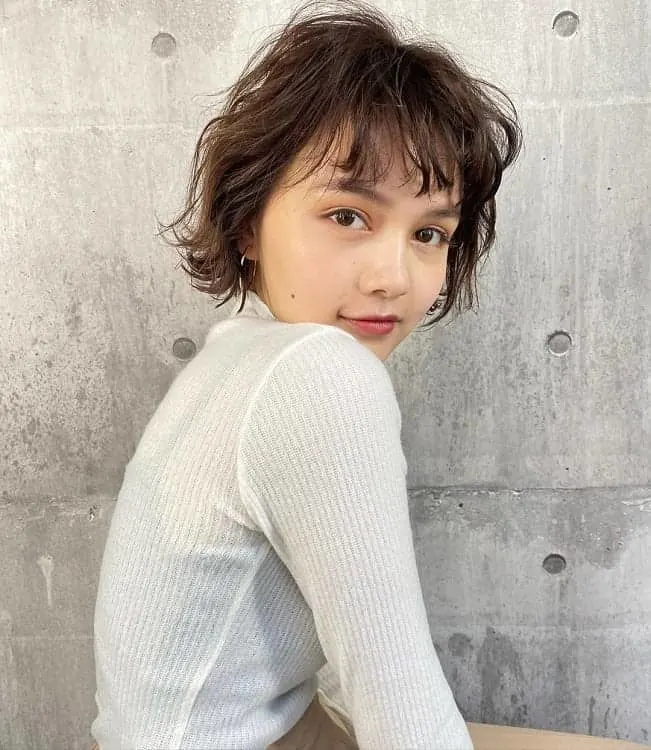 Giving your thin hair new life isn't difficult when you choose a short bob that has a lot of waves. Leave bangs long and either wear straight or leave wavy.
22. Short Bob with Bangs And Glasses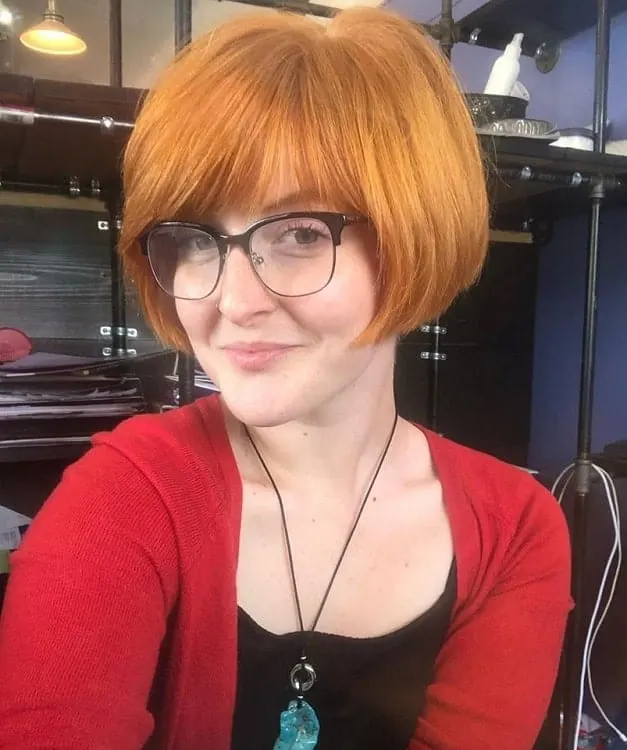 For the woman who wears glasses, short bobs with long straight bangs will super cute. To avoid having too dramatic a look, keep bangs thin and piecey or sweep them to the side.
23. Short Bob + Chinese Bangs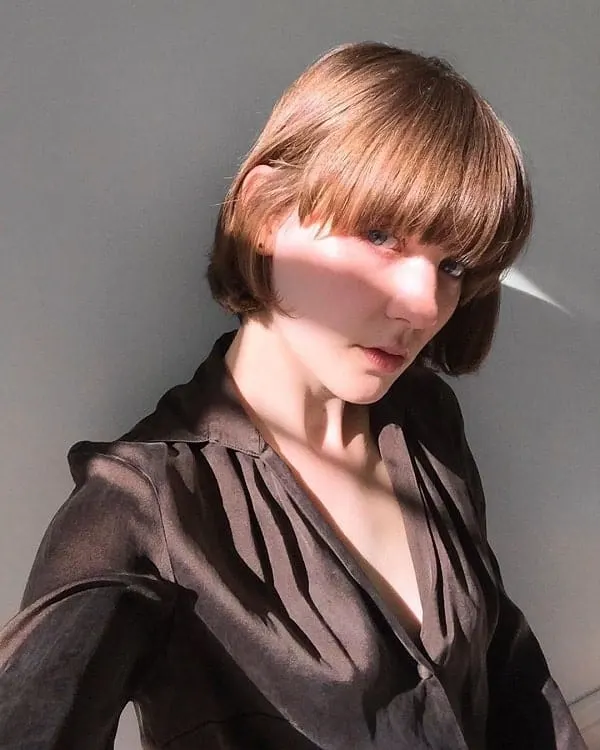 Chinese bangs are simple bangs with a blunt cut that stop right above the eyes. If you have thick hair, it'll be easy to get these. Straighten your locks to get the right length and pair them with a short bob.
24. Wispy Bangs on Short Bob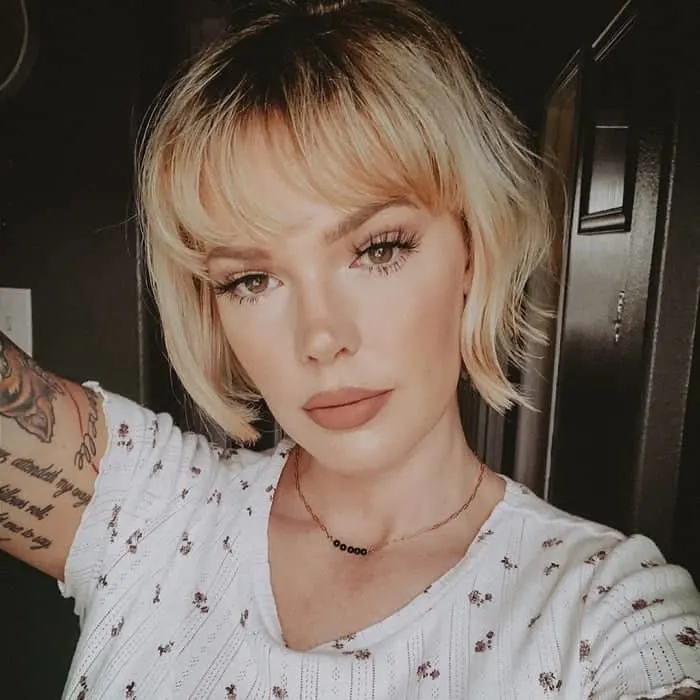 Looking for a soft look? Wispy bangs are less in-your-face and are flirty. You can easily brush them aside or wear them over the forehead. On a short blonde bob, they're feminine and casual.
25. Short Asian Bob with Bangs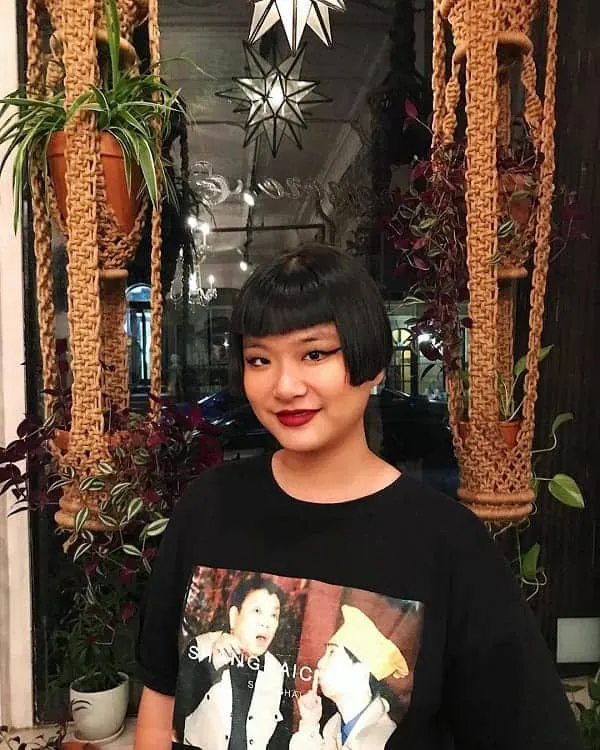 On an Asian woman with a round face, a blunt cut short bob with super straight bangs is very edgy and chic. If you feel the need to add more flair, play with color like dark purple or blue highlights.
26. Graduated Chocolate Bob With Bangs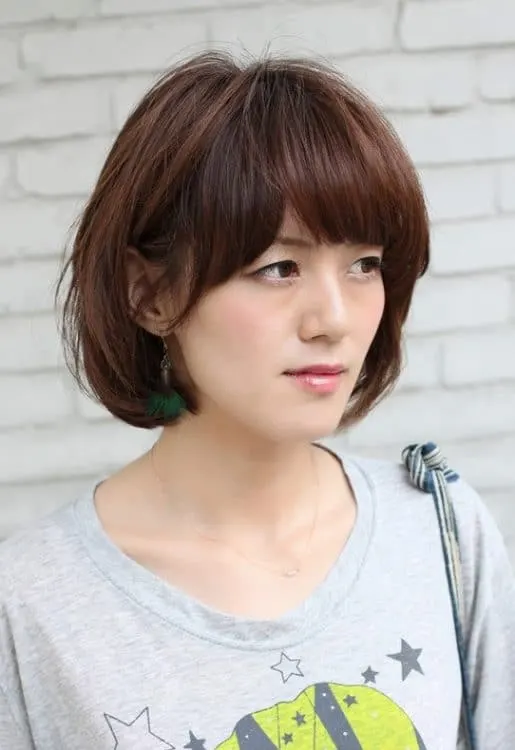 Chocolate brown hair perfectly accentuates your facial features, particularly when it's styled to perfection. Graduated bob is on the playful side, but it's chic at the same time.
Longer bangs reaching right below eyebrows contribute to the overall vibe this beautiful short bob hairstyle with bangs is sending.
You can even throw a few highlights into the mix but go for a shade or two lighter hues as there's no need to opt for an entirely different hue.
27. Pink Angled Short Bob with Bangs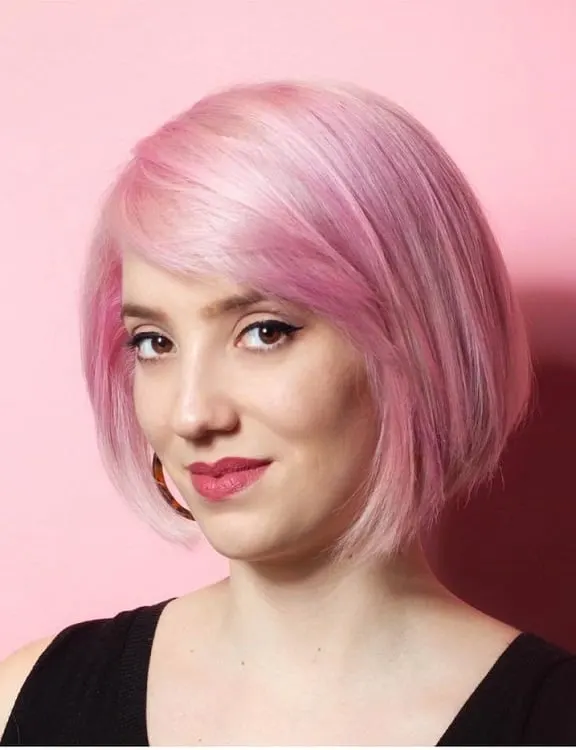 Is pink your favorite color? It's not uncommon for people to think pink hair can never look great, but they're wrong. Yes, pink hair can look amazing.
The bubble gum shade of pink hair is soft, gentle, and flatters your face which is additionally shaped by short angled bob. To finalize your look sweep your long bangs to the side.
If you've never rocked baby bangs maybe you should try it out. These bangs look great with a short bob and are gentle, romantic.
Plus, baby bangs aren't that difficult to maintain so you'll be able to get ready and go out faster. As your bangs grow, you can style them any way you want which is yet another advantage of baby fringe.
29. Super Short Straight Bob With Bangs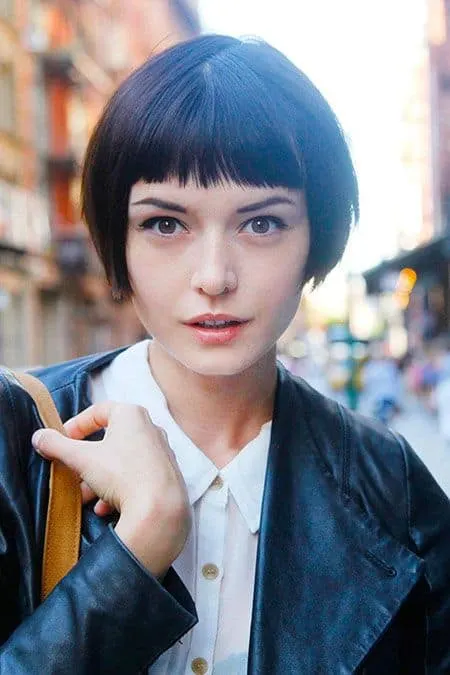 Here's a practical hairstyle that doesn't require too much care and handling. Short bob is paired with bangs that reach just below your eyebrows.
Length of this haircut is ideal for busy ladies who don't have too much time to touch up their hair all the time. At the same time, bangs accentuate your eyes and take years off your face.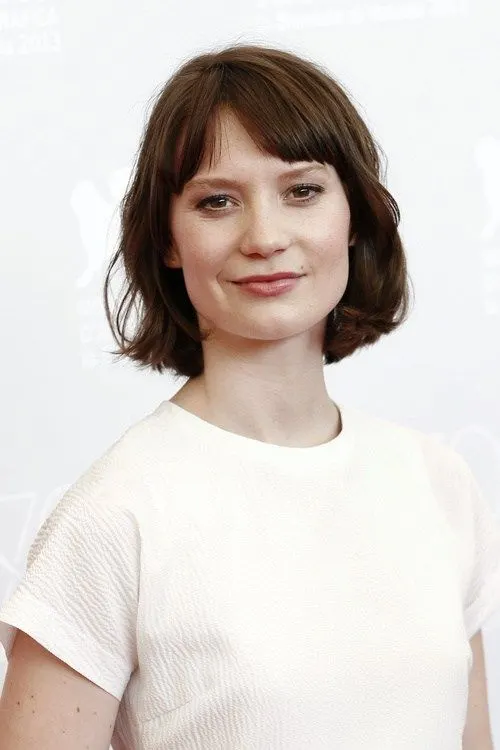 Some women style their bangs straight below or right beneath eyebrows. Other women sweep them aside. But, you can also part them symmetrically in the middle or closer to one side or forehead as seen on the photo below.
Parted bangs on short bob cut give you an innocent and sweet look that you can rock on informal and casual occasions alike.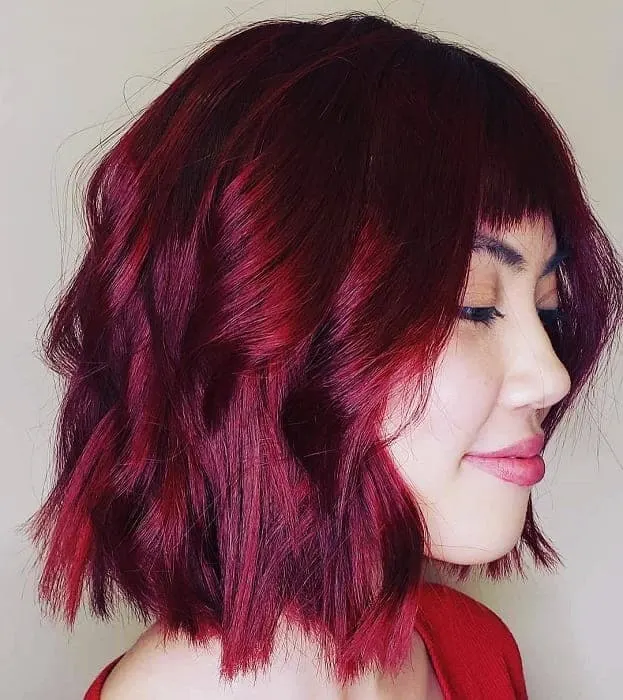 Want to switch things up a little and get a new hair color? Red is always a great color to spice up your look and look marvelous. There's a perfect shade of red for every person so trust your hairstylist when he or she recommends a certain hue.
Get short bob and long waves that will ooze a vibe of freedom, liberation, and sensuality at the same time. Pair this cute short bob haircut with bangs, and you'll look absolutely amazing.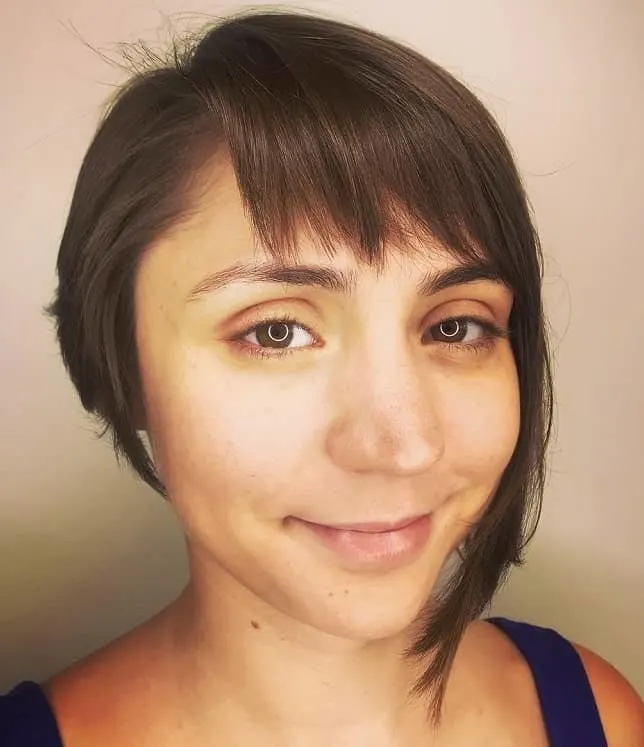 Here's yet another cool way to style your short bob with bangs– mismatch. Ask your hairstylist to give you a short bob hairstyle but to leave one side a bit longer than the other.
Combine this lovely haircut with bangs that reach just above your eyebrows. This style is ideal for women who love to think outside the box.
33. Simple Short Bob with Thick Bangs
Fan of simple haircuts that ooze sophistication? Then Taylor Swift's style is ideal for you. Her short bob is curled slightly inward to frame her face while bangs are perfectly styled for a neat and sleek appearance.
This bangs style on shorter bob oozes confidence and power. She gently tucked a few strands behind her ear for a more relaxed or casual vibe.
34. Very Short Bob with Bangs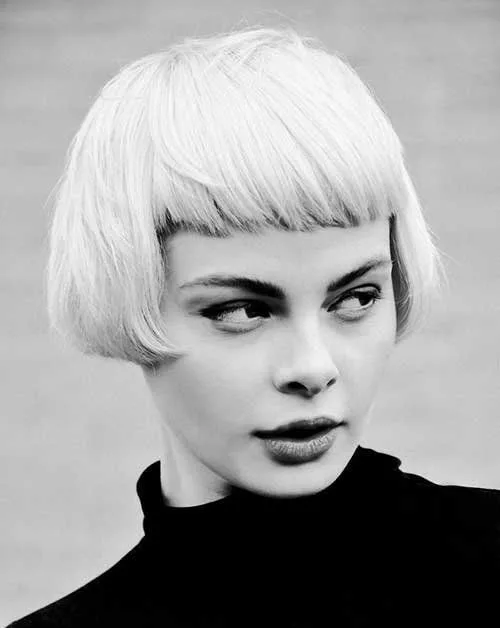 Bold girls who love to be different and experiment with their hair will want to try this version of a short bob hairstyle with bangs.
Go for an ultra short bob that reaches ear length or even a bit higher. Now, combine this super short blonde bob with bangs that reaching the middle of your forehead.
35. Bob Look Completed with A Hat

This chic is a style we want to emulate whenever we can. It oozes sophistication and timeless fashion, and it's easy to dress and style your hair just like that. For instance, you can style your short bob and bangs with a cute hat.
Ear length bob is a chic take on this popular hairstyle. Not only does it look cute, but this length also has a slimming effect on the face, which is exactly what many women seek.
To complete the short length bob look sweep your long bangs to the side and use hairspray to set your do and make sure it remains perfect throughout the day.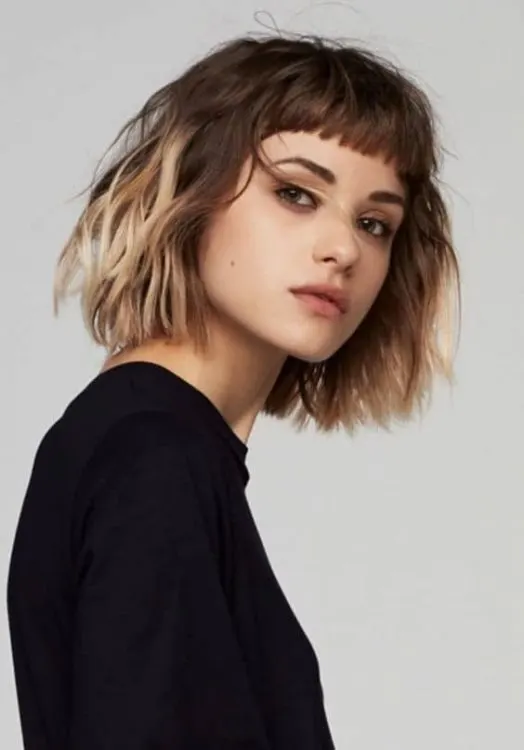 When the term "bob" comes to mind, we usually think of sleek haircuts immediately. Sure, bobs can be sleek, but there's a whole range of options to style them. For instance, you can use your fingers to mess up the hairdo a little bit in order to achieve a messy look.
Messy short bob haircut with bangs is ideal for nights out with friends, casual events, and even some formal occasions when paired with a nice outfit.
38. Vintage Cut
This bangs style on short bob in our list is the vintage cut indicated by gradual, sleek, and bob with long blunt or wispy bangs. It creates a powerful look, especially on dark hair.
Okay, how many times have you heard that curly girls must never get a bob haircut? Or that curly girls can't wear bangs? Guess what?
You can do both! Even better, you can do both together. Short curly Bob and curly bangs are wild, adorable, edgy, and sexy.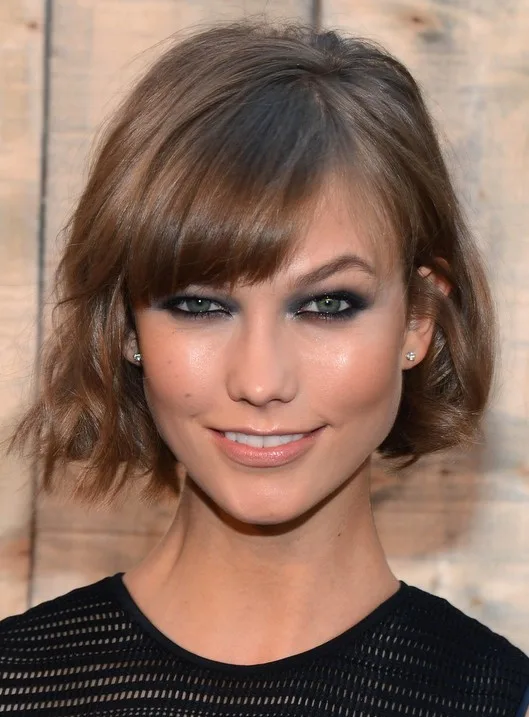 You're in the mood for some super sophisticated wavy bob style, but you'd also like hair to be more casual? Why not both?
Seriously! Blow dry your hair and slightly curl one side inward. Then, use an iron curler to get nice locks that you'll let loose.
One side will be sophisticated and sleek, while the other side remains playful and adorable. Part your bangs asymmetrically too for a chic new shorter bob hairstyle with bangs look.
Here's a simple yet cute and elegant hairstyle to try. This version of a short bob and bangs involves long waves that give more volume and fullness to your hair.
Bangs are swept aside, but slightly oily. Softness or delicate nature of this look creates the effortlessly chic vibe that all women want to achieve.
After all, we want to look great, but at the same time, we want to send a message that it didn't take too much trouble to look fabulous.
42. Purple Short Bob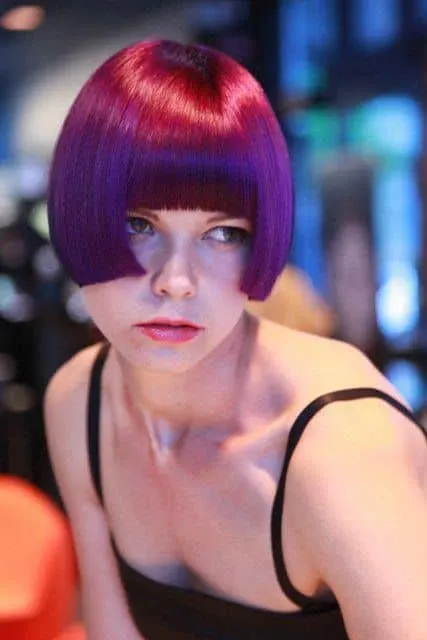 Yet another short bob with bangs for all girls and women who love to experiment with their hair – purple-colored bob will allow you to stand out when everyone wants to fit in.
This strict and sleek hairstyle has a fun side too thanks to vibrant color. Just use a high-quality straightening iron to get this razor-sharp looking do.
43. Blunt Short Bob with Bangs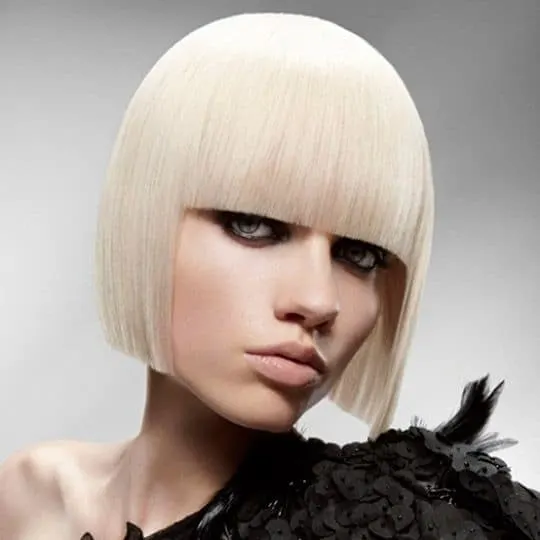 Helmet look is classy, yet extravagant. It sends a message that you're a girl they don't want to mess with but also shows you're elegant and gentle at the same time.
Short blunt bob haircut with bangs that are longer reaching eyelashes level will give you this exactly the same look as seen in the photo.
44. Blonde Bob with Bangs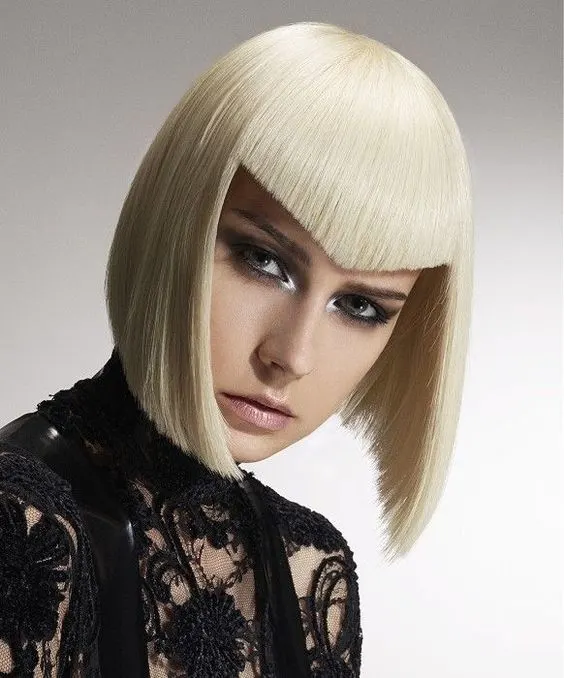 Here's an interesting take on bangs for short bob cut. Instead of cutting your bangs in a straight line you can try out heart-shaped look.
This hairstyle is characterized by bangs that are at their longest in the middle but shorter toward the ends. A sleek chin-length bob and these bangs give your face a heart-shaped look nobody can resist.
A dash of creativity is all that's necessary to create an extraordinary look. For instance, you can combine your short bob with Korean bangs. Again, the middle part is the longest, but two sides are cut in a straight line to create the look.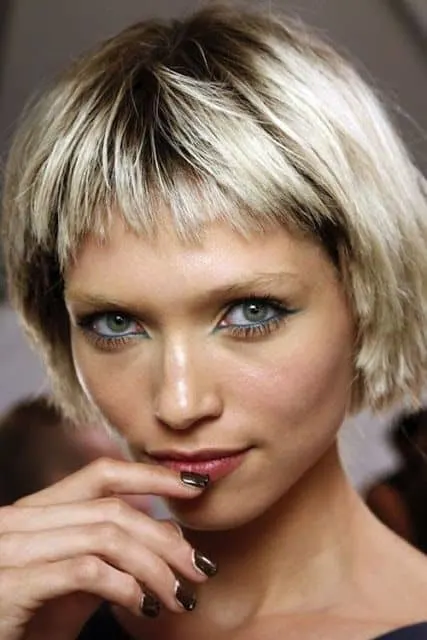 If you're into playful hairstyles, you'll love this one for sure. Instead of a sleek bob with bangs opt for a choppier alternative.
Make your bob seem choppy just like baby bangs. You'll get this fun and playful look that everyone finds adorable.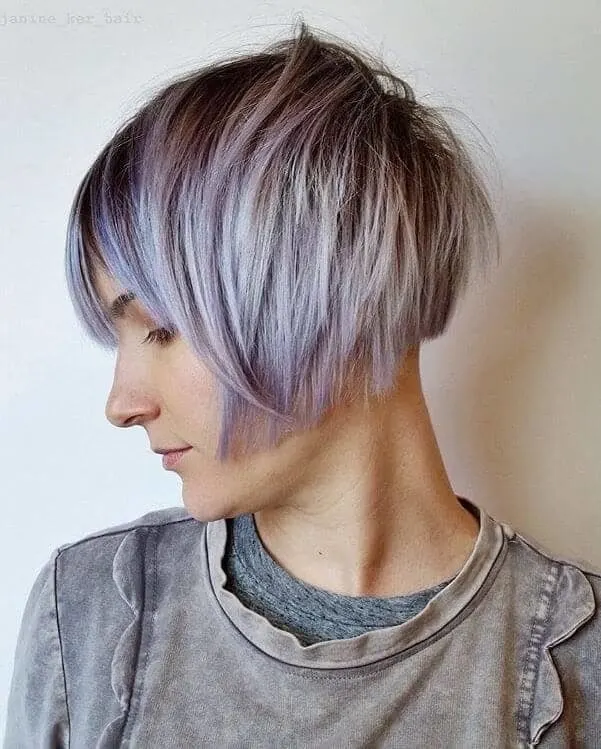 This bangs hairstyle for short bob is ideal for women and girls who love edgy cuts and styles. In this case, short a-line bob is cut with choppy layers in an asymmetrical manner. Plus, long bangs give more definition to the whole look.
48. High Gloss Bob
If you've ever wanted one of those high gloss short bob hairstyles with bangs, then you can easily achieve it.
Just blow dry your hair using a nice brush to style your do and use the shine spray for the finishing touch. Long French bangs make this style super sweet.
49. Brunette Bob with Bangs
Use mousse or a texturizing paste to add more volume to your short brunette hair. Take some product and using your fingers tousle your hair a little bit to create the effortlessly chic short haircut and bangs style.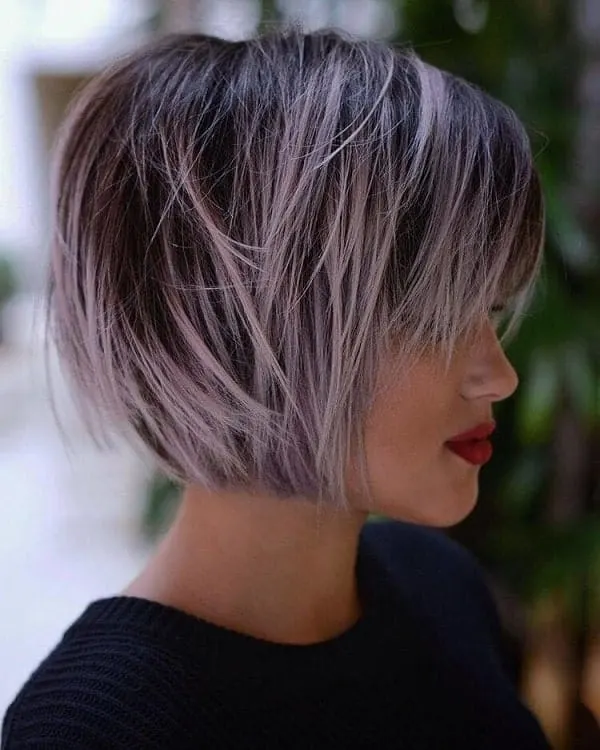 Use a round brush to style the above short bob with bangs. With a little bit of bend, add more volume to your hairdo.
The Ends of this lavender bob are soft which makes you appear gentle and romantic. Bangs are between choppy and blunt cut for a unique new look.
How to Style Short Bob with Bangs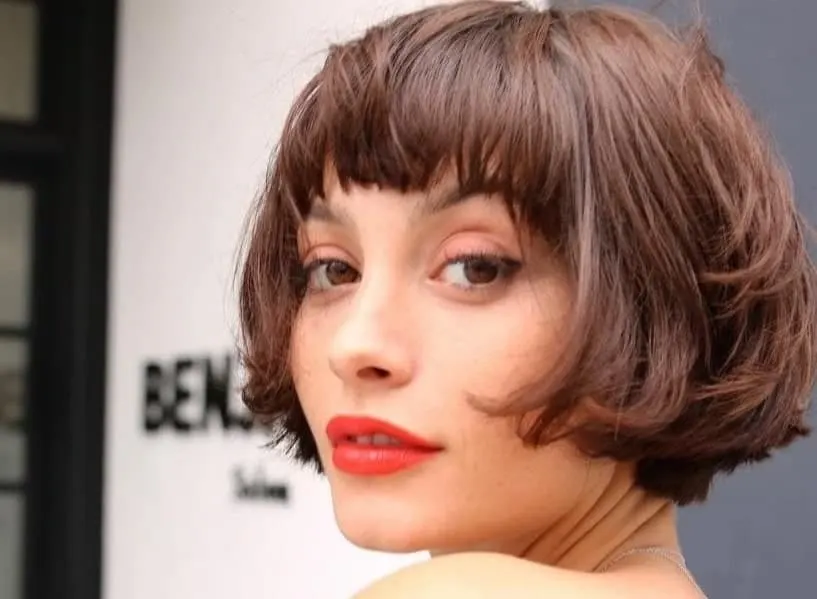 Bob haircuts allow us to style them in different ways. One can opt for a sleek bob with bangs, but sometimes you can make it a bit softer and messier. Even curly bob looks cute with bangs.
Options are truly endless. All you need is a good hair curling and straightening iron, high-quality brushes, and a great hair setting spray.
There's no rule which says you need to stick to a certain hairstyle all the time. Experiment with different hairstyles to see what works for you. Plus, not all styles are suitable for all occasions, so it's good to learn how to wear your short bob with bangs in different ways.
Use accessories such as headbands, bandanas, scarves, and even sunglasses to style your bob. You can even try short bob with short bangs. Add weaves or extensions for length and volume when needed.
FAQs on Short Bob with Bangs
Can I try bangs on fine hair?
Girls and women with fine hair have probably heard numerous times they can't rock bangs. Not true!

One of the biggest conceptions about bangs is that they aren't suitable for women with fine hair and it's time to change that. Yes, you can have bangs!

All you need is a good hairstylist who will take into consideration your hair texture and choose the perfect type of bangs for your face shape and hair type.

For instance, instead of heavy and blunt bangs, your hairstylist will go for soft and feathered bangs.
Can older women try bob with bangs hairstyles?
Of course, they can. Not only can short bob make your face appear slimmer but bangs can make you look younger. In other words, short bob with bangs is a great style for women of all ages.
Chin length bob or ear-length bob – which one is better to style with bangs?
Actually, both chin and ear length bob hairstyles look great with bangs. Of course, it all comes down to your preferences.

Some women opt for chin-length bob and blunt or heavier and side-swept bangs, while other women choose ear-length bob with shorter bangs.
Short bob with bangs is a classy, sophisticated hairstyle that will always be IN. If you're thinking about making some changes with your hair, short bob with longer or shorter bangs is always a good decision. Try it out.