Ever thought about how would you look with box braids and glasses? If not, It's time to give this new fashionable look a try. You can create various thicknesses for your plaits, change your appearance and at the same time, protect your hair from external factors like dust or pollution.
If you're a woman who loves box braids and wears eyeglass, why not combine their look to get an eye-catching style combination! However, depending on your face shape and hair color, you should ensure your glasses complete the look.
Best Box Braids For Glasses Wearers
If you're ready to give braids a chance, we've listed some of the best examples of box braids for women who wear glasses.
1. Blonde Box Braids + Oval Glasses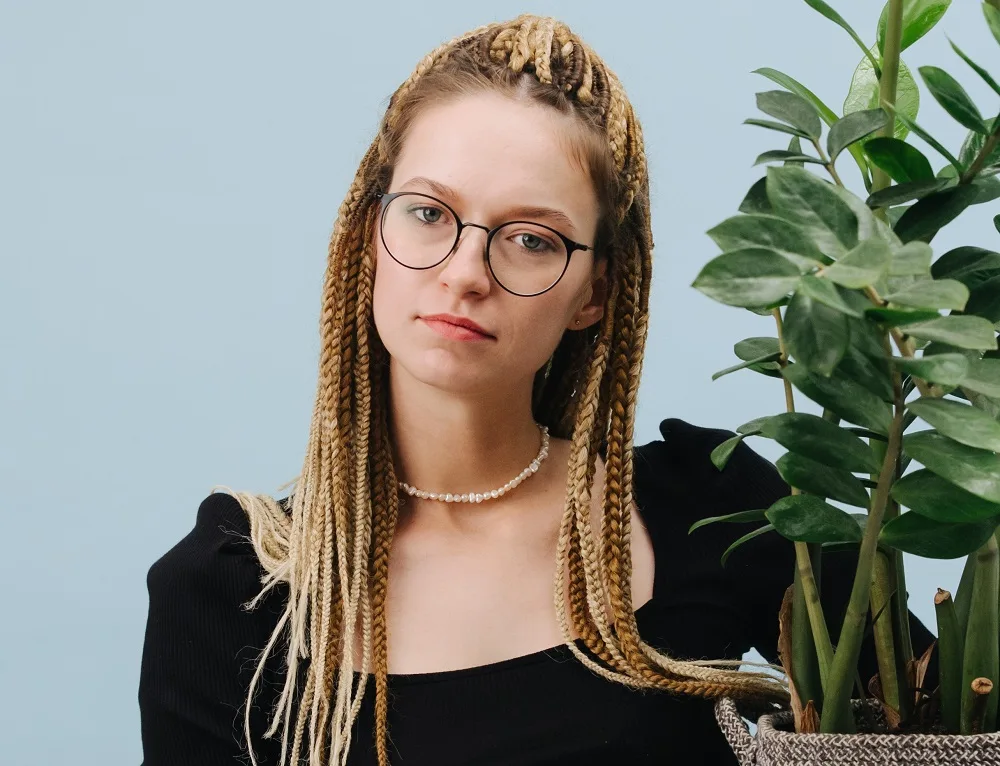 This box braided hairstyle looks amazing if you choose bundles that are close to your natural shade and in the same color range.
Opt for creamy and golden blondes and secure the top braids in a half ponytail. Add rounded glasses to complete the look.
2. Bob Box Braids + Browline Glasses
Box braids and oval glasses combo work fantastically, mostly because you can adapt them for your face figure. Use hair extensions to add the desired length for your plaits and decorate them with hair jewelry.
Go for a bob shape and pin the crown braids on top of the head.
3. Side Braided Plait + Butterfly Eyeglasses
If you don't like simple box braids, then you can add a pop of color by choosing hair extensions that have a purple ombre.
The roots are dark, like your natural hair nuance, and they transform into a violet-purple color. Swipe all your braids to the side, knit them, and add a pair of thick butterfly glasses.
4. High Top Braided Bun + Round Glasses
When you're creating your box braids, you can easily add some highlights. You can mix two bundles of different colors or get pieces that are already mixed.
Twist your protective locks and roll them on top of the head to create a voluminous bun.
5. Green Braids + Butterfly Glasses
Nuances of dark green are ideal for black or mixed women who want a look that expresses their personality and can become an asset.
Create even partings and tight box braids that have the same thickness. Add a pair of cat-eye glasses with dark frames.
6. Violet Bob Box Braids + Rectangle Glasses
Bob box braids look cool on both fair and dark skin. Not ready for a full commitment? Experiment with some box braids and give your hair the shape and color you desire.
Choose a dark violet color and seal the ends with a flat iron, but remember that this technique works only for synthetic hair. Wear thin rectangular framed red glasses to add contrast to your look.
7. Black and White Braids + Pilot Glasses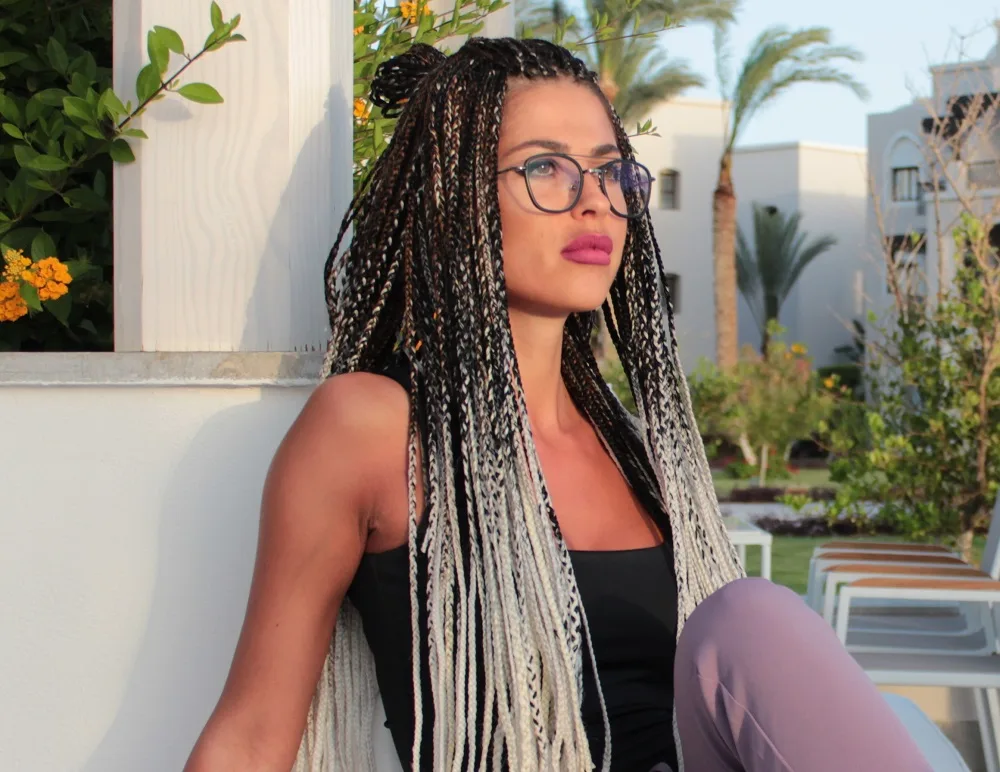 The best way to extend your hair without growing it for years is to create box braids. Go for synthetic hair, like Jumbo bundles that come in a platinum blonde color.
Attach them to your natural long hair and gather all crown plaits, pinning them up, in a ponytail. They will beautifully suit your pilot eyeglasses.
8. Ultra Thin Braids with Waves + Aviator Glasses
Give your hair a little bit of color and blend some pink pieces while creating your box braids. Don't fully knit them, but leave a great section from the ends untied. You can use bundles that are already wavy or create that texture yourself.
9. Braided Space Bun + Thick Geometric Glasses
Mix burgundy, dark brown box braids with black plaits. For the top, braid your knits again, then gather all of the pieces and roll them into two buns. Style it on one side and opt for a pair of glasses with black frames and white on the insides.
10. Ultra Curly Ends + Metal Frame Glasses
Curly box braids are trending right now. Make your crochet box braids stand out by giving them some texture for the ends. So, before pulling off the hairstyle, layer your natural hair or create these layers after you're finished.
All the knits will measure the same but with longer tips. You can curl these by rolling them on a rod and dipping them into hot water.
11. Pale Pink Braided Highlights + Thick Framed Sunglass
Styling modern and cool braids has never been easier because you can channel your creativity and play with different colors.
Once you are done, use threads of yarn or whatever textile you want and wrap it around some of the braids. Don't forget about your sunglasses.
12. Nigerian Braids with Scarf + Square Glasses
Matching your hairstyle and eyeglasses can show your fashion sense explicitly without saying a word. Plaits and especially box braids are such an important part of Nigerian heritage and women all over the world love to pull off intricate designs and match them with colorful scarfs.
If you love bright colors and you have already added light brown pieces of hair for your braids, then you should also get square golden matching glasses.
13. Side Swiped Braids + Goggles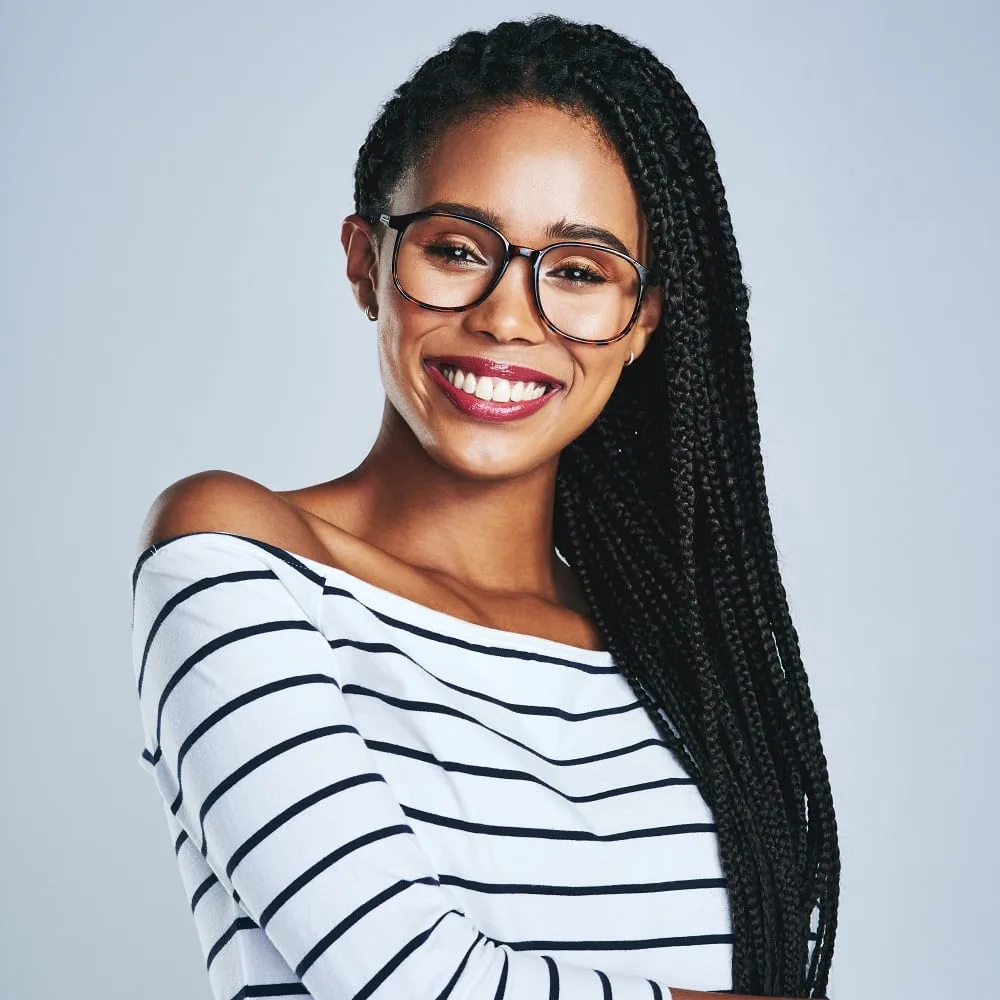 You can wear your box braids with glasses however you please, but you should take your face shape into consideration and the outfit you're choosing.
So, if you have a blouse or dress that falls on your shoulders, then it will be a great idea to swipe all your braids to the side to reveal that neckline.
14. Knotless Red Braids + Wayfarer Glasses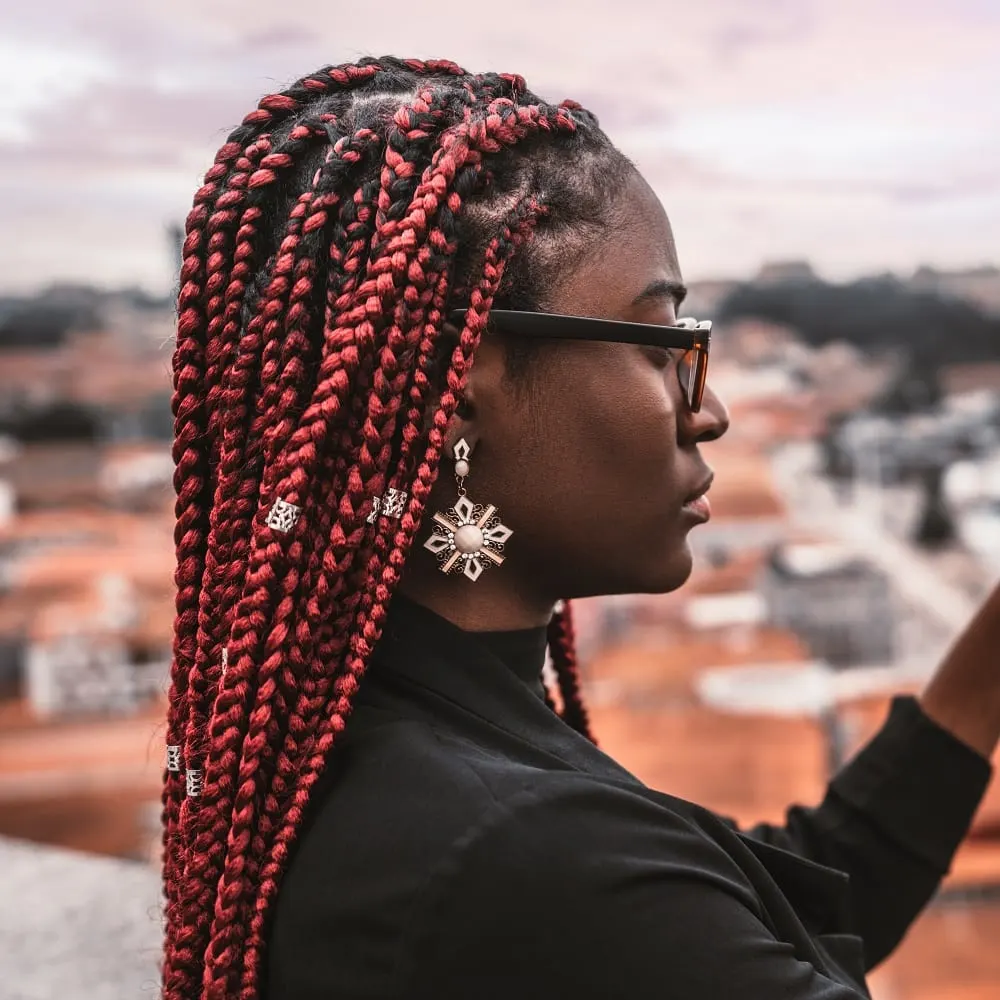 Knotless braids have a more natural look because, as their name says, there's no knot close to the scalp. The braids are feed-in with extensions so they show a better blend. They will look fabulous with wayfarer glasses in the same color as your hair.
15. Jumbo Braids with Middle Part + Big Sized Glasses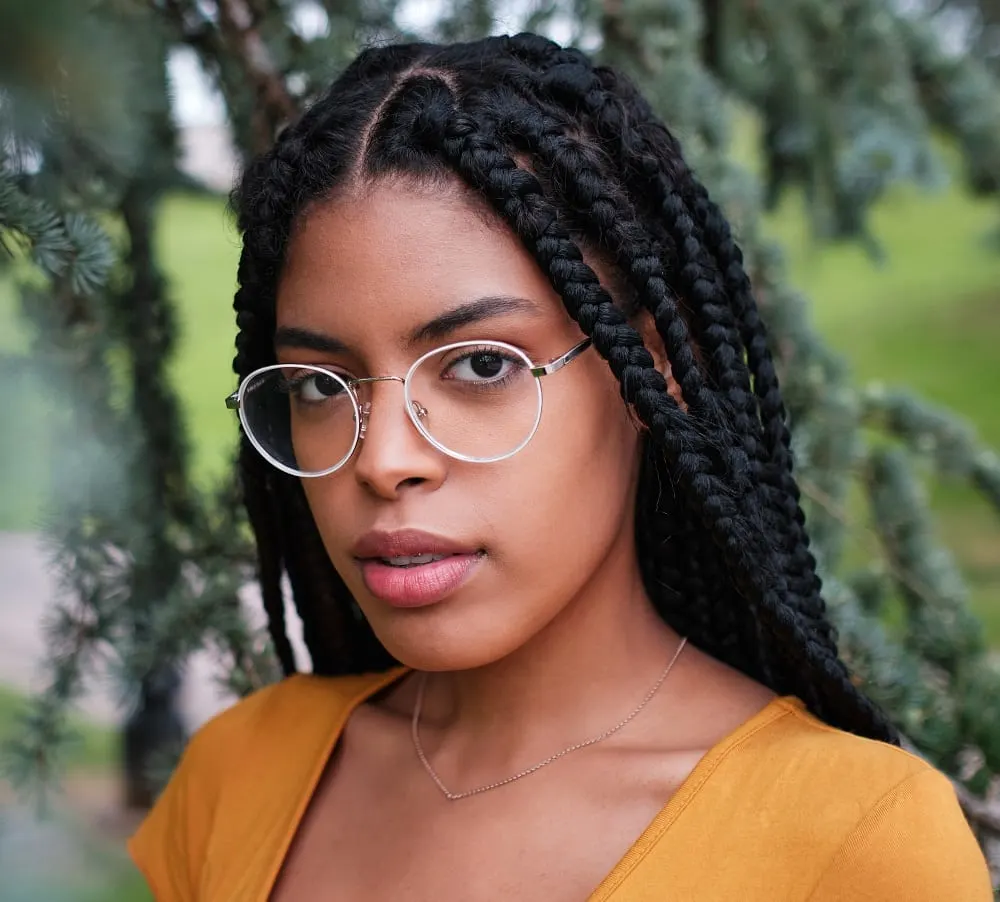 For a natural look, get hair extensions that have the same color as your hair. Before attaching them, prep your locks and apply a jam that makes the combing and parting easier.
Do a middle-part and along that line style your braids. Wear them on your back and choose rounded big-sized metal white frames for your glasses.
16. Twisted Hair Crown + Dark Brown Frame
Style your box braids in the shape of a bob with curved ends and use the top pieces to create a hair crown.
To do so, you'll need to twist the braids, incorporating them as you braid your way toward the sides and back.
17. Copper Brown Braided Pony + Dot Printed Frame
If you want to give your dark skin a golden touch, choose a dark copper color for your box braids. As for your eyeglasses, opt for frames that are in the same color range with a rounded shape.
18. Braided Hairstyle with Unknitted Pieces + Golden Glasses
If you love a more relaxed look, you can build your box braids but keep some pieces unknitted, or just half braided. Opt for a rounded golden metal frame and tie half of the braids up, in a ponytail.
19. Platinum Blonde Braids with Undercut + Cyclops Glasses
Want to stun with your new look? Try a bold look with platinum blonde box braids paired with an undercut hairstyle. The platinum blonde color will make a striking statement.
Consider complementing the style with a pair of Cyclops glasses, which have a single large lens, for a unique and edgy touch.
20. Temple Shave with Duo Color Braids + Leopard Printed Frame
Box braids and glasses make a fabulous pair because each can contribute to upgrading your look. And you can add a side undercut by shaving your hair and then creating a contrast with black and white box braids.
When creating your box braids, you have to be careful with the pair of glasses you are wearing. Make sure they send the same vibe and the colors match. Try out the examples above and let us know which hairstyle suits you best!