When women go for box braids, they have plenty of things in mind, such as forgetting the curl-related hassle.
However, as time goes by, they start thinking about curly box braids. Curls have been the most popular hairstyle for centuries. In fact, curls are a certain beauty standard. Voluminous curls are always a part of the regal image of various princesses. Real or not, these medieval and Disney queens dictate the fashion for many modern women.
That's why the lucky owners of amazing box braids start missing their unruly curls and want to do something about it. The solution is as easy as pie. Curl the braids!
How to Curl Box Braids
There are a few ways you can curl the box braids.
Curling iron method
Natural curly box braids are easy to achieve with a curling iron. However, if you have synthetic box braids, the heat can ruin them in a flash. Make sure to avoid any contact with the heat unless you want to bid farewell to your beautiful braids. If you have natural box braids, you can proceed to unbraid them after the curling procedure. You'll get amazing voluminous curls.
Hot Water Method
The simplest way to curl your box braids is to dip them into a boiling water. Use rollers to roll your braids, cover your face with a towel in order not to get burned, and dip the hair into hot water for a few minutes. Afterward, remove the rollers fast and the beautiful curls are ready. This method is risky because you can burn yourself. Make sure to watch your safety.
Here are a few smart tips to make your curling process faster and easier:
Use distilled water instead of tap water since it's much softer and doesn't have any mineral deposits
Add a few drops of oil to the water. It will help your hair avoid dryness when dipping. The oil helps seal the moisture in.
When choosing the rollers for making curly box braids, consider perm rods. They are made from a durable plastic and can withstand heat well. At the same time, they have elastic bands that help keep the hair in place.
If you want to curl hair extensions before attaching them to your hair, you can follow exactly the same procedure. Just submerge the extensions into the water and leave it boiling for an hour or two for the long-lasting results.
Gorgeous Curly Box Braids for A Regal Look
Curly box braids have an interesting look. Fortunately, they are not very popular yet, so you still have a chance to sport a unique hairstyle. There are several ways you can curl your beautiful box braids for an enchanting appearance.
While the curls on the box braids might not last as long as you wish, they are great for any special occasion. Don't be afraid to experiment with your box braids. The more styles you try, the more beautiful you can feel without drastically changing the hairstyle. You can also try these French braids for curly hair.
1. Curly Jumbo Box Braids
A pop of pink is the first thing friends will notice about these jumbo blonde box braids. The second thing they'll notice is how the braids combine with long curly locks for a beautiful mixture.
2. Long Box Braids with Curly Ends
Long box braids are regal in themselves, but with curly ends, you'll feel like Rapunzel herself. Pull the top half of your braids into a cute high ponytail and wrap in several strands of braids instead of a hair tie.
3. Medium Curly Box Braids
Not sure if you want thick or thin braids? Play it safe yet stylish with medium box braids. This look features a side part and braids mixed with loose locks that are curly at the ends.
4. Curly Crochet Box Braids
Thick braids combined with curly hair is a beautiful boho style you can achieve with crochet. This protective style will last four to eight weeks and looks even better with a few blonde highlights.
5. Small Box Braids with Curly Ends
A lot of tiny box braids is a great way to thicken up your hairstyle and give it a glam vibe. Hair is braided about three quarters of the way down, leaving ends loose and wavy. Decorate your braids with hoops and hair cuffs.
6. Partial Curly Box Braids
Mixing hair extensions is a great way to create a unique hairstyle. You can have voluminous Senegalese twists on top and cute curly box braids on the bottom. If you get tired of such hairstyle, consider reversing it.
7. Curly highlighted twists
Highlighted twists look even more amazing if you curl them. The more voluminous the twists or the braids are, the more beautiful they look when curled. Consider making large waves or tight coils as an experiment.
Crochet Braids for Women With Curly Hair
8. Pump up the volume
When you make your box braids curly, you add them the volume they might lack when straight. The longer your box braids are, the more amazing they will look when curled. Long hair allows you to make tight curls.
9. Short curls
Natural short box braids can be curled by using a flat iron. However, if they are short enough, they will most likely curl up on their own. The tighter you make the short braids, the more chances they will curl naturally.
10. Amazing results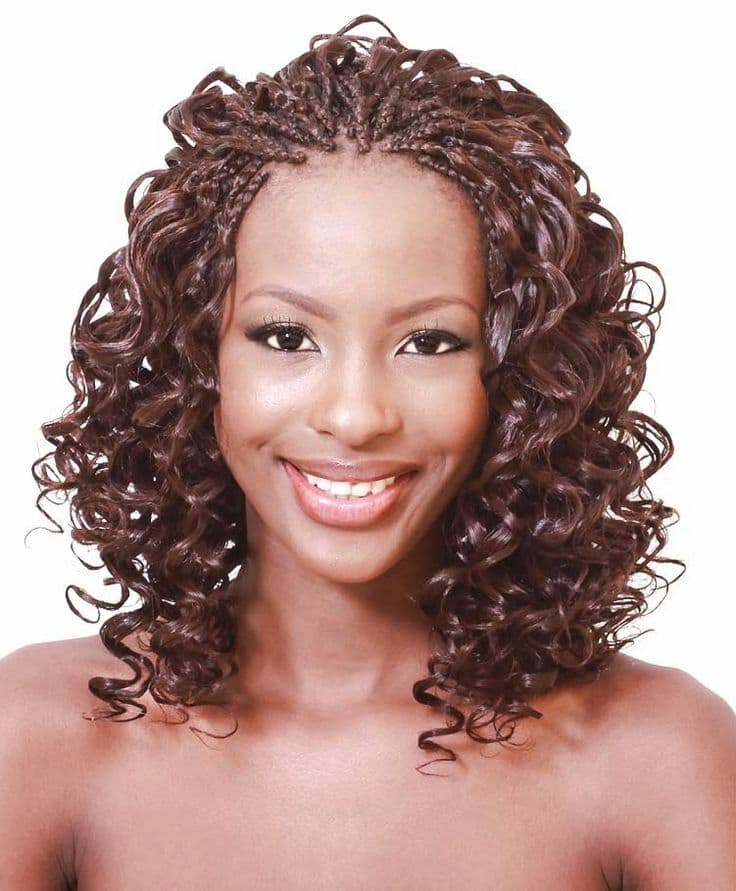 You can get an amazingly beautiful hairstyle by using box braids. After braiding and curling, unbraid the hair. It doesn't matter if it's natural or synthetic. The braiding allows it to become impressively curly and beautiful.
If you are still not sure if you should go for curly box braids, take another look at the results. It takes a very short time to make them. This is probably one of the easiest box braids hairstyles you can create in the comfort of your own home.