When it comes to boys highlights then there are so many to choose from, but blonde highlights have a different effect on the hair and look altogether. Color hair has become one of the most popular hair trends.
It's important to keep in mind the skin tone when you are supposed to choose a shade. To add to your confusion there are types to blonde highlights too, so be picky and careful.
Amazing Hair Highlight Ideas for Boys
2021 has seen a lot of changes, comebacks, and innovations in men's hairstyles. Let's have a look at our 20 best hair highlighting ideas for boys this season.
1. Spiky Hair with Colored Highlights
Straight hair looks gorgeous, especially when boys opt for such a wide range of colors for their highlights. Dye your eyebrows, sideburns, and sides in a platinum blonde shade and lift that colored high top.
2. Wavy Blue Hair
Wavy hair looks so good with blue highlights and is a great styling option for boys who want something out of the ordinary. Keep your sideburns in their natural brown color and toss those wavy bangs on one side.
3. Dark Purple Highlights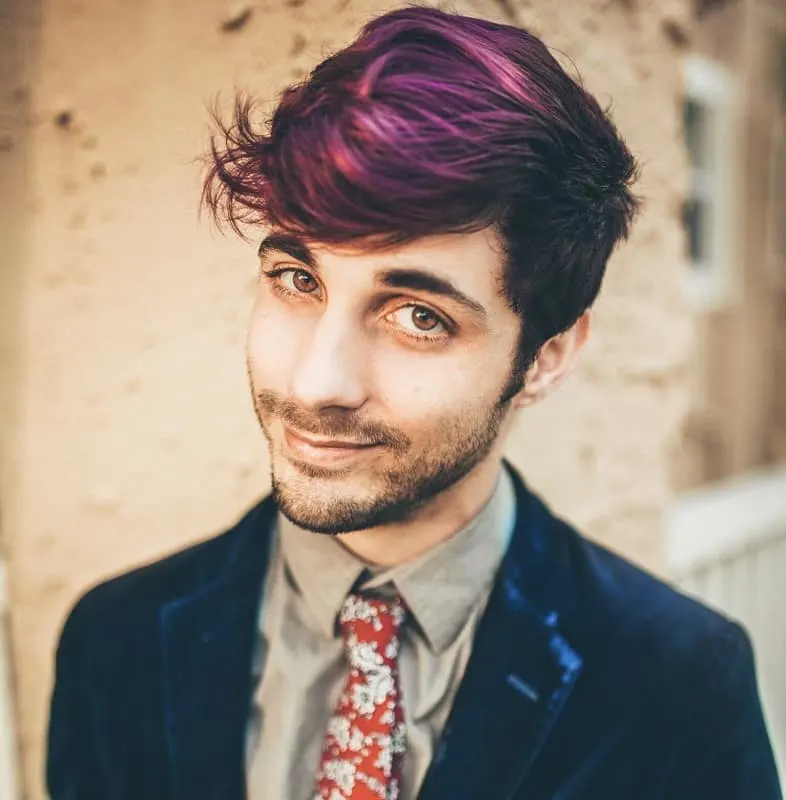 Boys love hairstyles that make them look like a badass, and purple-pink highlights on a dark brown hair will totally rock. Keep the top tossed on one side and a short cleaned cut beard.
4. Blonde Highlights and Dark Roots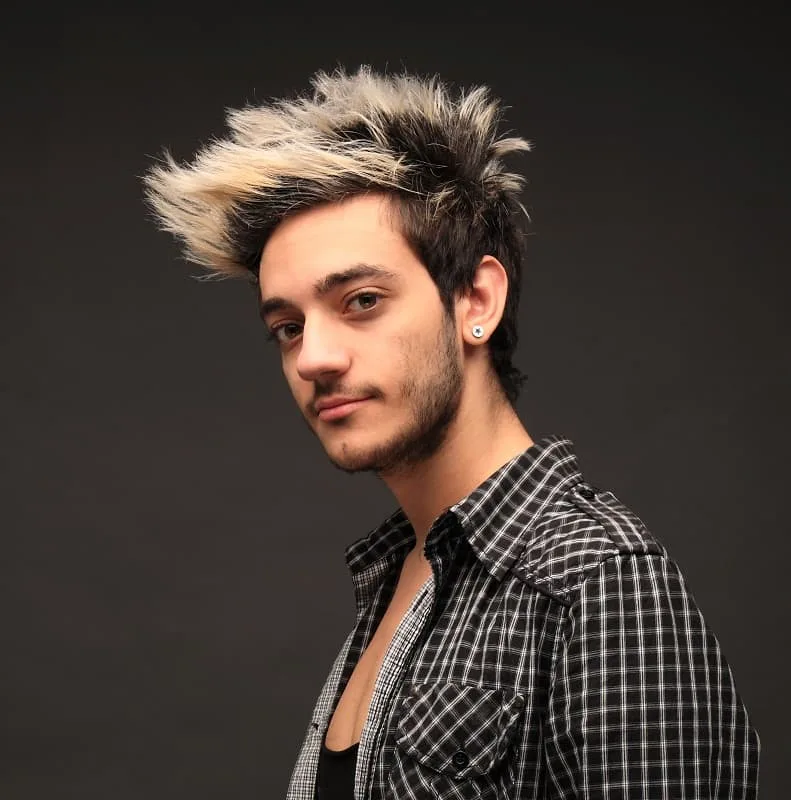 That boy's dark rooted hair is impressive, and the blonde tips with highlights create such a beautiful contrast. If you are a man with fair skin, you should definitely try this hairstyle and arrange your hair upwards, obtaining that punk sexy look.
5. Mild Brown Highlights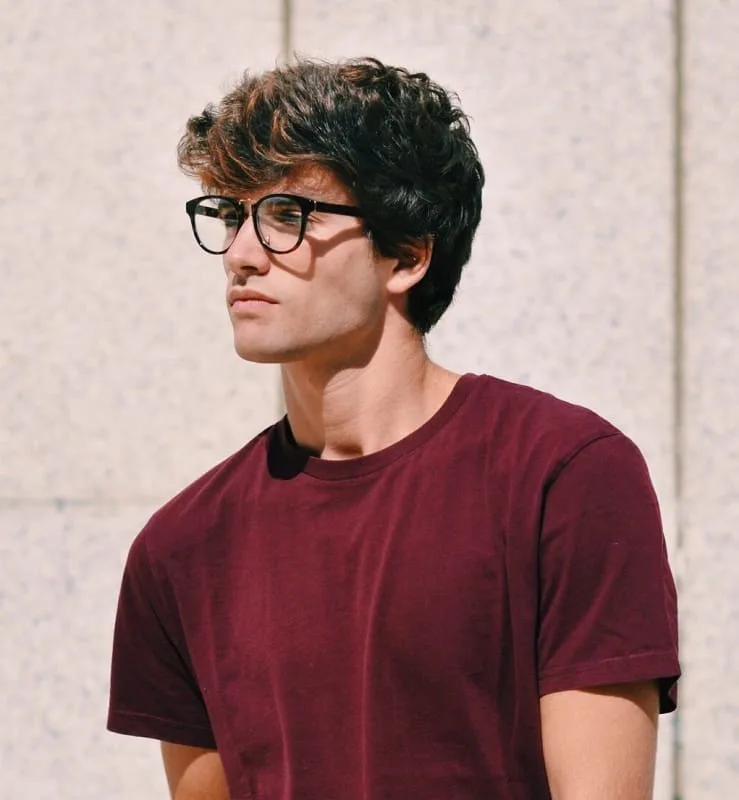 Dark brown hair gets a gorgeous touch from lighter highlights, especially if boys want a look that gets them all girls' attention. Pull off a dorky but sexy look, and you'll attract women like a magnet.
6. Bald Fade and Brown Highlights
Dark hair with brown highlights is very popular among Asian boys, especially if they have a high top that they adore arranging upwards or one side. Also, if you are wearing glasses, this is a hairstyle you should definitely try!
7. Afro Brown Ringlets
Style your hair with some brown highlights that will work like a charm on black boys. Use that shade only for the longer top and for the sides you can get a bald or a taper fade, whatever you think will suit you.
8. Blonde Highlights For Sided Top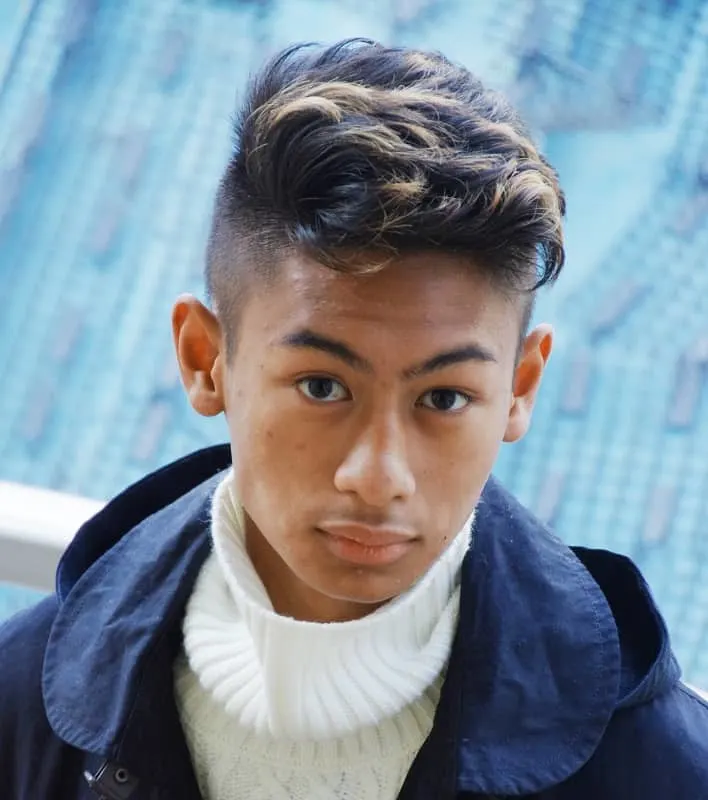 Brown hair looks best with blonde highlights, making this hairdo perfect for boys who want more attention. Shortly trim the sides and adjust the proper clipper to get that clean nice effect.
9. Yellow Highlights
Whenever you want something that's out of the ordinary, all you have to do is pick a modern orange shade and haircut that gives your top dimension. Style electric yellow highlights and get them a triangle shape.
10. Rainbow Rair
Rainbow or unicorn hair is very popular not only among women but also among men. Opt for a short trim on sides and pick colors like bright pink, teal, or green to pull off those impressive highlights.
11. Blonde Highlights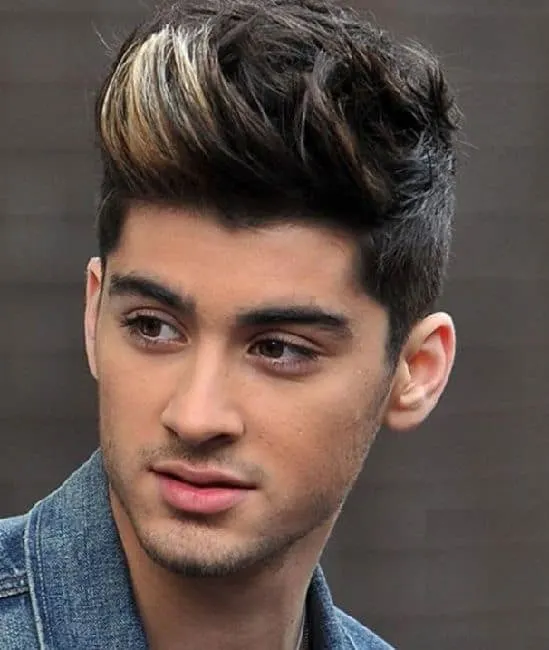 Blonde highlights are the most classic boys highlights ever. You can never go wrong with having your hair highlighted blonde. Darker haired boys look very interesting when they are highlighted blonde.
You can then just leave them brushing over your face or have them combed back with hair gel for the right exposure to your favorite blonde highlights.
12. Platinum Highlights
The shiny white platinum highlight on your hair is the coolest way to stand out among the rest. This looks great both on young boys and those who have just started to have the salt and pepper look in their 40s.
The platinum highlight can hide the natural greying of hair in the coolest way possible and bring your age down miraculously. Young men who would love to flaunt a compatible highlight with their white suits or sweatshirts should seriously consider platinum boys' hair highlights.
13. Platinum Blonde Highlights for Black Hair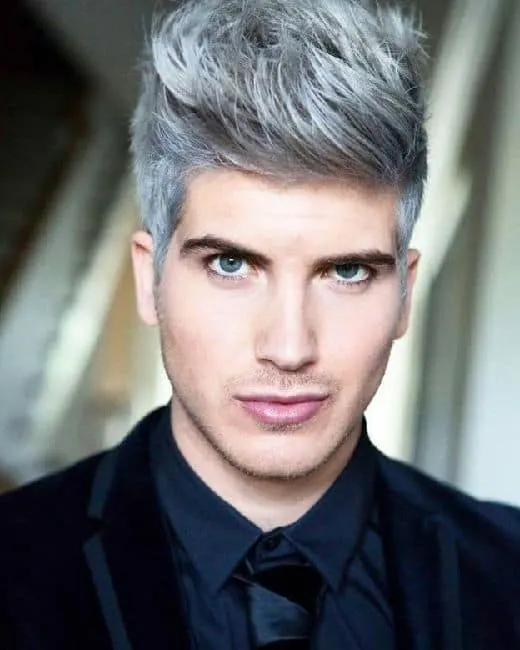 Do you want it trendy and smart? One of the best highlights for boys is the platinum blonde highlight that looks best when applied with your hair styled in a quiff on the front.
The sides can be cut short in a faded style to make the quiff stand out from the rest and the platinum blonde highlight makes things even more interesting.
14. Silver Highlights on Black Hair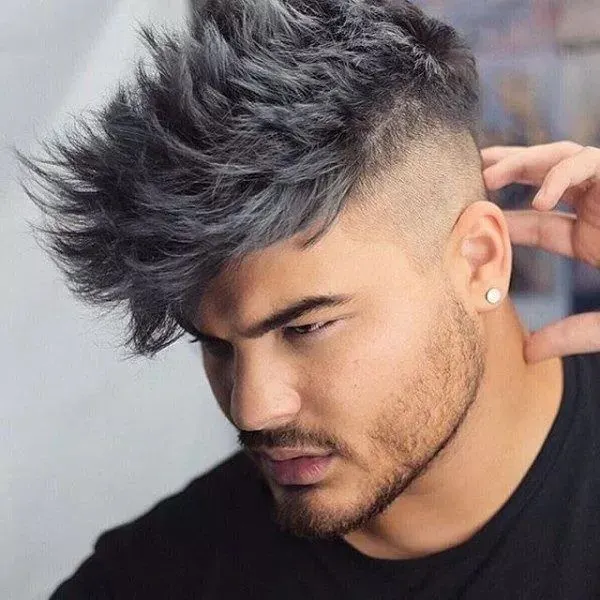 Another really interesting way to highlight your naturally black hair is to go for silver streaks. Silver is a classy hue that can never go wrong like the blonde highlight. Let the fringes have streaks that can either be left flowing or back brushed to let the streaks shine glamorously.
15. Blue Highlights
The blue hair highlight has slowly become the most favorite one amongst boys. Many have taken the bold step to highlight their hair with streaks of bright blue to stand out dashingly. You can literally try any shade of blue you like to do on your hair.
While the electric blue looks too striking, the aquamarine blue is a subtler variety. You can have shades of different blues for your hair if you are too spoilt for choice. Blue is surely the warmest color for the boys highlights.
16. Rainbow Highlights
Why choose one hue when you can have all seven of them on the hair? The bright and interesting vibgyor shades can be used as boys highlights in beautiful rainbow combination to have the best of everything. This hair highlight is gaining huge popularity for its bold and beautiful look.
17. Lavender Highlights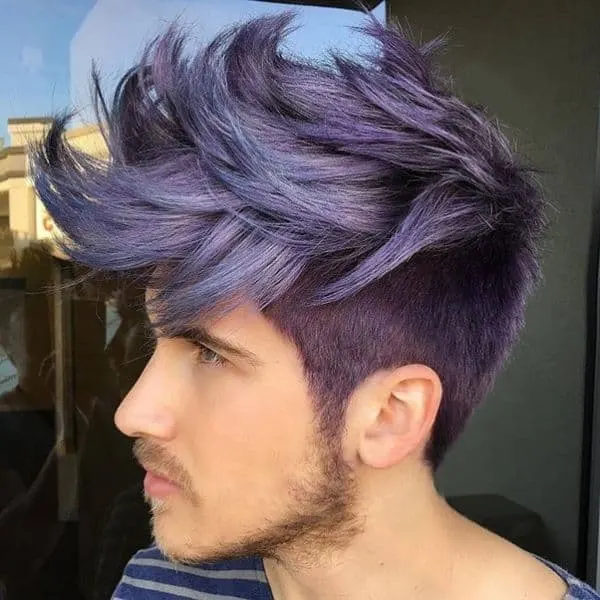 Are you too much in love with pop? The lavender highlight is a tricky one as it may not be everyone's first choice but definitely looks the coolest on those who can carry it with élan.
Check out this Mohawk highlighted in lavender that fades right from the undercut and creates a dramatic effect on the hairstyle. You can surely give this highlights for boys a go some time.
18. Light Brown Highlights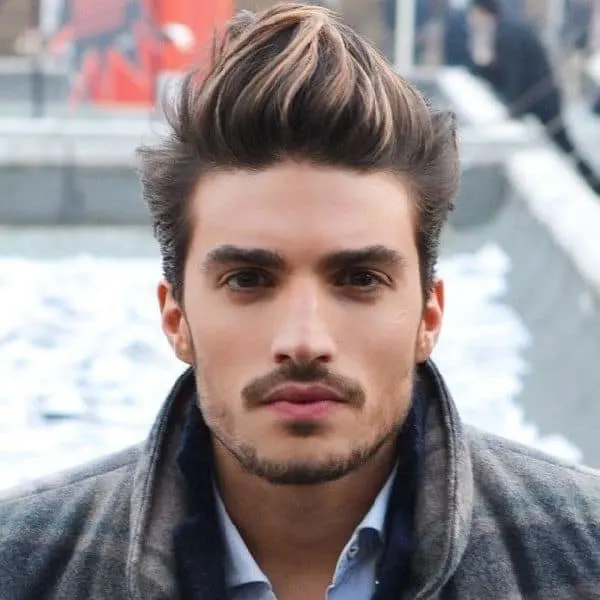 Light brown streaks on dark brown hair are the best combination ever. There is nothing better than warm light brown hair highlights over a dark brown base. They complement each other really well and create a superb visual effect.
19. Red Highlights
Red is the color that looks best when you walk down in the sunshine. With the winter sun over your head or the autumn sun setting, red is the color to go for a dramatic touch to your hair. It looks warm and lends a bold highlight to boys black or dark brown hair.
20. Ash Brown Streaks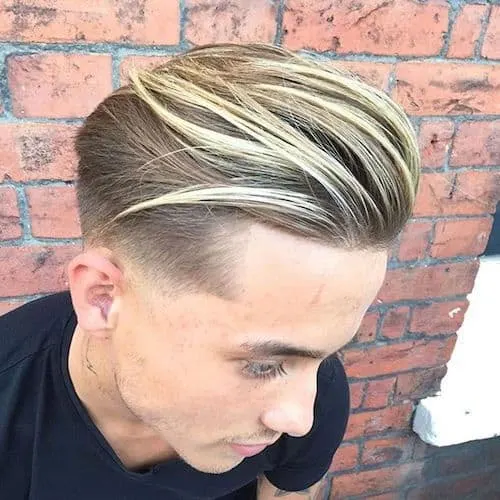 Brown or blackish hair also looks best when streaked with ash brown dye. It is a shade that has the warmth of brown as well as an ashy finish for the shine.
Highlights have been fashionable for a long time now but newer innovations in different bold colors too have led to several fashion trends among men. A bold-hued highlight can make a difference and help you stand out from the crowd. These boys' highlights can be tried by men of all ages or used as a reference to set even better fashion trends.