In the market for a low maintenance men's haircut? You don't have to worry about sacrificing your aesthetic for convenience. There's no need to shave off all of your hair, either—although that is certainly an option, as you'll see. Easy styling is one of the perks of being a man, particularly if you opt for a timeless cut.
Low Maintenance Haircuts for Men
Even if you're running late, you can still run out the door looking perfectly polished—you just need an easy low maintenance haircut. The taper, the Ivy League, a classic crew cut—there are plenty of options available. Just think about what will flatter the shape of your face, the texture of your hair, and your personal style.
1. Short Haircut
Short trims with no designs are probably the most low maintenance men's haircuts. They need retouches only after a few weeks, and more than this, they are incredibly easy to style. When having fine hair, use some gel and lift the top if you want the hairstyle to last the whole day.
2. Medium Hairstyle
For this low maintenance men's hairstyle, the key is hidden between those layers. We all know that curly and wavy hair is hard to tame, but with the proper cut, you'll get yourself a fabulous haircut that doesn't need much styling.
3. Side Part Hair
Keep the side hair short and create a razored line on one side that will separate the trimmed hair from the long wavy top. Maintain those longer strands on one side and use hair gel or foam to recreate the wet look. This hairstyle will help you get ready in only a few minutes in the morning.
4. Fade Haircut
Faded cuts look fastidious, but they really aren't. The faded bald cut used for the sides doesn't need any styling. The long top will only steal a few minutes of your time when getting ready, making this low maintenance men's hairstyle one of the most requested cuts.
5. Curly Hair
A short high fade is ideal for an Afro American man that has curly hair. Keep the top just a little bit longer, and you'll be ready to leave the house once you get off your bed. No styling at all! It also goes very well with a beard, and you will have this fabulous look without a fuss.
6. Carefree Curls
Natural curls make an ideal low maintenance hairstyle. The sides are slightly shorter than the top with soft layers while the curls bend in all directions for a carefree appeal. Go for blonde highlights to add a subtle glow to the face. Finger-tousle the hair and you are ready to go.
7. Shaved Style
Asian men with straight hair that does not settle easily can go for a shaved look. The top tapers towards the sides and back while the strands stand up naturally forming spikes that don't even need a comb to style making this look effortless to handle.
8. Classic Comb-Over
When getting on in years styling the hair can be quite a hassle for elderly men. Keep it graceful with a classic comb-over. The top is brushed back towards one side without a prominent part while the sides and back are also brushed down neatly.
9. Tousled Top + Undercut
Another way to flaunt those unruly curls is with a neat undercut. The top is kept significantly longer to fall over the sides and front as a curly fringe. Apply pomade on the fingers before running them through the strands to keep them in place all day long. Effortlessly chic!
10. Caesar Cut + Wispy Fringe
Add an edgy modern twist to the conventional Caesar cut. Instead of going for a blunt fringe try a wispy chop to fall on the forehead. This style is suitable for men with thick straight hair who merely need a comb to brush all their strands forward.
11. Messy Shag
This messy shag is an ideal low maintenance haircut for men who like to sport a long mane. It is defined by plenty of layers, bangs, and a long back that create a lot of movement on the head. Shake your head around for the strands to fall everywhere. Voila!
12. Curtain Cut
Many stars including Leonardo Dicaprio and Brad Pitt have flaunted the iconic curtain cut. It is characterized by a middle-parted fringe that can be pushed slightly to one side too. Ask the barber to finish off with layers falling over each other along the sides of the head.
13. Side-Swept Bangs
Want a cute boyish appeal? Check out these funky bangs. The top has textured layers with an undercut along the sides. Allow the front strands to graze the eyebrows while sweeping them sideward. This look is perfect for guys with spectacles.
14. Slicked Back
Go for a gentleman's appeal to make the ladies swoon over you. The medium-length top shortens slightly towards the sides. Use some styling product to brush back the strands for a sleek finish and top off the look with a medium facial stubble.
15. Short and Textured
Nothing can go wrong with a textured haircut. The undercut along the sides keeps all the attention on the long top with choppy layers. Finger brush the strands to create spikes falling forward on the face resulting in a subtle fauxhawk silhouette.
16. French Crop
Those who want to spend minimal time styling their hair can consider a short French crop. This cut is suitable for all face shapes and hair textures. The clipped sides elongate towards the top where the strands are gathered towards the center. Guys with a receding hairline should definitely give this style a try.
17. Buzzed
Not to forget about the good old buzz cut, African-American men can enjoy the freedom of not brushing their hair for a while by shaving their entire head. Couple this look with an extended goatee for a dapper appeal and try it out with a skin fade too.
18. Layered Waves
There is nothing more to ask for if you are blessed with a naturally wavy hair texture. Ask the hairstylist for soft layers to frame the face with a deep side parting and let the strands bend naturally for a ruffled yet romantic look.
19. Short Pomp
Inspired by Elvis Presley, the pompadour hairstyle is still popular today and is worn in many variations. Elderly men can flaunt their salt and pepper mane by opting for a soft pomp with short sides. Brush back the strands and pair the look with a neatly trimmed beard.
20. Crew Cut
Guys with a receding hairline and hair loss issues can sport a short crew cut with confidence. It is a tapered haircut with the top being short and the remaining parts even shorter. Brush the strands back or sideward depending on your choice.
21. Platinum Charm
Low maintenance or not, this dichromatic look is to die for! Create a textured side-swept top by adding as many layers as possible and dye the hair in an icy platinum blonde hue. Accentuate the style with a natural thick long beard and handlebar mustaches. Sexy!
22. Soft Mullet
The mullet haircut of today is not as extreme as in the 80's but is sure to turn some heads. The back is kept long with medium-length strands at the front and sides. Heavy layering gives shape to the thick curly mane that can be styled with a mere hand-tousle.
23. Modern Brush Up
The brush up hairstyle is timeless and suits almost all face shapes. Go for an undercut instead of a fade to avoid an extra-neat look keeping all the attention on the comparatively long top. Brush up the strands making them tilt slightly towards one side for a modern twist.
24. Army Vibes
Talking about low maintenance haircuts for men, here is one giving off army vibes. The sides are faded to expose the skin while the top is buzzed with the strands standing up naturally. This look is perfect to sport a widow's peak with pride.
25. Side-Tousled
Make jaws drop wherever you go with a charming hairstyle. The curls are cut at various lengths resulting in gorgeous layers all over the head with the front side-parted fringe being the longest and falling over one eye. Remember that the messier the hair is the better this style looks.
The taper is one of the most classic low maintenance men's haircuts, as well as one of the most timeless. It's a short cut that comes off as sophisticated even though it's simple and easy to style. You only ever need a little product to keep the top thatch of hair in place. Juice haircuts are also a cool option.
The crew cut is known for its fading. With this hairstyle, your hair is longest at the very front of your head. It reaches its shortest length at your crown. Then, the hair on the back and sides of your head are tapered.
The buzz cut is more than just low maintenance. It's no maintenance. You don't have to do anything to style it; you just have to walk out the door. It's the definition of easy haircuts for men.
Men's Military Haircuts for Short Hair
The regulation cut is an old-school military style that's back in a big way. The top of the hair is usually about two inches long, while the back and sides get a smooth fade that blends with the skin at the nape of the neck. Again, you just need a firm holding product to style it.
As you can see, the Ivy League is a variation of many other low maintenance men's haircuts. It even resembles a shorter version of the undercut. It's still effortless to style but has a preppy aesthetic that's ideal for professional settings.
31. Thick Hair
32. Thin Haircut
33. Comb Over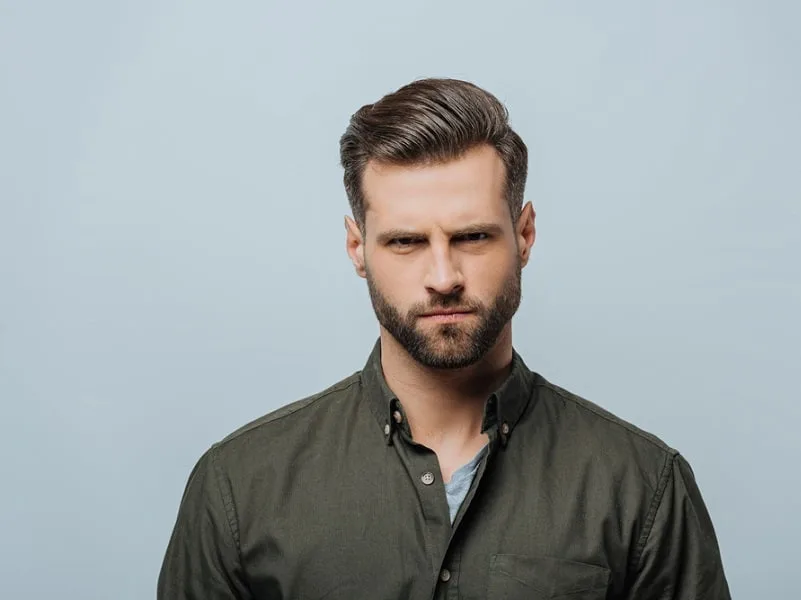 34. Low Maintenance Hair for Round Face
35. Faux Hawk
36. High Top with Short Sides
37. Buzz Cut for Asian Men
38. Short Sides with Top Bun
39. High Fade for Afro American Hair
40. Short Haircut for Receding Hairline
41. Low Fade with Sleek Quiff
42. Layered Short Haircut
43. Short Sides for Top Curly Hair
44. Marine Cut
45. Faded Sides with Top Coils
Black Men Haircuts: The Classic High and Low Taper Fades
FAQs
Here are some of the most commonly asked questions regarding men's haircuts that are low maintenance.
Short or long hair: which is low maintenance for men?
Generally speaking, short haircuts such as a buzz cut or crew cut require less maintenance to keep up. They don't take as much time to style daily. However, they need more frequent cuts and trims to maintain the length.

Long hair requires more maintenance for regular styling and washing but less frequent trips to the barber.
What is the best low-maintenance haircut for thin-haired men?
A crew cut is a great low-maintenance cut for guys with thin hair. Cutting thin hair very short will generally give it the appearance of being fuller. This style is an excellent choice, especially if your hair is thinning around the top.
Is an undercut high or low maintenance?
An undercut is when the hair on the sides and back of the head is much shorter than the hair on the top. This style does require more upkeep than a single-length haircut. In order to stay looking fresh and put together, you will need to shave the short parts more often.
Are textured haircuts for men low maintenance?
Yes, textured looks can be quite a low-maintenance style for guys. These haircuts are naturally a bit messy, piecey, and disheveled. Since they are supposed to look a bit rough, they don't require as much time devoted to styling.
Low maintenance men's haircuts come in a variety of styles. You don't need a bunch of products and hairspray. You don't even have to pull out the blow dryer if you have an easy to style cut.