You've likely seen brown hair in various shades, making it an appealing look for a wide range of people regardless of their age.
It's one of the most versatile hair colors because it can be styled in so many ways, as you might've noticed if you've followed any brown-haired actress.
Many famous actresses over 40 have rocked their brown hair in movies, on the red carpet, or simply out and about.
So, if you want to make a hair change, consider going brown! And if you're curious about the best styles rocked by a brown-haired actress over 40, read on for some great hair inspiration.
Brown-Haired Actresses Over the Age of 40
Many celebs over 40 have made a name for themselves over the decades with their fame, thus influencing style trends — including hairstyle trends. Here are some of our favorite over 40 actresses with brown hair.
1. Jessica Alba — Middle-Part Lob + Pearl Headband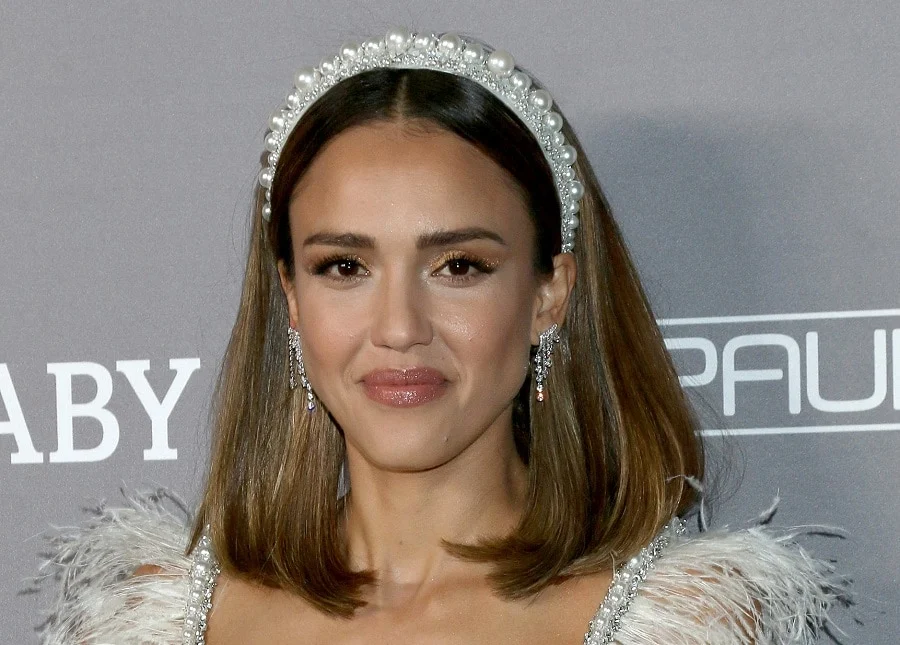 Jessica Alba's lob with a middle part is the perfect combination of maturity and fun.
The middle part draws attention to her symmetrical face, while the decorative pearl headband adds both class and sass to the brown locks and to the overall look.
2. Rose Byrne – Side-Parted Wavy Bob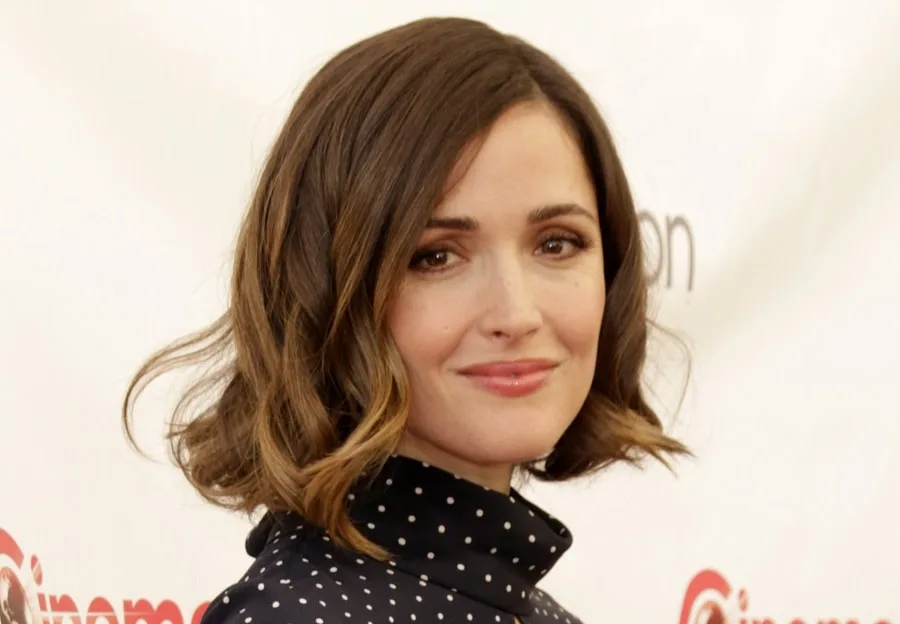 This brunette actress over 40 is rocking a side-parted wavy bob. The appeal of a slight side part is that it can help minimize the look of a wide forehead.
It gives the illusion of an oval face (considered one of the most attractive facial shapes).
3. Natalie Portman – Structured Waves
When people refer to "wavy hair," they usually mean hair with various strands going every which way.
But Natalie Portman's waves all go in the same direction for an orderly, highly sophisticated look
4. Carrie Coon – Wavy Pixie Cut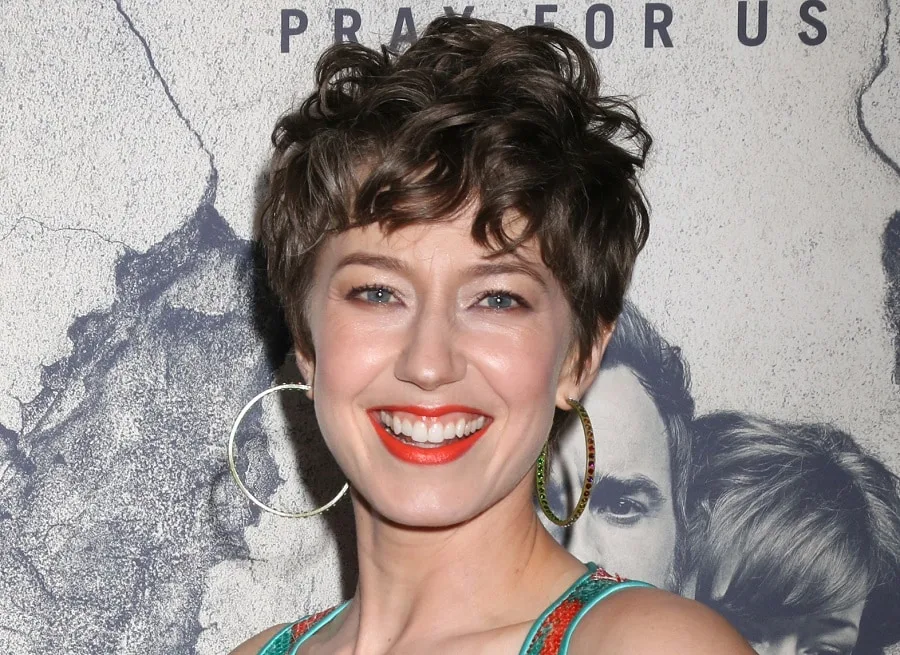 Carrie Coon's wavy brown pixie cut is short yet full of life. The waves intercept each other for a carefree look, and the short length flatters her long face shape and adds an element of sophistication.
This brown-haired actress's haircut is best for women with wavy hair that's on the thinner side.
5. Penelope Cruz – Middle Part With Highlights
Penelope Cruz's middle-parted hairstyle is similar to Jessica Alba's mentioned above, but she adds a bit more edge with her piecey highlights.
The blonde highlights are also a great way to add some dimension and the illusion of fullness to thin brown hair.
6. Melanie Lynskey – Relaxed Mid-Height Ponytail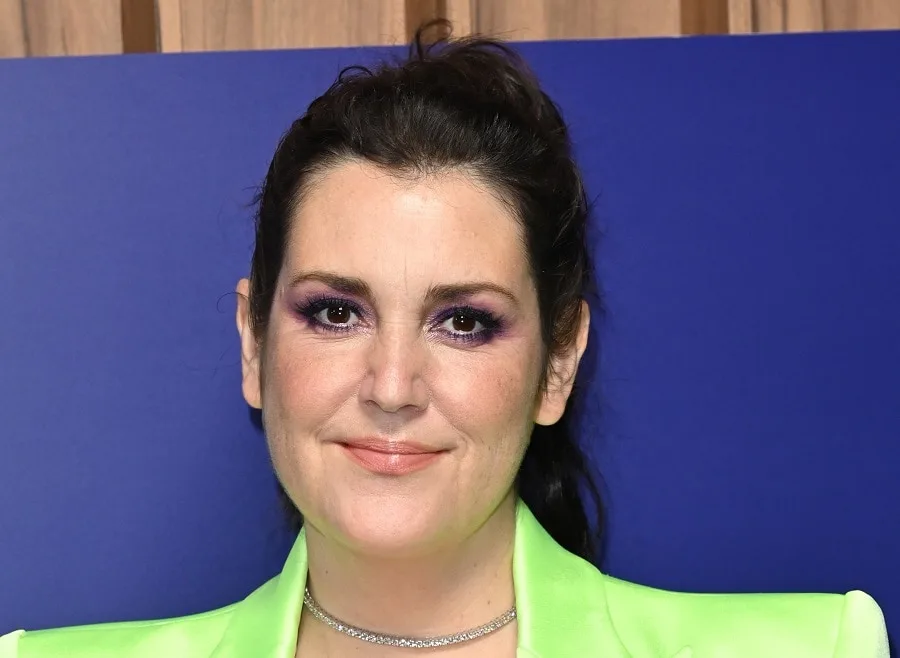 Sometimes you just want to rock a casual look, especially to balance out a not-so-casual outfit, and that's what this brown-haired actress over 40 proves by pulling off a ponytail effortlessly.
Her ponytail has the appeal of a messy bun but still looks intentional.
7. Angelina Jolie — Centre Part + Straight Back
This over-40 actress's dark brown hair perfectly suits this middle-part and straight-back look.
Its pin-straight nature, with few flyaways, is classy, elegant, and versatile. Also, this Angeline Julie look is perfect for showing off strong facial features because it's not distracting.
8. Rashida Jones – Highlighted Waves
Rashida Jones's brown hair looked extra thick and full due to the long side part and scattered waves. The golden highlights brighten her face and give this popular celebrity a stunning look.
This look is particularly appealing for heart or diamond-shaped faces because it serves as a nice frame for these facial shapes.
9. Chrissy Metz – Shoulder-length Waves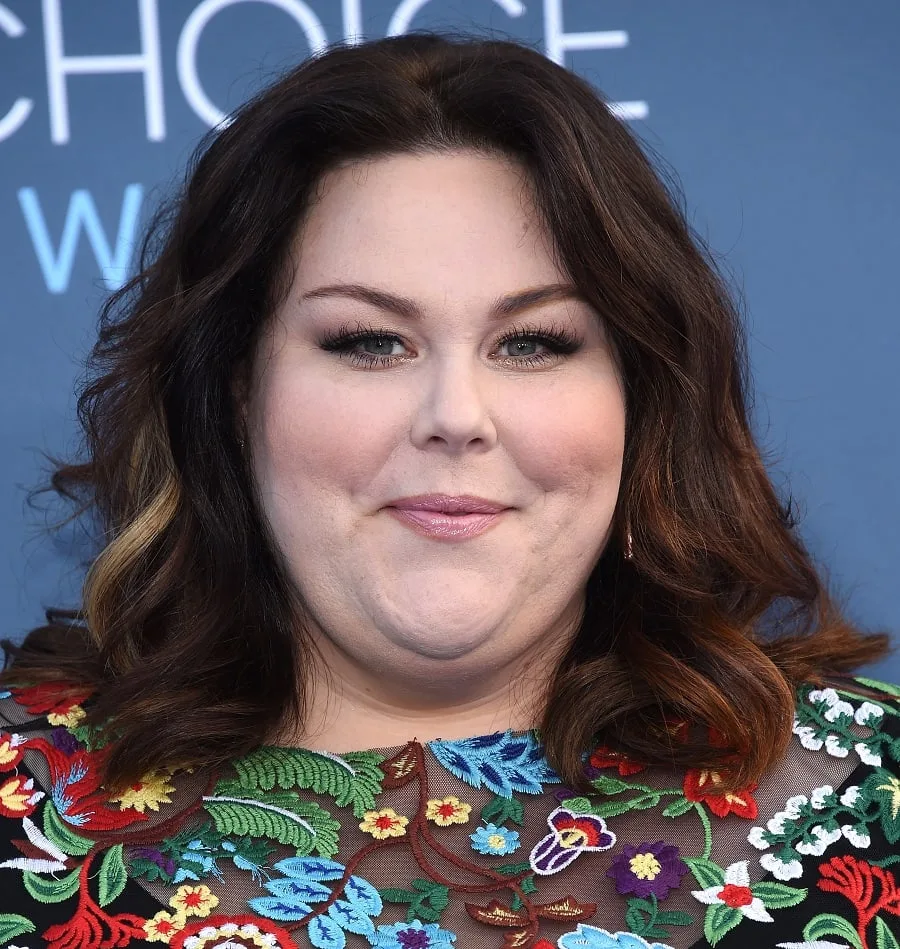 Chrissy Metz is a brown-haired actress over the age of 40 who always successfully finds ways to look bright and cheery, and this shoulder-length wavy style is no exception.
The slightly highlighted waves add plenty of character and charm.
10. Carice van Houten — Mid-Length Waves With Bangs
Carice van Houten's brunette look is youthful due to the soft waves, subtle highlights, and long scattered bangs.
It's a relaxed look suitable for various occasions, from the backyard barbecue to the red carpet. Plus, the straight bangs help direct attention to her bright blue eyes.
Brown hair is a versatile color that actresses have been able to style in thousands of ways.
If you're looking for hair inspiration, we hope these ten brown-haired actresses over 40 have given you some ideas. From a wavy pixie cut to shoulder-length waves, there's a style for everyone.
And if you're thinking of going brown, we say go for it! You may surprise yourself with how much you love it.
There's a common saying that "blondes have more fun," but brunettes are having a moment, and the versatility of this lovely color makes it a timeless choice.