Whenever there's a chat about iconic hairstyles donned by celebs, Jessica Alba's name pops up. She's not just an actress; she's a hair trendsetter!
Jessica Alba started her career at 13 and since then, the actress has continued to stay in the spotlight. Even if she is a mother of three children, the Fantastic Four star looks amazing and always stuns us with her glossy and glamorous appearances on the red carpet.
The now brunette actress has an oval face, that allows her to pull off any hairstyle; however, she mostly goes for bobs, lobs or long hair that falls in a cascade on her back.
Jessica Alba's Latest Hairstyle in 2023
Jessica Alba's latest hairstyle in 2023 is a sleek high ponytail. Even if she is 42 years old, Jessica Alba doesn't show her real age, and she always sports a fresh, elegant look with flawless makeup, outfits, and hairstyles.
Best Jessica Alba Hairstyles
The renowned actress, producer and businesswoman is a great inspiration for women all over the world, so check out her looks and learn how to easily replicate her hairdos!
1. Straight Middle Part
If in her 20s Jessica Alba predominantly dyed her hair in natural brown and blonde shades, in 2023 she switched to a black hair color.
She went for a middle part, flawlessly straightened hair and created layers in front.
2. Half Up Half Down + Curtain Bangs
The actress has a fabulous body and she's not afraid to show some skin with strapless dresses with deep decolletage.
Moreover, she needs a matching hairstyle and this half up half down hairdo with curtain bangs reveals her neckline.
3. Ombre Lob + Pearled Headband
This is among our favorite Jessica Alba hairstyles. She opted for a simple lob with a middle part and a dark blonde ombre.
To match her dress, she chose a wide pearled headband and diamond accessories.
4. Wavy Ponytail
With a decolletage like that, it would be such a shame to get hair in your way. So a high wavy ponytail is an amazing idea because it creates an elongated look and highlights the neckline.
If you don't have thick voluminous hair like Jessica Alba, you can use a fake ponytail and wrap a strand around the base to hide the attachment.
5. Highlighted Blunt Long Cut
Long blunt hair that is flawlessly straightened is a fabulous idea when you have an oval face. You can easily pull off this look and it's suitable for casual moments, meetings, and events.
If you love a natural appearance then you should choose a brown, dark blonde hair or an ombre.
6. Long Wavy Hair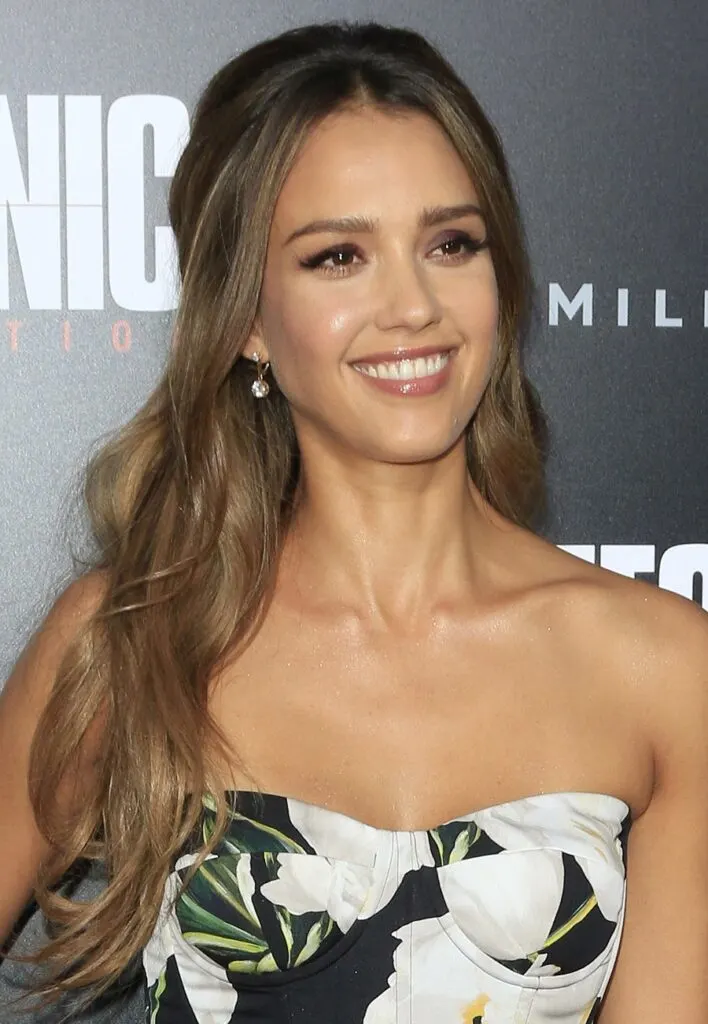 Add clip-in or tape-in hair extensions if you want to gain more volume. It is a fantastic choice when you want to separate the crown hair from the rest of your tresses and need more thickness for both.
Create waves for texture and curtain bangs for better framing.
7. Top Bun
Jessica Alba's hairstyles are not all about long tresses, waves and hair falling in a cascade on her back and shoulders.
She can amazingly pull off sleek bun looks too. She went for a black hair color and she rolled her mane in the back, creating spiky ends that pluck out of the bun.
8. Highlighted Bob
Bobs and highlights give your look such warmness and softness.
If you love a sun-kissed look, then try this Jessica Alba hairstyle that she wore almost a decade ago, in 2015 at the Independent School Alliance For Minority Affairs Impact Awards Dinner.
9. Voluminous Side Part
Even if Jessica Alba chose this look in 2014 at the MTV Music Awards event, that doesn't mean the hairstyle is not fashionable and you can't rock it with the power of a superstar.
She chose a golden brown hair color, swooped the crown hair to the side and went for voluminous waves.
10. High Side Part
High-side parts count as a trademark for Jessica Alba as she opted for this hairstyle on numerous occasions.
This time, she paired it with a dusty blonde ombre and wore all her hair on one of the shoulders.
11. Wavy Long Hair
The actress loves voluminous waves, hair combed on one side and strapless dresses that highlight her silhouette and collar bones.
She chose a glowing gorgeous brown color that makes her long hair look luscious and glamorous.
12. Wavy Bob Ombre
Long lobs and waves look like a match made in Heaven, not only for Jessica Alba but for you too.
If they are also paired with a blonde ombre, they give you that most-wanted glam, without too much of an effort.
13. Side Low Pony
Sometimes the easiest hairstyles can be the chicest and Jessica and her stylists know how to take advantage of this.
She did a side part, pulled all her hair to the same lateral and flawlessly straightened her locks. The star went for a simple ponytail with a thick strand wrapped around the base.
14. Top Updo
When you want to elongate your look or get an elegant appearance, a top updo is the right call.
First, wave your hair so it will gain more volume when pulling off the back bun. Opt for bangs flipped to the side that also has a casual texture.
15. Sleek Back Bun
You can replicate Jessica Alba's hairstyle with just a few easy steps. First, comb all your hair to the back, and use a pomade to make it look sleek.
Then roll your hair and do a twisted bun that you can secure with a elastic or bobby pins.
16. Messy Wavy Bob
When you want to highlight your facial features and create a gorgeous contour for your face, you should definitely choose a dark color like black or dark brown.
Choose a lob and create a middle part for better framing.
17. Side Braid + Back Bun
When she's not keeping her long locks falling on her shoulders, Jessica Alba embraces back buns that highlight her complexity.
For this event in New York, in 2009, at the 12Th Annual Eif Revlon RunWalk For Women, she chose a side braid that connected with a back updo and a metallic headband.
18. Feathered Bangs
Black feathered bangs make Jessica Alba look so mysterious and romantic. She opted for a red, elegant satin strapless dress and a voluminous diamond necklace.
Her mane is styled up to draw attention to the neckline and accessories.
19. Casual Back Bun
When she's not playing in a movie or walking down the red carpet, Jessica Alba has a regular casual look like all of us.
And even a knot bun done messily makes the actress look so unintendedly fashionable.
20. Layered Wavy Bob
Jessica went for a full black outfit, with dark hair, messy bangs and waves.
And the outcome is a highlighted face, especially for the eyes, where she added the pop of color needed, a green eye shadow.
21. Lob with Bangs
Jessica Alba can rock most hairstyles, and she can definitely sell a lob with bangs.
The actress pulled off an A-line bob haircut with a fringe that has roundness in the corners and with a cute middle part.
22. Side Updo
She switched from side long wavy tresses for a side bun with a swiped out crown hair.
It is clear by now that the businesswoman and producer adores elegant and ravishing looks that have curves, curls, and waves.
23. Blunt Bangs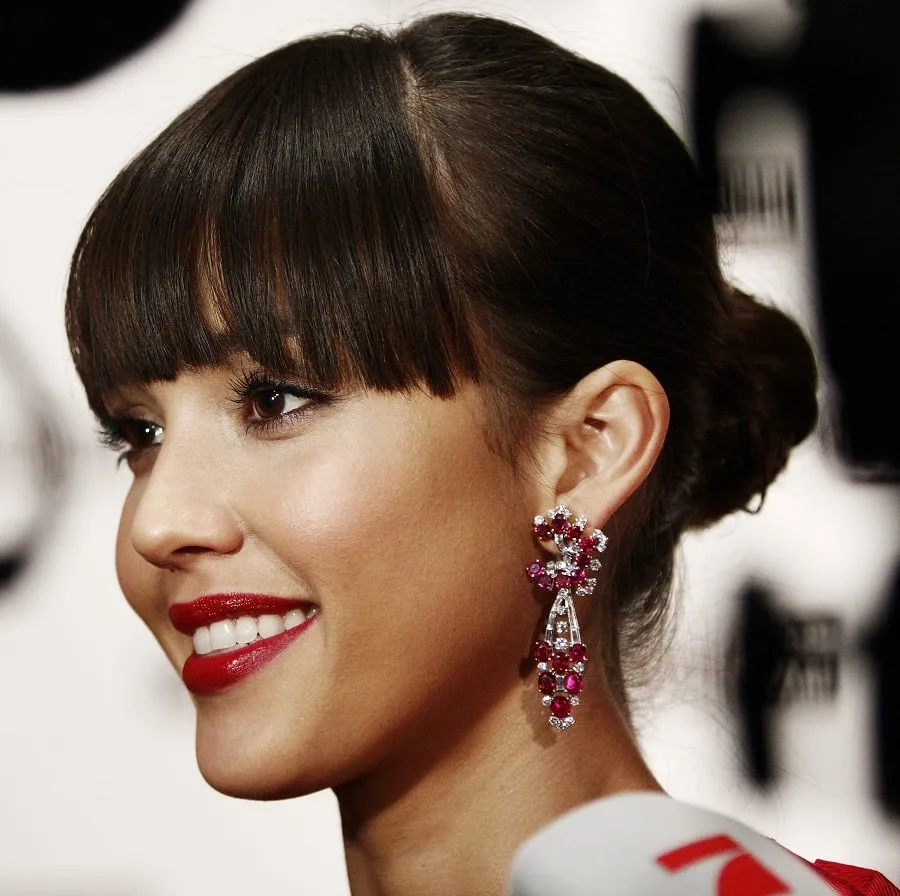 Bangs are a cut that Jessica Alba often tries, whether they are feathered, blunt, with rounded corners, or swiped to the side.
This time she completed her look with a straight cut for her fringe and opted for a black dark color.
24. Layered Waves
One of the best Jessica Alba's hairstyles involves casual waves that she wears on her shoulder and back.
She also goes for layers, middle part and added volumizing spray. Her hair has bounce and an amazing healthy shine.
25. Curtain Bangs
Curtain bangs are now back in trends so this look is as actual as it was back then. It features a layered fringe that is paired with a low-back ponytail.
So you don't need an intricate updo to pull off a look that stuns, just keep things simple, as Jessica Alba did for this hairstyle.
26. Blonde Brown Side Part
In 2007, Jessica Alba went for a lighter hair color than her natural shade. She chose a dark blonde nuance that flattered her and added some lowlights for depth.
These darker pieces made her curls look striking and more defined. Her hairstyle features crown hair swiped to the side and a loose updo.
27. Top Bump
Caramel wavy locks suit our beloved actress like a glove. She combed over her back and secured it with bobby pins, creating a bump and height.
The color she chose is a honey-dark blonde nuance and her eyebrows are dyed in the same color.
28. Loose Back Bun
To be honest, any hairstyle works with that shiny smile. Occasionally, Jessica chooses intricate updos that keep her hair away from the face.
This time she opted for a loose construct with waves and careless strands falling from her long bangs.
29. Straight Long Hair + Bangs
In 2006, the actress loved wearing her locks long and straight. She kept her ends layered, and the mane dyed in a blonde-brown hair color.
The bangs are trimmed just below the eyebrows and spread on the forehead.
30. Blonde Short Bob
The star from The Fantastic Four also looks amazing with blonde hair. She chose one of the shortest trims she had so far, a bob haircut that falls just below the ears.
Her bangs are flipped to one side, and the edges are glamorously curved.
31. Crown Volume + Fringe
Jessica Alba sported this look back in 2004, at AFI Lifetime Achievement Award held at the Kodak Theatre in Hollywood.
Back then, her eyebrows were thinner and she opted for side curtain bangs and a half up half down hairdo.
32. Blonde Highlights
Jessica Alba really knows how to rock a look, and work with her natural brown color. The actress adores creating depth and sprinkling on some blonde highlights to warm up her nuance.
She also adds curls and layers to build more volume in her long tresses.
From long tresses to lobs or short bobs, Jessica Alba fascinated us with each appearance during her long-lasting career. If you have an oval face like her and want to replicate some of the looks, then use our tips as inspiration.
Trending Topics