If someone tells you that chestnut hair color is boring, don't believe them. There are so many shades of chestnut out there that anyone who wants to experiment with it will be absolutely satisfied.
Depending on the color of your eyes and your natural hair color, you can pick a chestnut hue that will make you look more beautiful than before. Don't mistakenly think that chestnut is just plain brown.
The shades vary from Auburn to red and even dark chocolate. Playing around with chestnut shades, highlights, ombre and other hair color techniques can help you get the perfect color you've always dreamed of.
Chestnut Hair Color That Makes You Look Radiant
When it comes to chestnut hair color, you might think that your imagination has run out. That's why we have collected 75 various styles to help you see the amazing variety that comes w3iht this shade.
For many years, women have been trying different ways to apply chestnut hues. The main advantage of this color is that it looks completely natural and can be used for women with all skin types. It's a great choice for girls who are tired of making extravagant statements and are ready to try something soft, sweet and appealing.
1. Reddish Color Play
Chestnut shades can turn you from an ordinary brunette to a spunky redhead. Choose Auburn chestnut hues to bring some red into the picture and enjoy the soft and natural feel of your new color.
2. Lucky chestnut mix
Chestnut and light brown create an amazing mix that will make your hair truly shine. Consider making partial highlights with the light chestnut hues and dye the rest of your hair black or dark brown.
Chestnut Brown Hair Color Ideas
3. Appealing ombre
When chestnut meets caramel, you get a hair color you always wanted. Leave the roots your natural color and start making levels with chestnut and caramel hues. The lightest shade should be the last.
4. Rosy chestnut hair color hues
This elegant chestnut hair color will make all the girls around you jealous. The rosy hues coupled with rich brown shades create a hair color that's hard to call ordinary. Ask your hairstylist to give this one a try.
5. Classy chestnut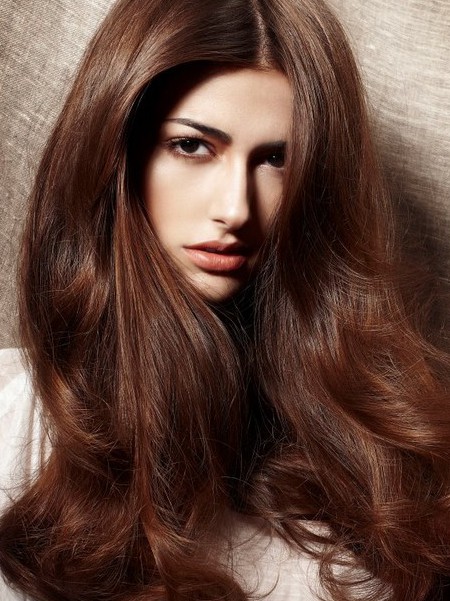 Auburn chestnut can make you look like a spunky redhead or give your image a lot of class. All depends on the shade you choose. If this one is your goal, try to avoid mixing in any red hues.