Want to take your colored dreads to the next level? Adding a pop of vibrant color makes them even more unique and fun. We've got 12 trendy styles for your dyed dreads, but first, a few tips for how to do it!
How to Color Dreads – Step-by-Step Guide
Moisturize: Moisturizing is crucial for caring for your dreadlocks with or without color but the level of hydration in your hair will dictate how well it will receive the color you add in.
Get Enough Color: There's nothing worse than getting all jazzed about adding color to your dreads only to get halfway through the job and find you've run out of color. If your dreads are long or thick (or both!) plan on getting more than enough color to complete the job.
Wash Well After: After you color your dreads, make sure you wash your hair well afterward to get out any excess chemicals. They can damage your hair if you let them sit too long. Then, add more moisturization again to keep your dreads healthy and vibrant.
Best Colored Dread Hairstyles
Now that you know a few good tips on how to color your dreads, here are some great styles of colored dreads we think you'll love!
1. Stunning Gradient
Create a jaw-dropping light to dark gradient to get noticed from a distance. Dye the roots light blonde, if not natural, and add bright yellow, magenta, and orange hues along the length or choose other colors of your choice and plop them on the head turning your boring dreads into a one-of-a-kind hairstyle.
2. Blue Beauty
Bold is beautiful and these colored dreads are here to prove it. Black ladies can take part in the blue hair trend by adding a bright aqua blue shade to their chunky blonde locs midway to the ends. Couple the look with shaved sides and you won't regret it!
3. Pastel Hues
Cool, soft, and magical, that's what pastel colors are! Instead of going for vibrant hues keep your dreads soft by bleaching the strands and coloring them light purple with a hint of faded blue in between while keeping the roots dark. Eye-catching, right?
4. Bubblegum Pink Mane
Whether you are a girly girl or a lady with bold choices, these colored dreads are just what you need! Opt for a bubblegum pink hair shade and dye some dreadlocks blue creating the perfect color combination. Pair the look with pigtails and straight-cut bangs, and get ready to rock!
5. Gorgeous Green Locs
Among all the colors available, try green because why not? Combine emerald green with hints of jade green in between to look like an ethereal goddess. Experiment with highlights or create an ombre effect and flaunt the look with a chunky half-up braid. Tada!
6. Hello Yellow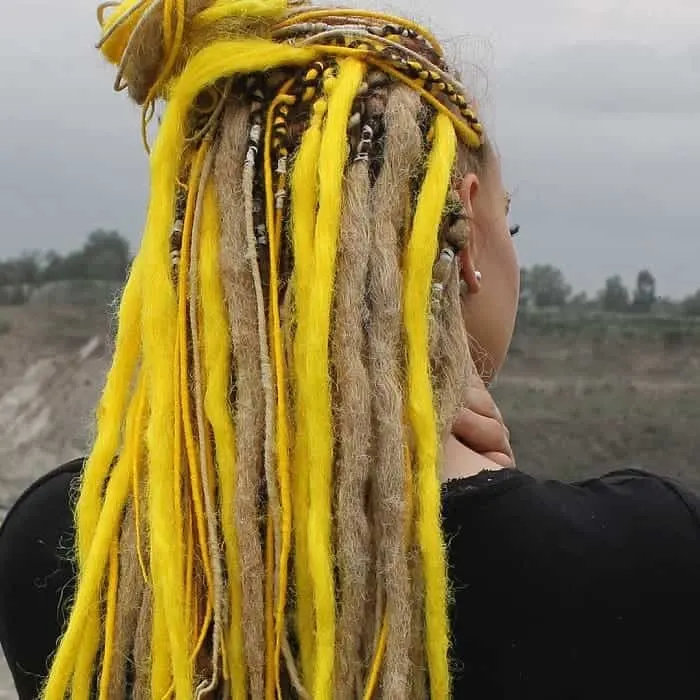 This bright yellow contrast with the colored dreads amidst a lighter dread hair color really pops. We also love the hair wraps for a funky and fun yet earthy look.
For a more subtle style, this looks almost hides the dyed dreads for a surprise finish. With a gentle touch of purple, it has the look of the last fading lights of sunset to it, a beautiful and more mellow way to wear colored dreads.
If you want to go all out with colored dreadlocks, this is a stunning look. It's got all the colors of the rainbow and is a very bright and bold look for the adventurous!
9. Hippie Chic
This style relies on very little red coloring to add a pop to the dreads and a lot of bright fabrics and beads wrapped around it. If you'd rather not actually dye your dreads or only want to try it a little, this dyed dreads look is a great way to go!
10. Red Velvet
It's simple, yet stunning colored dreadlocks with bangs hairstyle. The red is a more natural hue that while standing out, doesn't look too showy. Just beautiful!
Everything mermaid is hot right now, so why not leverage that with your colored dreads? This look incorporates ocean-like hues with just a pop of bright yellow and red intertwined.
The contrasting shades of purples in these colored dreads are just gorgeous. It's a fun and playful way to make your dreads stand out, and if you love purple, it's perfect!
Dyed dreads can be more funky and vibrant than normal dreadlocks. Choose your favorite hair color to rock with your dreads.