Dreadlock hairstyles are often very interesting and cute if you know how to wear it. Not every woman is ready to do something outrageous with her hair and look amazing in the process. Dreadlocks are a way to make a great statement while allowing you to look impressive and unusual. Taking some time to contemplate dreadlocks can lead to a creation of something truly memorable.
The main advantage of dreadlocks is their longevity. Once they are done, you can enjoy the hairstyle for a pretty long time without any complicated touchups. Dreadlocks are a dream for many women but only a few have thick enough hair to allow themselves to make them.
Popular Dreadlock Hairstyles for Women
The women's dreadlock hairstyles vary depending on the hair type and the color you choose. Their quality is directly tied to the skill level of your stylist. If you want long-lasting dreadlocks that will stay intact for a long time, you need to ask around for a professional barber.
If you made a decision to get a dreadlock hairstyle but don't know exactly what you need, take a look at this 20 dreadlock styles. They will allow you to choose the best fitting dreadlock style for yourself.
1. Asymmetrical red highlights
This approach to a dreadlock hairstyle is perfect for girls who like changing their hair color. Adding a red shade to the black asymmetrical style is exactly what you need when you crave changes.
2. High hair
If you have dreadlocks, it doesn't mean you have to forget about styling. You can use your hair to create an outrageous style like this one without too much effort. Just sweep them up and carefully pin them to take the shape you want.
3. Fun coloring techniques
If you have long and beautiful dreadlocks, don't miss a chance to try out the modern coloring technique. A dreadlock ombre looks stylish and truly fantastic.
4. Cornrow mix
This is one of the dreadlocks hairstyles for women that most girls will appreciate since it is a mix. Dreadlocks in the back and cornrows in front will make an amazing girlish hairstyle you always wanted.
Most Beautiful Box Braids You Can Copy
5. Blonde dreadlocks
Blonde dreadlocks look especially amazing on dark-skinned girls. But even if you have light skin color, you can enjoy this wonderful blonde hairstyle. Remember, the thinner your hair is, the thinner the dreadlocks will be.
6. Dreadlock hairstyles
While wearing your dreadlocks down is fun and hassle free, you shouldn't forget about the dreadlock hairstyles for women that can make your hair look truly impressive. Consider tying in laces into your dreadlocks.
7. Dreadlock ends
This is another dreadlock-cornrow mix which is not as obvious. You can create cornrows and make the ends resemble dreadlocks. The more hair is used for dreadlocks, the more stunning your hairstyle will look.
8. Artificial dreadlocks
If your own hair is not thick enough to create a voluminous dreadlock hairstyle, you can sew-in some faux dreadlocks. Ask your hairstylist for wild colors to enjoy the impression such mix will make.
9. Hair extensions
This is another option for girls whose hair is not suitable for wild dreadlocks. You can use hair extensions to create such hairstyles as a ponytail or a bun. Dreadlocks hair extensions look magnificent.
10. Dreadlock sew-ins
Dreadlock hairstyles for women can be very attractive if you use sew-ins. Consider leaving your natural hair in front and sewing in hair extensions in the back. The mix will be priceless.
11. Partial dreadlocks
Partial dreadlock hairstyles are truly a work of art. You can create the dreadlocks on the front strands and leave the back natural or make cornrows. Whatever you do, the effect will be awesome.
12. Twist and turn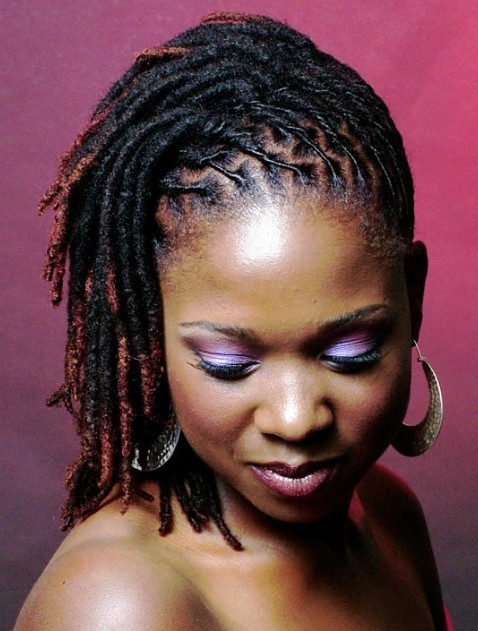 Mixing everything you know about dreadlocks can help you come up with a hairstyle which is truly award-winning. Twisted cornrows on top and dyed dreadlocks on the bottom will keep those heads turning your way.
13. Ombre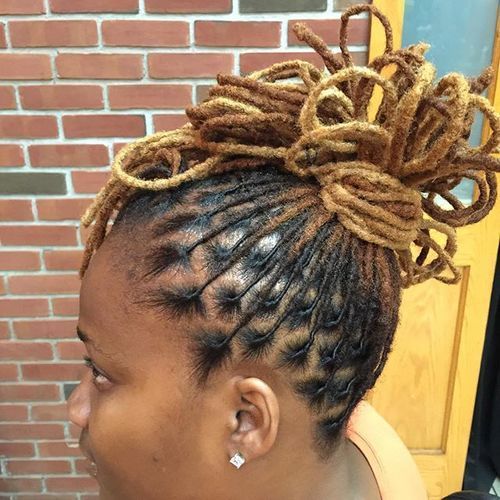 You'll be surprised to find out that regular hair dyeing techniques can be applied to dreadlocks as well. In fact, they will look even more impressive than on straight hair. Take a look at an ombre.
14. High bun
Thin and neat dreadlocks are easy to arrange into simple hairstyles. For example, a classical bun will look truly stunning. Women's deadlock hairstyles are often voluminous so the bun can be pretty high.
15. Special dreadlocks
Even if you don't wear dreadlocks in your everyday life, you can create a few for a special occasion. Mixing in a few dreadlocks stands into your festive hairstyle will make you look stunning.
16. Curly dreadlocks
Regular straight dreadlocks might seem ordinary to you. Ask your hairstylist for curly dreadlocks. They involve tightening up your hair more than usual and the result looks unique.
17. Large accessories
Since dreadlocks create a lot of volume on your head, you'll need large accessories to keep them together. Consider big headbands, voluminous flowers, and decorative clips. Let your imagination run wild.
18. Rainbow dreadlocks
This colorful dreadlock hairstyle will leave any woman breathless. Choose a separate color for each couple of dreadlocks strands and your hairstyle will look out of the ordinary.
19. Zebra mix
This zebra-colored cornrow and dreadlock mix require a professional approach. You will need to start by highlighting your hair and then braiding it into cornrows with dreadlock ends.
20. Simple fun
If you want simple dreadlocks, there is no reason to come up with something impressive. All you need to do is arrange your hair into the classical dreadlock style and your image will immediately change.
21. Green sew-ins
Dreadlocks styles can become very interesting if you use your imagination. Green sew-ins are a great way to add something absolutely unexpected to the simple dreadlock style.
22. Dreadlock ponytail
Looking for a way to add some zesty dreadlock style to your image but your hair is way too thin and short for it? Attach a dreadlock ponytail. This is the simplest way to get dreads and check out how you look with them.
23. Dyed dreadlocks
If you have chosen dreadlocks as a hairstyle, you can improve it even further by dyeing. Consider outrageous colors, such as pink, blue, or green to add to some of your dreadlocks for great effect.
HC Top Picks: Short Hairstyles for Women With Thick Hair
Women's dreadlock hairstyles can make you look truly fabulous without much effort. Start with hair extensions and go on to try different dreadlock styles that will make you the queen of the block.