You know those comedians with awesome curly hair? Those locks are like part of their act! Their coils and kinks make every punchline more memorable. It's like their hair is laughing along with their audience.
This might come down to the unpredictable and unruly impression that curly hair can give, which is an essential asset for comedians, especially if they like to present a quirky personality.
For that reason, curly hair has always had a special place in comedy, and in today's article, we'll take a look at the comedians with attractive curly hairstyles that you shouldn't miss out on!
Popular Comedians with Curly Hair
So, check out the renowned curly-haired comedians with all those springs and coils bouncing around while they crack jokes. We love them for the laughs and the lively hairstyles.
1. Eric Andre
Eric Andre is one of the most popular and recognizable curly-haired male comedians in the world. He's known for his absurdist humor style and his successful show "The Eric Andre Show".
Andre started his career back in 2003, doing mostly standup shows in his hometown and New York City.
His unique comedy gained him a skyrocketing reputation, which helped him appear on various shows, and has had his own show since 2012.
One of the signature aspects of Eric Andre is his curly afro and short goatee, which perfectly complement his unpredictable, energetic, off-the-wall humor.
It's also a perfect reminder that he is never afraid to be himself while pushing the boundaries of comedy to get a good laugh.
2. Will Ferrell
Will Ferrell is one of the most talented comedians in modern history, especially when it comes to creating over-the-top, unforgettable yet lovable goofballs, such as Ron Burgundy (The Anchorman), Buddy (Elf), Mugatu (Zoolander), and Ricky Bobby (Talladega Nights).
Like many successful comedians out there, Ferrell started his career as a Saturday Night Live sketch comedian in the mid-90s.
His unique personality and creativity allowed him to land roles in movies and little by little he became one of the most successful comedians of his era.
It goes without saying that Will Ferrell's curly red hair is a part of his comedic genius, and while he doesn't mind wearing wigs in some of his movies, he often sticks to curls because they add to his eccentricity.
3. Maija Digiorgio
Next up, we have one of the most famous female comedians with curly hair out there which makes her instantly recognizable by comedy fans.
Digiorgio's true talent in comedy didn't really present itself until she started doing standups, as she started gaining remarkable reviews for her performance and fresh comedy style.
Today, Digiorgio's comedy specials are available on major streaming platforms like Apple TV and Amazon Prime.
Maija's hairstyle is not only a part of her performance's dynamics, but it's often part of her comedy as well. In fact, she once had an incredibly hilarious special titled "curly hair problems".
We have seen the redhead celebrity often change the color of her long voluminous curly hair to bold shades of blonde, like the one in the pic.
4. Richard Ayoade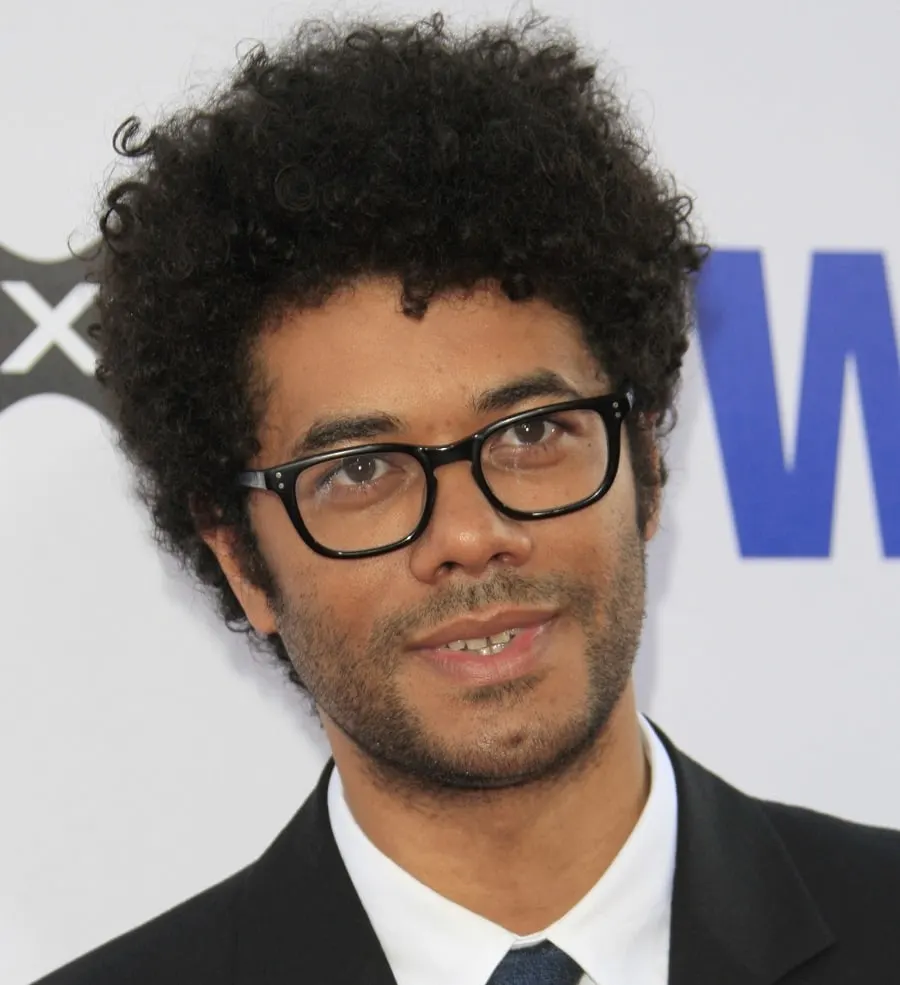 Richard Ellef Ayoade is a multi-talented British comedian, who's also a great actor, broadcaster, author, and director.
Ayoade started his professional career back in the early 2000s, and he appeared in many panel shows over the years.
Yet, his true breakthrough role came in 2006 when he played "Maurice Moss", the quirky IT guy from the sitcom "The IT Crowd".
Ayoade's unique personality and comedic style are heavily inspired by his signature look, including his thick eyeglasses and the curly mop of hair.
This style helped him boost his character's quirky and often nerdy persona and massively contributed to the overall success of the show.
5. Jason Mantzoukas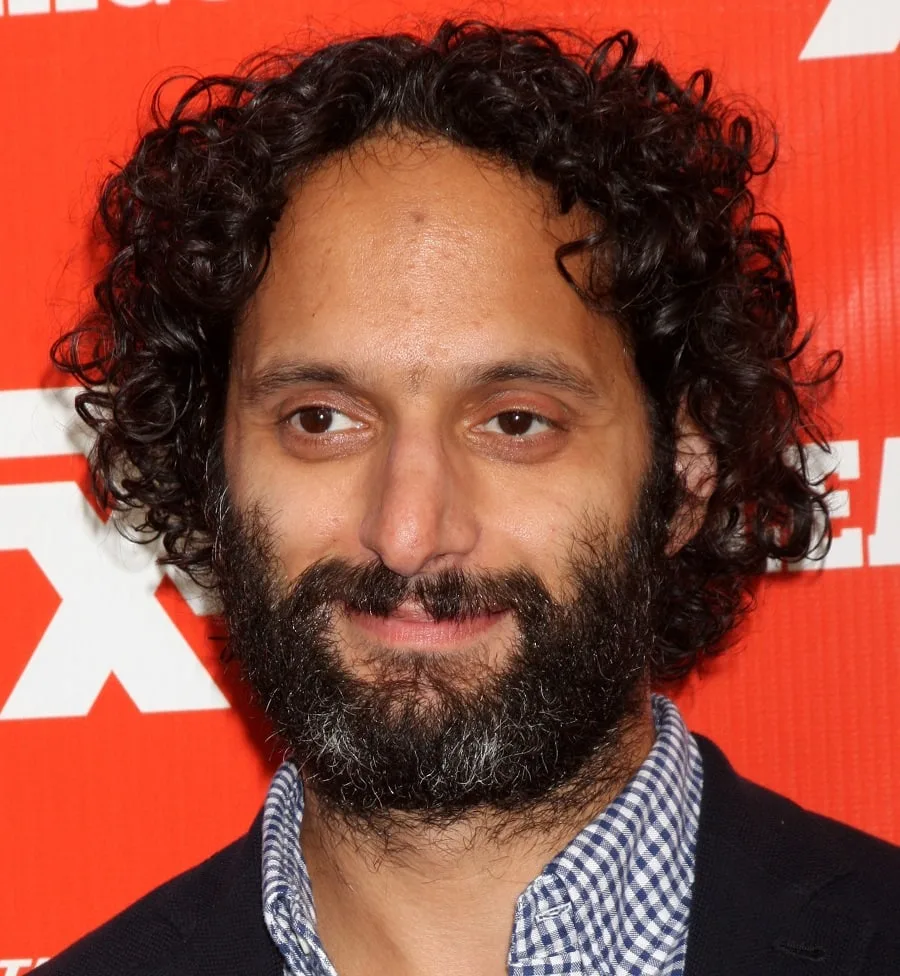 Jason Mantzoukas has quickly become one of America's most beloved comedians in the last few years.
He is known not only for his incredibly funny and often bizarre style of comedy but also for his signature look with his Mediterranean features along with his curly hair and beard.
In fact, Mantzoukas doesn't only have a remarkable sense of humor, but he also has an awesome energy that helps him express it in any way you can imagine.
Besides appearing in many shows and movies, he also lent his vocals to many animated shows, such as Netflix's hit "Big Mouth".
6. Trevor Noah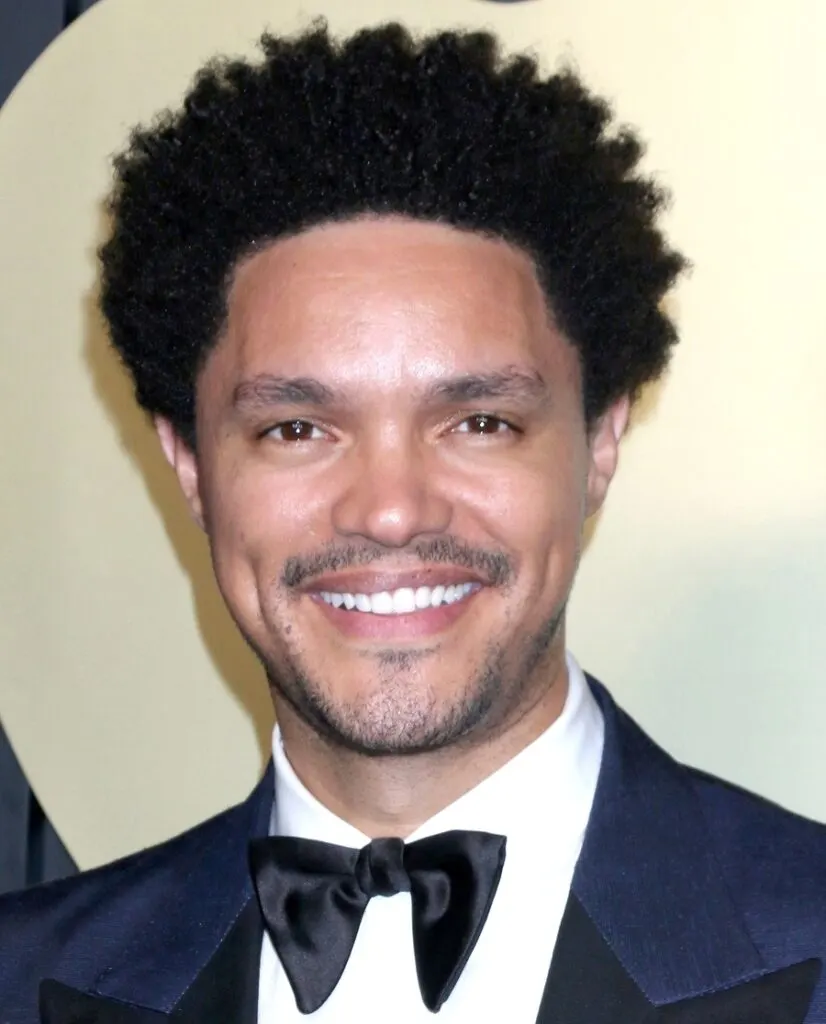 Trevor Noah is an award-winning South African comedian actor, and television host whose rise to fame is nothing short of meteoric!
Noah started his comedy career back in his home country where he was known for his incredibly sharp wit and insightful (yet satirical) commentary on political topics, as he is never afraid of speaking his mind.
Noah's success allowed him to tour America and do shows in many cities, expanding his fan base across the English-speaking world.
In the mid-2010s, he was invited to do a hosting gig "The Daily Show with Jon Stewart", and he took over as a host from 2015 to this day.
Noah is known for rocking a fairly tamed afro, but unlike other comedians on the list, he often experiments with other hairstyles, such as ultra-short hair, cornrows, and more.
7. Seth Rogen
Seth Rogen is a Canadian comedian, actor, producer, and director who is known for his curly light brown hair and recognizable laugh.
Rogen's curly hair is a symbol of his laid-back, highly approachable, and a little goofy personality.
While he has had short stints keeping his hair a bit short, he spent most of his professional career with his iconic curl.
8. Zach Galifianakis
Last but not least, Zach Galifianakis the renowned curly-haired actor and wonderfully hilarious host.
Galifinakis's major breakthrough character was Alan from the iconic comedy trilogy "The Hangover" as well as being the host of unique talk shows like "Between Two Ferns" and "Funny or Die".
His hair has various unique qualities, including its lustrous brown color and mildly curly quality, which allows him to style it in various ways, ranging from quite curly like in "Due Date" to fairly straight like in "Dinner for Schmucks", which both suit him perfectly.
With that said, our article about comedians with curly hair comes to an end. As you can see, there are plenty of actors, hosts, and comedians who adopted this unique style, which became almost synonymous with the genre.