A Goatee is a facial hairstyle that is as common on the streets as it is on the red carpets and concert stages. But, there's something cool and classic when a celebrity rocks a goatee.
It is basically just a small beard on the chin, kind of like what a goat has. So, what makes us look twice when we see a celebrity with a goatee beard?
It's the attitude and how they wear it. Some might want to check the goatee styles out to find a new celeb-inspired beard style for them.
Iconic Celebrities with Goatee
Let's check the celebrities who have made the goatee a part of their signature look.
1. Brad Pitt
The most handsome celebrity over 50 with a beard in Hollywood. Brad Pitt has consistently showcased a range of memorable looks over his career.
Brad's goatee has evolved over the years, much like his hairstyles. The classic full goatee balances well with his sharp jawline and expressive eyes.
2. Jason Momoa
Aquaman celebrity actor Jason Momoa has a long circle goatee that suits his wild, untamed locks. His goatee beard and long hair perfectly match his primal characters.
3. Johnny Depp
Johnny Depp's goatee is a signature part of his look. It changes with his various roles, showcasing his versatility as an actor.
Each style tells a story, making his goatee more than just a style, but a reflection of his career and characters. Simple, yet significant.
4. Leonardo DiCaprio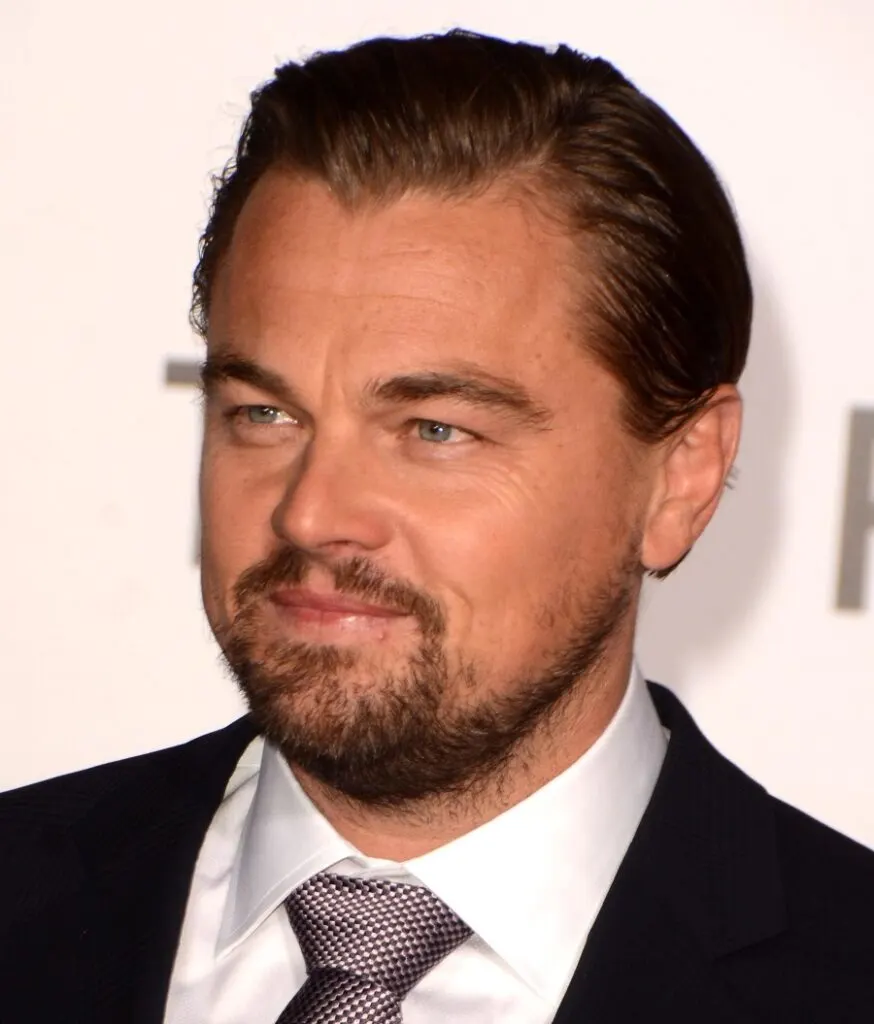 Leonardo DiCaprio sports a neat, short goatee that perfectly complements his varying roles. His facial hair adds dimension to his face, reflecting his multifaceted talent. This style is also known as the Hollywoodian goatee beard.
Whether in a serious drama or a heartwarming rom-com, his versatile goatee helps him transform seamlessly into his characters.
5. Ben Affleck
Ben Affleck showcases a classic full goatee, flawlessly maintained and trimmed. The beard paired with a short hairstyle, gives him an authoritative look.
Ben's beard highlights his square jawline, a unique feature that has become part of his signature style.
6. George Clooney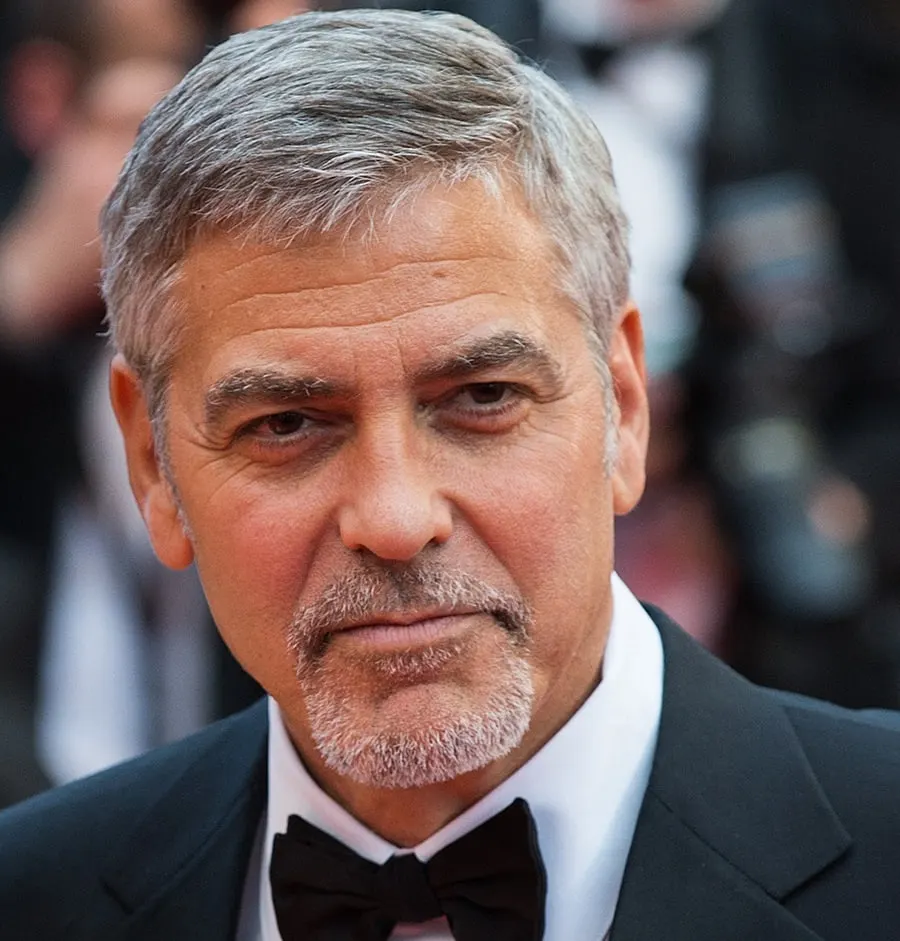 Representing timeless charm, George Clooney's goatee beard is perfect for older men. The stubbly grey goatee beard with side brushed salt and pepper hair makes him look amazing.
7. Hugh Jackman
Hugh Jackman's full goatee suits with his signature masculine and adventurous character. His rugged beard with tousled hair perfectly matches his action-hero image and powerful performances.
8. David Beckham
The most stylish soccer icon David Beckham sports an anchor goatee. His well-groomed facial hair, along with his side-brushed hair, makes him one of the most fashionable sports celebrities.
Beckham's beard provides a refined touch to his dynamic look, emphasizing his status as a global style icon.
9. Gerard Butler
The action hero showcases a complete, robust goatee that aligns with his masculine and commanding roles.
His beard, combined with his medium-length curly hair, adds an element of raw Celtic charm that highlights his Scottish heritage.
10. David Harbour
Known for his intense roles, David Harbour dons a grizzled full goatee. This facial hairstyle, a perfect companion to his thick, often tousled hair, adds a layer of rugged intensity to his persona.
The goatee, dyed in the same hue as his hair, enhances his character's depth and complexity, making his on-screen presence all the more gripping.
11. Dwayne Johnson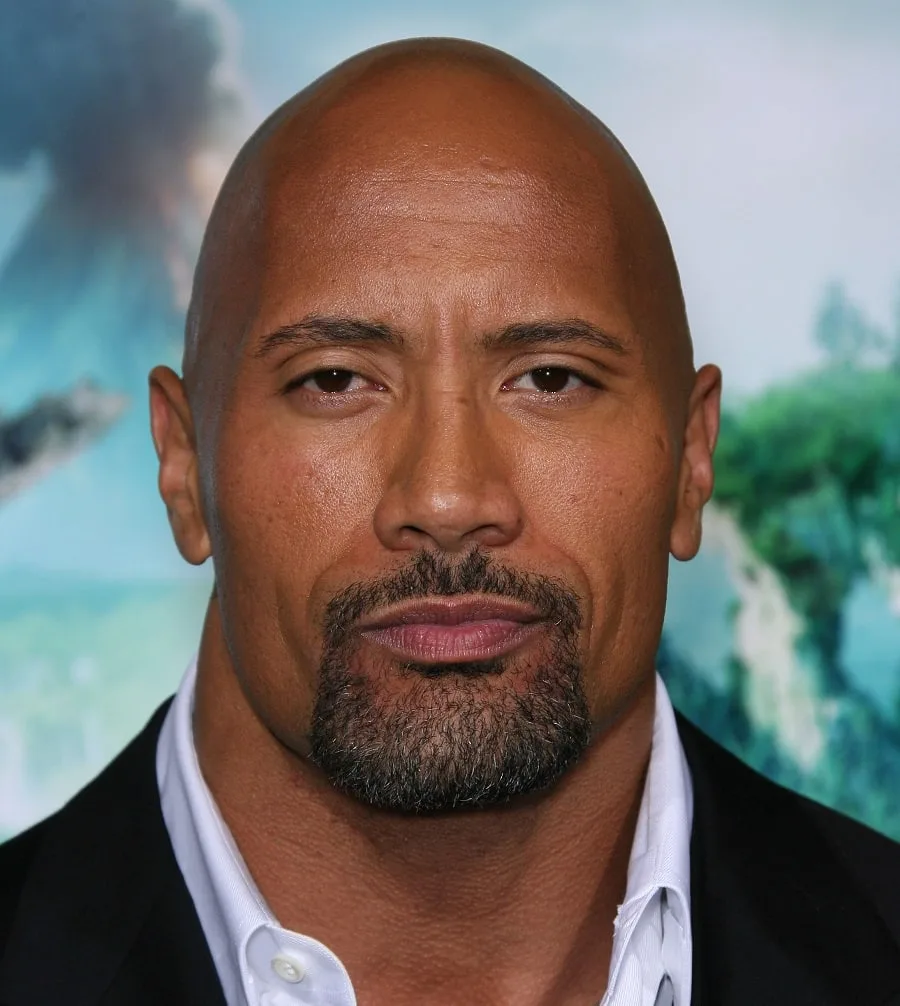 The bald celebrity Dwayne "The Rock" Johnson's goatee is as iconic as his wrestling career. He is more popular as an actor to the new generation.
His goatee is connected with the mustache and the bald head highlights his facial features and strong muscular physique.
12. Will Smith
Will Smith, one of the most recognized black celebrities in Hollywood, maintains a classic goatee that perfectly outlines his expressive smile.
His full goatee and high fade haircut reflect his cool and versatile on-screen characters. The dark tone of his beard contrasts beautifully with his skin, further highlighting his striking features.
13. Tom Hardy
Known for his dramatic transformations in various roles, Tom Hardy wears a dense, full goatee that adds intensity to his brooding stare.
His facial hair works well with a skin fade haircut, always ensuring he's ready to dive into his next character.
14. Christian Bale
Christian Bale pairs a short, trimmed goatee with often slicked-back hair. His goatee style focuses on his sharp facial features, particularly when coupled with a chevron mustache.
His meticulously groomed appearance is a testament to his commitment to his roles, from a wealthy playboy in 'Batman' to a con artist in 'American Hustle'.
15. Robert Pattinson
Robert Pattinson, known for his heartthrob status and impressive acting chops, sports a rugged, full goatee. Paired with his often messy or tousled hair, it provides an intriguing contrast to English charm.
16. Channing Tatum
Channing Tatum, known for his roles as the charming leading man, dons a classic full goatee, meticulously groomed to highlight his square jawline and boyish good looks.
The goatee beard paired with short-length brushed-up hair gives him an attractive appearance that suits his versatile roles.
17. Chris Pine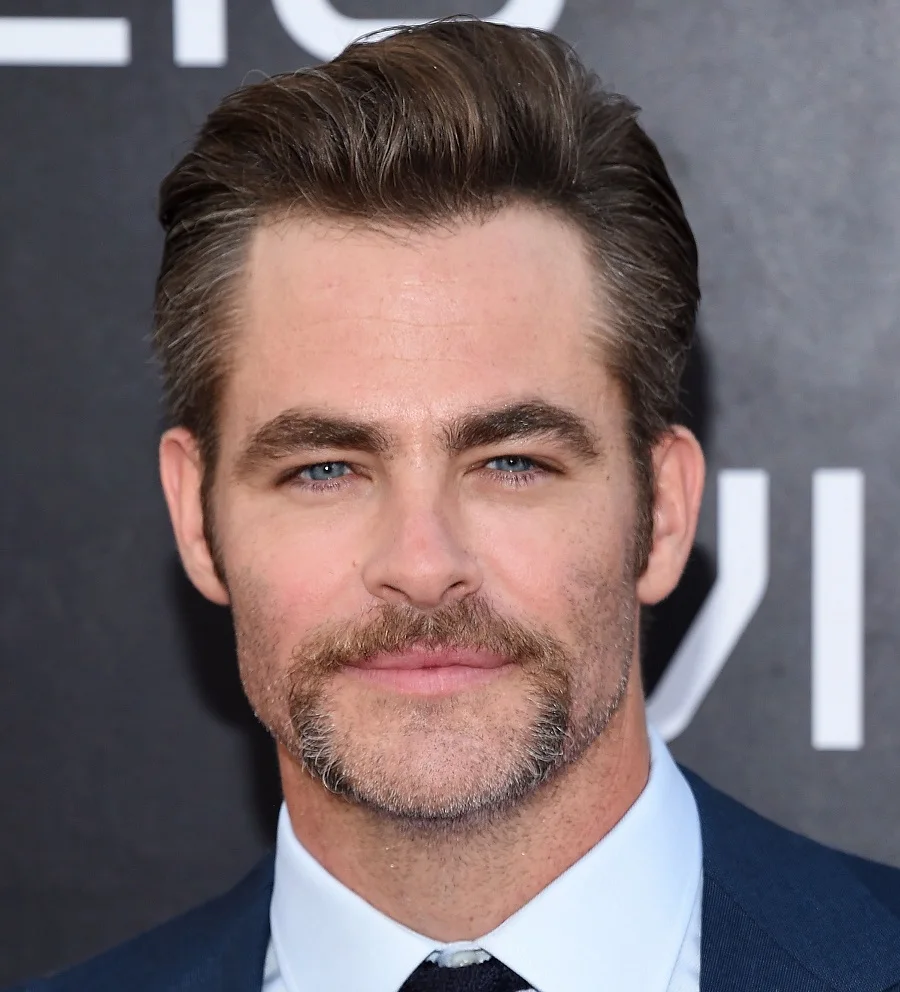 Chris Pine, a perfect blend of classic Hollywood and contemporary cool, showcases a stubble goatee. This beard style, paired with his side brushed hairstyle provides an extra touch to his roles from charismatic leader to romantic lead.
18. Chris Evans
Chris Evans, also known as Captain America, sports a short boxed goatee that perfectly matches his short hair.
This neatly trimmed style, along with his fair complexion and bright blue eyes, adds to his heroic, clean-cut image.
The darker tone of his goatee provides an appealing contrast, emphasizing his strong jawline and adding a touch of ruggedness to his all-American looks.
19. Chris Hemsworth
Chris Hemsworth aka the Thor, sports a full, robust goatee. This goatee style, along with his long, wavy locks, or short messy hair reinforces his status as a beloved action star.
20. Samuel L. Jackson
The African-American celebrity with a goatee, Samuel L. Jackson often sports a short beard. The jet-black hue of his facial hair brilliantly contrasts with his bald scalp.
21. Robert Downey Jr.
Robert Downey Jr., or our beloved Iron Man, often endorses a detailed and finely groomed anchor goatee style.
His beard, which includes a mustache that connects to a chin beard and a soul patch mirrors his sharp humor, making it an iconic part of his look.
22. Idris Elba
The British celebrity actor prefers a well-maintained goatee. As a black celebrity known for his mesmerizing roles, his curly beard beautifully works harmoniously with his short buzzcut.
23. Ron Perlman
The gray goatee is a seamless extension of Ron Perlman's gray hair. His rugged look is a perfect fit for his tough-guy roles.
24. Orlando Bloom
Orlando Bloom has grown a patchy goatee that subtly accentuates his features. Orlando Bloom's short beard style proves that sometimes less is more, and simplicity can indeed be charming.
So, after exploring this star-studded list, who's your favorite celebrity with a goatee? Choose your favorite and perhaps even draw some inspiration for your next look!