There's one hairstyle that's always been a classic for black and mixed-race men across the decades. Now you get to see how these afro hairstyles for men live up to the versions we've seen over the years.
Sometimes they can be a little hard to maintain, but with an afro comb and some care, you can look your absolute best. Making sure to protect your hair at night will help it look even better during the day.
Top 25 Trendiest Afro Hairstyles
Are you ready to take a look at some hairstyles that could become your new go-to? We've got lots for you to browse below.
1. Flat Top + Fade
Young black men often flatten off the top of their hairstyles to create a very neat look. It'll take a little more effort every day than some of the other styles on this list, but it's worth it. Pair it with a high fade at the sides to stay trendy.
2. Twist Out Afro
Some men's afro hairstyles are a little different from what you'd expect. If that's your preference, then consider these twists. Once you get the twists done they should last you 1-6 weeks so you don't have to redo them every single day.
3. Afro Pigtails
Hairstyles like this are becoming more popular for modern men. Shave the sides and back of your head and create pigtails with the hair that is left on the top. Make sure that afro texture remains a focal point of the look.
4. Afro with Headband
If you have a lot of hair it can sometimes fall into your face. Keep it pushed back with a headband. It would also be a good idea to get around an inch of hair around the hairline shaved short. This is a common trend in a lot of black hairstyles these days.
5. Short Afro with Design
Guys who prefer short hairstyles may favor this one. The hair is pretty neat so it's easier to maintain. The sides are shaved very short with a design shaved into them that will help you show off your personality and style.
6. The Super Tall Afro
Here's a look that is totally the opposite to the one above. This big Afro focuses on length and volume with the hair extending right above the head. There's also some falls by the nape of the neck to round out the look at the bottom.
7. Tight and Grey
Older black men's Afro hairstyles should be kept grey so you can show off the style you've accumulated with your years. Keeping the hair short and in a very tight texture will make you look like a clean-cut gentleman.
8. Large Retro Curls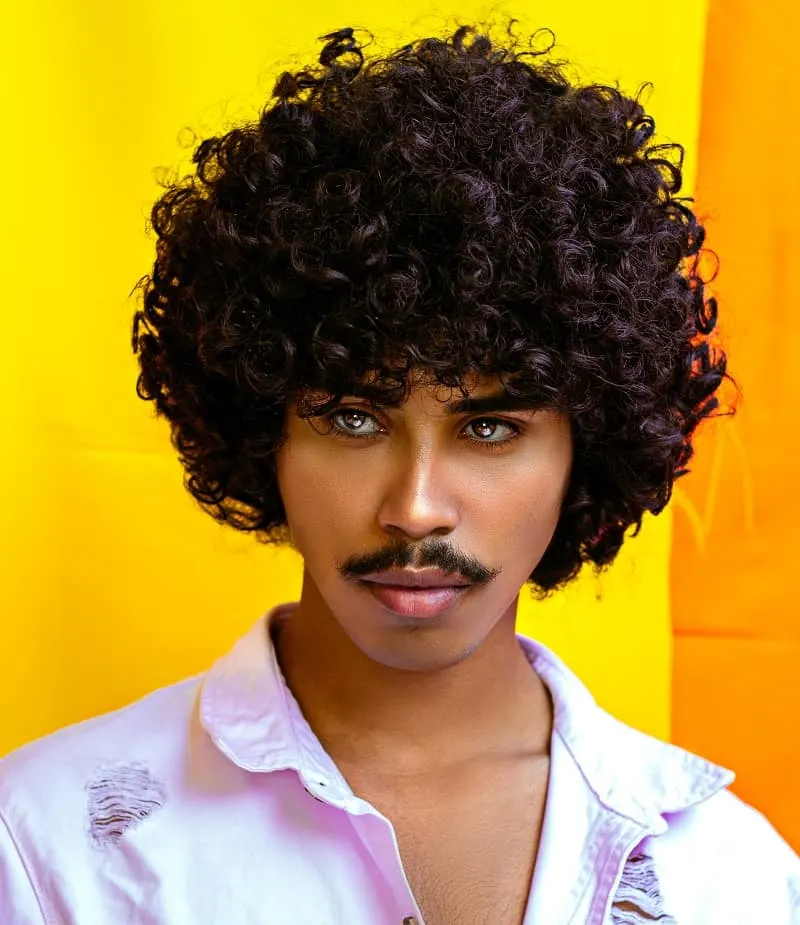 Not all hair textures have to be in very tight curls or coils. Larger curls can create these tall, round retro afro styles with a lot of attitude.
9. Short and Loose
Again we see an example of a looser curl type. However, this afro hairstyle is much shorter for guys who need a look that's a little more subtle. It also cuts down on styling and maintenance time.
Pair it with a few patches of facial hair on your chin to add a subtle boost of masculinity to the look.
10. Ginger Curls
Do you want an eye-catching hair color without having to dye it some unnatural shade? Go for ginger. Grow your hair out very long and put a lot of care into keeping your coils in perfect shape. Make sure each curl is defined.
11. Afro with Blonde Tips
Adding a little extra color into your hair is always appealing. Get some blonde applied to the sections of hair around the nape of your neck. Have your hair styled into defined clumps that are very loose twists and gather together.
12. Highlighted Afro
Do you want to add just a little extra color to your hair? Consider some highlights in a warm brown tone. They look especially good on defined curls. Grow your hair out long and take care of it well each day so it looks its best.
13. Short Twists
Twists are a common variation of afro hairstyles for men. They let you show off your hair texture and keep it natural without having to grow your hair very long or get a style that's particularly high maintenance.
Short twists that you care for well could last a few weeks.
14. Defined Curls with Shaved Sides
Younger guys often choose hairstyles where they shave the sides. Many also opt to wear their curls looser so they can hang over the forehead a little.
15. Blonde with Bandanna
Blonde hair suit men with darker skin very, very well as the two shades create a lot of contrast. If you add some facial hair, it looks even better.
Add a bandanna to cover your hairline to look a little tougher. Wearing a bandana regularly is also a really smart way to hide dark root regrowth around your hairline.
16. Brown Afro with Short Sides
Short sides that are almost totally shaved will help you highlight the texture on top of your head. Get the top section dyed a lighter brown to create a contrasting look, and style the hair forward so it creates a little ledge above your forehead.
17. Big Dark Blonde Afro
This is a more classic afro hairstyle for men as it's large and surrounds the head. However, it deviates a little from the timeless looks of decades past as the hair and facial hair are a dark blonde shade.
You can dye your hair this shade if you desire it, but some mixed-race guys are lucky enough to have this hair color naturally. If you do, then you should show it off as much as you can.
18. Heavy Blue Curls
Deep blue shades are incredible on black men as they look so similar to their natural black hair.
Grow your hair out with a lot of volume and let it fall into your face and surround your head so people can truly see the color contrasting against your skin tone.
Let's start this list out with a bang. This pink curl is a great way to rock the classic big afro style. Of course, you'll have to bleach your hair first and then dye it with a soft pink/bubblegum pink hair dye to get to look like this.
Then, you can ask your barber to give you a shaded curly undercut that divides the top part of your afro from the rest of your hair. Last, but not least, puff out your curls with an afro comb and you're done.
Not all Afro has to be completely rounded and pushed up, you can also rock this hairstyle by wearing your natural curls down similar to this particular hairstyle.
To do this, you'll have to let your hair grow longer than usual. You can even help shape the curls with hair moisturizer+hair gel and your own fingers, twisting around and pulling it down. Add tapered beard to make it edgier.
Popular Curly Beard Styles to Copy
Like we just said, not all afro hairstyles have to be big & completely rounded. Another good way to let your curls grow and still get an afro is to just let the top front part of your hair grow.
Meanwhile, make sure to shave down the sides and the back every month, but don't touch the curls growing in the front; instead, make sure to constantly moisturize them to help them grow.
Amongst the big afro hairstyles to try and master this 2021, this one is definitely in the top! If you're already trying to grow the top part of your hair, then styling it this way is really easy!
You'll need a cap (not a hat) and then style your hair to fall to your forehead. If you want to make your curls look better than ever you can get them a little wet first, twist them with your fingers and then dry them up with a diffuser.
This is very low maintenance, easy to follow bigger afro look. To get it, you'll have to cut down the sides of your hair, making sure the top part of your hair is always the longest part, long enough that it can cover up your head down to your ears.
Don't forget to ask your barber to trim down the top part as well to give it the mushroom-like shape that you see in this image! Last, but not least, always part the top part of your hair down the middle.
24. Long Afro Hair with Brown Tips
Last, but not least, you can try this afro hairstyle! To get the brown lighter tips you might have to bleach and then dye your hair to get the color, although if your hair isn't pitch black you might be able to do it without bleaching it.
As for the style itself, you will have to part your hair down the middle and puff the curls so you can't actually see the middle part. Then simply twist and pull your afros to make them look bigger.
Another great big afro look you can try on is to make your natural curls bigger to make your afro look bigger and fuller as well. You can do this by giving your curls some shape with your fingers while it's still wet.
How to Grow Your Afro
Believe it or not, growing out an afro, even as an Afro-American, isn't as easy as you might think, and it requires a lot of patience to get into the big afro life and be able to actually have enough hair to style it however you want.
Now, there are two main ways you can get big afro hair. One, through a big chop, and two, through taking proper, deep care of your current hair. Let's talk about the two options.
Chop Your Hair
Chopping or cutting your hair is probably the quickest, best way to get a bigger afro, since it instantly eliminates all the damage you might have done to your hair through the years and allows it to grow healthy from the start.
Of course, cutting all of your hair off means that you'll have to wait a lot of time for it to grow back, but it will be worth it. Plus, you can begin to style it as you want as it grows back.
Afro Hair Care
If you don't want to cut down all of your hair, you can start by taking care of the hair you already have. This means using the proper products for men's curly hair, not applying any heat, and overall educating yourself on what is good and what isn't for curly hair.
Other than that, growing a big afro hair requires you to use a proper comb that DON'T break your natural curls! (spoiler alert. Most regular combs do horrible harm to your hair), it also involves a lot of moisturizing, hand-shaping your curls and avoiding combing it too often.
As a general rule, you shouldn't wash your hair too often (it strips away the natural oils from your hair!), and last, but not least, trim it often enough that you gradually start to get rid of the damaged part.
Then, make sure to dry it up with a blow dryer and a diffuser, using it in the lowest setting. Once it's dry simply shake it up a little bit to give it a 'careless' touch and you're done.